Holiday Embossed Gingerbread Cookies
Cute and tasty, holiday embossed gingerbread cookies use a special roller or cookie stamp that makes creating beautiful cookies easy!

How does a person with no cookie decorating talent make a cookie that's festive and special? You make an embossed cookie (or stamped cookie), that's how!
I had admired embossed cookies from afar for a long time before I finally broke down and bought a roller. And I was so glad I did! First cute Easter cookies and now holiday embossed gingerbread cookies!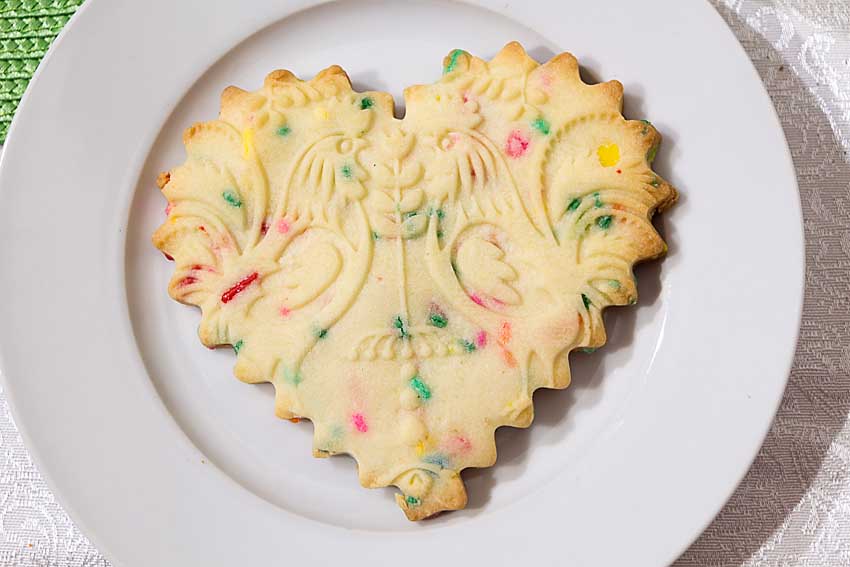 The gingerbread is perfect for the holidays with a sweet, spicy flavor and fragrance that lingers.
Why You'll Love This!
Tasty. Nothing says Enjoy the Holidays as much as gingerbread! Okay, well, it's so good, it's a favorite flavor all year long!
Easy. I have a seriously talented cousin who hand paints Christmas Sweater cookies! I need easy. And it doesn't get much easier than mix, roll and cut!
Impressive. If you happen to be doing a cookie exchange, or packaging a homemade gift, these will totally make you a rock star. (For more cookie exchange ideas, see recipes from my blogging friends at the end.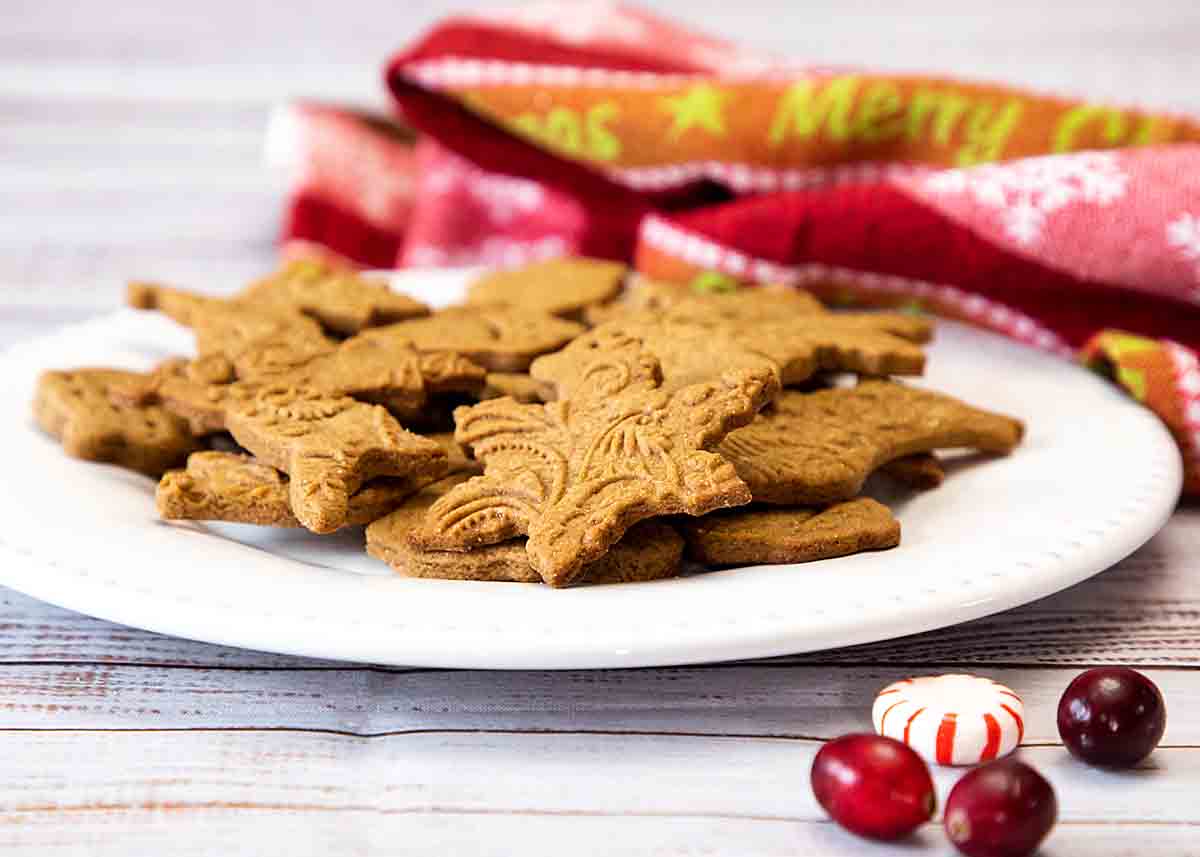 What You Need
Ingredients
Butter. Adds richness, flavor and helps dough hold together.
Brown sugar, Molasses. Adds sweetness and gingerbread flavor.
Egg. Helps the dough hold together.
Vanilla. Adds flavor.
All-purpose flour. I haven't tried another flour but whole wheat might work.
Powdered ginger, cinnamon, cloves. Adds flavor.
Salt.
Special Tools
Now there is just one challenge to making these cookies. It's that you need a special tool—an embossed roller or a cookie stamp.
The least expensive option is a cookie stamper like these from Michael's (not sponsored) — for a few dollars each. The picture below shows fall stamps, but they have Christmas designs as well. Though I think acorns are perfect, fall or winter!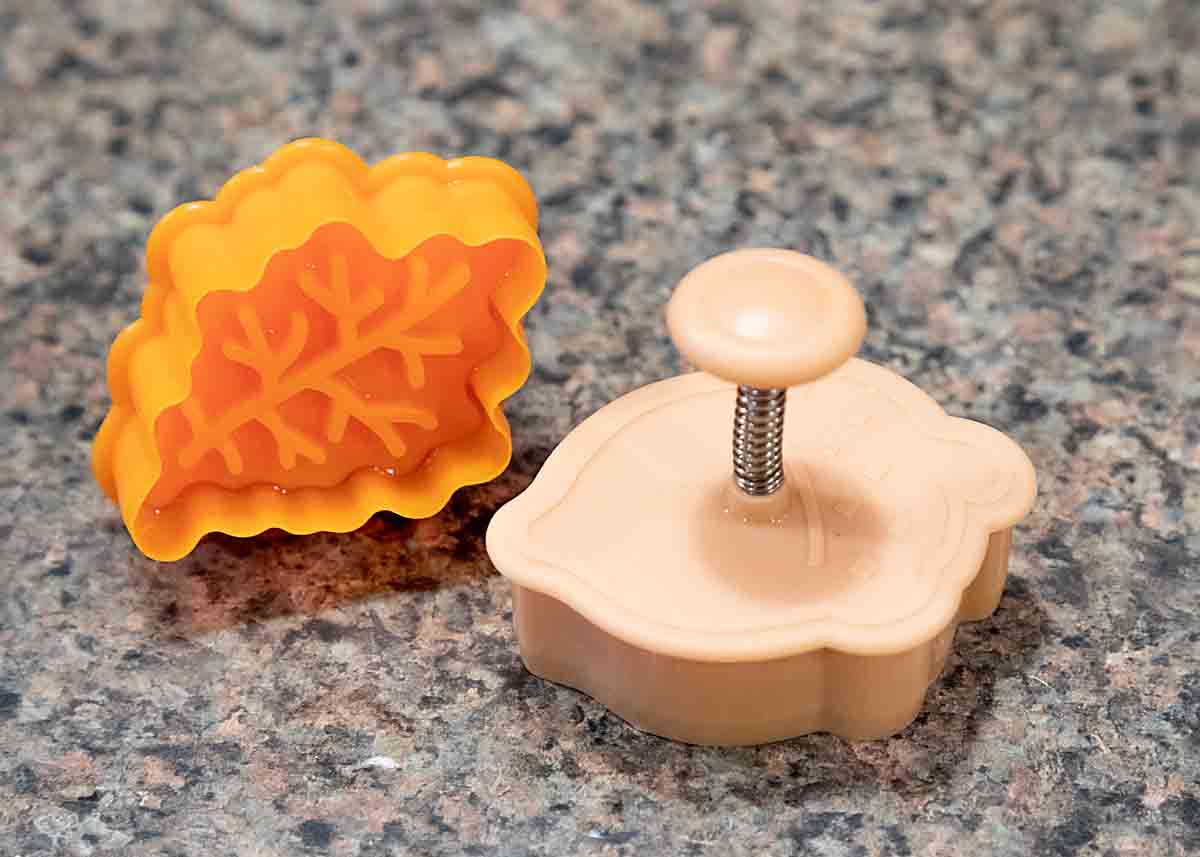 The stamps cut the cookie and impress a design at the same time so are very efficient.
The more elaborate designs come from an embossed roller. I got mine on Etsy from Goody Woody (also not sponsored) after a recommendation from another blogger.
If you are looking to buy an embossed roller, you want to be sure that the design is deep enough so that your imprint will remain after baking. No sooner did I post this than a reader complained on Facebook about her too-shallow roller! I found that the online reviews were very helpful for evaluating this.
The Right Recipe
In selecting a recipe for embossed cookies, you need one where the cookie doesn't rise much while baking, which would obscure the design. So, look for a recipe that is made specifically for embossed cookies or one without baking soda or baking powder. (For some excellent info on why cookies spread, see this Sweetopia blog post)
Refrigerating the cutouts before baking may help lock in the design for a borderline recipe but made no difference in these embossed gingerbread cookies. And that meant the whole process went really fast. Mix, roll, cut, then bake for under 10 minutes. I was doing virtual baking (really!) with a friend and my embossed gingerbread cookies were completely done before her pan of brownies!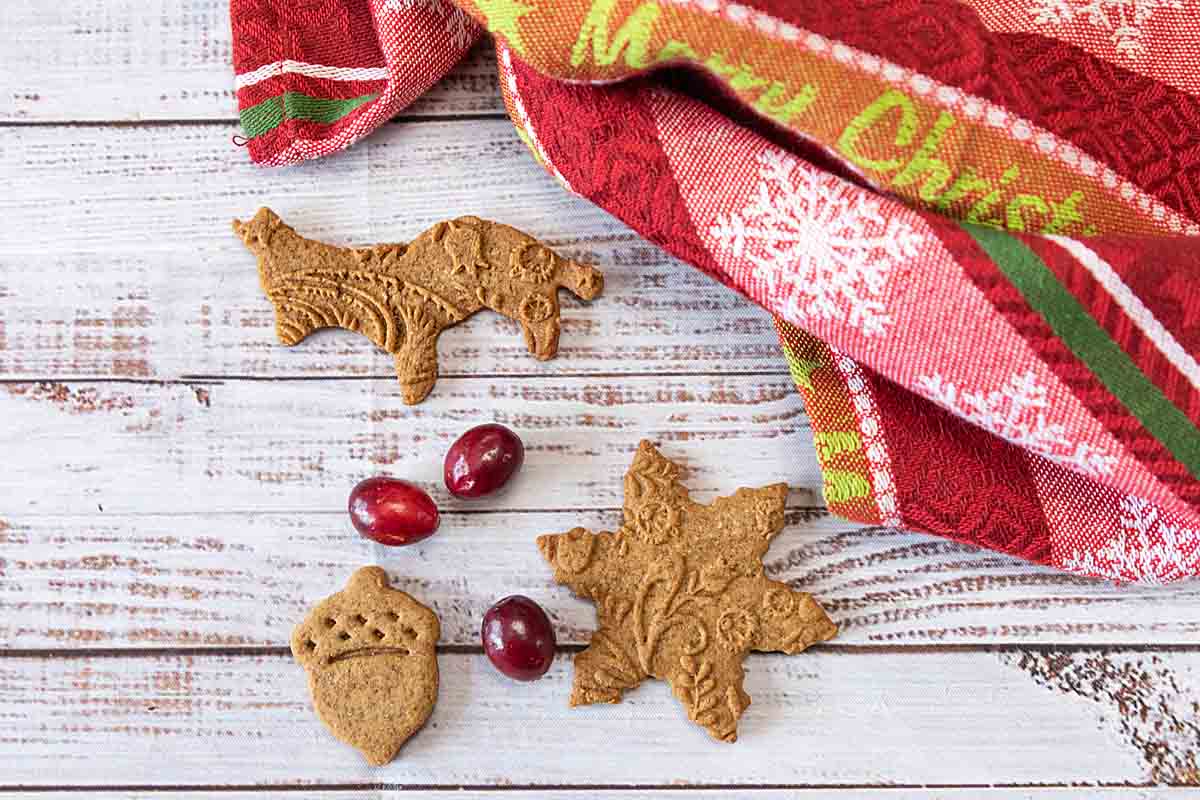 How to Use an Embossed Roller.
While using the cookie stamps is pretty self-evident, there are just a couple tricks to using an embossed roller.
You start by rolling out the dough with a regular (flat) rolling pin.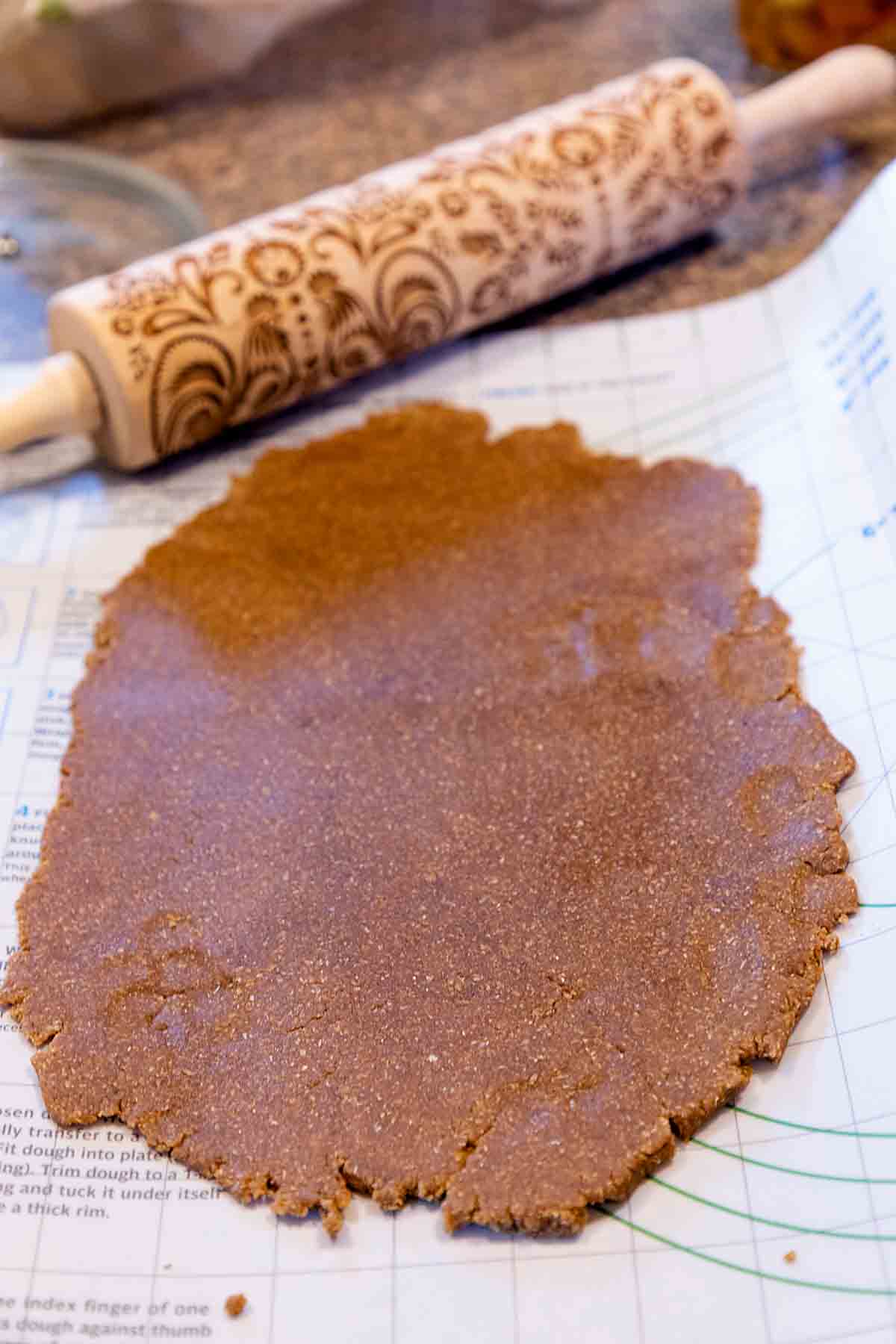 Then you follow up with the embossed roller. Spray, then roll, pressing hard to make sure the imprint shows after baking.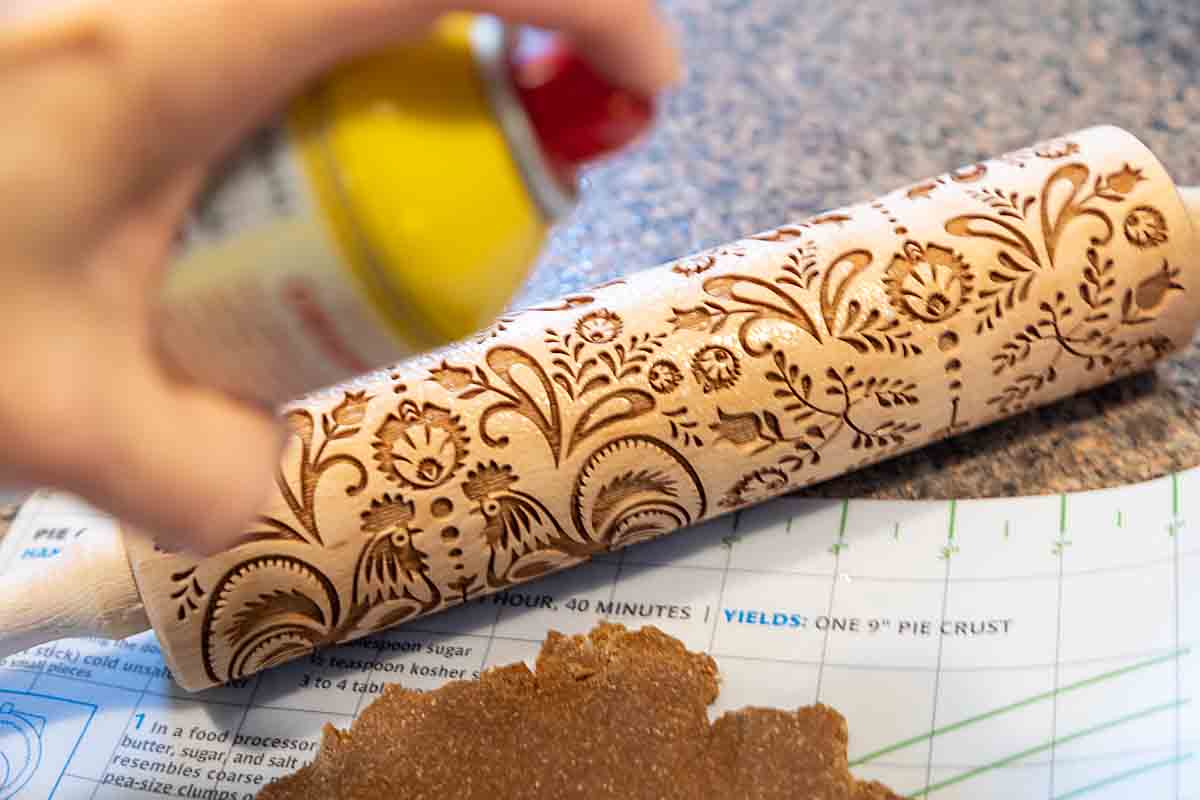 Position your cookie cutter over the pattern and cut out your cookies (Or if you are using a cookie stamp, use a flat roller then cut and push in the design with the stamp).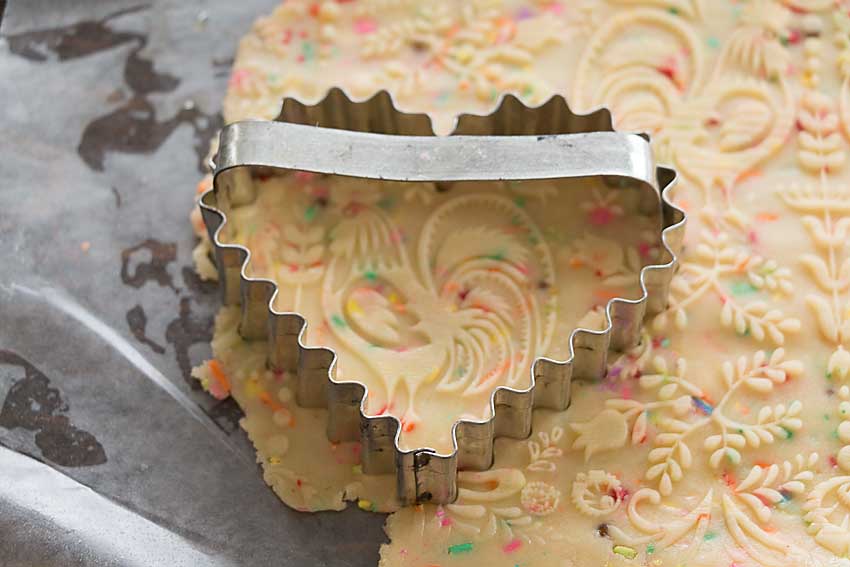 Use a metal spatula or turner to transfer to a greased cookie sheet since they may be a little fragile.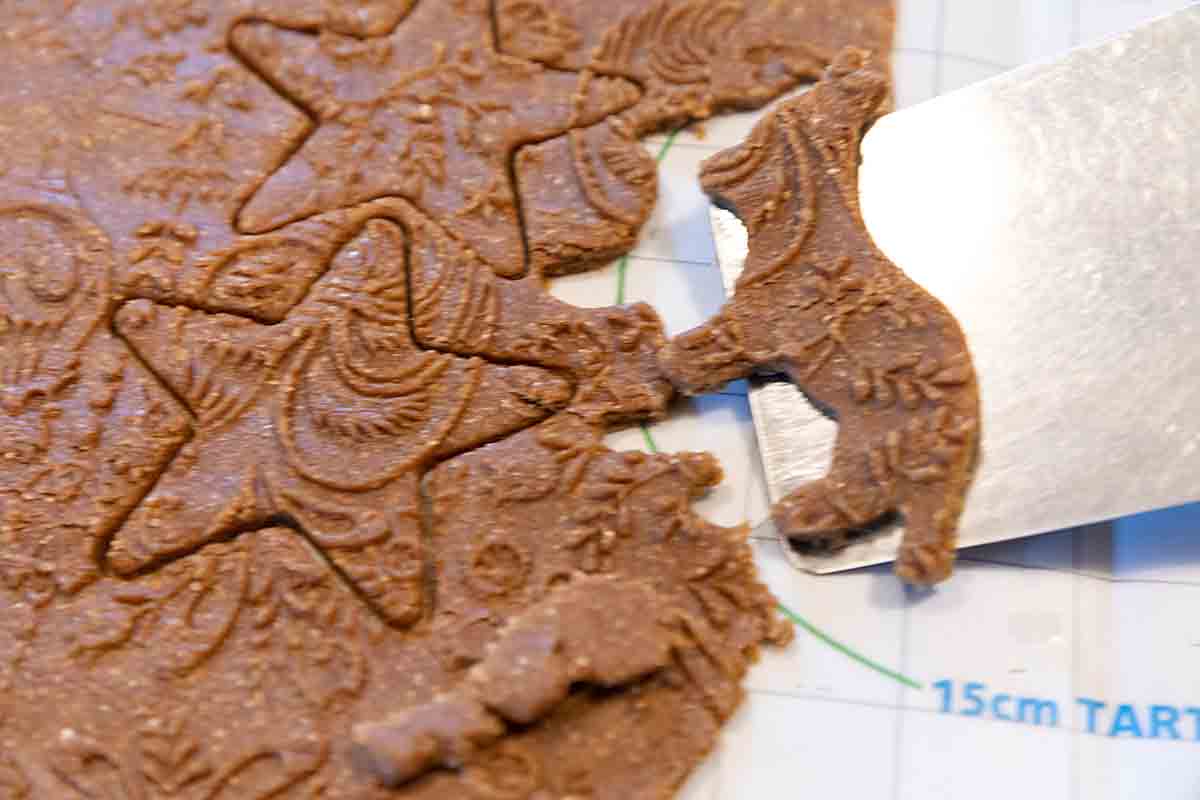 Bake, cool, then enjoy!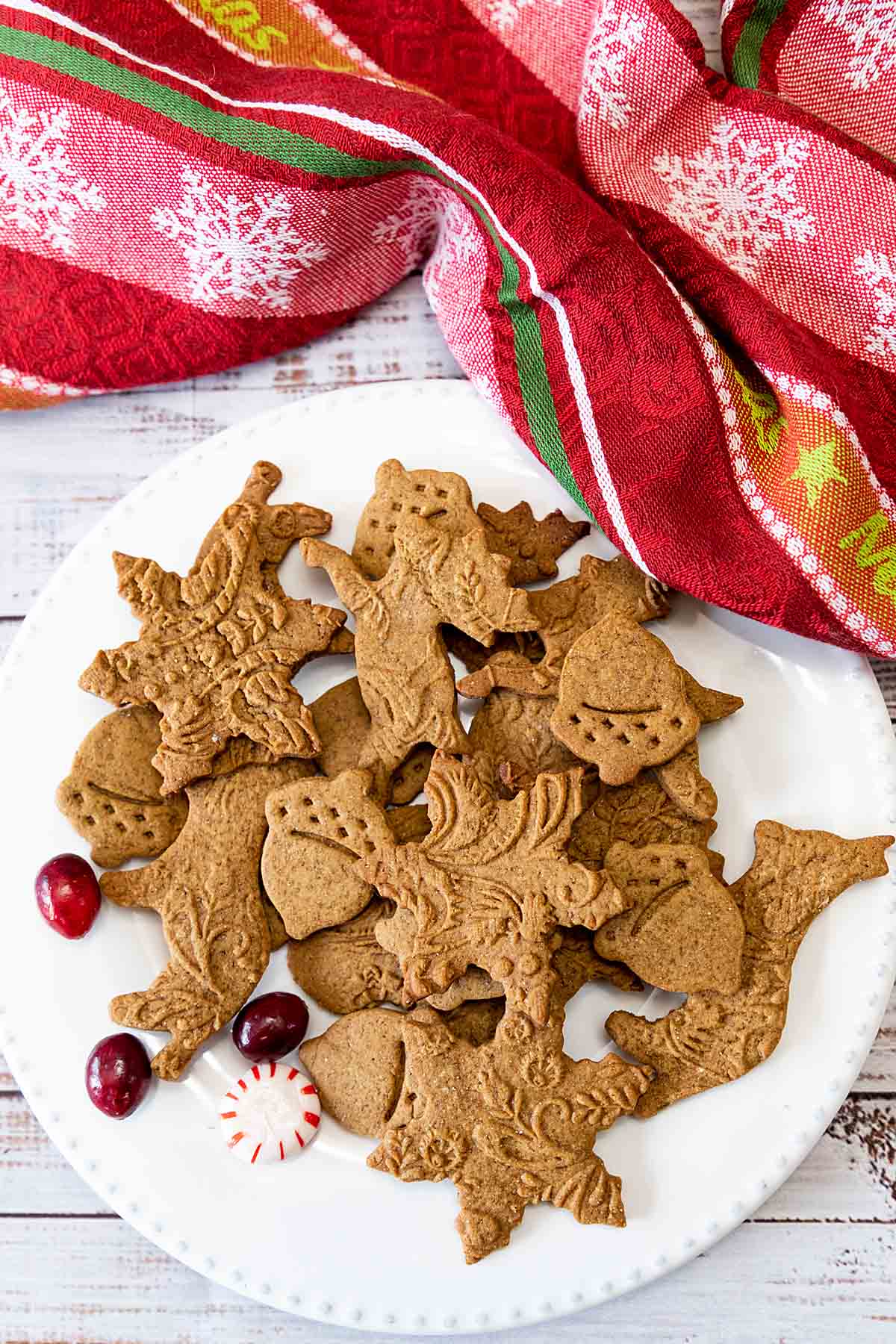 How to Clean an Embossed Roller
The cookie stamps will clean up like regular cookie cutters in soap and water.
For the embossed roller, cleanup is slightly more difficult but not by much if you do it right away. I wash it, then spray the roller using the sink sprayer, which knocks out most of the stuck dough. I then quickly inspect and clean out anything remaining with a toothpick. Finally, I follow up with a spray of Pam to keep the roller from drying out, though many people say that just drying with a soft towel is sufficient.
This year I am especially committed to making the holiday merry and bright. And if it's quick and easy too, I am so there!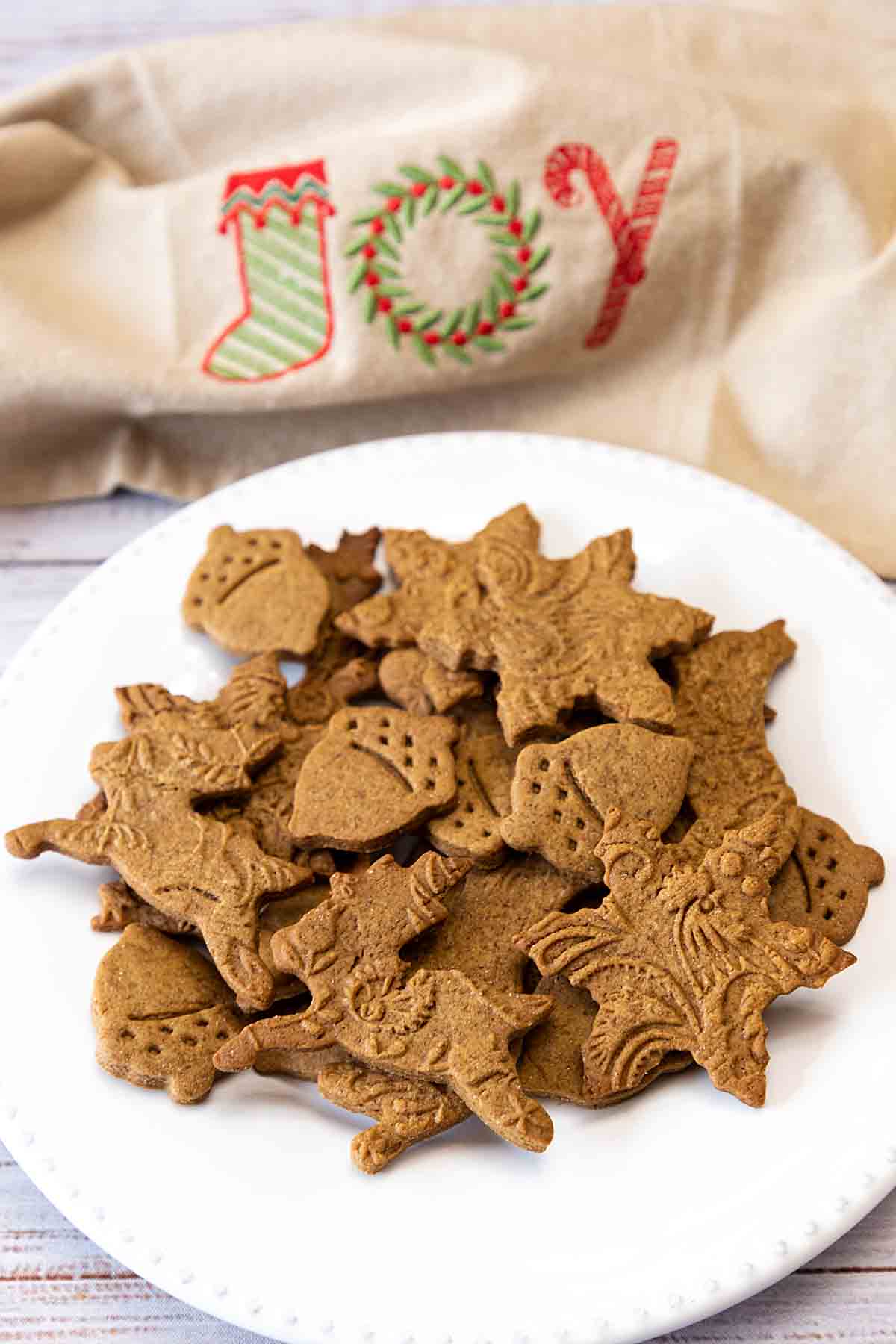 Holiday Cookie Exchange Recipes
We share Recipes From Our Dinner Table! Join our group and share your recipes, too! While you're at it, join our Pinterest board, too!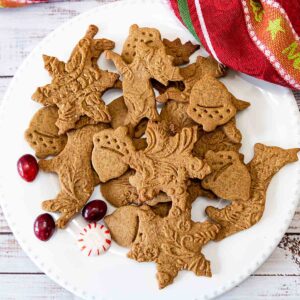 Holiday Embossed Gingerbread Cookies
Cute and tasty, holiday embossed gingerbread cookies use a special roller or cookie stamp that makes creating beautiful cookies easy!  
Ingredients
3

Tablespoons

butter

1/4

cup

dark brown sugar

1

egg

3

Tablespoons

molasses

1

teaspoons

vanilla

1 ½

cups

unbleached all-purpose flour

or slightly more if dough is very sticky

2

teaspoons

powdered ginger

1

teaspoons

cinnamon

1/4

teaspoon

ground cloves

¼

teaspoon

salt
Instructions
Beat butter, brown sugar, molasses, vanilla and egg together in a large bowl until well blended (by hand or with mixer). Whisk the flour, salt, ginger, cinnamon, and cloves together in a small bowl. Combine wet and dry ingredients and mix until smooth. If the dough is very sticky add more flour a little at a time until it is just slightly sticky.


On wax paper or a pastry sheet, roll dough to a quarter-inch thickness. If the dough sticks, sprinkle with a little extra flour and continue rolling (mine didn't stick). Spray your embossed roller generously with non-stick spray, then do a final roll of the dough with this, pressing firmly to get a good imprint.


Position cookie cutter to a good design point on the pattern, then cut a cookie. Continue until done. Using a spatula or pancake turner, transfer cookies to a sprayed baking sheet. Re-roll extra dough and continue cutting.


Bake at 350F degrees for 7-10 minutes; a longer baking time will yield a crisper cookie, but don't overbake.


Remove from oven; let cookies rest briefly until firm, then transfer to a wire rack.

Notes
Makes about 24 smaller cookies. Serving size is 2 cookies.
I am not a health professional and nutrition data is calculated programatically. Accuracy may vary with product selection, calculator accuracy, etc. Consult a professional for the best information.
Originally posted 12/10/2020.