Downton Abbey Christmas Champagne Cocktail
With a homemade spiced syrup, festive cranberry juice, and bubbly champagne, this Christmas Champagne Cocktail is a special holiday drink!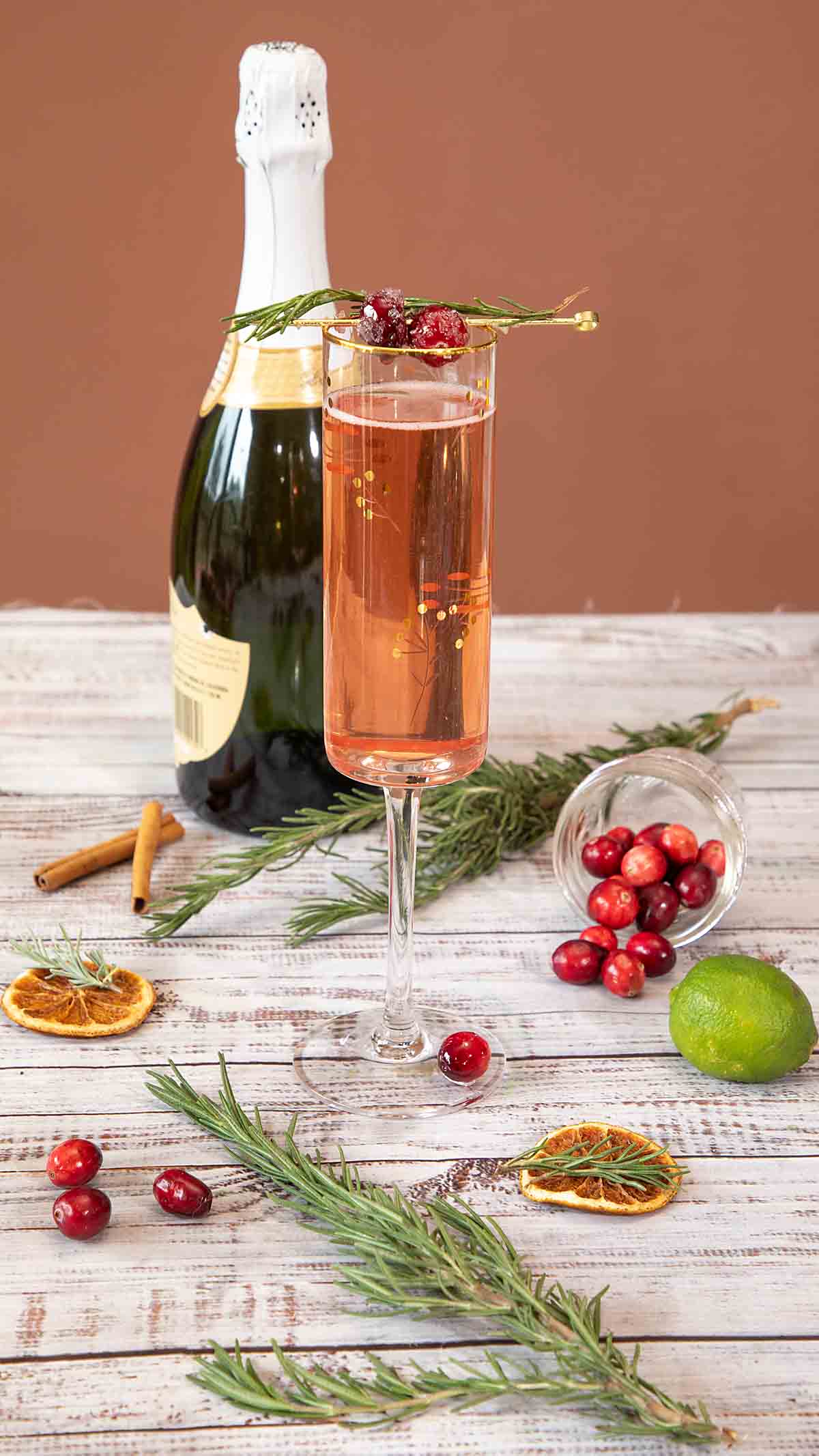 Are you in love with holiday cocktails like I am? From classy martinis to rich ice cream drinks to boozy eggnogs, they can turn your cocktail hour festive! Or cap off a dinner party perfectly!
And today's Christmas Champagne Cocktail is extra special! First there's the bubbly champagne! Second there's a tasty, spiced syrup (easily made with regular pantry spices). And finally, it comes from Highclere Castle, the filming location of the British classic Downton Abbey!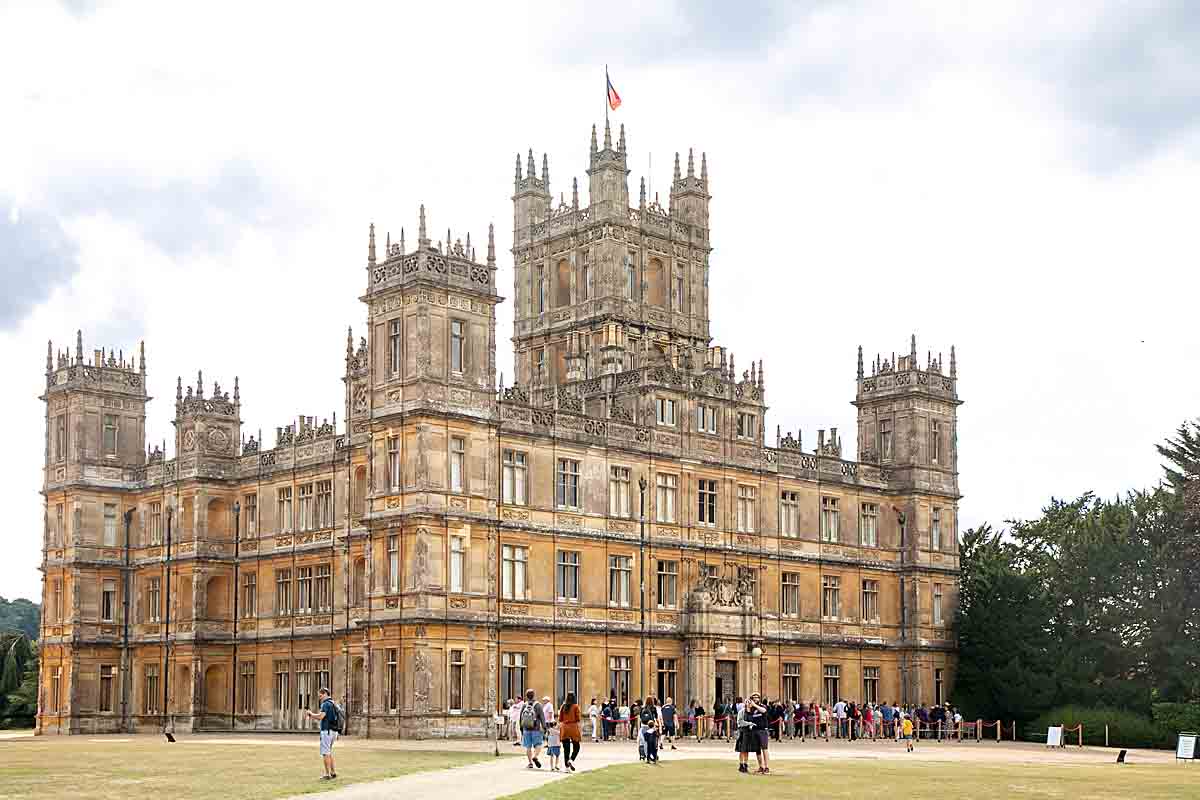 What is a Downtown Abbey Christmas Champagne Cocktail
On a vacation to England this fall, I had the opportunity to tour Highclere Castle, the filming site of Downton Abbey. It was a thrill to see the beautiful castle and think back to all the glamorous scenes that took place there. No photography was allowed inside, but I've included a few exterior shots in this post!
Now as a bonus, we all got a book called Christmas at Highclere. Happily, it was full of lovely holiday recipes that may become part of my holiday tradition! Including the one this drink is based on.
Why You'll Love This!
Tasty. Spiced with a cinnamon, orange peel and clove syrup, then topped with cranberry juice and champagne, this holiday cocktail delivers a more complex flavor than your typical Poinsettia (cranberry juice, champagne, sometimes Cointreau or vodka) cocktail.
Festive. You've got to love all the fun garnishes that can be added to foods and drinks for the holidays!
Easy. You'll spend a few minutes making a tasty syrup (which can be made ahead), but otherwise this drink is just measure and pour! Who has extra time now!
Adaptable. This drink can go sugar free without missing a beat. Or easily become a Christmas mocktail that's absolutely delicious. See Variations below for instructions on how to make both of these options.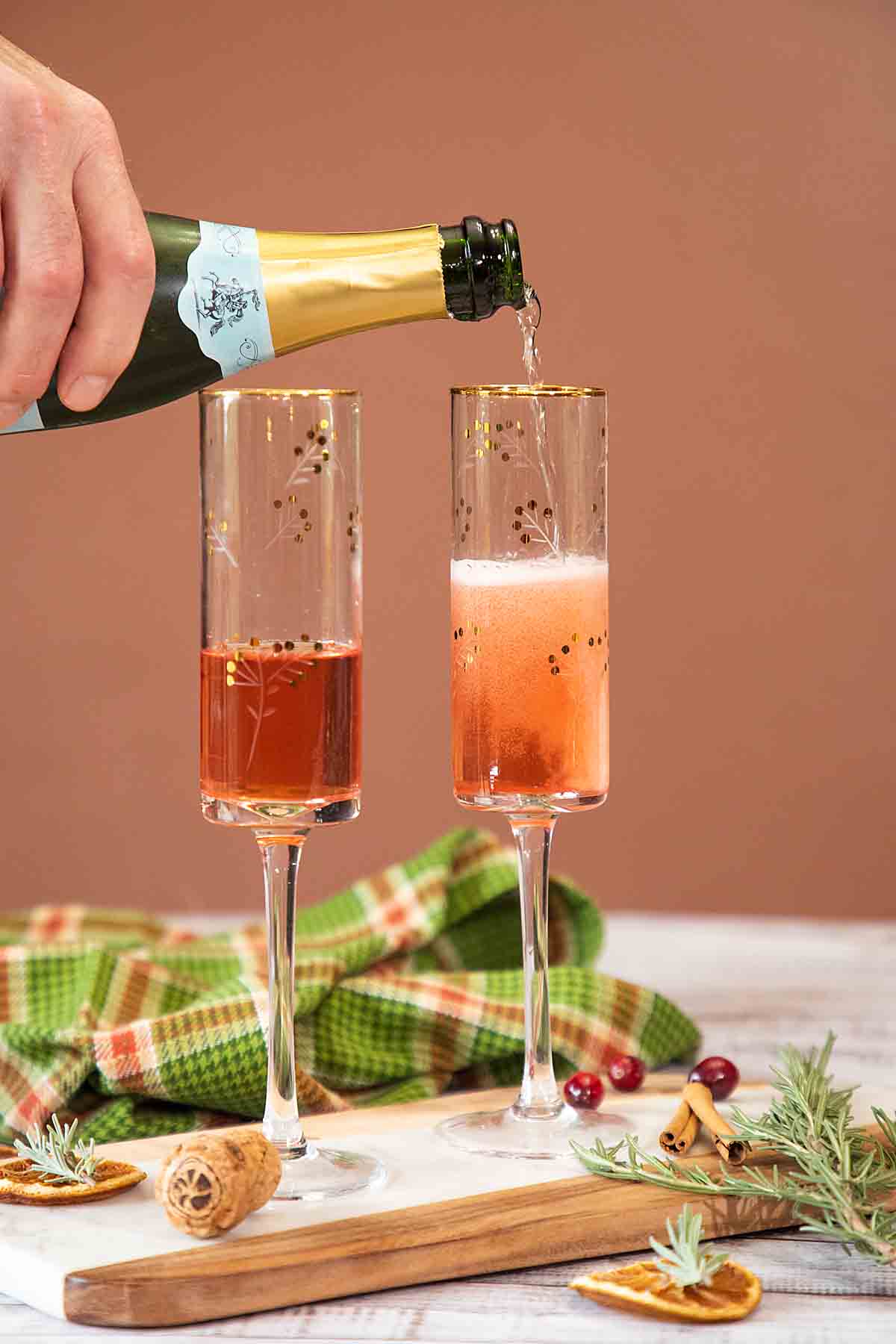 What You'll Need
Ingredient Notes
Sugar or allulose sweetener. This thickens and sweetens the spiced syrup.
Cinnamon sticks. This flavors the spiced syrup.
Whole cloves. This flavors the spiced syrup.
Fresh orange peel. This flavors the spiced syrup. You could substitute a couple small pieces of dried orange peel if needed.
Cranberry juice. This provides a hint of cranberry flavor and some cheery color (though it's more peach than red)
Champagne. I used a drier Champagne but go with your preference. You could also use Prosecco for a Christmas Prosecco Cocktail!
Special Tools
It's nice to have a peeler that can take off a thin piece of orange peel, but this can be done with a knife if needed.
Step by Step Directions
Simmer the spiced syrup ingredients, then strain and cool.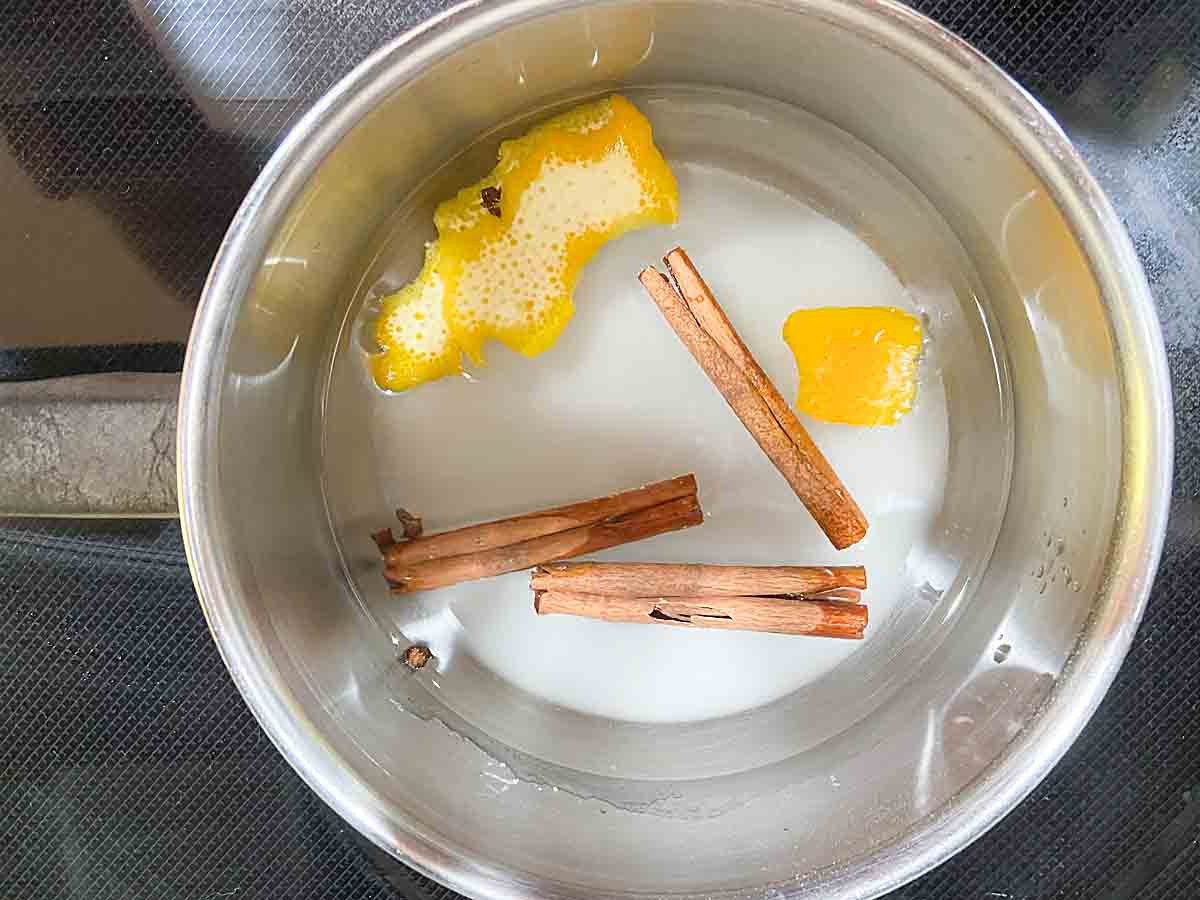 Put syrup and cranberry juice in champagne glass.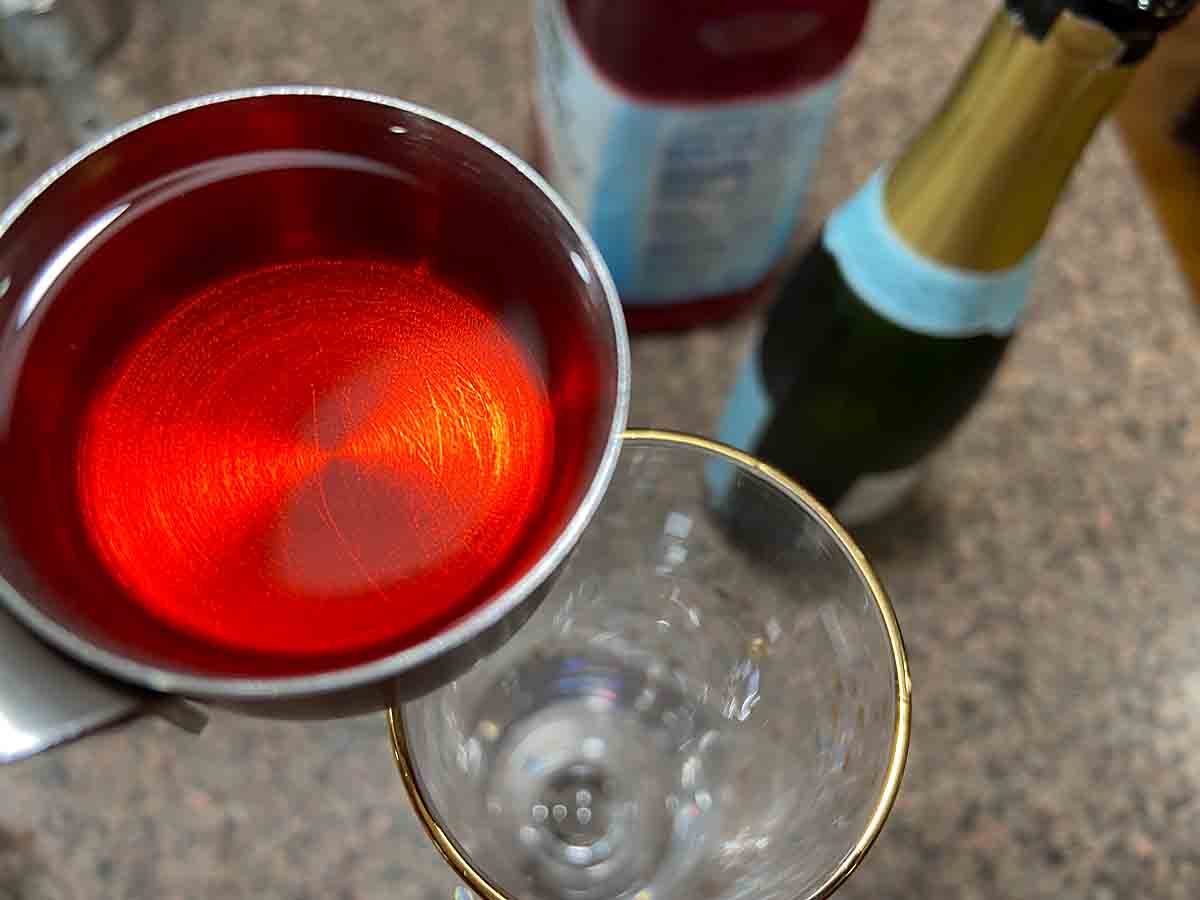 Top with champagne.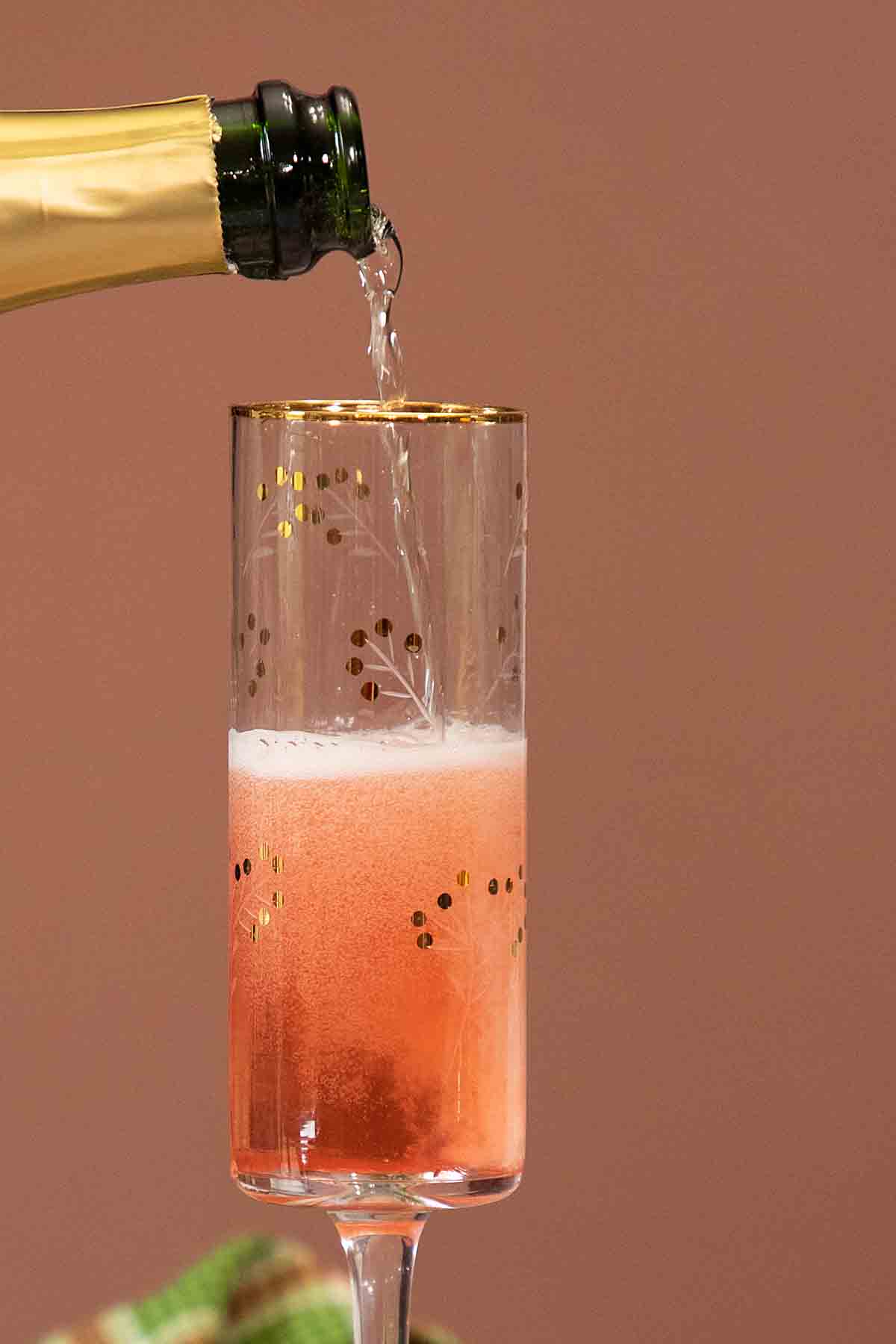 Garnish as desired.
Variations
I love when a cocktail can do double duty as a mocktail. Since the main flavor components in this are the spiced syrup and cranberry juice, you have the option to top with club soda instead of champagne. Kids and teetotalers should get to indulge too!
No cranberry juice? How about festive pomegranate for a Promegranate Champagne Cocktail!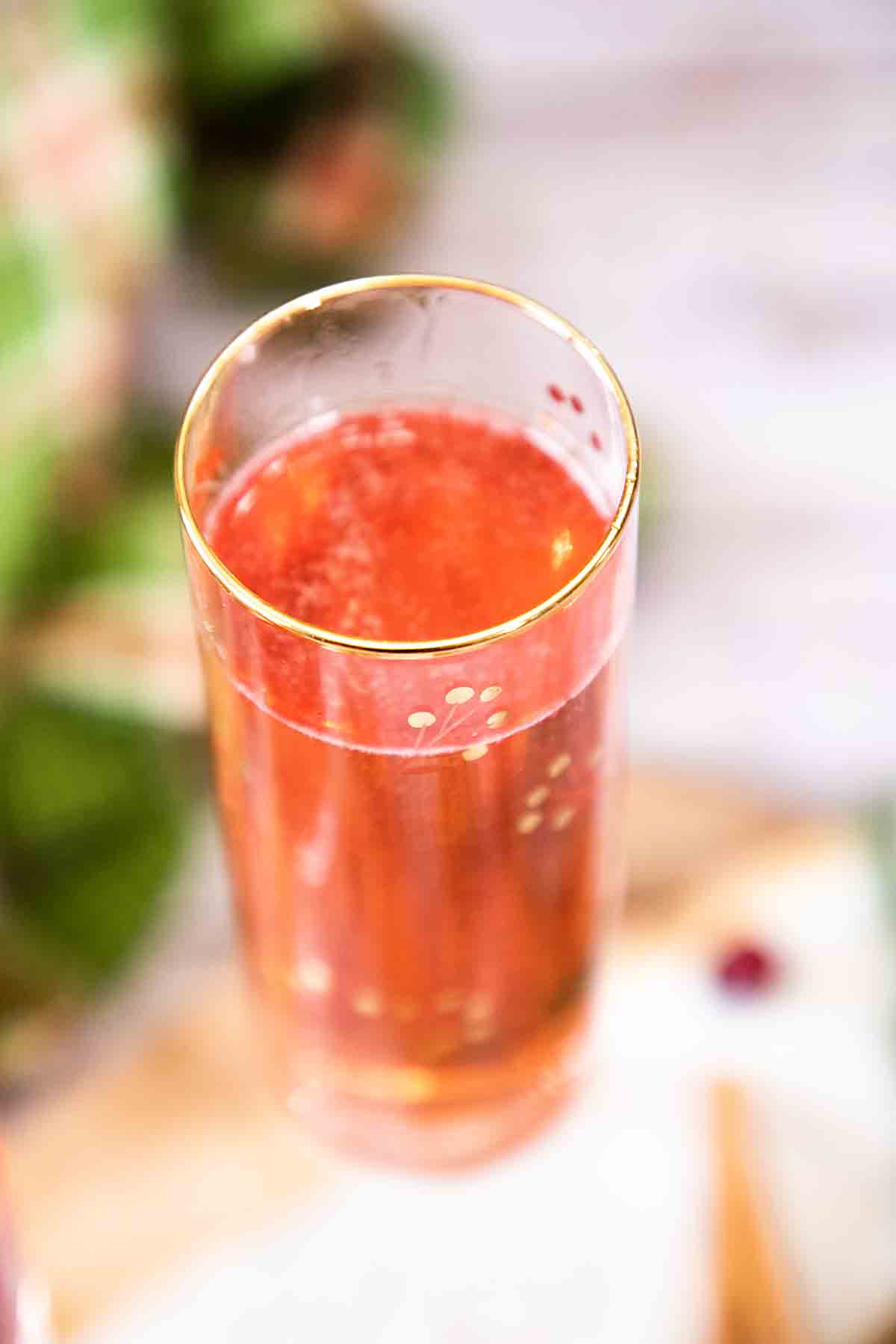 Going Keto or Sugar-Free
For a keto or sugar-free drink you can make the syrup with sweetener instead of sugar. I tested this with an allulose sweetener and it was excellent. Allulose is a favorite sweetener because it doesn't have the "mouth-cooling" effect of erythritol, it browns better than many other sweeteners and is less prone to crystallization.
If you are going low carb with this drink, you'll also want to use a reduced calorie cranberry juice and even consider a drier, lower carb, champagne. Comparing some different options, you see that Korbel brut has 2 carbs per 5 ounce serving while Extra Dry has 3 and their Sweet Cuvee tops out at 7 carbs.
I ended up using a sucralose sweetened reduced calorie cranberry juice. Unsweetened wasn't available at my store, but that's another option a for sugar-free or lower-carb version.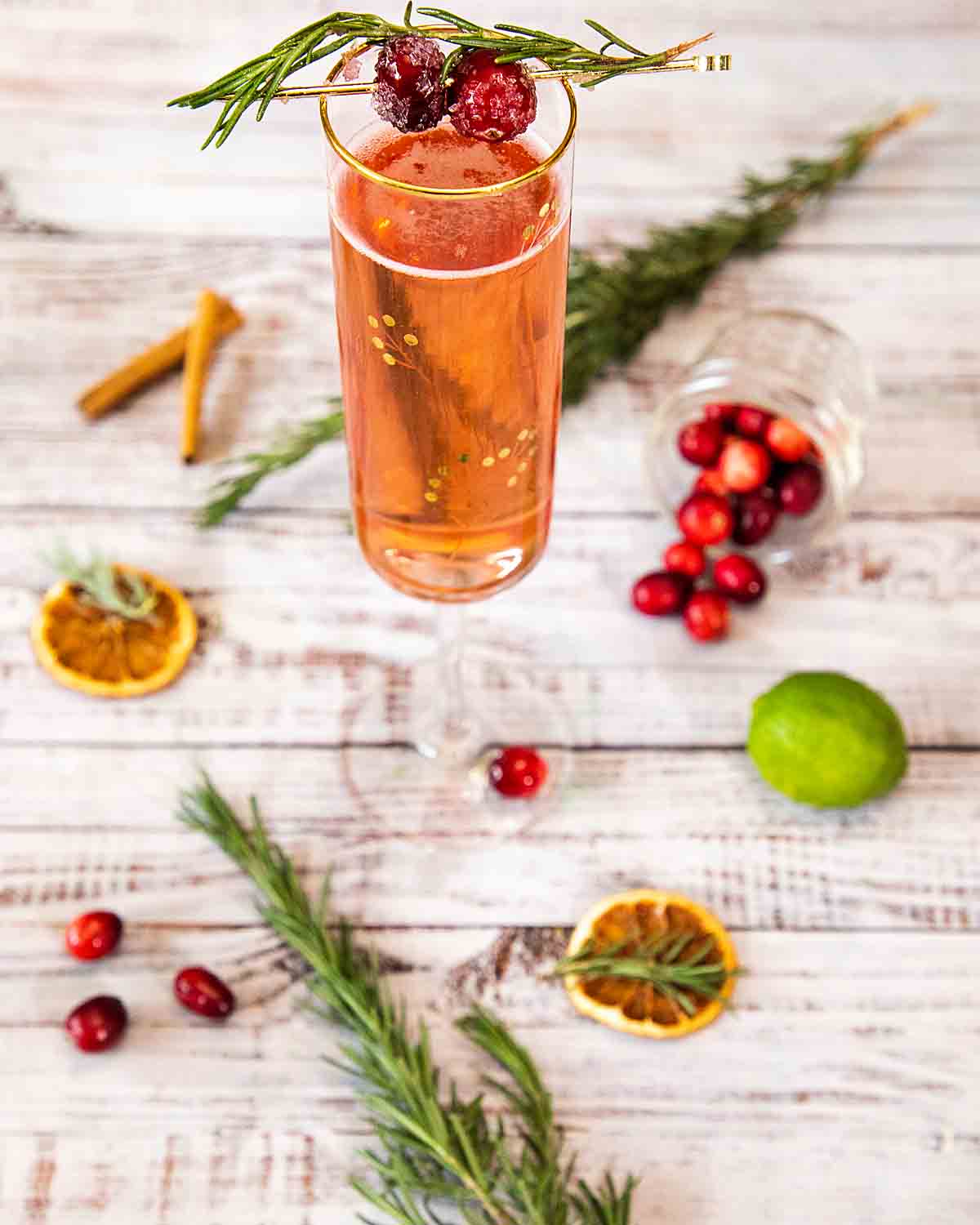 Make Ahead Tips and Leftovers
The syrup can be made ahead of time and stored in the refrigerator. If made with real sugar any leftovers should last a couple weeks. Since sugar is a preservative, I don't know if using allulose instead may reduce the keeping ability. In either case, watch for the development of any mold and discard.
The syrup can also be frozen and will likely remain semi-liquid. I haven't tested this syrup , but I have frozen other homemade syrups.
Tips & FAQs
One batch of syrup made 4 drinks so if you're serving a crowd (as I will be on Christmas Eve), increase the quantities.
When you make your orange peel strips, try to get as little of the white pith as possible. The white pith can add an unwanted amount of bitterness.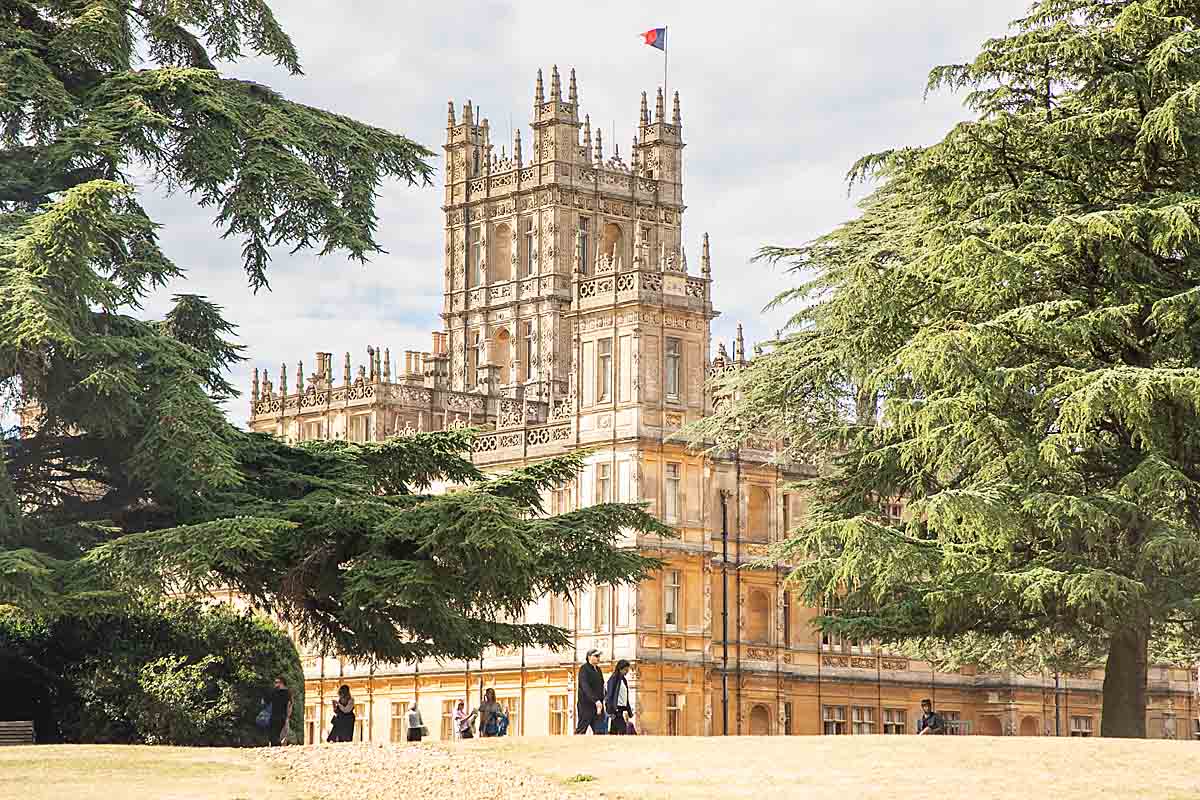 Welcome to #CranberryWeek where we celebrate all things cranberry! We have 11 bloggers sharing over 25 recipes this week. There are sweets, savories, and even a few beverages this week. Make sure to follow #CranberryWeek on social media to see all the delicious recipes we're sharing this week.
Friday's Cranberry Recipes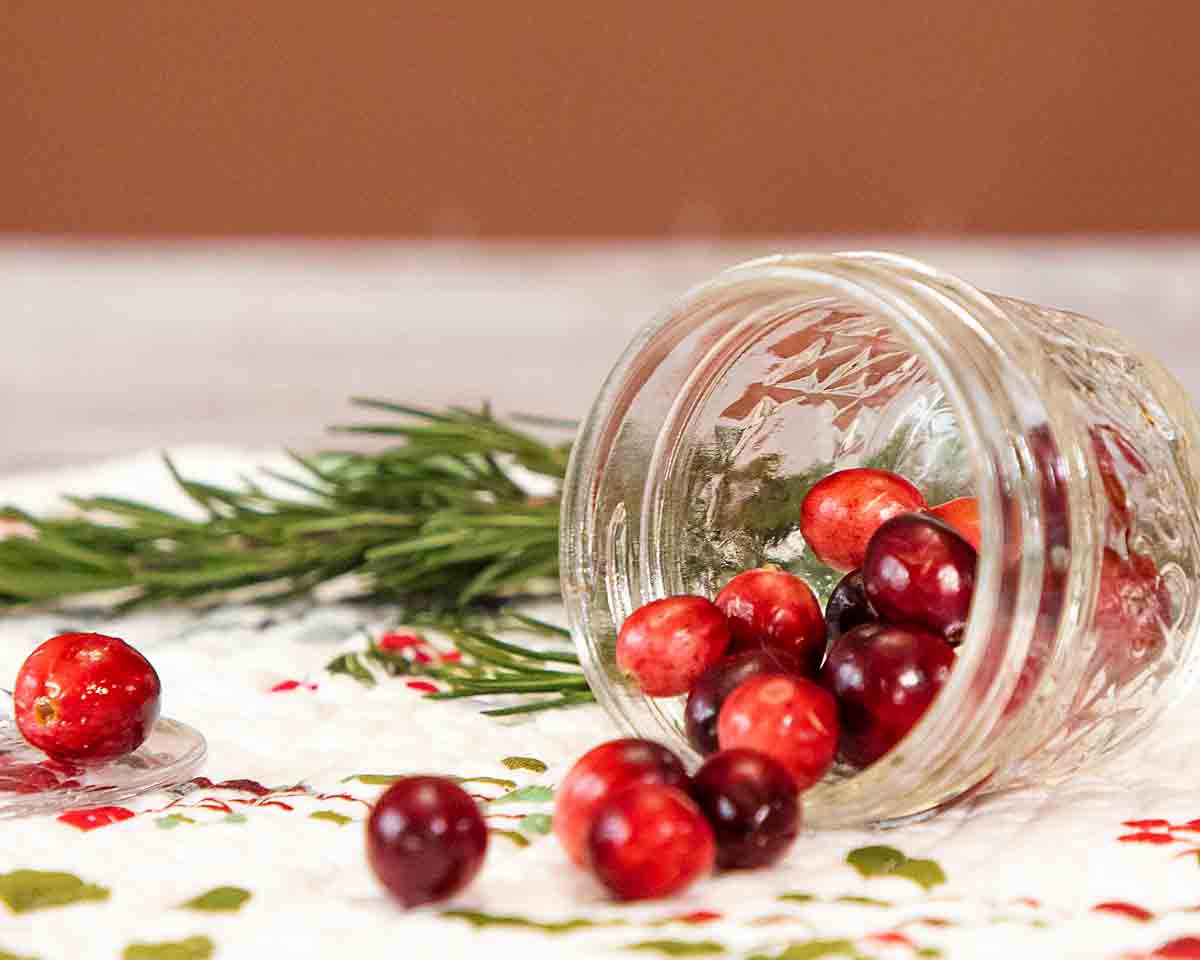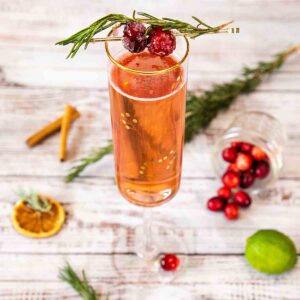 Christmas Champagne Cocktail
With a homemade spiced syrup, festive cranberry juice, and bubbly champagne, this Christmas Champagne Cocktail is a special holiday cocktail!
Ingredients
Spiced Syrup:
8

ounces

water

4

ounces

sugar or allulose sweetener

3

cinnamon sticks

4

whole cloves

3-4

strips of orange peel
Drink:
2

ounces

Spiced Syrup

1/4 cup

1

ounce

cranberry juice

2 Tablespoons

4-5

ounces

of Champagne

to top, or club soda for a mocktail
Instructions
To prepare the syrup: Combine syrup ingredients in a small saucepan on medium-low heat. Stir occasionally just until sugar dissolves (stirring a boiling sugar syrup can cause crystallization). Simmer for about 5 more minutes until thickened. Strain and cool syrup. I had about 8 ounces when I was done.

To prepare one drink: Place 2 ounces spiced syrup and 1 ounce of cranberry juice in a champagne glass. Top with champagne or club soda for a mocktail (about 4-5 ounces).

Garnish with sugared cranberries, orange slices, rosemary, etc. as desired.
I am not a health professional and nutrition data is calculated programatically. Accuracy may vary with product selection, calculator accuracy, etc. Consult a professional for the best information.