Cranberry Martini (or Cosmopolitan)
Lightly sweet and flavorful, this Cranberry Martini will be delicious at your next holiday event. In January you can call it a Cosmopolitan. And check out the other fun holiday cranberry recipes from my blogging friends at the end!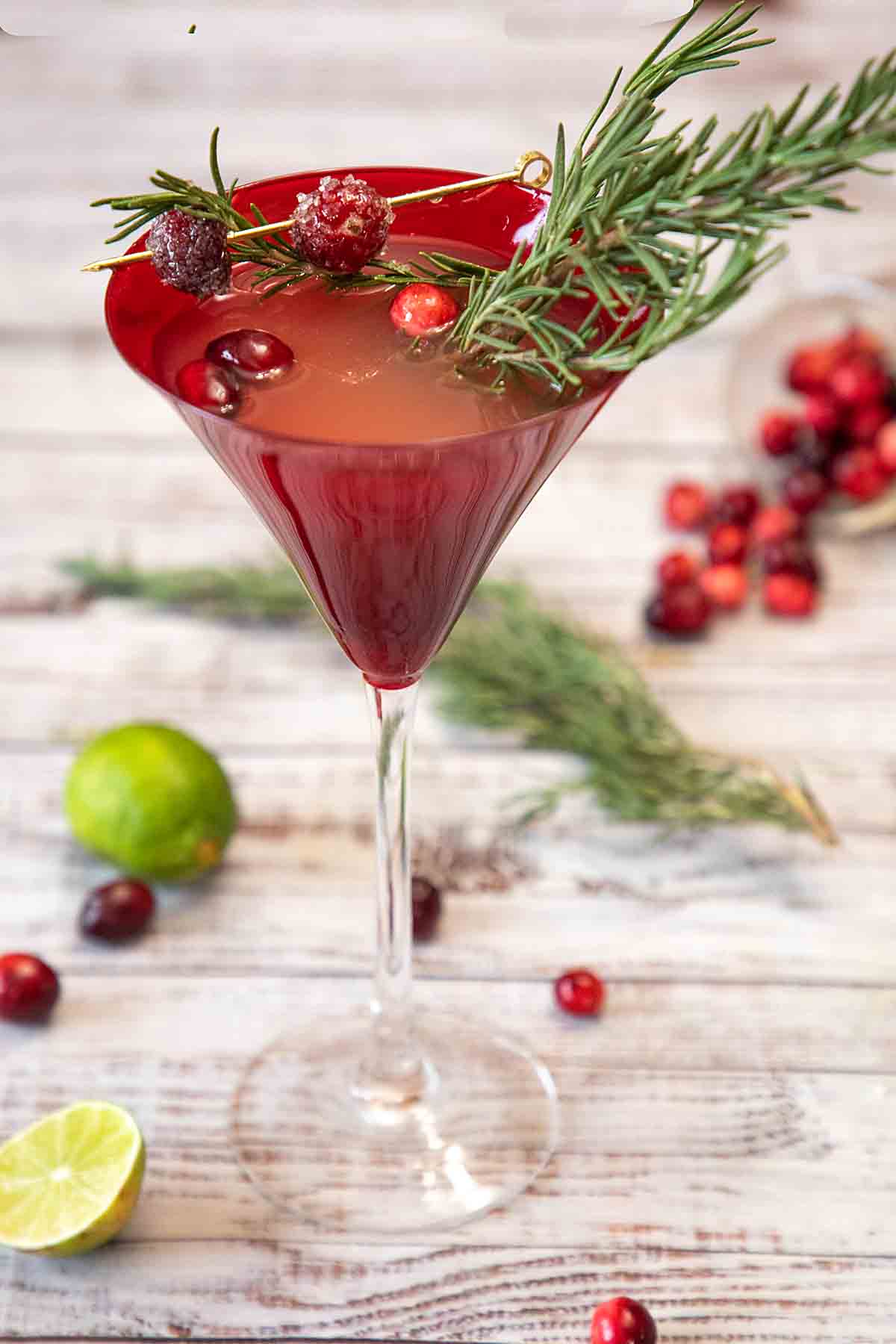 You've got to love the holidays–for so many reasons! And one thing I especially enjoy is how many things "morph" into special holiday form.
Isn't if fun how so many ordinary things become just slightly magical? Decorations? Yup! Cookies? Of course! Music? A favorite! Movies? Watching one now!
And don't forget the holiday drinks!
Today I'm making a Cranberry Martini. Doesn't that sound tasty!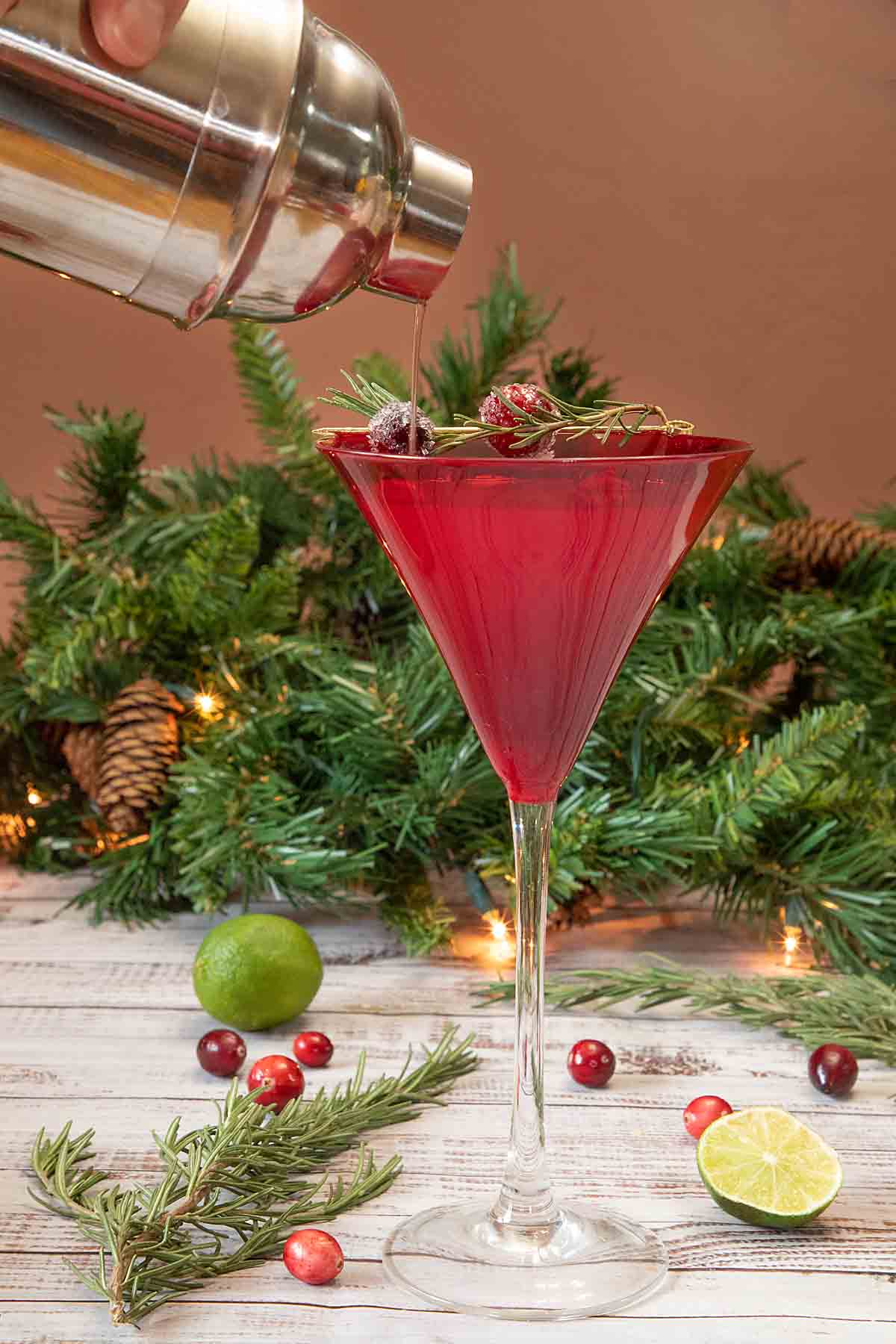 What is a Cranberry Martini (and how is it different from a Cosmopolitan)?
Back in the day, martinis weren't a sweet drink at all, unlike the majority of "martinis" today. But despite this origin, even Wikipedia concedes that "Sometimes the term "martini" is used to refer to other mostly-hard-liquor cocktails such as Manhattan, Cosmopolitan, … whose only commonality with the drink is the cocktail glass in which they are served."
My next quest was to compare recipes for cranberry martinis and Cosmopolitans. If you aren't familiar with them, Cosmopolitans (aka Cosmos) are a cranberry orange cocktail that is served all year round.
What I found was while there was a fair amount of variation in different recipes, they were essentially the same drink. Cosmos just might be more likely to add a hint of lime juice.
So my conclusion is that during the holiday season I'm calling this drink a Cranberry Martini and the rest of the year it's a Cosmopolitan.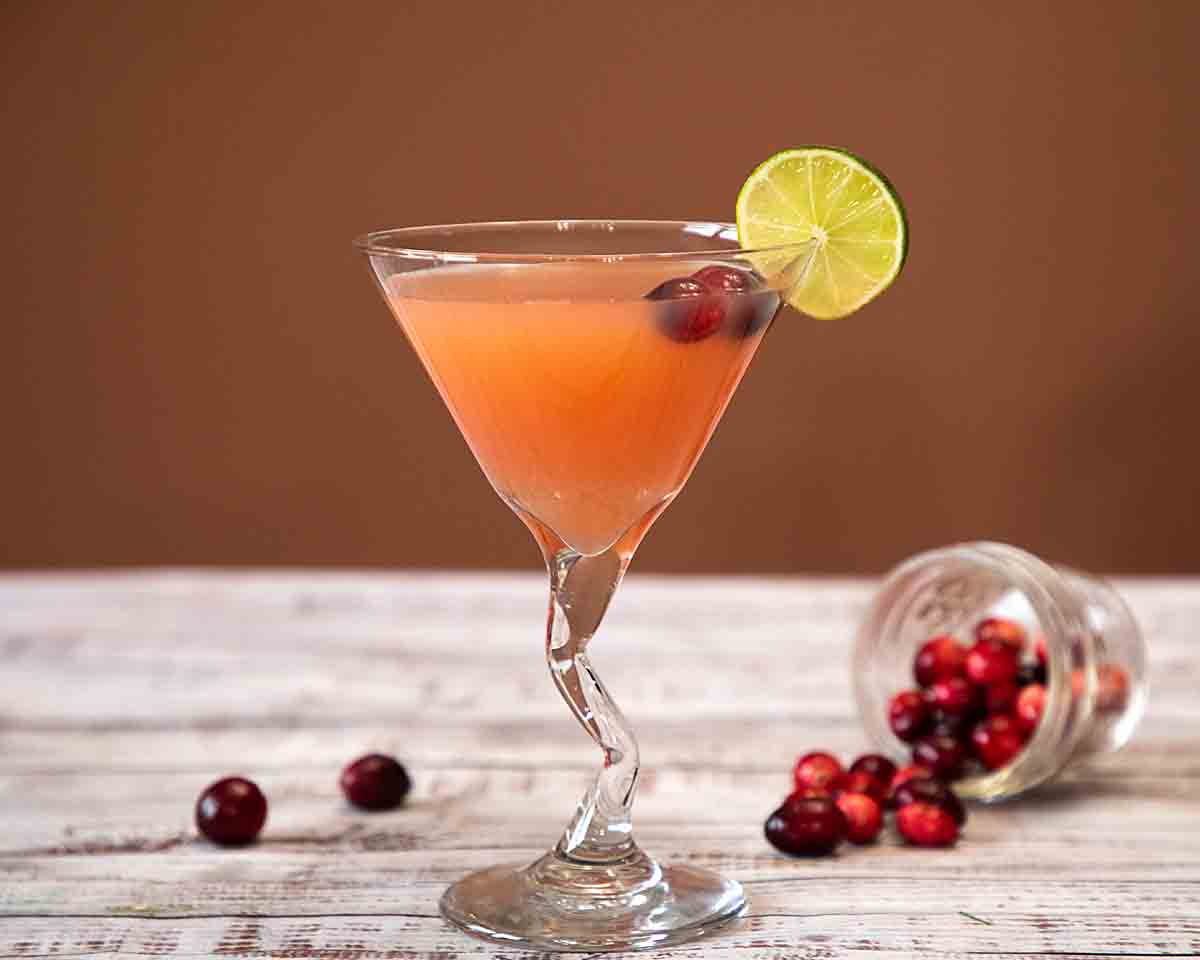 Why You'll Love This!
Tasty. The orange cranberry flavor combo is a classic because it's so delicious!
Festive. There's nothing like a fun holiday cocktail to get you in the holiday spirit!
Easy. There are a number of cranberry martinis out there that start by soaking cranberries (and more) in vodka. While I love that idea, well, this is delicious and a lot less work!
What You'll Need
Ingredient Notes
Vodka. This provides a neutral alcohol.
Cointreau. This provides more alcohol, sweetness and orange flavor. You can use another orange liqueur like Triple Sec.
Cranberry juice. This provides the cranberry flavor.
Orange juice. This provides additional orange flavoring and adds volume without alcohol.
Lemon or lime juice (optional). This can help balance the sweetness.
Ice. This is for shaking and will chill and slightly dilute the drink.
Special Tools
My recipe calls for a cocktail shaker. But if you don't have one, you can make the drink, stir with ice, then strain out any unmelted ice.
Step by Step Directions
Measure ingredients into a cocktail shaker.
Add a handful of ice, then shake briefly.
Pour into serving glass.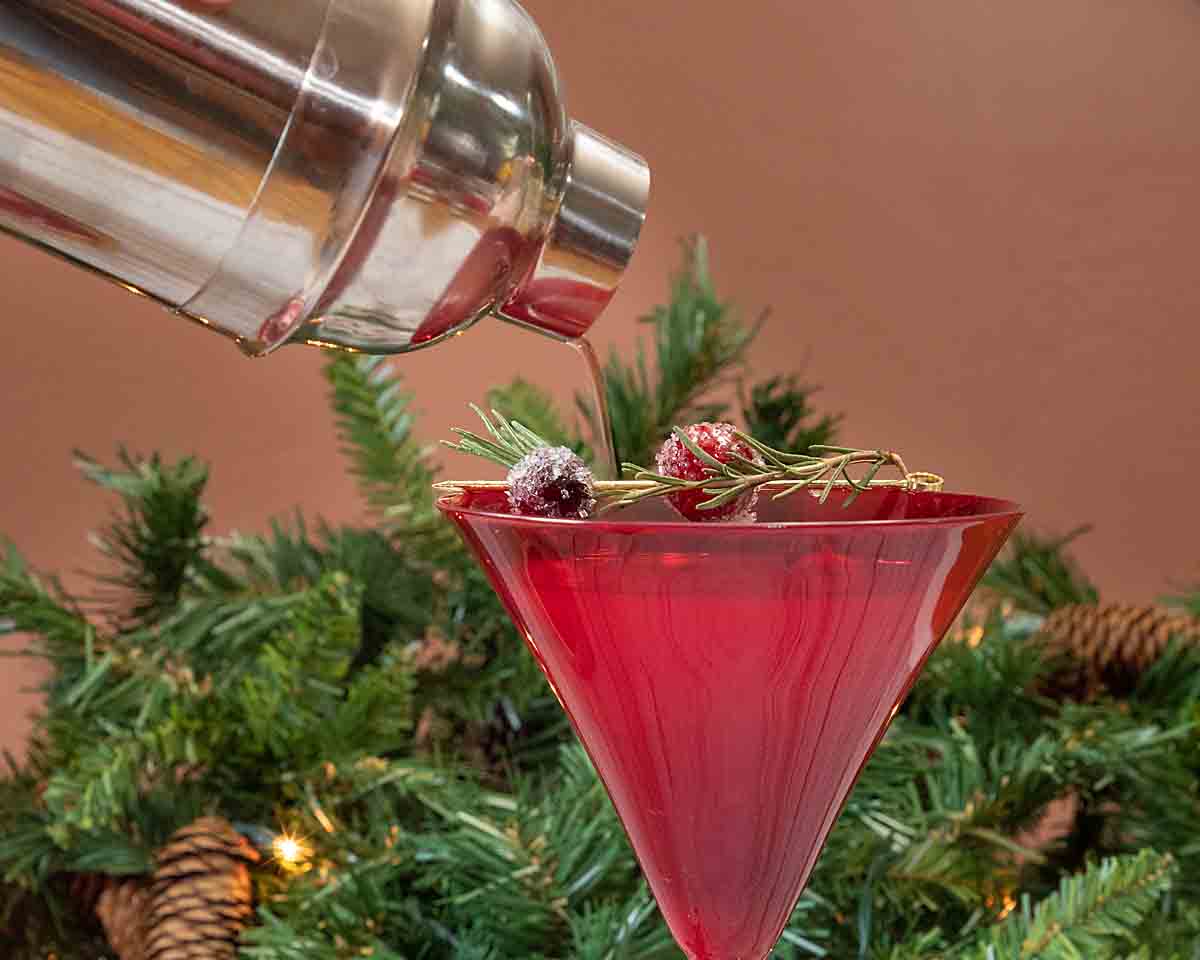 Garnish as desired, then serve.
On Martini Glass Sizes and Alcohol Content
Way back in the era of classic martinis (the not sweet kind, made with gin and vermouth), the martini glass was a lot smaller. Today most martini glasses hold 8 ounces easily–as in with room left to carry it safely to your table.
This makes it a challenge to create a drink that both fits the glass and only has a standard drink's worth of alcohol. A hard liquor drink should have 1 ½ ounces of alcohol, which doesn't go far in a large glass! For more info on calculating drink size, you can check out the Stanford Health services website.
Now with creamy martinis like my Chocolate Nut Martini (Nutty Uncle), I just top the drink with a big dollop of whipped cream. IMHO, whipped cream may be even more fun than extra booze anyway.
For this drink, I provide a recipe with amounts for two standard drinks. It will work as two drinks IF you use smaller glasses like the early martinis.
The festive red glasses I wanted to use are a lot larger, however, so the photos actually show both "servings" in the one glass. This means that if you want to fit a standard large glass, you may need to use the full amount—just clue in your guests that they're drinking a double!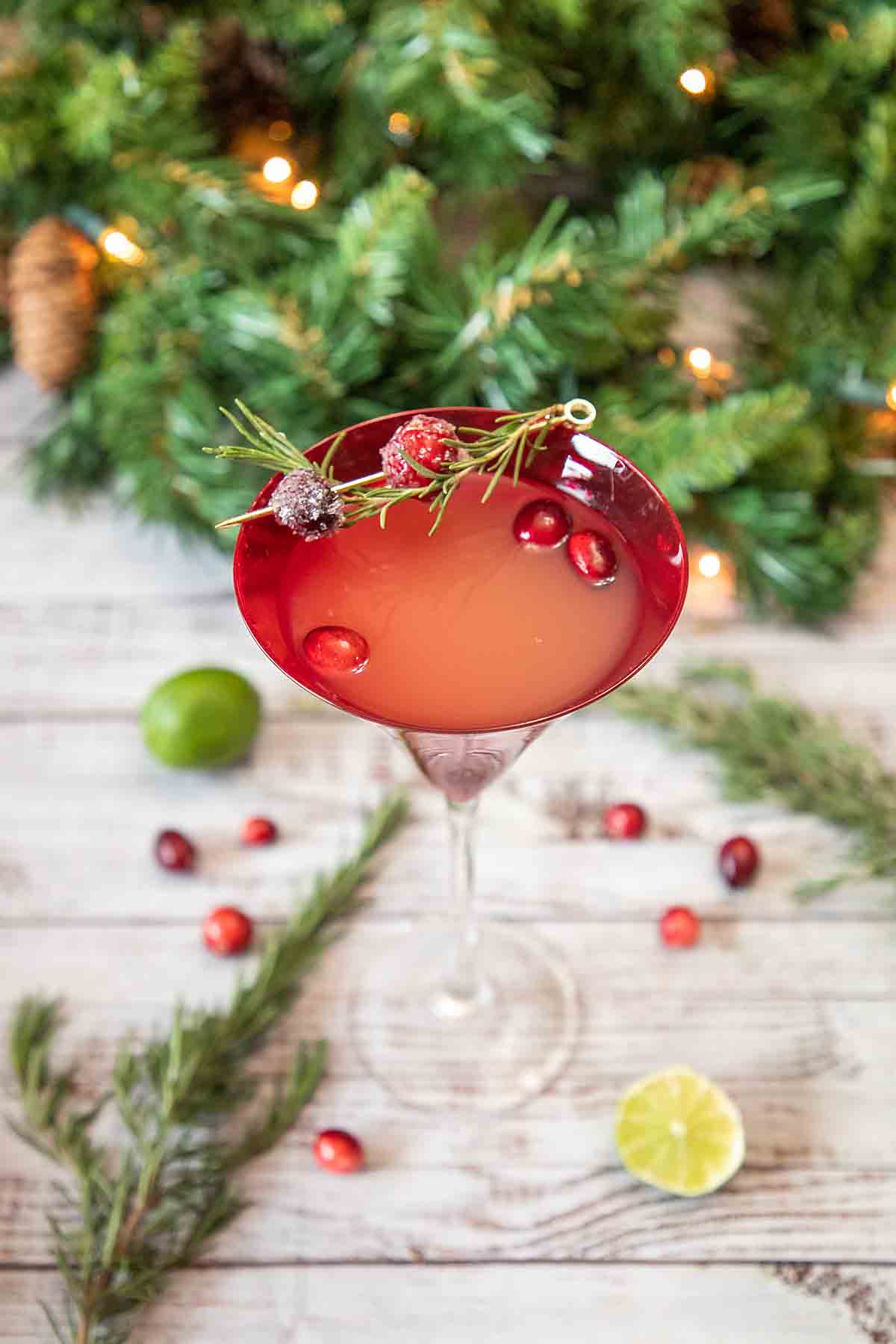 How to Serve
Cranberry Martinis are delicious for cocktail hour or even dessert! I've even given martini parties in the past, which is like a big martini-centric cocktail party! If you are serving a crowd, you could make up a pitcher of these.
Now part of the fun of a holiday martini is the garnishes. I made some sugared cranberries and candied lime slices (using my candied orange slices recipe).
Reducing sugar with low calorie cranberry juice.
Years ago, I tried some low calorie cranberry juice and was very disappointed. But hope springs eternal and this time I found one I really like, sweetened with sucralose.
Another option would be to look for unsweetened cranberry juice (my store didn't carry it). In that case you could sweeten with stevia or whatever your favorite is. If you're really ambitious you could make cranberry juice from scratch!
Alas, with the Cointreau and orange juice, you're still getting a fair amount of sugar. But every bit helps!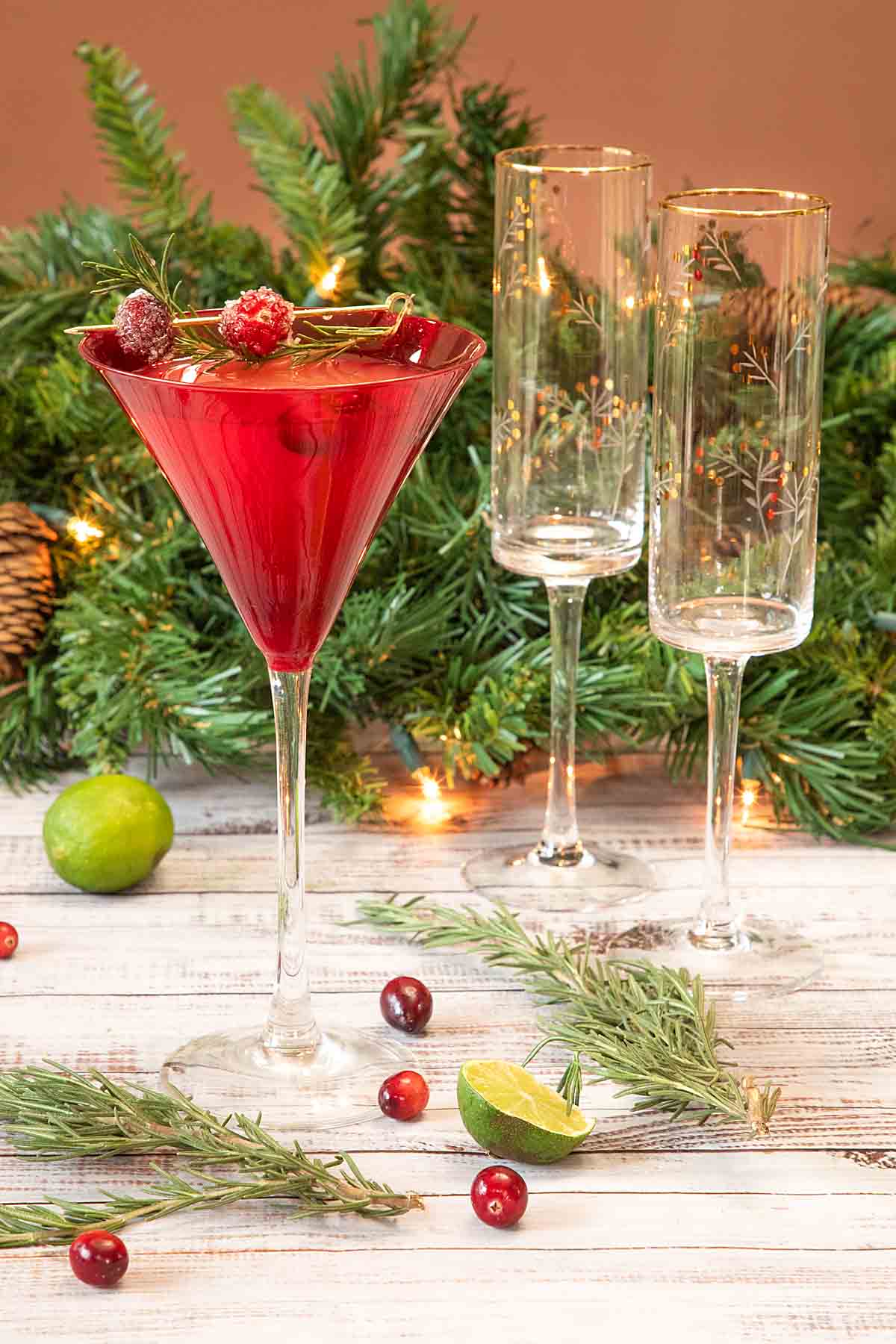 Variations
ON Friday, I will be posting cranberry Christmas Champagne Cocktail that comes from Highclere Castle, the filming site of Downton Abbey. It's lovely but definitely different so be sure to check back (or subscribe to make sure you don't miss it)!
Tips & FAQs
Can I use flavored vodka? Absolutely if you have some vodka in a complimentary flavor. But since I already have the world's largest liquor cabinet per my kids, I am trying not to buy any more new flavors! Either way, this Cranberry Martini will be delicious!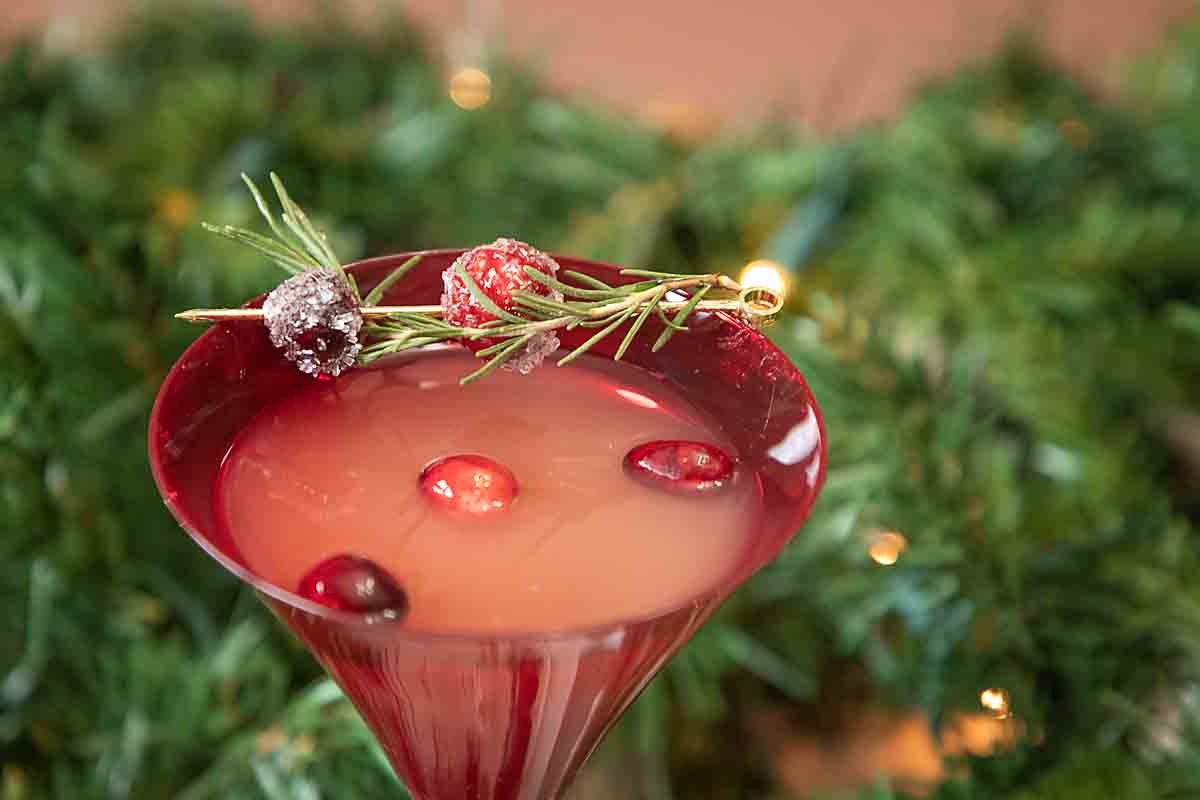 Welcome to #CranberryWeek where we celebrate all things cranberry! We have 11 bloggers sharing over 25 recipes this week. There are sweets, savories, and even a few beverages this week. Make sure to follow #CranberryWeek on social media to see all the delicious recipes we're sharing this week.
Monday's Cranberry Recipes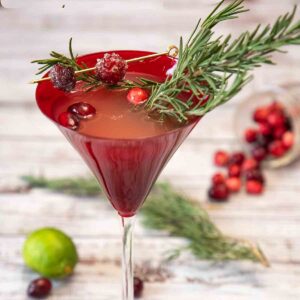 Cranberry Martini or Cosmopolitan
Lightly sweet and flavorful, this Cranberry Martini will be delicious at your next holiday event.  In January you can call it a Cosmopolitan.
Ingredients
1 ½ - 2

ounces

vodka

1

ounce

Cointreau

or other orange liqueur like Triple Sec

3

ounce

cranberry juice

2

ounce

orange juice

1/2

ounce

lemon or lime juice

Ice for shaking
Instructions
Measure ingredients into a cocktail shaker.

Add a handful of ice, then shake briefly.

Pour into serving glass.

Garnish as desired.
I am not a health professional and nutrition data is calculated programatically. Accuracy may vary with product selection, calculator accuracy, etc. Consult a professional for the best information.