Spring Chocolate Dipped Pretzel Rods
Spring Chocolate Dipped Pretzel Rods are salty, sweet & crunchy—perfect for snacking or parties! Use white, milk or dark with pastel sprinkles and optional caramel!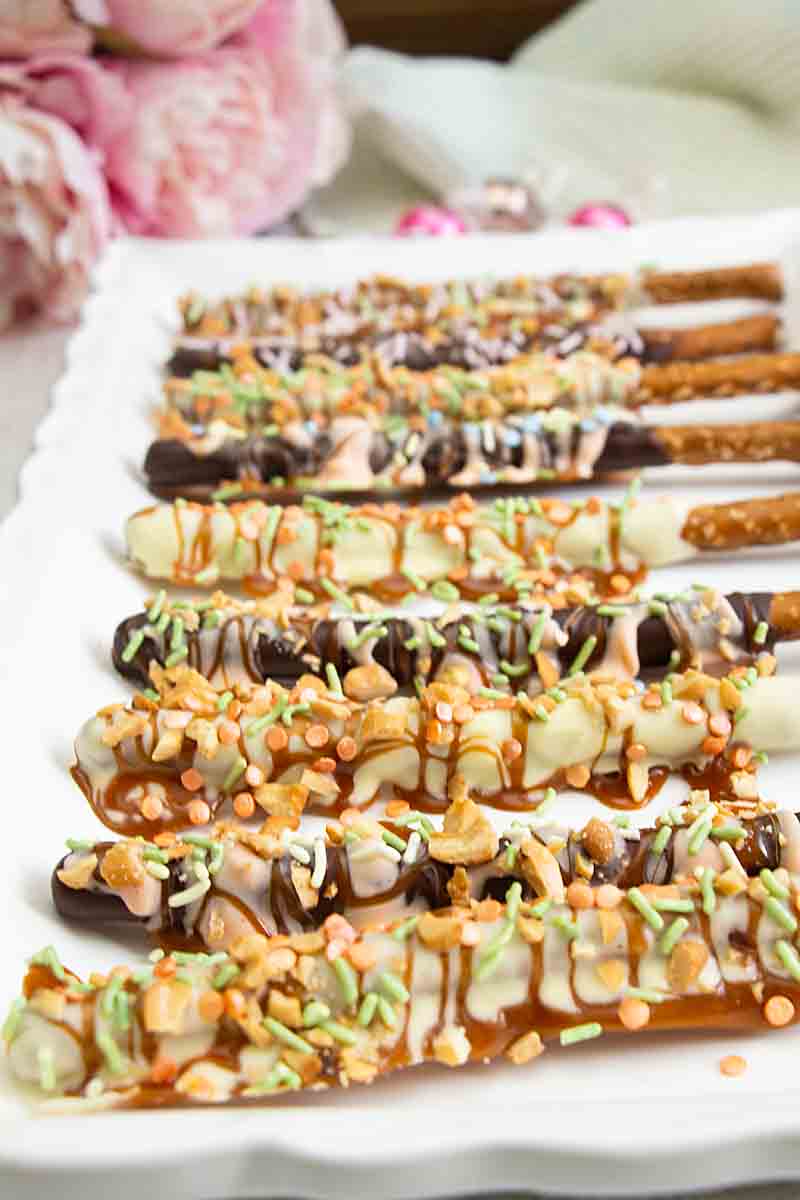 This post is sponsored and contains affiliate links, which can earn me a small commission, please see my policy page for details.
Some treats have a special appeal. Things like ice cream, with it creamy sweetness and refreshing chill. Or snacks with the combination of sweet, salty and crunchy! They're delicious and fun. Like these chocolate dipped pretzels–all dressed up for spring!
Last Christmas, I made chocolate pretzel rods. Done in two flavors, Pecan Turtle and Peppermint Bark, they were a major hit. It was so much fun, I couldn't wait to do a spring version, decorated in flower-like pastels.
To put the look over the top, I had received some beautiful sprinkles free for review from the Ultimate Baker that I was dying to try. I love sprinkles because they make treats festive and dressed up for any occasion (red, white and blue for July 4th, etc.)! And these sprinkles are colored naturally from sources like red radishes and blue-green spirulina. So I got "cute" without guilt!
Why You'll Love This
Tasty. Nowadays, the combination of sweet and salty is famous. Just think of how big salted caramel has become! Add in some crunch from the pretzel and you are over the top!
Cheery and Seasonal. What is it about sprinkles that always makes me smile! Even better you can change up the colors to suit the season or holiday. Or maybe match your favorite team or go for school colors!
Broadly Appealing. Chocolate dipped pretzels are fun for kids and adults alike. Even people who shy away from things that are too sweet love them!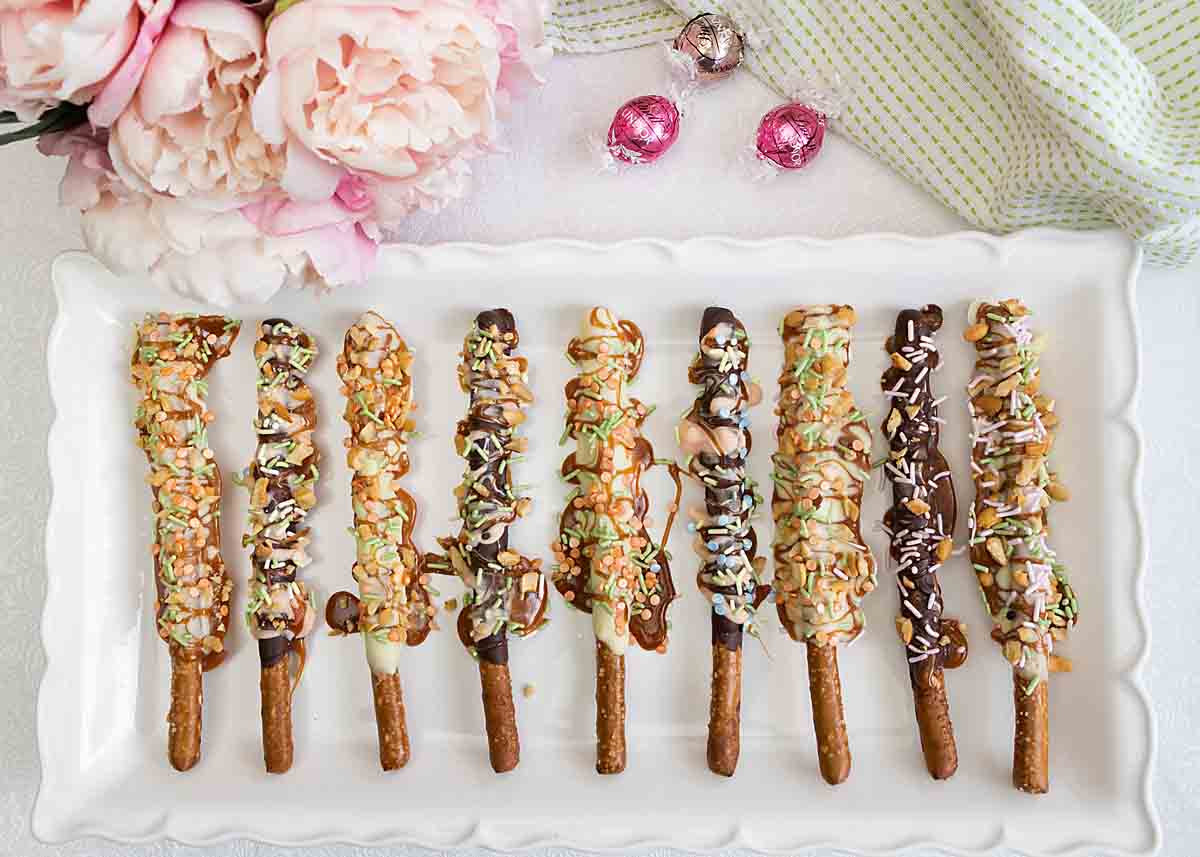 What You'll Need
Ingredients
(Food grade) cocoa butter. This helps make the chocolate easier to work with and enhances the flavor. In a pinch you can use coconut oil.
White chocolate. This is for dipping the pretzels and it shows off the sprinkles beautifully.
Dark or milk chocolate. This adds variety to your pretzel chocolate mix.
Pretzel rods. Of course!

Assorted colored sprinkles. This gives you the fun spring look (or other season if you change colors).
Optional gel food coloring. In case you'd like to turn your white choocolate pink or do pink drizzles.
Optional caramels (or very thick homemade caramel sauce). Caramel can add to the flavor of the loaded pretzel rods.

Optional chopped cashews. This can add flavor and more crunch. You can also use a different nut but the light cashew color is a good compliment.
Tools
Instant Read Thermometer. If you don't want to try keeping the chocolate tempered, you won't need a thermometer but it is recommended.
Microwave. This is the most reliable way to melt the chocolate.

Wax paper or parchment. You will set the chocolate dipped pretzels on parchment to cool and harden. You should be able to use a silpat too.
Step by Step Directions
Chocolate dipped pretzel rods are actually quite easy to make.
To start, you chop the chocolate and cocoa butter (if using). If they are in small pieces, they will melt much better.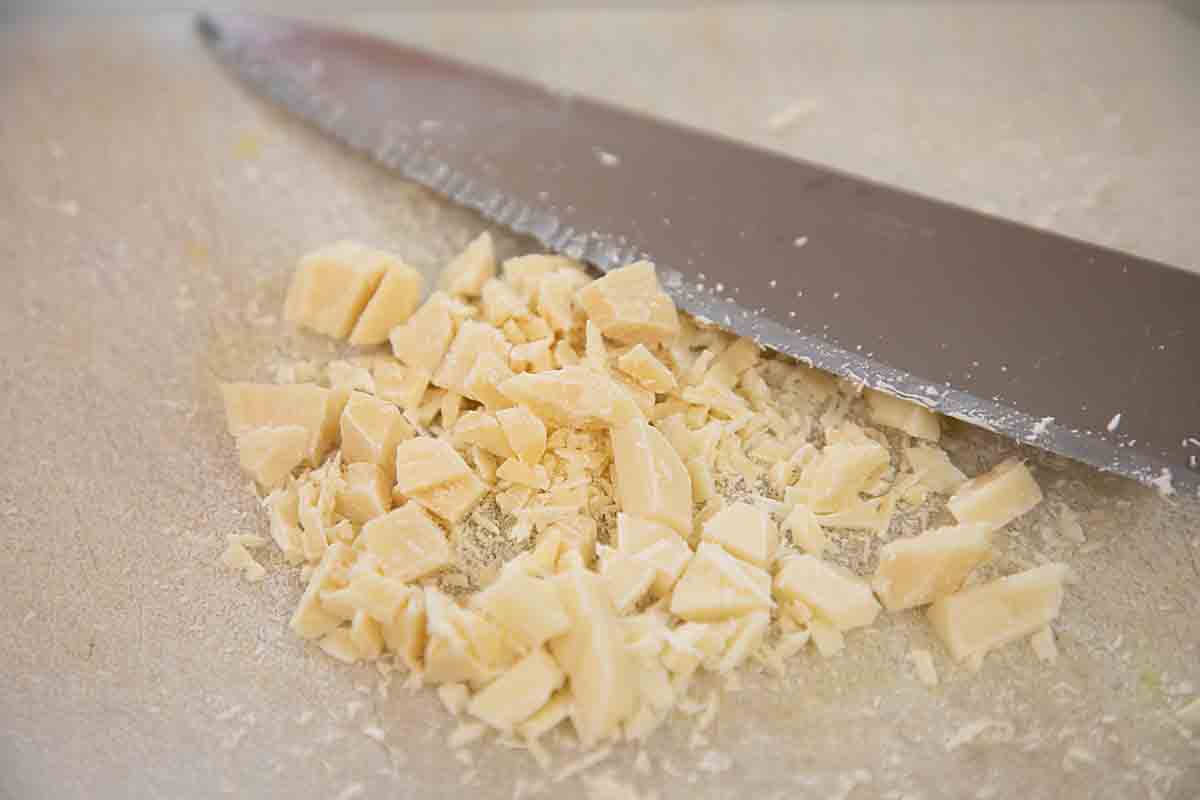 In a microwave, slowly get the cocoa butter or coconut oil partly melted. Stir in the chopped chocolate pieces and microwave in brief bursts, stirring in between until just melted. Ideally keep the temperature of white/milk chocolate to 88F or less and dark to 91F or less (see Selecting and Working with chocolate below).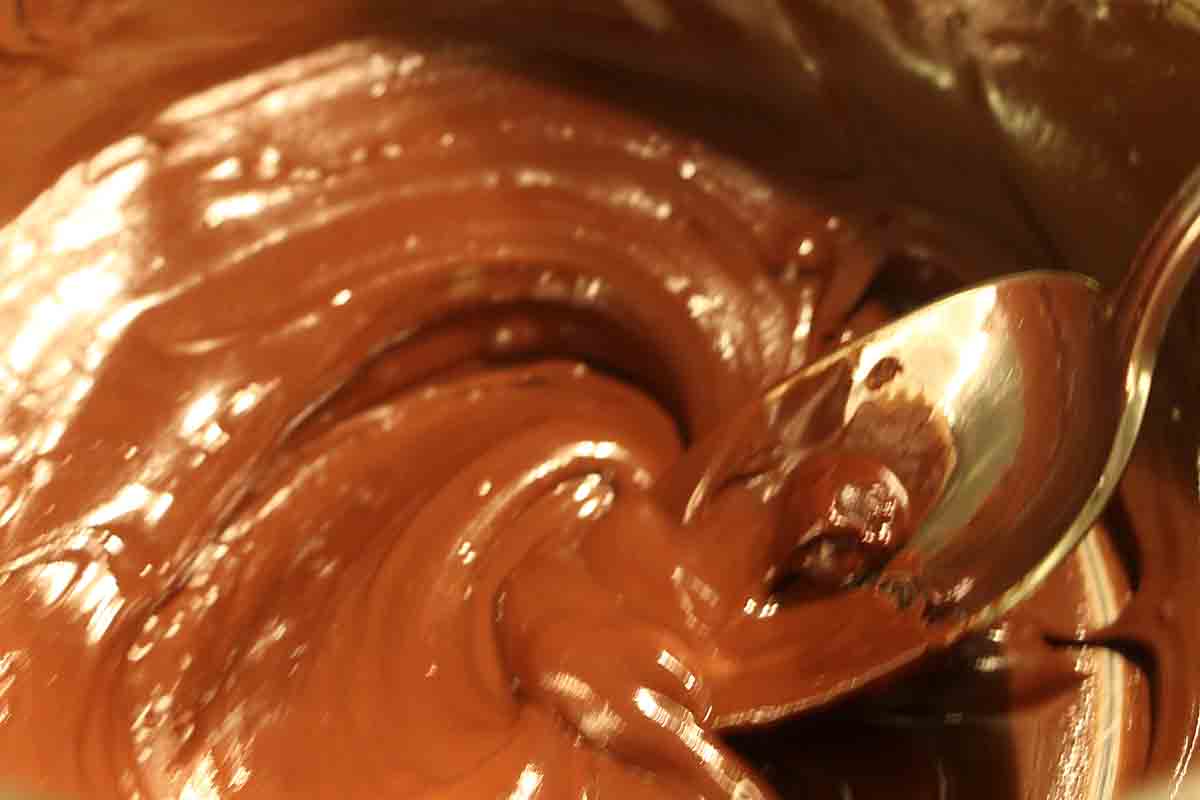 Hold the pretzel rod over the chocolate melting bowl and turn while spooning chocolate over it.
Hold in the air for a few seconds to partially harden, then set on parchment to dry. There may be some pooling of chocolate on the parchment, but I actually think it make them look more indulgent.
If you are not adding caramel, add the sprinkles now, while the chocolate is still soft.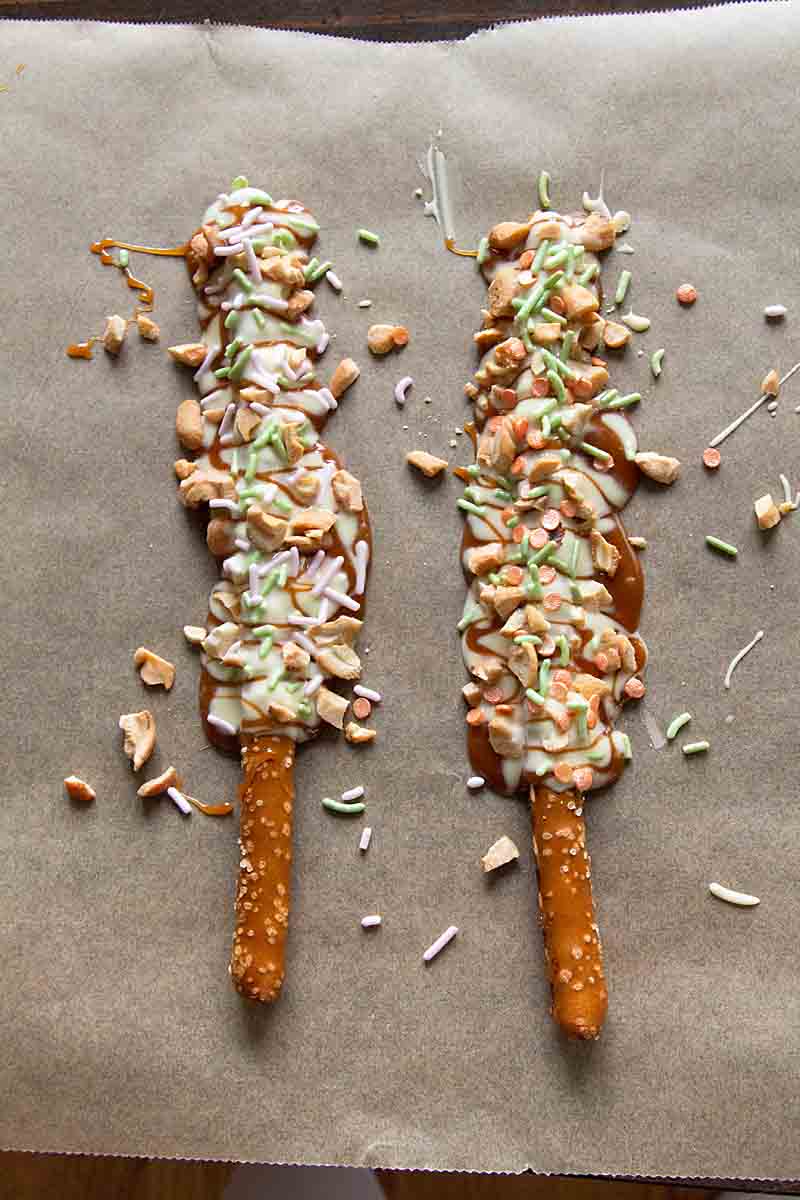 If you are using caramel, let the chocolate dipped pretzel rods cool in the refrigerator while you prepare the caramel. Either melt store bought caramels in the microwave with just a little water (too much and you'll end up with liquid syrup), or make a thick version of my homemade caramel dip.
A few at a time, drizzle the chocolate dipped pretzel rods with the molten caramel. This will add flavor and soften the chocolate enough to add the nuts and sprinkles. Immediately after drizzling, sprinkle with sprinkles and (optional) chopped nuts.
Or instead of drizzling with caramel you can take milk or dark chocolate pretzels and drizzle them with white chocolate–or even white chocolate colored pink!
Selecting and Melting Chocolate
Chocolate vs Candy Melts
Candy melts are chocolate-like and very easy to work with but they are not usually real chocolate (there are some exceptions). So for recipes that rely on good chocolate flavor, I strongly encourage using real chocolate.
The one exception would be if you just want to add just a little white or pastel drizzle over your dark or milk chocolate. For just a light accent, the small amount of candy melt won't significantly change the flavor. Just be aware that some candy melts contain hydrogenated oil, though again you're using small quantities.
You can see some pink drizzle on chocolate below!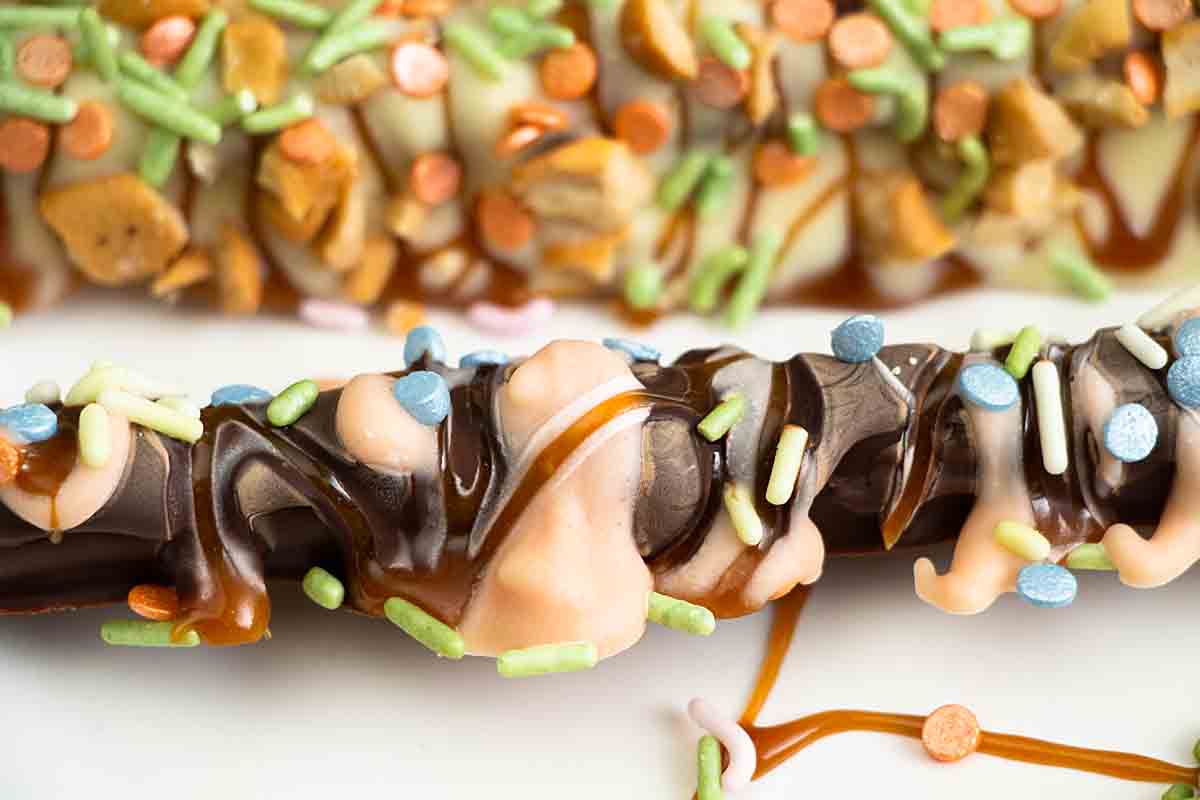 Selecting Your Chocolate
You may be able to simply go to the grocery store to get your chocolate! Just be sure to check the ingredient list to make sure that cocoa butter is included. If it isn't, move on to the next chocolate.
You may read online that you can't use chocolate chips for candy making but I use the Food Club store brand of bittersweet chocolate chips regularly. Baker's chocolate is also readily available in many grocery stores and I also like Lindt classic recipe bars (and you can snack on the leftovers). None of these are sponsored.
If I someday start making fine truffles, I may change up my choices, but for basic candy making, there is no requirement to special order. Well, except possibly for cocoa butter (see below).
On adding cocoa butter
I like to add cocoa butter to my chocolate. I feel that this enhances the final flavor plus it melts into a runnier liquid that is easier to work with. In a pinch I'll use coconut oil which changes the flavor slightly but is still nicer to work with than straight chocolate.
And I did just learn that our local Whole Foods carries food grade cocoa butter!
What is Tempered Chocolate?
If you're not familiar with the term tempered, it describes the glossy, crisp chocolate you see in commercial candy. Think of the nice snap you get when you break a Hershey's bar!
From a chemistry perspective, it has to do with how the crystals line up.
Untempered chocolate is duller and softer at room temperature and bends rather than snaps.
While a good temper is ideal, most home candy makers do not achieve this and no one notices. So if it all sounds too hard, just melt your chocolate in the microwave or over a double boiler (though still do it slowly and stir a lot—chocolate can burn just over 115-120 F).
But I've learned a (relatively) easy way to achieve a temper that I want to share with you!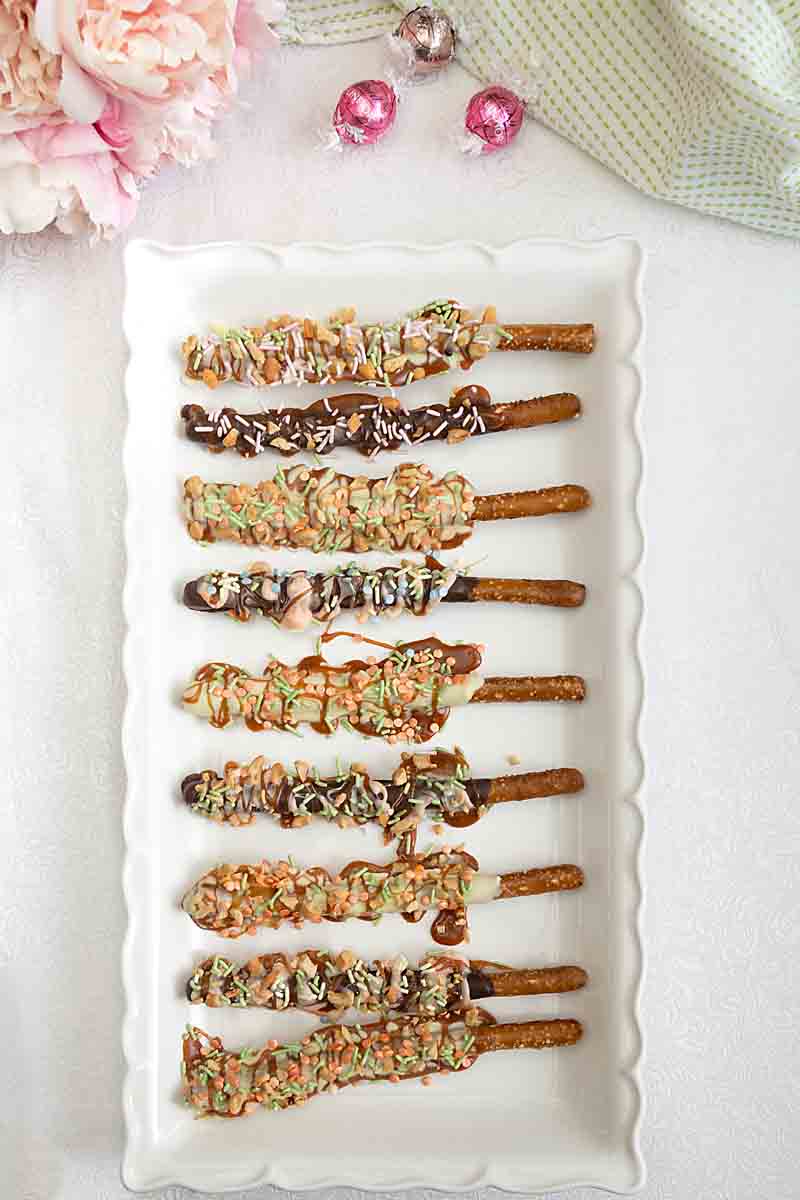 The Easiest Way to Get Tempered Chocolate
I believe the best way to temper chocolate is to keep your chocolate in temper by not getting it too hot. If you can keep white or milk chocolate at or below 88 F and dark chocolate at or below 91 F, the good crystals will remain intact. This means it will retain the crispness and gloss of good, tempered chocolate.
To do this, I chop my chocolate into fine pieces (grating it is probably even better), then melt it in the microwave rather than a double boiler. There are two reasons for this.
First, microwaving allows very controlled, short bursts—as slow as 3 seconds at the end. And second, it is less likely overheat your container (which will then overheat your chocolate).
I alternate between short microwave bursts and vigorous stirring, starting at a 15-30 second burst (depending on the amount of chocolate) and ending at 3 second bursts. I check the temperature regularly with an instant read thermometer.
As long as you keep the white or milk chocolate below 88 and the dark chocolate below 91, it should crisp up again when it hardens.
If you accidentally go above these temperatures, you can still use it–just store the pretzels in the refrigerator (which you'll see I recommend anyway). It is possible to re-temper chocolate but this is a lot more difficult, and I hear it may not work in small quantities like this.
Now if your chocolate starts to harden while you are working with it, you can re-melt it again, as long as you don't go over 88 F for white/milk or 91F for dark.
And one final note, I usually re-calibrate my thermometer before doing this since a couple degrees off makes a difference. Check with your manufacturer for instructions since this varies.
The best part is that even imperfect results are cute, tasty and pretty impressive too! Happy spring!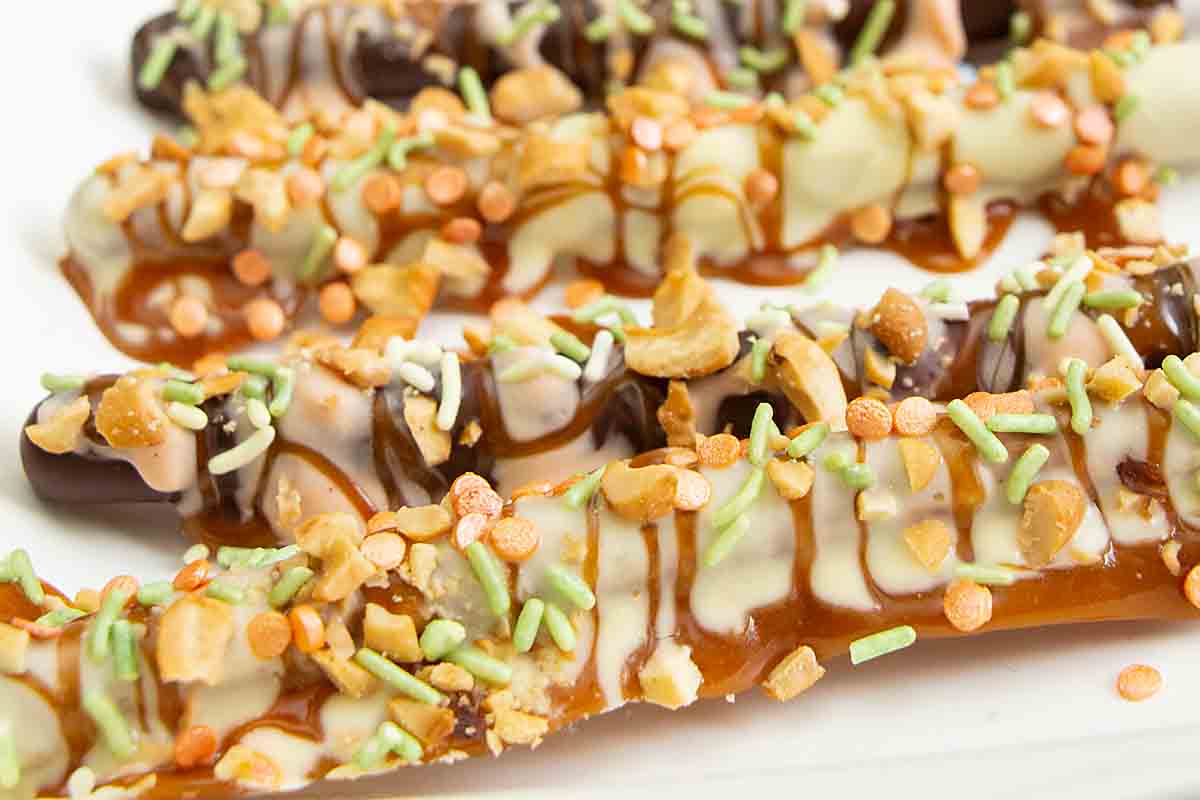 How to serve and store
Now perfectly tempered or not, I recommend storing the completed pretzels in the refrigerator in an airtight container. This way if there are any imperfections like too soft caramel or softer, untempered chocolate, no one will notice.
Then for best flavor, allow the pretzels to come to room temperature (that would be a 68-ish room, not a 90 degree room) before serving.
You can leave them out briefly for an indoor party. I served them upright in a drink glass below.
To serve outdoors on a warmer day (or in a warmer house), hand them out individually. Alternatively, serve them in a shaded area on a tray set over a pan of ice water.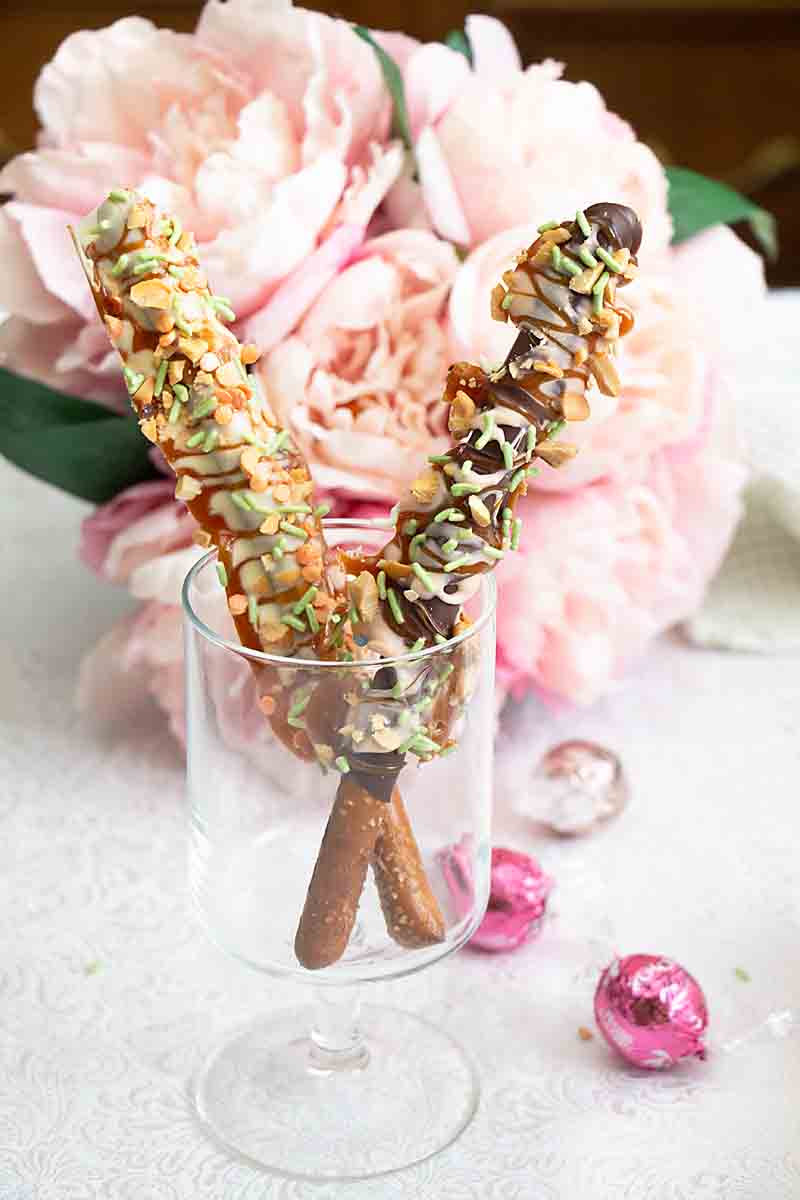 Tips & FAQs
I think the white chocolate pretzels are the prettiest since they show off the sprinkles so well. But since some people don't like white chocolate, I always make some in milk and/or dark chocolate. And if I were in a hurry I might just do dark chocolate and accent with drizzled candy melts. They'd still be lovely!
If you use white chocolate and want to dye it to make a pastel drizzle or dip, there is one important caution. White chocolate is notoriously prone to seizing (that means getting hard and clumpy) if it touches any water, including water based food colorings. So be sure to use a gel color (like the Wilton which are good colors anyway).
If you are working with the caramel syrup it may start to harden after awhile, depending on how long it sits. In that case just re-heat it briefly to soften. Unlike chocolate, caramel isn't fussy about how it is treated!
If you use nuts on these, be sure to make some pretzels without nuts for people with allergies.
The main reason I spoon the chocolate over the pretzels rather than dip them is that dipping requires a whole lot more chocolate, especially when you consider that you'd still need a deep well of chocolate on your final pretzel. And while chocolate is fun, I'm not sure what I'd do with that much leftover!
And the best part is that even imperfect results are cute, tasty and pretty impressive too! Happy spring!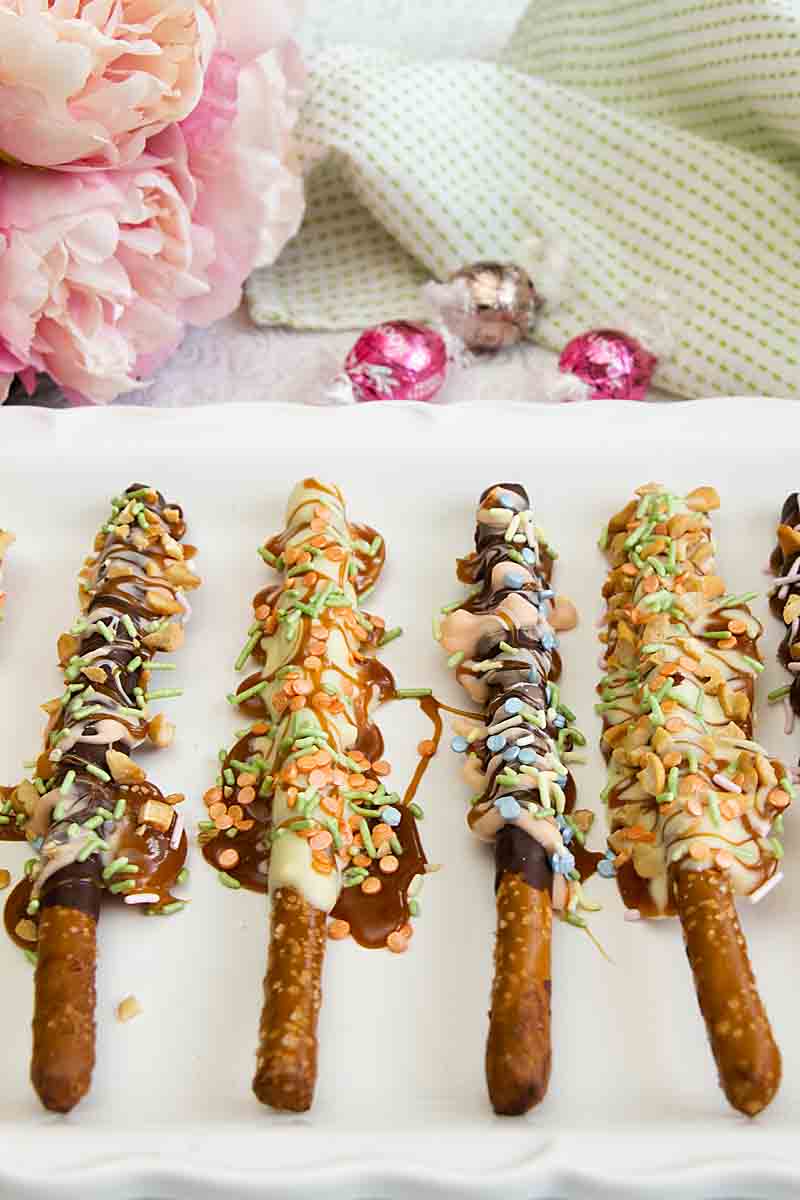 For more tasty pretzel recipes, check out: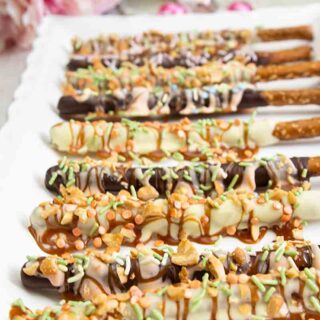 Spring Chocolate Dipped Pretzel Rods
Spring Chocolate Dipped Pretzel Rods are salty, sweet & crunchy—perfect for snacking or parties! White, milk or dark with pastel sprinkles! 
Ingredients
1 1/2

ounces

cacao butter

food grade , chopped or coconut oil (3T)

3

ounces

white chocolate

finely chopped

1 1/2

ounces

dark chocolate

or milk, finely chopped

10

pretzel rods

2-3

Tablespoons

sprinkles

assorted colored

optional gel food coloring

optional 3-4 caramels

or very thick homemade caramel sauce

optional 2-3 Tablespoons chopped cashews
Instructions
Place chopped ccoaa butter in medium bowl. In a microwave, partiially melt 2 Tablespoons (1 ounce) of the cocoa butter or coconut oil in brief bursts stirring in between. Stir in the chopped white chocolate pieces and microwave in brief bursts of 3-15 seconds, stirring in between, until just melted. Ideally keep the temperature of white/milk chocolate to 88F or less and dark to 91F or less.

Holding a pretzel rod over bowl, spoon melted chocolate over pretzel while rotating until all but about 1-2 inches of the end is covered. Hold coated pretzel over bowl for a minute to firm slightly, then lay on parchment (chocolate may pool some which is fine). If not using caramel or colored chocolate drizzle, add sprinkles now. Repeat for a total of 6 or 7 pretzels. Then transfer to the refrigerator.

Melt the remaining cocoa butter and milk or dark choocolate as described above, then spoon over remaining pretzels.

Optionally reheat any extra white chocolate to 88F and add a tiny dot of red gel dye to make pink chocolate.. Drizzle on dark/milk chocolate pretzels.

If not using caraamel, add sprinkles now. Refrigerate the pretzels to firm.

If using caramel, prepare

homemade caramel dip

or melt caramels with a little water, stirring often (they can be melted on the stove or in short bursts in the microwave). When caramel is hot and soft enough to drizzle, take the chocolate coated pretzels out the refrigerator. Using a spoon drizzle the pretzels with caramel and sprinkle with sprinkles and optionally chopped nuts.

Store in refrigerator until served.
Notes
This will make 6-7 white choclate pretzels and 3-4 milk or dark chocolate pretzels. But feel free to go with just one type of chocolate if you prefer. In that case use 4 1/2 ounces of your preferred type of chocolate.

I am not a health professional and nutrition data is calculated programatically. Accuracy may vary with product selection, calculator accuracy, etc. Consult a professional for the best information.

Originally published May, 2021.