Easy Biscoff or Nutella Braided Bread
Bring sweet flavor to your breakfast or brunch with this deceptively easy Biscoff or Nutella Braided Bread.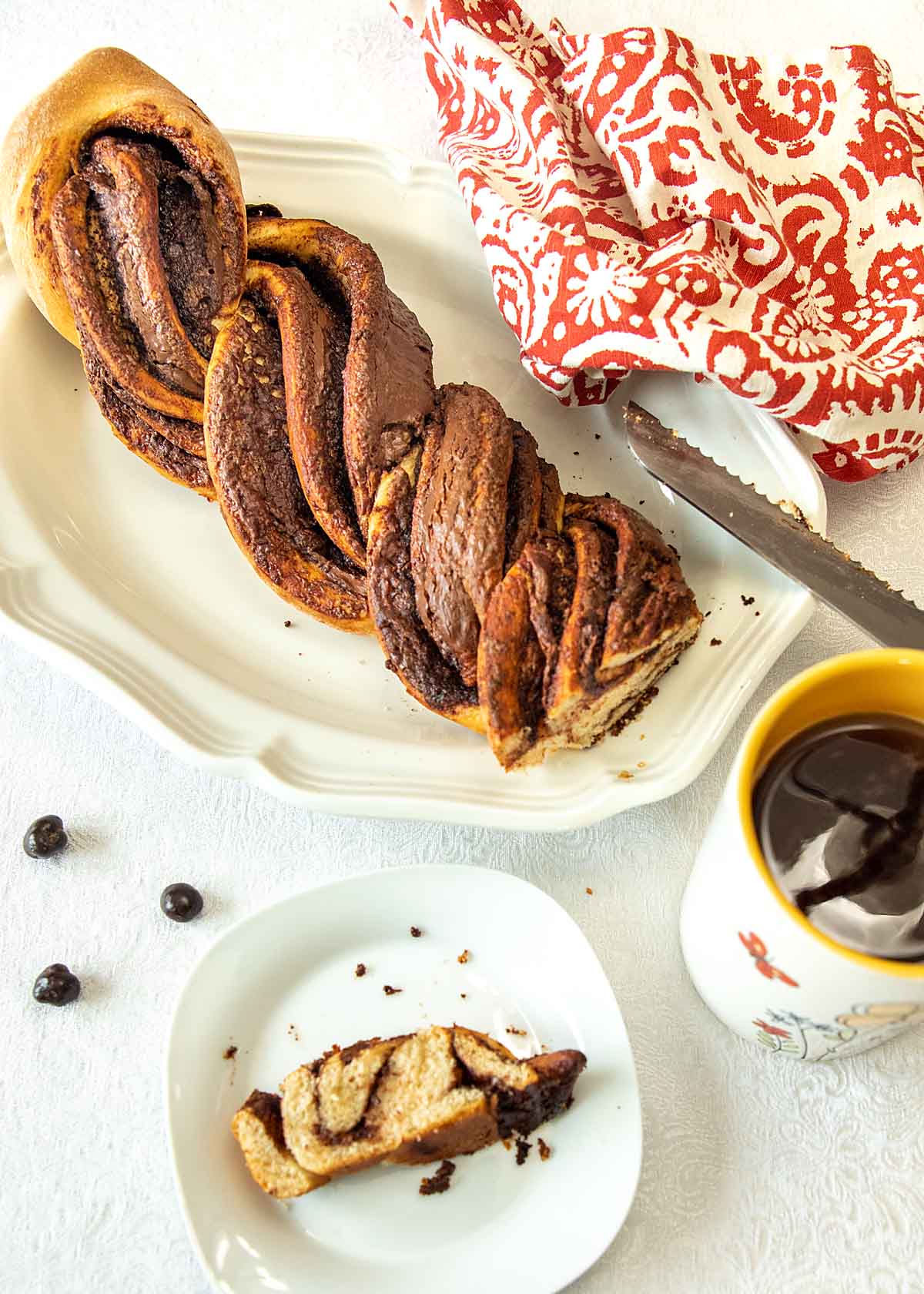 I love fresh bread. It's a perfect addition to a home-cooked meal and—with the right loaf–a sure-fire hit at a brunch or dinner party.
Of course when it comes to your typical give me the energy to wake up morning meal, a sweeter bread hits the spot. Like this Biscoff (aka Speculoos) or Nutella Braided Bread! And it's no slouch on the "impressive" scale either!
Yes, this Braided Bread was an interesting find, almost like a cross between a yeasted bread and a coffee cake. Bringing together the lightness of yeast and the flavor of a quick bread, it's sure to please everyone at your table!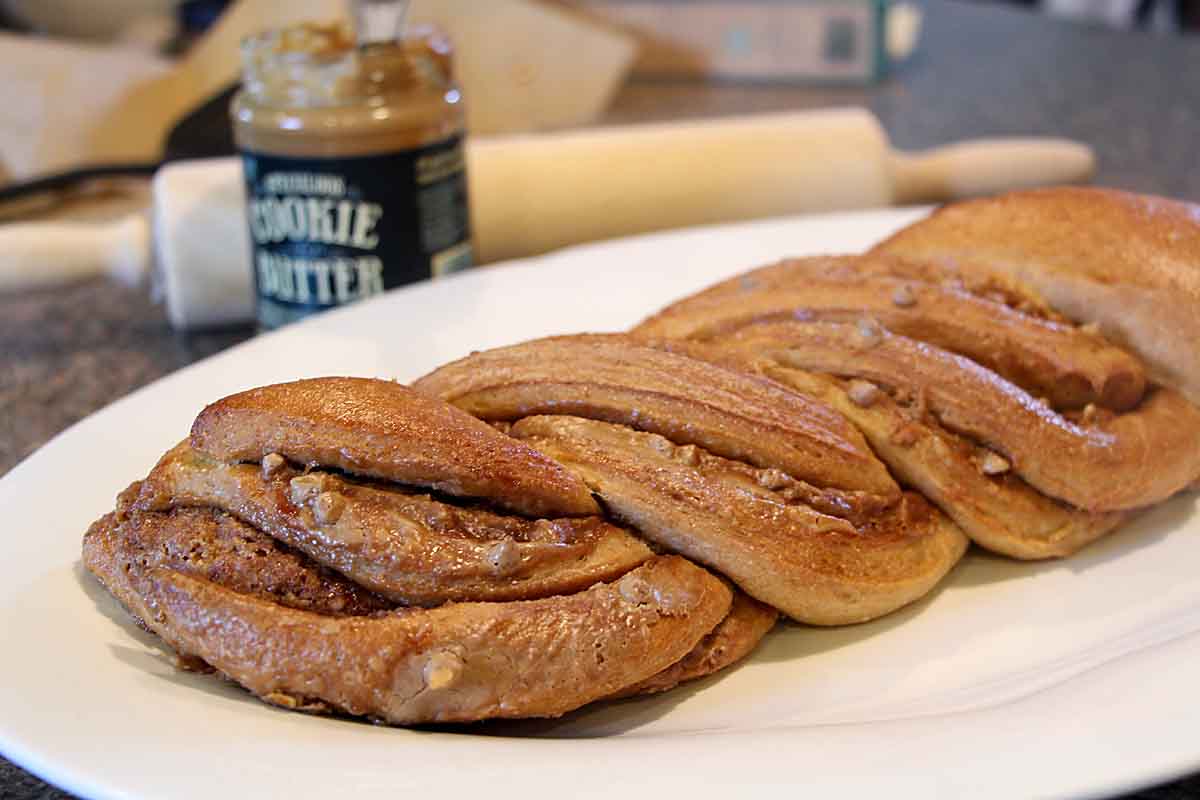 What is Biiscoff or Nutella Braided Bread
Now that's a question with a lot of parts!
The short answer is that this a twisted loaf filled with sweet creamy Nutella or Speculoos / Biscoff–kind of like a simplified Babka. Of course a Babka has a richer, brioche-like dough (containing eggs), a homemade chocolate filling, and streusel topping. But this loaf has easier preparation on it's side.
What is Speculoos / Biscoff (or the Cookie Butter)?
Speculoos, often known as Biscoff in the US is a European holiday spice cookie—if you ate Windmill cookies growing up, you know the flavor. And someone got the brilliant idea to turn it into a spread which means there are even more fun things to do with it! Try to imagine a decadent peanut butter or spreadable cookie! Then feel free to use it anywhere you'd put (a sweeter) peanut butter.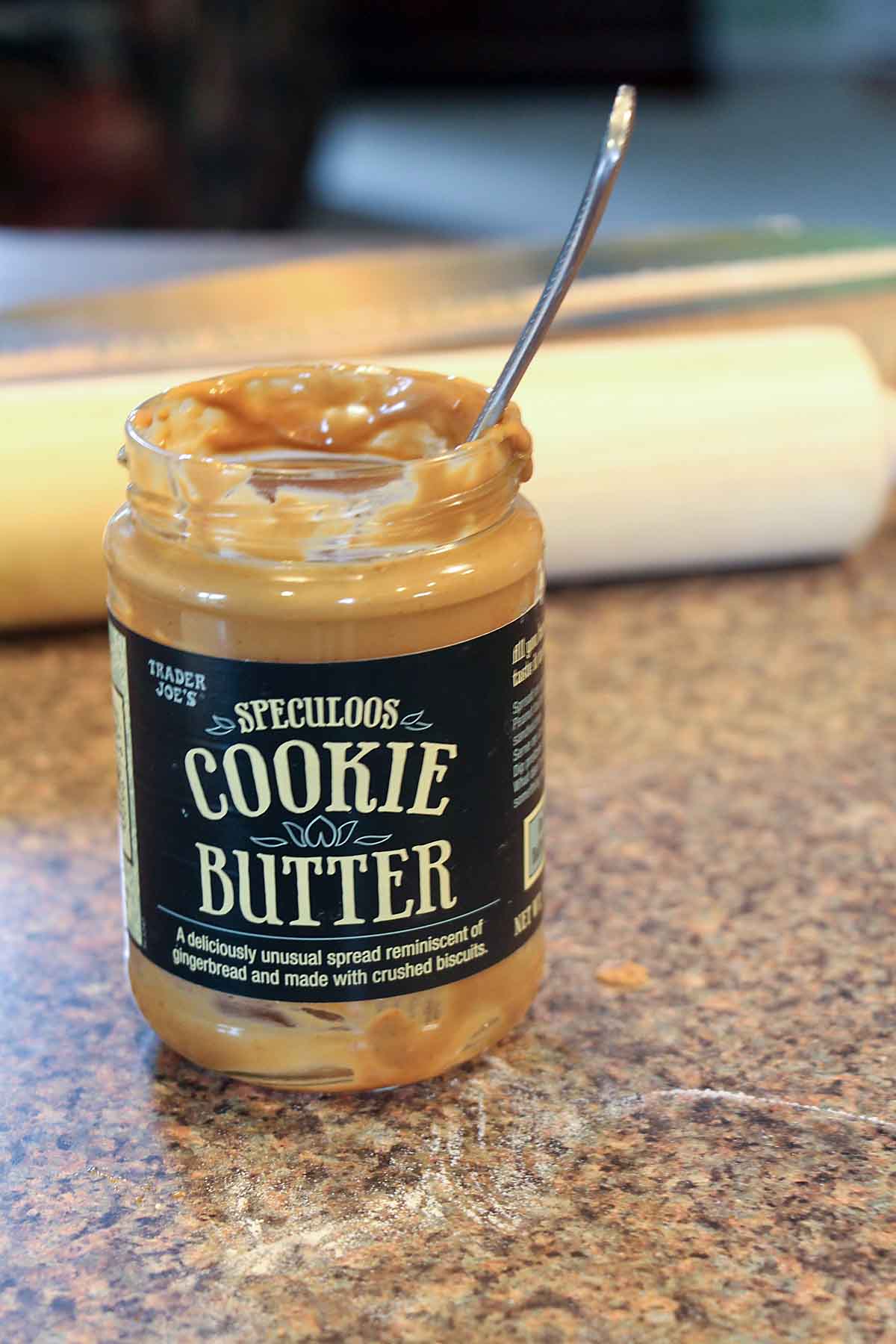 What is Nutella?
Nutella is a classic chocolate hazelnut spread. According to the Nutella website, "After World War II, cocoa was extremely scarce. Ferrero, originally from Piedmont in Italy, turned this tricky problem into a smart solution, creating a sweet paste made from hazelnuts, sugar and just a little of the rare cocoa. The ancestor of Nutella® was born."
Like the Speculoos Cookie Butter, Nutella is sweet, spreadable and fun!
Is braided bread hard?
Now technically speaking this isn't a regular braid since it has just two "strands." But that means it's easier! Basically you turn the strands cut side up, then alternate putting one on top of the other. Take a look at the pictures in the Step by Step Directions if this seems confusing.
Yes, if I can do it, it's not really any harder than making a loaf of bread. Take the word of someone known for ugly baked goods!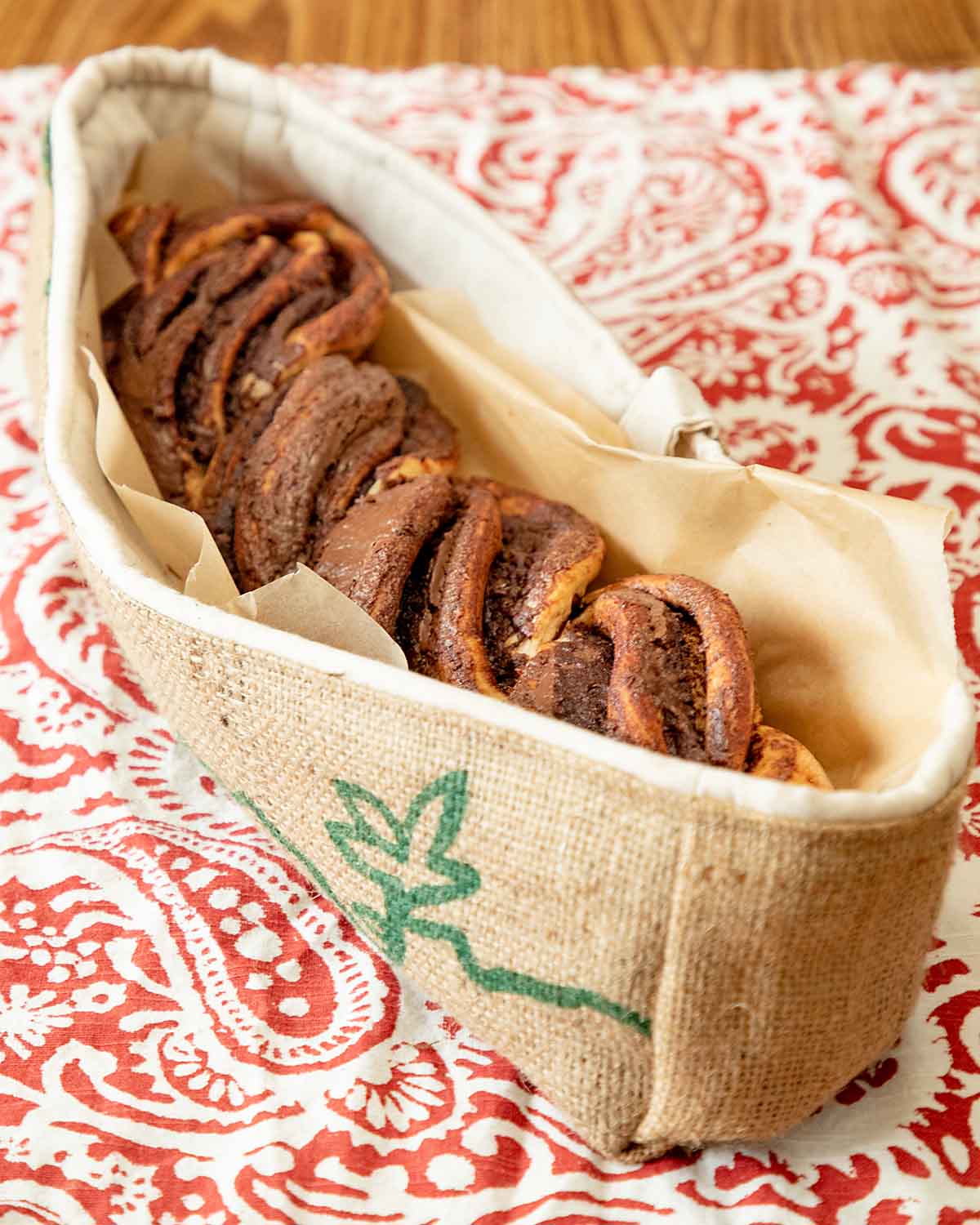 Why You'll Love This!
Tasty. The sweet taste of Nutella or Biscoff / Speculoos blends perfectly with the warm yeasty bread for a delicious loaf.
Fun and Unique. No boring breakfast bread here. Whether it's for guests or just you and your family, this loaf will bring a smile to your table.
Easy. It's not much harder than a loaf of bread. Which means it's easy enough for a weekend breakfast even when there is no special occasion!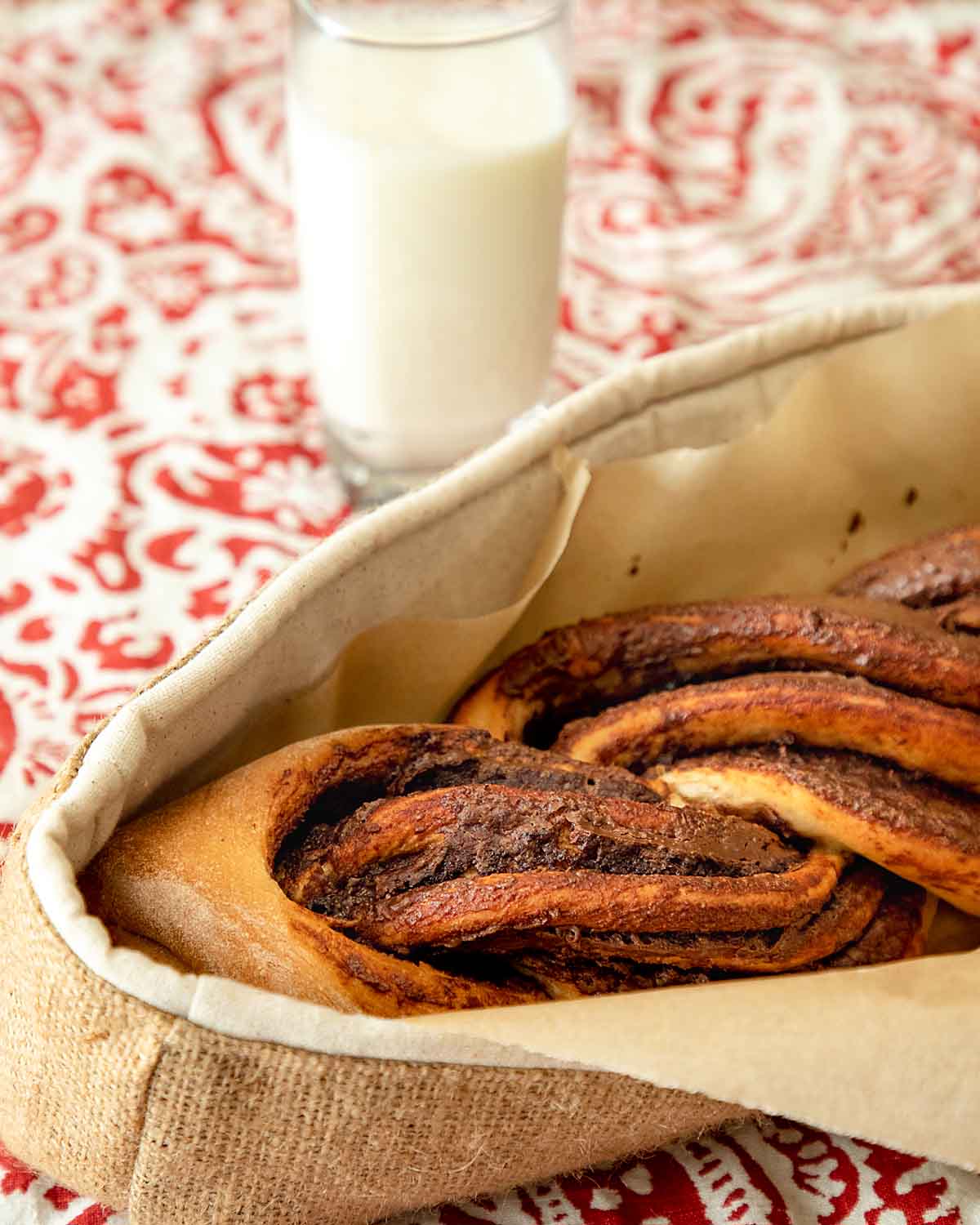 What You Need
Ingredients
Yeast provides the rise in the bread
Milk makes the loaf more tender
All purpose flour forms the bulk of the loaf

Whole wheat flour provides a little extra health value. But you can use an extra cup of all purpose if you prefer
Salt adds flavor and influences the rise
Sugar helps the yeast mulitply
Nutella spread or Biscoff / Speculoos cookie butter provides the filling and flavor.
Optional egg wash (egg beaten with water) helps the loaf brown
No special tools are needed.
Step by Step Instructions
To begin, you just roll out the dough into a rectangle on parchment and top with your choice of spread.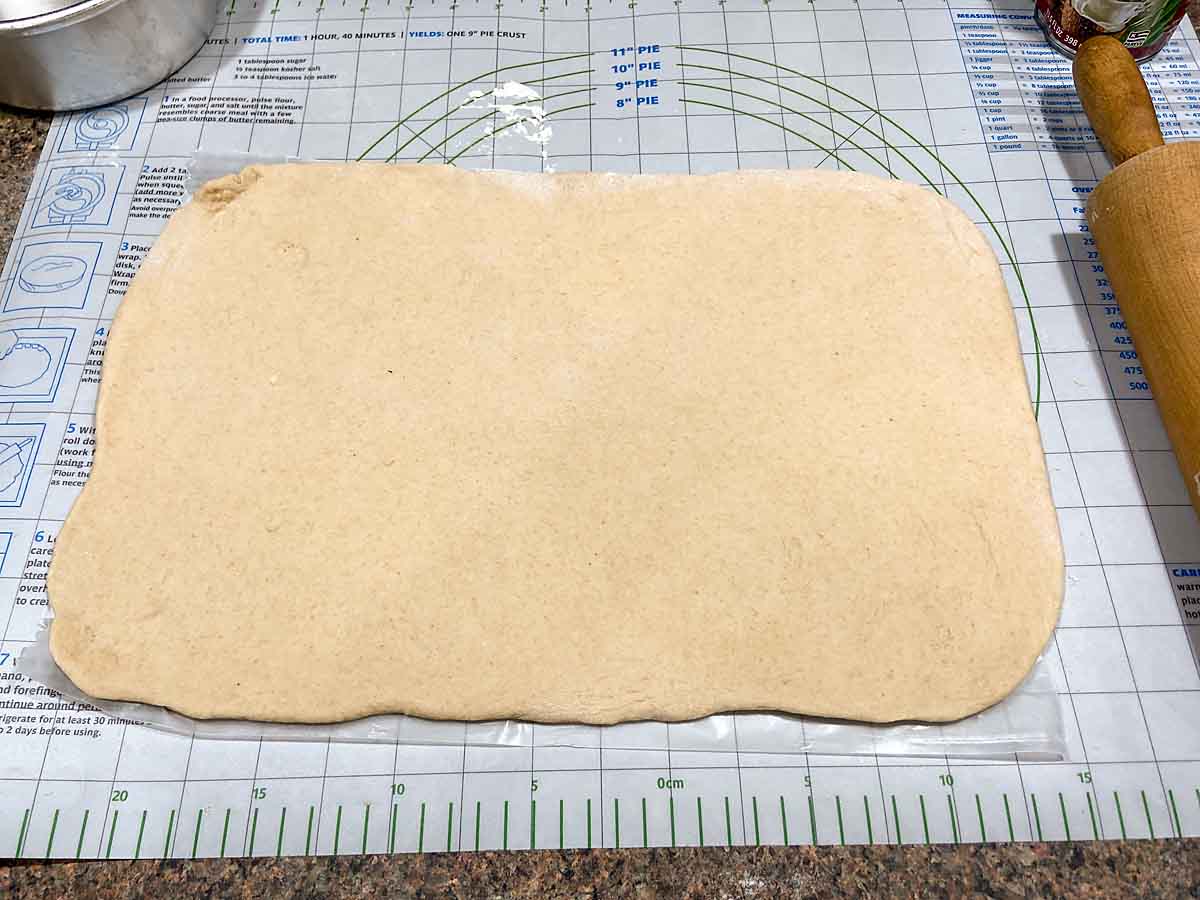 Using the parchment to help, roll into a long tube.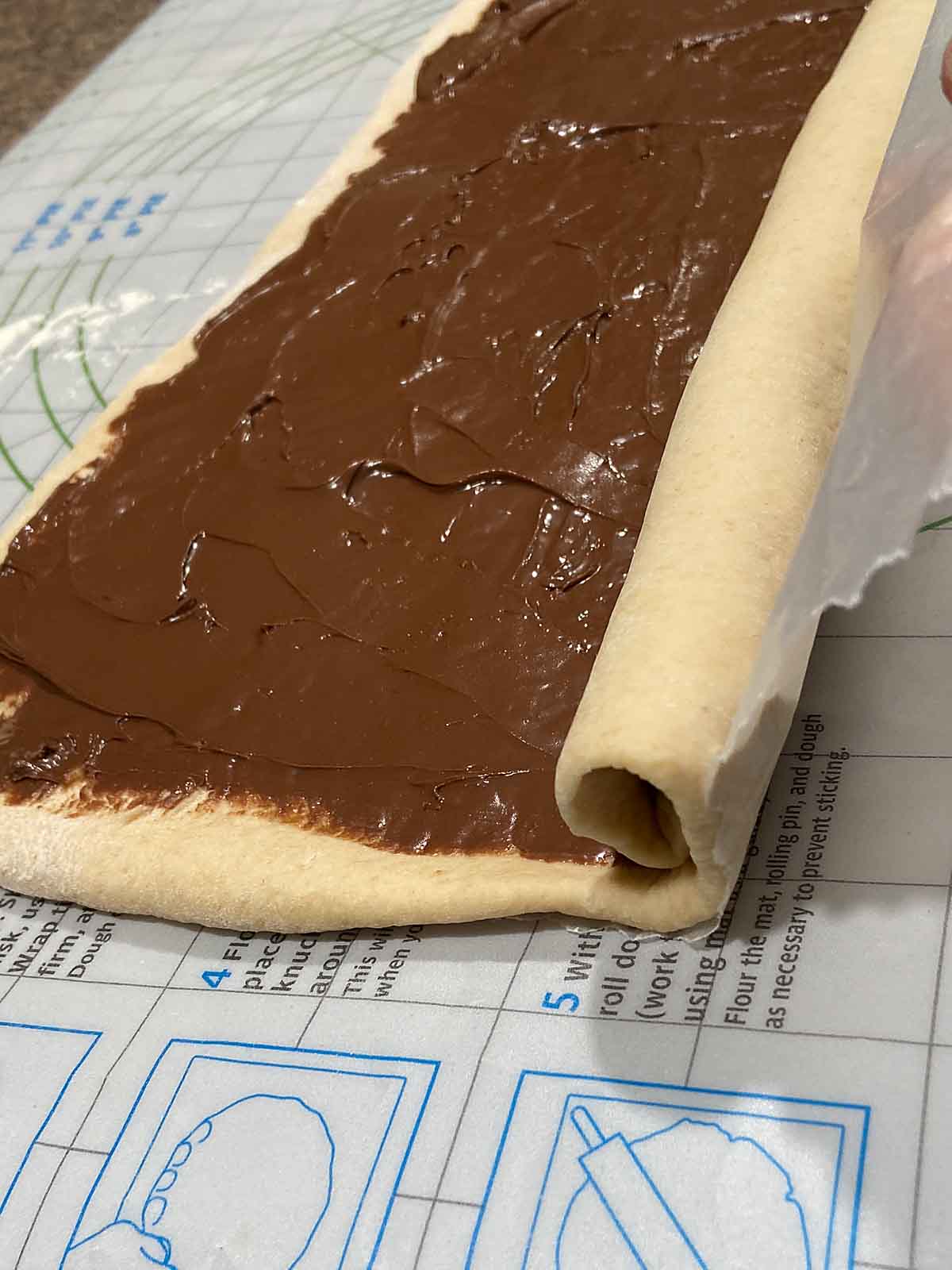 Slice down the middle or cut with a scissors to form two "strands".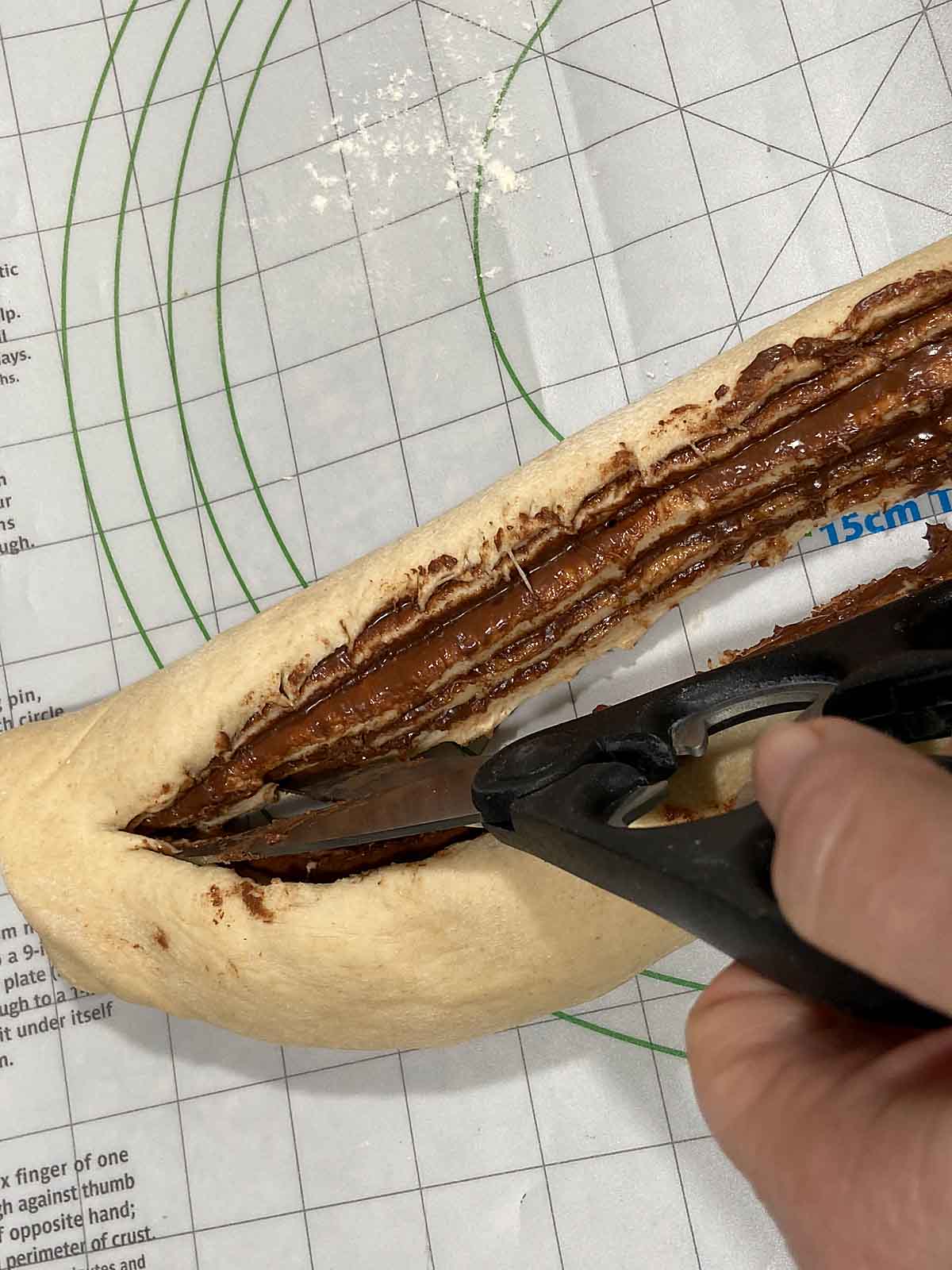 Turn the filling sides to face up, then braid/twist the two sides together, keeping the cut sides up.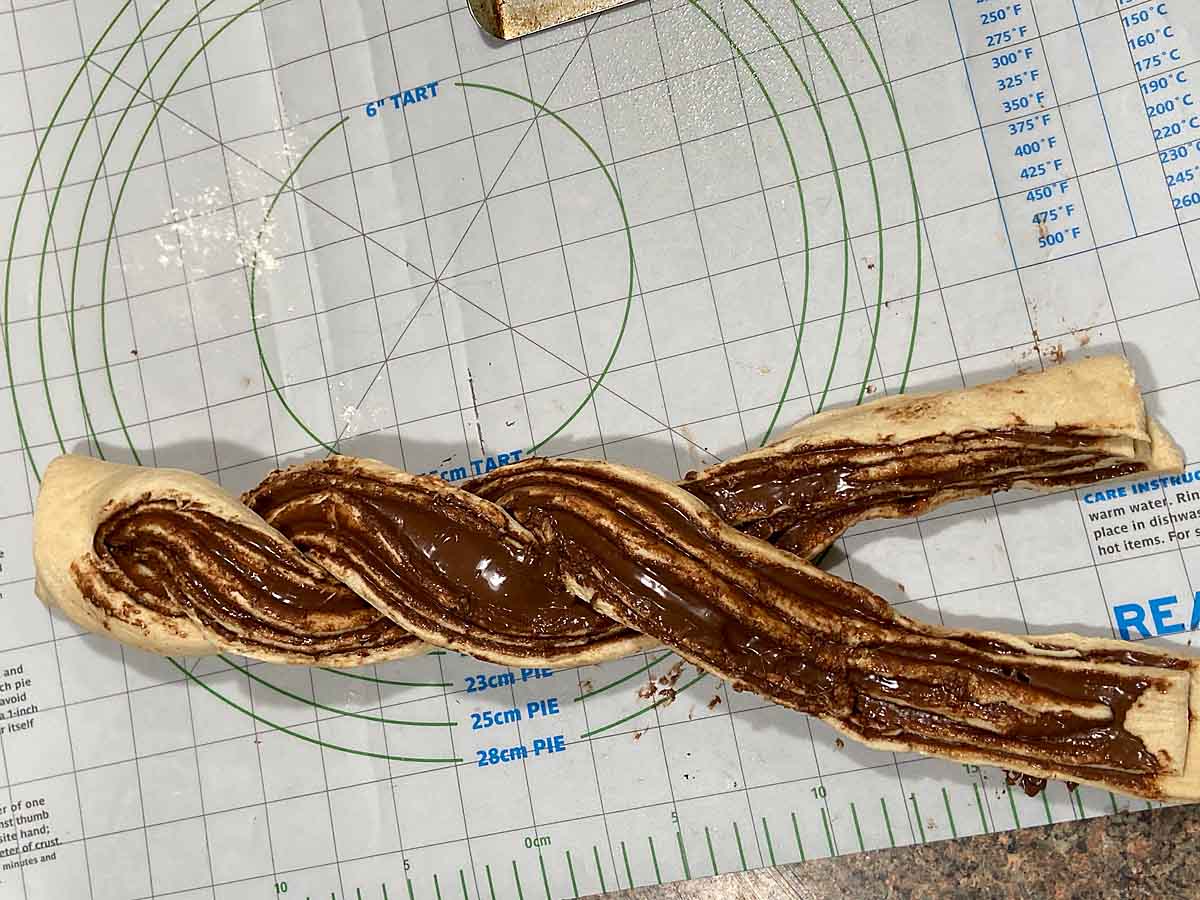 Bake the bread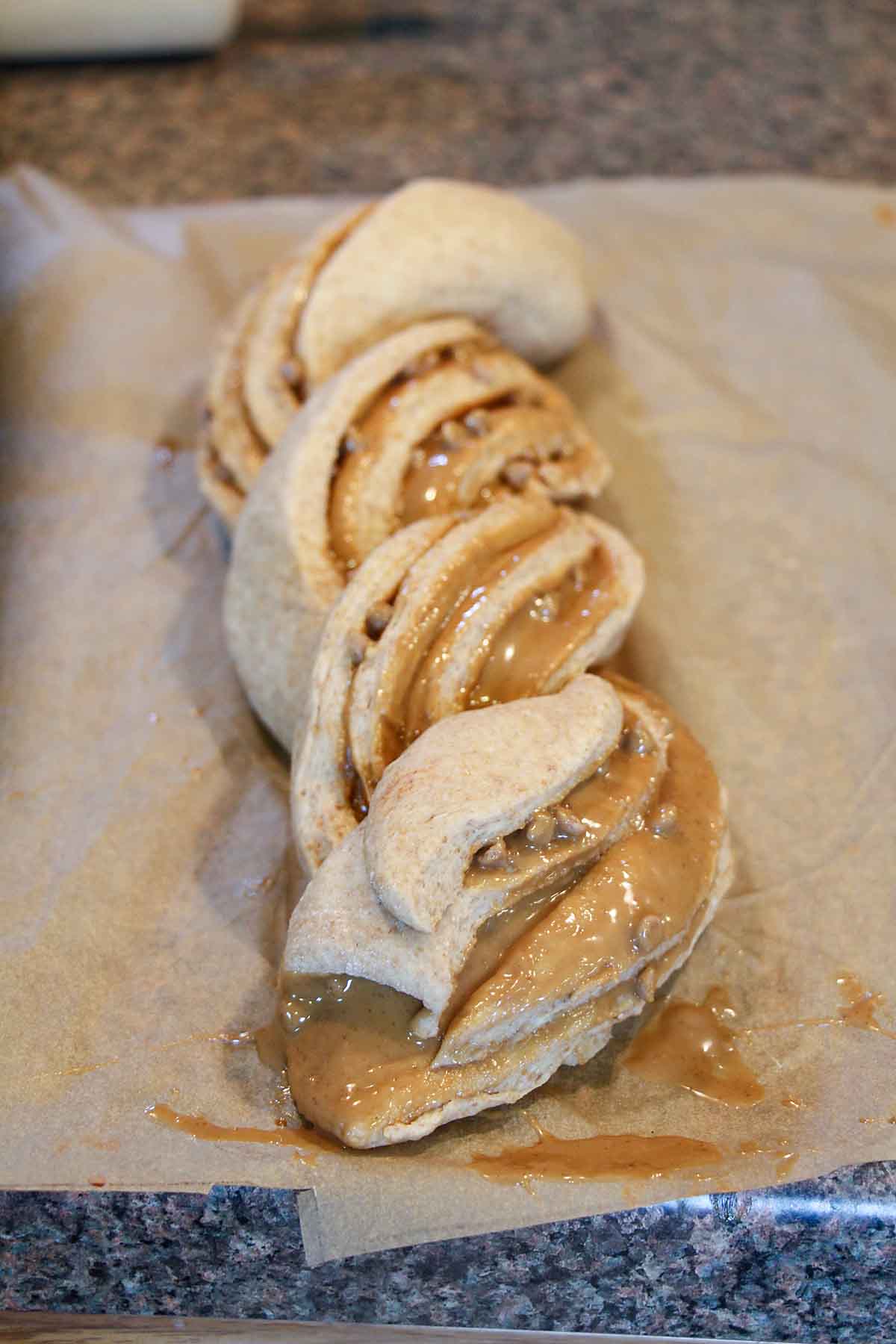 Then serve!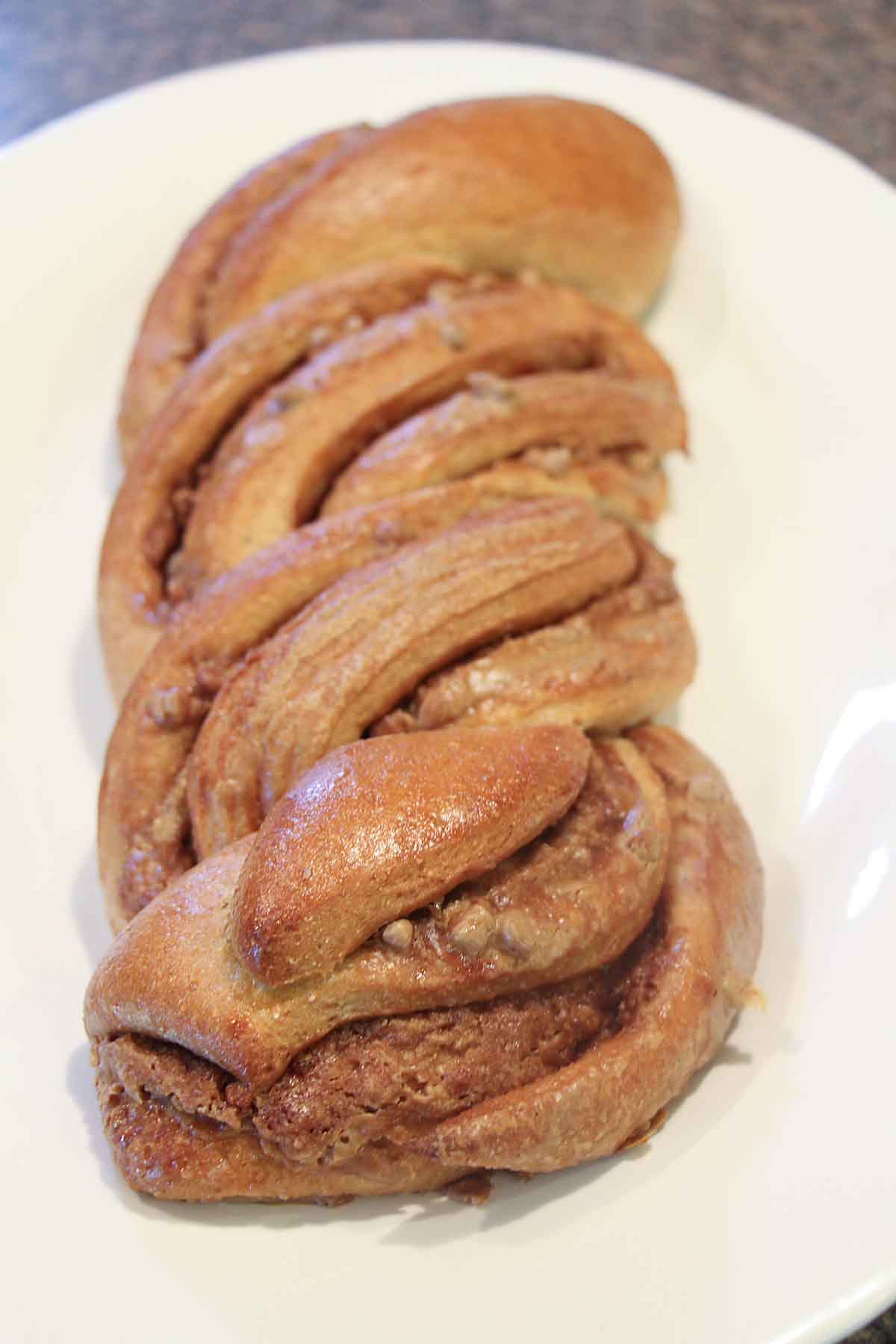 How to Serve
This is delicious with breakfast, as a snack or for dessert. It would also be fun for a coffee or tea get together.
Variations
I added cinnamon chips to my speculoos loaf, sprinkling them over the cookie butter on the dough. I think that pecans would be delicious with this too!
The Nutella Braided Bread would be great with the addition of chopped hazelnuts, chocolate chips or even chocolate chunks. Imagine biting into a melty piece of chocolate—yum!
For a Cheater Braided Bread (in other words, super easy), I once even used a bakery pizza dough instead of making bread dough! Pizza dough is slightly less rich and tender due to absence of milk, but it's still tasty!
The bread you see here is formed into a straight line. But sometime these braided loaves are formed into a circle instead. To do this just put the two ends together in a circle and . In fact I almost did this when I feared my long loaf wouldn't fit the baking sheet. Sometime this is also formed into a star shape.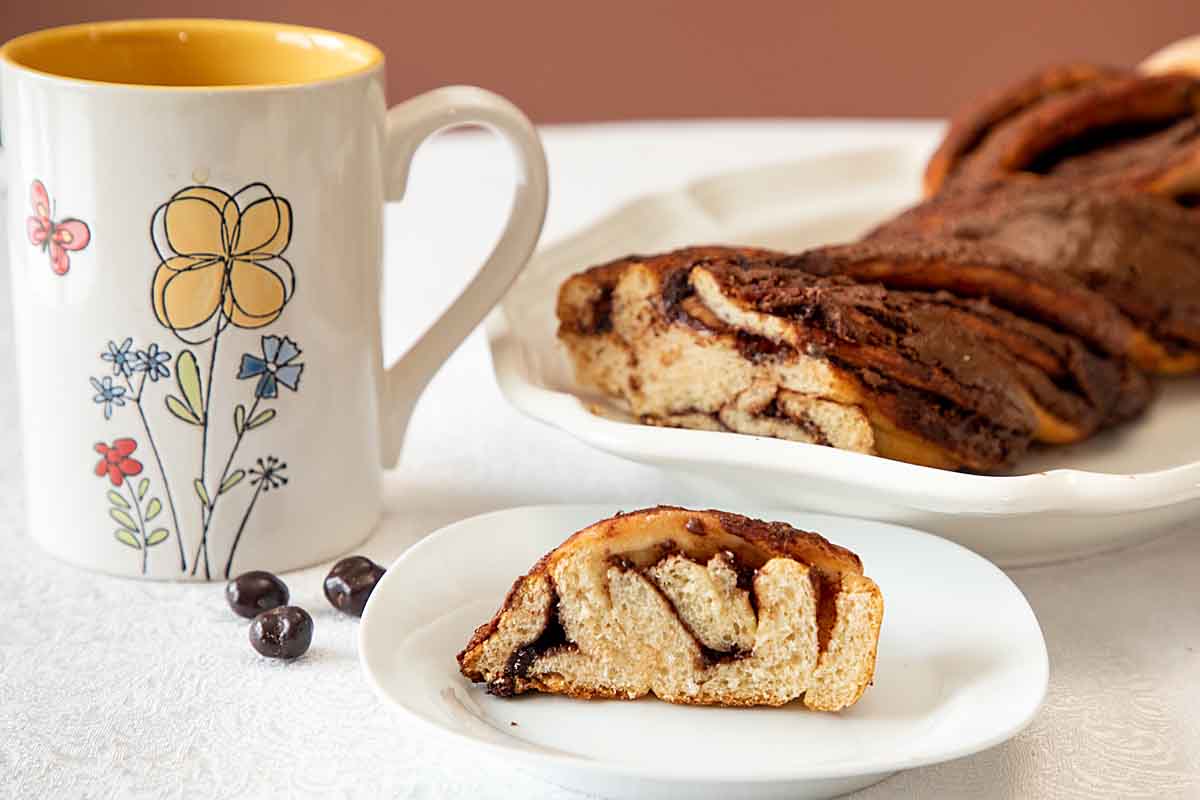 Leftovers
Wrap any leftovers tightly, store at room temperature and try to eat within a few days. This bread is good cold, but consider rewarming your leftover slices to bring back some of the oven fresh flavor.
You can also freeze the leftovers. Wrap tightly to avoid freezer burn and use within 2-3 months.
It is possible to pre-make a loaf, store in the refrigerator overnight for the final rise, then bring up to room temperature and bake the next morning. In practice I've found this more problem prone than it sounds, so I am not including instructions. If you have expertise in this area, please share in the comments!
Tips & FAQs
If your Biscoff / Speculoos or Nutella spread is too hard to spread over the bread dough, heat it briefly in the microwave then stir vigorously. Repeat as needed.
Many recipes include an egg wash, which is a tablespoon or so of beaten egg mixed with a little water. Brushed on a baked good like bread or pie crust, this can help them achieve an even golden brown color. Since I used part whole wheat flour, which has more natural color I skipped the egg wash.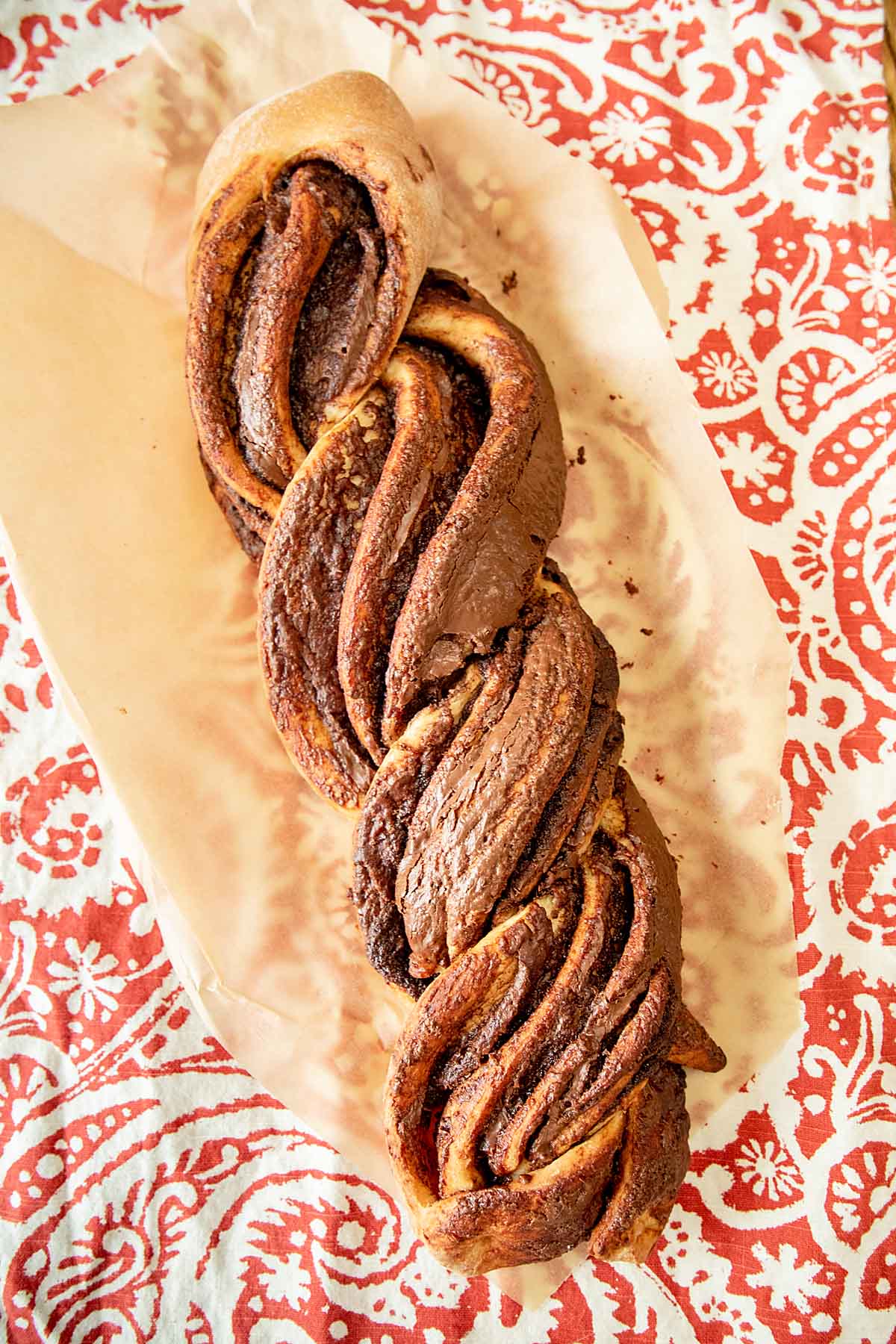 Sweet Doughs and Breads
We share Recipes From Our Dinner Table! Join our group and share your recipes, too! While you're at it, join our Pinterest board, too!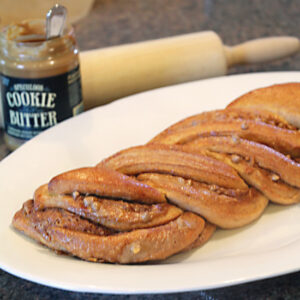 Biscoff / Speculoos or Nutella Cookie Butter Braided Bread
Bring the sweet flavor of Biscooff / Speculoos or Nutella to your breakfast or brunch with this tasty braided bread.
Ingredients
1

teaspoon

yeast

1

cup

warm water or milk

1 1/2

cups

all purpose flour

1

cup

whole wheat flour

or you can use an extra cup of all purpose

1

teaspoon

salt

2

tablespoon

sugar

1/2

cup

Nutella spread or Biscoff / Speculoos cookie butter

optional egg wash

egg beaten with 1 T water
Instructions
In a small bowl, warm milk (or water) to about 110 F. Add yeast and sugar stirring to dissolve. Let sit for a few minutes until bubbles form.

Combine the flours and salt in the bowl of a stand mixer. Add the milk mixture and mix on low with the dough hook. Turn speed up to medium, and knead dough for about 7 minutes, adding additional flour if too moist.

Place dough in a lightly oiled bowl. Cover bowl loosely with a wet dish towel, and then set in a warm place. The dough is ready when doubled in size - about an hour.

On wax paper or parchment, roll dough to form a rectangle, roughly 12 x 15". Spread your chosen spread in an even layer on the surface, leaving a ½ inch border of dough. You can heat the cookie butter in a microwave-safe bowl for about 20 seconds, then stir to make spreading easier.

Using the wax paper to help, roll up the loaf into a long tube. Cut the dough down the middle with a sharp knife or scissors to form two strands with one end uncut.

Turn each strand so the filling faces up. Alternate moving one strand over the other, making sure to keep the cut side facing upwards.

Let rest 15-20 minutes.

Preheat oven to 350°F. If desired, brush surface of the bread with egg wash to aid browning. Bake bread for 25 minutes or until lightly browned.
Nutrition
Serving:

1

slice

Calories:

207

kcal

Carbohydrates:

28

g

Protein:

5

g

Fat:

9

g

Saturated Fat:

2

g

Polyunsaturated Fat:

6

g

Cholesterol:

28

mg

Sodium:

209

mg

Fiber:

2

g

Sugar:

8

g

I am not a health professional and nutrition data is calculated programatically. Accuracy may vary with product selection, calculator accuracy, etc. Consult a professional for the best information.

Originally published July, 2014. Adapted from a recipe in the deleted blog, Bake Away with Me.