If you're looking for an appetizer that's healthy, delicious and ready in minutes, this Spicy Hummus may be just what you need. Or go rogue and spread on sandwiches or pizza!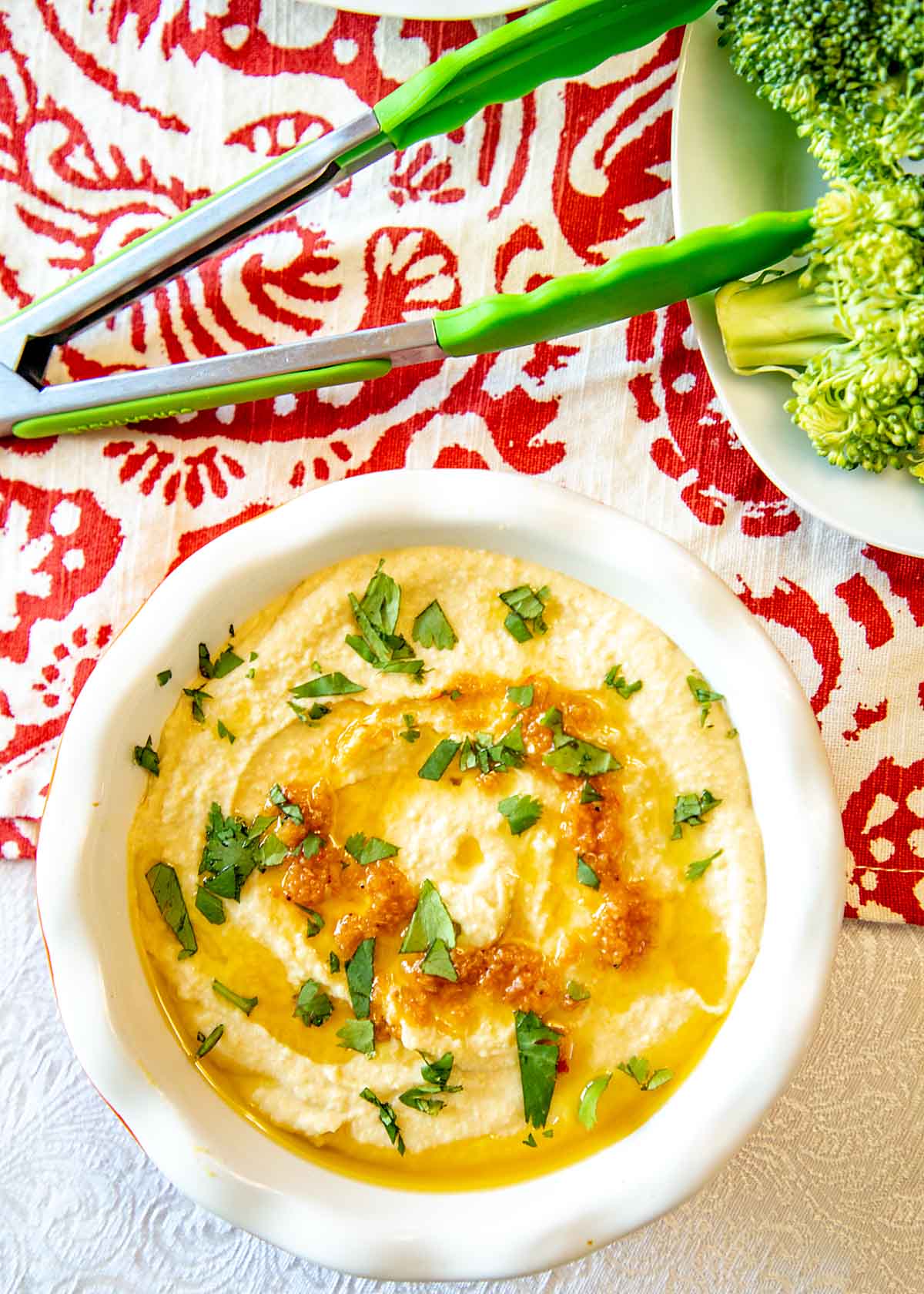 This post is sponsored in conjunction with #BBQWeek. The sponsors, Rainier Foods and Intensity Academy generously provided samples to participants to aid in the creation of the #BBQWeek recipes and prize packages to give away to the readers. However, all opinions are mine alone.
I love hummus. The versatile and nutty dip is a staple at my house and I'd always run to the store any time I was out.
But for a gal who likes to go homemade, people were surprised. Because everyone knows that homemade hummus is easy!
Well, that's as long as you don't care if it's bland. Yes, adding some of the great flavors that commercial hummus has was always my problem.
Until I got my salts and sauces from Saucy Queen. Then I decided to solve the bland homemade hummus problem once and for all.
What is Hummus
Per Wikipedia Hummus "is a Middle Eastern dip, spread, or savory dish made from cooked, mashed chickpeas blended with tahini, lemon juice, and garlic… In Middle Eastern cuisine, it is usually eaten as a dip, with pita bread. In the West, it is now produced industrially, and is often served as a snack or appetizer with crackers."
Why You'll Love This!
Healthy. Did you know that chickpeas, which are the main ingredient in hummus, are super healthy? Per Health News, they are loaded with protein and fiber plus antioxidants and other key nutrients.
Flavorful. A basic hummus is tasty but this Spicy Hummus rocks with the Garlic Goddess Sauce mixed in and drizzled over the top.
Easy. Just blend up a few ingredients in a blender or food processor.
Control the Ingredients. When you go homemade, you can control the ingredients. Lower the sodium, use organic chickpeas, avoid preservatives and take advantage of unlimited flavor options.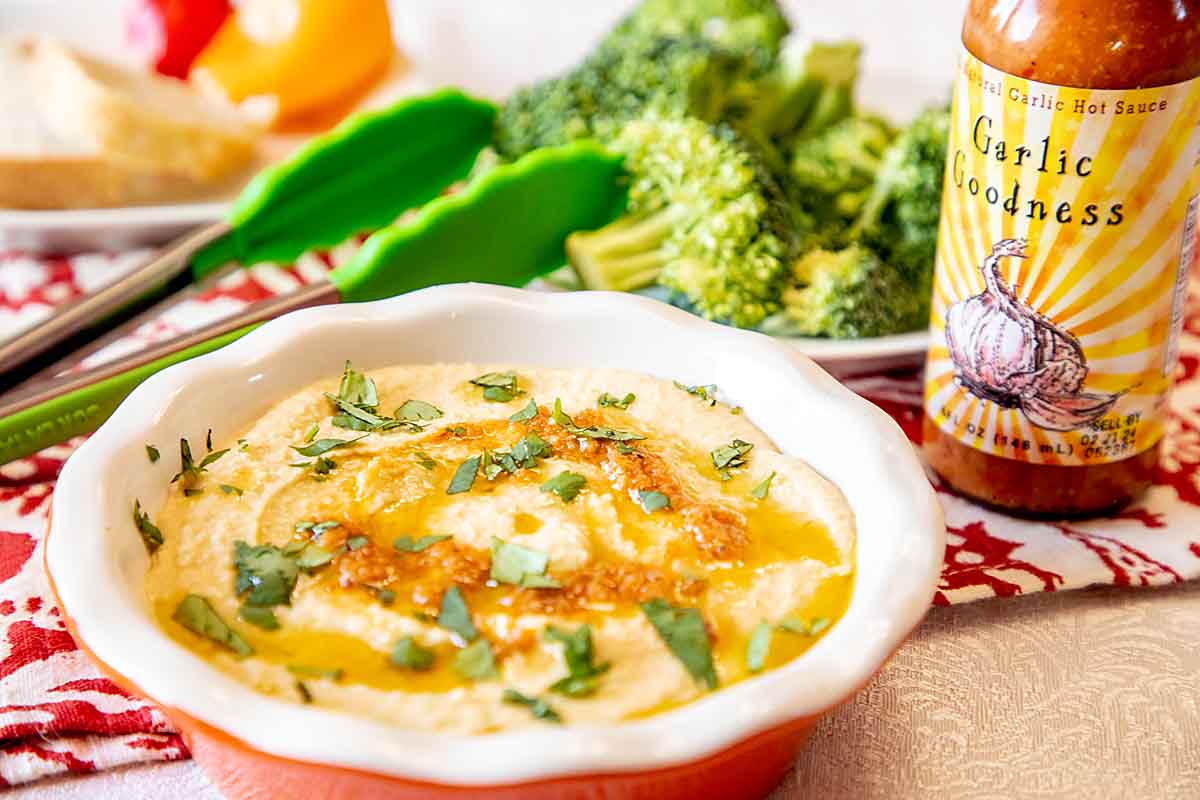 What You'll Need
Ingredients
Chickpeas. This is the main ingredient in the hummus
Tahini. Tahini is a paste made from ground sesame seeds that adds nutty flavor and richness.
Olive oil. Adds richness and flavor.
Lemon juice. Adds flavor and balances the oils.
Garlic. Adds flavor
Garlic Goodness Sauce. Adds more garlic flavor and heat. Adjust more or less to your tastes.
Salt. As needed.
Water. This helps thin to the desired consistency.
Dippers. Cut vegetables, pita bread or other dippers.
Special Tools
A blender or food processor is needed to puree and mix the ingredients.
Step by Step Directions
Blend the hummus ingredients in a high-speed blender until smooth. Add water as needed to reach your desired consistency.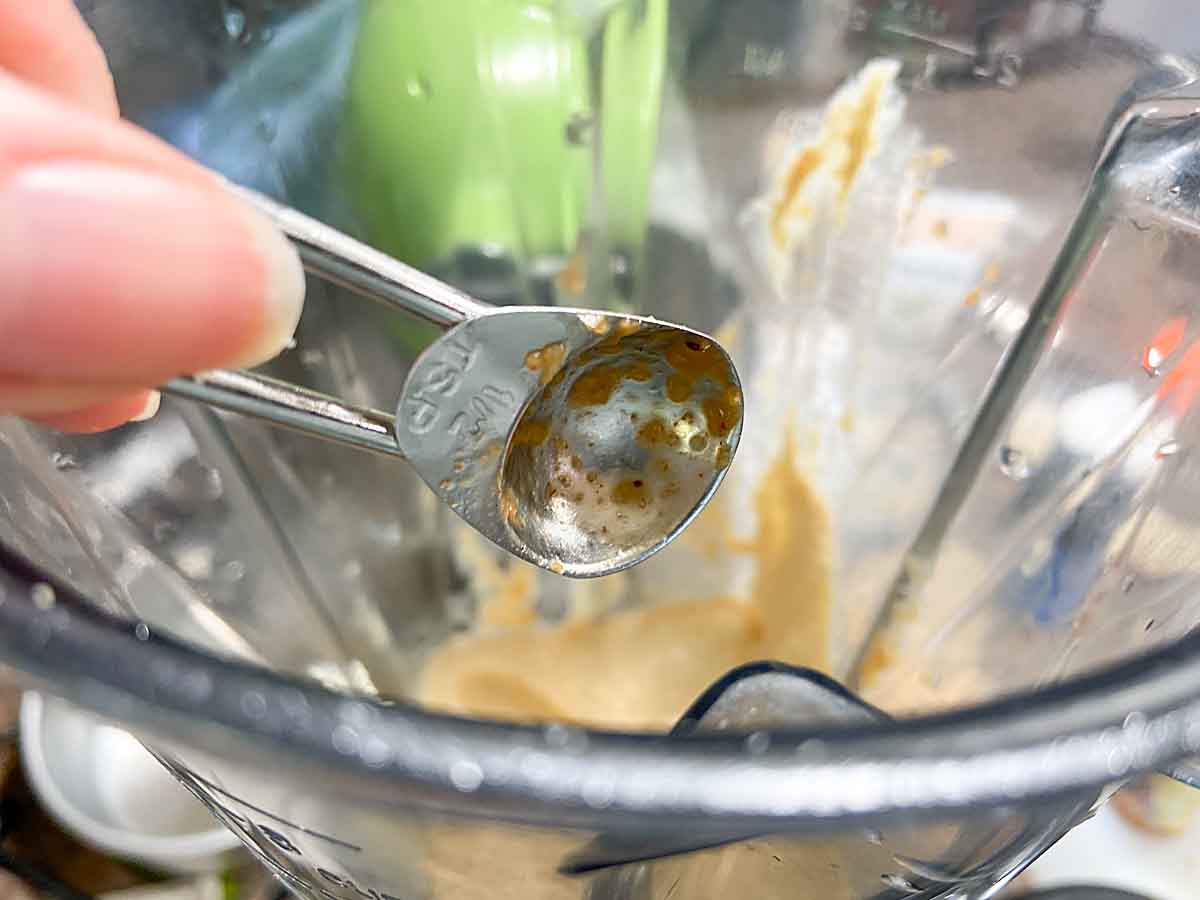 Transfer to a serving bowl. In a separate bowl, whisk together oil and garlic sauce to make the drizzle.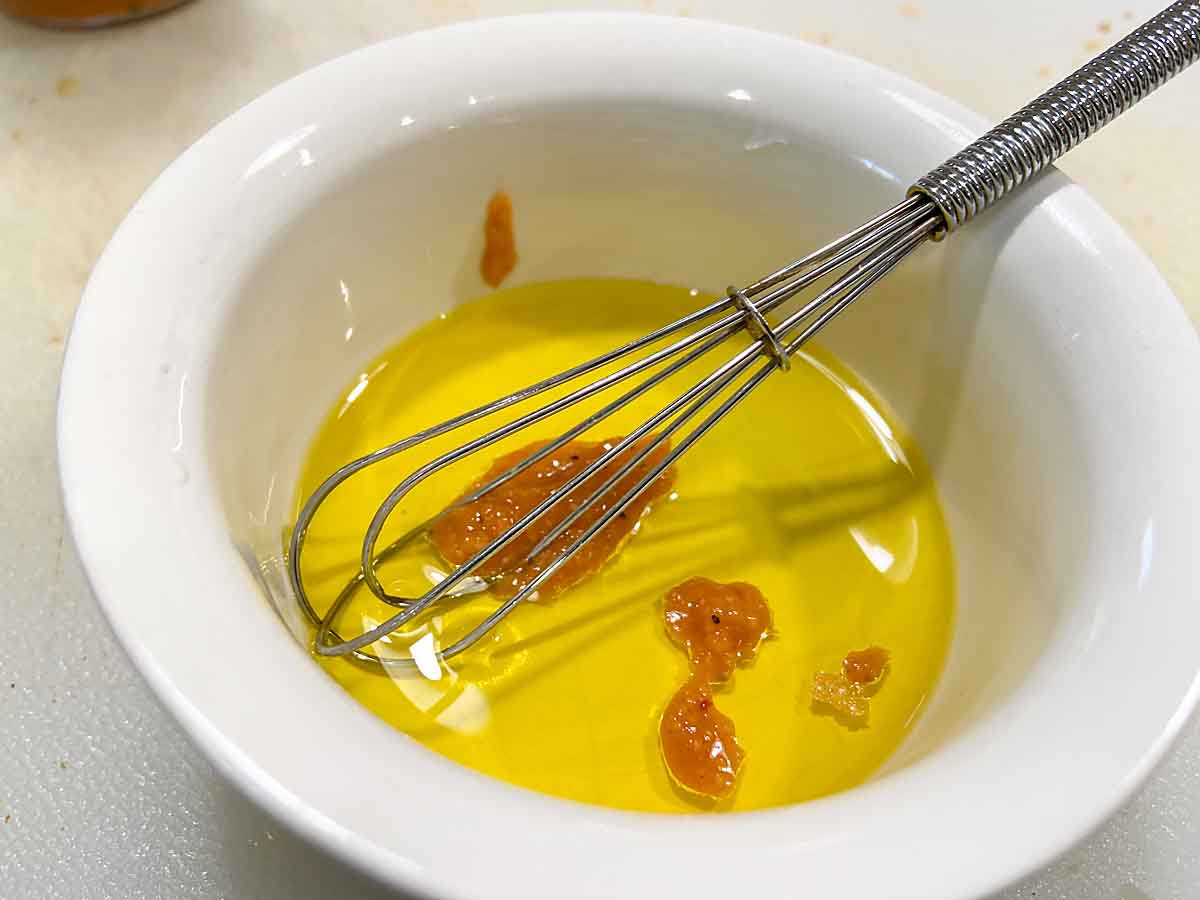 Drizzle on top of the hummus. Sprinkle with chopped parsley.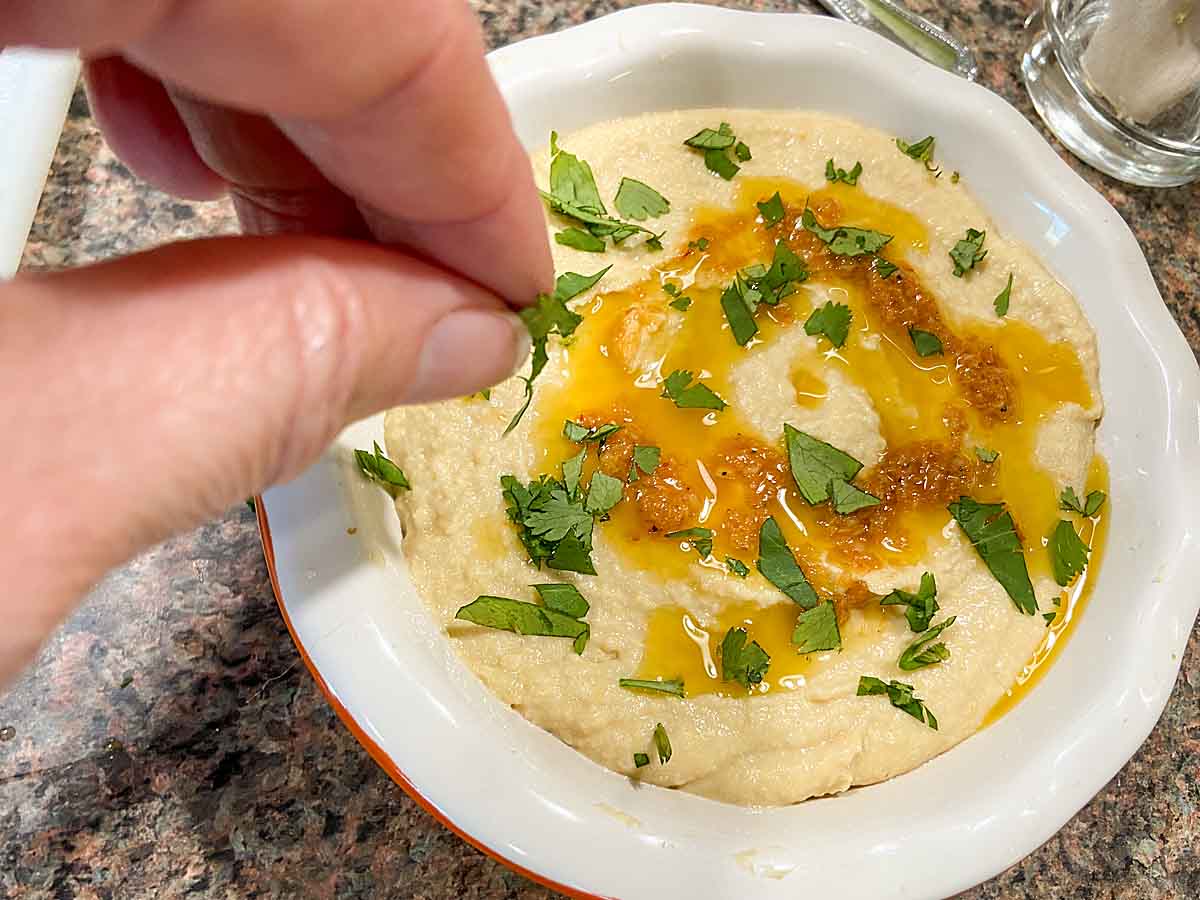 Serve with your choice of dippers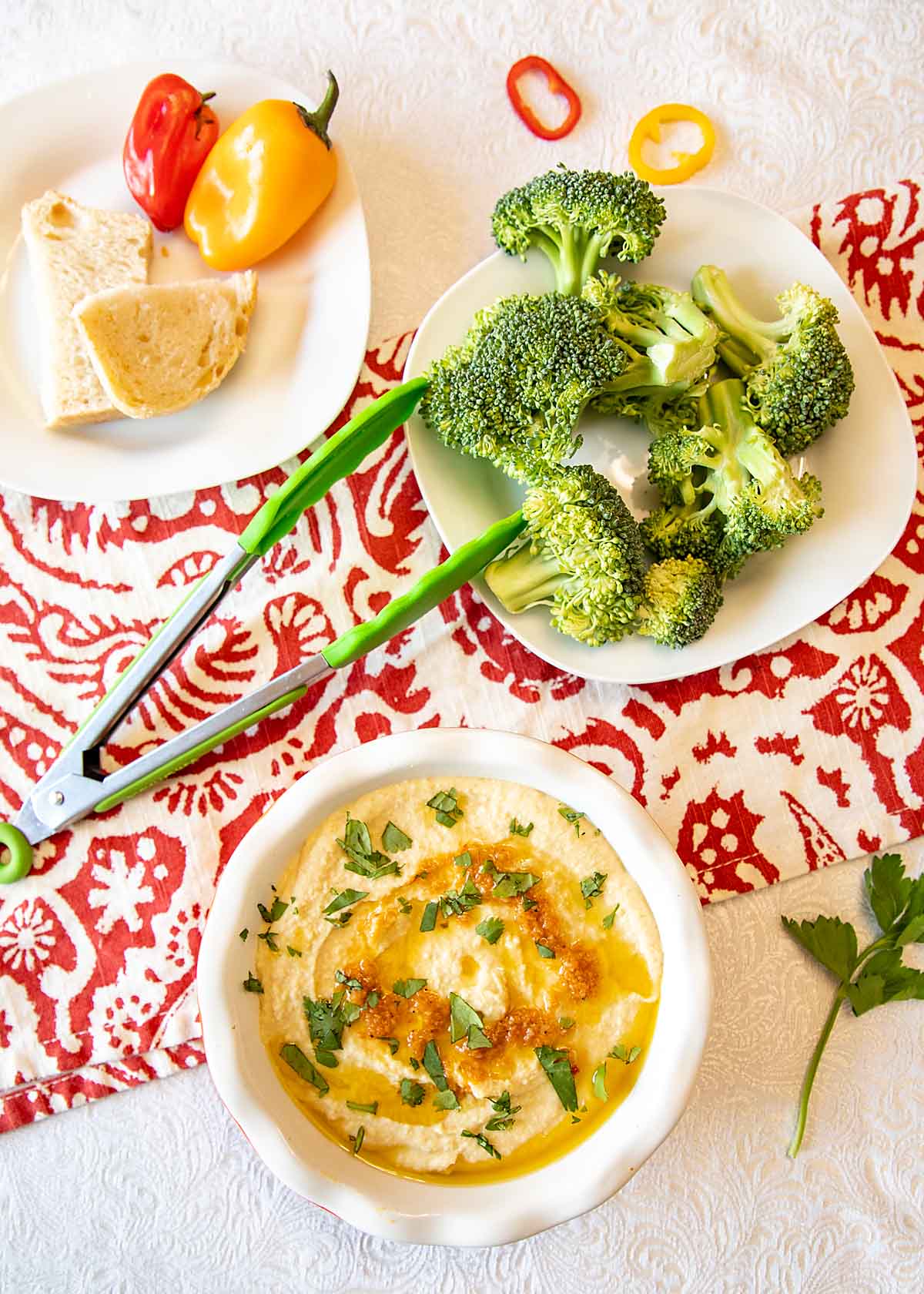 How to Serve
Hummus is perhaps best known as a dip. Served with raw vegetables, bagel chips, pita bread or even sliced French bread, it makes is a healthy and tasty snack. It also works well as a side dish for a picnic, BBQ or other casual meal.
I used to put out veggies and dip like this Spicy Hummus when my kids arrived home from school. I figured that having vegetables available when they were hungriest was a great way to help them get their 5-a-day servings of fruit and vegetables!
But Spicy Hummus can also work as an ingredient in other recipes. In a Mediterranean pizza, for example you, can use hummus as a base instead of tomato sauce. And it's spooned over chips in Middle Eastern Nachos.
It also makes a tasty spread. Try hummus with roasted vegetables and sprouts on whole grain bread for a tasty sandwich. Or how about some hummus toast (with or without avocado)? Breakfast hummus anyone?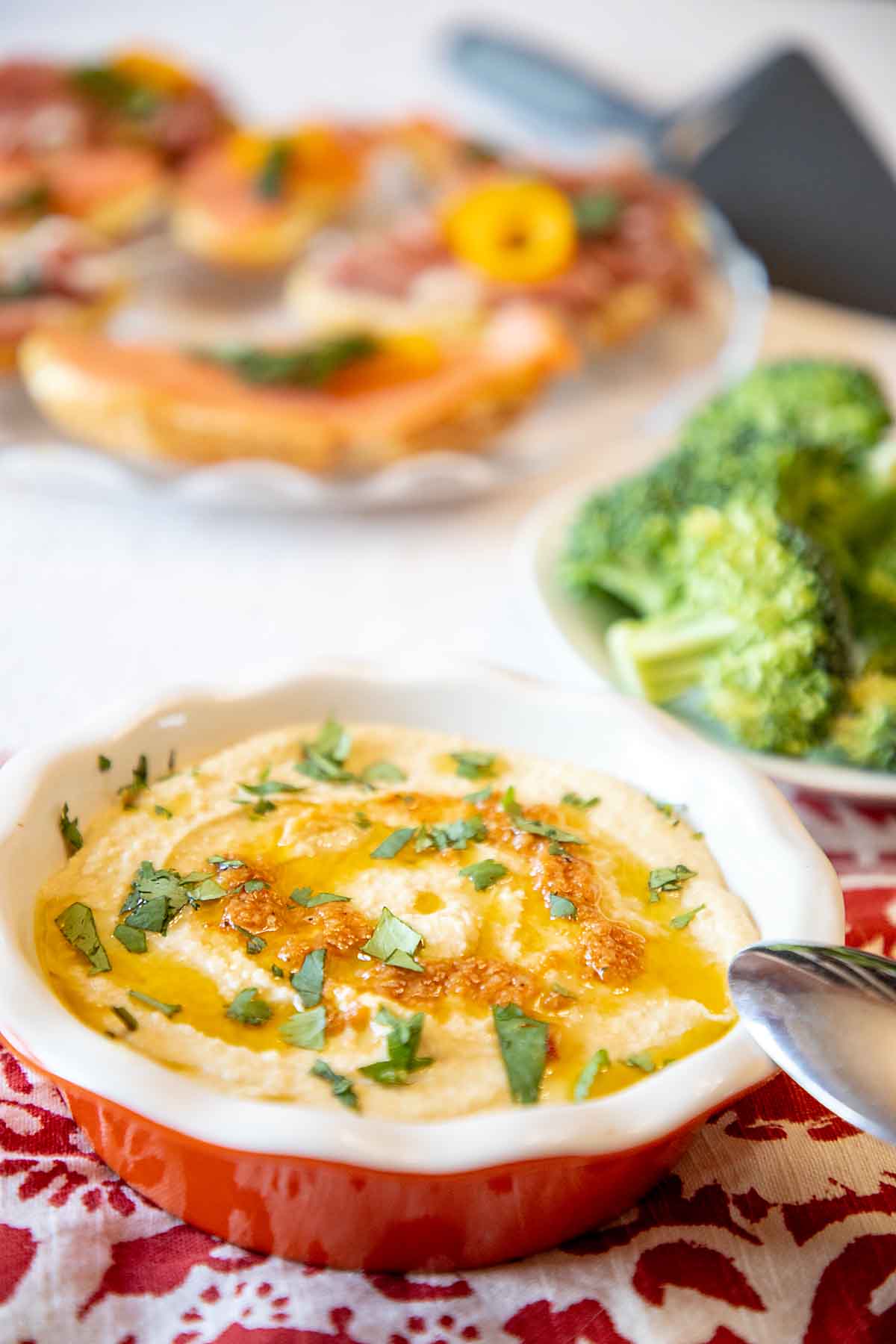 Make Ahead and Storage Tips
Spicy Hummus will keep 4-5 days from when it's made, so it's a great make ahead dish. Just store covered in the refrigerator and take it out when it's time to serve.
I have never tried freezing hummus but I've read that you can. The batch size for this recipe is small (we actually ate the whole thing "testing") so it's unlikely that you'll have leftovers unless you double it for a party.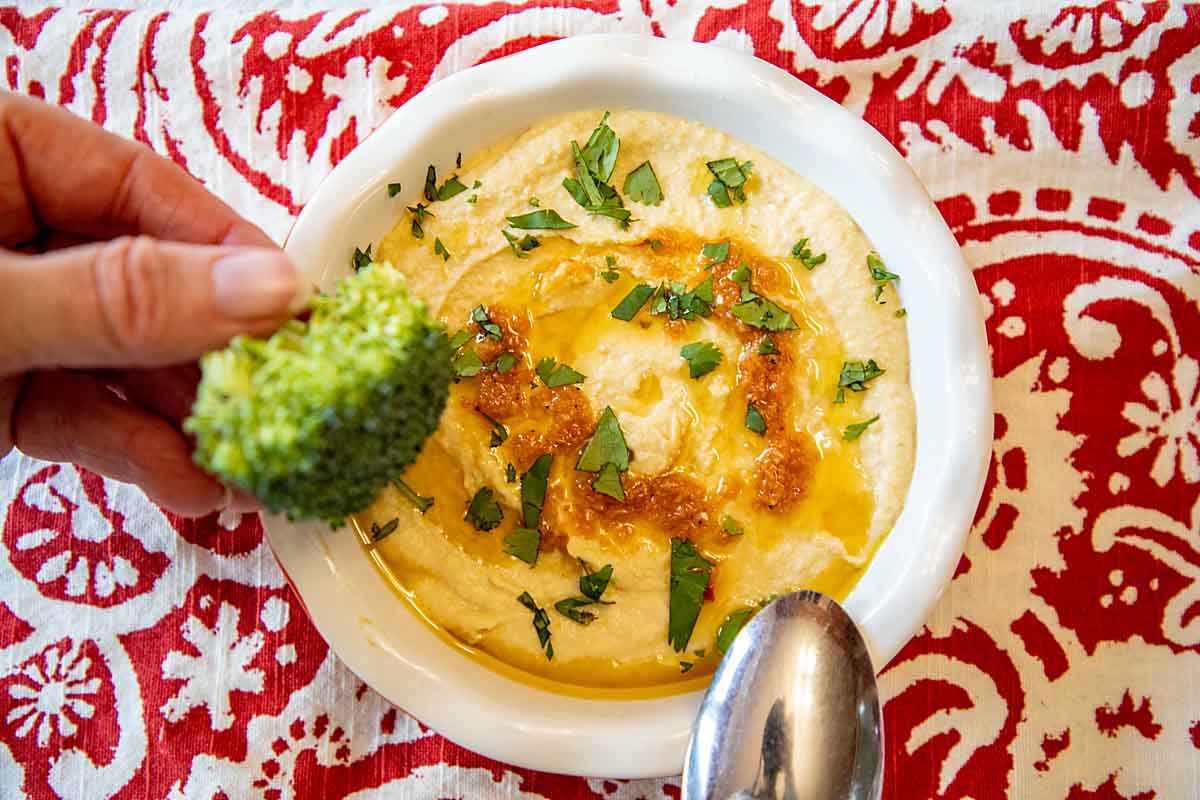 Tips & FAQs
This recipe is small so it will work for any size household. Consider doubling it if you are serving a crowd.
Best Tahini. I love tahini and always keep it in stock. The best tahini I ever had was handmade fresh at our local coop (and still lasted well in the refrigerator). So consider checking that out if you have a a favorite local store.
I once thought I'd solve the problem by going homemade and bought a big bag of sesame seeds to try. Unfortunately, it was markedly bitter so that is not necessarily the right answer to this. If you make your own, I'd love to hear your tips in the comments.
And if you're worried that you won't be able to use up the tahini you buy for this, it can be good in sauces like this Kefta (Middle Eastern Seasoned Meat), dips like this Eggplant Goat Cheese Dip and dressings like in this Pecan Sweet Potato Salad!
Spicy Hummus
If you're looking for an appetizer that's healthy, delicious and ready in minutes, this spicy hummus may be just what you need.
Ingredients
Hummus
1½ cups cooked chickpeas, drained and rinsed
¼ cup tahini
2 Tablespoons olive oil
2 Tablespoons lemon juice
1 garlic clove, minced
½ teaspoon Garlic Goodness Sauce
½ teaspoon salt
¼ cup water
Drizzle:
1 Tablespoon olive oil
½-1 teaspoon Garlic Goodness Sauce
Parsley
Instructions
Blend the hummus ingredients in a high-speed blender until smooth. Add water as needed to reach your desired consistency.
Transfer to a serving bowl.
Make the Drizzle. Whisk together oil and garlic sauce then drizzle on top of the hummus. Sprinkle with chopped parsley.
Serve with your choice of dippers

Notes
Serve with cut vegetables, pita bread, bagel chips or dippers of your choice
Monday #BBQWeek Recipes
Starters and Sides
Main Dishes
Welcome to the third annual #BBQWeek hosted by A Kitchen Hoor's Adventures. We are excited to have 15 bloggers sharing over 50 recipes this week as we head toward grilling season. The amazing sponsors have donated some great prizes for the #BBQWeek giveaway. The giveaway is below, but make sure to read about the prize packages and our generous sponsors!
Intensity Academy Saucy Queen Prize Package
The Intensity Academy Saucy Queen has competed in the fiery food industry for over 15 years. Her all-natural gourmet hot sauces have more than 55 national awards. In 2019, the Saucy Queen earned the Tampa Bay Businesswoman of the Year in Manufacturing, Business Leader's Woman Extraordinaire and Working Women of Tampa Bay's! Not only does she sell amazing sauces, spice mixes, and dips, but she has anchored her career in service and non-profit organizations and helping local companies take their products from recipe to store shelves.
A prize package of 4 popular sauces:
Carrot Karma – A mild hot sauce made from a blend of carrots, habaneros, and a touch of lime.
Garlic Goodness – An essential garlic hot sauce! Each batch contains over 100 pounds of slow roasted garlic.
Honey Hype – A blend of crystalized honey natural rub. The crystalized honey melts perfectly over meats and veggies.
Chai Sweet Chili – A light sauce made with peppers and organic Chai tea that won the 2012 Golden Chile award.
Rainier Foods Prize Package
Life's too short for boring food, spice it up with Rainier Foods. Rainier Foods is a family company located in the shadow of Mt. Rainier. They have a dedication to provide premium quality food products. Rainier Foods can source the best ingredients available to help you create delicious meals which sets them apart from other companies. All their products are made locally ensuring their products are the best that the Pacific Northwest has to offer. A portion of all sales are donated to the Washington National Park Fund.
A prize package of a meat thermometer and trio of spice mixes:
Meater+ wire-free meat thermometer – monitor your cooking from a phone or tablet. Monitors internal and ambient temperature at the same time.
The Essentials Seasoning – Salt, garlic, and pepper are the essentials of most seasonings. Three different types of sea salt blend with garlic and pepper in this delicious seasoning.
Smoky Honey Seasoning & Rub – Made with Pacific Northwest clover honey, Cherrywood Smoked Sea Salt, and Smoked Paprika. This seasoning blend creates a deliciously sticky and sweet flavor on anything you grill.
Gochu (Go-Choo) Seasoning & Rub – Gochugaru Chilis combine with sea salt and pepper along with a few other spices makes this blend unique adding an unmatchable flavor profile to everything you cook.
DISCLAIMER:
Thank you #BBQWeek sponsors Saucy Queen and Rainier Foods for donating the prizes for this event. The #BBQWeek giveaway is open to U.S. residents, age 18 & up. All entries for the winner are checked and verified. By entering you give the right to use your name and likeness. The number of entries received determines the odds of winning.
Two (2) winners are selected at random from entries received. The prize packages are fulfilled by and sent directly from the giveaway sponsors. #BBQWeek bloggers are not responsible for the fulfillment or delivery of the prize packages. Bloggers hosting this giveaway and their immediate family members in their household are not eligible to enter or win the giveaway. No purchase necessary. Void where prohibited by law. This promotion is in no way sponsored, endorsed or administered by, or associated with Facebook, Instagram, Pinterest, Twitter or any other social channel mentioned in the #BBQWeek posts or entries.