For football night last weekend, we snacked on Eggplant Goat Cheese Dip. Special game snacks are hit or miss for us but my oldest was home from school and I wanted to do something fun. And, of course, the older your kids get, the harder it is to sneak vegetables into their food!
I must give credit for a new (even easier) eggplant roasting method (whole!!) to one of my fellow bloggers, Louise from Months of Edible Celebrations. You see, we get eggplants from the CSAs and the buying club, so in a good year, there is a lot of purple to deal with (and I don't mean Minnesota Vikings…) I personally could eat eggplant parmesan day and night, but the kids think it's a stretch a few times a year.
Yes, roasted eggplant, garlic, goat cheese and sea salt = a simple but tasty dip! It's almost like baba ganoush without tahini!
The first time I made it, I wasn't sure how this was going to go over, but when the dip hit the table, the chips were dipping so fast you could barely see them. I've made it several times, and the result is always the same. We eat it warm and I'd like to be able to tell you if it is also good cold–but it's never lasted that long.
Here's to a game day victory!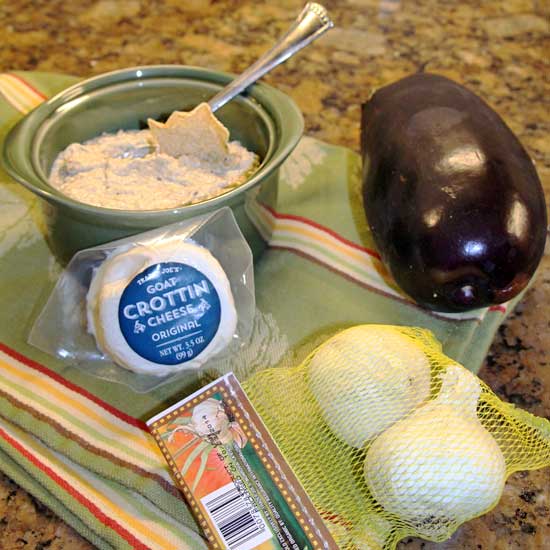 Eggplant Goat Cheese Dip
2014-11-15 07:24:17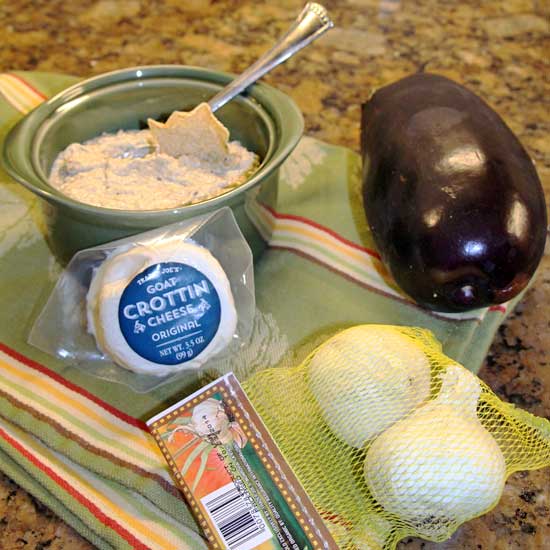 Serves 4
A simple and healthy appetizer flavored with roasted garlic and sea salt, eggplant goat cheese dip flies out of the bowl.
Nutrition Facts
Amount Per Serving
* Percent Daily Values are based on a 2,000 calorie diet. Your Daily Values may be higher or lower depending on your calorie needs.
Ingredients
1 eggplant
5-6 garlic cloves (1/2 bulb)
3-4 oz goat cheese (I use a 3.5 oz crotin)
1 t olive oil
1/2 teaspoon salt or to taste
Instructions
Place the eggplant in a pan and roast at 350F for about an hour until soft and starting to shrivel.
Slice the stem end off the garlic cloves/half bulb and drizzle with olive oil. Wrap in aluminum foil and set into the oven with the eggplant about halfway through the roasting time.
When the eggplant is soft and slightly shriveled, remove it (carefully--it will be hot) and slice in half. Scoop out the flesh and place in a food processor or blender. Remove the garlic cloves and squeeze the garlic out of the papery skins and into the food processor. Add the goat cheese and salt then process until well blended. Taste and adjust salt.
Art of Natural Living https://artofnaturalliving.com/