Sausage Stuffed Mini Peppers
Mini peppers may be the breakout vegetable of the season! Perfect in this 4 ingredient Italian Sausage Stuffed Mini Peppers appetizer!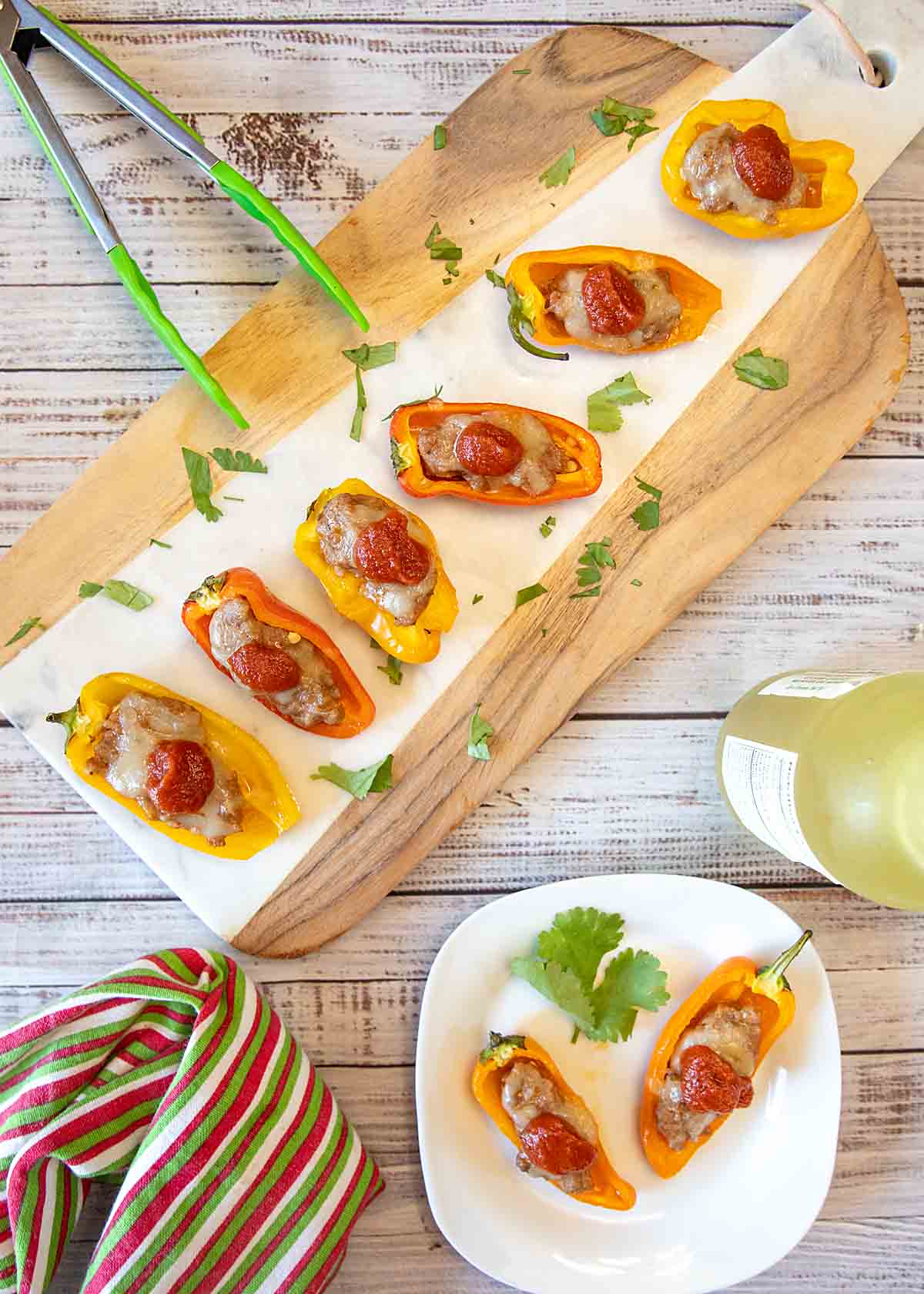 I love fall appetizers! It seems to be the one time of the year when seriously tasty meets up with actually healthy. Zero fighting in the room.
Yes just stuff a cute little pepper half with some decadently juicy Italian sausage and you have the start of something special. Top with a sprinkle of cheese and dollop of pizza sauce and it's over the top.
The appetizer has an air of both fun and elegance. So whether it's a cocktail party or a tailgate party, Sausage Stuffed Mini Peppers should be on the menu!
What are Mini Peppers?
It's hard to think that there was a time when mini peppers weren't everywhere! But growing up, it seemed to there were bell peppers (in all colors) and hot peppers. Period. But hooray for the (relative) newcomer which is so tasty and versatile!
Specialty produce says "Mini sweet peppers, botanically classified as Capsicum annuum, are small, edible fruits that are members of the Solanaceae or nightshade family. Originally from Central and South America and believed to be a hybrid from the wild bird pepper and bell peppers, Mini sweet peppers are grown on small bushes and are favored for their small size, bright colors, and sweet flavor."
When the new mini peppers started showing up in the CSA box, I realized I liked them even more than ripe bell peppers. Can't beat their sweet crunch and beautiful color assortment! It was time to dip them in hummus, sprinkle on salads, and add them to quiche!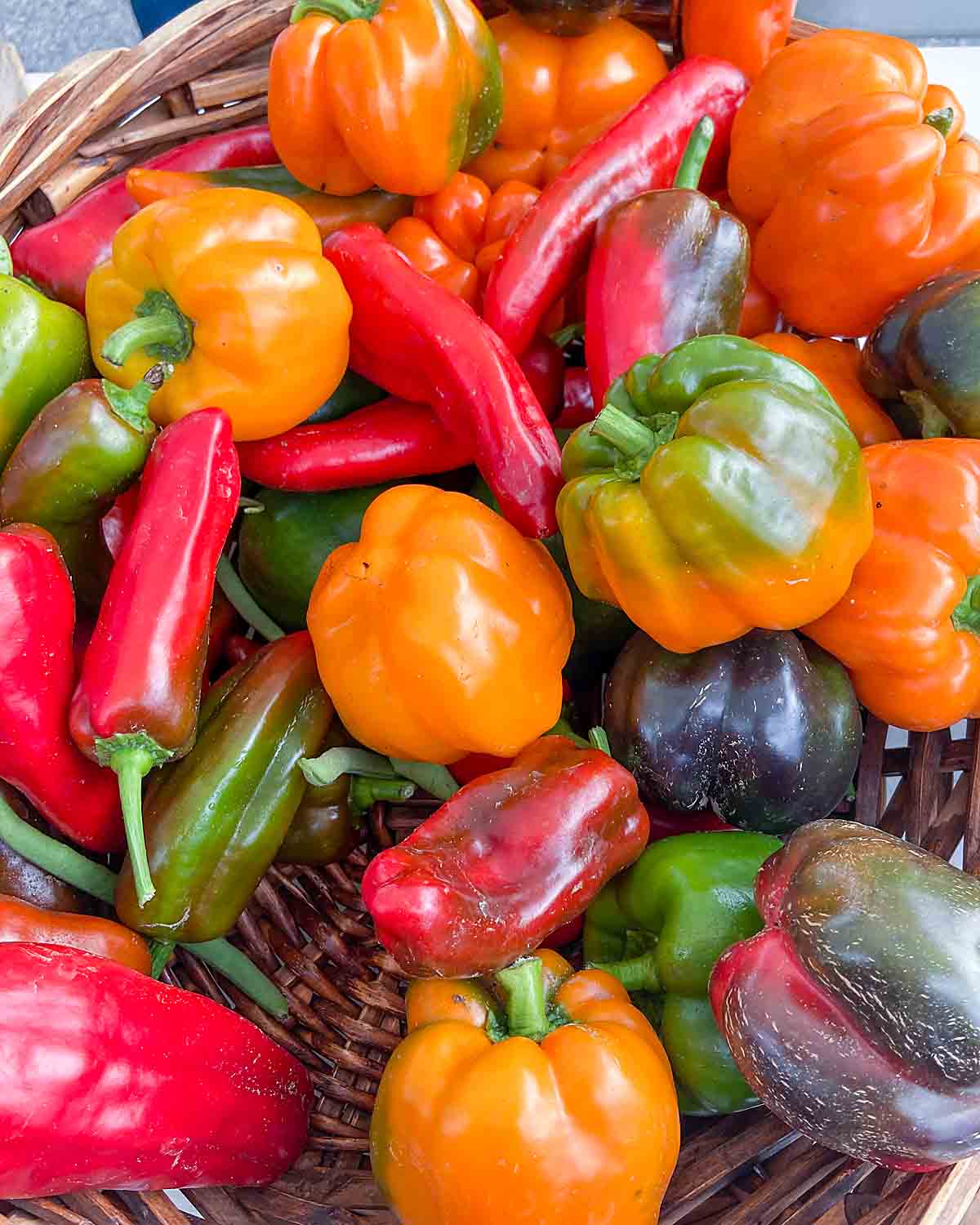 Why You'll Love This!
Tasty. Every ingredient from the savory peppers to the juicy sausage to the flavorful cheese and pizza sauce gives it's all.
Easy. Just cut the peppers in half, stuff, bake and top with cheese and pizza sauce. And did I mention it's just 4 ingredients?
Healthy. How often do you get a meal's worth of protein and a veggie from your appetizer!
Versatile. Go fancy, go casual. Works everywhere. You could probably even use a meatless sausage and serve vegans!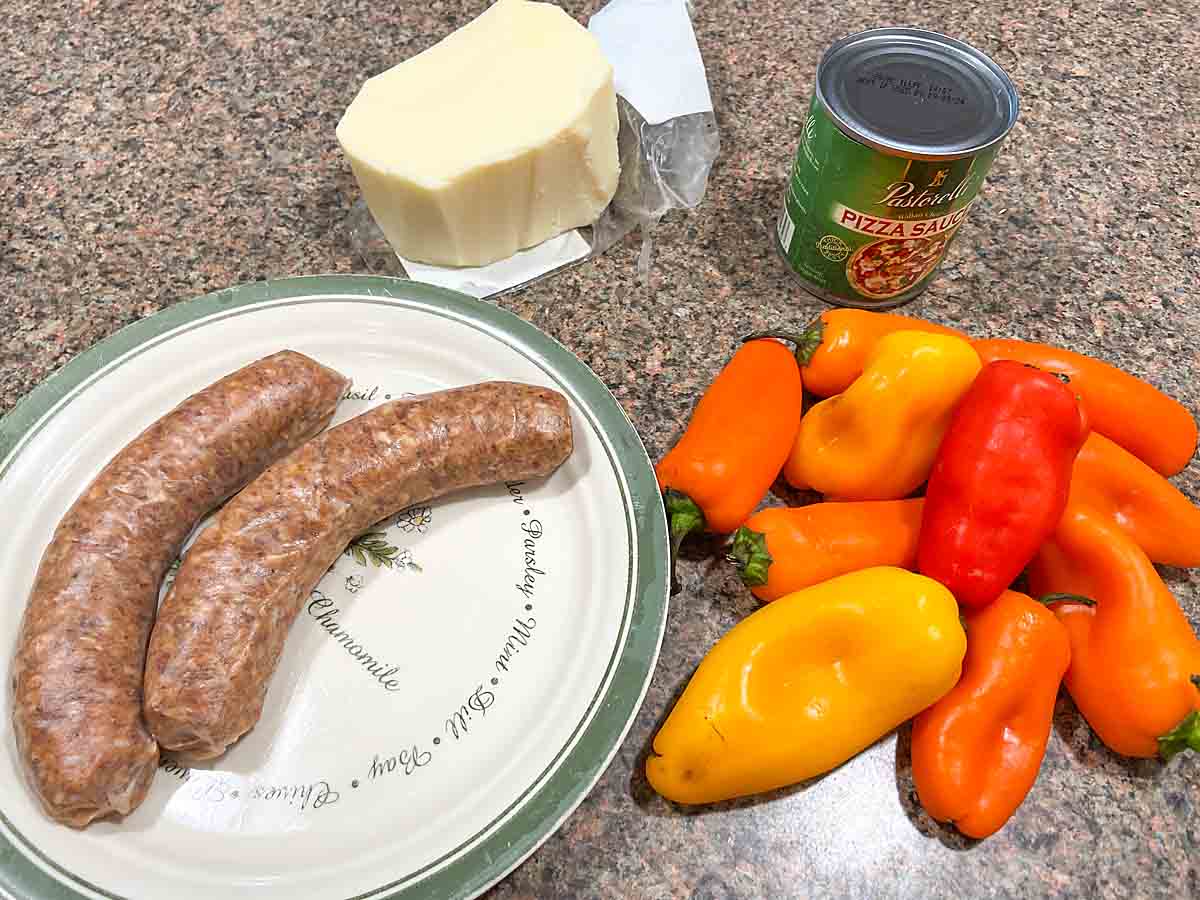 What You'll Need
Ingredient Notes
Italian Sausage. This provides a rich savory flavor. You can use homemade sausage, bulk sausage or remove sausage links from their casings.
Mini peppers. These form the base of the appetizer and add flavor and nutrition.
Grated mozzarella or other meltable cheese. This adds a creamy overtone. I like to use something that would go on pizza like mozzarella or provolone.
Pizza sauce. This adds another flavor hit.
Special Tools
No special tools are needed.
Step by Step Directions
Cut mini peppers in half.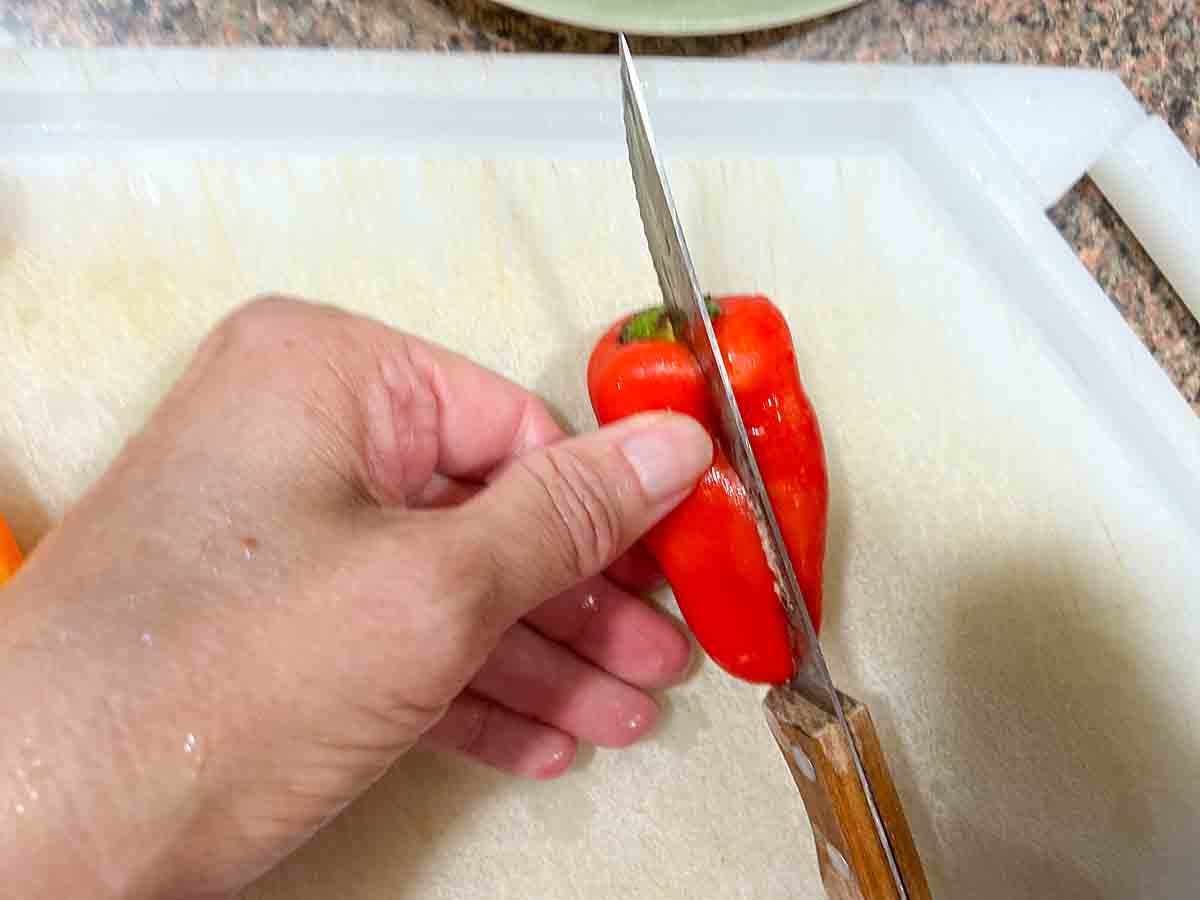 Top with about a tablespoon of sausage.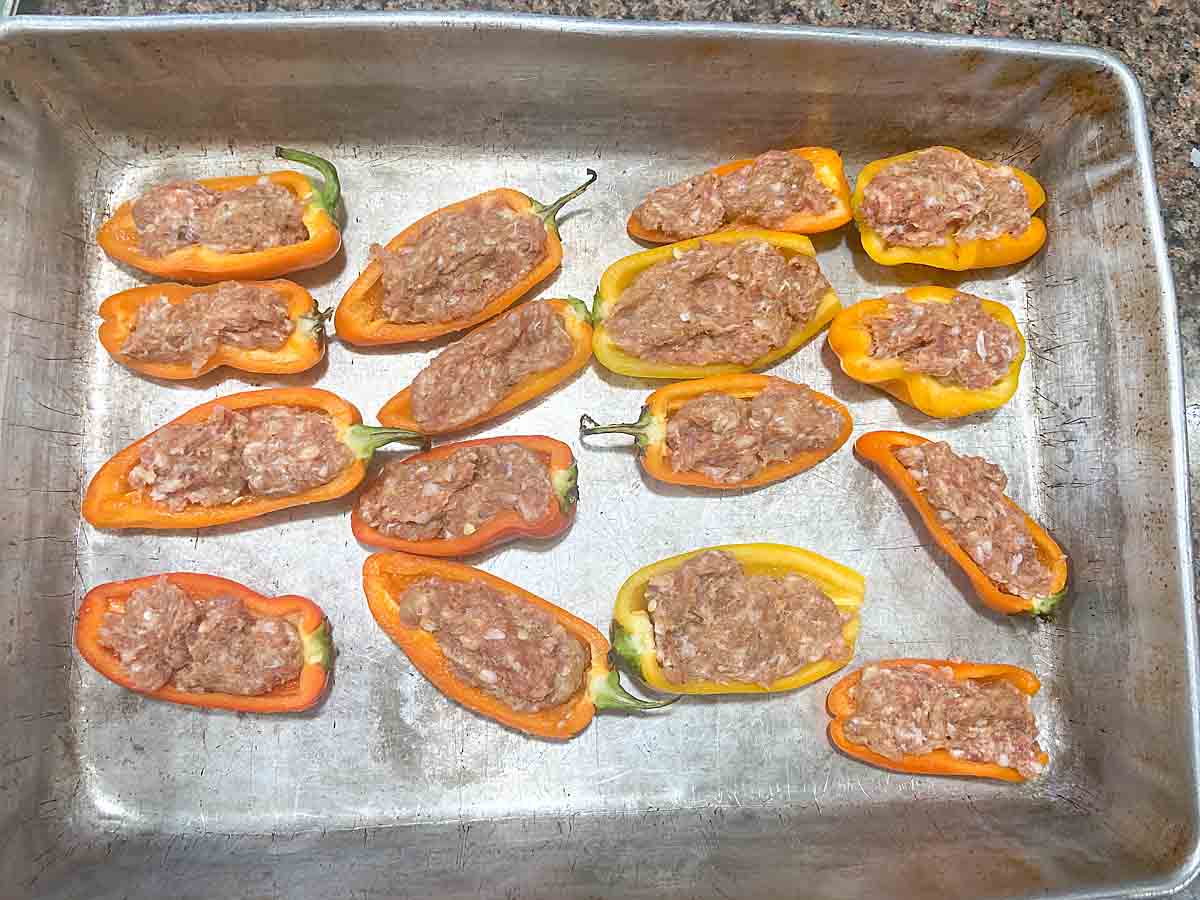 Bake until cooked through. Top each pepper with a sprinkling of cheese, then return to oven until melted.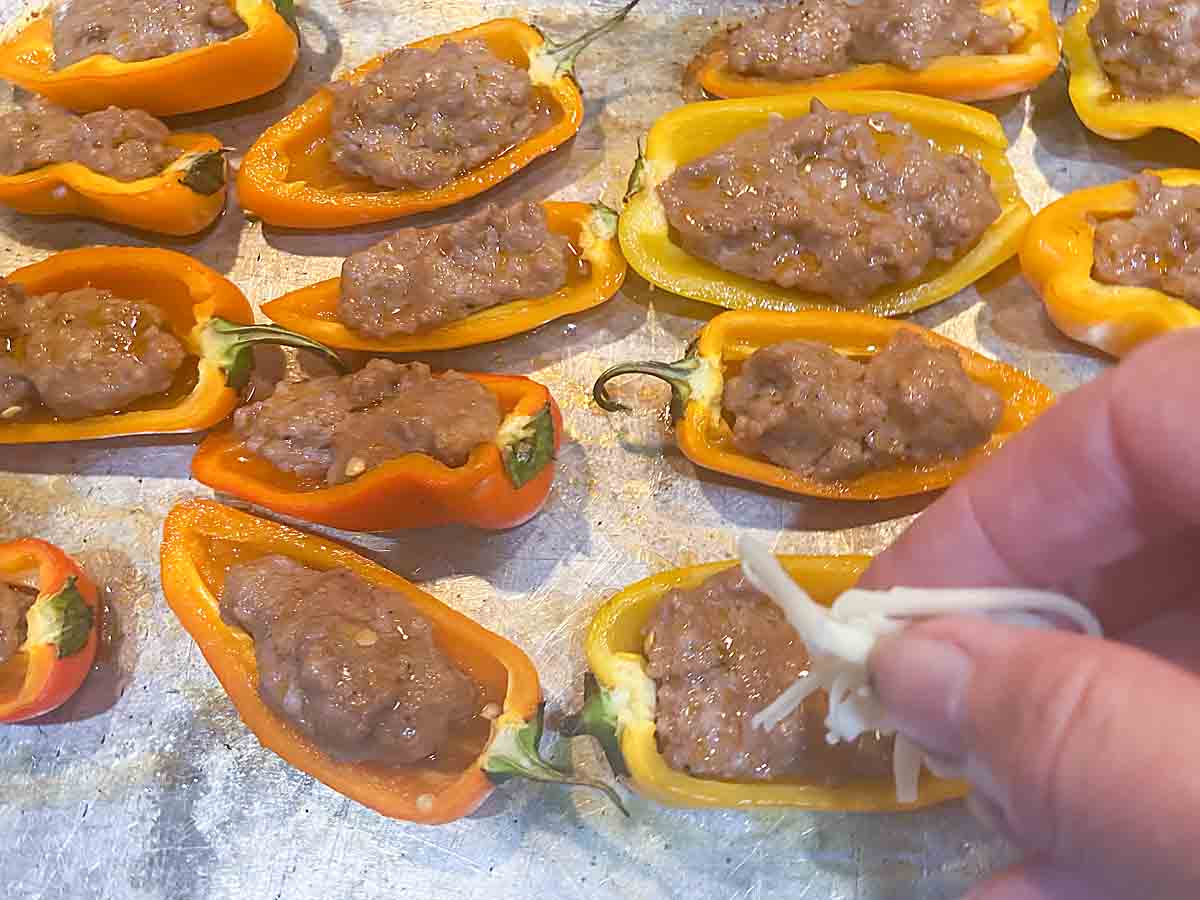 Top with a dollop of pizza sauce.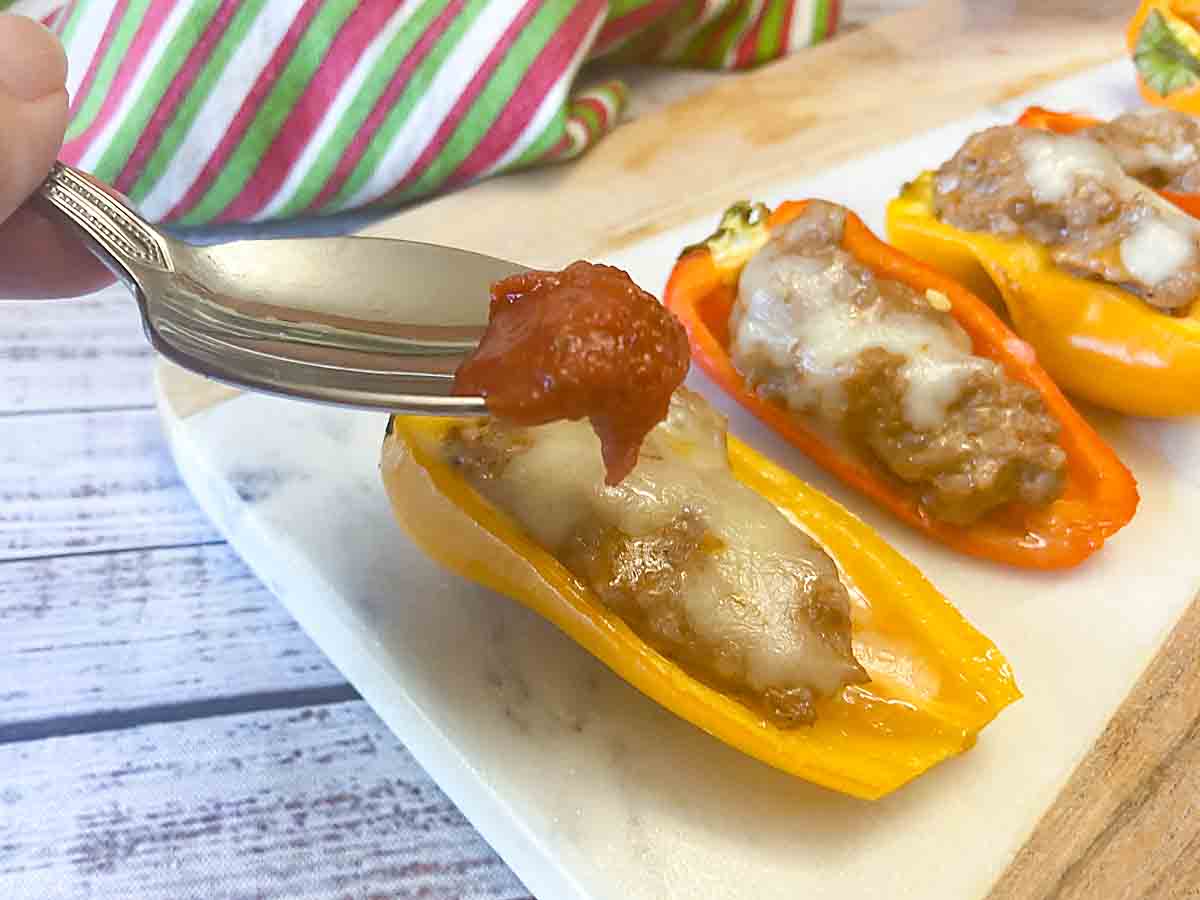 Serve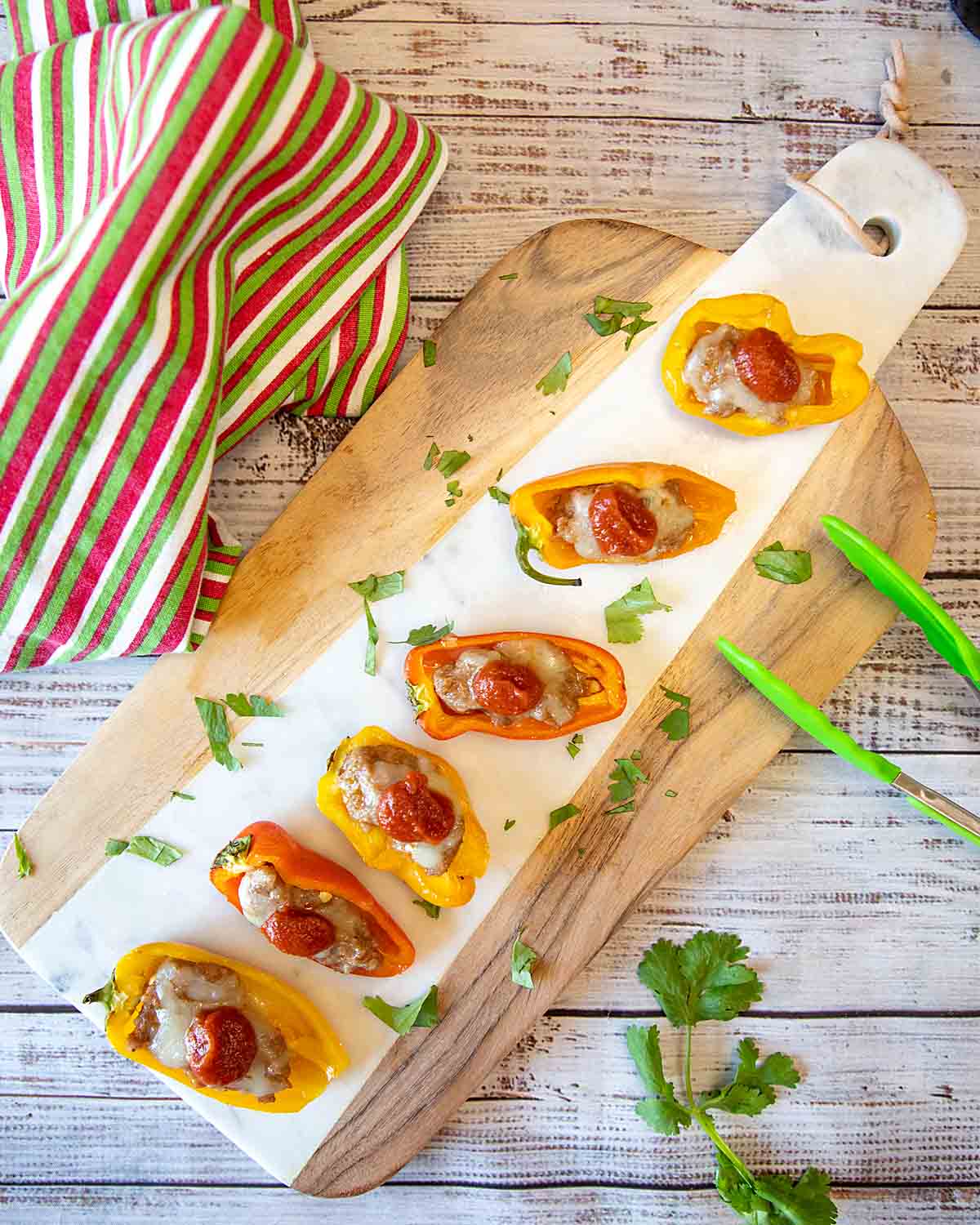 How to Serve
These are a seriously tasty appetizer and would be at home served elegantly on a nice platter or tossed helter skelter into Tupperware for a tailgate.
They'd be beautiful on a buffet table and personally, I'd eat them for brunch (especially a game day brunch)!
But can you keep a secret? If you just want to serve a table of appetizers for dinner, this is a great candidate! With protein in the sausage and a vegetable in the pepper, there are entrees with less nutrition! And don't forget a little cheese for calcium and some bonus pizza sauce.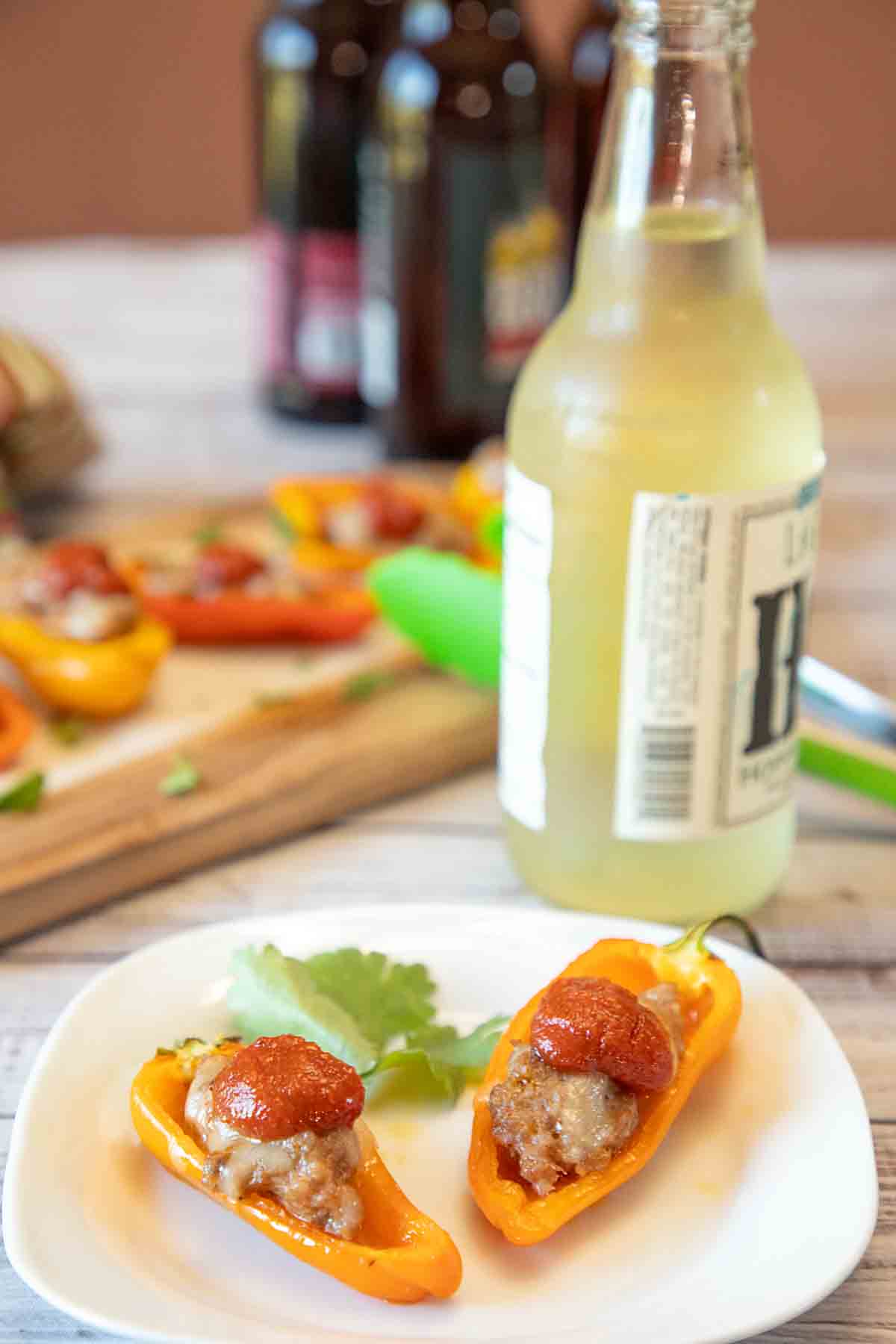 Variations
If you like the flavor of stuffed peppers, consider my Unstuffed Banana Pepper Soup. It's one of my most popular fall recipes.
Of course there's always the classic stuffed bell pepper that I do in traditional meat or vegan quinoa stuffed pepper versions.
Before and After
Make Ahead Tips If you were in a time crunch, you could stuff these with sausage the day before, keep airtight in the refrigerator, then finish them when you need them. Don't forget to check the temperature.
Leftovers. Truthfully we've never had even one of these left! But they can be kept covered in the refrigerator for a few days, then reheated.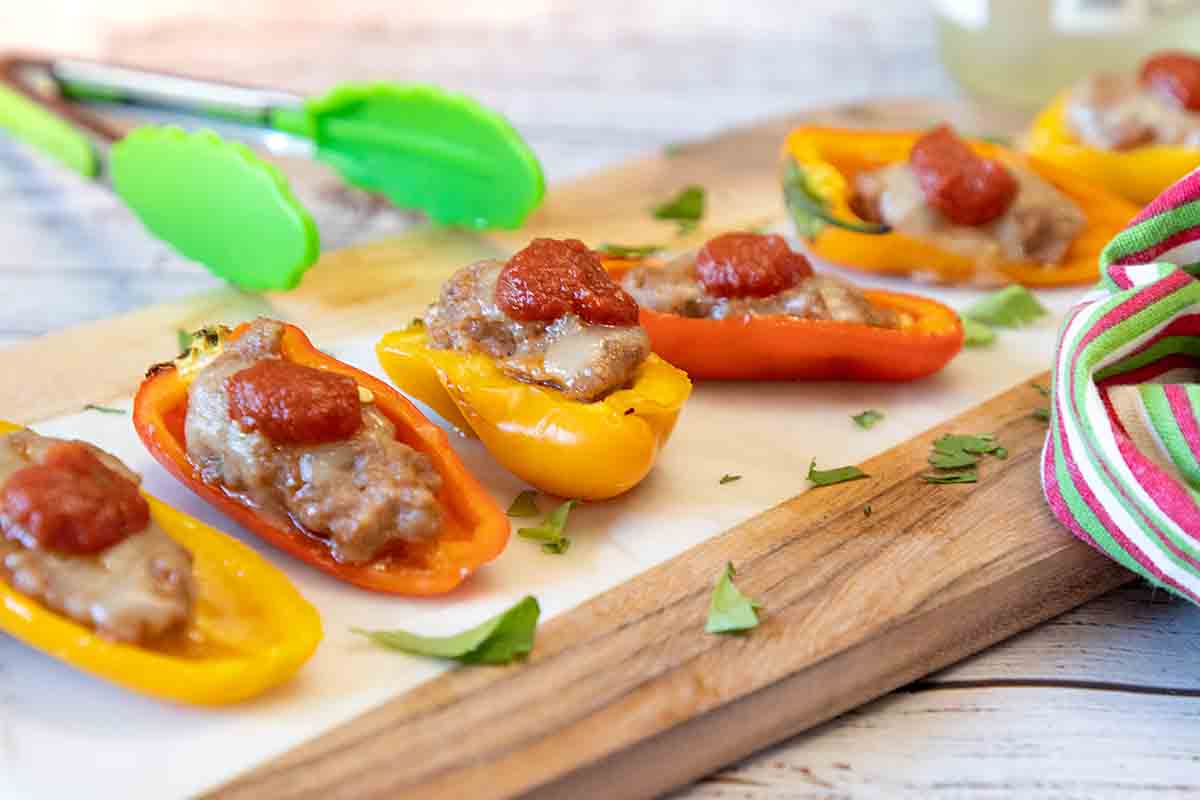 Tips & FAQs
The flavor of pizza sauce can vary a lot from a bland glorified tomato paste to kick ass tasty. Try to go with the latter. My favorite is Pastorelli (affiliate link).

Kicking it Up with Spicy Recipes
We share Recipes From Our Dinner Table! Join our group and share your recipes, too! While you're at it, join our Pinterest board, too!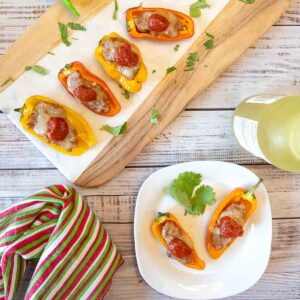 Sausage Stuffed Mini Peppers
Mini peppers may be the breakout vegetable of the season! Perfect in this 4 ingredient Italian Sausage Stuffed Mini Peppers appetizer!
Ingredients
2

Italian Sausage links

or about 1/2 lb lean bulk Italian sausage - see note

1

pint

mini peppers

¼

cup

grated mozzarella or other meltable cheese

3-4

T

pizza sauce
Instructions
Cut mini peppers in half, leaving stem or discarding if you prefer.

Top with about a tablespoon of sausage (depending on pepper size).

Place in a baking dish and bake at 400 for about 10 minutes until sausage is cooked through.

Top each pepper with a sprinkling of cheese, then return to oven until melted (about 2 minutes).

Place on a serving plate, then top with a dollap of pizza sauce.

Serve warm
Notes
For the meat filling, you can use Italian sausages with the casing removed, or bulk Italian sausage (or make your own!)
Originally published on Sep 25, 2016