With spicy ginger, fragrant apple cider and brandy, this Apple Cider Mule cocktail will put you in a great fall spirits!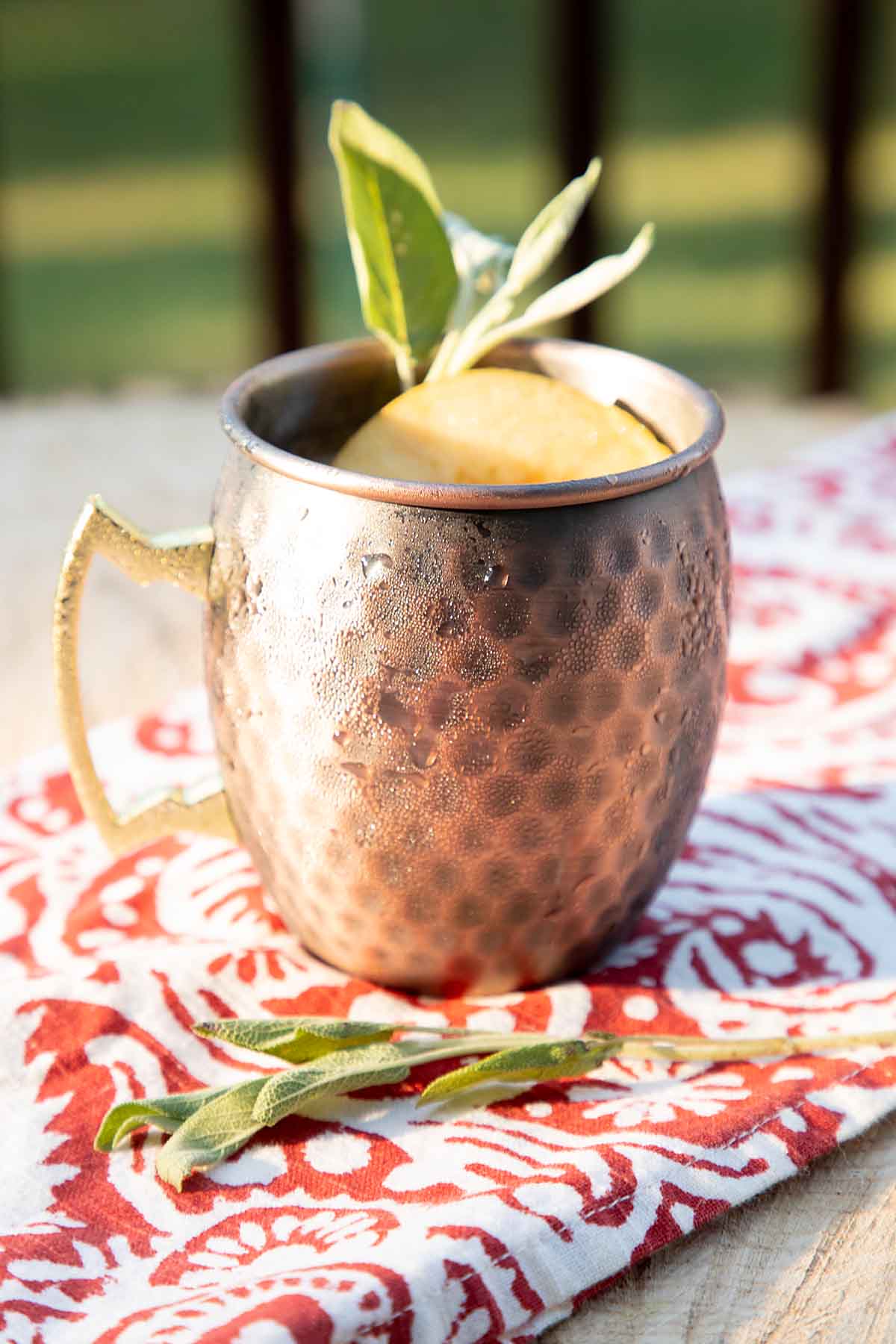 I'd say I have a thing for a good fall cocktail. Perhaps it's the warmth you need moving to cooler weather. Or the permission it gives you to take time to enjoy the changing colors.
And there are so many lovely choices, from the fall inspired Jack Rose to classic cocktail makeovers like this Apple Cider Old Fashioned.
I was in the mood for another makeover when I made this Apple Cider Moscow Mule. With intense ginger flavor, a mule is a perfect drink to "go fall!"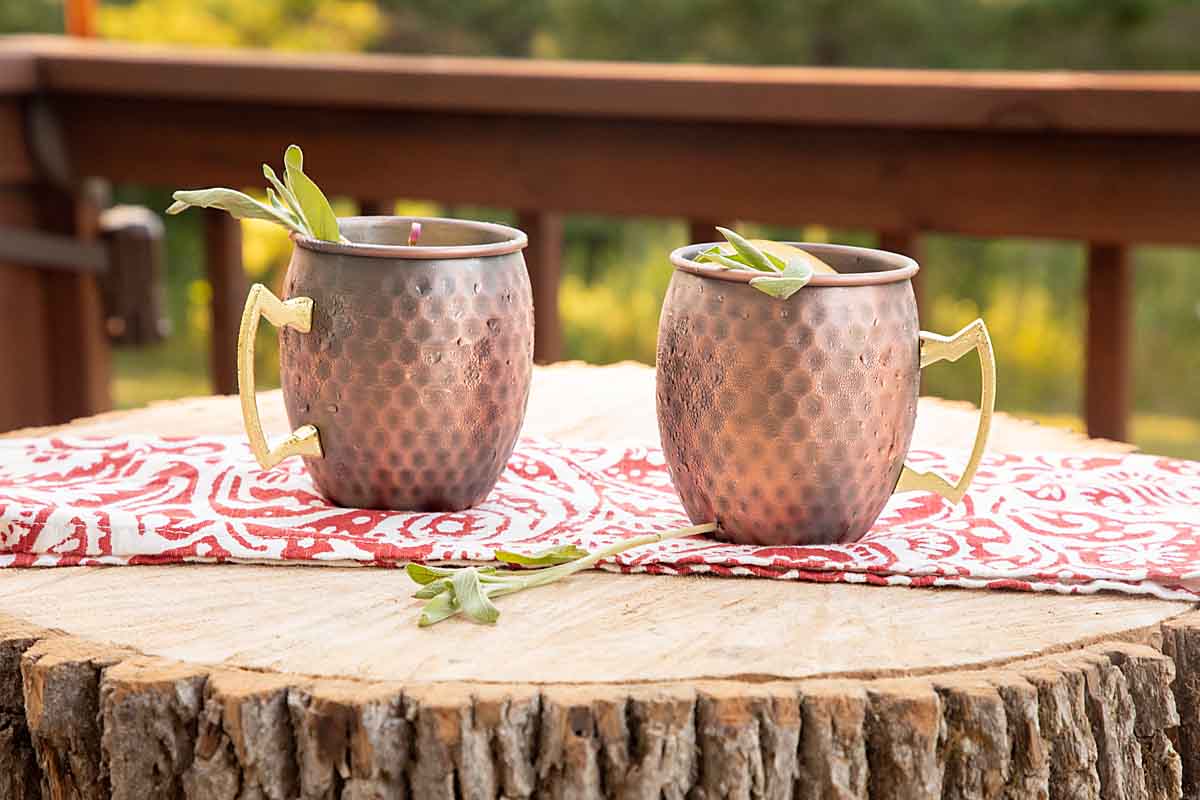 What is a Moscow Mule?
Per Wikipedia, "a Moscow mule is a cocktail made with vodka, spicy ginger beer, and lime juice, garnished with a slice or wedge of lime." But I have to give it to bartenders (professional or hobbyists), they're a creative bunch! Today there are many variations, usually based on changing out the type of alcohol or using additional flavors.
I've had fun making a variety of these—check out my list (so far 'cause it's too much fun to quit!) under "variations" below!
Even if you are looking for a good mocktail, you can't go wrong here. This is soooo loaded with flavor, it's good without any alcohol at all!
Now I should note that I decided to use Apple Jack, a kind of Apple Brandy, rather than vodka in this. Vodka is a pretty neutral spirit, while this (as well as plain brandy or bourbon) has a warmth that feels like fall to me!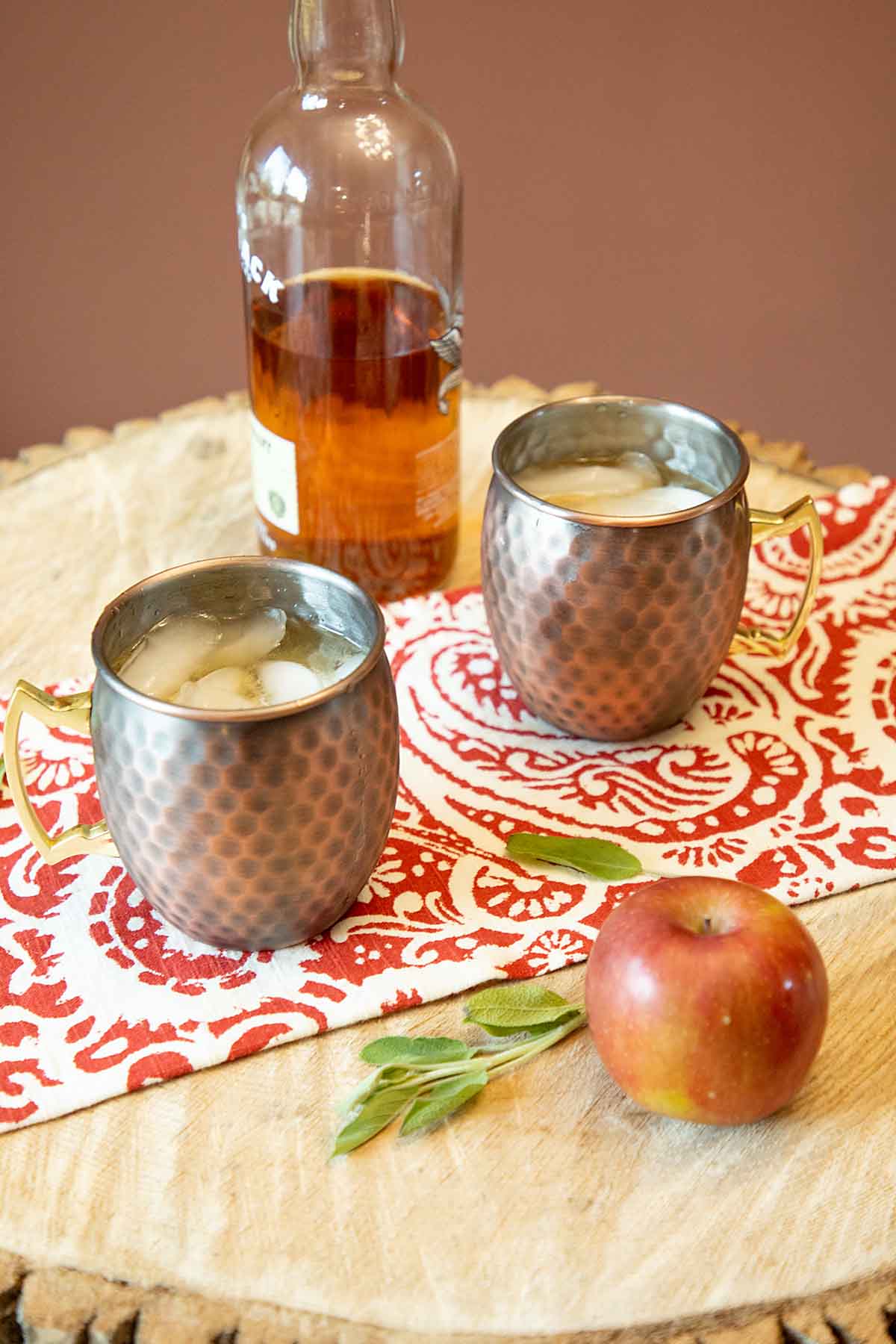 Why You'll Love This!
Tasty. This drink has lots of flavor and even people who don't like traditional cocktails are likely to enjoy it!
Fun. Maybe it's the copper mugs, or the not delicate nature of this drink. Perhaps it's the bubbles tickling your nose! In any case, this is a fun drink perfect for game time and parties.
Versatile. There are so many variations on mules, you're bound to find one your guests will like or that meets different needs like low carb or alcohol free. See Variations below for some ideas.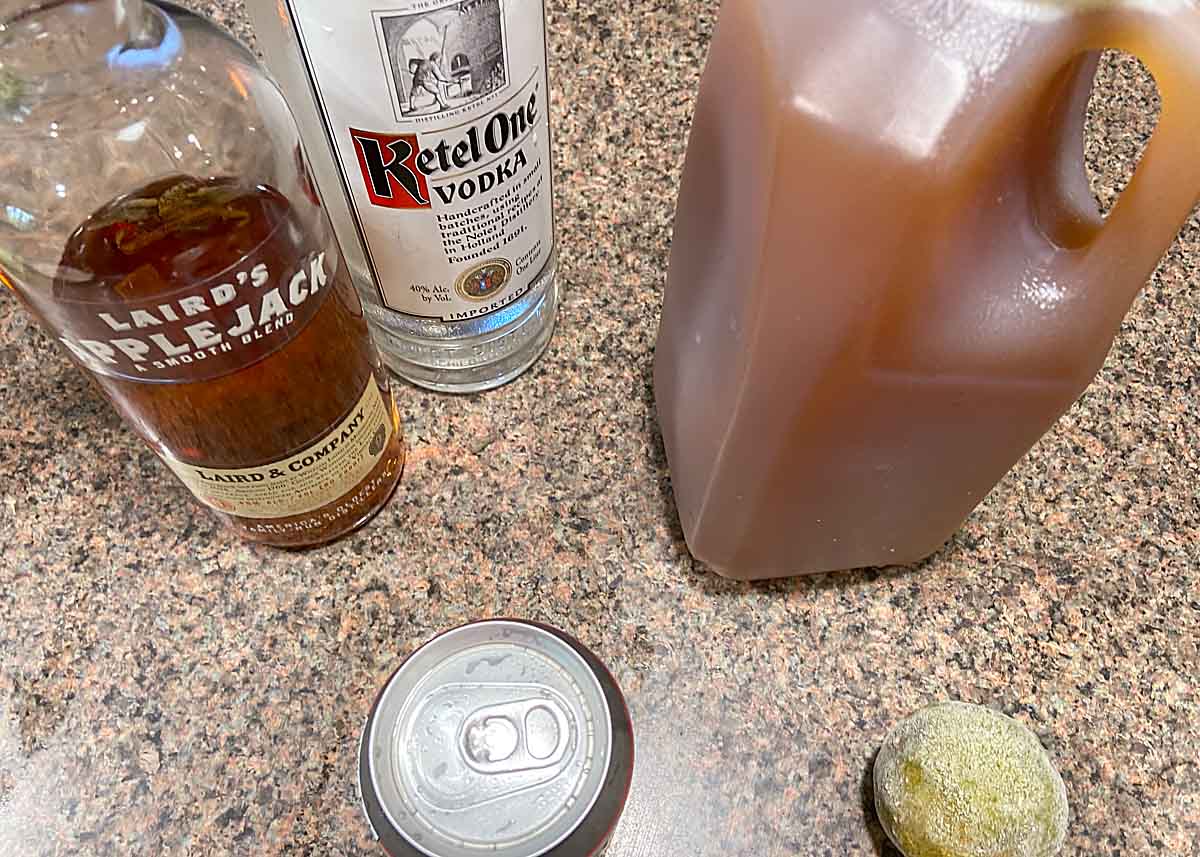 What You'll Need
Ingredient Notes
Ice cubes. This chills the drink and helps create a frosty mug!
Applejack, Brandy or Bourbon. This provides the alcohol component of the cocktail. You can omit and use extra cider or ginger beer if you want to make a mocktail. Or if you prefer, you can use vodka like the classic mule.
Apple cider. This provides some apple flavor.
Ginger beer (non-alcoholic). This delivers an intense punch of ginger.
Optional Garnishes: apple slices, herb sprigs such as sage
Special Tools
Food grade copper mugs are nice but not essential. Cocktail picks are helpful if garnishing with apple slices. See "How to Serve" below.
Step by Step Directions
Fill a Moscow Mule mug or a large glass with ice.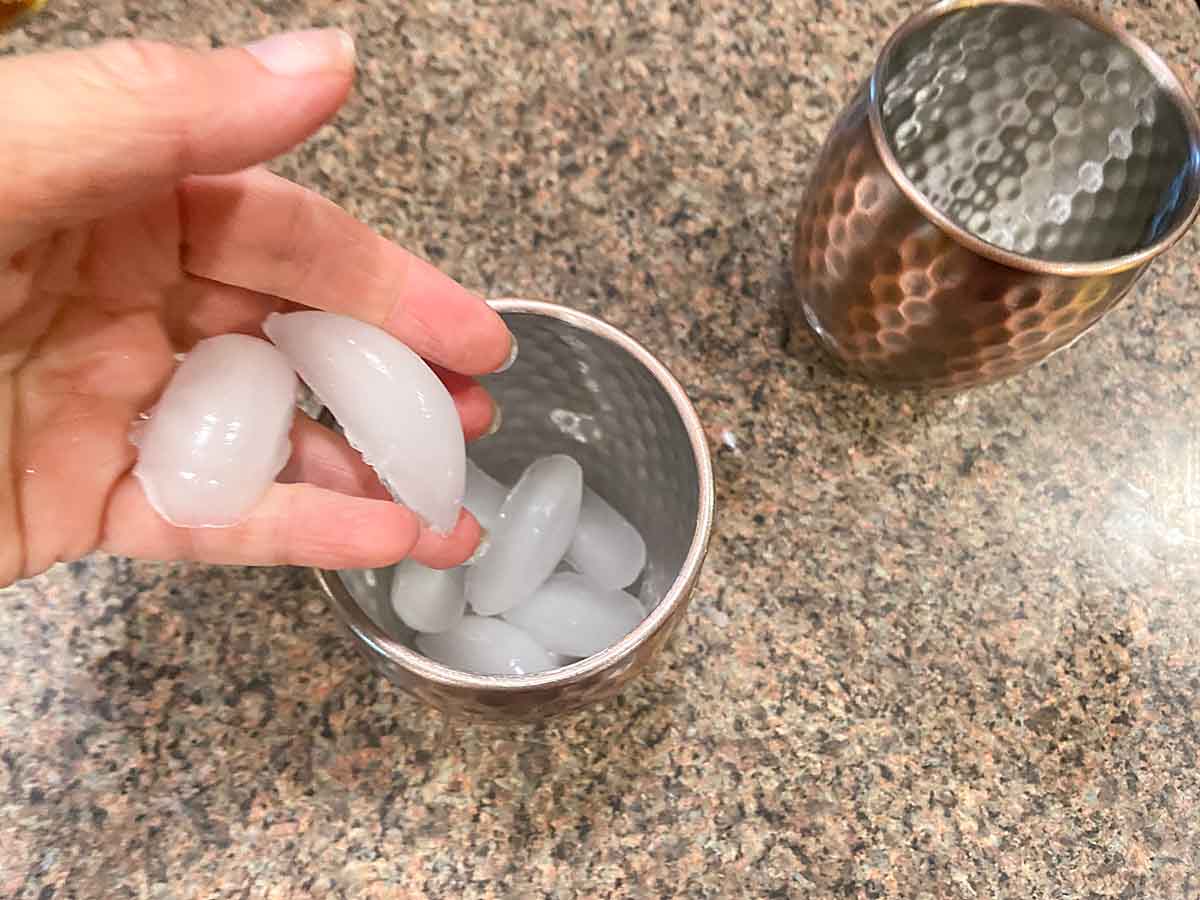 Add Applejack or other liquor. Top with apple cider and ginger beer.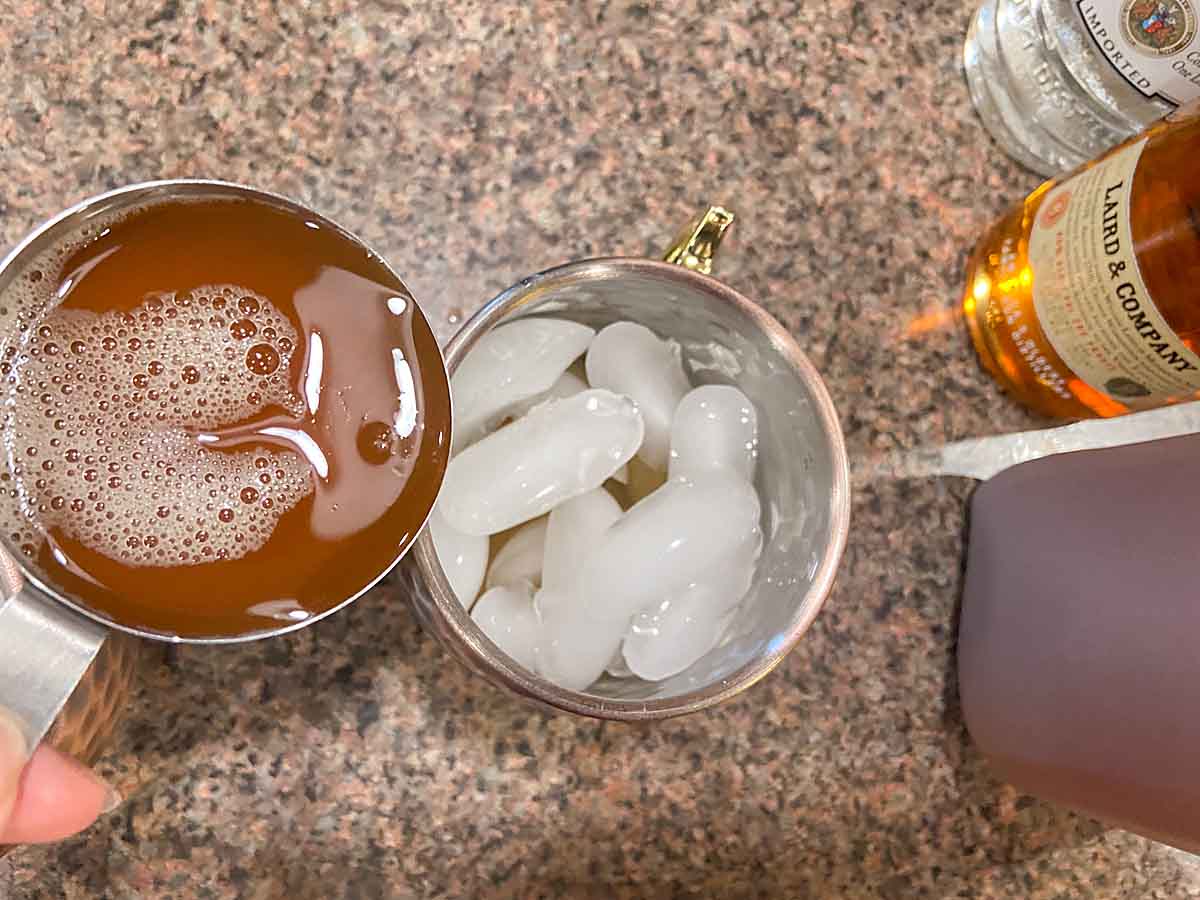 Taste and top off with either apple cider or ginger beer, according to taste. Garnish as desired.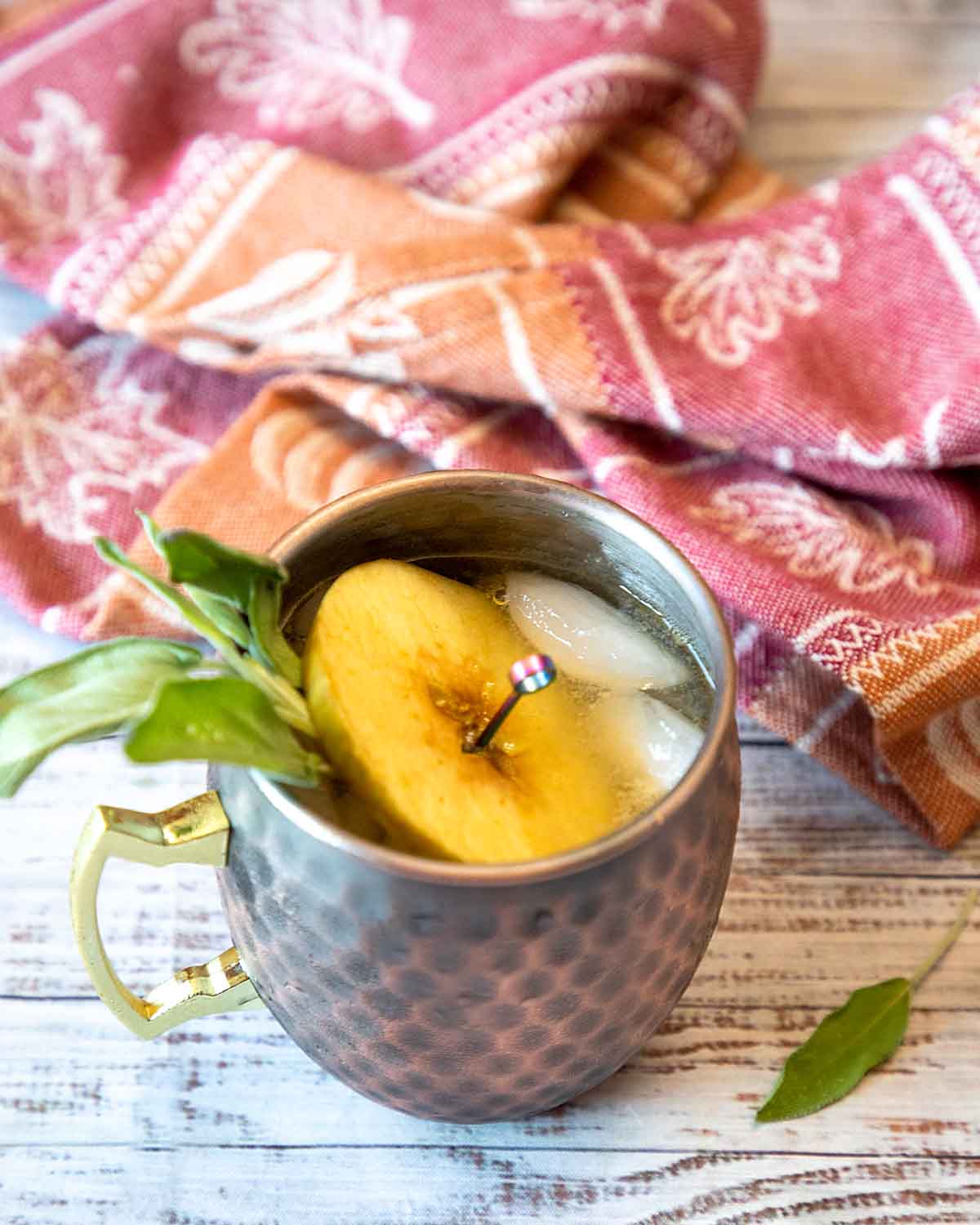 Serve immediately.
Apple Cider vs Apple Juice
Apple cider and apple juice are similar in that they are both made from apples that have been cored, chopped, pressed to extract juice then strained. Apple juice, however, is heavily filtered which makes it clearer and less flavorful. In addition, some commercial juices may have other additions like water, preservatives and sugar.
I always go with cider if I can.
And I should mention that apples are consistently on the EWG's "dirty dozen" list of most contaminated fruits and vegetables. So I try to buy any apple products organic if I can.
One thing I haven't mentioned yet is that apple cider also exists in a fermented form, called hard cider. Fizzy and lightly boozy, I haven't tried it in this, but I'd consider it. In that case, I'd consider reducing the ginger beer slightly. If you try it, let me know what you think!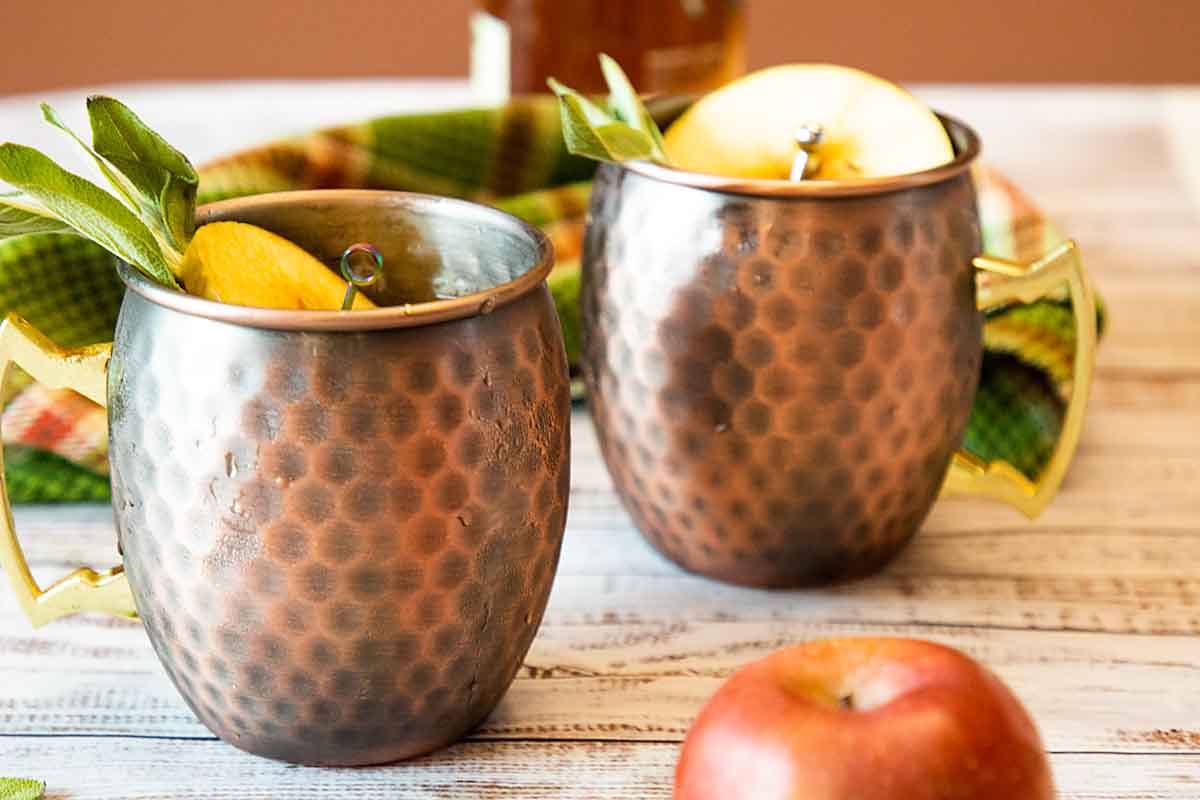 How to Serve
Serving your Apple Cider Moscow Mule in a copper mug is a perfect fall look with all the warm golds and browns around. The copper also gives you cold retention properties and a dewy blush as the air hits the cold mug.
Just be sure any copper items you use are food safe. Per the FDA "copper and copper alloys such as brass may not be used in contact with a food that has a pH below 6 such as vinegar, fruit juice, or wine".
I love my mugs, but in the end I'd say feel free to go with glassware you have. Later if you decide if these drinks are going to be a staple around your house, you can consider indulging in a set or two. My personal belief is that having the right match for drinks is fun, but shouldn't be a limiting factor.
Finally, in keeping with the fall spirit, I garnished mine with an apple slice and a sprig of sage. Then I served them outside with vegetables and dip!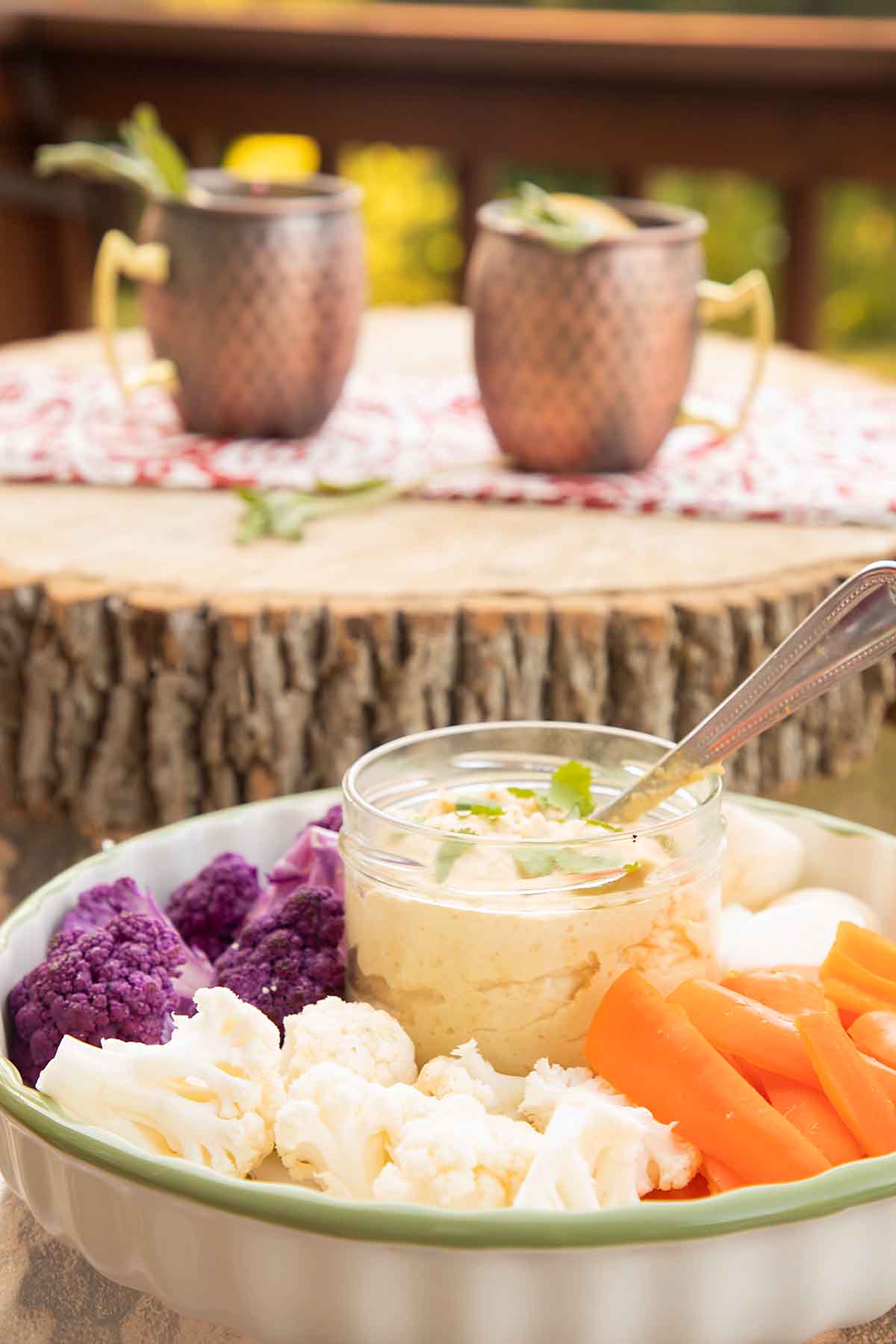 Variations
If you need a similar keto drink I recommend making my Kentucky Mule, and using diet ginger beer. This omits the apple cider which is tough for keto. But it does include bourbon which I find warming like brandy.
For an alcohol free mocktail, omit the liquor and top off with extra cider or ginger beer.
Besides the previously mentioned bourbon-based Kentucky Mule, I also make a Holiday Cranberry Mule. And someday I'll be getting to the London Mule, made with gin, the Caribbean mule, using rum, the Mexican Mule with tequila and the Irish Mule with Irish Whiskey.
So many mules, so little time!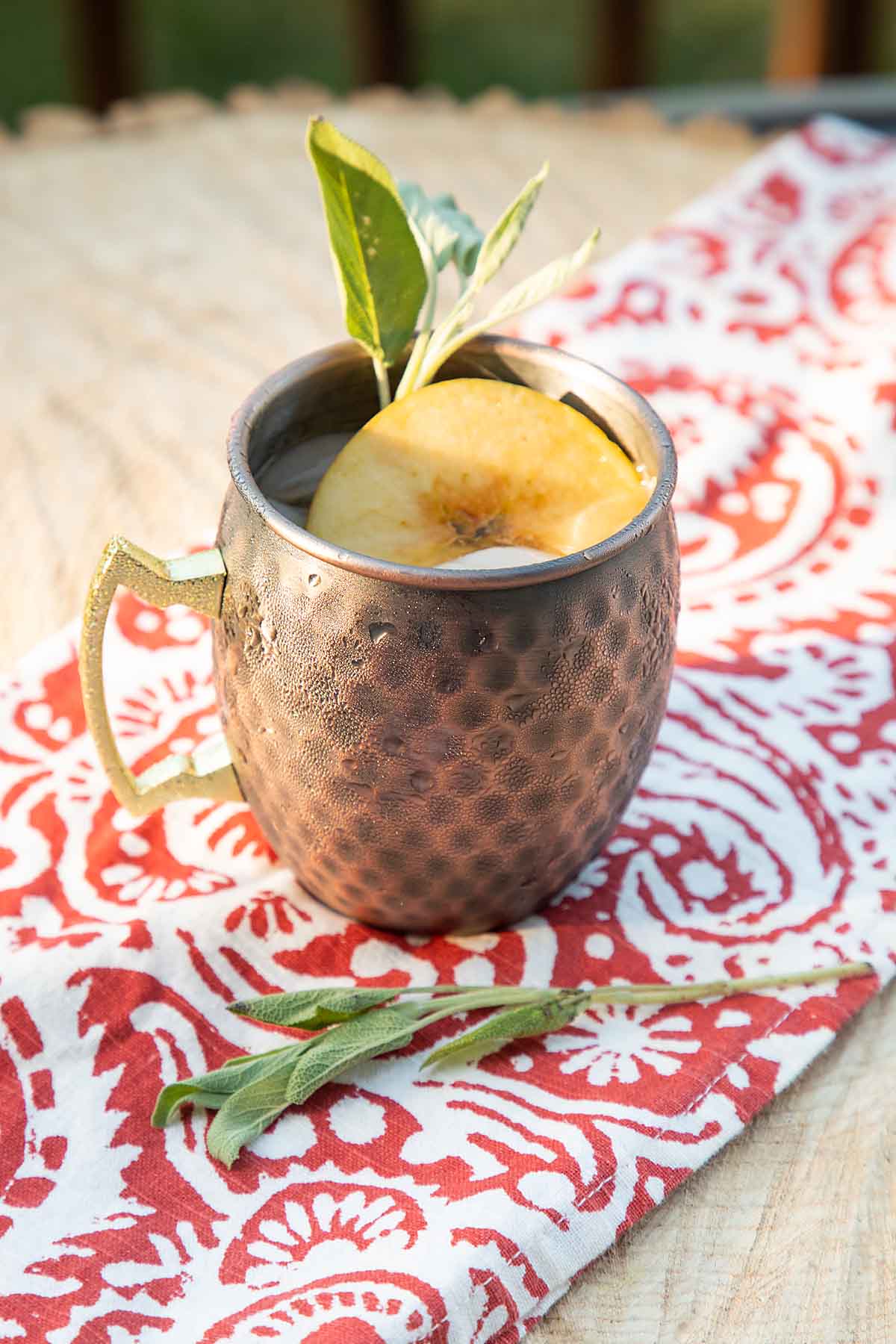 Tips & FAQs
Does the ginger beer have alcohol? There are alcoholic bears that are ginger flavored but the ginger beer for Moscow Mules is non-alcoholic. It's more like an intense ginger ale.
Apple Cider/Ginger Beer ratio. The intensity of the ginger beer, which is a trademark of the Moscow Mule was a challenge to keep from overwhelming the apple cider. Feel free to keep experimenting!
Can I use ginger ale in here? Ginger Ale has a milder flavor than ginger beer. So for most types of Mules the answer is "no" you need the intensity. For this Apple Cider Moscow mule, however, you do get extra flavor from the apple cider. And since, as I mentioned, the cider fights some with the ginger intensity, the milder ginger ale actually might work here. If you try it, let me know in the comments!
Can I make this low carb or keto? If you are watching your calories or counting carbs, Gosling makes a diet Ginger Beer that I love (not sponsored). Happily, it has zero calories and no carbs.. Four ounces of apple cider however, has about 15 net carbs, so that will push the limit. In that case you might just be better with a classic Moscow Mule or a Kentucky Mule which will get you the bourbon flavor.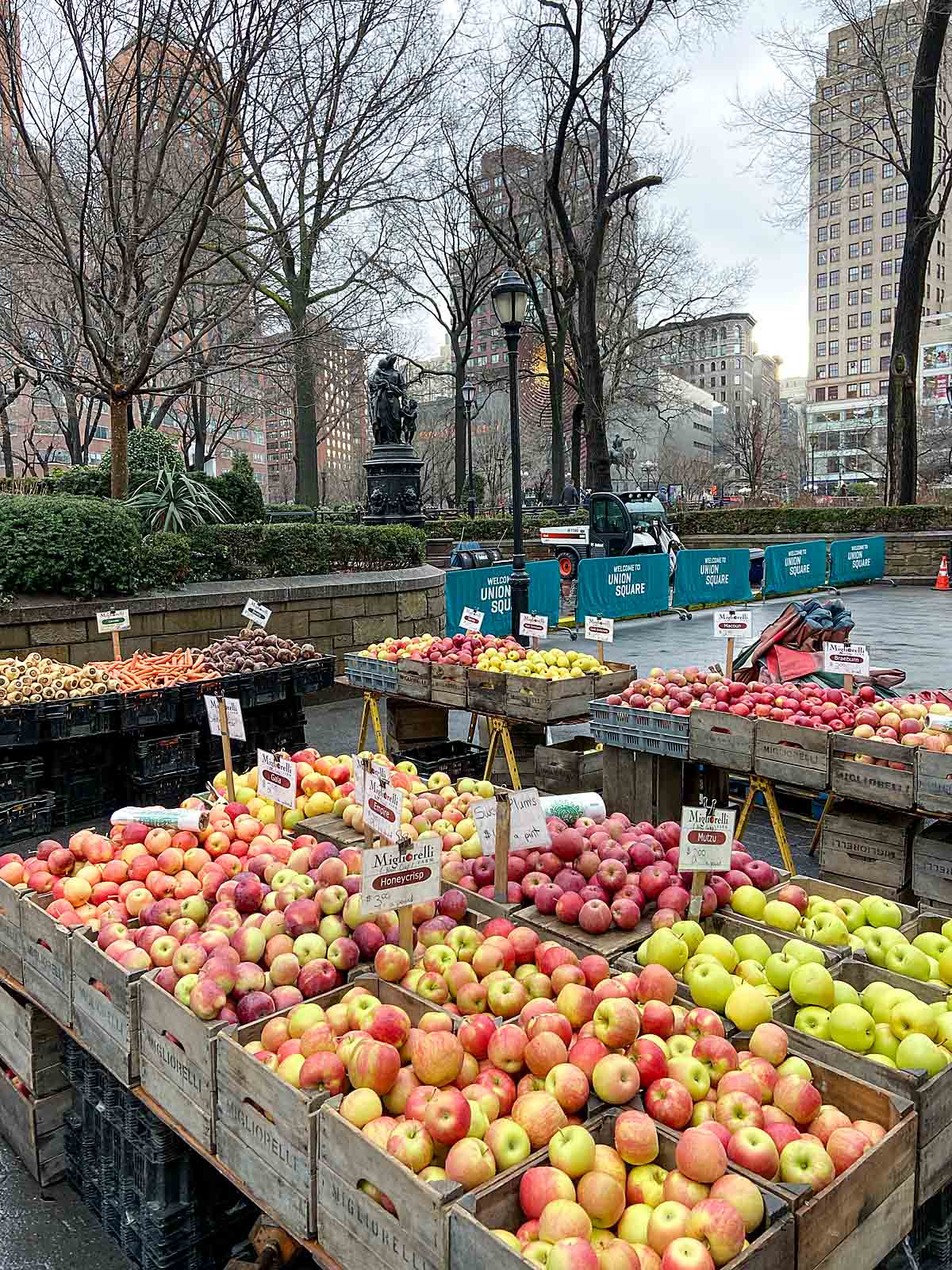 Using an apple slice to garnish. When I use an apple slice as a drink garnish, I usually put the slice on a pick. When I've tried to slice it halfway to sit on a glass rim, it usually breaks. I bought washable picks which creates less waste. And it means I'm never out!
How do I measure in ounces? While I give most of the measurements in cups for this, here is a good rule of thumb for making drinks. If you have a measured shot glass or jigger, measuring for drinks is easy since they usually have half ounce incremental measurements. If not, 2 Tablespoons is one ounce, ¼ cup is two ounces, and a half cup is 4 ounces. And remember that, other than the alcohol, generally measurements will vary some based on your glass size and the amount of ice you add.
More #FallFlavor Recipes
Beverages
Breads
Salads, Soups, and Sides
Main Dishes
Desserts
Follow the Favorite Fall Recipes Facebook group and follow the Favorite Fall Flavors Pinterest board for more fall inspiration!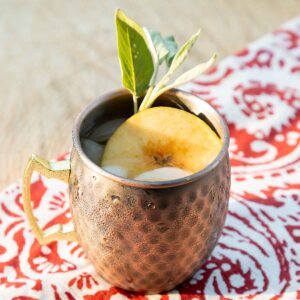 Apple Cider Mule
With spicy ginger, fragrant apple cider and apple jack (or similar), this Apple Cider Mule cocktail will put you in a great fall spirits!
Ingredients
ice

2

ounces

Applejack or Brandy or Bourbon

or vodka or omit for a mocktail

½

cup

or more apple cider

¼

cup

or more ginger beer

Optional Garnishes: apple slices

herb sprigs (I used sage)
Instructions
Fill a Moscow Mule mug or a large glass with ice

Add Applejack or other liquor (skip for a mocktail)

Add apple cider and ginger beer

Taste and top off with either apple cider or ginger beer, according to preference

Garnish as desired

Serve immediately.
I am not a health professional and nutrition data is calculated programatically. Accuracy may vary with product selection, calculator accuracy, etc. Consult a professional for the best information.