Flavored with cranberry juice, ginger beer, lime and vodka, the Cranberry Moscow Mule is a fun and tasty holiday cocktail.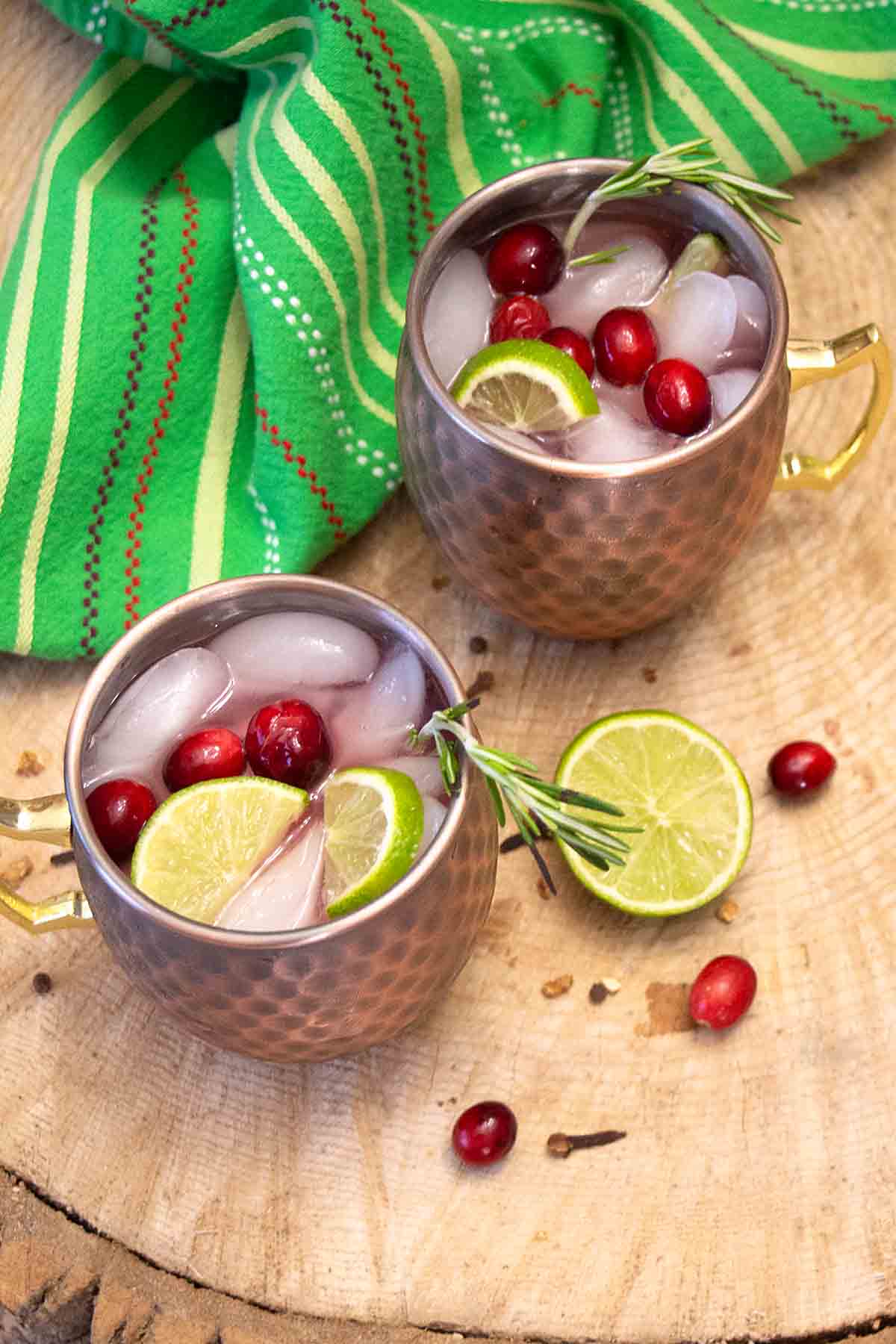 There's something about festive cocktails for the holidays. From fancy martinis like this White Peppermint Bark Martini to classic cocktail makeovers like this Apple Cider Old Fashioned, holiday cocktails add fun and cheer to the season.
Last summer for a bourbon roundup, I made a Kentucky Mule, basically a Moscow Mule made with bourbon. It was fun and tasty–and now I own the copper mugs they are served in! Hmmm, how about a Christmas Moscow Mule!
So when it came time for holiday cranberry week with my blogging friends, I decided that this Holiday Moscow Mule could indeed say Christmas!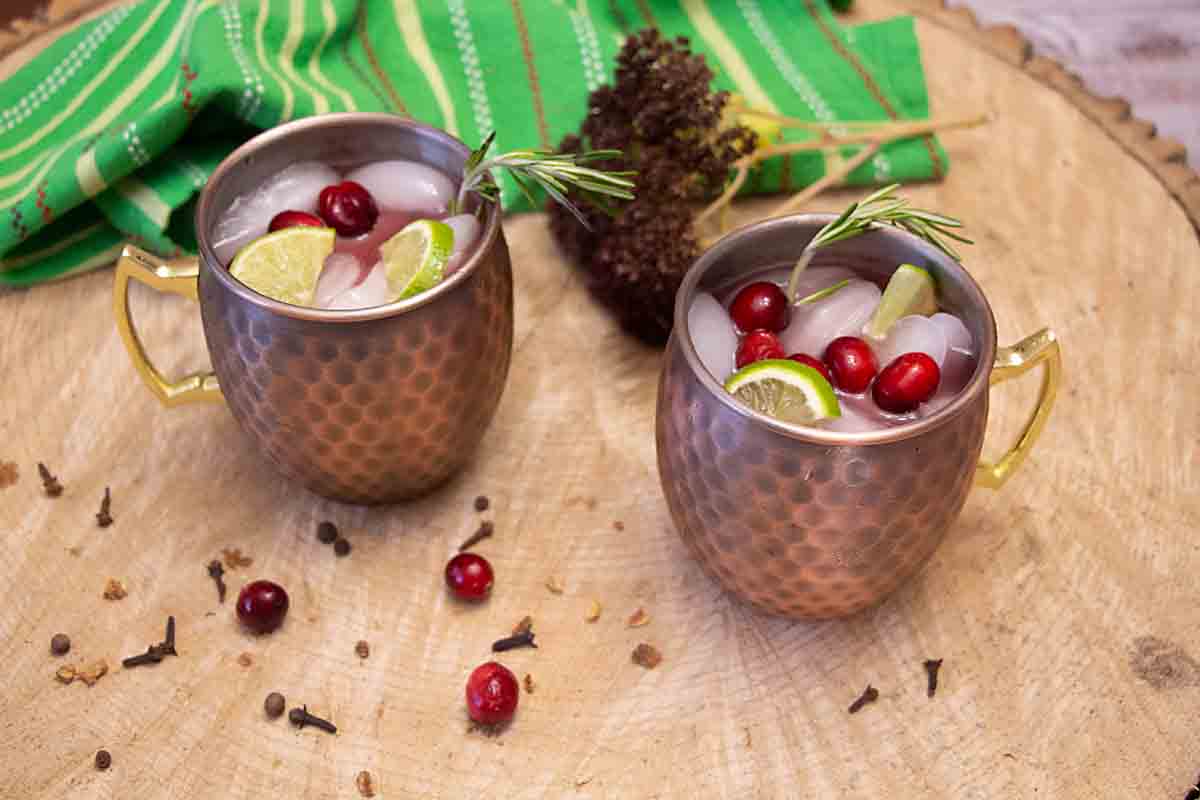 What is a Moscow Mule
Per Wikipedia, "A Moscow mule is a cocktail made with vodka, spicy ginger beer, and lime juice, garnished with a slice or wedge of lime." Of course like with many drinks, that's just the starting point!
Do I have to use vodka?
Of course you don't! People have been changing out the booze in Moscow Mules for so long that the variations even have names.
Besides the previously mentioned bourbon-based Kentucky Mule, these include the London Mule, which uses gin, the Caribbean mule, made with rum, the Mexican Mule using tequila and the Irish Mule with Irish Whiskey.
In fact this drink is even good alcohol free, for a nice Cranberry Mocktail!
Step by Step
It takes just a few steps to make a Cranberry Moscow Mule.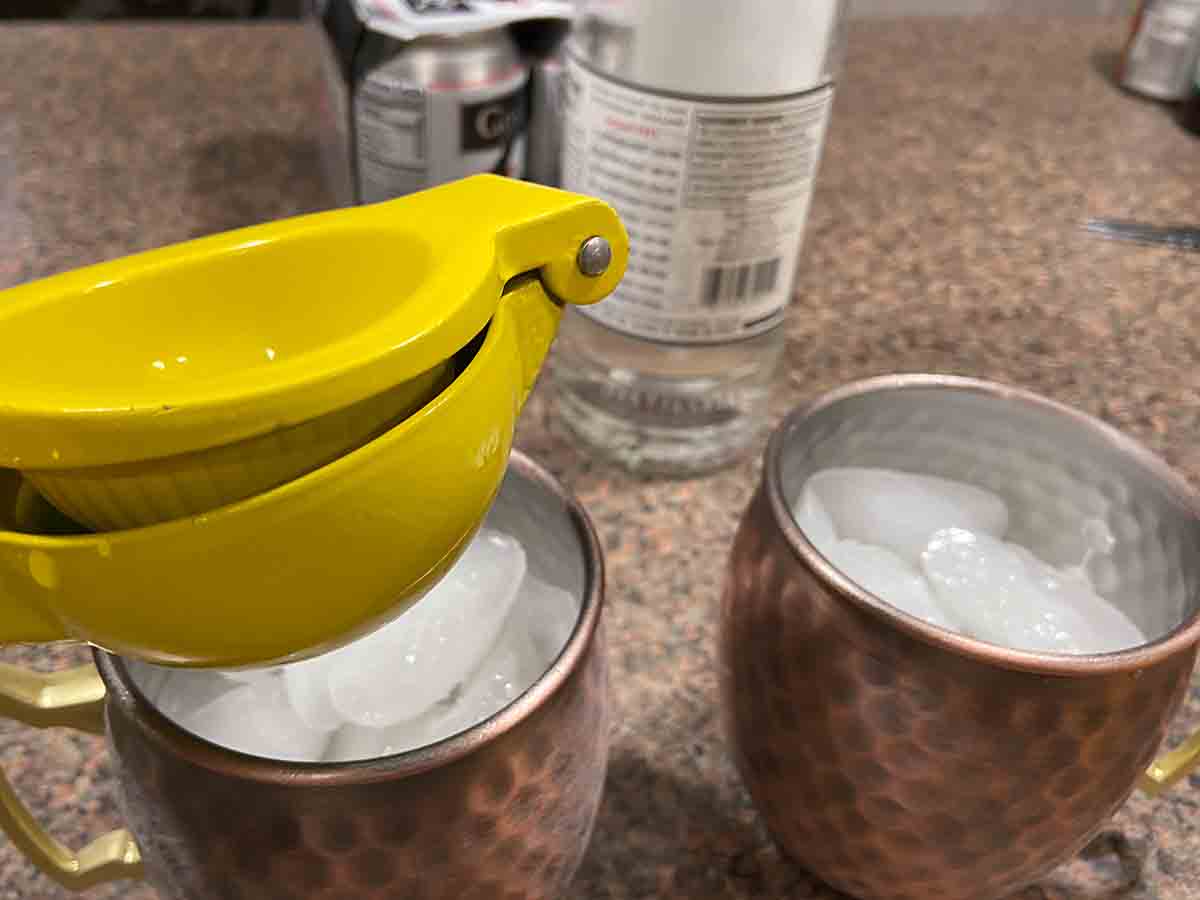 You add ice, vodka and lime juice to a mug.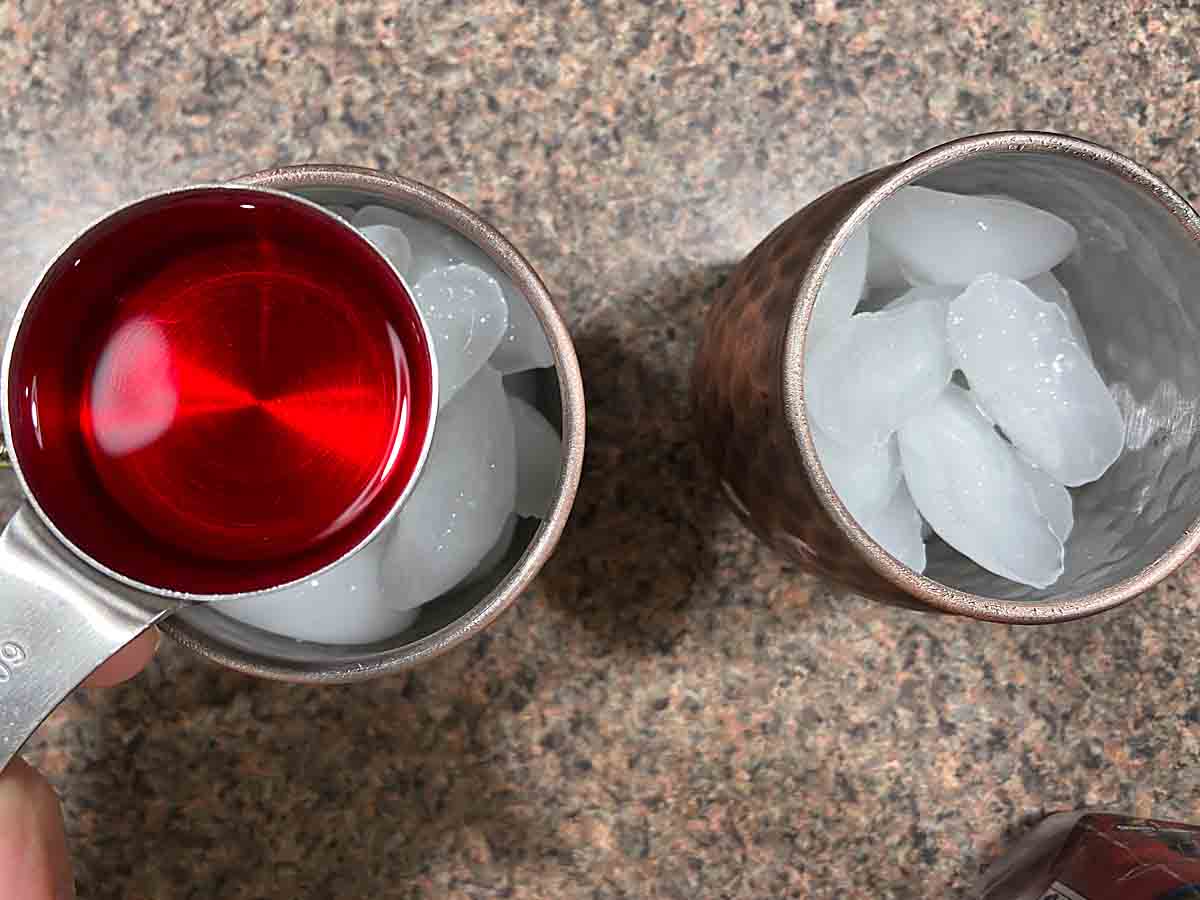 Then top with equal amounts (3-4 ounces) of cranberry juice…
and ginger beer. Serve immediately.
Types of Cranberry Juice
You have many options when it comes to cranberry juice. Since cranberries are very tart, they generally require some type of sweetening.
The original "cranberry juice cocktail" was sweetened with sugar or corn syrup. This countered the natural tartness of the berry and made for a sweet/tart beverage. It also kept it from being labeled as juice though it was called that in common parlance.
But since some people don't want added sugars there is also a 100% juice variety. Counterintuitively, this doesn't mean 100% cranberry juice but is instead sweetened with juice from other fruits like white grape or apple. And since those fruits are regularly on the EWG "dirty dozen" list of most contaminated fruits, I would look for organic products if you go this route.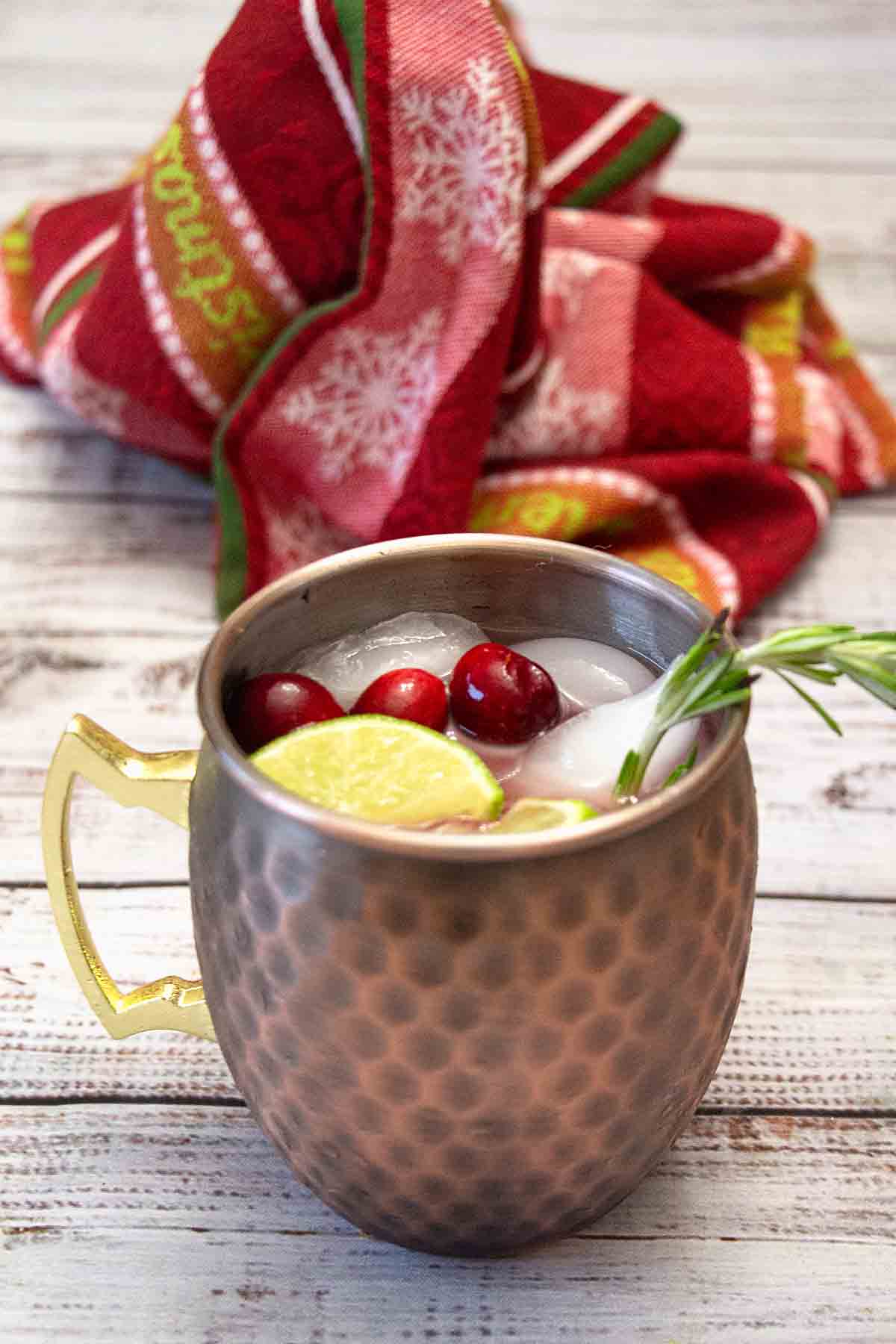 In browsing at my local grocer, I also spotted a diet cranberry juice with 5 calories per serving and a light with 50 calories. These are potentially of interest to dieters.
A new addition to the market, that I've read about but not seen, is a 100% cranberry juice that is unsweetened. This would probably require you to add your own sweetener—but in this drink the ginger beer might carry the whole load. My store didn't have it but I love the idea and I'm on the lookout!
Finally you can actually make your own. I learned to make Homemade Cranberry Juice during my year of eating locally. Wisconsin cranberries were easy and I sweetened my juice with local honey. Of course, you can also use sugar or other sweeteners (just be aware that some, like erythritol tend to crystalize in juice).
Serving in Copper Mugs
Serving your Christmas Moscow Mule in a copper mug is a perfect look with holiday decor! But with great cold retention properties and a blushing glow, this was tradition long before anyone thought of a cranberry mule.
While the copper mugs are lovely, please make sure yours are food safe. Per the FDA "copper and copper alloys such as brass may not be used in contact with a FOOD that has a pH below 6 such as vinegar, fruit JUICE, or wine".
And while purists might say that copper mugs are a requirement (seriously, I read a whole forum of people discussing if you needed to buy/rent the mugs in order to serve it at a wedding), others say it's fine to go with a rocks glass.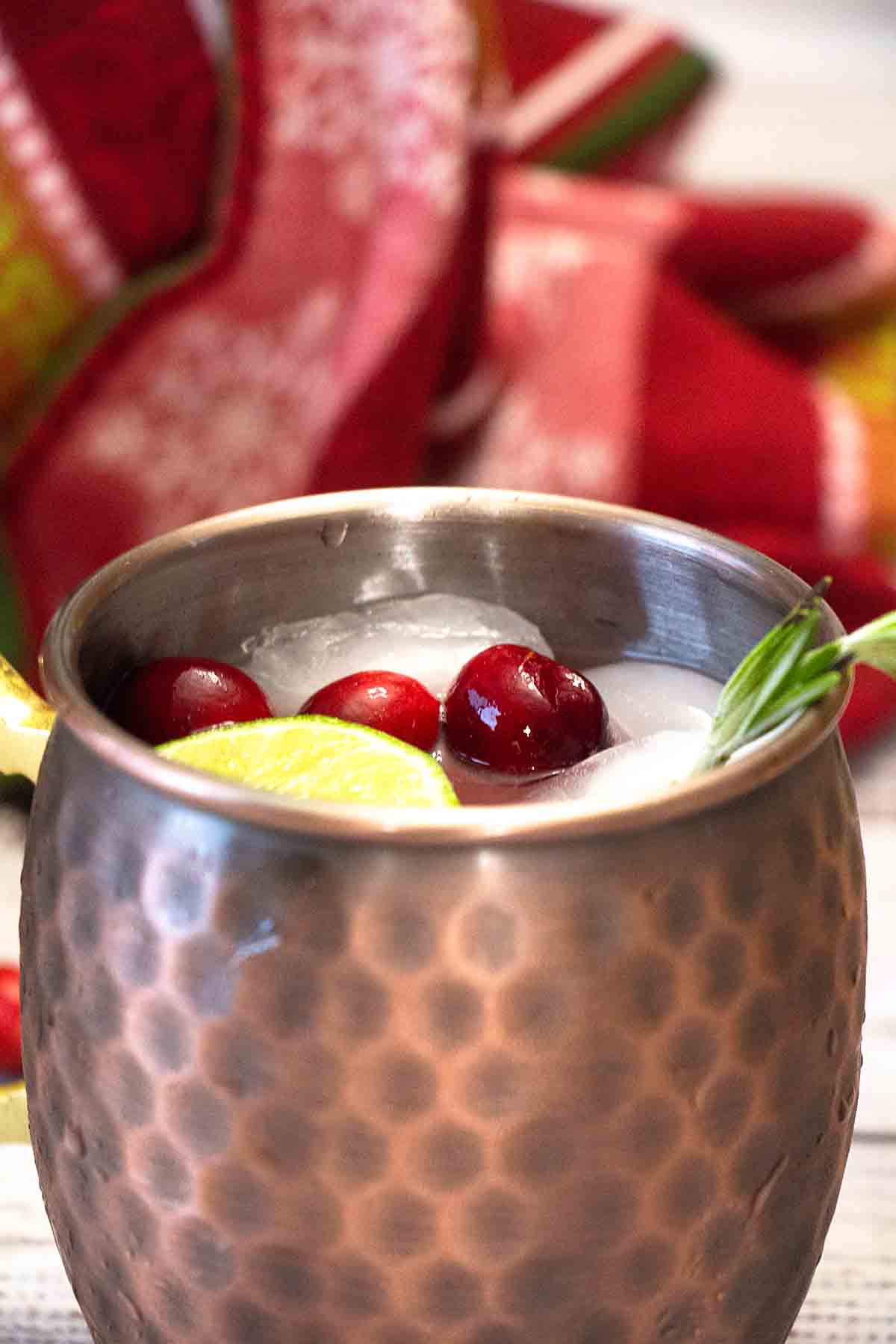 Tips & FAQs
Did you know that lemons and limes freeze beautifully? I toss them into an empty plastic ice cream tub and take them out any time needed. This means no extra trips to the store!"
Does the ginger beer have alcohol? While it's possible to make a beer that is ginger flavored, the ginger beer for Moscow Mules is non-alcoholic. Think of it as a more intense ginger ale.
Cranberry juice/Ginger Beer ratio. I have seen lots of different ratios, but in my taste testing I decided that going less than 1 to 1 meant the ginger beer overwhelmed the cranberry juice.
If you are watching your calories Gosling makes a diet Ginger Beer that I love (not an affiliate or sponsor). And we even found it in our small town Walmart when I unexpectedly ran out!
Hooray! 'Cause what says "cheers" more than a Cranberry Christmas cocktail!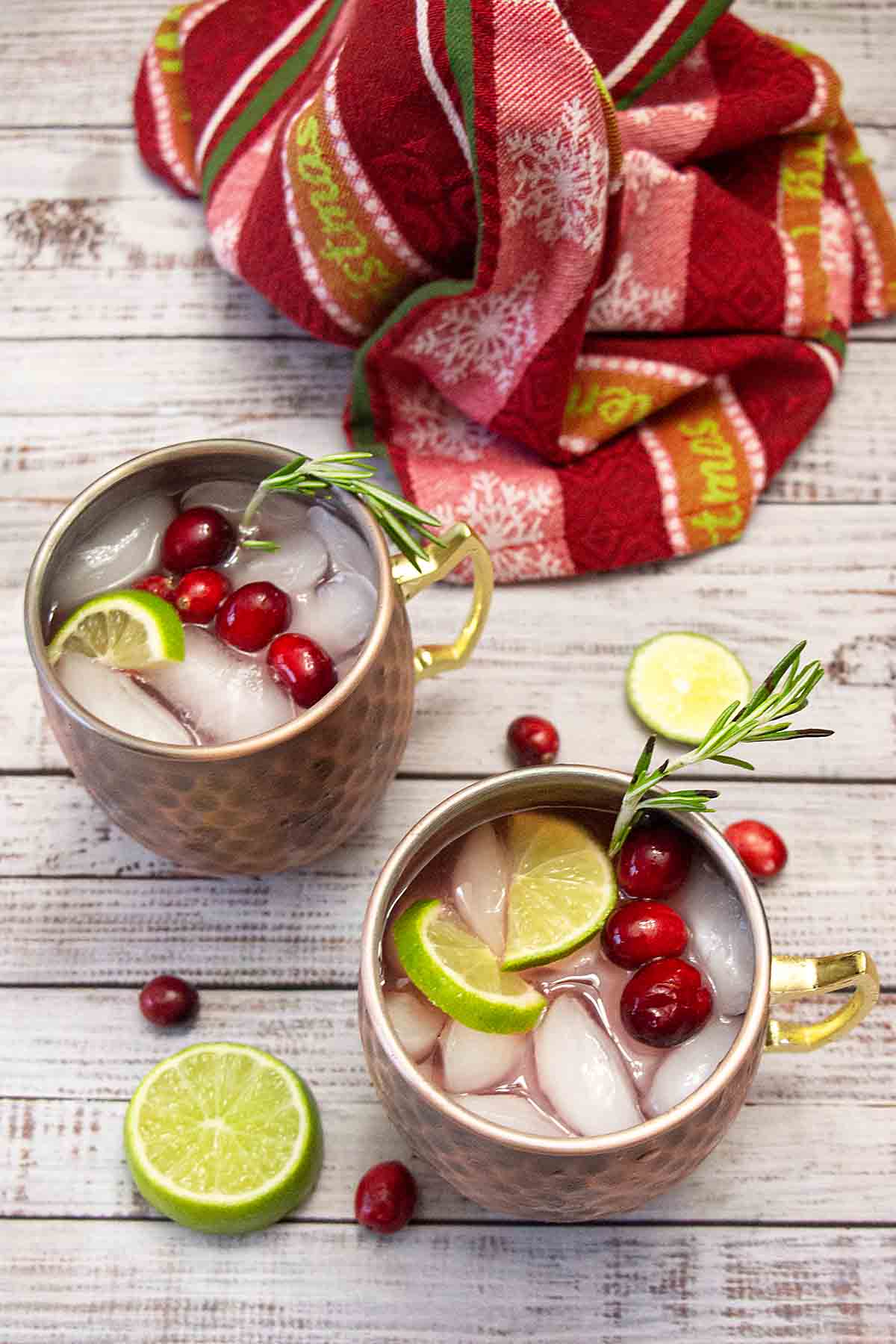 Welcome to Cranberry Week!
This week we are celebrating all things cranberry! We have delicious recipes from across the country to celebrate all things cranberry!
#CranberryWeek is an annual blogging event that is hosted by Ashley from Cheese Curd In Paradise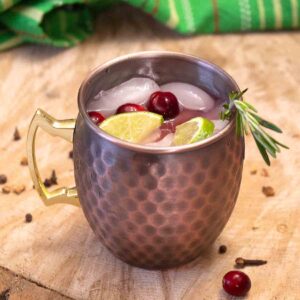 Cranberry Moscow Mule
Flavored with cranberry juice, ginger beer, lime and vodka, the Cranberry Moscow Mule is a fun and tasty holiday cocktail. 
Ingredients
ice

2

ounces

vodka

½

ounce

lime juice

1 Tablespoon

3-4

ounces

cranberry juice

3-4

ounces

ginger beer

Optional Garnishes: cranberries

rosemary, mint stem, lime slices
Instructions
Fill a Moscow Mule mug with ice

Add fresh lime juice and vodka

Top with 3-4 ounces each of cranberry juice and ginger beer

Garnish as desired

Serve immediately.

Nutrition
Calories:
203
kcal
Carbohydrates:
19
g
Protein:
0.4
g
Fat:
0.1
g
Saturated Fat:
0.01
g
Polyunsaturated Fat:
0.1
g
Monounsaturated Fat:
0.02
g
Sodium:
9
mg
Potassium:
83
mg
Fiber:
0.1
g
Sugar:
18
g
Vitamin A:
45
IU
Vitamin C:
12
mg
Calcium:
11
mg
Iron:
0.4
mg
I am not a health professional and nutrition data is calculated programatically. Accuracy may vary with product selection, calculator accuracy, etc. Consult a professional for the best information.