Easy Italian Meatball Appetizer
Pull together bagged frozen meatballs, jarred pasta sauce & sliced fresh mozzarella for an easy, tasty Italian Meatball Appetizer! Or dinner. Just add French bread.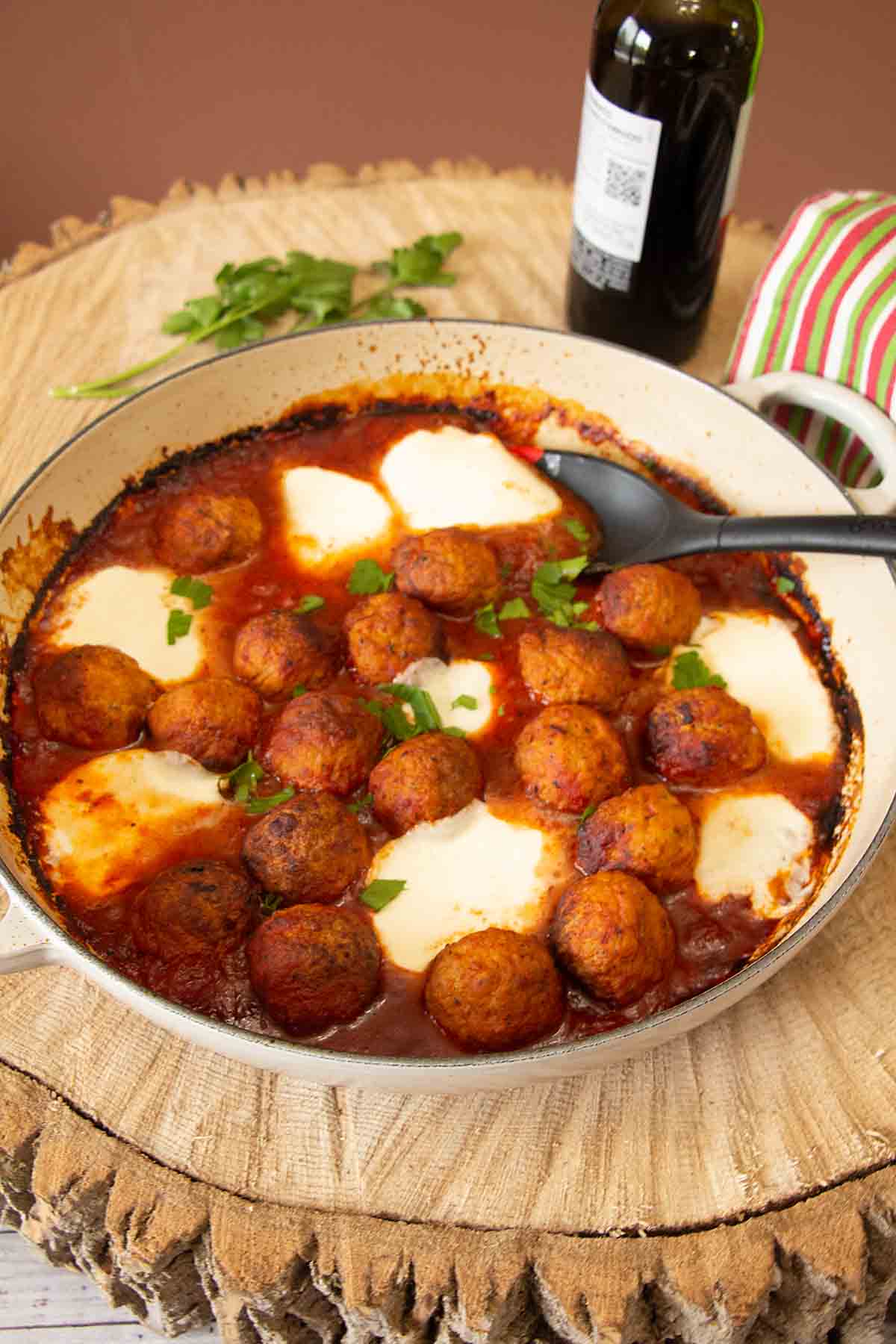 Whew! Are you as tired as I am? Giving a big party, a busy vacation, holiday prepping and tasty new recipes are all fun. But non-stop activity can take a toll. And the holidays have barely started!
Even a food blogger can need a cooking break!
So, with the biggest activities still on the horizon, I decided to reprise a super easy Italian meatball appetizer that I posted December 2016. And happily it's a dish that can also works as dinner—just add salad. Can't beat that!
The idea came from my teenage nieces who made a version of this (sans French bread) as an appetizer one Thanksgiving. They started with a pasta recipe designed as a dinner entree and re-purposed it. Genius!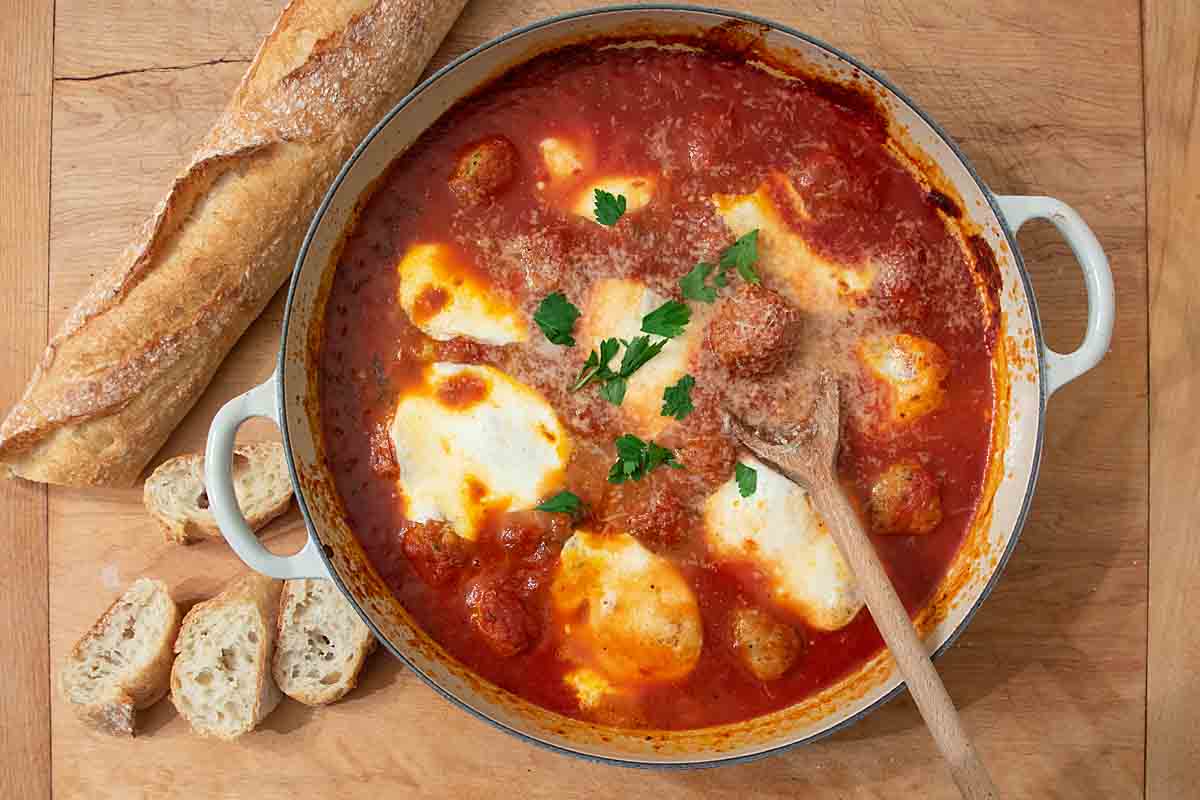 How This is Different
Most of the meatball appetizers around are the meatball-on-a-toothpick type. While those are admittedly easy to serve, this gives you a big flavor bonanza.
Plus you get the extra health value from the tomato sauce and the fresh mozzarella cheese.
Even the baking pan cooperated, going right to the table. Sliced French bread completed the dish. How easy can a tasty, hot appetizer get?!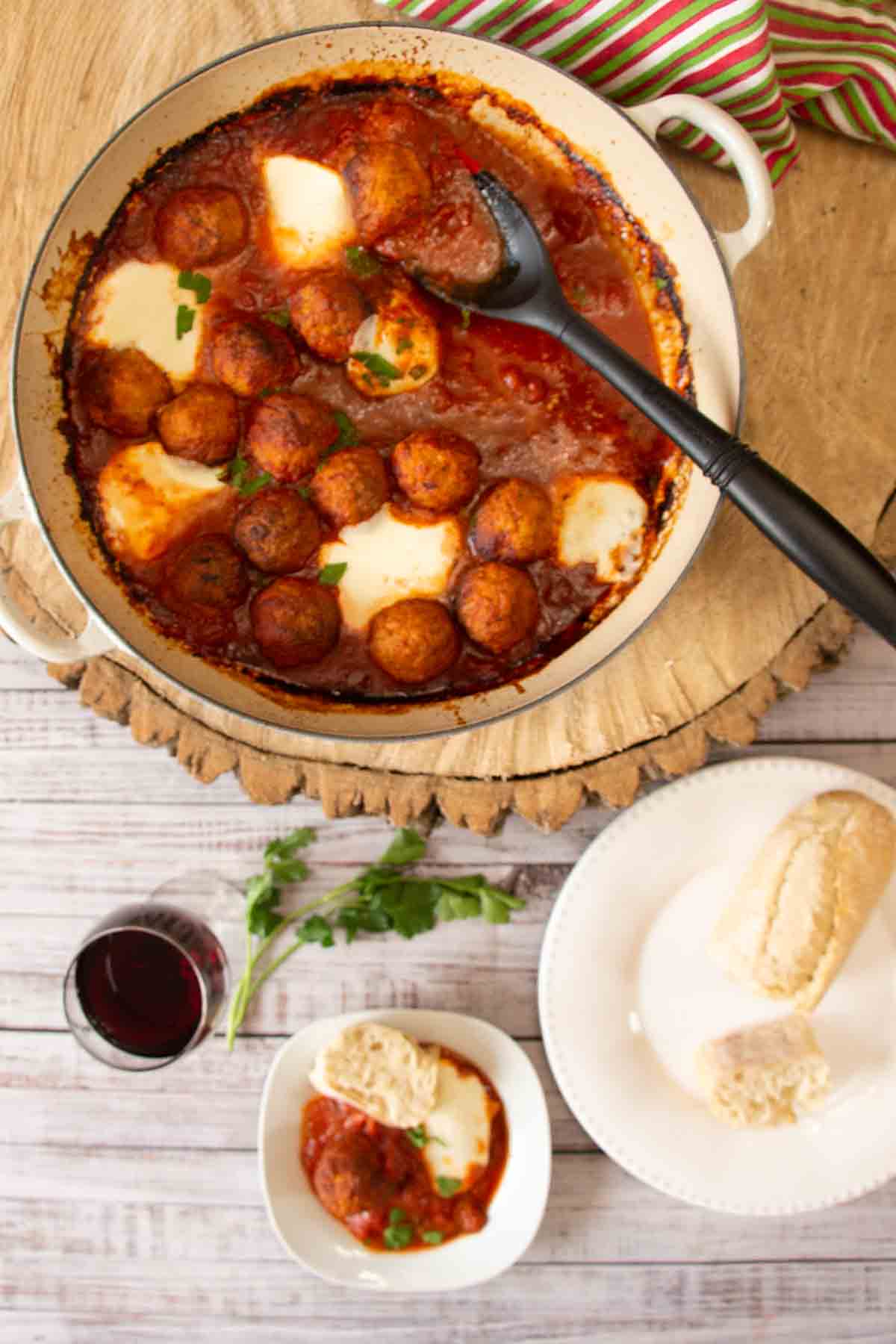 Step by Step Directions
I put this appetizer together very quickly.
I poured the frozen meatballs into a pan.
Topped with jarred sauce, covered it and popped everything into a 375-degree oven.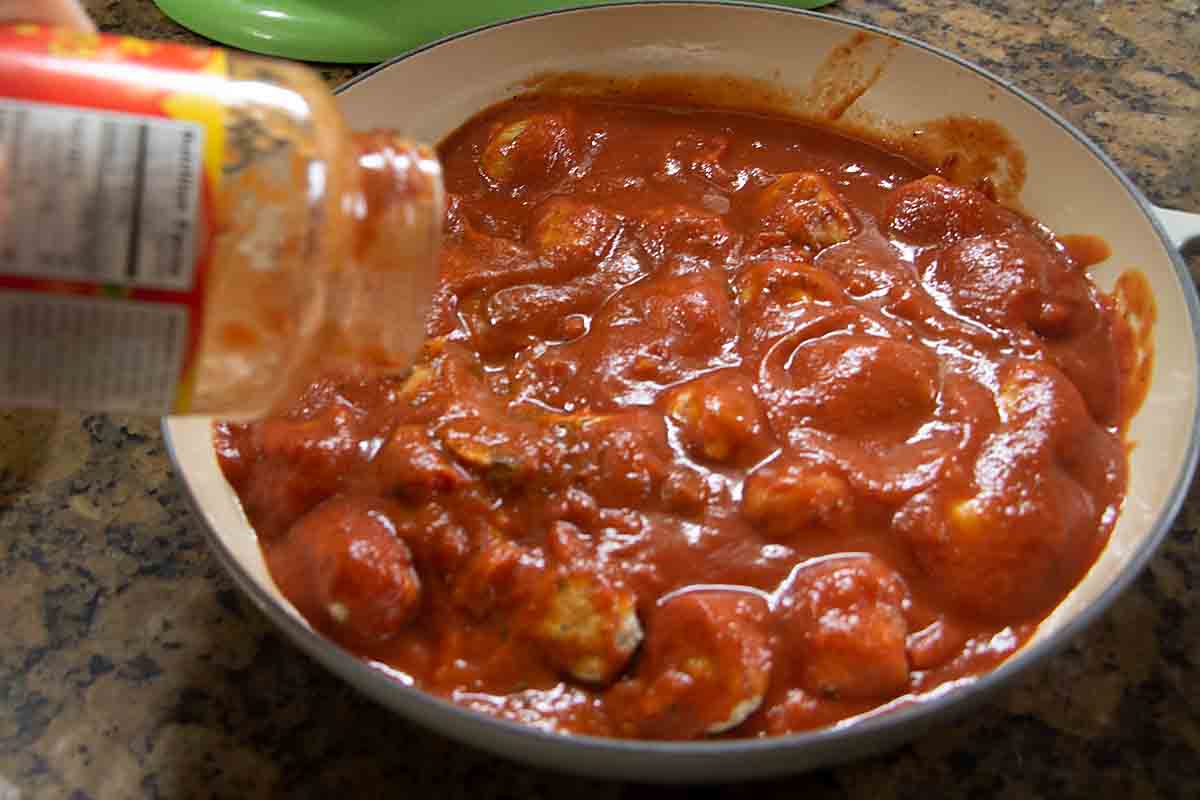 35-45 minutes later, when everything was hot, I topped with slices of fresh mozzarella and put it back uncovered for another 10 minutes until the cheese was soft and melty. I added the French bread to the oven for the final cooking time.
Can I Serve This for Dinner?
I will confess, I have done this for dinner too. Hey, some of my most fun dinners have been "let's eat a bunch of appetizers" meals! If you add a salad, which is always delicious with Italian food, you'll take the meal to two servings of vegetables, which is what I like to see.
Other options? You can serve with pasta or even ladle onto hoagie rolls for a tasty meatball sandwich!
Meatball Options (including Vegan)
I chose to base this recipe on frozen, pre-cooked meatballs for the ease of preparation, but there are many other options. The meatballs I originally used are no longer available and the only others I found at my small town grocery had (gasp!) preservatives. But checking online it looks like there are lots of good options if I'd planned a little earlier.
If you have a great homemade Italian meatball recipe, that should be delicious in this! Making meatballs from scratch will add to the prep time but might be worth it for the flavor. I have even heard of people keeping homemade meatballs individually quick frozen in their freezers. Someday!
And if you are looking for a good meatball recipe, consider this meatball recipe from NYC Patsy's Restaurant, beloved since 1944!
I also considered taking some Italian sausages out of their casings and rolling into meatballs. There is an organic rancher nearby with amazing sausage that would go readily into this! You could also do sausage slices, though those might be a little harder to break up with a fork.
If you do substitute raw meatballs or sausage slices, be sure they are up to temperature (165F) before you serve this.
And the above list has vegan options as too. Then you'd just need to change our the cheese and you'd have a vegan version.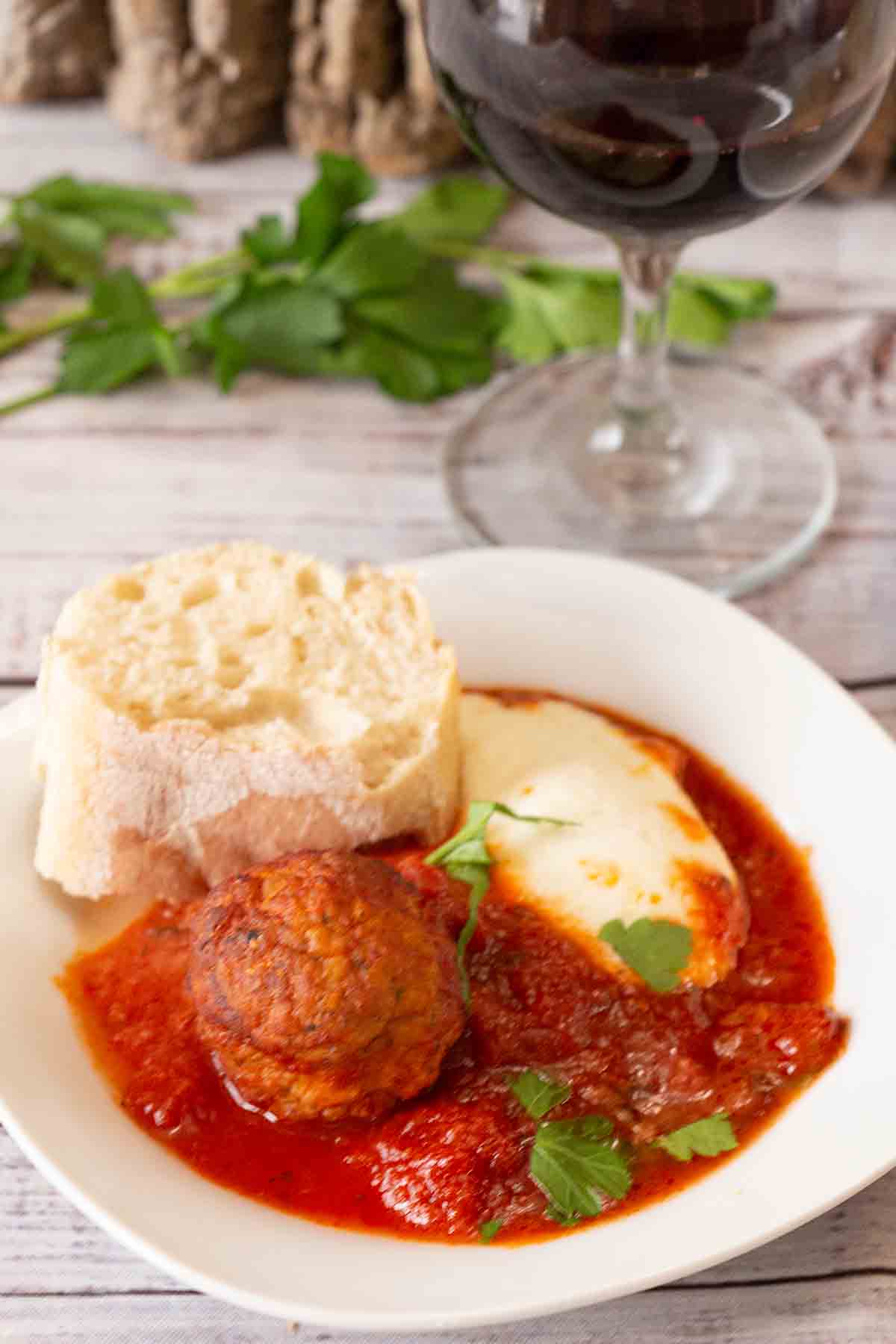 Tips and FAQs
Jarred sauces are very flavorful today and a wonderful option for cooking shortcuts. There are even lots of organic choices. For this dish, a thicker sauce will work better.
Exhausted AND in a hurry? While this recipe has very little working time, it does cook nearly an hour. And sometimes you don't have the elapsed time to spare. In that case, you could do a microwave Italian Meatball Appetizer—or just thaw the meatballs in the microwave to get a head start.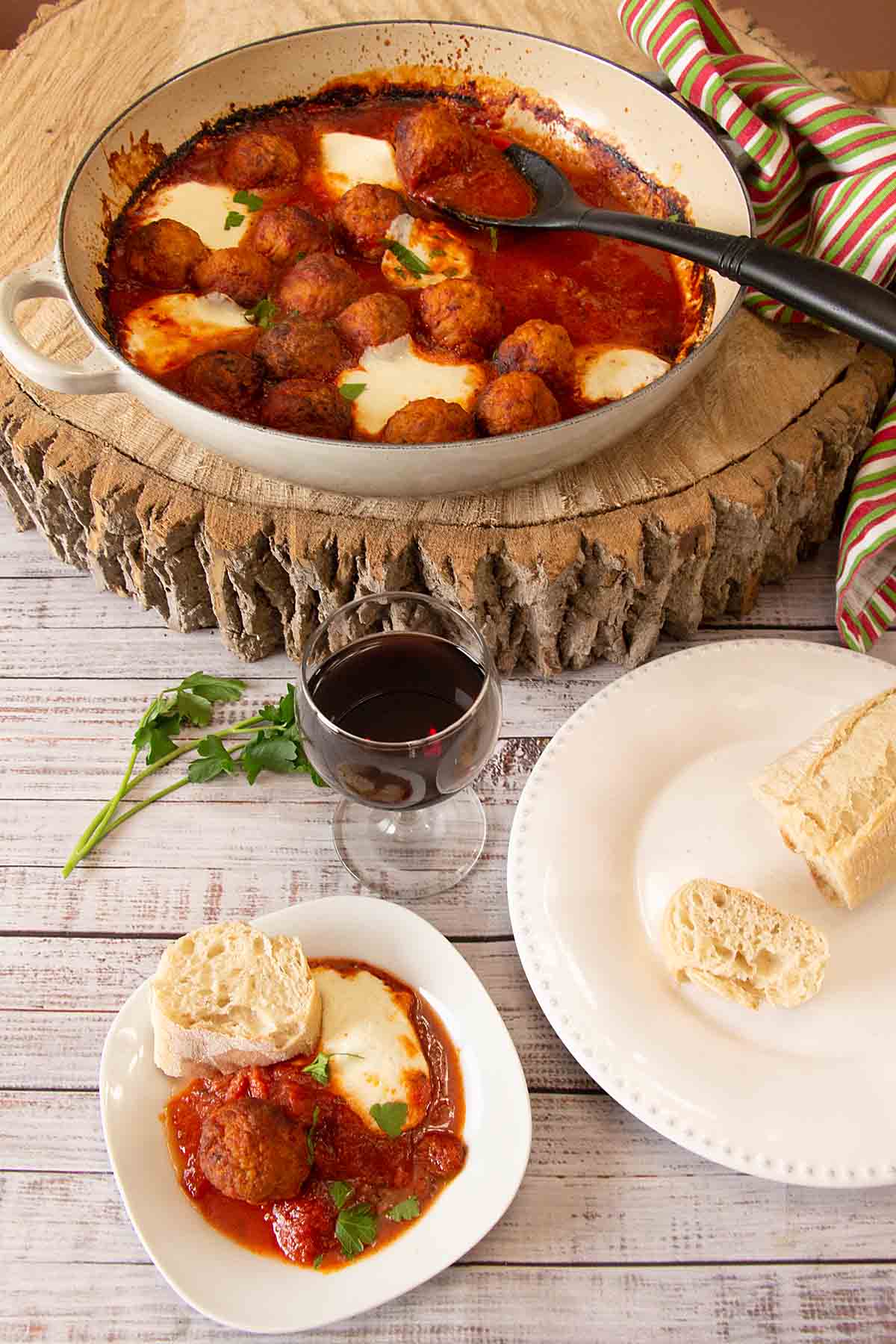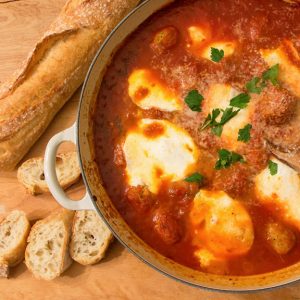 Easy Meatball and Mozzarella Appetizer
One bag of Pesto Meatballs, a jar of pasta sauce, some fresh mozzarella & French bread later & you have an easy, tasty Meatball & Mozzarella Appetizer!
Ingredients
16-18

ounces

precooked meatballs

packaged, deli or your favorite recipe

24

ounce

pasta sauce

1 jar

8

ounces

fresh mozzarella

sliced

1

loaf French bread
Instructions
Place meatballs into a large lidded baking dish or casserole.

Cover with pasta sauce.

Bake, covered, until meatballs are warmed through (35-45 minutes from frozen, less if thawed)

Top with slices of fresh mozzarella, then return to oven until cheese is soft and melty (about 10 minutes).

Serve with sliced French bread
Notes
Serves 4-6 as a meal, 8+ as an appetizer.
Nutrition
Calories:
391
kcal
Carbohydrates:
31
g
Protein:
22
g
Fat:
20
g
Saturated Fat:
8
g
Polyunsaturated Fat:
2
g
Monounsaturated Fat:
7
g
Cholesterol:
63
mg
Sodium:
914
mg
Potassium:
495
mg
Fiber:
2
g
Sugar:
6
g
Vitamin A:
564
IU
Vitamin C:
6
mg
Calcium:
189
mg
Iron:
3
mg
I am not a health professional and nutrition data is calculated programatically. Accuracy may vary with product selection, calculator accuracy, etc. Consult a professional for the best information.
It's time to start planning our holiday parties we all need some delicious and festive recipes to serve! Check out all these amazing holiday appetizers as part of the #FavoritePartyFood blogging event hosted by Jennifer from Take Two Tapas
FAVORITE PARTY FOODS