Festive Candy Cane Martini
Sweet, creamy and peppermint-y, this Candy Cane Martini is a fun and tasty dessert cocktail. Perfect after dinner, or for movie night, a cocktail party or special event!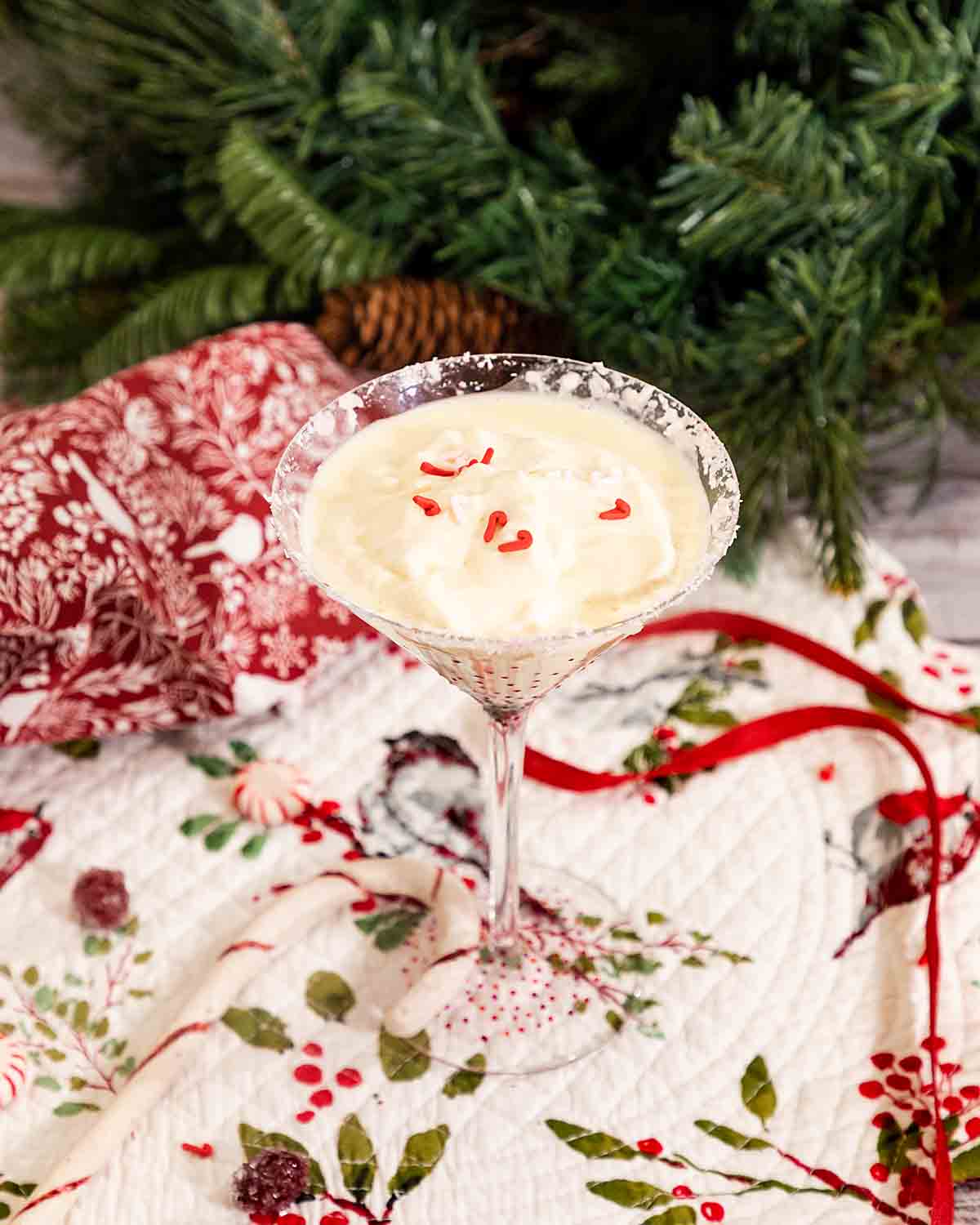 What's more fun for the holidays—festive cookies or seasonal martinis? I'm not sure. But this Candy Cane Martini can give any cookie a run for its money!
And, happily, you don't need to choose!
Today's tasty cocktail has mild white chocolate flavors blended with heady peppermint. I've also called it a White Peppermint Bark Martini. Yes this season I'm really feeling the candy cane love!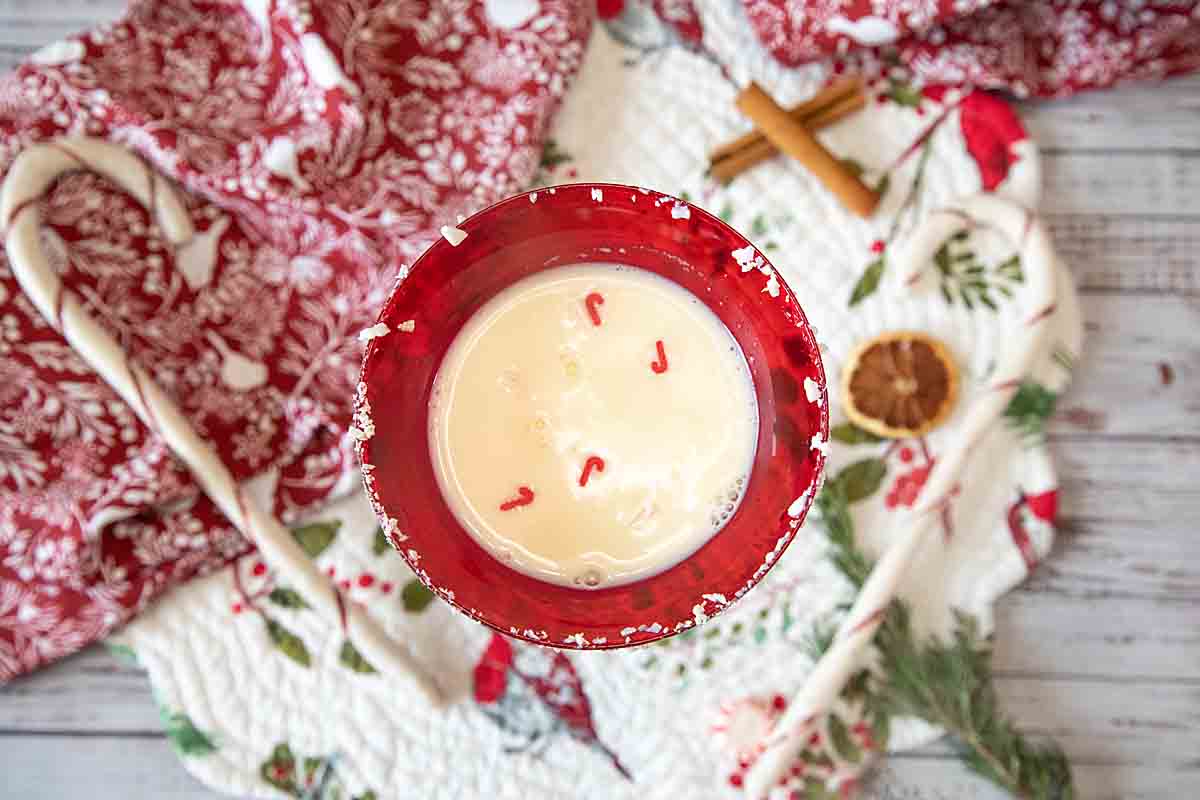 What is a Dessert Martini?
A Candy Cane martini is an example of a dessert cocktail or dessert martini. They are delicious when served after dinner, but also very much at home for cocktail hour or special events.
Now according to the Washington Post the original martini was made with gin, vermouth and bitters. No sugar, no cream, no fruit… unless you count the cherry.
Today martini options offer many more options–and ultimately a contemporary "martini" only requires booze and a martini glass.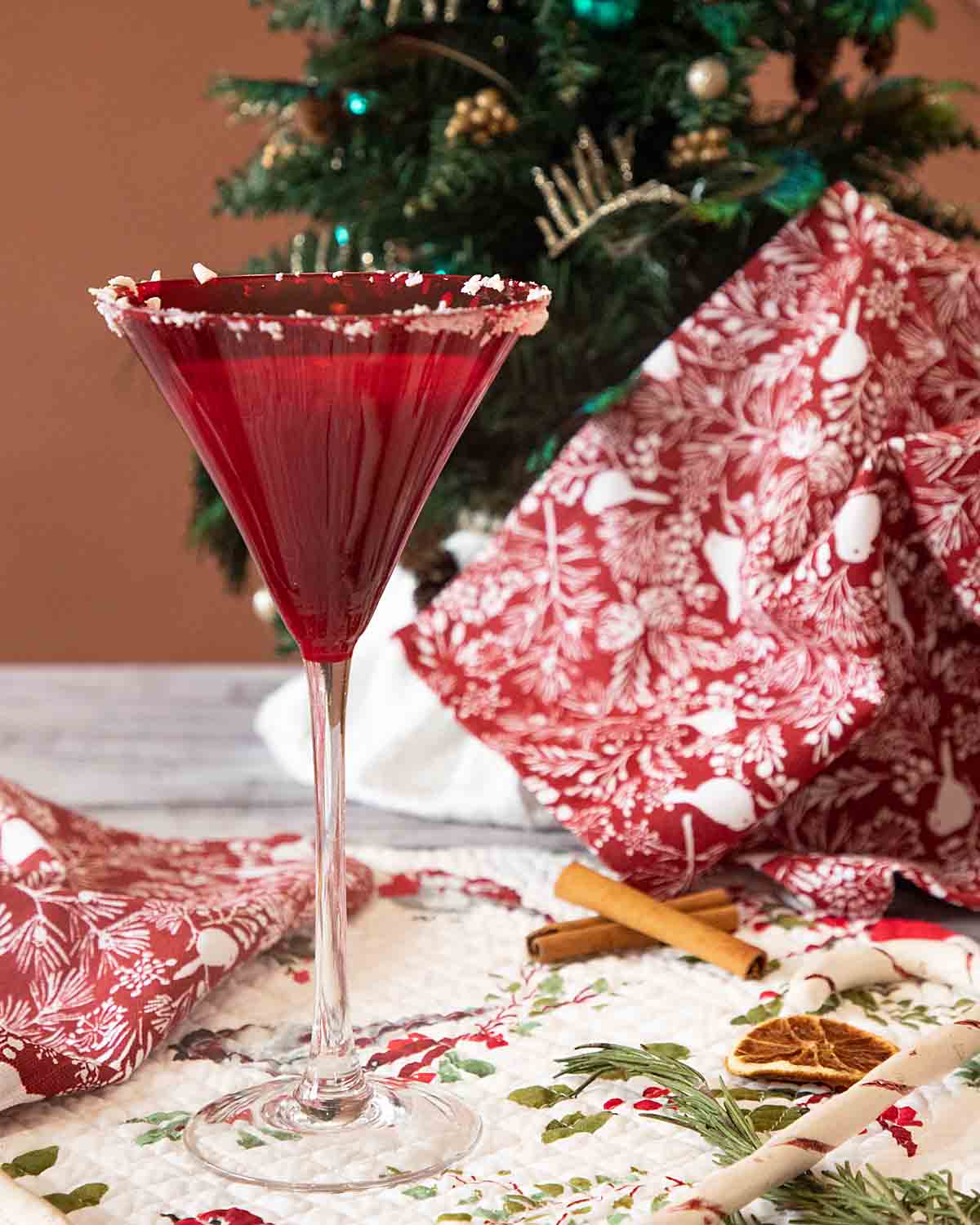 Why You'll Love This!
Festive. Between the peppermint flavor and the pretty garnishes, this will put you in the spirit!
Fun. We created this when we did a "martini bar" party after buying a variety pack of mini-vodka bottles in different flavors. 'Cause fancy martinis are always fun!
Easy. How often can you do something festive that takes, like 5 minutes! And if you're serving a crowd, just make a pitcher.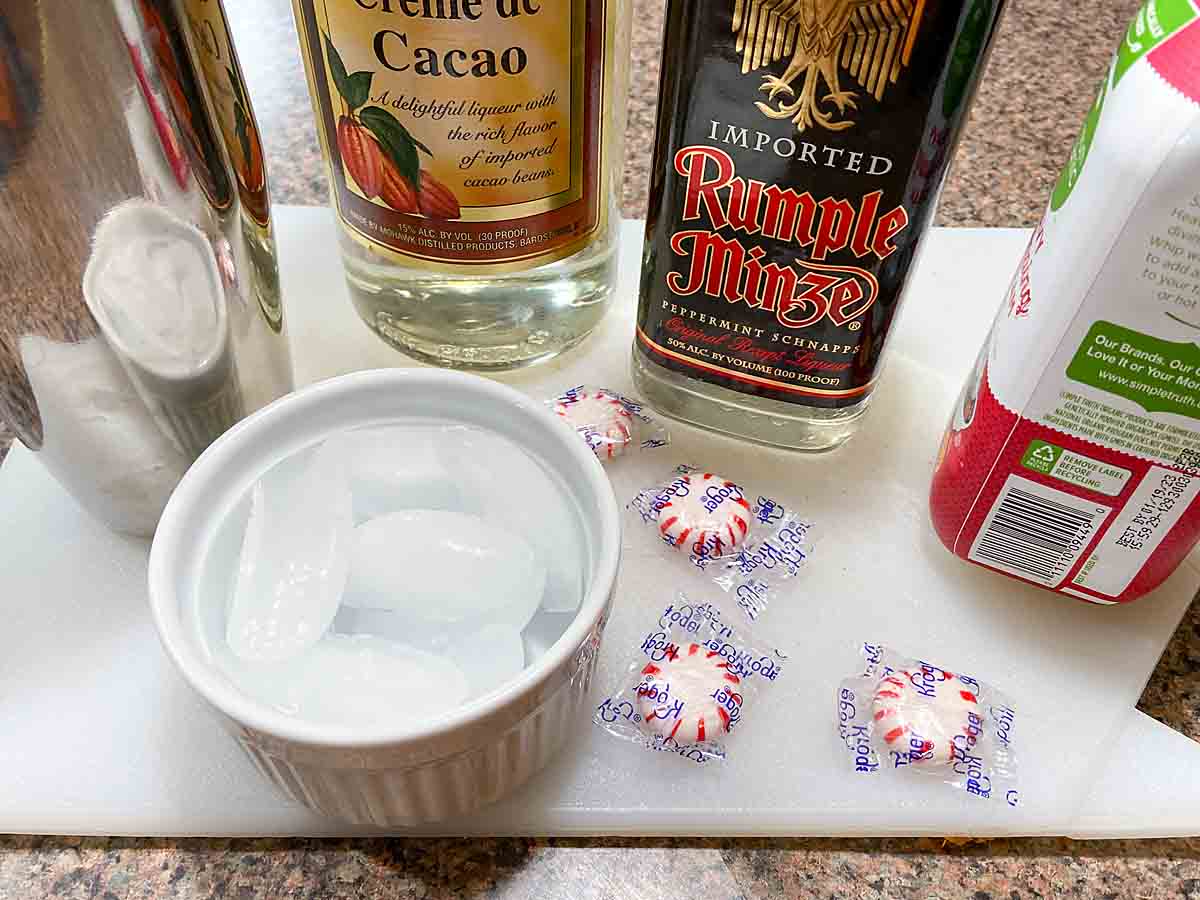 What You'll Need
Ingredient Notes
White Chocolate Liqueur. This gives it a light chocolatey flavor and mellows the intensity of the peppermint flavor. You can also use white creme de cacao.
Peppermint Schnapps. This provides the peppermint flavor.
Half and half. This adds creaminess, mellows the flavors and provides volume. You can use cream or non-dairy milk, preferably with a little thickness.
Ice. For shaking
Optional Garnishes. Crushed peppermint, colored sugar can be used on the rim. Whipped cream, mint leaves and sprinkles are also nice.
Special Tools
No special tools are required though some pretty martini glasses are nice. So is a cocktail shaker, but you can stir your drink instead if you don't have one.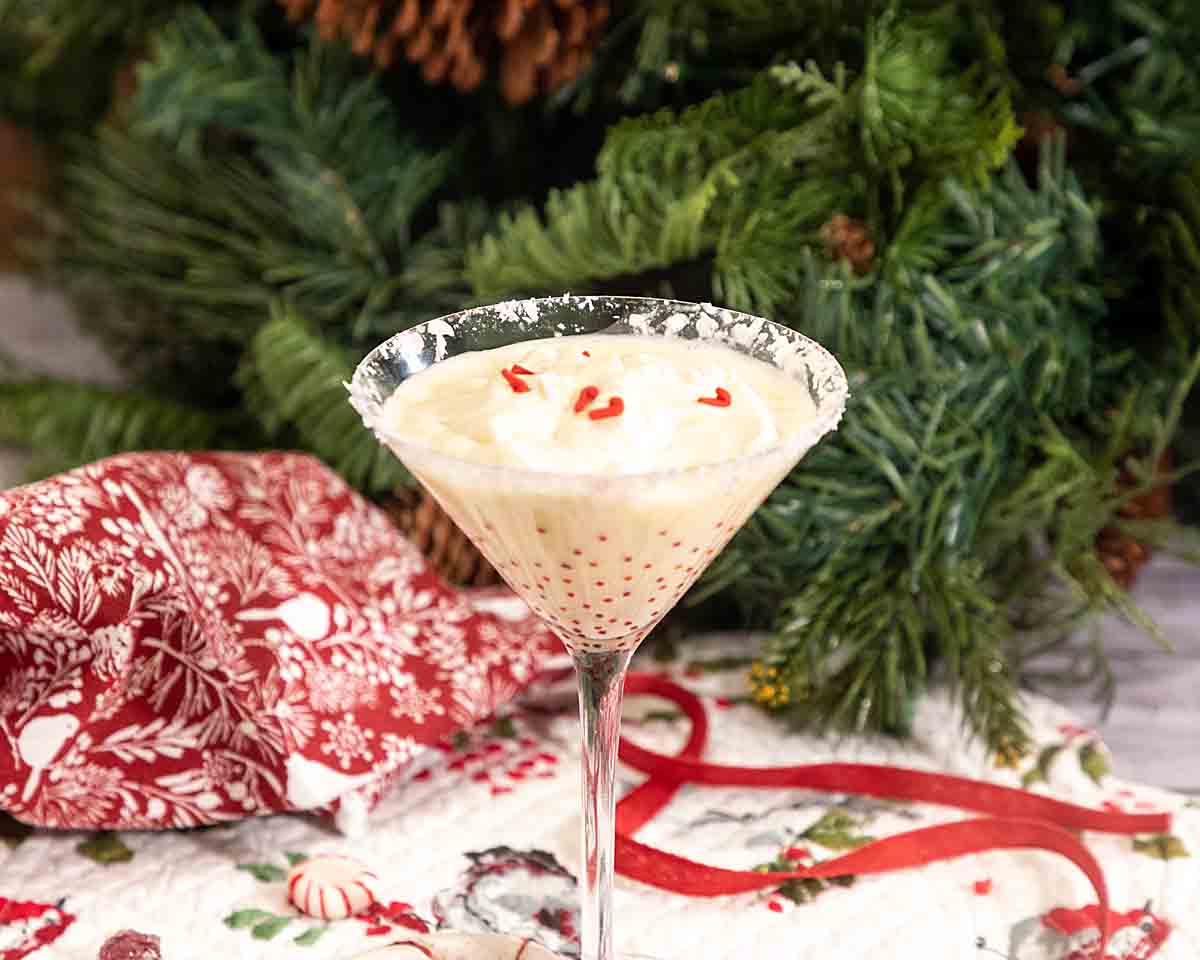 Step by Step Directions
Add ingredients to shaker with ice.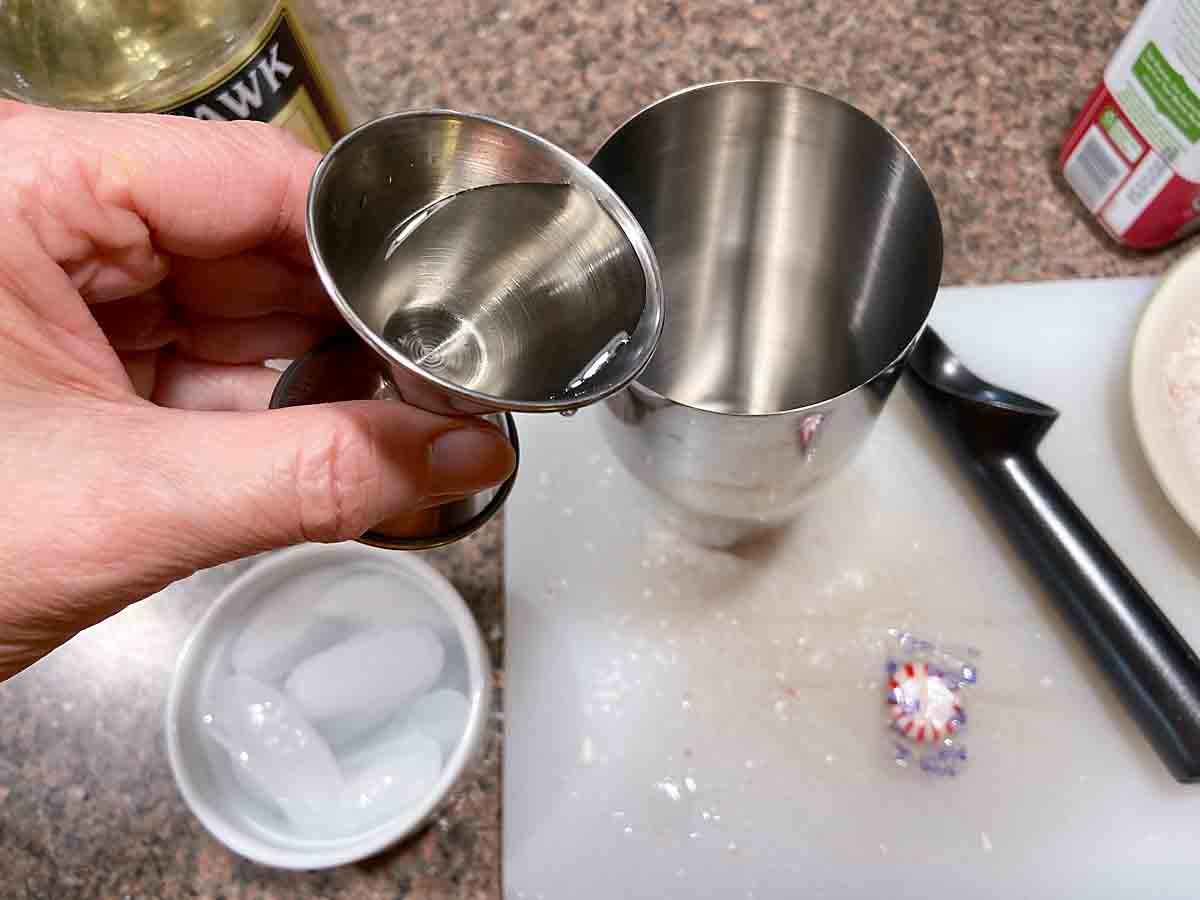 Cover and shake.
Rim glass (optional).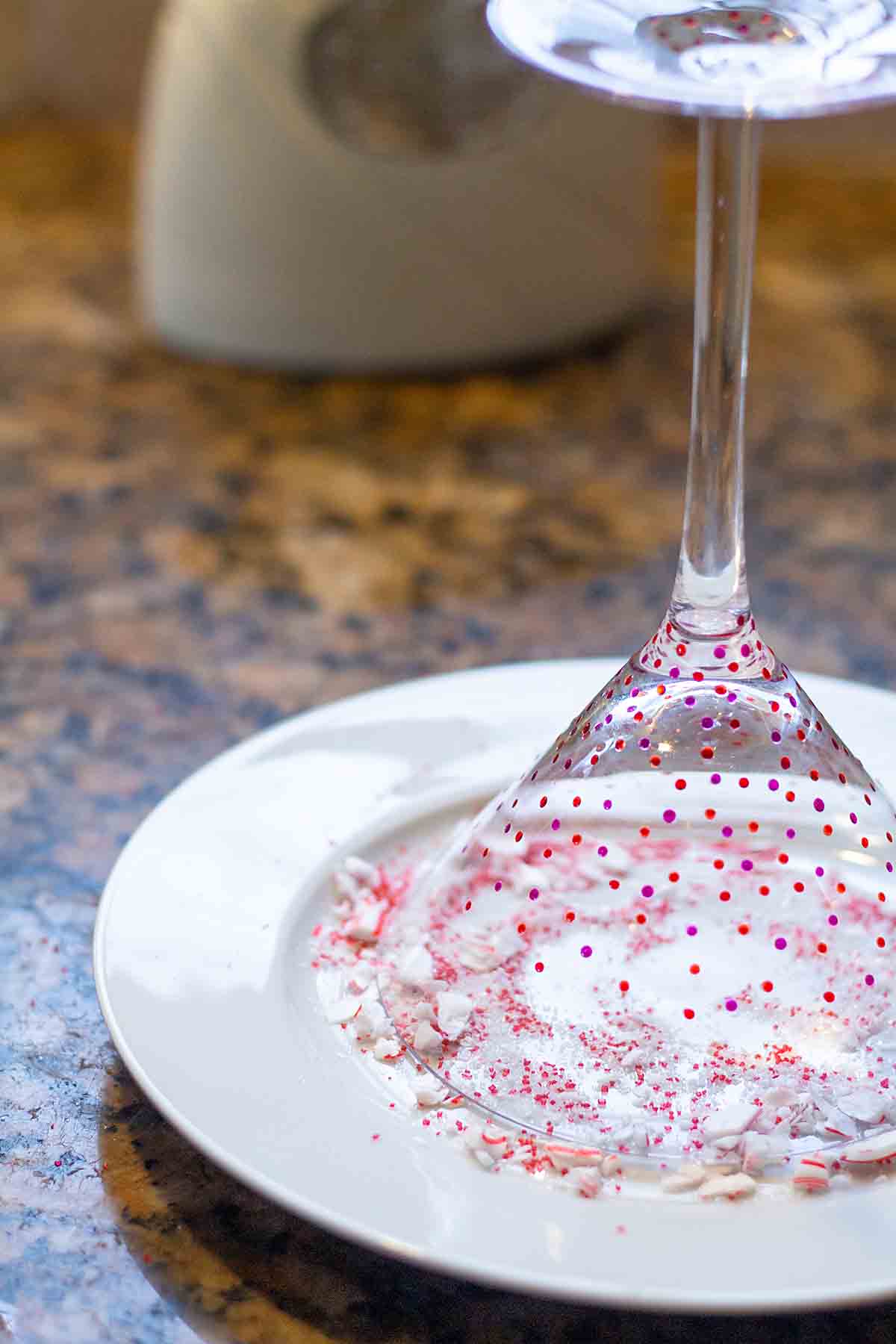 Pour into glass and serve.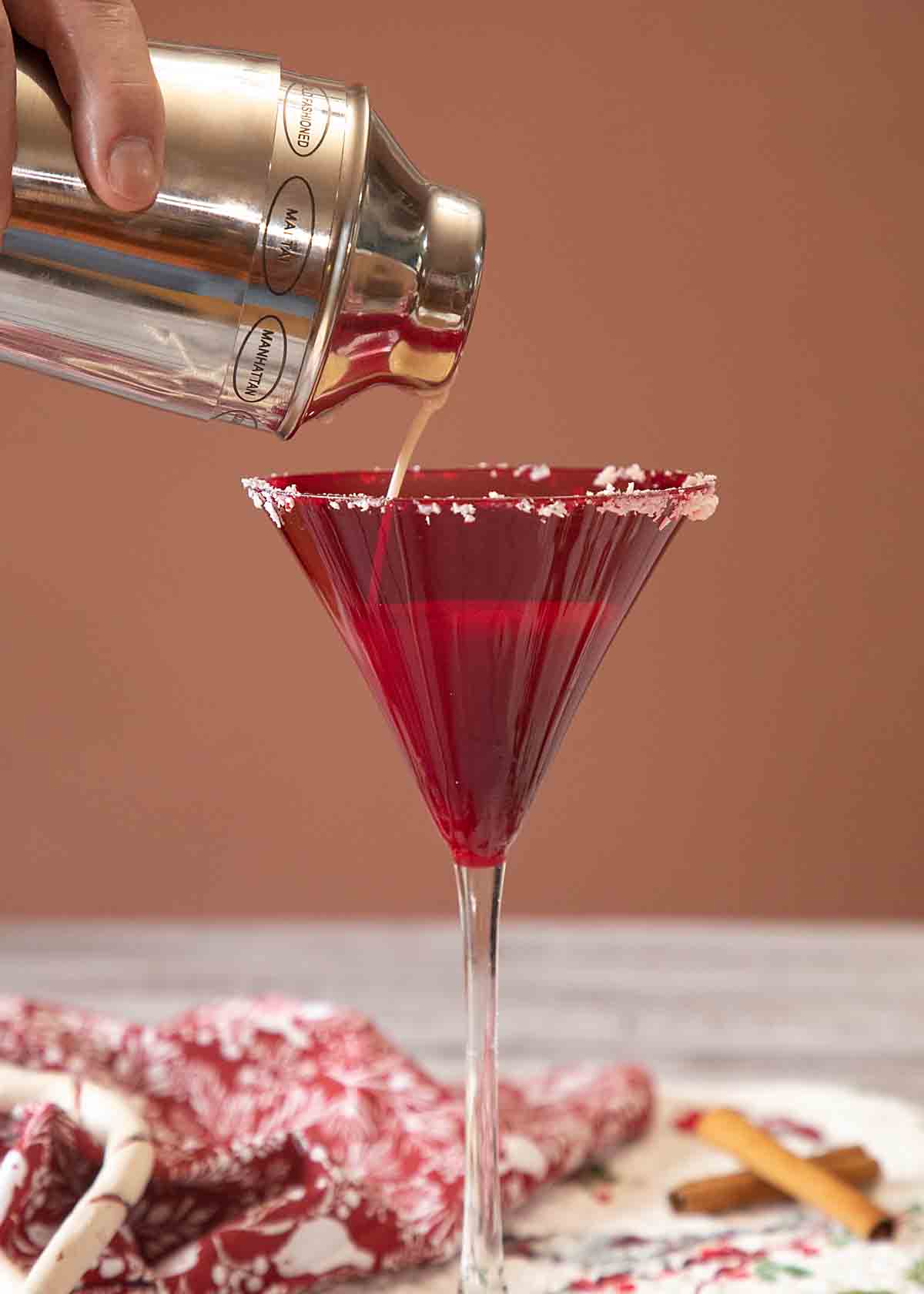 How to Serve
A Candy Cane Martini is delicious for cocktail hour or dessert! Or serve them up before a Christmas rom-com festival! That will start things on a high note!
Now part of the fun of a holiday martini is the garnishes, including a pretty rim. I have used mixed red and white sugars as well as crushed peppermint candies for this. But really, I think any kind of (small-ish) holiday sprinkle would be lovely.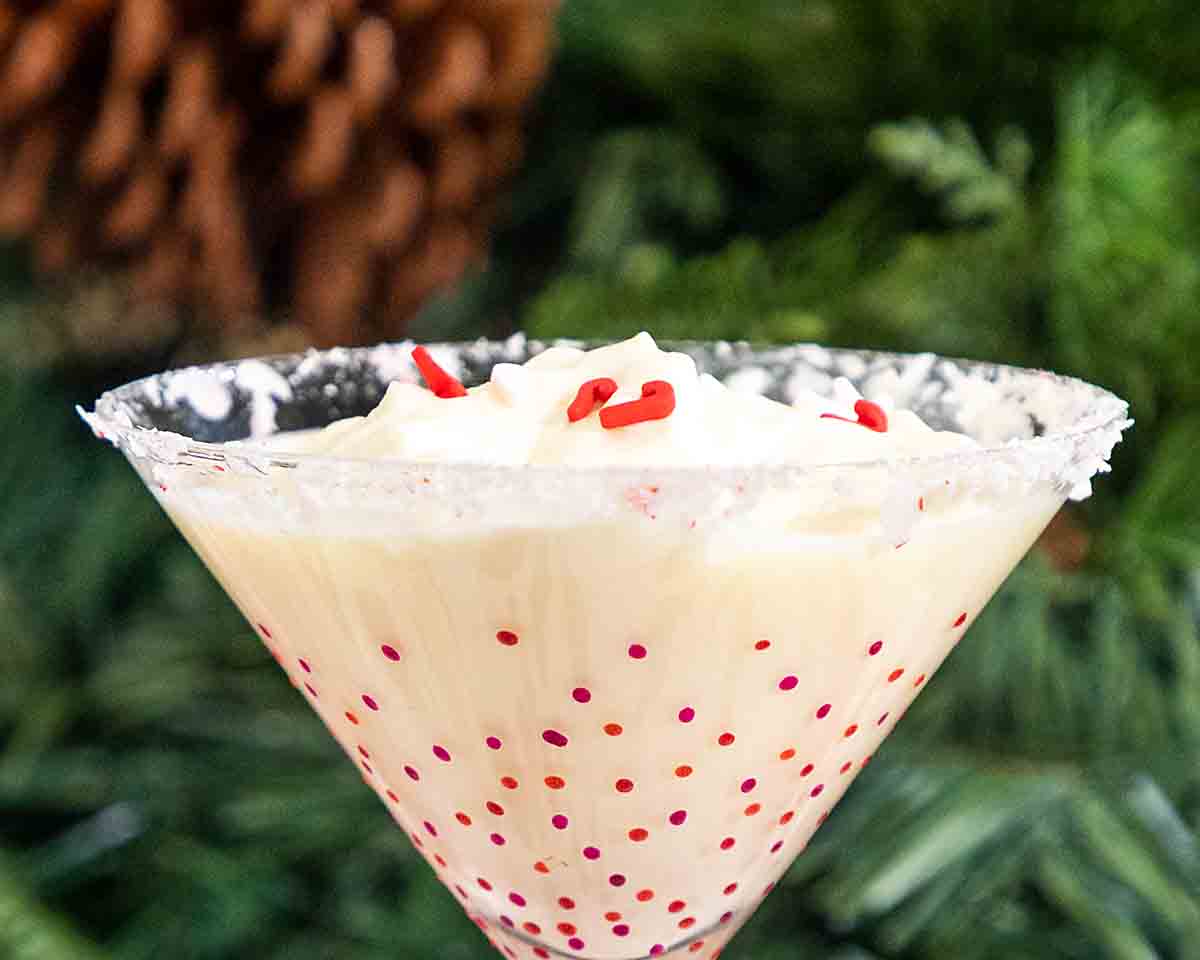 The classic way to rim a glass is to set the whole glass in a liquid, then your sprinkles. For a bar that rims a lot of glasses, it's probably pretty quick.
But in my kitchen, I follow a different process. I dip a clean finger in a sticky syrup (like golden syrup or corn syrup) and run it around the edge of the glass. Then I put a small pile of the topping on a plate. Rather than dip the whole rim in the sugar at once, I rolled the rim in the mixture, rotating the glass until the whole rim is covered. It's simple, less wasteful, and probably more effective!
Finally, you can top the drink with whipped cream if you'd like. And to keep with the peppermint theme, consider adding a small candy cane or mint leaf!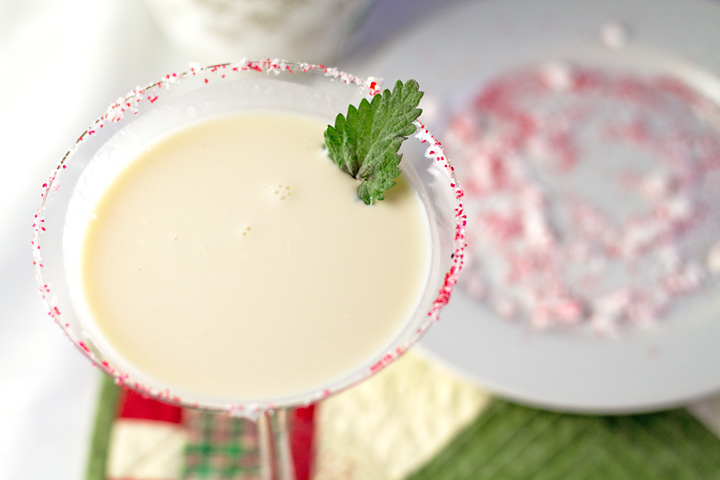 Variations
I have a whole lot of fun holiday martinis or cocktails that you can consider if you're not feeling the peppermint! How about: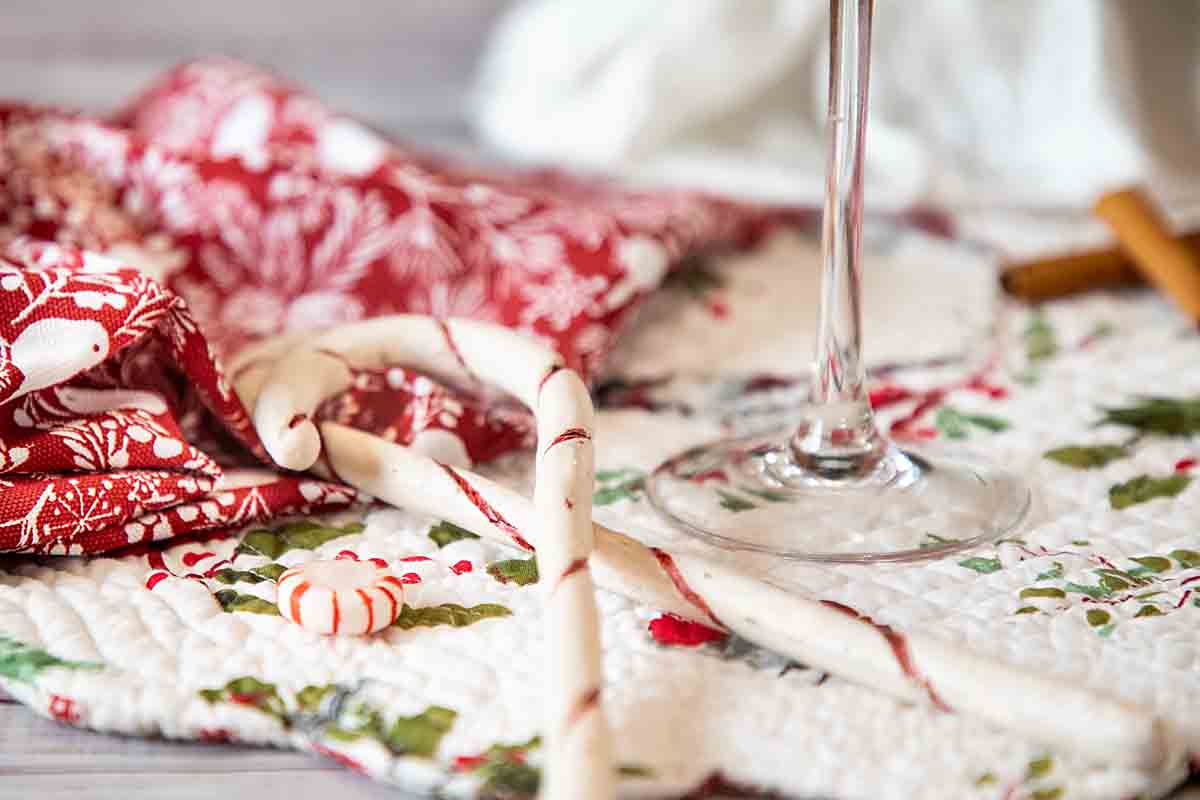 Tips & FAQs
Can I use dark crème de cacao if I don't have white? This will change the color of the drink a little, but the flavor will be fine. Have fun!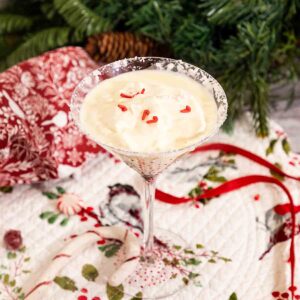 White Peppermint Bark Martini
Sweet, creamy and peppermint-y, this Candy Cane Martini is a fun and tasty dessert cocktail. Perfect after dinner, before a movie night or for a cocktail party or special event!
Ingredients
1 1/2

ounces

white chocolate liqueur

like Godiva or white creme de cacao

3/4

ounce

peppermint schnapps

2

ounces

half & half

or cream or non-dairy milk

handful of ice

Crushed peppermint or colored sugar for the rim, small candy cane, whipped cream

Optional garnishes
Instructions
Place liqueur or creme de cacao, schnapps and half & half, with ice in a shaker. Shake a couple times, then pour into martini glass (see notes below if you'd like to rim the glass).
Notes
To rim the glass, I used a clean finger to run a little vodka around the rim of the glass. Then I mixed crushed peppermint with red and white decorating sugar on a small plate. Rather than dip the whole rim in the sugar at once, I rolled the rim in the mixture, which seem to result in a thicker, more even coat.
I am not a health professional and nutrition data is calculated programatically. Accuracy may vary with product selection, calculator accuracy, etc. Consult a professional for the best information.
Originally published on 12/1/2016.