White Peppermint Bark Martini (& Notes from the Martini Lab)
What's more fun than a holiday dinner? How about a holiday dinner that includes a martini lab? This year, with college daughters home early for Thanksgiving, I invited over my sister-in-law and put a ham in the oven. After a casual dinner, we set to mixing up holiday martinis, including the White Peppermint Bark Martini featured today.
Now this isn't the first time I've mixed up martinis for a crowd. Years ago, I hosted a chocolate martini party outdoors on a lovely summer evening. My mother had remarried and I decided to invite her new husband's family over to get better acquainted. A couple hours later the ice was broken. What a great way to begin new relationships!
Of course, the first party had one real advantage—I started with recipes. This time I just had concepts… along with various liqueurs, mixers and a dozen flavored vodka minis!
We had a lot of fun getting creative, and in the end, we had some clear successes. Like today's White Peppermint Bark Martini. Along with some so-so attempts. One solid failure.
Plus, a lesson or two.
Biggest lesson? Read the labels on your little bottles. I picked up the (failed) snickerdoodle martini and almost fell over, just from the fumes. More cream. Daughter # 2(thinking me over-dramatic) tasted and began to sway. Yup, the cinnamon schnapps was 100 proof—don't they preserve things in that? Clearly stronger than Godiva white chocolate …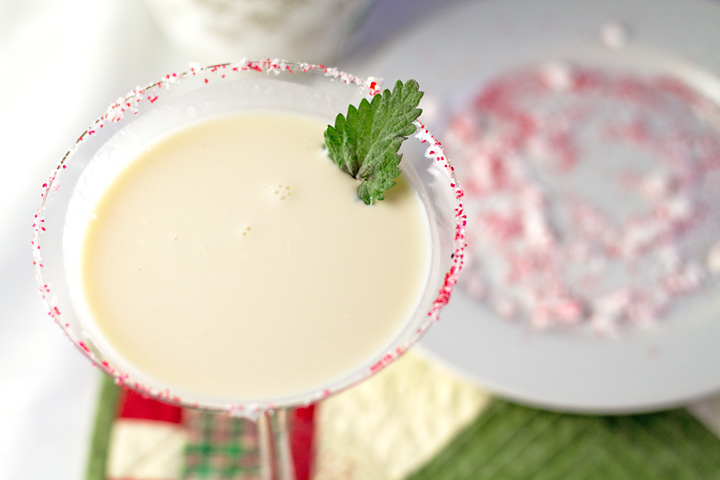 Other lessons? Assorted little bottles are super if you are doing a "lab" but will make seconds a challenge if your creation is a hit. Though in the end the big bottle of Berry Vodka was pretty near as good as Plum Vodka in a Sugar Plum Martini…
If you are looking for a fun way to add festive to your season, I'd heartily recommend the White Peppermint Bark martini. Or hosting a lab…
Aren't holidays wonderful?
White Peppermint Bark Martini
2016-12-01 15:12:14
Serves 1
What's more fun than a holiday dinner? How about a holiday dinner that includes a martini lab? And White Peppermint Bark Martinis!
Nutrition Facts
Amount Per Serving
* Percent Daily Values are based on a 2,000 calorie diet. Your Daily Values may be higher or lower depending on your calorie needs.
Ingredients
• 1 ounce white chocolate liqueur (like Godiva)
• 1 ounce peppermint schnapps
• 1-2 ounces half & half (or cream)
• Crushed peppermint mixed with sanding sugar for the rim and/or candy cane for stirring (optional).
Instructions
Place liqueur, schnapps and half & half, with ice in a shaker. Shake a couple times, then pour into martini glass (see notes below if you'd like to rim the glass).
Notes
To rim the glass, I used a clean finger to run a little vodka around the rim of the glass. Then I mixed crushed peppermint with red and white decorating sugar on a small plate. Rather than dip the whole rim in the sugar at once, I rolled the rim in the mixture, which seem to result in a thicker, more even coat.
Art of Natural Living https://artofnaturalliving.com/