Sugar Free Chocolate Cupcakes with Mint Buttercream
Minty, chocolatey, and sweet, these sugar free chocolate cupcakes with mint buttercream are a fun indulgence for the holidays. Or anytime!
Sometimes you need something sweet. Even when you're not supposed to indulge. Enter sugar free chocolate cupcakes. Topped with a sugar free mint buttercream.
Hmm, maybe cutting back on sugar doesn't mean feeling deprived!
Yes cutting back is especially hard during the holidays. Which is why I dressed these up with a tall mound of tasty (sugar free) mint buttercream and topped with some crushed peppermint candies.
Yes, everyone should enjoy the holidays! Not that I wouldn't eat these any time!
Why You'll Love This!
Tasty. It's hard to beat the yummy combination of chocolate and mint! Perfect for a Christmas cupcake, or a St Patrick's day cupcake or an any day cupcake!
Sugar free. Even if you're avoiding sugar, you can still indulge! Note that this still has flour so it won't work for someone who can't eat gluten, or who is doing keto.
Festive. The holidays are no time to feel deprived. But these will but the holiday spirit back into any sugar watcher's life!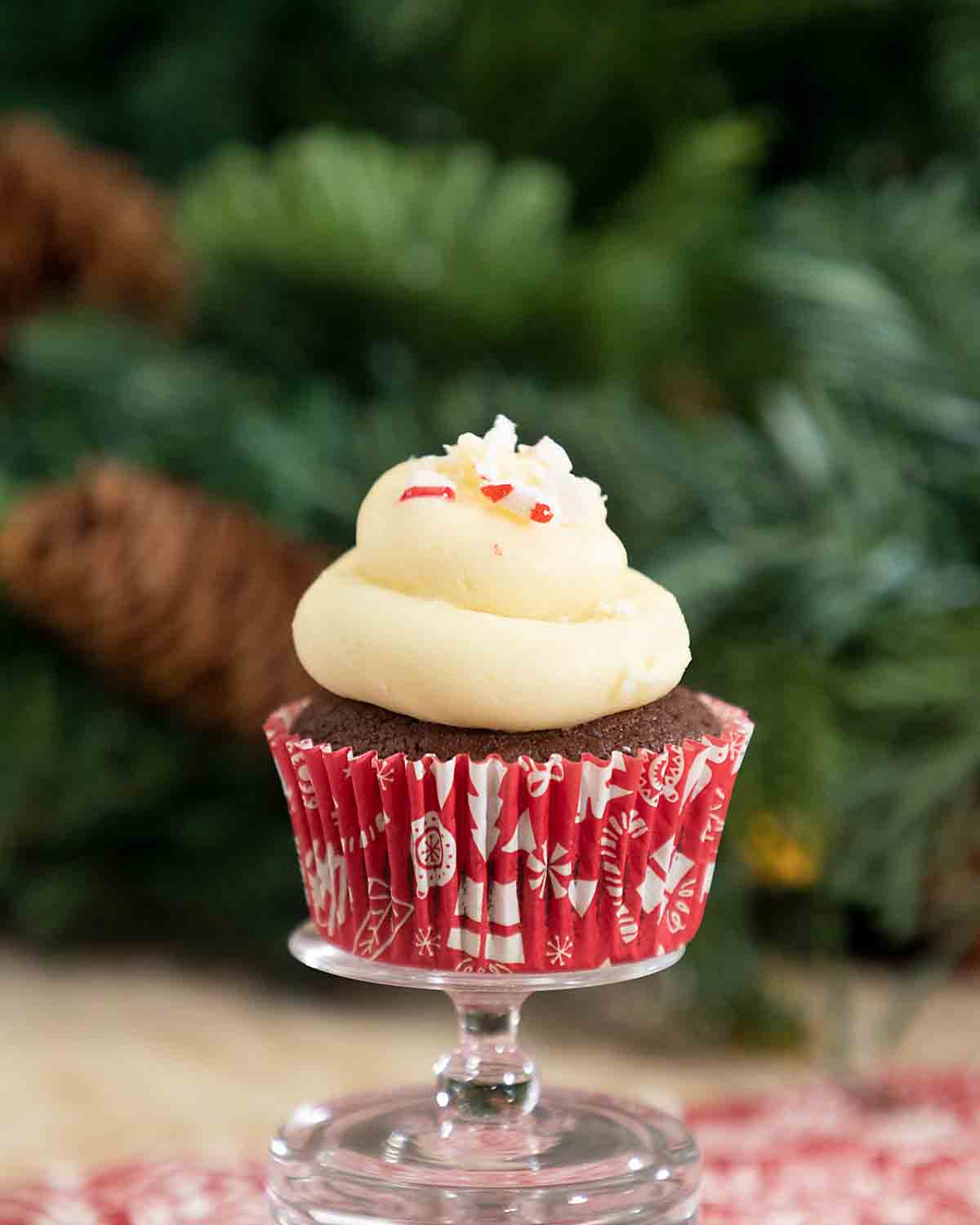 Step by Step Directions
You basically mix up three bowls of ingredients, them combine them. First you combine the cocoa, hot water and hot coffee, then add milk. Set aside.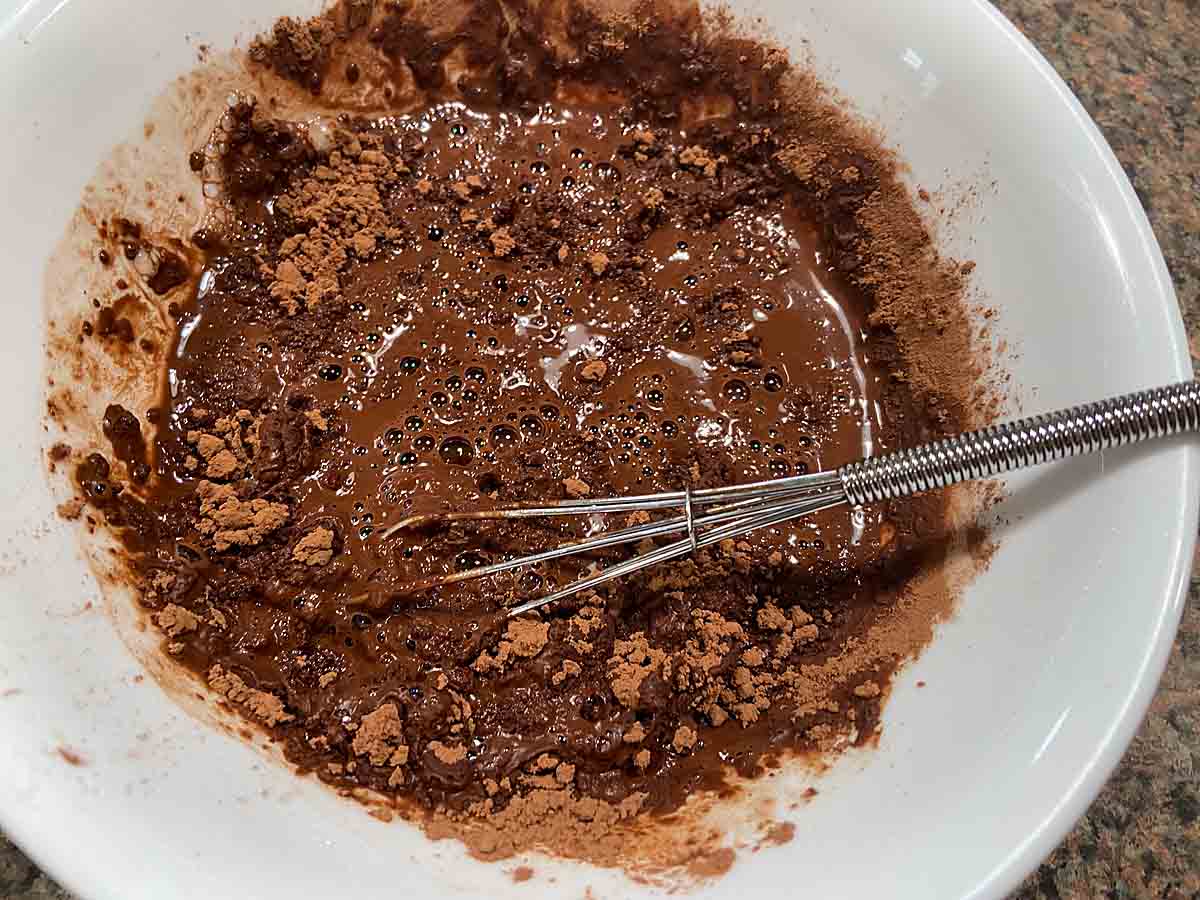 Next combine the flour and baking soda.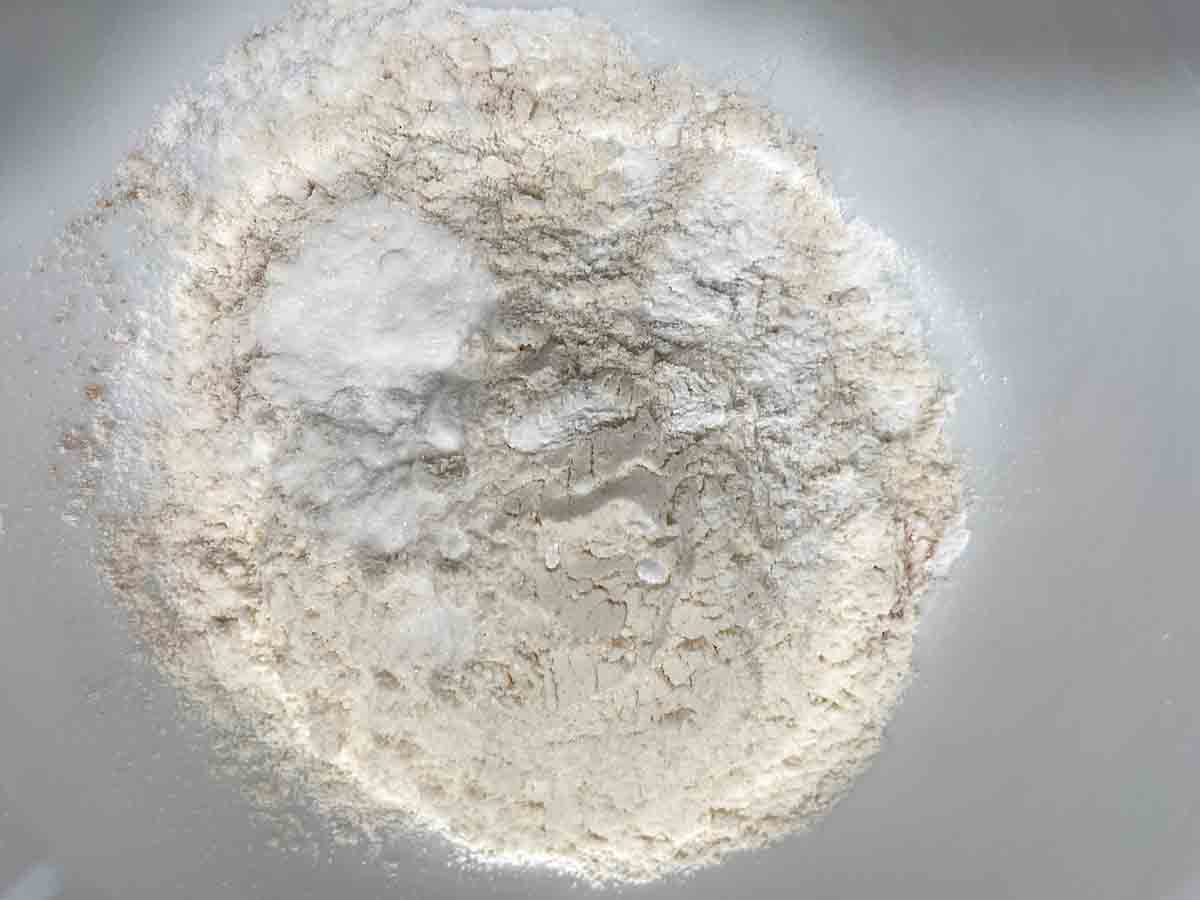 Then heat butter (or cocoa butter) until just melted, and let partially cool (so you don't cook the egg). In a large mixing bowl with the paddle attachment, beat the eggs until fluffy, then beat in sugar and vanilla. Mix in the melted and cooled butter or cocoa butter.
Finally, alternate adding a third of the chocolate mixture, then a third of flour mixture to the egg mixture, mixing by hand between each add.
Divide into 12 muffin cups then bake at 350 F for 18-22 minutes or until an inserted toothpick comes out clean. Let cool before frosting.
To prepare frosting, mix softened butter until light and fluffy, about 3 minutes. Add the powdered sweetener ½ cup at a time, until fully mixed in. Add mint extract, vanilla extract and milk or water and beat another minute. This amount of frosting should make a nice dome for 12 cupcakes. For a more modest amount, you could cut the recipe in half.
Frost cupcakes when they are cool so frosting doesn't melt.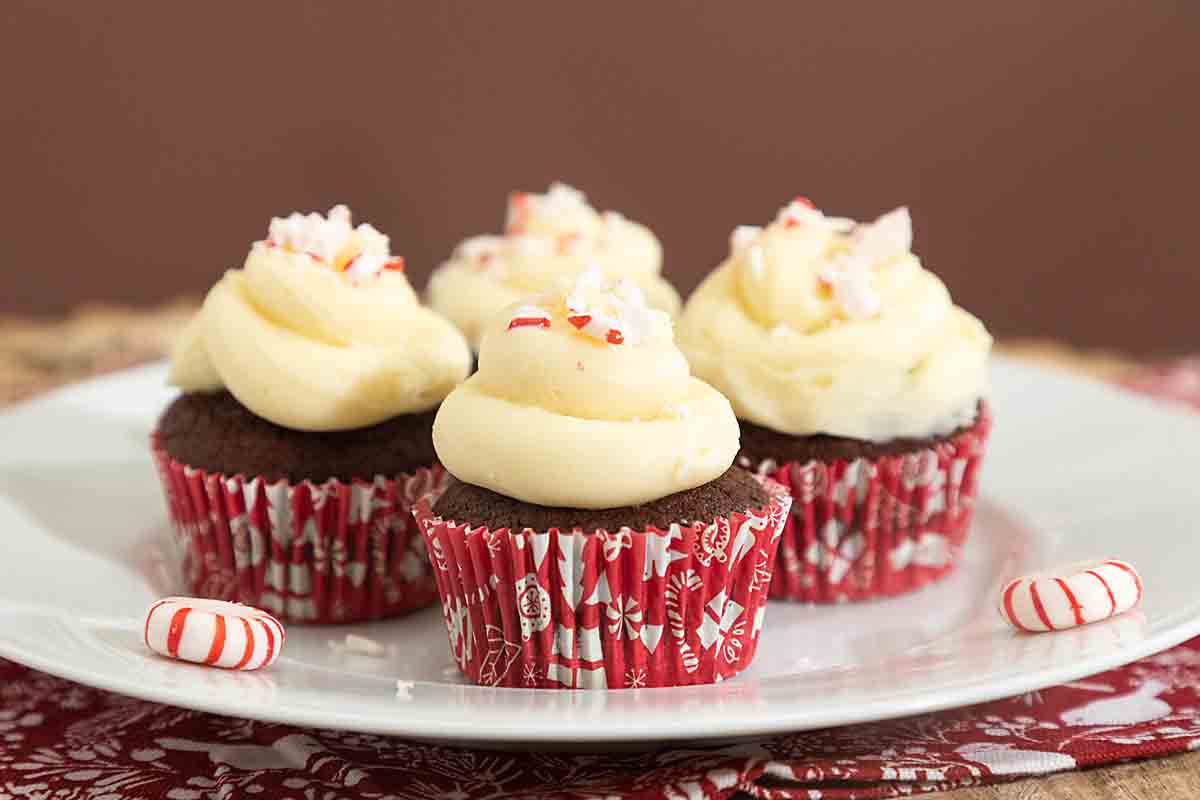 How to Make a Powdered Sugar Substitute
The frosting uses powdered sugar but if you're out, no problem. You can convert granulated sugar (or sweetener) plus cornstarch into powdered sugar. If you use a sweetener, you'll need to use one that is a 1:1 replacement for sugar.
To make approximately 3 cups of powdered sugar (the amount this frosting recipe uses), blend 2 cup of granulated sugar or sweetener in a high speed blender for a few minutes until light and fluffy. Top with a towel as you blend to block the powder from escaping. When fluffy, add the cornstarch and blend another minute. Wait a few minutes before opening the blender to allow things to settle.
Now if you're doing the math here you may wonder why you wind up with more than you started with! The answer is that the sugar or sweetener fluffs as it blends.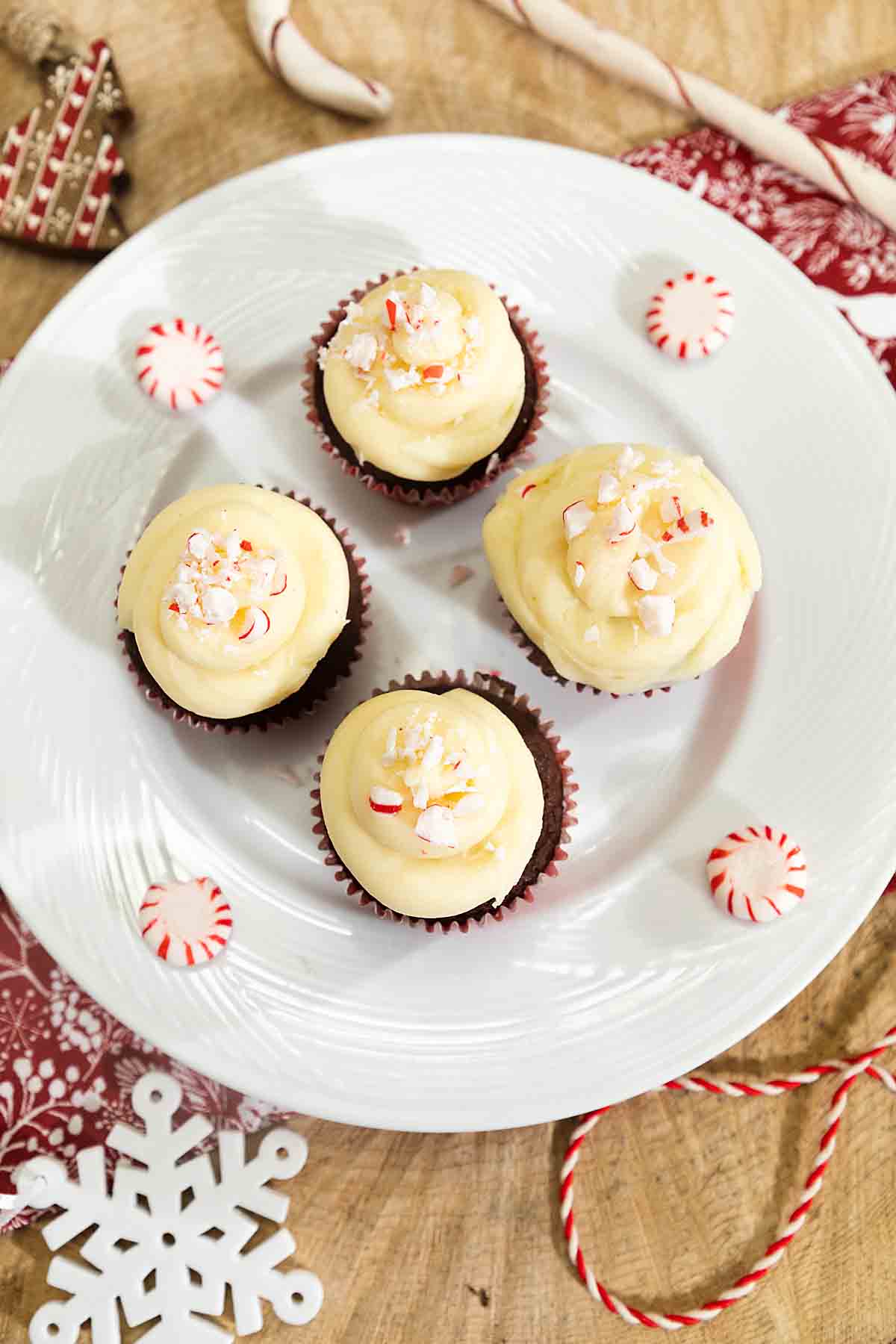 How Sweeteners Differ
Since this is a sugar free recipe, I wanted to talk a little bit about sweeteners. There are many different types of non-caloric sweeteners, and they all have their pros and cons. Without even touching on the medical side (possible cancer risks for some, potential for digestive upset, etc.) sweeteners can be challenging to cook with.
You see, people often forget that sugar has important attributes besides sweetness. It also makes contributions to your dish like bulk (volume) and browning, which can be critical in some recipes.
Sweeteners also crystalize differently. This means that if you use a sweetener like erythritol to make a standard simple syrup that is perfect with sugar, it may separate into a liquid and crystals shortly after it goes into the refrigerator.
There are also different sensory aspects (erythritol is often charged with creating a cooling sensation) and slightly different flavors. Alas, sweet is not sweet is not sweet.
So ultimately, if a recipe specifies a certain sweetener, I strongly encourage you to use the one listed.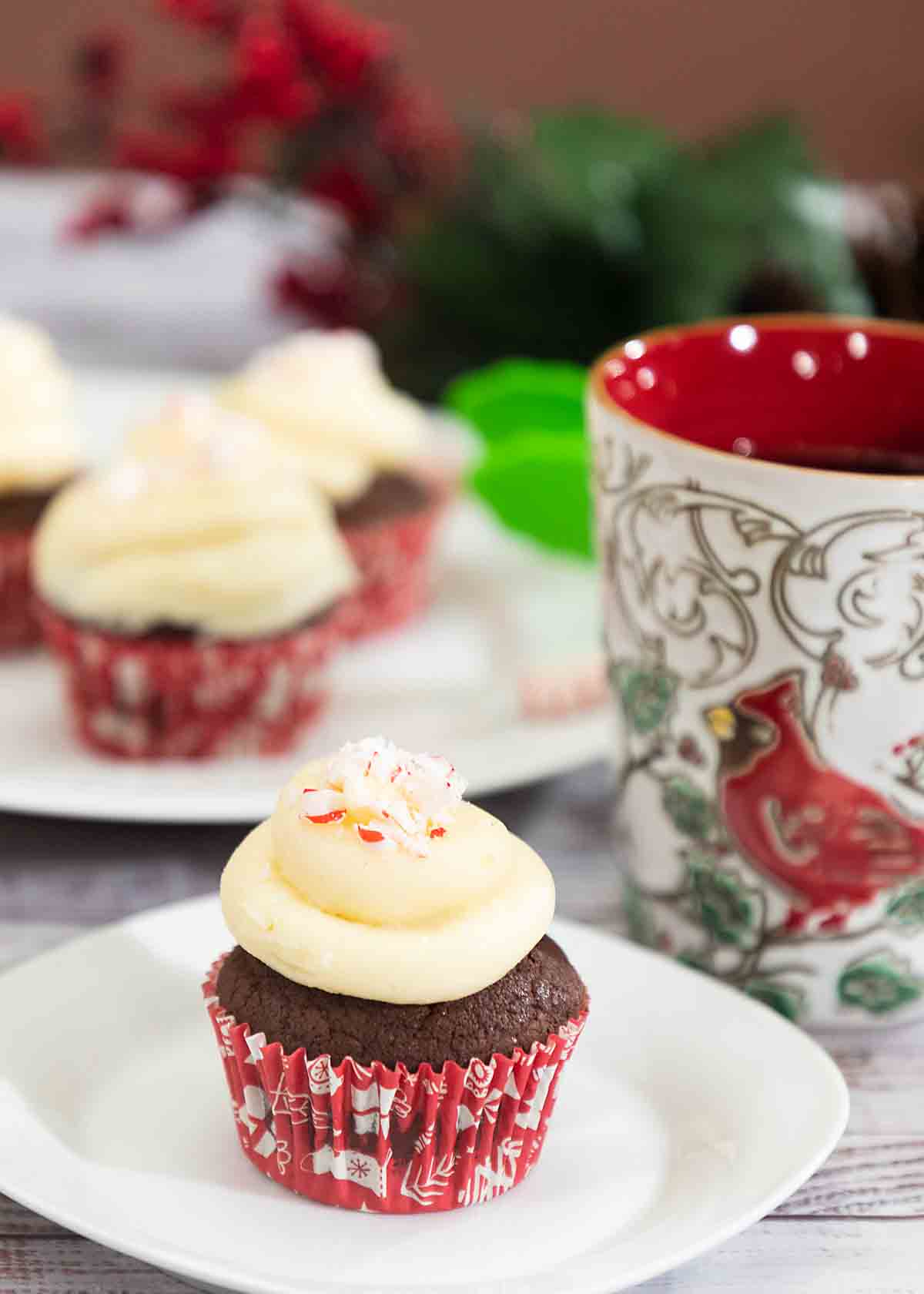 How to Serve
Cupcakes make a great dessert or snack. I served these after a busy afternoon of holiday decorating! They're especially nice with a warm cup of coffee or a nice glass of milk!
Store, refrigerated, in an airtight container and use up within a few days.
They will also freeze well so you can keep some on hand for emergency sweets cravings.
Tips & FAQs
I use a light amount of mint extract and more vanilla in the mint buttercream. I find that the vanilla moderates the astringency that mint sometimes has. This is even more significant if the frosting is made with erythritol sweetener since that can add a cooling effect. This can accentuate the mint flavor, so I am especially cautious about adding too much mint. But feel free to taste and adjust to your tastes.
I used cocoa butter to add some additional chocolatey flavor. But I know that most people don't stock it so butter should be just fine. I also tried coconut oil, which worked structurally but gave these a somewhat intrusive coconut flavor, so I don't recommend it.
Why did my cupcakes collapse in the middle? This is not an uncommon problem in cupcakes. Most likely, you took them out of the oven too soon. Use the toothpick test to make sure they're done. If they were done, you may have incorporated too much air when you mixed the cupcakes. Use the paddle not the whisk attachment for beating and do the final mixing by hand.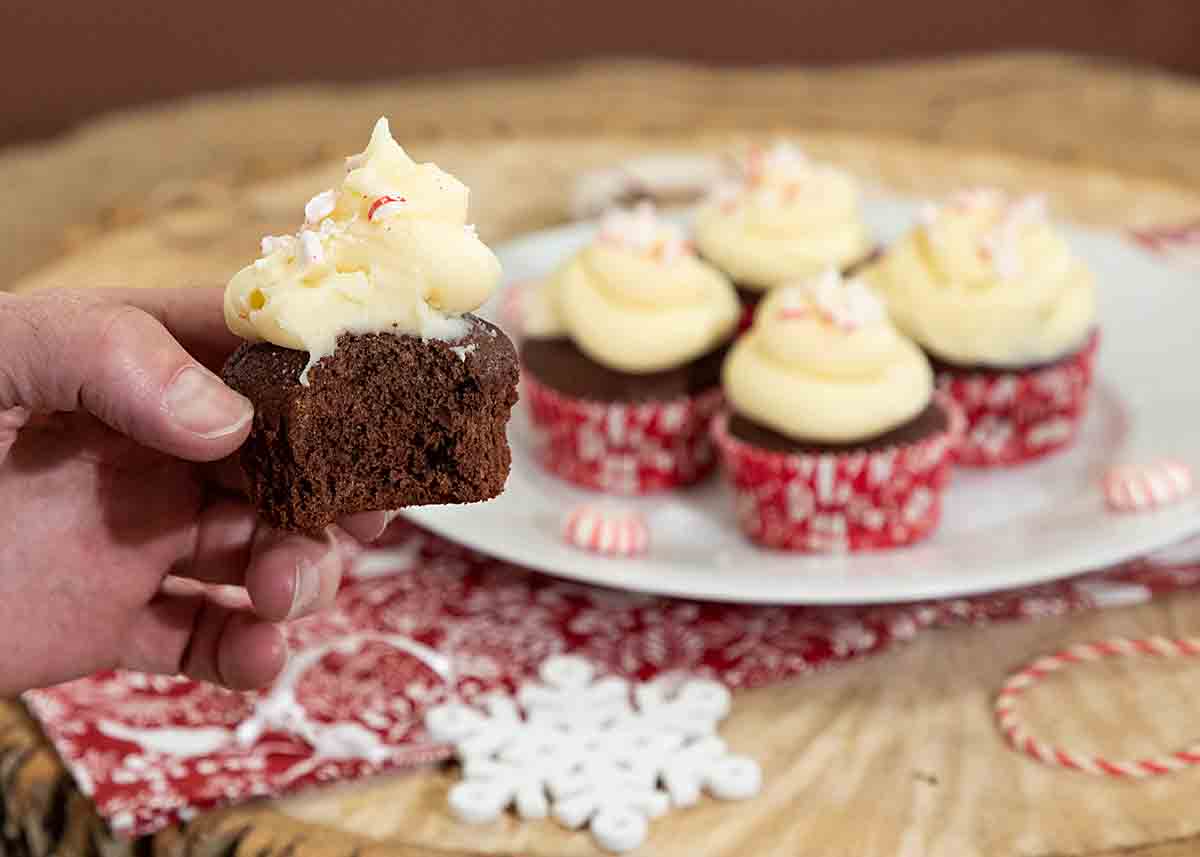 Delicious Cupcake Recipes
We share Recipes From Our Dinner Table! Join our group and share your recipes, too! While you're at it, join our Pinterest board, too!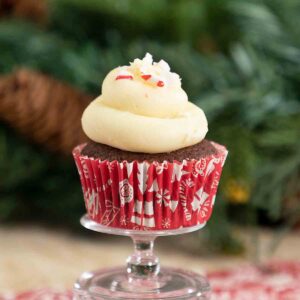 Sugar Free Chocolate Cupcake with Mint Buttercream
Minty, chocolatey, and sweet, these sugar free chocolate cupcakes with mint buttercream are a fun indulgence for the holidays.  Or anytime!
Ingredients
Sugar Free Chocolate Cupcakes:
¼

cup

boiling water

¼

cup

hot coffee

or additional boiling water

½

cup

cocoa

¼

cup

milk

2

eggs

1

cup

allulose/monkfruit sweetener

1

teaspoon

vanilla

¾

cup

butter or cocoa butter

melted and partly cooled

1 ¼

cup

flour

½

teaspoon

baking soda

¼

teaspoon

salt

omit if using salted butter
Mint Buttercream:
3

cups

powdered sweetener

(erythritol or allulose, okay if monkfruit/stevia added)

1

cup

butter

room temperature

1

teaspoon

vanilla

½

teaspoon

mint extract

1

Tablespoon

water or milk
Instructions
Combine the cocoa, hot water and hot coffee, and stir until the cocoa is dissolved. Add milk. Set aside.

In another bowl, combine the flour and baking soda. Set aside

Next heat butter or cocoa butter until just melted, then let partially cool (so you don't cook the egg). In a large mixing bowl with the paddle attachment, beat the eggs until fluffy, then beat in sugar and vanilla. Mix in the melted and slightly cooled butter or cocoa butter.

Finally, alternate adding a third of the chocolate mixture, then a third of flour mixture into the egg mixture, mixing by hand between each add.

Divide into 12 muffin cups then bake at 350 F for 18-22 minutes or until an inserted toothpick comes out clean. Let cool before frosting.

To prepare frosting, beat softened butter until light and fluffy, about 3 minutes. Add the powdered sweetener ½-1 cup at a time, until fully mixed in. Add mint extract, vanilla extract and milk or water and beat another minute. This amount of frosting should make a nice dome for 12 cupcakes. For a more modest amount, you could cut the frosting amount in half.

Frost cupcakes when they are cool