A Lavender Latte is a unique coffee drink that is rich, creamy and flavorful. How does starting your day with a calm intensity sound!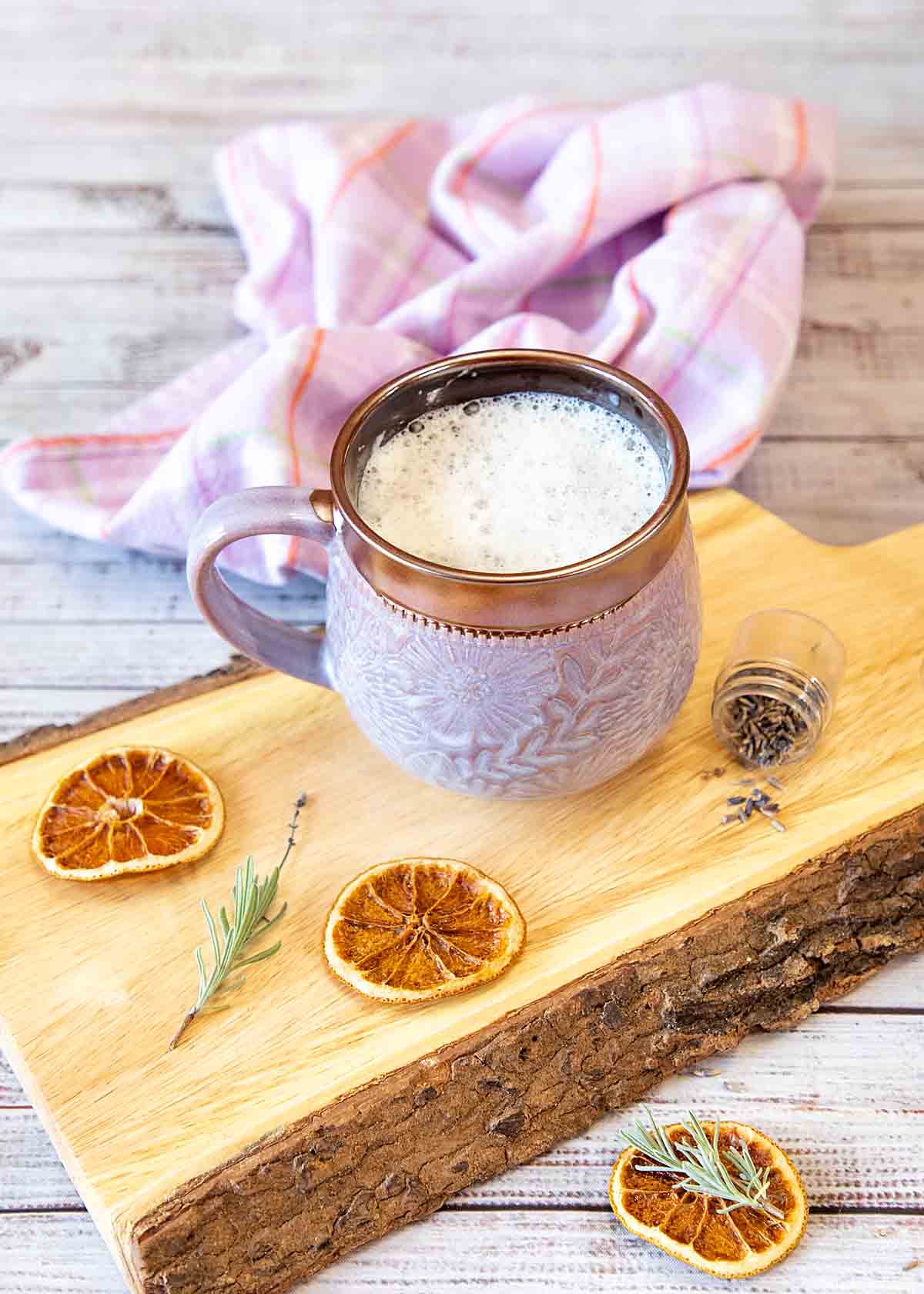 This post is sponsored and I received product samples from Taylor and Colledge to help in the creation of this recipe. All opinions are mine however.
I am a coffee addict, err, lover. I console myself that it's (more or less) a healthy habit.
And as coffee drinkers go, I tend to be pretty bare bones. Just hook me up to an IV and I'll be awake in a minute.
But every so often I want a treat. Something a little richer, a little more flavorful, a little special. Like this tasty Lavender Latte. Lightly floral with a hint of sweet, it's a smooth, rich indulgence that's completely guilt-free!
Now since I'm not an everyday latte drinker, I make this with basic coffee supplies. So nobody needs to buy an espresso maker to enjoy it. And I even have a sugar free option. Just in case you want to save room for some extra cookies!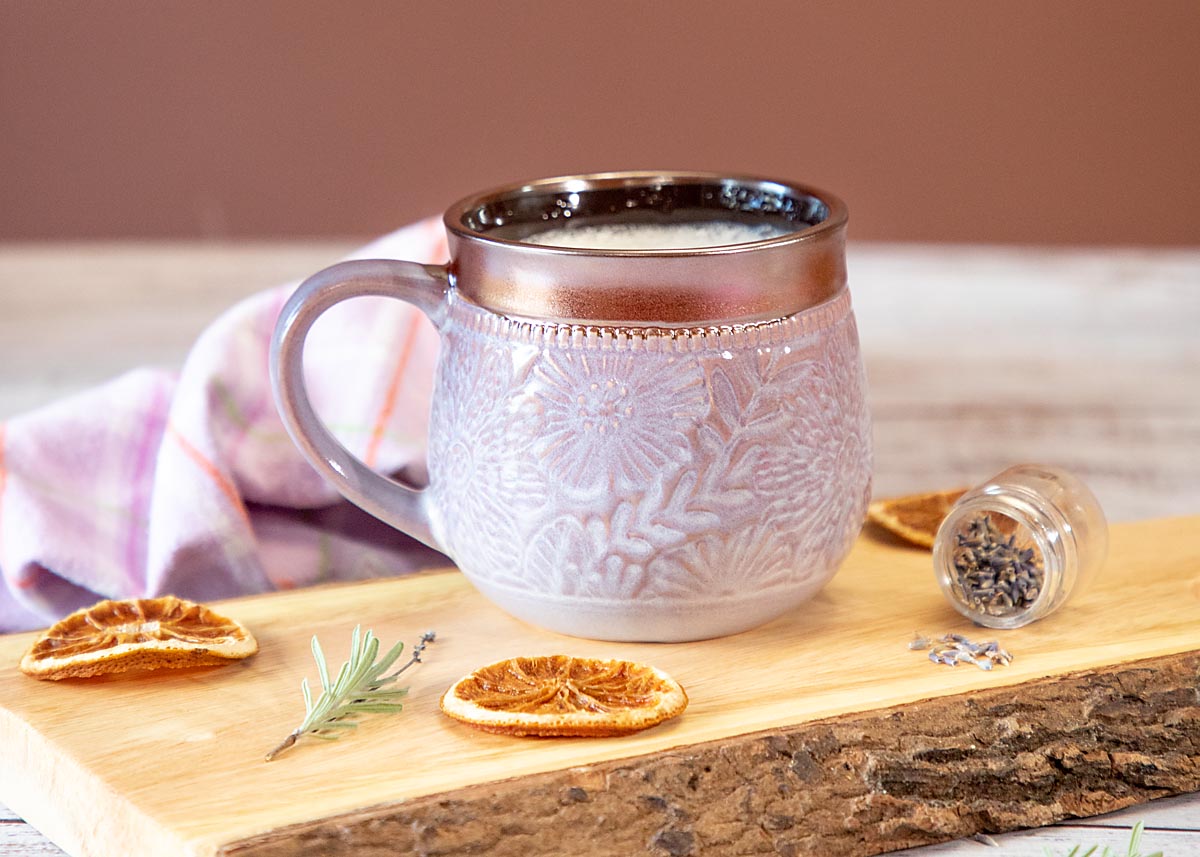 Why a Lavender Latte
I have a fondness for lavender that goes back over a decade to a local chef's lemon lavender cupcakes. And I just read something interesting about drinking a Lavender Latte.
Yoga Direct says "Turns out, that jittery over-caffeinated feeling you sometimes experience after your morning boost can conveniently be tamed by the addition of lavender. Creating a great balance of feeling calm and relaxed while also energized and productive allows the coffee to take effect in a more productive way."
I don't know if that's why Lavender Lattes are suddenly "in," but I like seeing them more and more!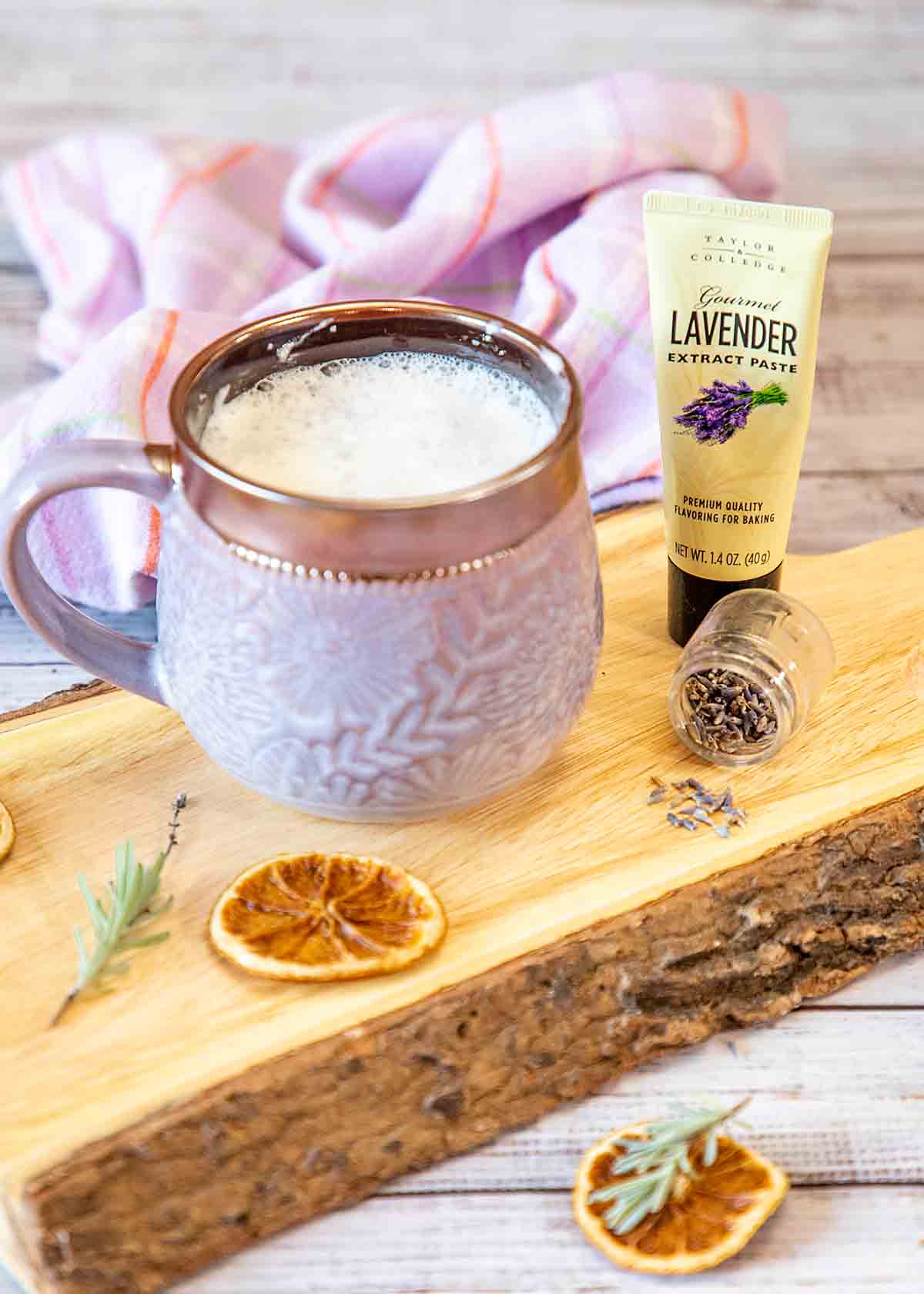 Forms of Culinary Lavender Flavor
Now if you're going to make a Lavender Latte, you'll need a source of lavender flavor. And there are three main options: dried buds, syrup and extract or paste.
When I first started working with lavender many years ago, the buds were pretty much your only option. But buds have their disadvantages. First, it's tough to get the flavor dispersed throughout a dish. Then you may have dry bits where you don't want them (even if you try to grind them up). Finally, sometimes they're bitter. I finally managed to get them to work well by infusing them in sugar the night before, or making a syrup.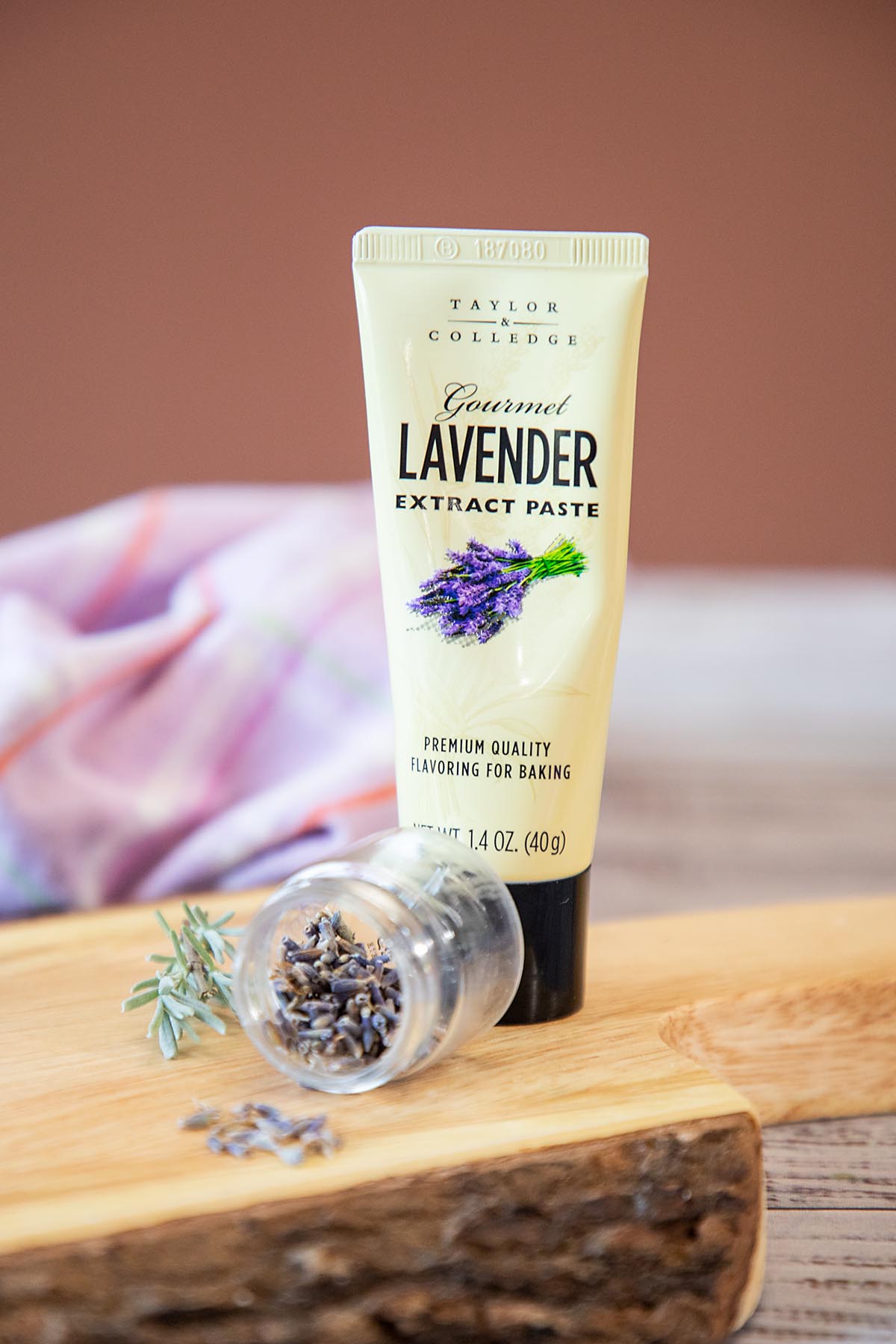 Commercial lavender syrup is a product that works beautifully in drinks. But it adds too much liquid for many baking recipes. And since it's pre-sweetened, you can't individualize your sweetness level or type of sweetener (usually stevia for me).
Which is why I was so excited to when Taylor and Colledge sent me a tube of their lavender paste. The flavor is authentic–identical to what I had achieved with dried lavender, I can add my choice of sweeteners and it is so easy!
Why You'll Love This!
Flavorful. This takes the great taste of coffee and adds fragrant lavender and creamy milk. What's not to love!
Unique. I like a peppermint mocha as much as the next guy. But isn't it nice to have some unique options too? No boring lattes in my house!
Healthier Treat. With the whole long list of everything that is bad for you, isn't it nice to have a treat that's usually considered healthier! (See the filtered coffee discussion below).
What You'll Need
Ingredient Notes
Strong coffee. You can also use espresso.
Lavender paste. Provides the lavender flavor.
Sugar or sweetener. Adds sweetness to the drink. I usually use a few drops of stevia.
Milk. This creates the froth. Whole or 2% are probably the best dairy options. Some non-dairy milks will froth as well. See Bean Poet for their comparison.
Special Tools
You'll need some method to froth the milk, but a blender or even a jar with a tight fitting lid will do.
Step by Step Directions
Prepare your strong coffee or espresso. I like to double brew my coffee by pouring a hot prepared cup of coffee over new fresh ground coffee to make it stronger for this.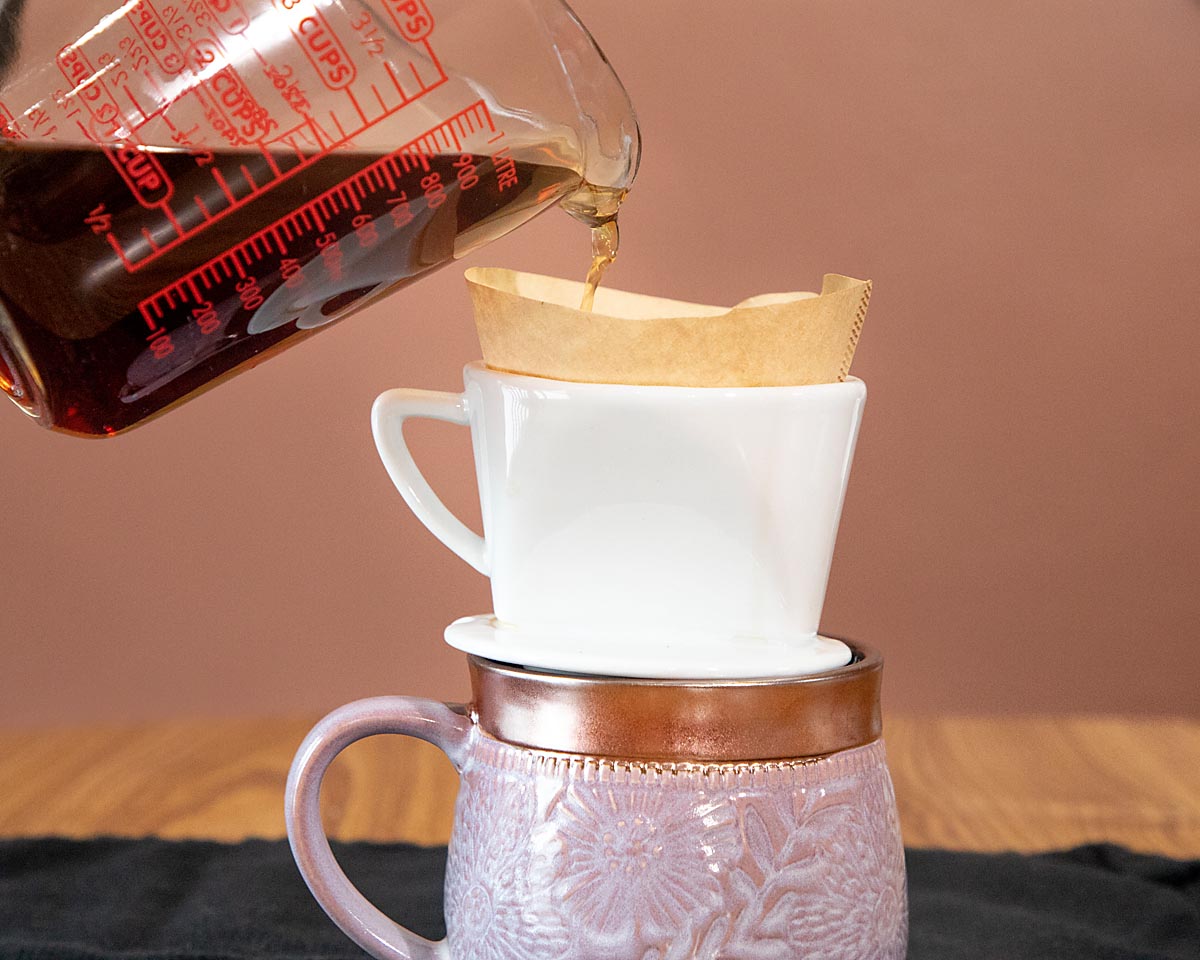 Whisk in lavender paste and sweeten to taste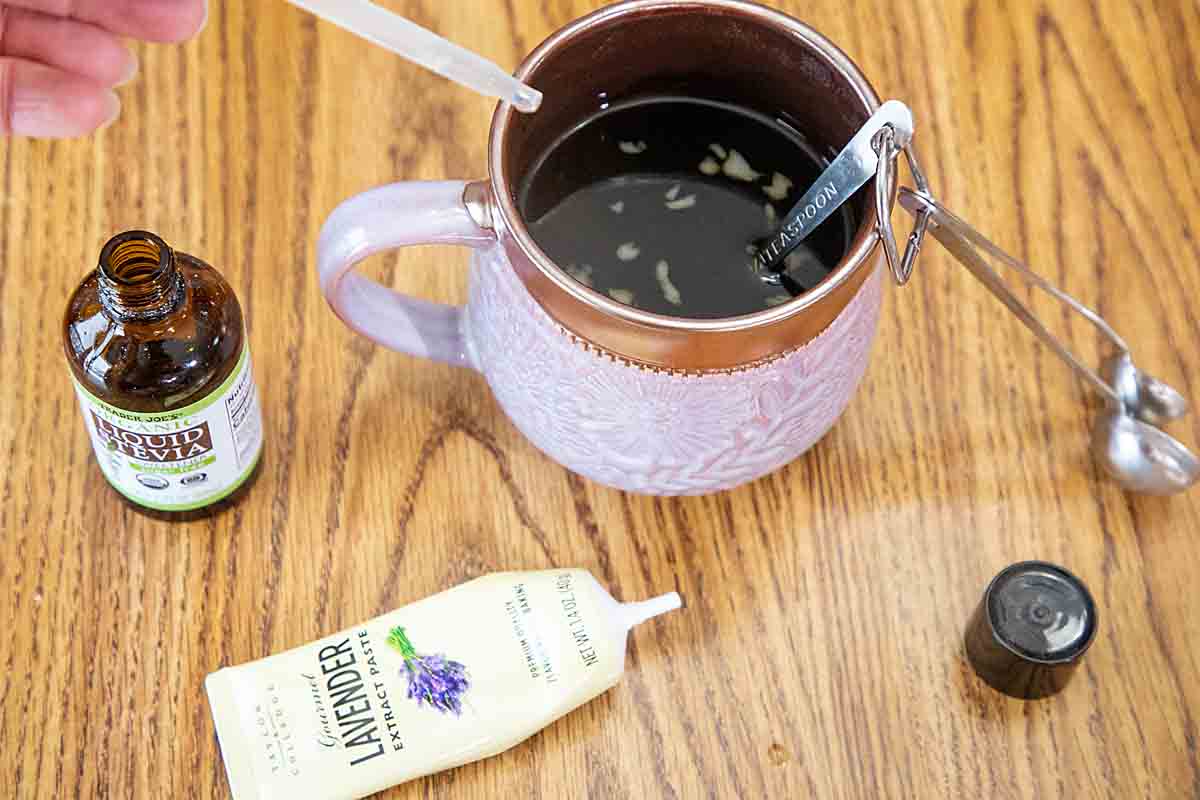 Foam and heat your milk (see alternative ways to froth milk, below) then pour over coffee.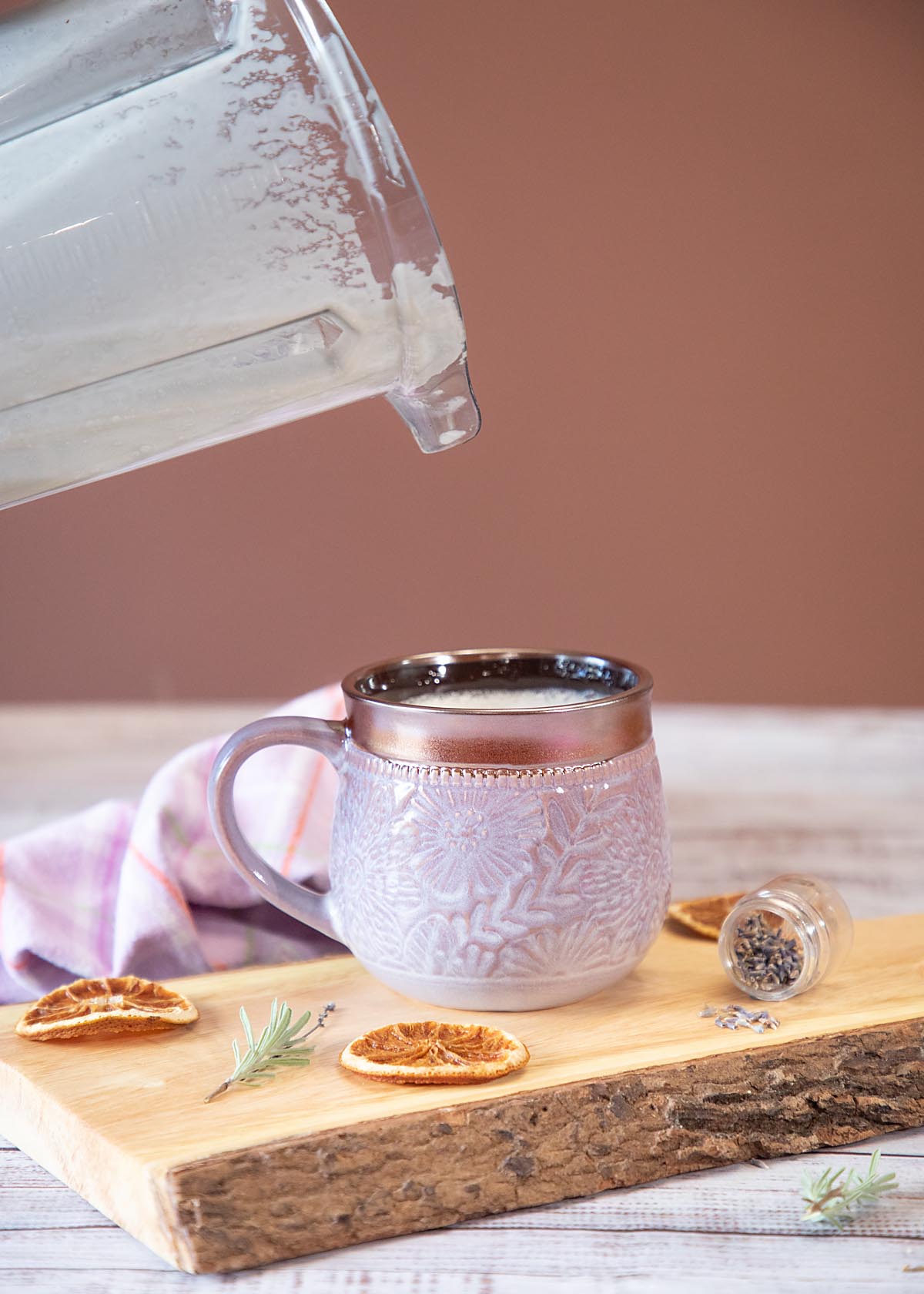 Enjoy!
Alternative Ways to Froth Milk
An espresso maker or handheld frother are commonly used to froth milk. But you can do this without dedicated equipment as well. I used a strong blender (vitamix) and have heard of others using a stand mixer with a whisk attachment, plunging up and down in a French Press or even shaking it up in a lidded jar.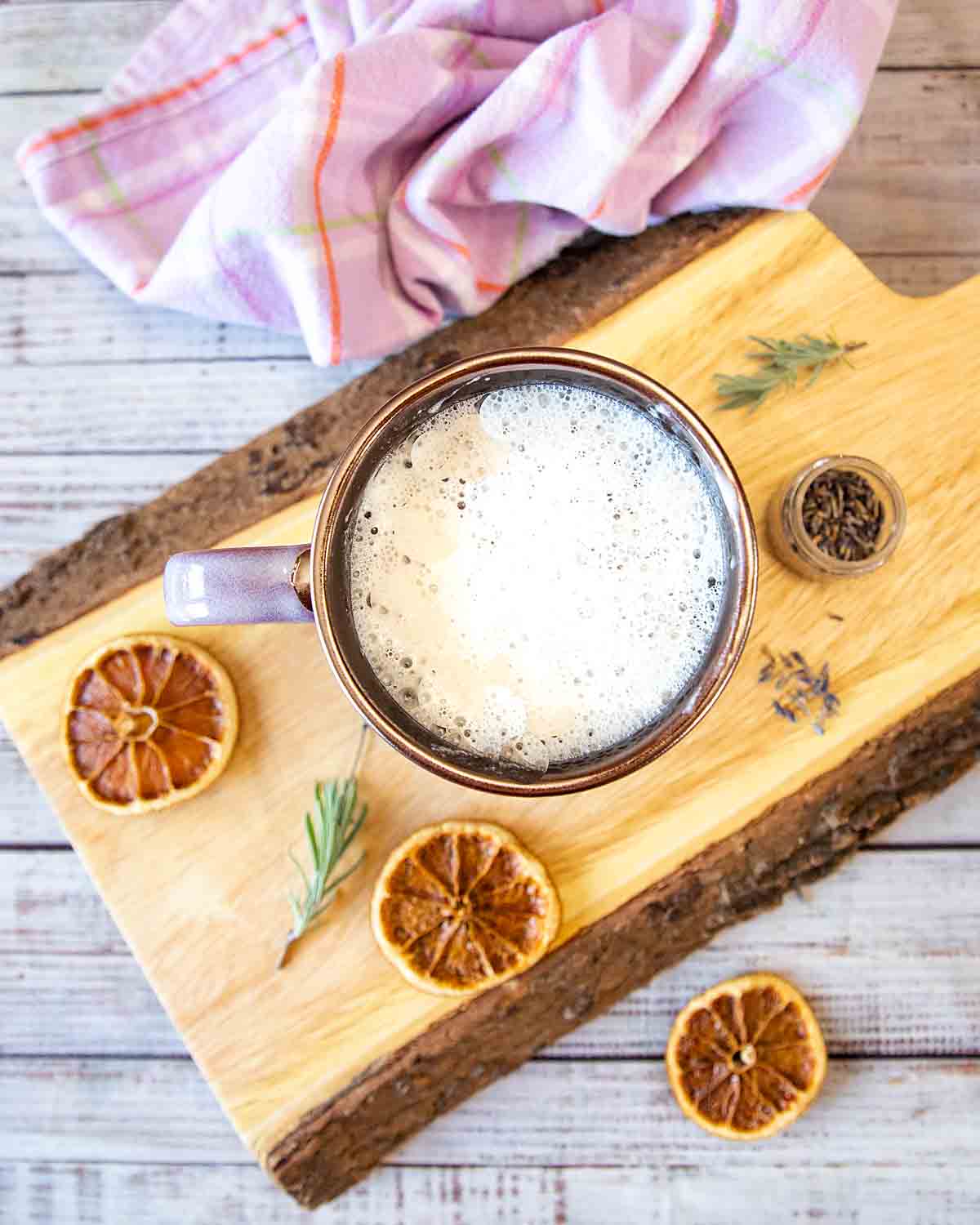 Why I Make Filtered Coffee (vs French Press, etc)
Back in the day, I used to use a French Press to make coffee. A French press makes a robust cup, and well, looks seriously cool. But then I read that it was healthier to drink filtered coffee.
While I no longer have my original source, in a 2020 study published in the European Journal of Preventive Cardiology, (covered by CNN), scientists reported that boiled or pressed unfiltered coffee increased cardiovascular death rates in men aged 60 and above.
For filtered coffee, however, the picture was reversed and "Filtered coffee was linked to a 15% reduced risk of death from any cause, a 12% decreased risk of death from cardiovascular disease in men and a 20% lowered risk of death from heart disease in women when compared to drinking no coffee."
And don't forget that unbleached filters will compost right along with the coffee grounds!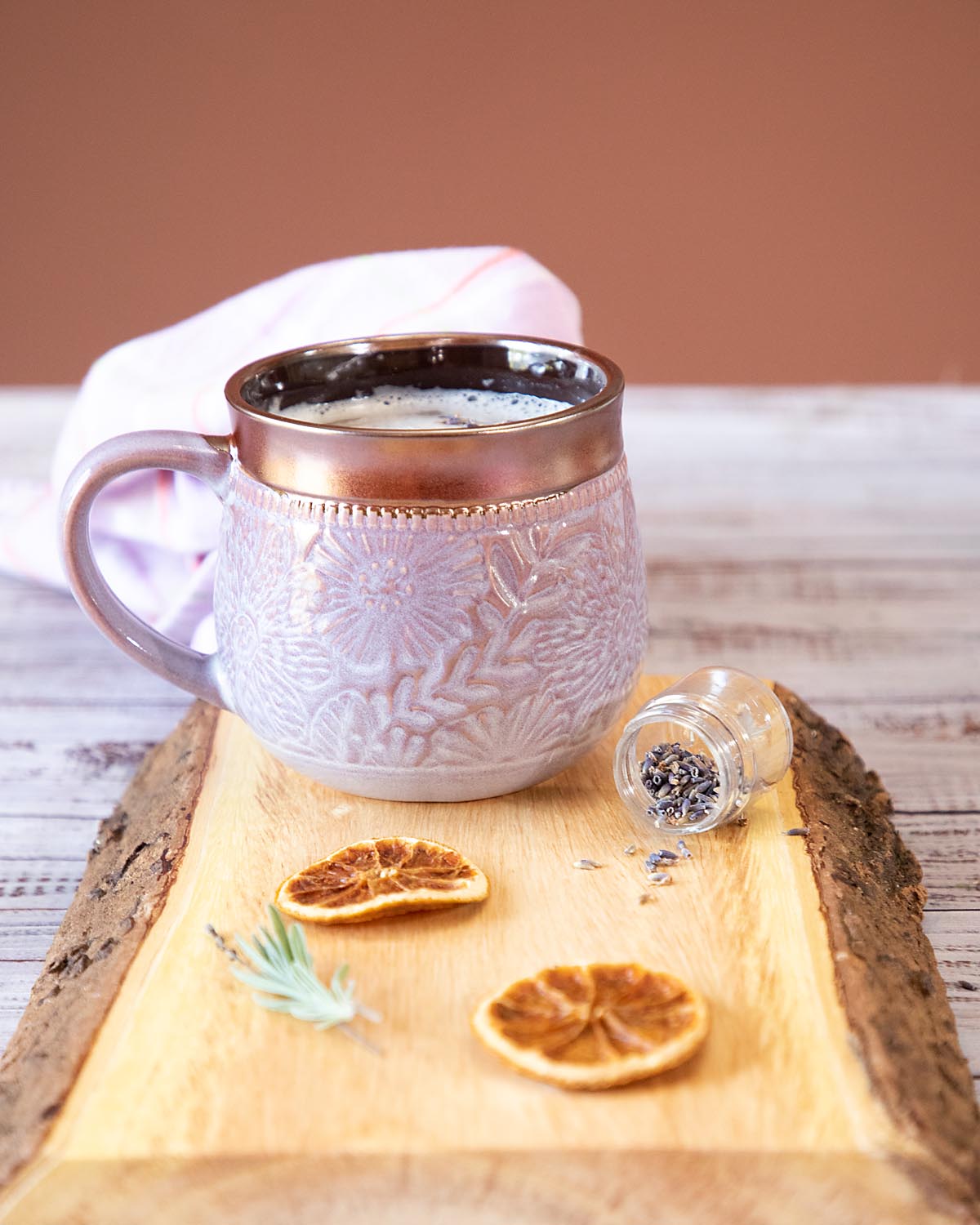 How to Serve
I think that a Lavender Latte is perfect as part of a mid-morning snack break. Put in a few productive hours, then get a reward! Add a couple light cookies for a real treat!
I also love it as an evening indulgence—made with decaf this time. It's a lovely reward for a good day. Or sometimes consolation for surviving a tough day.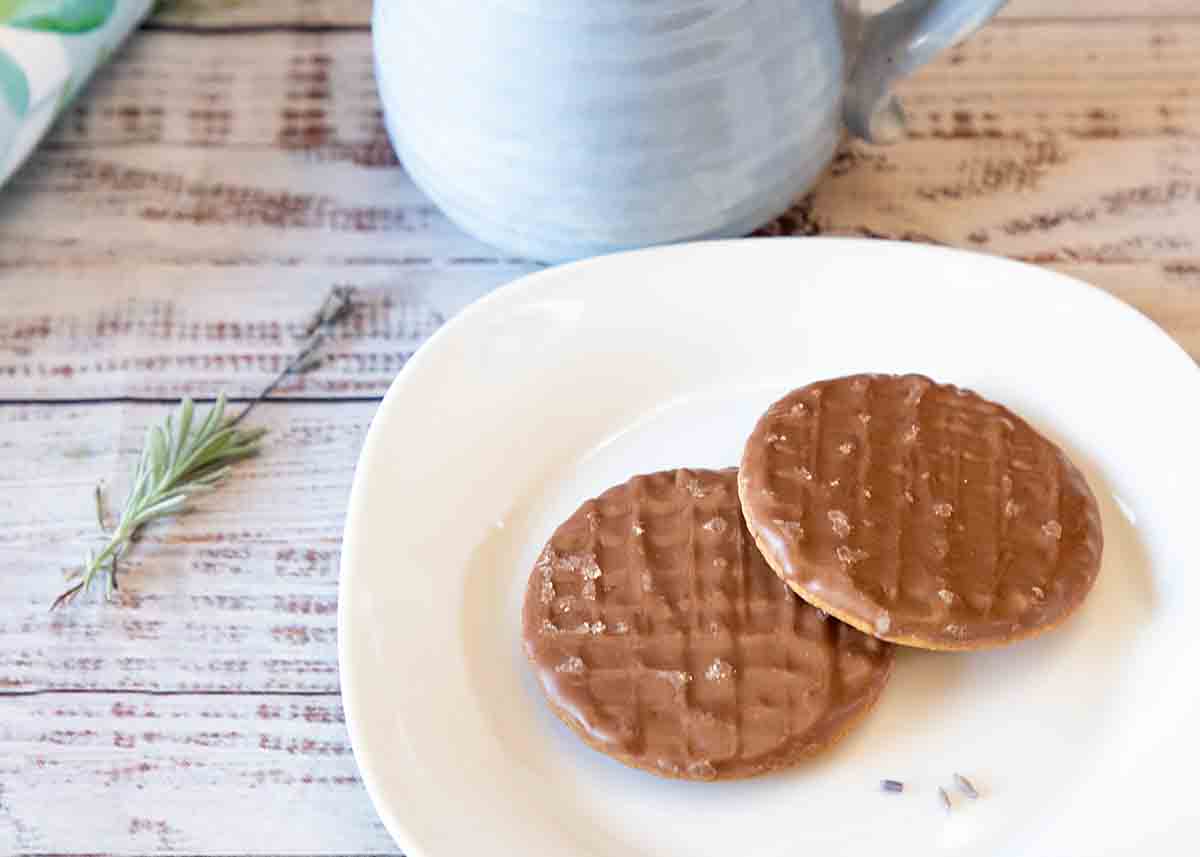 Variations
Like lavender but find this a little too much? Tone down the intensity with a Lavender Vanilla Latte. Just halve the lavender (or not) and add in some Taylor & College Vanilla paste (or some vanilla extract). Also yum!
Of course if you want to go for something completely different, there's always a Pumpkin Chai Latte!
Tips & FAQs
Lavender buds look cute decorating the top of the foam! But truthfully, I don't like getting a mouthful of dry buds along with my smooth creamy lavender coffee. It's a matter of taste, but don't feel guilty if you decide to skip them.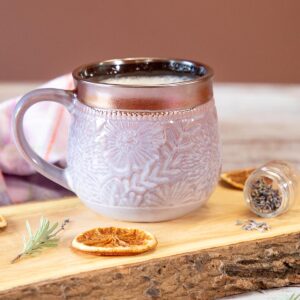 Lavender Latte
A Lavender Latte is a unique coffee drink that is rich, creamy and flavorful. How does starting your day with a calm intensity sound! 
Ingredients
8-10

ounces

strong coffee

or 2 shots of espresso

1/4

t

Lavender paste

see note

Sugar or sweetener to taste

1/3

cup

milk
Instructions
Prepare your espresso or strong coffee (see note)

Stir in the lavender paste (whisk if needed), then sweeten to taste.

Heat and froth the milk (I used a blender) then pour over coffee

Garnish if desired
Notes
I like to double brew my coffee by pouring a hot prepared cup of coffee over new fresh ground coffee to make it stronger for this.
I am not a health professional and nutrition data is calculated programatically. Accuracy may vary with product selection, calculator accuracy, etc. Consult a professional for the best information.