Peanut Butter Rice Krispie Treats
Crunchy, creamy, chocolatey and easy, Peanut Butter Rice Krispie Treats (aka Scotcheroos) are a summer staple for picnics and BBQs.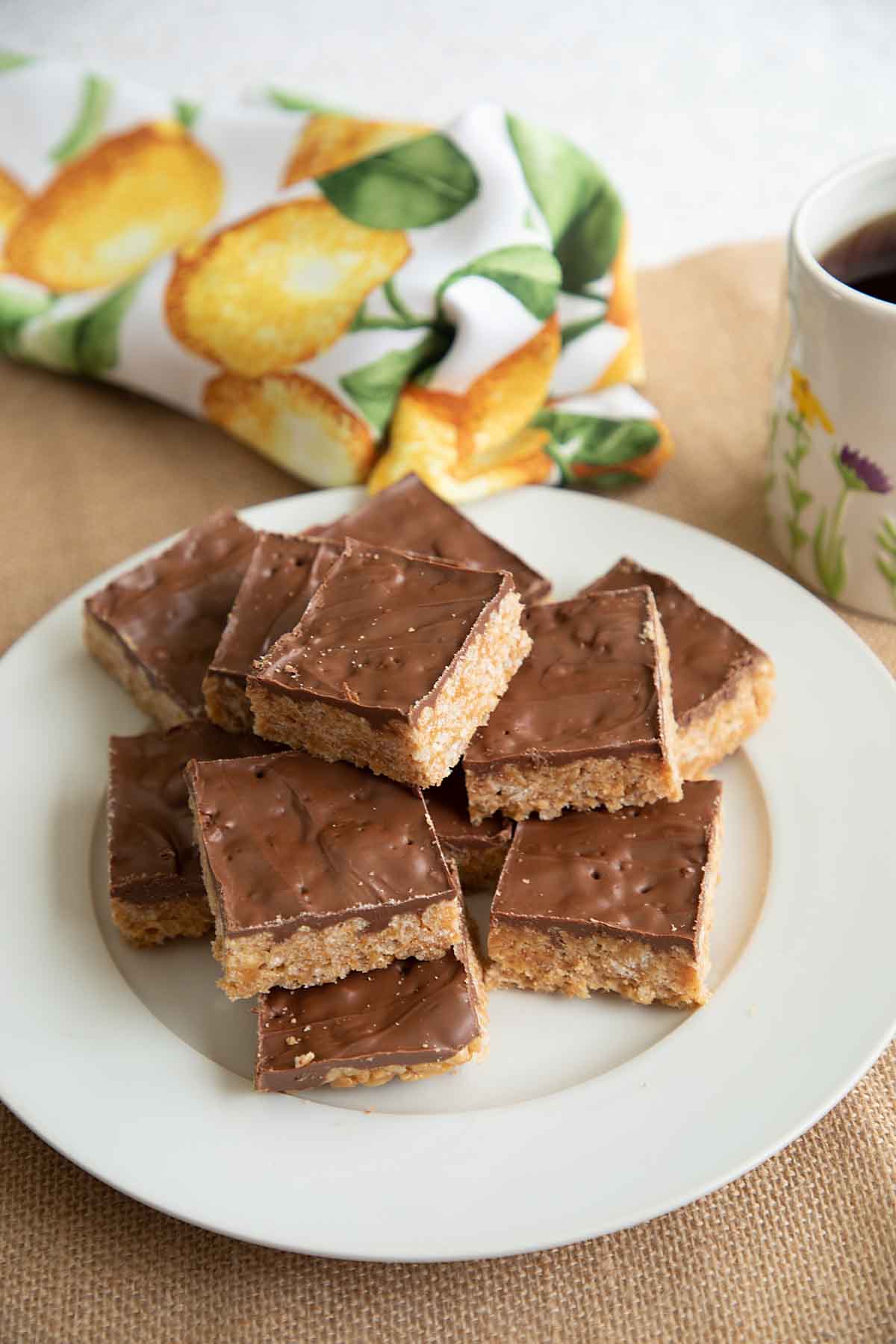 This post is sponsored in conjunction with #BBQWeek. The sponsors, Rainier Foods and Intensity Academy generously provided samples to participants to aid in the creation of the #BBQWeek recipes and prize packages to give away to the readers. However, all opinions are mine alone.
Growing up in the 60s and 70s, these treats were everywhere. Nary a BBQ, potluck or bake sale went by without the appearance of Peanut Butter Rice Krispie Bars, sometimes known as Scotcheroos.
And it's not hard to see why. They are easy to make, vegan, gluten-free, no-bake and to top it all off, have a mere 6-ingredients. Yes, clearly a cookie before its time.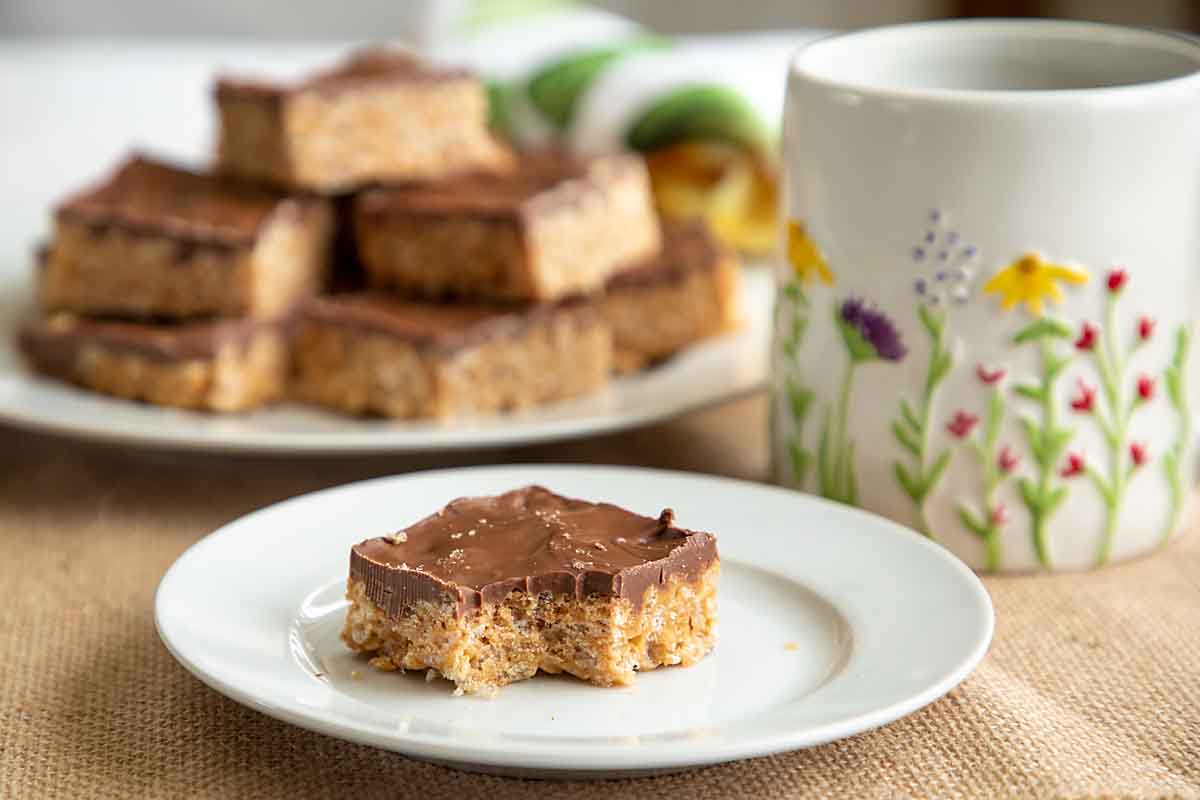 What are Peanut Butter Rice Krispie Treats
The New York Times tells us that, "Originally printed on the Rice Krispies box in the 1960s, Scotcheroos are Rice Krispies treats minus the marshmallow but with gobs of peanut butter, chocolate and butterscotch chips". These "Scotcheroos" were also called Peanut Butter Rice Krispie Treats (or Bars) in some circles.
A cousin to the basic Rice Krispie Marshmallow treats, it was probably only a matter of time before the world decided to play with adding chocolate!
Now to complicate things more, there is also a hybrid treat with both marshmallows and chocolate. But, well, not going down that rabbit hole today.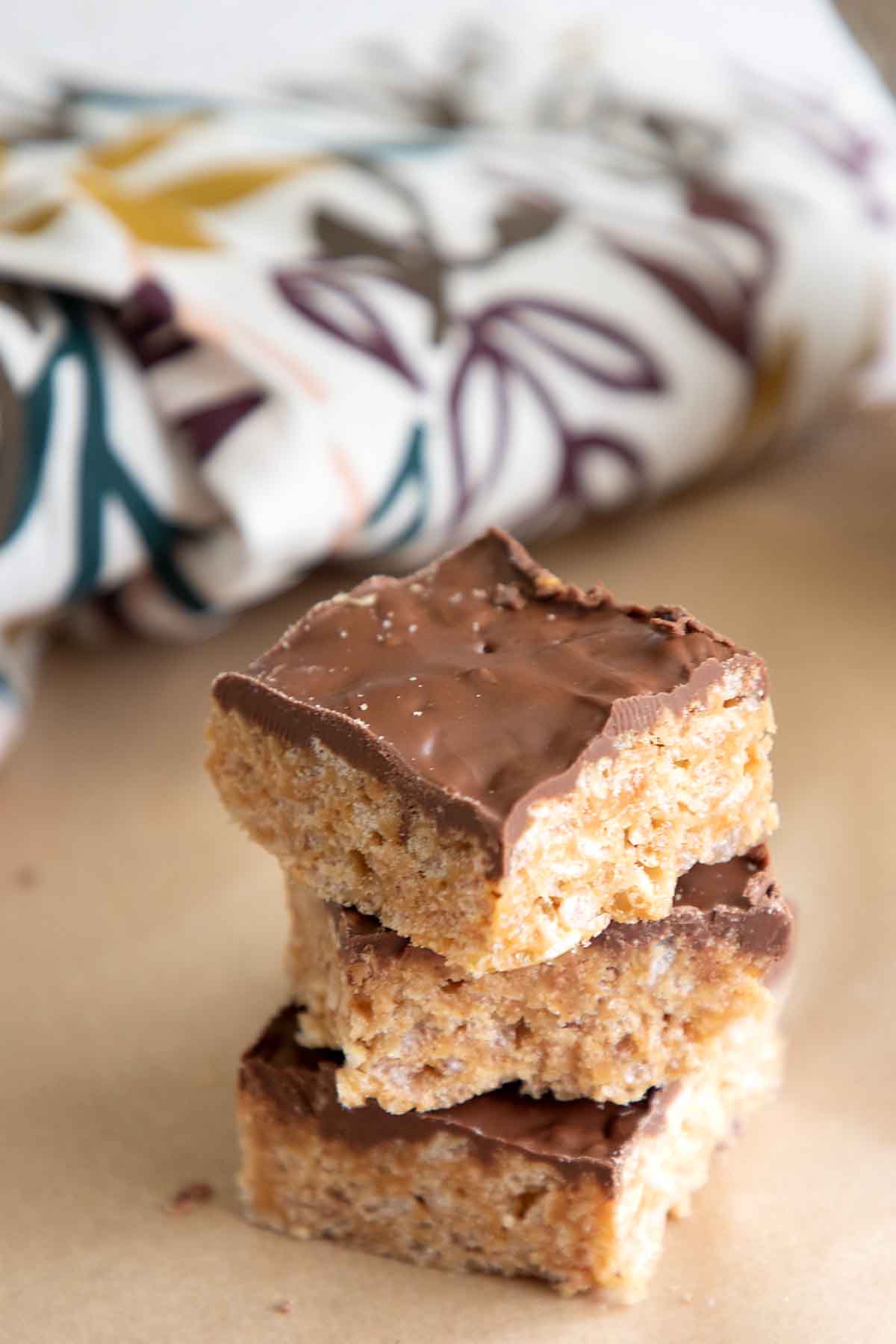 Why You'll Love This Recipe
Easy, no-bake recipe. Just heat stovetop and mix! Yup, no preheating the oven on a hot summer day!

Fun to make with kids. This recipe is super easy and fun to make with your kids.
Perfect for any occasion. This recipe is an easy treat to make for any occasion from potlucks to parties. Or just for snacking at home.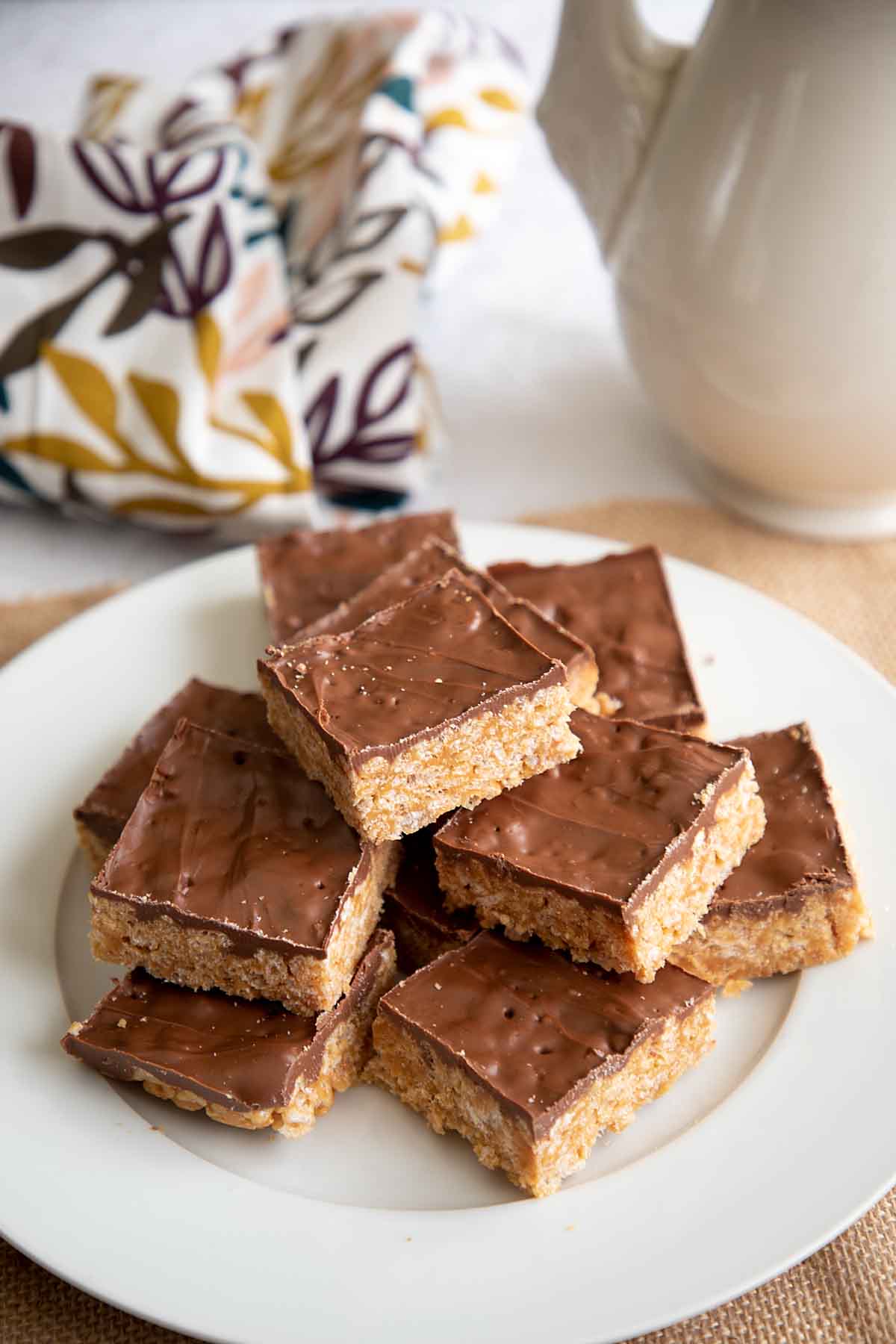 What You'll Need
Crisp rice cereal. This provides the body and crunch of the cookies. I used the traditional Kellogs brand.

Granulated sugar.

Adds sweetness.

Light corn syrup.

Prevents sugar crystals from forming and prevents the rice krispie treats from becoming too hard.

Peanut butter. Provides the delicious peanut butter flavor. You can use natural or not, creamy or crunchy.

Chocolate chips. One of two big flavors in the topping, most people u

se semi-sweet chocolate chips.

Butterscotch chips. These provide the other flavor component in the topping.

Step by Step Directions
Measure cereal into a bowl and set aside. Spray 9 x 13 pan with non-stick spray and set aside. Heat sugar and corn syrup in a Dutch oven, then mix in peanut butter.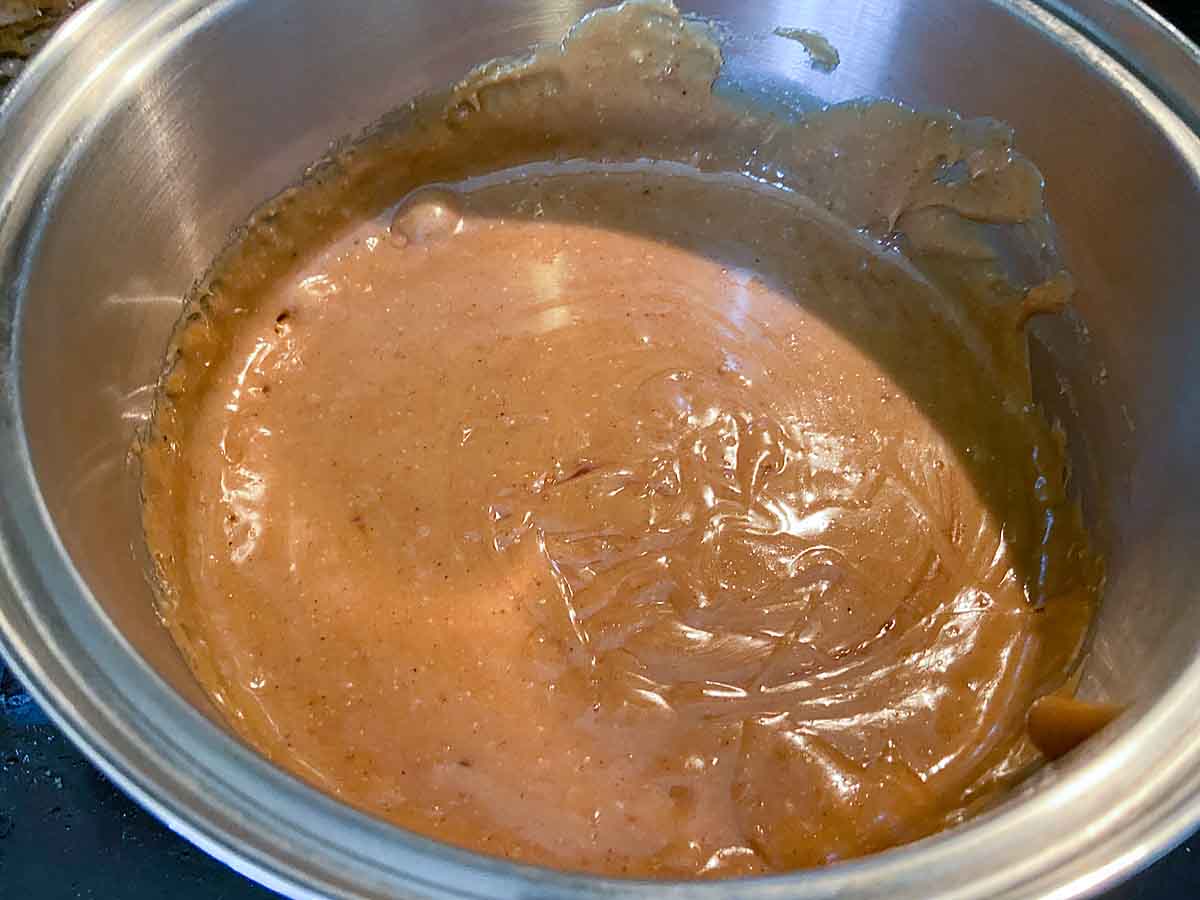 Stir in cereal.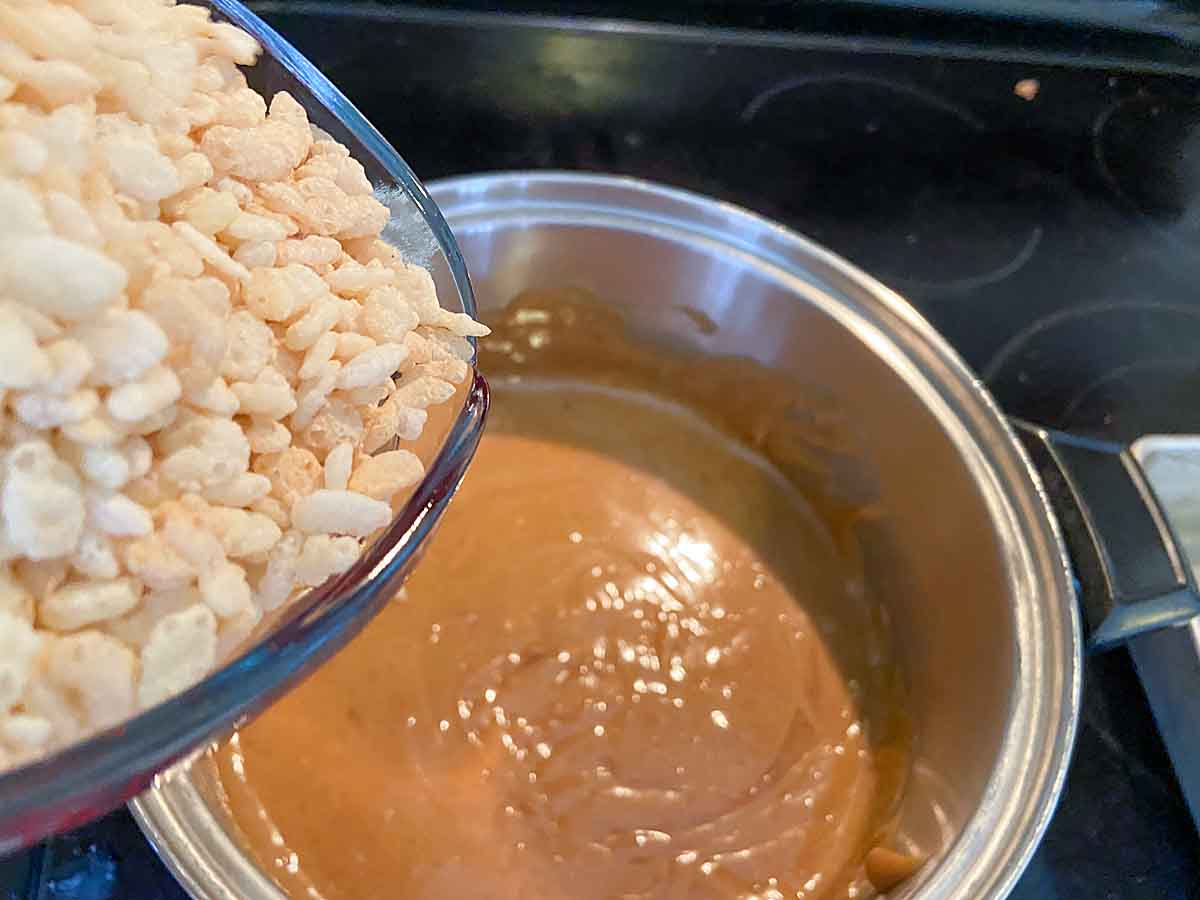 Pour into prepared pan.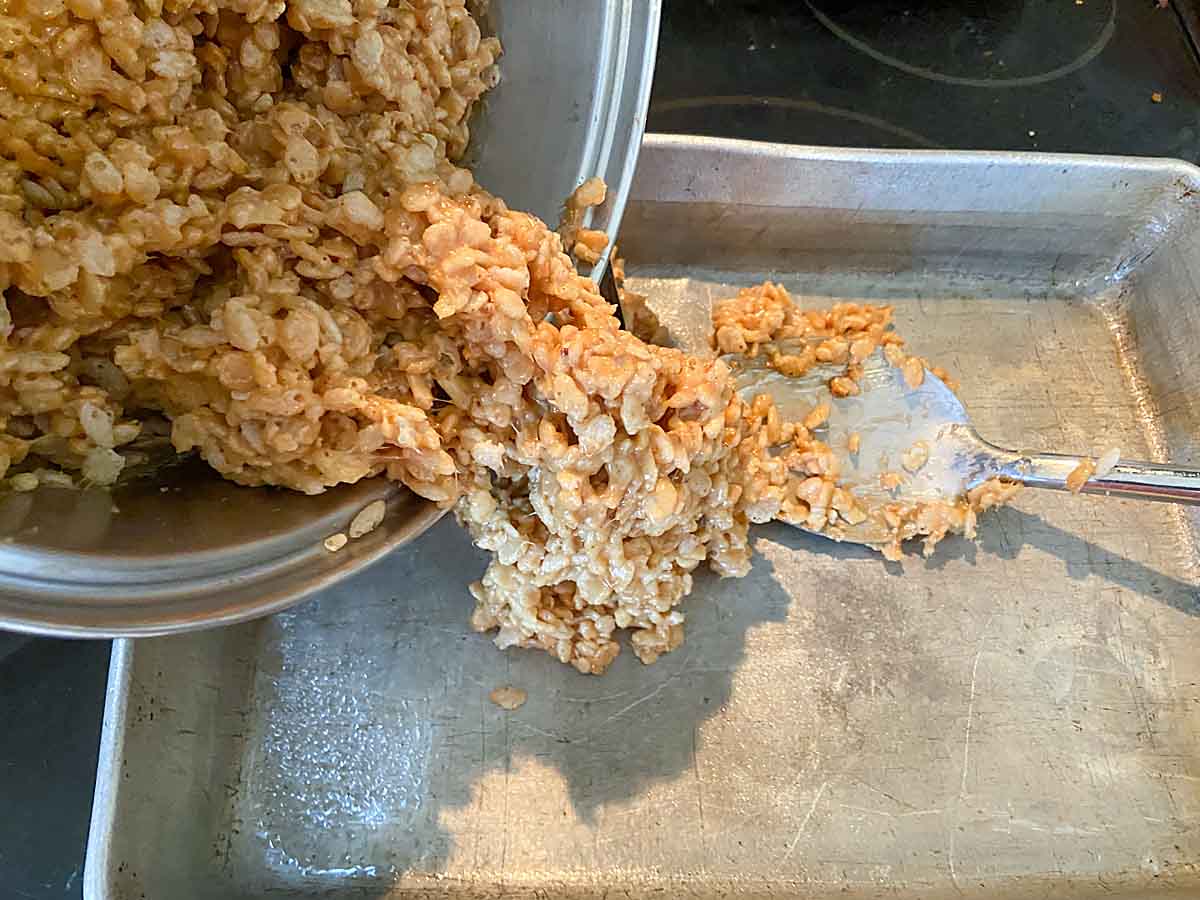 Press in to pan.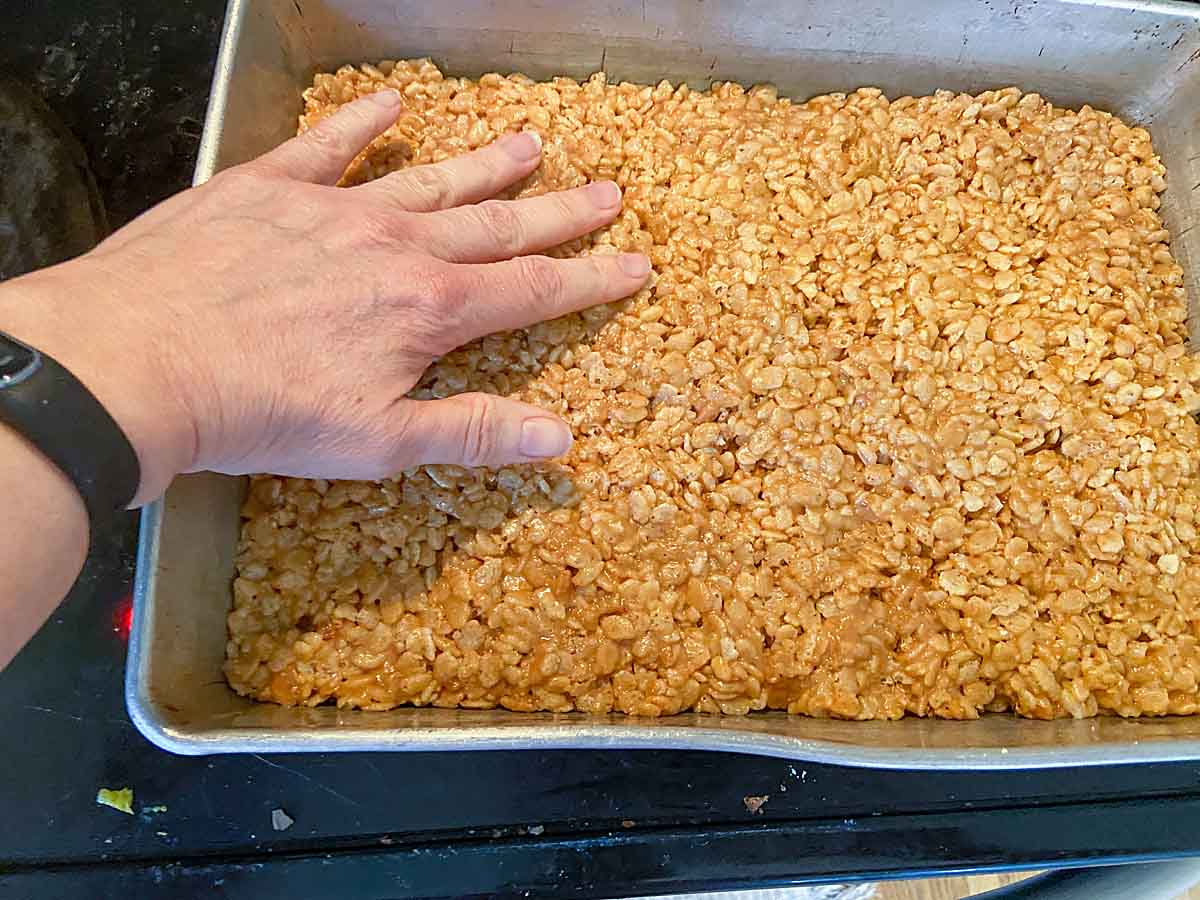 Melt chips in short microwave bursts, stirring in between.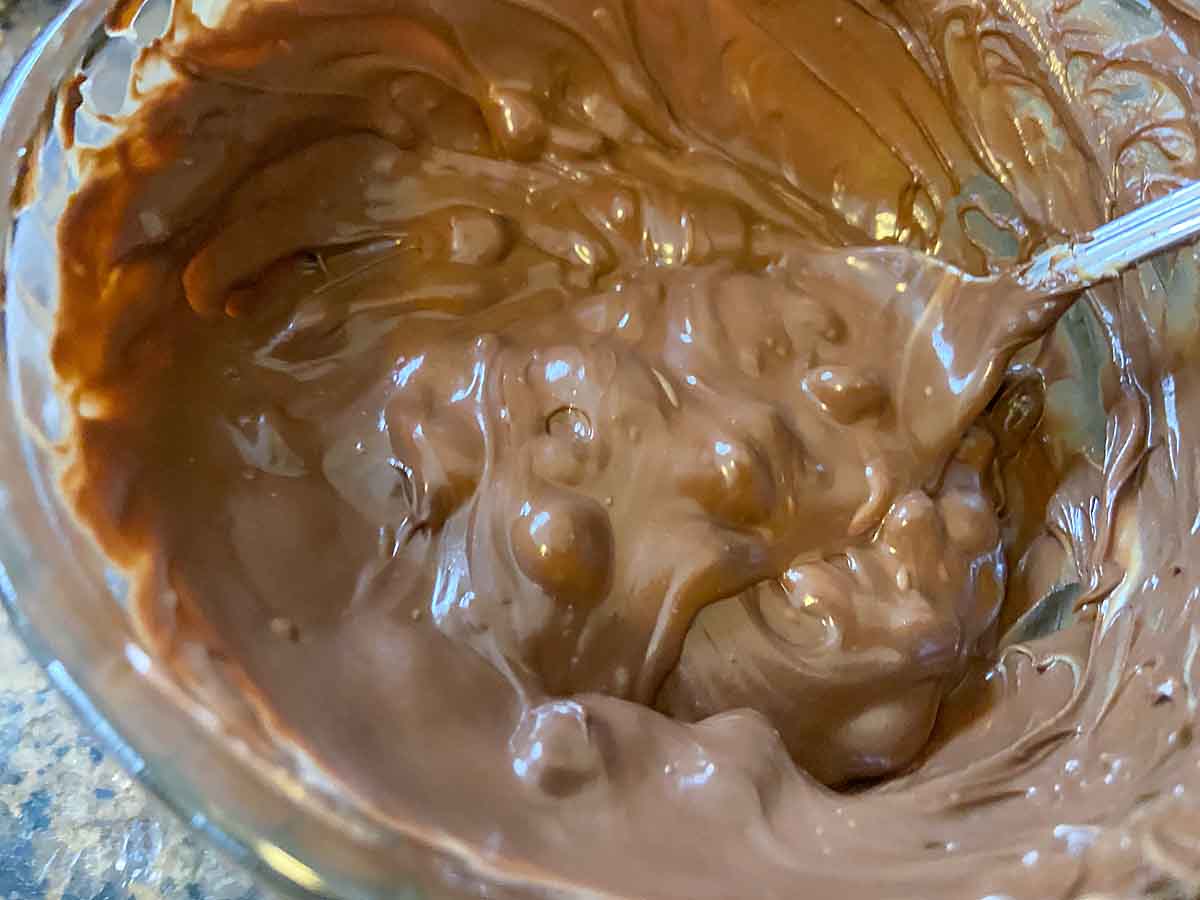 Spread on bars, then let harden.
Cut into bars and serve.
Variations
Can I make a smaller batch?
As our household shrinks, I find myself wanting to make more foods in small batches. I recently bought a set of 6-inch square pans (with convenient lids even). This size (36 square inches) is about 1/3 of a 9 x 13 pan (117 square inches) so perfect for a recipe that will divide in thirds like this. The small batch will make nine 2 x 2 Peanut Butter Rice Krispie Squares.
Can I use more (or less) chips in the topping?
I used 1 ½ cups (each of chocolate and butterscotch) and it seemed like less than my mother used to use. I did a survey of online recipes and the chips generally varied from 1 cup to 1 ½ with one recipe saying "a 12 ounce bag".
So I decided to do a little detective work. Online sources said that a 12 ounce bag of standard chips measured out at either 1 ½ or 2 cups. So I went to my kitchen, weighed out 12 ounces and it came to 2 cups, (poured right from the bag, no shaking down, no "contents may have settled" measuring).
So I am guessing that my mother used the full bag. That would have been 12 ounces then but now could be 10, 11 or 12 ounces–all more than 1 ½ cup.
Of course further complicating the matter is one person's comment that 1 ½ cups seemed like a lot and they preferred 1.
So I guess the proper amount of topping is ultimately a matter of taste. I'm going with the 1 ½ cups in my recipe which seems most common. Adjust as you wish. Just be prepared to stretch more to cover the bars if you go with the 1 cup amount.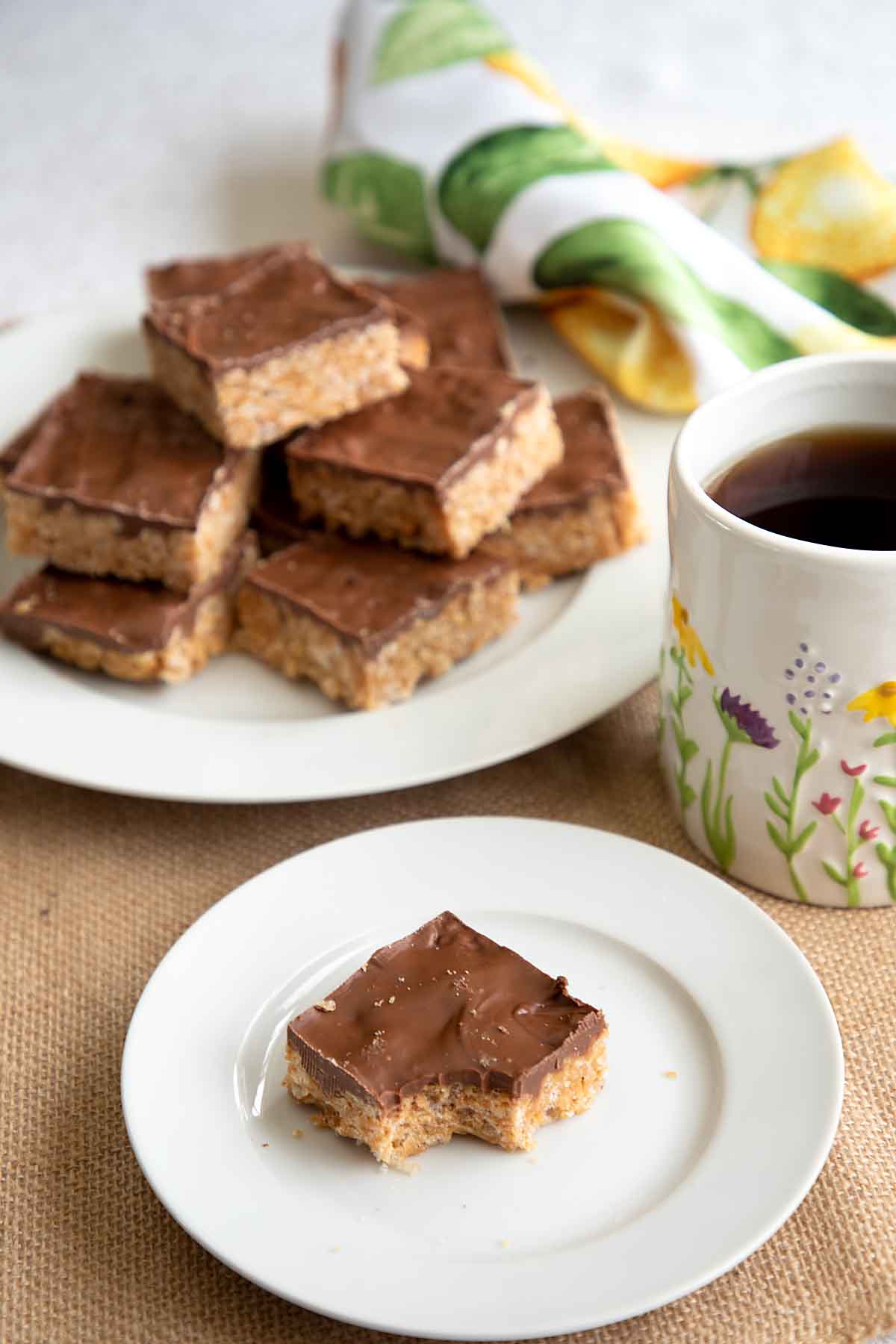 Tips & FAQs
Why did my bars get hard?
For a simple treat, it's surprising this isn't foolproof! But there are a few things that I know can cause your bars to get jaw-breaking hard. These include overcooking the sugar mixture, pressing too hard when you put them in the pan, and storing in the refrigerator.
Can I use a generic cereal?
During the great rice krispies shortage of late 2020, I bought a store brand since it was all I could find. They were flatter and less puffed and I decided to wait until I could get the real thing. Of course people make these treats with Special-K cereal too and like them just fine, so it may have worked out in the end. Personally I'm sticking with Kellog's but you do you.
Is there an alternative to the corn syrup?
Growing up, Karo syrup was all the rage but some people try to avoid it today. I even have a friend who is allergic to corn so I look for other options a lot!
I haven't tried any alternatives in this recipe, but the NY Times says that either honey or golden syrup will work in place of the corn syrup. I am pretty confident that honey will impact the flavor, so my money would be on the golden syrup (though sensitive tasters might notice a difference there too).
Golden syrup is what Brits use when Americans use corn syrup and they are supposed to be pretty interchangeable. Both are invert sugars which means they reduce crystallization in recipes. But Golden Syrup is made from sugar instead of corn.
Peanut Butter Rice Krispie Treats
Additional Time:
30 minutes
Crunchy, creamy, chocolatey and easy, Peanut Butter Rice Krispie Treats (aka Scotcheroos) are a summer staple for picnics and BBQs. 
Ingredients
6 cups crisp rice cereal
1 cup granulated sugar
1 cup light corn syrup
1 cup peanut butter
1 ½ cups semi-sweet chocolate chips
1 ½ cups butterscotch chips
Instructions
Measure cereal into bowl and set aside. Spray a 9 x 13 pan with non-stick spray and set aside.
In a Dutch oven, combine sugar and corn syrup. Cook over medium heat until first bubbles appear then remove from heat (overcooking can result in hard bars). Stir in peanut butter.
Add cereal to sugar mixture and mix until cereal is evenly coated.
Spread into prepared 9x13-inch pan and press in lightly (if you press hard, cookies will come out too hard).
Prepare topping. In medium glass or ceramic bowl, melt chocolate and butterscotch chips in microwave, heating in short bursts and stirring in between. When melted, spread over cereal mixture. Let set until topping has hardened.
Cut into bars. Makes about 24 if cut into approximately 2 inch squares.
Wednesday #BBQWeek Recipes
Starters and Sides
Dinners
Desserts
Welcome to the third annual #BBQWeek hosted by A Kitchen Hoor's Adventures. We are excited to have 15 bloggers sharing over 50 recipes this week as we head toward grilling season. The amazing sponsors have donated some great prizes for the #BBQWeek giveaway. The giveaway is below, but make sure to read about the prize packages and our generous sponsors!
Intensity Academy Saucy Queen Prize Package
The Intensity Academy Saucy Queen has competed in the fiery food industry for over 15 years. Her all-natural gourmet hot sauces have more than 55 national awards. In 2019, the Saucy Queen earned the Tampa Bay Businesswoman of the Year in Manufacturing, Business Leader's Woman Extraordinaire and Working Women of Tampa Bay's! Not only does she sell amazing sauces, spice mixes, and dips, but she has anchored her career in service and non-profit organizations and helping local companies take their products from recipe to store shelves.
A prize package of 4 popular sauces:
Carrot Karma – A mild hot sauce made from a blend of carrots, habaneros, and a touch of lime.
Garlic Goodness – An essential garlic hot sauce! Each batch contains over 100 pounds of slow roasted garlic.
Honey Hype – A blend of crystalized honey natural rub. The crystalized honey melts perfectly over meats and veggies.
Chai Sweet Chili – A light sauce made with peppers and organic Chai tea that won the 2012 Golden Chile award.
Rainier Foods Prize Package
Life's too short for boring food, spice it up with Rainier Foods. Rainier Foods is a family company located in the shadow of Mt. Rainier. They have a dedication to provide premium quality food products. Rainier Foods can source the best ingredients available to help you create delicious meals which sets them apart from other companies. All their products are made locally ensuring their products are the best that the Pacific Northwest has to offer. A portion of all sales are donated to the Washington National Park Fund.
A prize package of a meat thermometer and trio of spice mixes:
Meater+ wire-free meat thermometer – monitor your cooking from a phone or tablet. Monitors internal and ambient temperature at the same time.
The Essentials Seasoning – Salt, garlic, and pepper are the essentials of most seasonings. Three different types of sea salt blend with garlic and pepper in this delicious seasoning.
Smoky Honey Seasoning & Rub – Made with Pacific Northwest clover honey, Cherrywood Smoked Sea Salt, and Smoked Paprika. This seasoning blend creates a deliciously sticky and sweet flavor on anything you grill.
Gochu (Go-Choo) Seasoning & Rub – Gochugaru Chilis combine with sea salt and pepper along with a few other spices makes this blend unique adding an unmatchable flavor profile to everything you cook.
DISCLAIMER:
Thank you #BBQWeek sponsors Saucy Queen and Rainier Foods for donating the prizes for this event. The #BBQWeek giveaway is open to U.S. residents, age 18 & up. All entries for the winner are checked and verified. By entering you give the right to use your name and likeness. The number of entries received determines the odds of winning.
Two (2) winners are selected at random from entries received. The prize packages are fulfilled by and sent directly from the giveaway sponsors. #BBQWeek bloggers are not responsible for the fulfillment or delivery of the prize packages. Bloggers hosting this giveaway and their immediate family members in their household are not eligible to enter or win the giveaway. No purchase necessary. Void where prohibited by law. This promotion is in no way sponsored, endorsed or administered by, or associated with Facebook, Instagram, Pinterest, Twitter or any other social channel mentioned in the #BBQWeek posts or entries.