Baked Salmon in Foil (with Green Alternatives)
Is eating more healthy salmon on your to do list? If so, how would you like a super easy recipe for this Baked Salmon in Foil that can help? Even on a super busy day!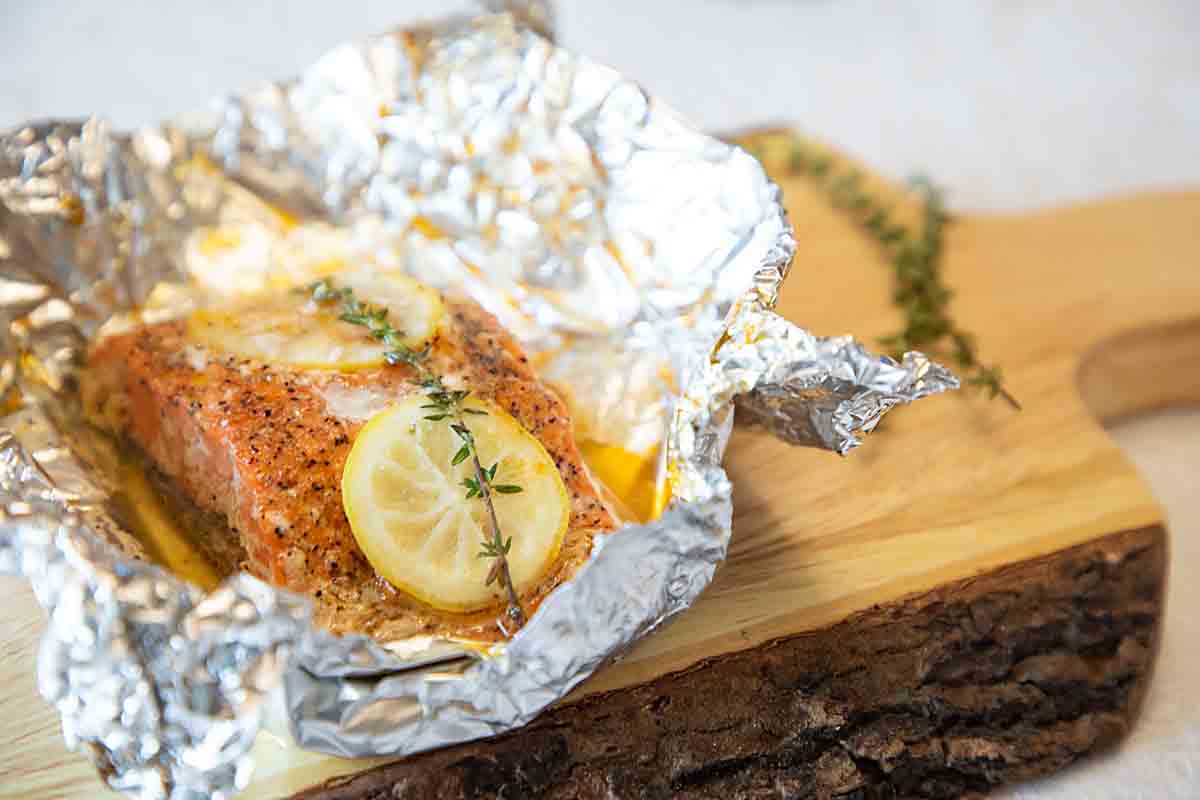 This post is sponsored in conjunction with #BBQWeek. The sponsors, Rainier Foods and Intensity Academy generously provided samples to participants to aid in the creation of the #BBQWeek recipes and prize packages to give away to the readers. However, all opinions are mine alone.
When I started eating more seafood, the first thing I did was to go on the lookout for recipes. After a whole big research project and many trials, we went to visit our daughter and son-in-law. There, he made Baked Salmon in Foil. By just topping it with olive oil and a rub, then baking!
And as simple as it was, it was delicious.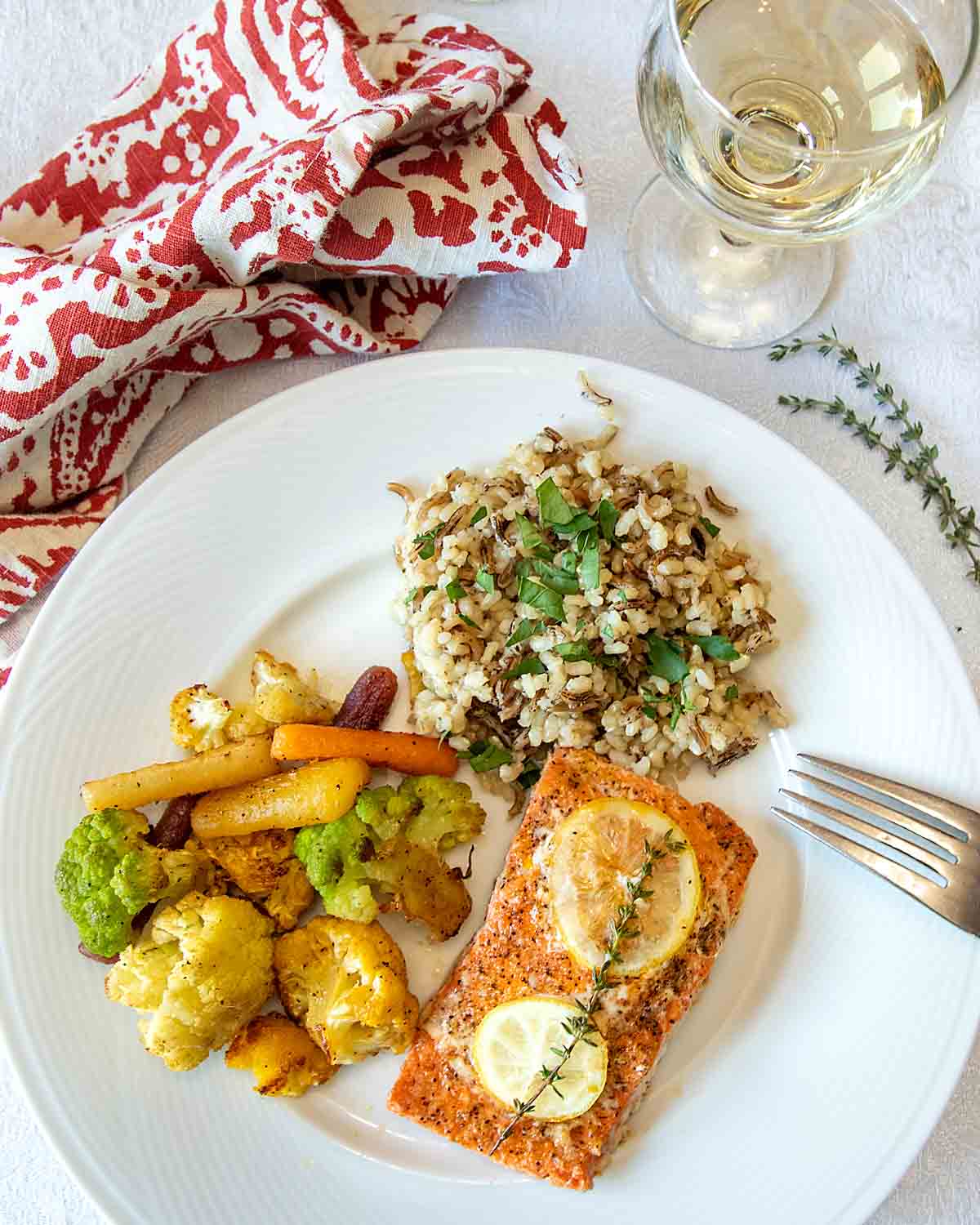 The Two Challenges
While I loved this method, I had a couple of qualms. First, you've got to get the rub flavor right to get tasty salmon. And second, I don't love cooking in aluminum foil both for the possibility of consuming some and for the certainty of creating waste.
Flavor
I give a lot of credit to people who blend their own spices. I enjoy a good experiment once in awhile, but a sure-fire blend can really be a whole lot easier. When Rainier Foods sent bottles of their spice blends, that problem was solved. Hooray!
I first tried the Smokey Honey which was a lovely combo of smokey and sweet. Then I used the Gochu, which uses a Korean chili to produce a flavor that I'd describe as all the flavor of chili with none of the pain (from too much heat). Yum and yummier!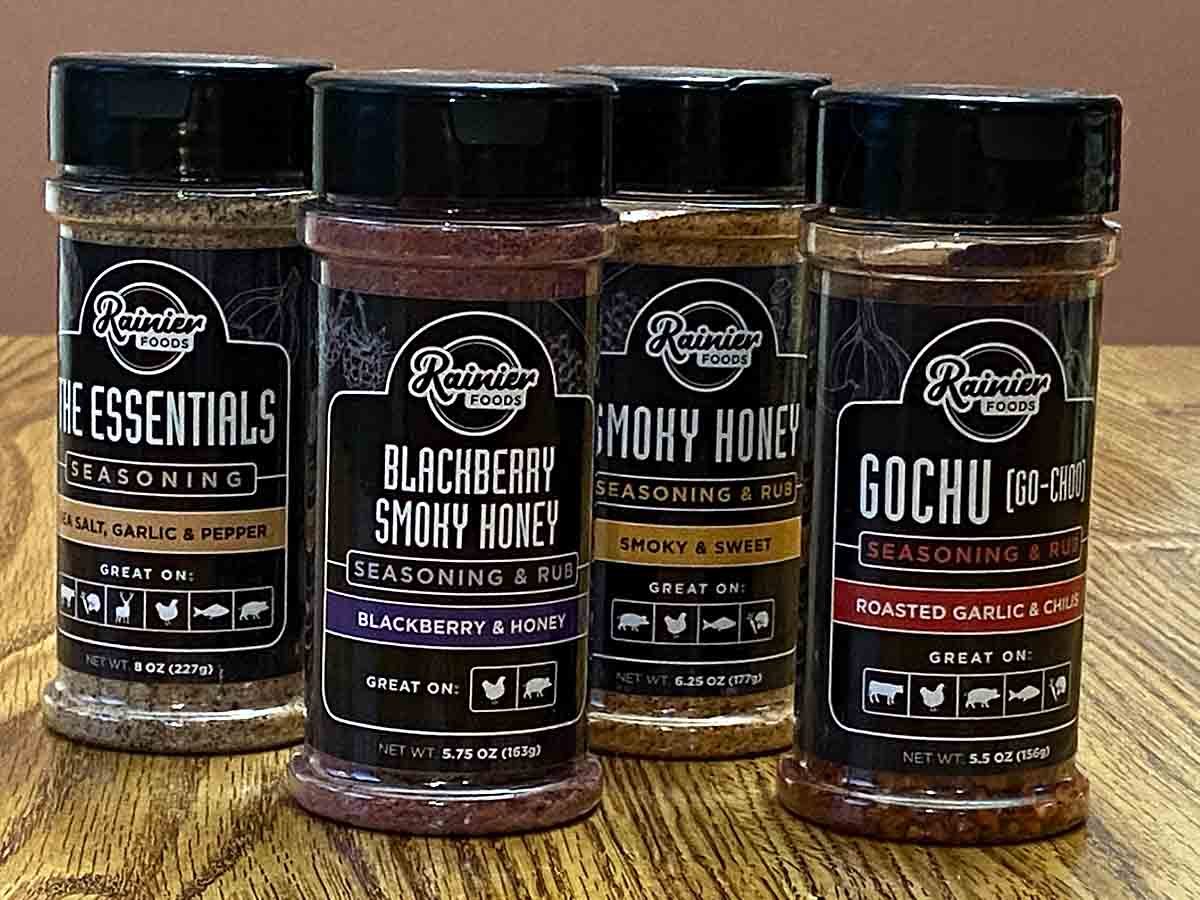 Foil
The foil part of Baked Salmon in Foil has two issues for me. First I worry about possibly leaching aluminum into my foods. And second, I cringe every time I toss a piece of aluminum foil in the garbage. While there are times there isn't a great alternative and I do always have it on hand, I wondered if I could find a better option for my salmon.
Ultimately, I found two beautiful alternatives that I discuss below.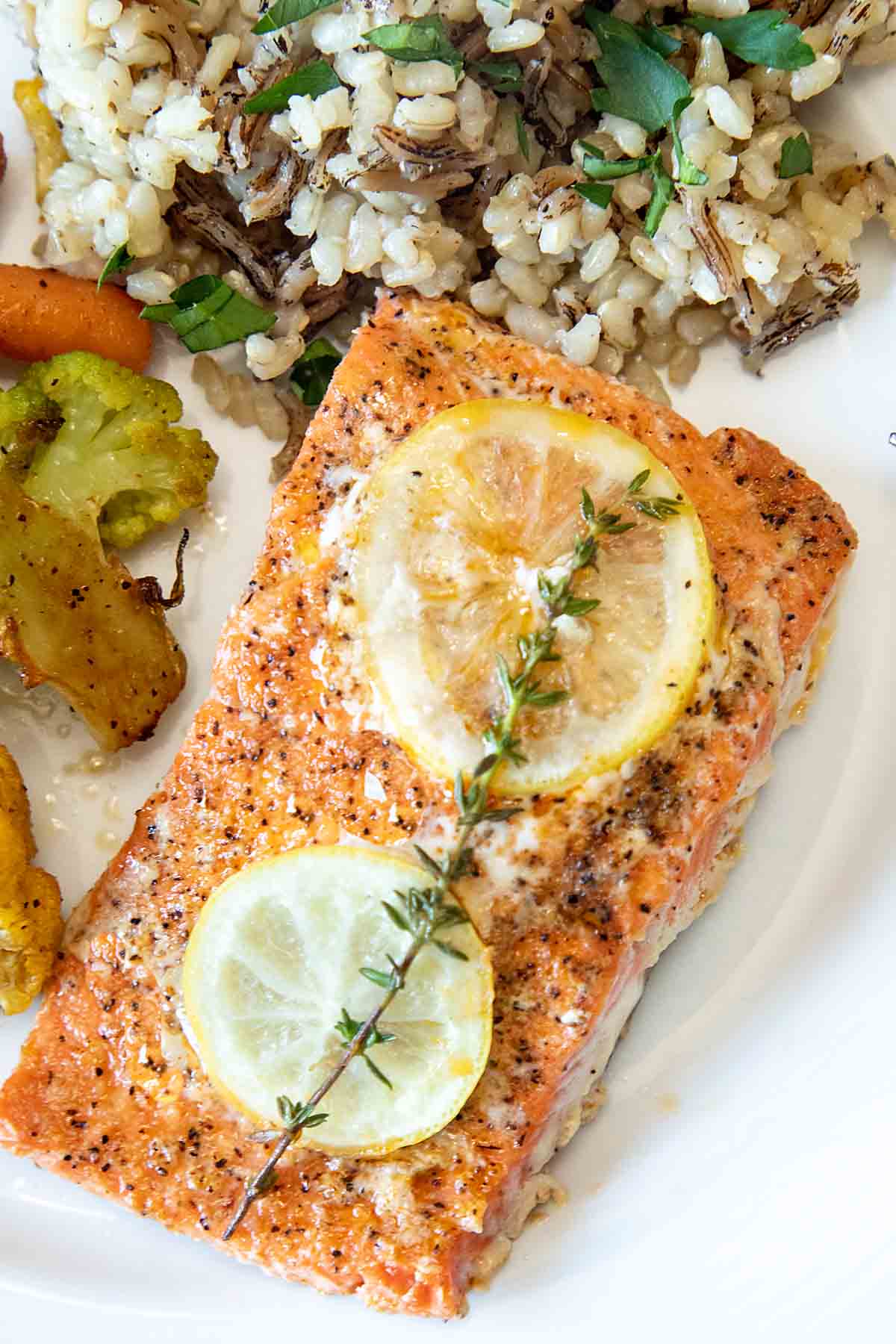 Why You'll Love This!
Quick & Easy. Depending on the thickness of the fish, this can cook in as little as 10 minutes.
Healthy. Raise your hand if you're trying to get more Omega-3 in your diet!
Tasty. I believe that healthy food still needs to taste great. And this absolutely delivers!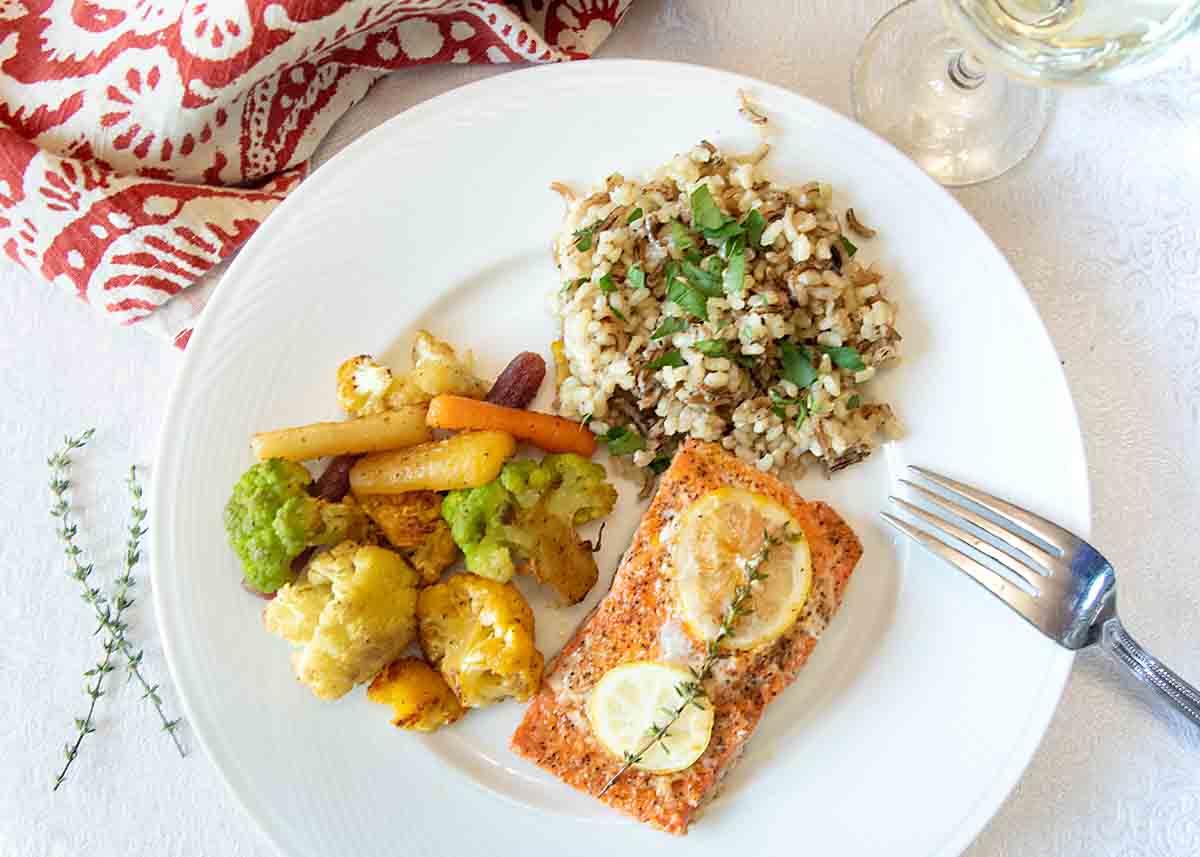 What You'll Need
Ingredients
2 6-ounce pieces of salmon
2 teaspoons olive oil
1 Tablespoon seasoning blend like Rainer Foods
Special Tools
Depending on what you cook this is, you may need an ovenproof silicone pouch that seals, a brasier or aluminum foil.
Step by Step Directions
Drizzle with olive oil.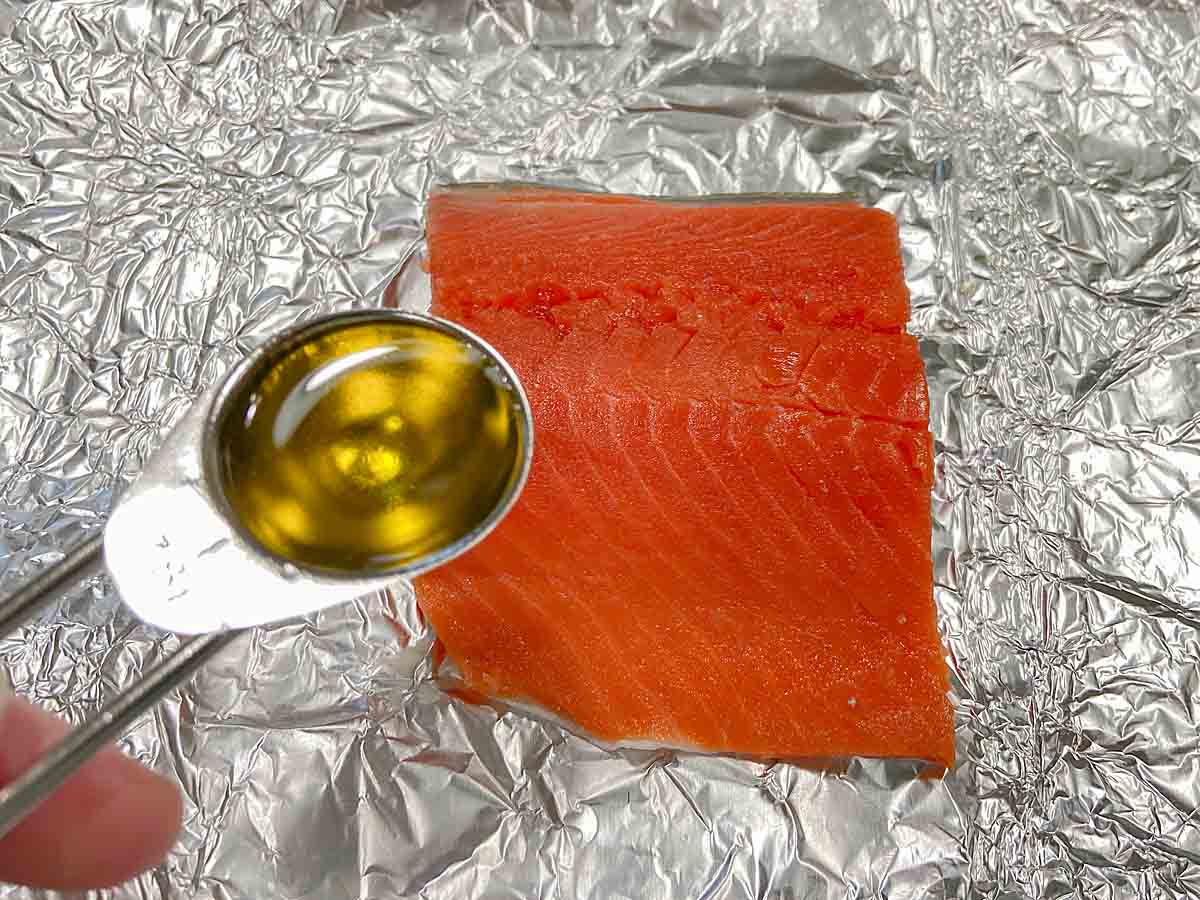 Sprinkle with seasoning.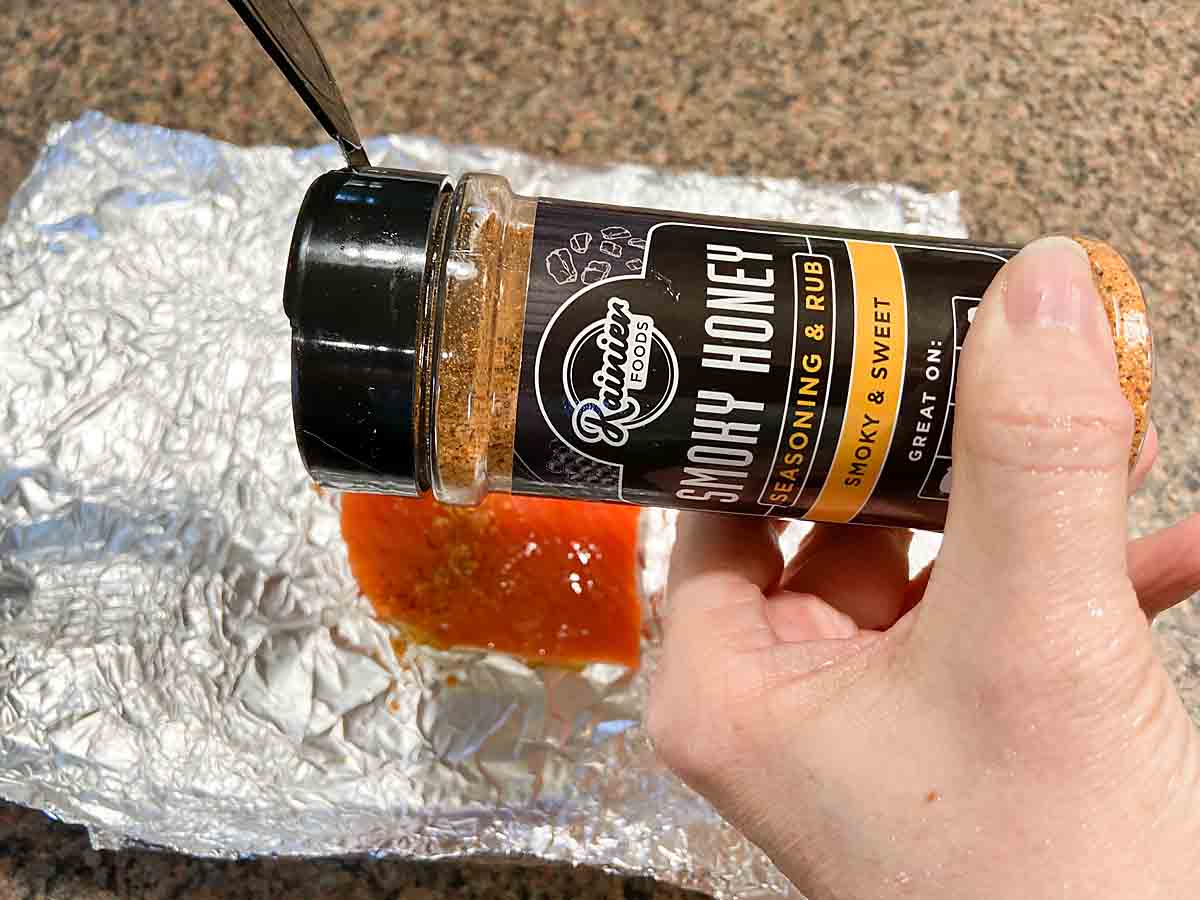 Optionally top with extras like sliced lemon and herbs (not needed for flavor with a good rub but looks good), seal and bake.
Two Greener Alternatives
If you are going to grill this for an outdoor BBQ, the foil is a great option and can withstand the occasional flame up. But if you are baking in an oven, I tested two greener options what were just as easy and delicious!
Cooking in a reusable silicone pouch
Ovenproof silicone is generally safe for cooking up to 425 F. For my second trial I cooked two pieces of salmon in a silicone pouch. I added oil and seasoning, then slid the fish into the pouch. Per directions, I zipped the pouch partway closed but left the end unsealed to vent. (I skipped the lemon and thyme this time).
The only challenge was pulling the fish out when done and I used a silicone tongs to help. The resulting fish was very tender and flavorful.
Baking in a tight lidded baking dish
For the final trial, I used a enameled cast iron braiser. It had a heavy lid that created a good seal, which would be my concern in using an ordinary casserole which might let a lot of moisture escape.
Since I had the space I added some asparagus which I knew would also cook quickly. I added olive oil and seasoning to both the fish and the asparagus.
The results were delicious again and the one negative was that it took about 5 minutes longer to cook to the same doneness. The positives were the added asparagus plus the fact that a braiser looks lovely on the table.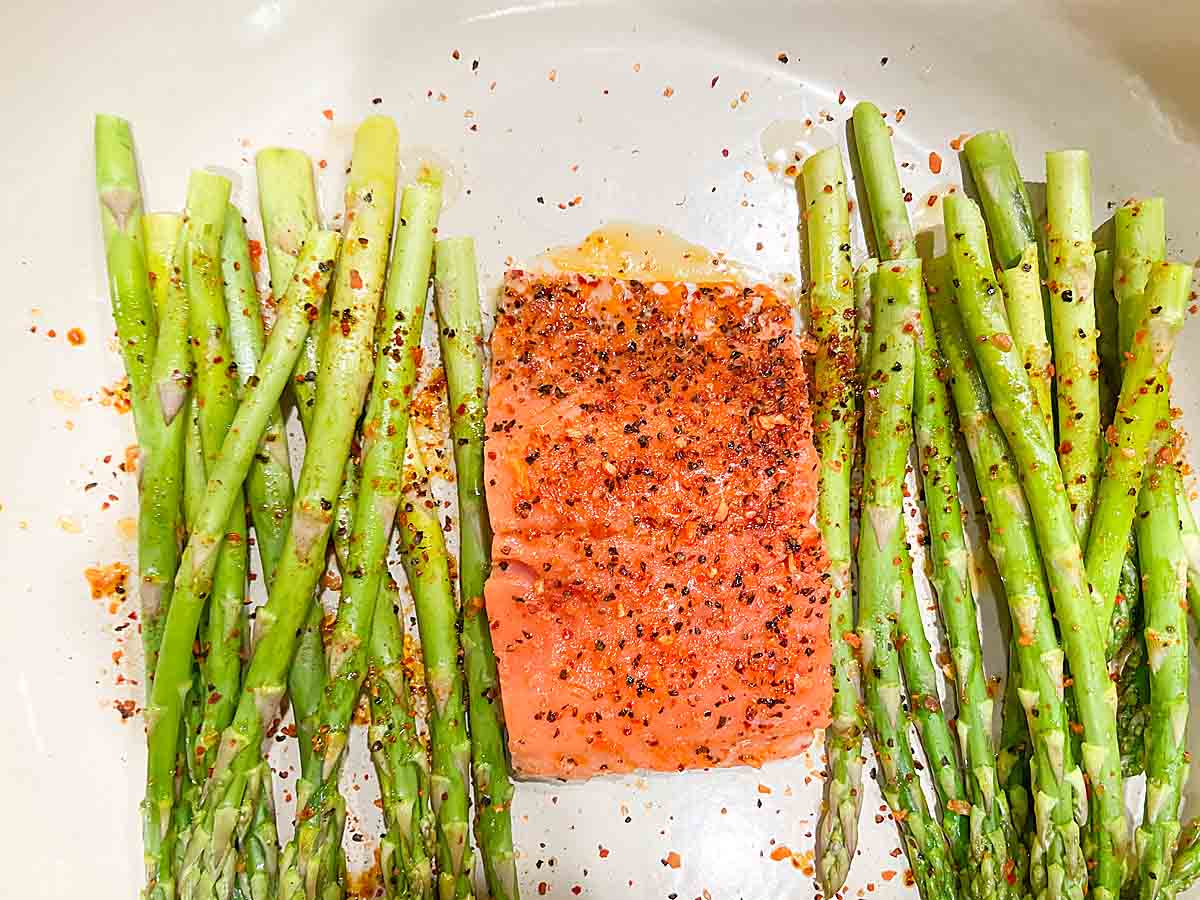 Conclusion
I was very happy to learn that either of my alternative cooking methods is a great option for Salmon in "Foil". The silicone is less expensive if you need to purchase something.
How to Serve
Starch Course. Rice is a perfect starchy side for seafood if you have the time–or a package of quick cook rice. But with my natural brown rice, I sometimes make extras during the week so all I need to do is reheat. Of course, for the very tops in convenience you can go with a nice crusty fresh bread!
Almost any vegetable goes with fish. But since your fish is cooking at 375F (less than roasting temperature for vegetables) consider a pan roasted recipe like this Pan Roasted Kohlrabi and Radishes or these Asparagus and Mushrooms.
Salad or Coleslaw. I'll add a salad to anything! I like this (Lettuce and) Berry Salad with seafood / or a nice coleslaw or carrot salad like this Carrot Raisin Salad.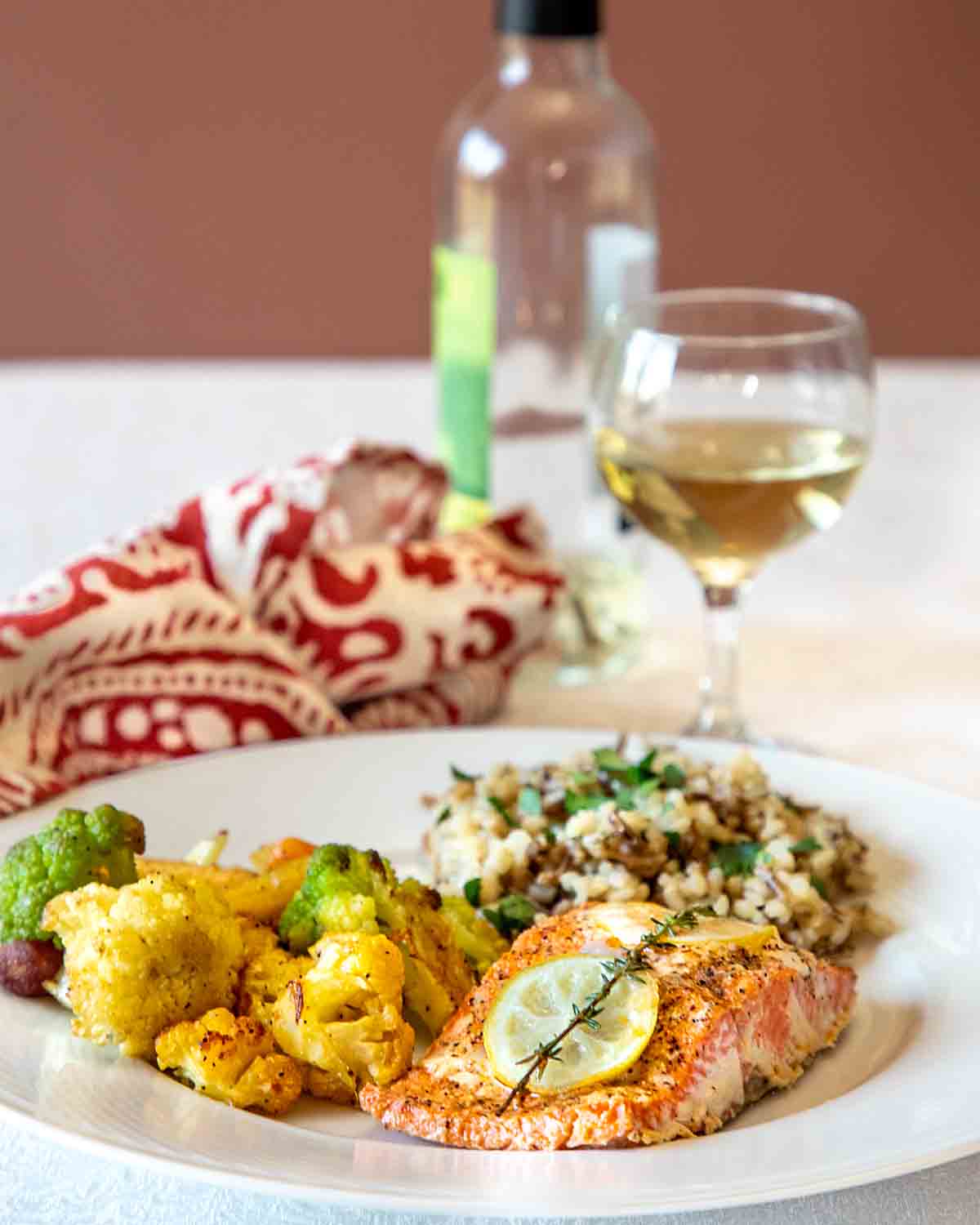 Variations
The easiest way to create variety is to change up the seasonings. Switching between two very different flavors can feel like a whole new dish.
You can also add a sauce. Consider layering your flavors like this Lemon Tarragon Salmon with Quick Bernaise Sauce.
Serve over pasta. Consider sautéing some extra garlic in olive oil for the easiest, super tasty pasta sauce, then top with your salmon.
Tips & FAQs
If your fillets have bones, you can use a fish bone tweezers or a very clean pliers to remove them before cooking.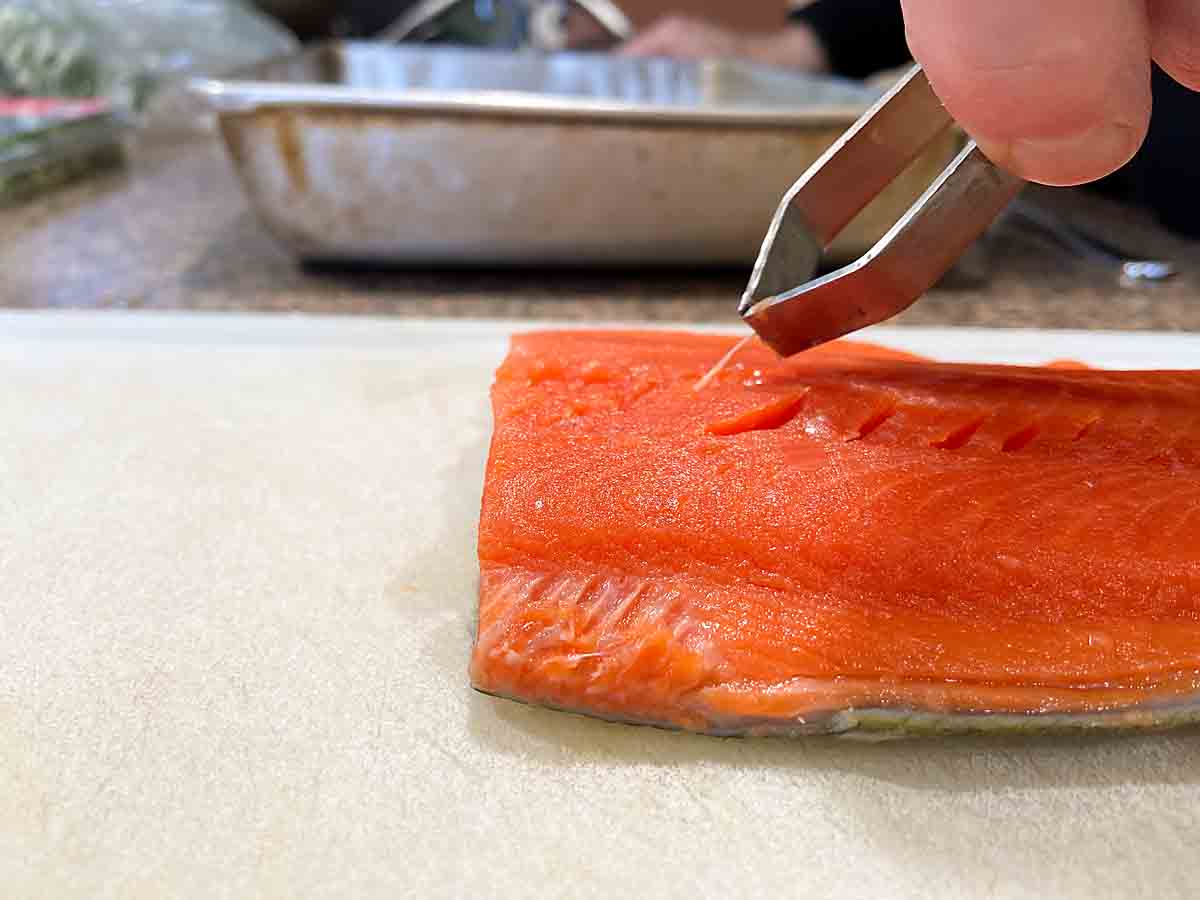 The FDA would like you to cook your seafood to 145F. But if you decide to eat it less well done, your risk will be reduced if you use sashimi grade salmon.
Cook in something with a tight seal, especially with wild salmon. This helps hold in moisture, and wild salmon is often less fatty than farm raised.
Check a packaged spice blend or rub for salt. If it's one of the top ingredients, don't salt your meat or fish before cooking. On the chance it isn't salty enough, you can always salt at the table.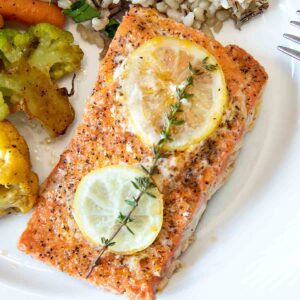 Baked Salmon in Foil
Is eating more healthy salmon on your to do list? If so, how would you like a super easy recipe for this Baked Salmon in Foil that can help? Even on a super busy day! 
Ingredients
12

ounces

salmon

2 6-ounce pieces

2

teaspoons

olive oil

1

Tablespoon

seasoning blend

like Rainer Foods seasoning

optional lemon slices, fresh herbs
Instructions
Lay salmon flat with skin side down. Drizzle with olive oil and sprinkle generously with seasoning.

If using foil or a braiser/Dutch oven, spray with non-stick spray. Transfer your fish to the foil and seal or cover with lid.

If using ovenproof silicone pouch, transfer fish and seal, leaving a bit of the end unsealed to vent. Place pouch on a baking sheet.

Bake at 375F to desired doneness. This was about 12 minutes for me in foil or silicone and about 17 minutes in the braiser. A thicker piece will take longer.

Remove to plate and serve.
Notes
The FDA suggests a final temperature of 145F but many people like their salmon less well done.
Nutrition
Calories:
296
kcal
Carbohydrates:
5
g
Protein:
34
g
Fat:
15
g
Saturated Fat:
2
g
Polyunsaturated Fat:
5
g
Monounsaturated Fat:
7
g
Cholesterol:
94
mg
Sodium:
77
mg
Potassium:
927
mg
Fiber:
3
g
Sugar:
0.3
g
Vitamin A:
194
IU
Vitamin C:
0.2
mg
Calcium:
139
mg
Iron:
4
mg
I am not a health professional and nutrition data is calculated programatically. Accuracy may vary with product selection, calculator accuracy, etc. Consult a professional for the best information.
Friday #BBQWeek Recipes
Starters and Sides
Dinners
Desserts