Asparagus & Mushrooms with Thyme
Do you love asparagus as much as I do? Someday I hope to have my own asparagus patch! How fun would it be to watch the sweet thin spears emerge in the spring! Asparagus gardeners, feel free to leave me tips!
Asparagus and Mushrooms is a dish that my mother has made for years. But not in my childhood, when all of our vegetables were mashed and soggy. But as cooking tastes changed, she adapted, and added stir frying to her repertoire. Vegetable sides were transformed!
I love asparagus enough to eat it all by itself, but the mushrooms, chopped onions & thyme give it a wonderful depth of flavor. It's even delicious inside an omelet. Thanks, Mom!
This dish is quick and easy—especially with pre-sliced mushrooms. Chop, stir fry, eat!
This year, spring has been insanely busy. It's my first time having two kids come home from college, then both transition to summer jobs in other cities. All within a couple weeks. It's been fun and crazy and I'm excited by the new experiences they will have.
And grateful to have quick and easy dishes like Asparagus and Mushroom that fit into any kind of crazy schedule without compromising nutrition or flavor!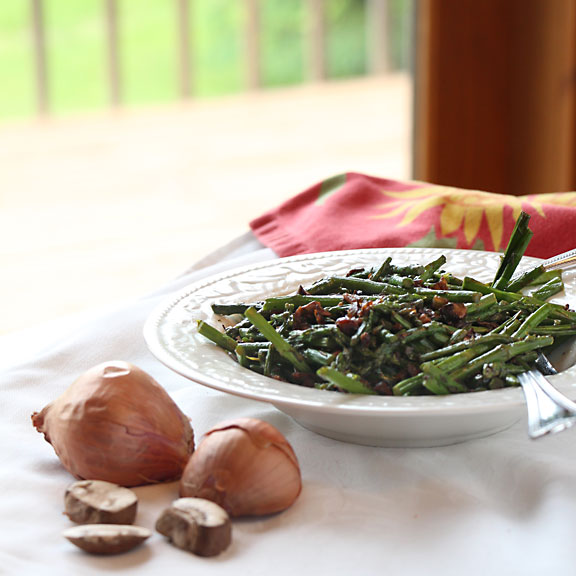 Asparagus & Mushrooms with Thyme
2016-06-05 11:49:10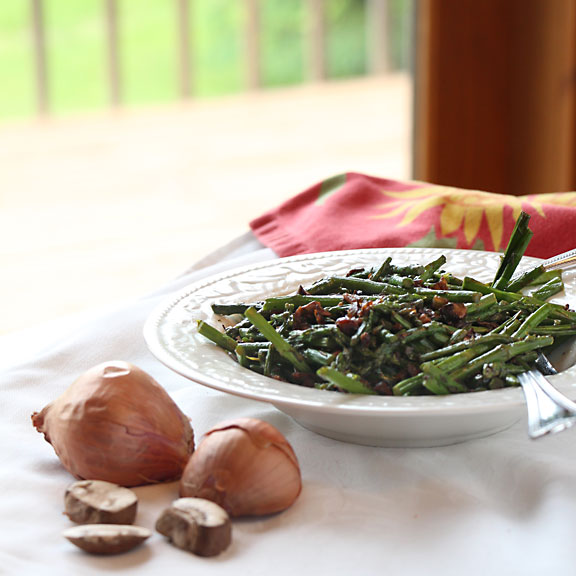 Serves 4
Stir frying mushrooms, asparagus, chopped onions, soy sauce & thyme gives Asparagus & Mushrooms with Thyme a wonderful depth of flavor.
Nutrition Facts
Amount Per Serving
* Percent Daily Values are based on a 2,000 calorie diet. Your Daily Values may be higher or lower depending on your calorie needs.
Ingredients
2 tablespoons olive oil, divided
1 shallot or small onion, chopped
4-5 ounces mushrooms, chopped
salt, pepper
12 ounces asparagus, cleaned & sliced in thirds
1 teaspoon fresh thyme or 1/2 teaspoon dried
1 tablespoon soy sauce
Instructions
Heat 1 tablespoon olive oil in a large frying pan with lid. Add chopped onion, chopped mushrooms, spinkle with salt, then sautee until tender, 5-10 minutes.
Add remaining 1 tablespoon olive oil, soy sauce, thyme and asparagus. Place lid on pan and steam for about 5 minutes until almost tender (if the pan is too dry add a tablespoon or two of water first). When almost tender, turn up heat and complete stir frying until done. Add pepper to taste.
Art of Natural Living https://artofnaturalliving.com/