Healthy Gummy Candy-Organic, Two Ingredients!
Gummy candy–gummy bears, gummy worms, and in my case bunnies and duckies–holds a fascination for kids that I will never understand. But since my kids do love them, I have decided to make them healthier. Easter is coming up after all! Healthy gummy candy–who would have thought!
My inspiration came from blogger Rachel whose cute treats which were cut with a mini cookie cutter. I was looking to do small Easter shapes, which meant I would need to order a mold. I ended up with a plastic mold which has limited heat tolerance but since gelatin dissolves even in lukewarm water (or juice), all was well.
These "treats" have a mere two ingredients–juice (I used organic) and gelatin (I used organic from here). Once I got the ratio of juice to gelatin right, they were easy. On my first attempt, I used the ratio on the package. While my juice did gel, it was squishy and my poor little bunnies had to be scooped, shapeless, out of the mold.
For flavoring, I used three different "juices"–apple cider frozen last fall, grape juice canned last fall, and some strawberry pancake syrup canned last fall and diluted with apple cider (my favorite). I decided that more flavor was better and next year may try a concentrate. My taste tester daughter, however, thought they were all good.
I did have one big failure after the initial one. I tried using some blackberry syrup without diluting and it never gelled. When I went to clean up I could feel little grains of un-dissolved gelatin, so that is my take-away lesson. Make sure your gelatin is really dissolved (tilt the pan and check for grains as the juice slides away). In the thickness of the undiluted syrup and my complacency after three good batches in a row, I missed this.
For everything you always wanted to know about working with gelatin (alas discovered after I'd completed these), take a look at this. With peanut butter cups done and homemade peeps scheduled for later in the week, I think my homemade Easter candy project is starting to come together!
Note: none of the links here were compensated or gave me anything free. I just know how long I looked for organic gelatin and the right mold and wanted to share these with you.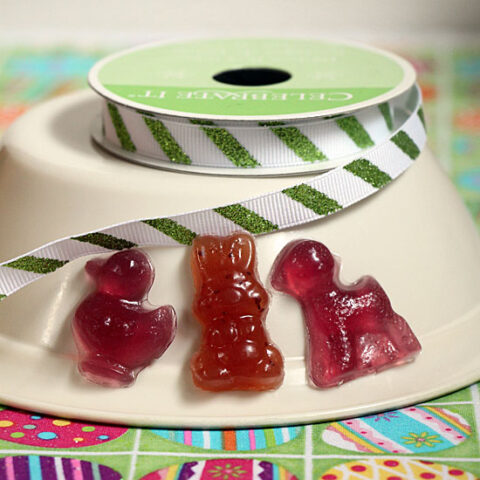 Gummy Candy
Inactive Time:
30 minutes
Ingredients
1/2 c apple cider or other juice
3/4 oz gelatin, or 2 T
Non-stick spray, optional, you can carefully pry them out without this, but it makes it so much easier
Instructions
Pour juice into small saucepan. Sprinkle gelatin thinly over juice, stir with a fork and let sit 5 minutes.
Heat on lowest setting and stir periodically with a fork. If juice gets hotter than lukewarm, remove from heat for awhile, but keep stirring. Continue until gelatin is dissolved (check for undissolved grains by tilting the pan), about 5 - 10 minutes.
Remove pan from heat and skim any foam (it's okay if you don't get it all).
Spray mold with Pam and spoon in juice mixture.
Cool in refrigerator until set, from 30 minutes to a couple hours.
Remove carefully from mold. Store sealed in the refrigerator.
Notes
Calories based on two candies and will vary based on the juice used.
Without preservatives these do not last as long as conventional candies, so store sealed in the refrigerator and try to use within a few days.

Nutrition Information:
Yield:

13
Serving Size:

2
Amount Per Serving:
Calories:

18
Total Fat:

0g
Saturated Fat:

0g
Trans Fat:

0g
Unsaturated Fat:

0g
Cholesterol:

0mg
Sodium:

14mg
Carbohydrates:

3g
Fiber:

0g
Sugar:

3g
Protein:

1g
Nutrition data accuracy may vary with product selection, calculator accuracy, etc. Consult a professional for the best information.