M&M Cookies in a Jar (with Printable Tags)
Need a last minute idea for an Easter (or any other occasion) gift? How about M&M Cookies in a Jar? These are going into my kids' Easter baskets this year.
It started with the commitment to eat (mostly) out of my pantry this month. I had already bought the holiday colored M&M's so this seemed like a perfect addition. By adding M&M Cookies in a jar to my healthy gummy candy, peanut butter cups, peeps, and naturally colored eggs, I think we'll make a go of this. I'll post a picture of one of the baskets on Facebook when Easter comes.
The recipe started with my Oatmeal M&M Blondies so I thought this post would be really easy. Alas I discovered that blondies are too thin to hold a cookie shape and had to make changes. After a few rounds of tweaking and 2 lb of weight gain, I realized the new version was identical to recipes already out on the web. I guess I should have tried the internet in the first place!
These gift jars are easy to make and my girls are excited to be getting them since since who knows when you might have a cookie emergency. You start by filling a one quart jar with:
1 1/2 c flour
1 t baking soda (mix in with the flour)
3/4 c M&Ms (half a package)
1 c oatmeal
1/2 c brown sugar
1/2 c white sugar
The ingredients can go in in any order (alternating colors), but you should put the M&M's lower in the jar since they are the cutest part! You will need to push down on the flour and brown sugar in the jar to make sure everything fits. If you are shipping and want something unbreakable, a 32 oz (washed) plastic mayonnaise jar also works great.
To prepare the cookies, add the following to the contents of the jar:
1/2 c butter, very soft/slightly melted
1 t vanilla
2 beaten eggs
Then you bake 14-16 minutes at 350 on a greased or parchment lined cookie sheet. The recipe makes about 24 cookies. For instruction tags, just print the attachment on cardstock or stiff paper and cut out.
There was one other interesting thing that I learned. Ever had a problem with cookies spreading too much? Well I had some batches that were fine and others spread more than I liked so I did some research. I learned that some brands of butter may contain more water and I had switched brands midway through. I went back to the original (Trader Joe's) and… problem solved! The other tip I got was to just slightly melt the butter–if you get it really hot, that may increase spread as well.
Happy munching!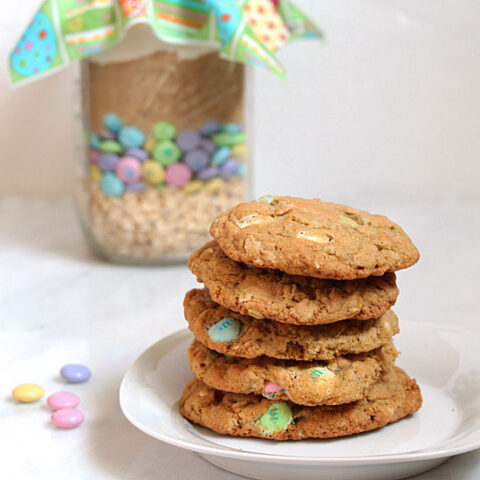 Oatmeal M&M Cookies (in a Jar if you Like)
Ingredients
1 1/2 c flour
1 t baking soda, mix in with the flour
6 oz M&M Plain Candies, 3/4 c or half a package
1 c oatmeal
1/2 c brown sugar
1/2 c white sugar
1/2 c butter, very soft/slightly melted
1 t vanilla
2 eggs, beaten
Instructions
Combine all ingredients.
Form into 1 inch balls and place on greased or parchment lined cookie sheet.
Bake at 350 F for 14-16 minutes, until just slightly golden.
Place cookies on rack to cool and eat warm or cool.
Nutrition Information:
Yield:

12
Serving Size:

2
Amount Per Serving:
Calories:

321
Total Fat:

12g
Saturated Fat:

7g
Trans Fat:

0g
Unsaturated Fat:

4g
Cholesterol:

53mg
Sodium:

190mg
Carbohydrates:

48g
Fiber:

1g
Sugar:

25g
Protein:

5g
Nutrition data accuracy may vary with product selection, calculator accuracy, etc. Consult a professional for the best information.