Chocolate Chip Zucchini Muffins (or Bread)
Two weeks into CSA season and I am already behind–at least on zucchini. After 17 years of membership, you think I'd have figured this out! I mean, I could see this in August, but June?
Fortunately, I have an easy solution—chocolate chip zucchini muffins (a recipe that also works great as bread). With three zucchinis in my fridge I doubled the recipe. We'll eat half now and half will go into the freezer for blistering days when it's too hot to bake.
Problem solved—mmmm!
I got the original recipe many years ago from a coworker in my first job out of college. She had a farming background and was great at solutions like this (thanks, Carol!). I have, of course, healthied it up as usual.
Zucchini Muffins (or Bread)
Ingredients:
3 cups grated zucchini (about one or a bit more medium zucchini)
1/2 cup melted butter, oil or coconut oil (I use coconut oil)
1/3 cup milk (if using previously frozen zucchini, reduce or omit this)
3 eggs, beaten
1 teaspoon vanilla
1 cup oat bran or unbleached flour
2 c whole wheat flour
1 1/2 cups sugar
1 1/2 teaspoons baking powder
1 teaspoon baking soda
1 tablespoon cinnamon
1 teaspoon salt
1/2 teaspoon ginger
(Optional) 3/4 cup chopped nuts & 3/4 cup dried fruit OR 1 cup chocolate chips
Directions
Mix first five (liquid) ingredients.
Combine dry ingredients.
Stir wet and dry ingredients together, then add chocolate chips or nuts/dried fruit, if using.
Bake at 350 F. Muffins take about 25 minutes, bread 1 hour or a bit longer. Test for doneness with a toothpick.
Makes 2 (smaller) loaves or 24 muffins.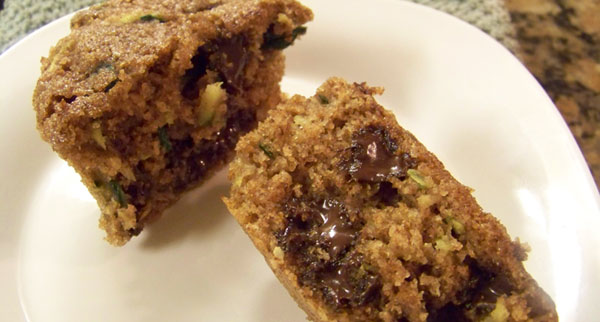 Save
Save
Save