Award Winning Chocolate Chip Zucchini Muffins
With whole grains and less oil, these award-winning Chocolate Chip Zucchini Muffins are healthy and even beat conventional muffins! Turn your excess zucchini into a win!
When I first started blogging, I decided to try my hand at the baking contest at the Wisconsin State Fair. And since I try to be a healthier cook, I simply entered my healthy recipes. One of the categories was zucchini muffins.
On the day of competition, not knowing what to expect, I sat down to watch the judging. And I quickly grew concerned. The judges kept talking about perfect domes and light crumb. My whole grain Chocolate Chip Zucchini Muffins were totally flat and, well, just slightly dense.
In the end, however, I needn't have worried. All my recipes placed and these muffins came in second—even after deducting for their "flaws". Yes, the judges agreed, the flavor really was over the top!
I felt the thrill of victory, but not even for myself. I considered it proof that healthy could go head to head with even the best conventional cooking!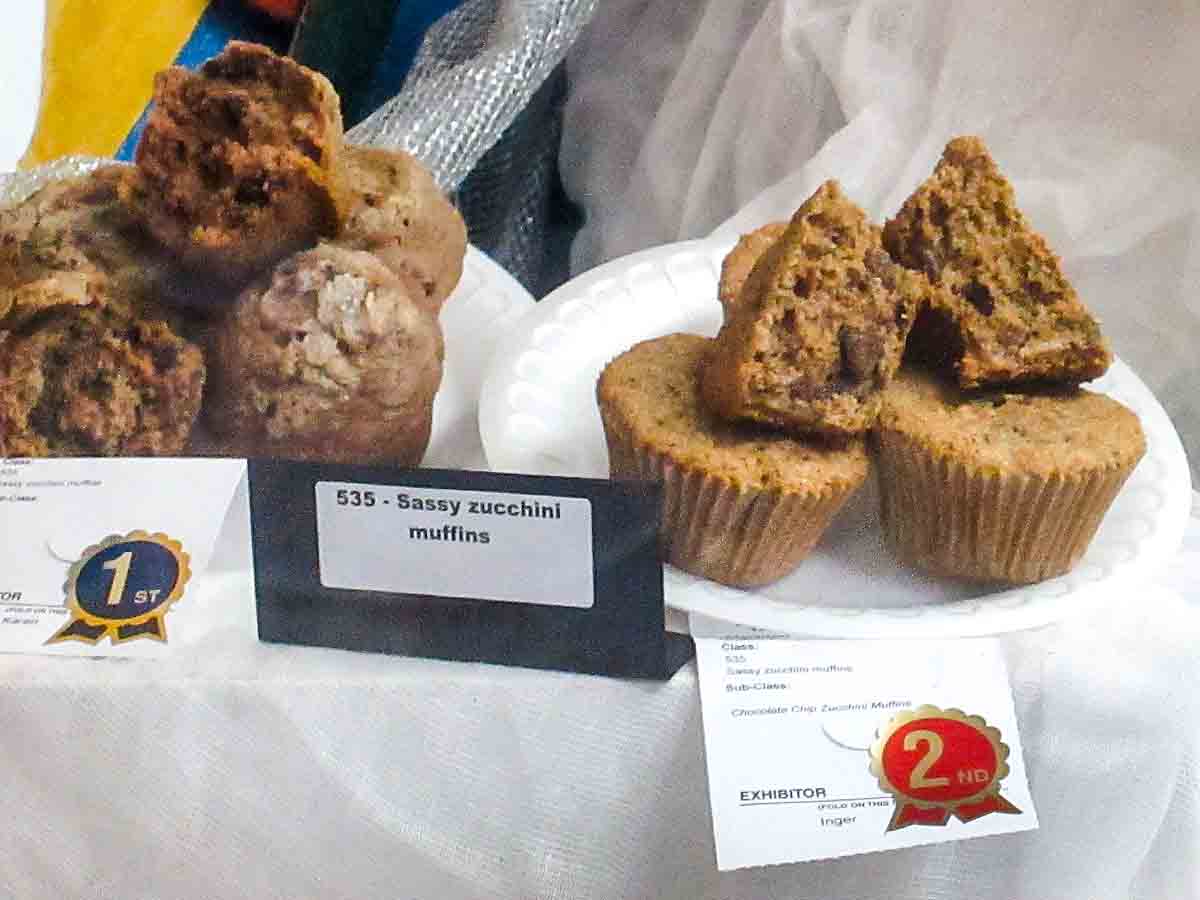 Making Healthy Competitive
The competition was an interesting experience. It was my first exposure to the formal traits of good baking and I learned a lot. The judges, all cooking professionals and instructors, provided plenty of tips!
Yes, originally I had thought they might say that a flatter top (or denser texture or…), is appropriate for a whole wheat muffin. But in the end, the competition was head to head.
Happily, as I said, healthy was up to the task! Feel free to check out my other entries, Lemon Lavender cookies (okay not healthy) and Honey Whole Wheat Bread. And when the judges commented, "this bread has an amazing rise for a 100% whole wheat bread," it totally made my day!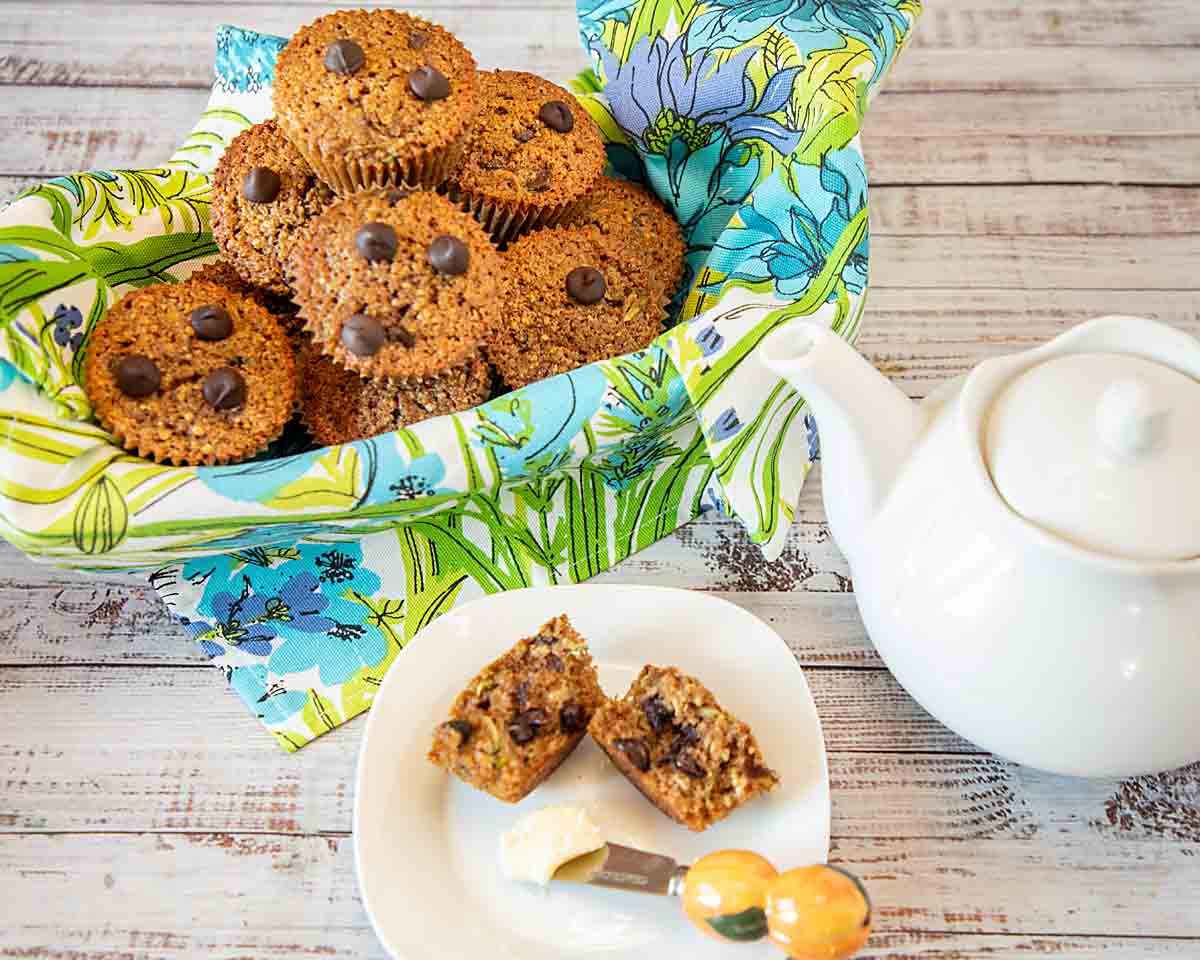 Why You'll Love This!
Healthy. With whole grains and less oil, this is healthier than your average muffin!
Tasty. These have so much flavor that no one will know they are healthier (shhh)!
Convenient. I love having muffins around. They're great as a side or as a snack and can even be breakfast in a pinch. You aren't busy, are you?
What You'll Need
Ingredient Notes
Zucchini. This uses about one smaller zucchini or part of a medium or large one.
Coconut oil. I use coconut oil since it boosts the flavor and tastes sweeter. But you can substitute butter or another oil.
Milk. This adds liquid and blends the ingredients together.
Egg. This helps to hold the ingredients together and to create lightness.
Vanilla. This adds flavor.
Oat bran. This adds flavor and fiber. If you don't have oat bran, you can substitute unbleached flour.
Whole wheat flour. You can also use while whole wheat (though you can't even tell these are made with whole wheat)
Sugar. This adds sweetness.
Baking powder, soda. These create lightness and help the muffins rise.
Cinnamon, Ginger. These add flavor.
Salt. For flavor.
Special Tools
You'll need a muffin pan. Muffin cup liners are also suggested–I like unbleached like these.
Step by Step Directions
I start by grating the zucchini.
Then mix together the liquid ingredients.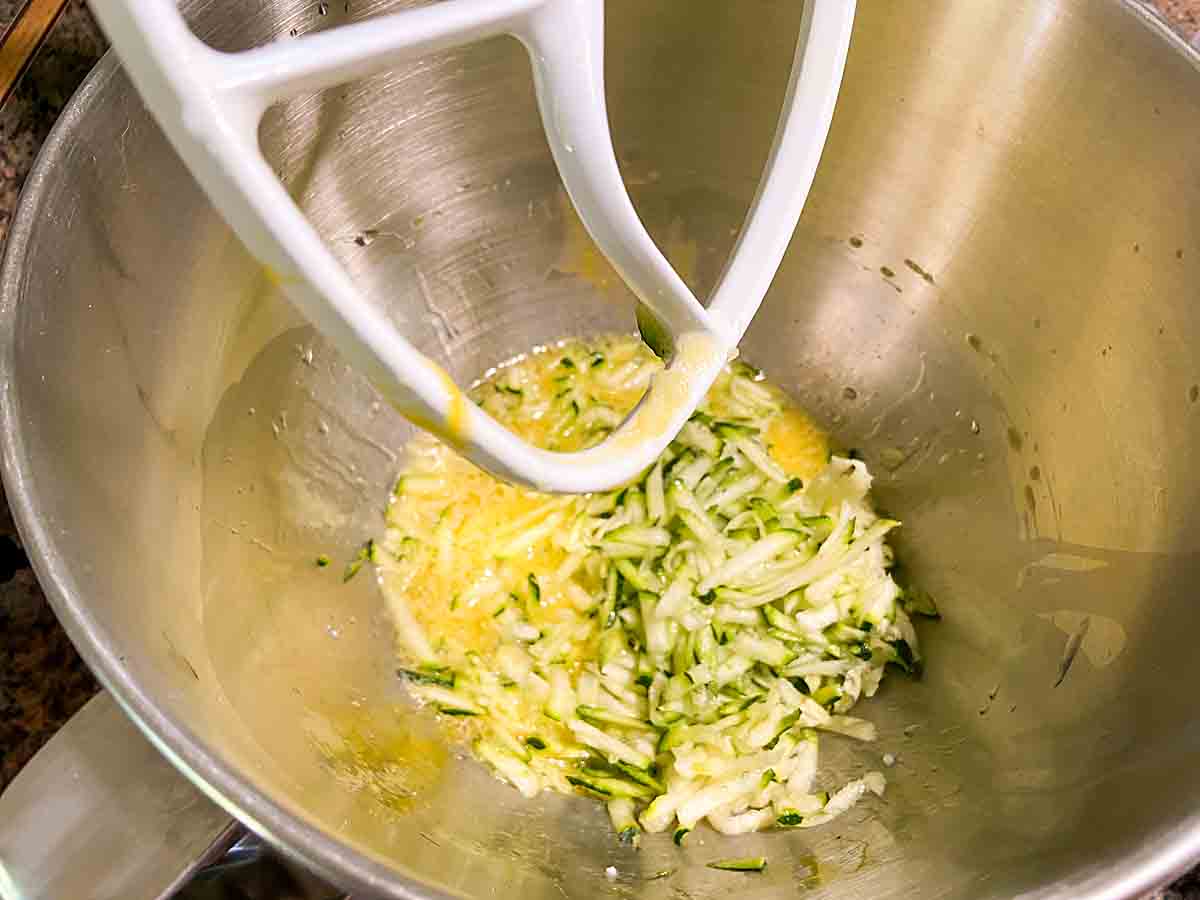 Next I combine the dry ingredients and mix them in.

Finally I add the chocolate chips
Measure into muffin cups and bake.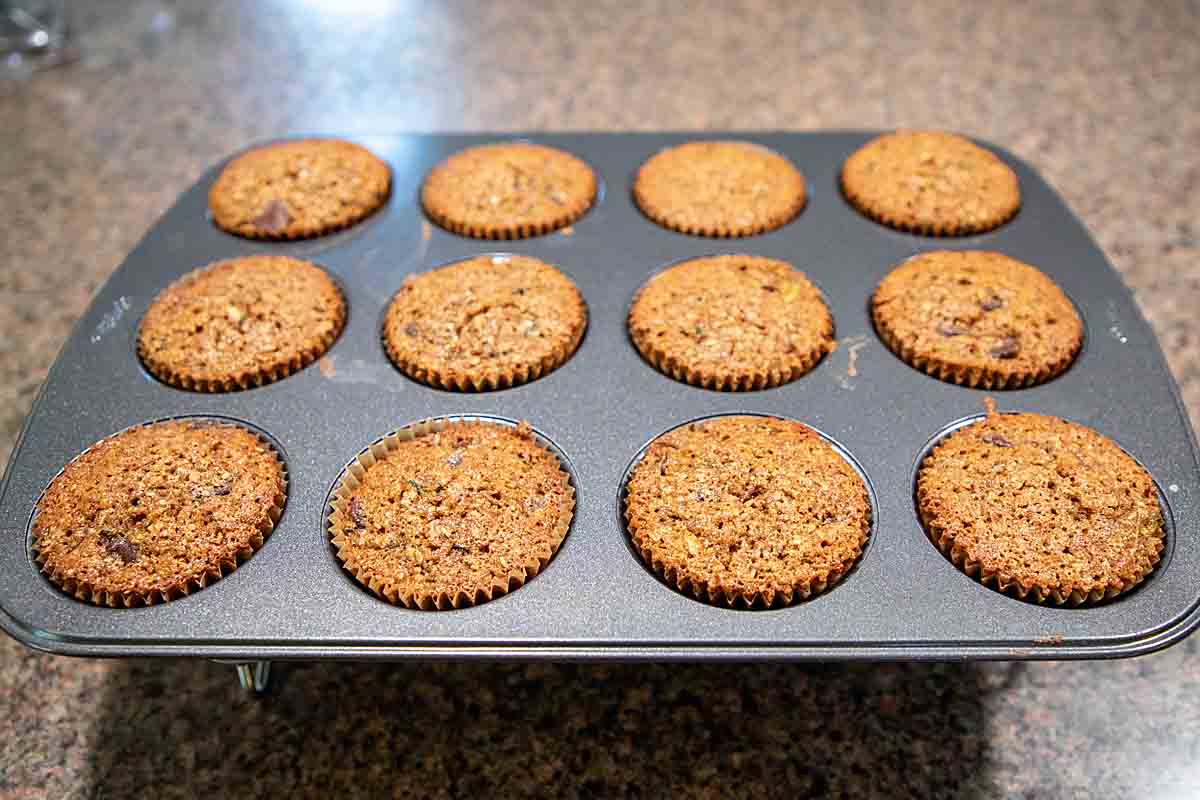 How to Serve
Chocolate Chip Zucchini Muffins are a delicious side served with a meal. Use them as your starch course–or even as an extra side. They work especially well to bulk up a meal for growing kids and sports-minded teens. Or husbands who are in training for a 50 mile bike ride and eating like a horse. Not naming any names.
I love to put together a basket containing a variety of muffins (or muffins and bread) at a brunch or bigger breakfast. It's even a nice addition at a formal dinner.
And of course they're great as a snack or on the run breakfast.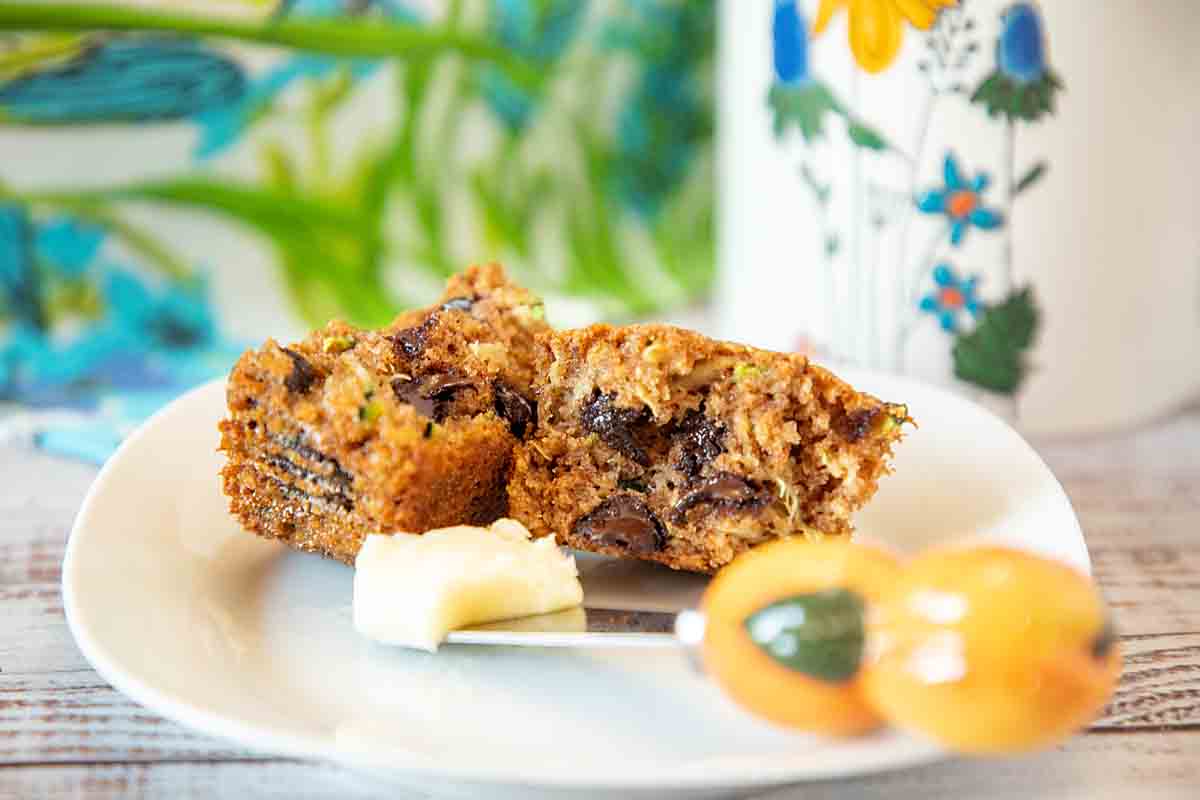 Variations
Not enough chocolate for you? Add ½ cup unsweetened cocoa powder for double chocolate zucchini muffins!
Serving a non-chocolate lover (is that an oxymoron) or just want a change? Instead of chocolate chips, you can use ½ cup of raisins and (optionally) ½ cup of nuts. Then they'll be raisin zucchini muffins of course! Still healthy!
Can I make this as bread? I have a note in the original recipe that this can be made as a small-ish loaf of bread, in which case it needs to bake an hour or a bit longer. Truthfully, I like it as muffins so much that I haven't done the bread in years.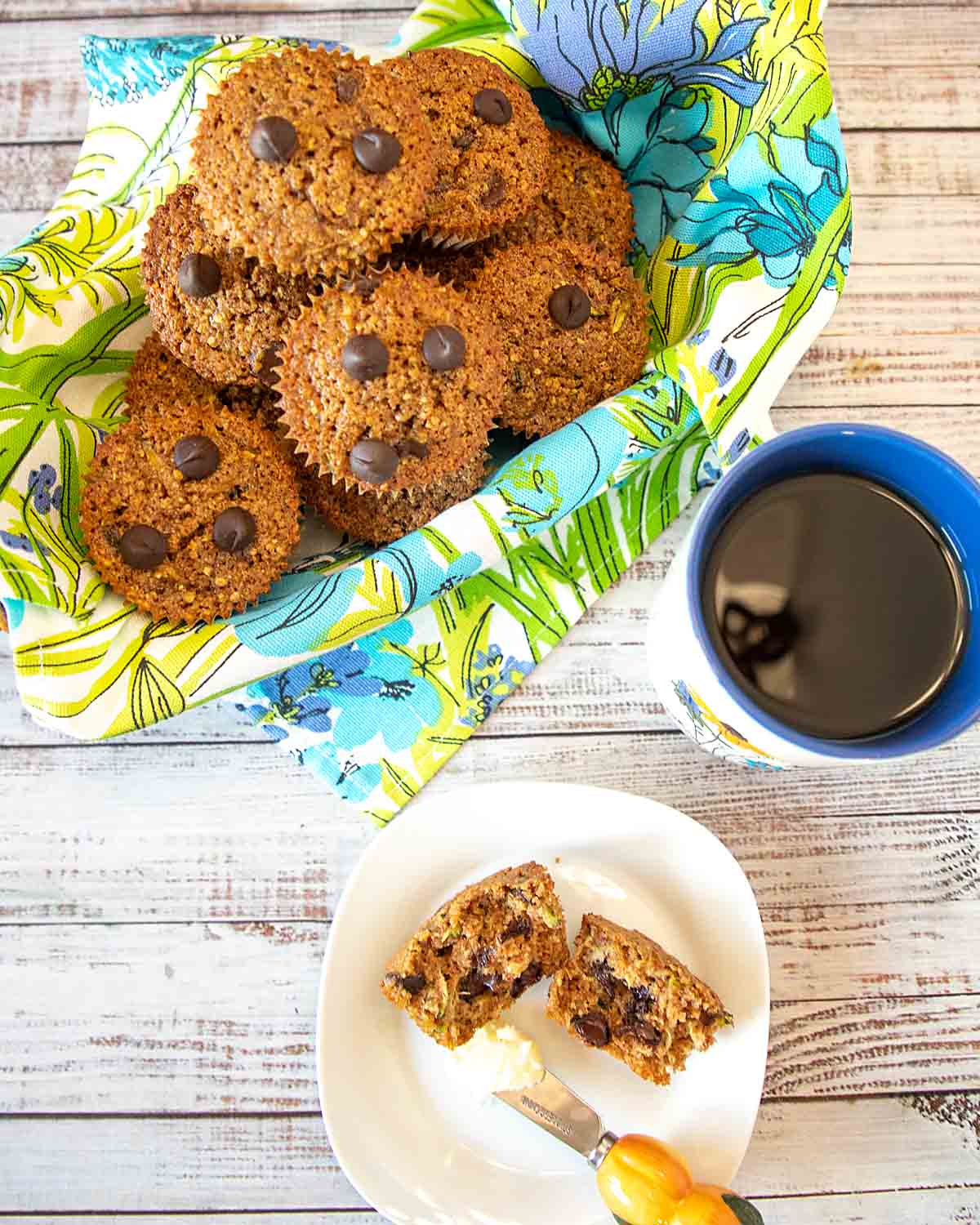 Leftovers
Because these are a moist muffin, they won't last as long as something drier. I'd try to finish within 3-4 days (rarely a problem) or freeze some of the muffins since they freeze beautifully.
When I had kids at home I always doubled the recipe—and sometimes quadrupled it! We'd eat half right away and half would go into the freezer for blistering summer days when it's too hot to bake.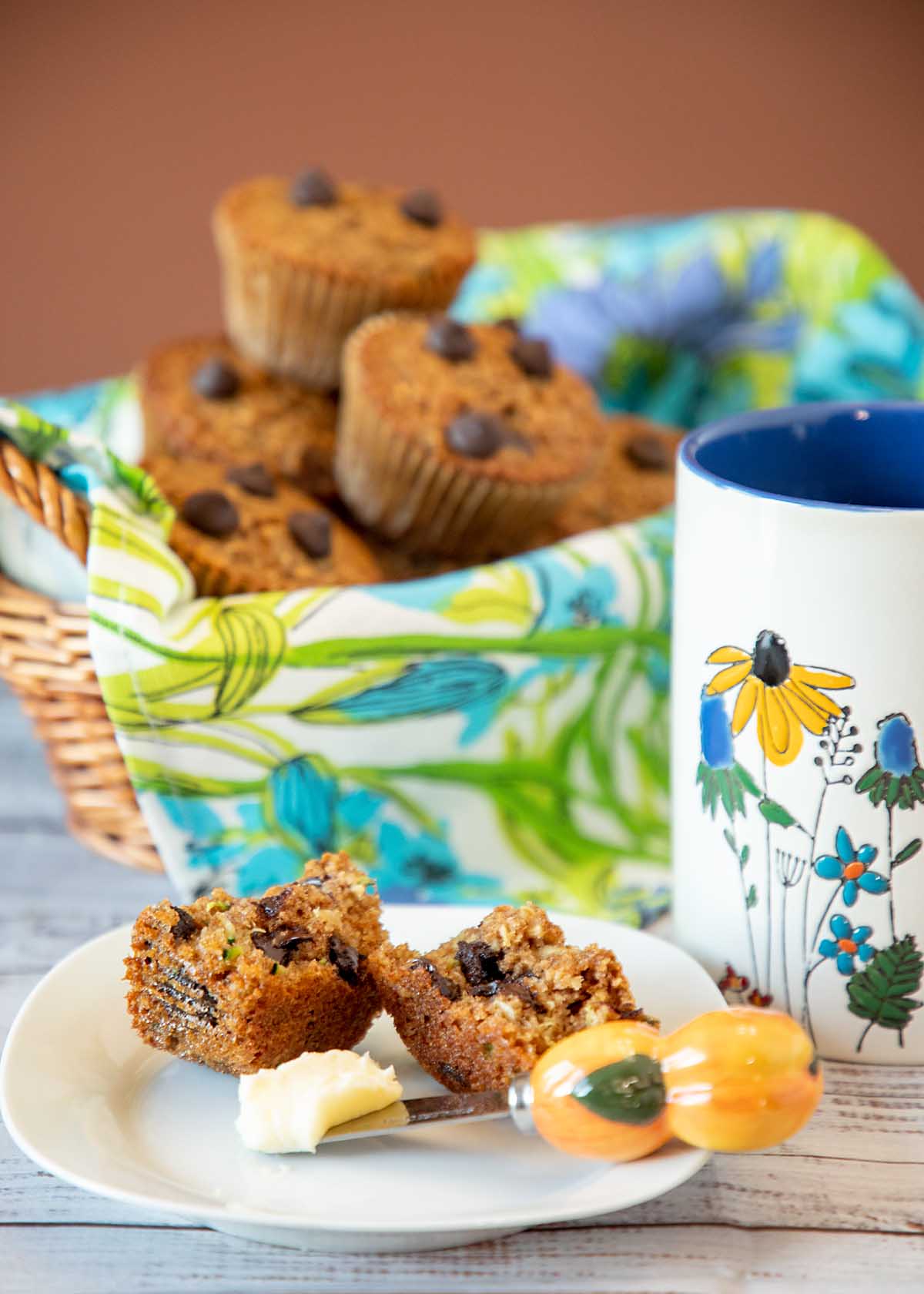 Tips & FAQs
Do I need to grate the zucchini very fine? No. As long as you aren't serving kids who balk if they see a speck of green, coarsely grated is fine. It even contributes to the "healthy" feel of the muffin. I just grate on a regular grater and it's so fast I don't even consider taking out the food processor.
Can I use frozen zucchini? When my kids were young, I used to grate and freeze zucchini, pre-measured for this recipe. Then I'd to make it all winter. Unlike using frozen fruit, you will need to thaw the zucchini first. I also omit or reduce the milk then, since frozen zucchini adds a lot more moisture (this is noted in the recipe).
Can I reduce the oil even more or substitute applesauce? Not without compromising results. In extensive testing, I found that the minimum amount of oil in a 12 muffin recipe is really ¼ cup. Going lower tends to deliver a product that is less moist and stales rapidly (water evaporates but oil doesn't). Plus the coconut oil adds a lot of flavor (coconut haters, feel free to sub a different oil). In any case, ¼ cup is a mere 1 teaspoon of oil per muffin.
Looking to churn these out efficiently? I found that using a 1/4 cup measuring cup worked very well to fill the muffin cups. Someday I intend to get all those appropriately sized scoops 🙂 but until then…
On the size of chocolate chip packages. Back in the day, chocolate chips consistently came in 12 ounce packages (or 6 ounces for the small size). Recipes were sized accordingly. Today I see some 12 ounce packages (many brands) but also 9 ounce and 10 ounce. So I've given up and just do what's best for the recipe, measured in cups. Extras are always fun to munch or delicious in chocolate chip pancakes!
Costco even sells a bulk bag at discount, as do some other other brands. If you are a big user of chocolate chips, that is a cost-saving option to consider!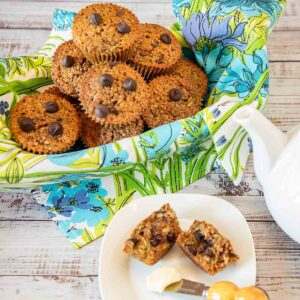 Chocolate Chip Zucchini Muffins
With whole grains and less oil, these award-winning Chocolate Chip Zucchini Muffins are healthy and even beat conventional muffins on taste! Turn your excess zucchini into a win! 
Ingredients
1 1/2

cups

grated zucchini

1/4

cup

coconut oil

(melted, or other oil)

2

Tablespoons

milk

(any type or fat)

1

egg

(beaten)

1

teaspoon

vanilla

1/2

cup

oat bran

1

cup

whole wheat flour

3/4

cup

sugar

1/2

teaspoon

baking powder

1/2

teaspoon

baking soda

2

teaspoons

cinnamon

1/4

teaspoon

ginger

1/2

teaspoon

salt

3/4

cup

chocolate chips
Instructions
Mix zucchini, oil, milk, beaten egg and vanilla

Stir wet and dry ingredients together, then add chocolate chips

Bake at 350 F.  Muffins take 20-25 minutes, bread 1 hour or a bit longer.  Test for doneness with a toothpick.
I am not a health professional and nutrition data is calculated programatically. Accuracy may vary with product selection, calculator accuracy, etc. Consult a professional for the best information.
Originally posted Jun 19, 2012