Carrot Cake Cupcakes #SpringSweetsWeek
Brighten up everyone's day with these flavorful and moist Carrot Cake Cupcakes that are perfect for Spring and Easter.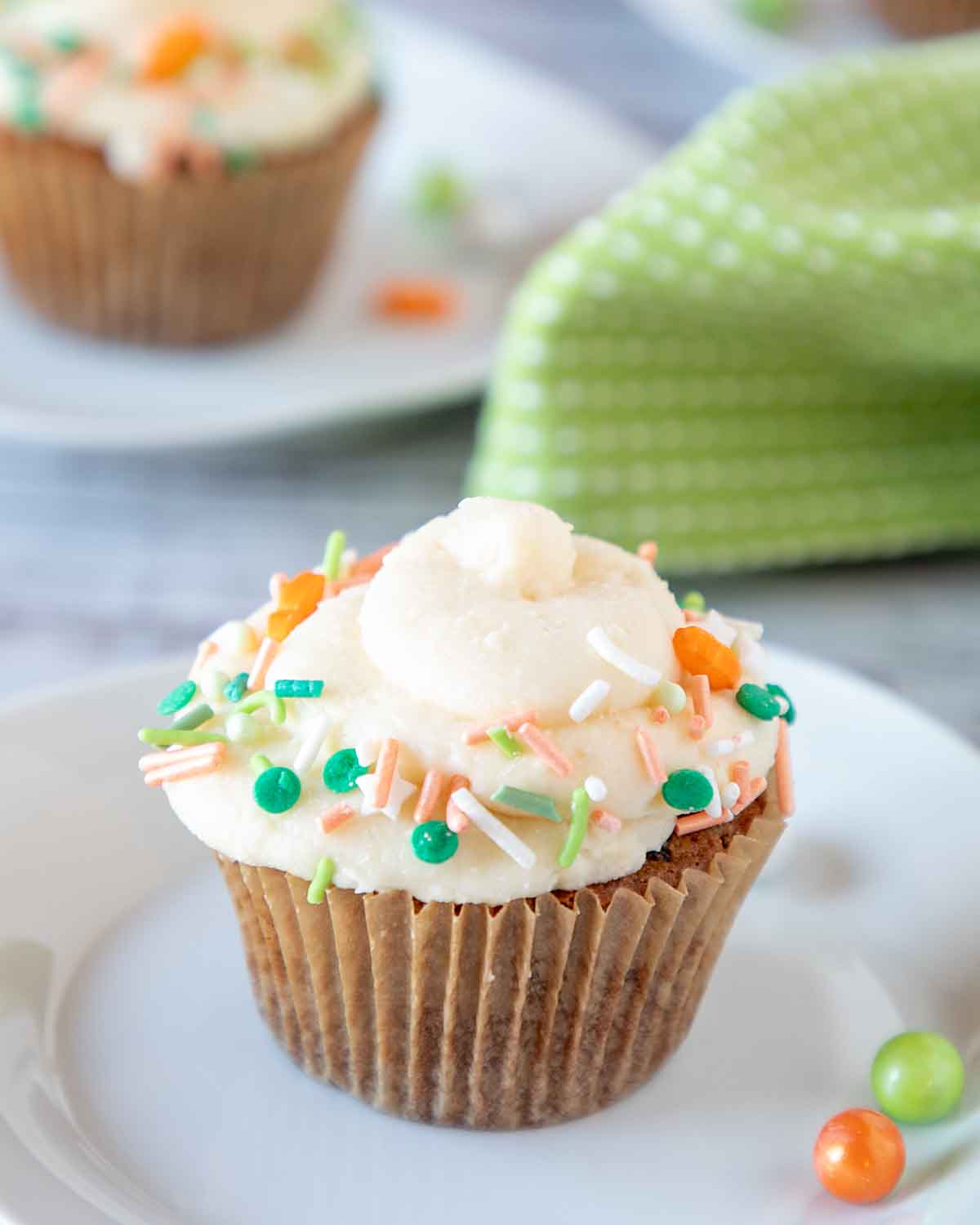 This post is sponsored in conjunction with #SpringSweetsWeek. I received product samples from sponsor companies to help in the creation of the #SpringSweetsWeek recipes. All opinions are mine alone.
There should be a word for desserts like these. It would encompass carrot cake cupcakes, but also pumpkin cupcakes, chocolate chip zucchini muffins, apple cake and more. These treats have a heartiness and healthiness from added fruits or vegetables, but also lots of flavor and a big fun component. How can you go wrong!
Carrot Cake Cupcakes have a slightly sweet, warm flavor and the perfect moist crumb. Made from scratch, my version uses white whole wheat flour and a generous amount of grated carrots for a healthier option. Add in some nuts and raisins then top it with velvety cream cheese frosting and you'll have tasty dessert for Easter, Mother's Day or any occasion!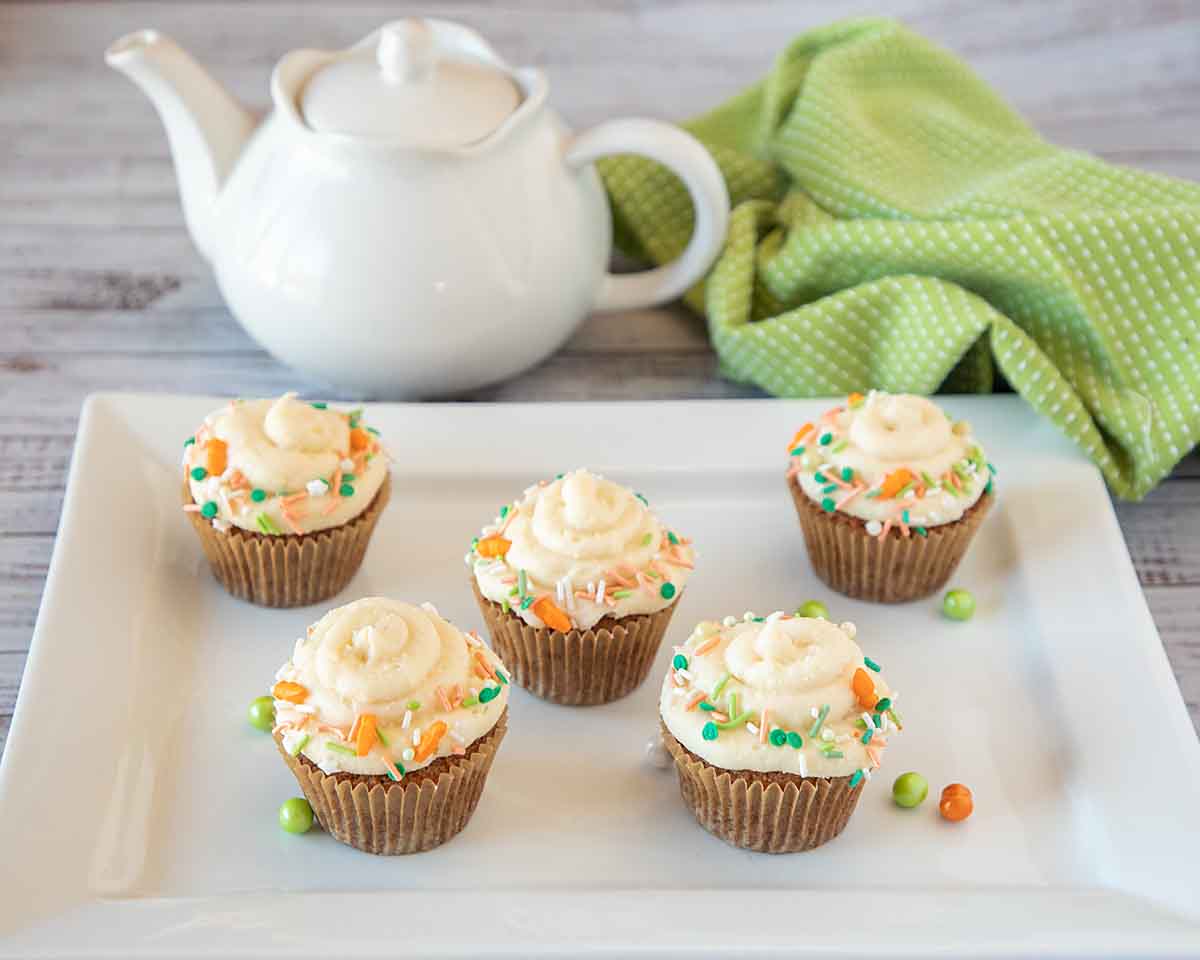 Why You'll Love This!
Perfect for any occasion. Whether it's for Easter, Mother's Day, birthdays, or a delicious dessert for brunch, carrot cake is perfect for any occasion.
Easy to make. Using basic baking ingredients and pantry staples, you can make this recipe in a pinch. And cupcakes are so easy!
A healthier cupcake. Using white whole wheat flour with reduced oil and sugar, this are a healthier option. And they are vegetarian.
What You'll Need
I received and used some wonderful ingredients from our sponsors for this recipe! These included carrots from Melissa's Produce and brown sugar from Dixie Crystals. Then I topped them with some seriously cute sprinkles from Sweets and Treats (they even have teeny little carrots in the sprinkles!) to complete the look. Yum!
Check out the giveaway below for a chance to win your own!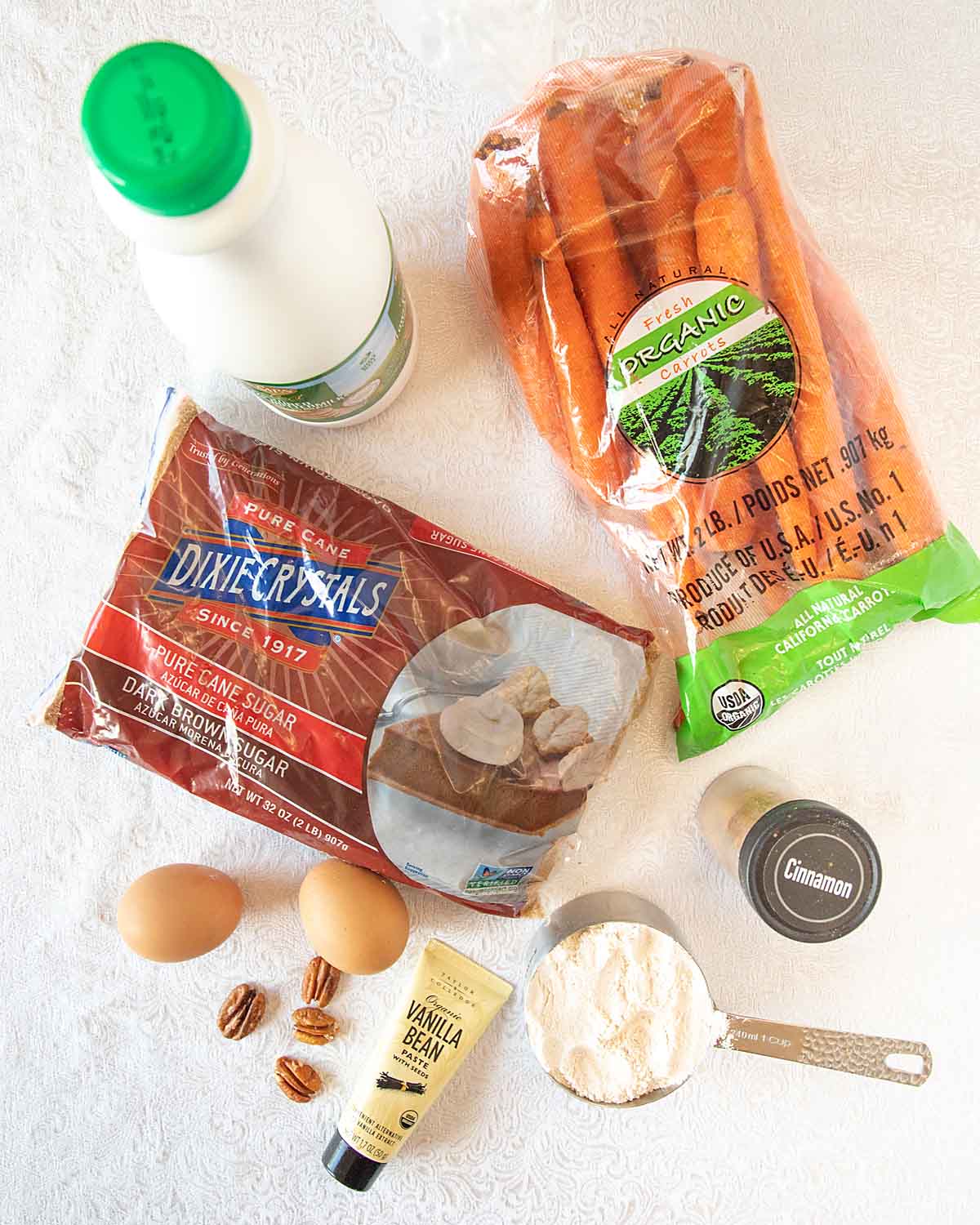 Ingredients + Notes
Flour. You can use either all-purpose flour or white whole wheat flour for this recipe.
Baking powder, baking soda. Provides the main rise.
Salt. Enhances flavor but you can omit if you prefer.
Eggs. Helps the muffins hold together, helps the rise.
Oil. This makes sure the cupcakes are soft and moist and don't stale too rapidly
Buttermilk. Gives hint of buttermilk flavor to your cupcake and allows you to use less oil. You can substitute non-dairy milk for a dairy free carrot cake cupcake.
Cinnamon, Vanilla. Adds flavor.
Brown sugar. Provides sweetness while also contributing to the volume and moistness of your cupcakes.
Carrots. Grated carrots subtly enhance the flavor and nutrition.
Walnuts or pecans. Definitely additional flavor and texture to your recipe.
Currants or raisins. Adds sweetness and heartiness. You can use other small dried fruits like dried cranberries or cherries if you'd like.
Frosting & Sprinkles. Optional, but totally makes the look!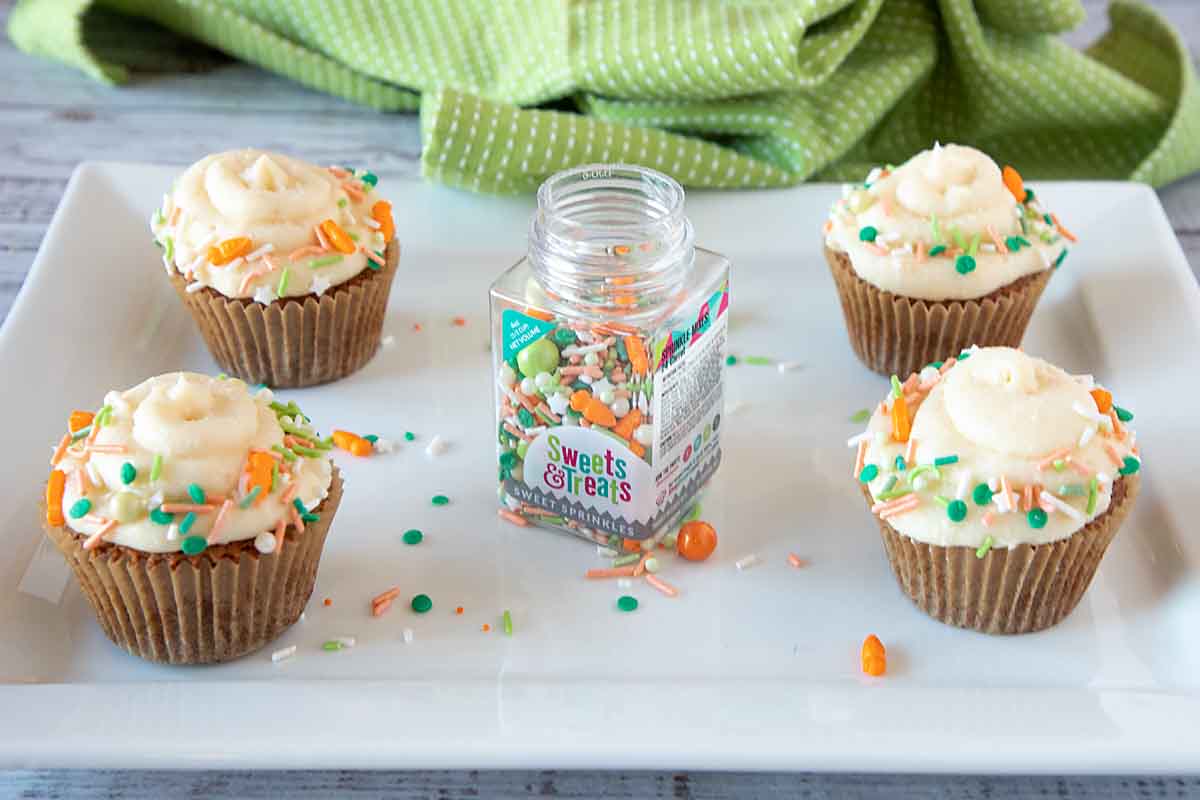 Special Tools:
A food processor to grate the carrots more conveniently and with better results, but you can also use a hand grater if one is not available.
A hand mixer or stand mixer but you can also opt for a whisk.
Step by Step Directions
Combine eggs, oil, buttermilk, vanilla, and brown sugar and beat until blended.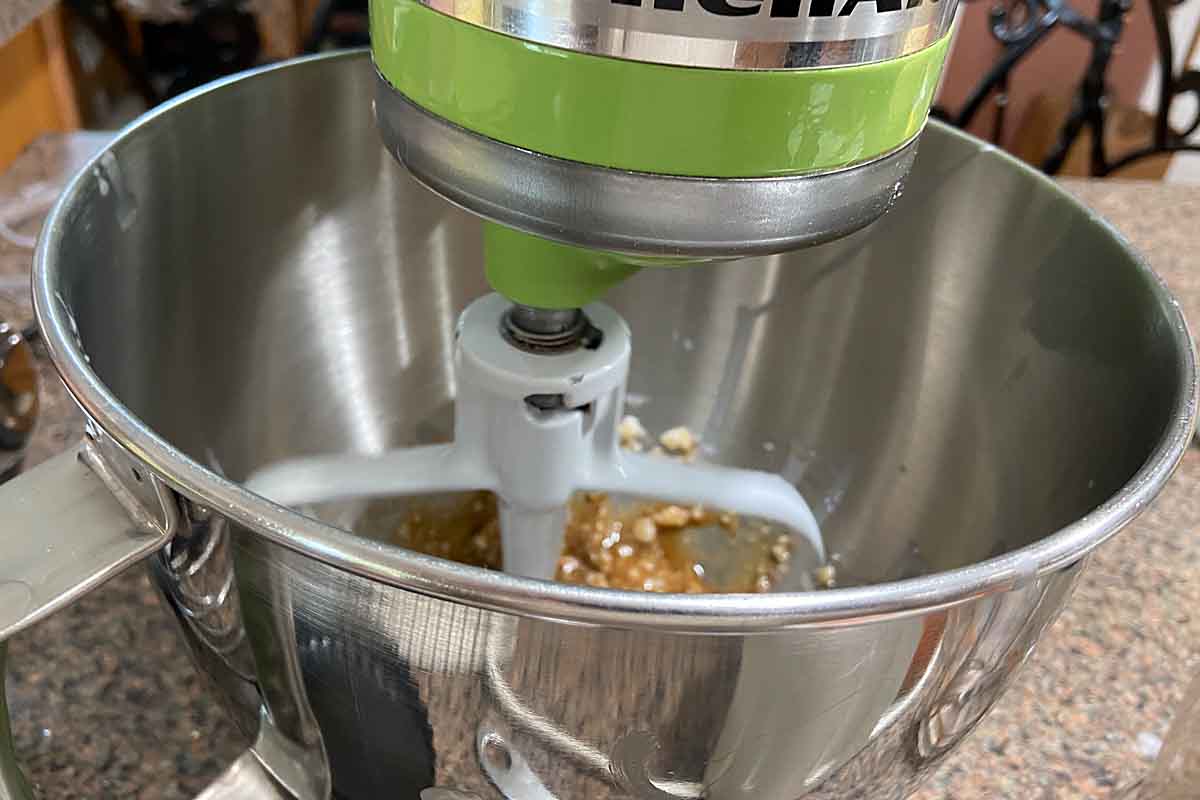 In a separate bowl, combine dry ingredients and stir until well mixed.
Combine the dry mixture to the liquid mixture and beat on low until just blended.
Add the grated carrots, nuts and currants or raisins.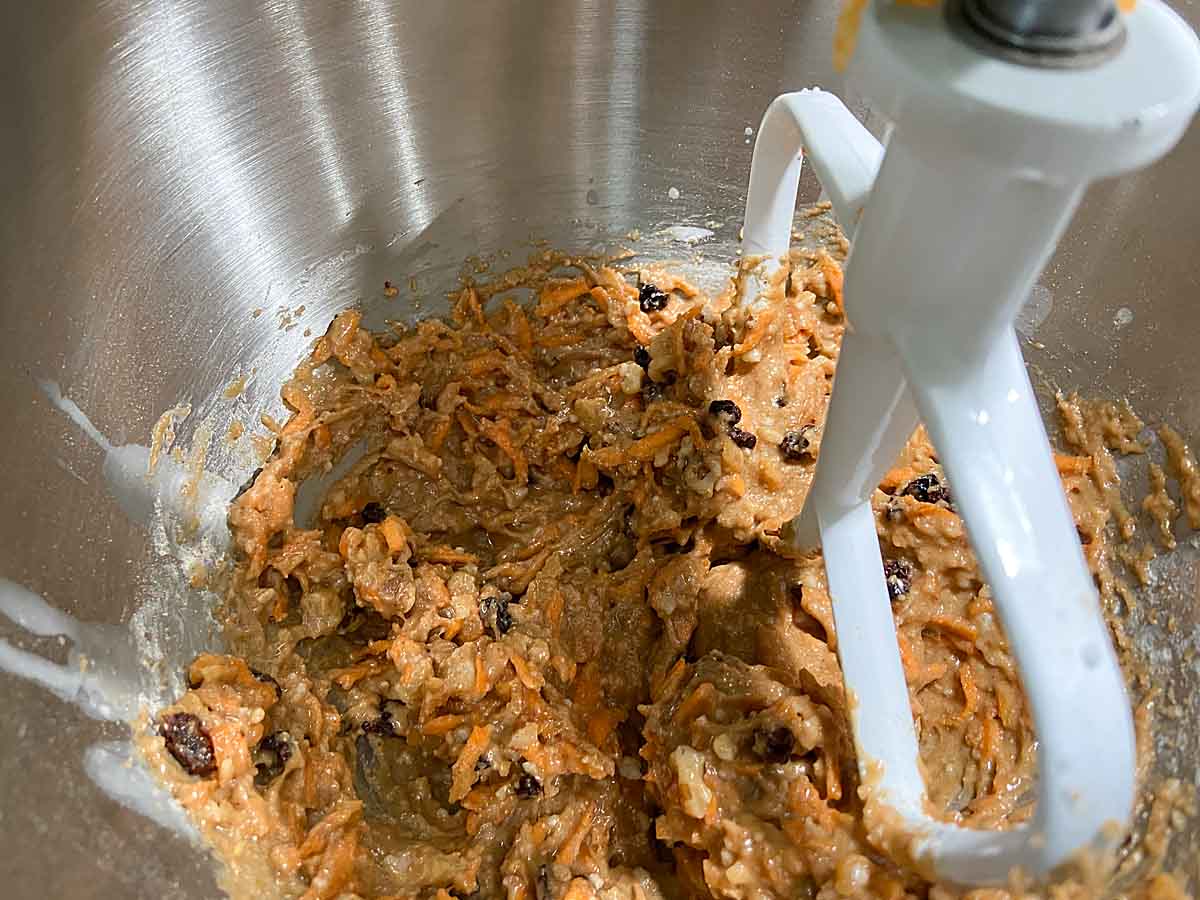 Place 12 cupcake liners in a muffin pan, fill and bake.
Let cool, then frost and add colorful sprinkles if desired.
How to Serve
Carrot Cake Cupcakes are popular for spring festivities such as Easter and Mother's Day and they are birthday favorites as well. Serve them on their own–or for a large event you can even serve them alongside a full-sized Carrot Cake. Since they are so easy to prepare, you can even serve for everyday desserts or snacks. Perhaps a special tea time or after school treat!
If you leave off the frosting, you could serve these as carrot cake muffins. Consider popping some into a bread basket with sliced bread as a special treat.
Variations
You can make Carrot Cake Cupcakes with Cream Cheese Frosting which is the most traditional option–and what is pictured in this post. Alternatively, you can use Swiss Meringue Buttercream frosting. And they are healthy enough to use as muffins if you leave the frosting off.
Aside from raisins or currants, some people also opt to add pineapples and shredded coconuts for a sweeter and denser cake.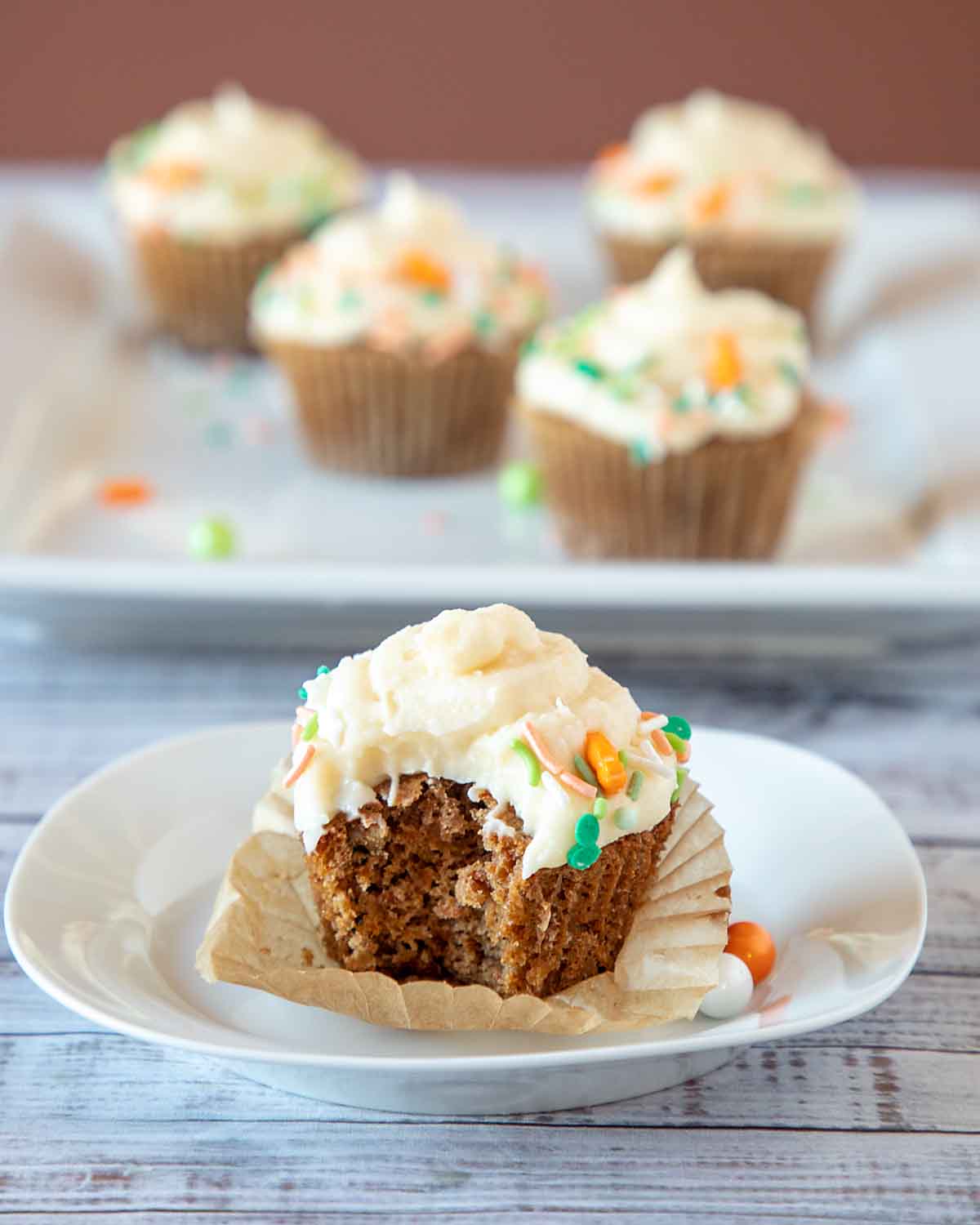 Before and After
Make-Ahead Tips
These can be made a day or two before serving and stored, refrigerated, in an airtight container.
How to Store
Leftovers should be stored in an airtight container in the refrigerator. They will stay fresh 4-5 days, though will lose some quality over time.
Leftovers may also be frozen. We froze the extras, frosted, with the jimmies even. They were a delight to pull out of the freezer and thaw for a treat. And when I was really hungry I decided they were even pretty good still (mostly) frozen!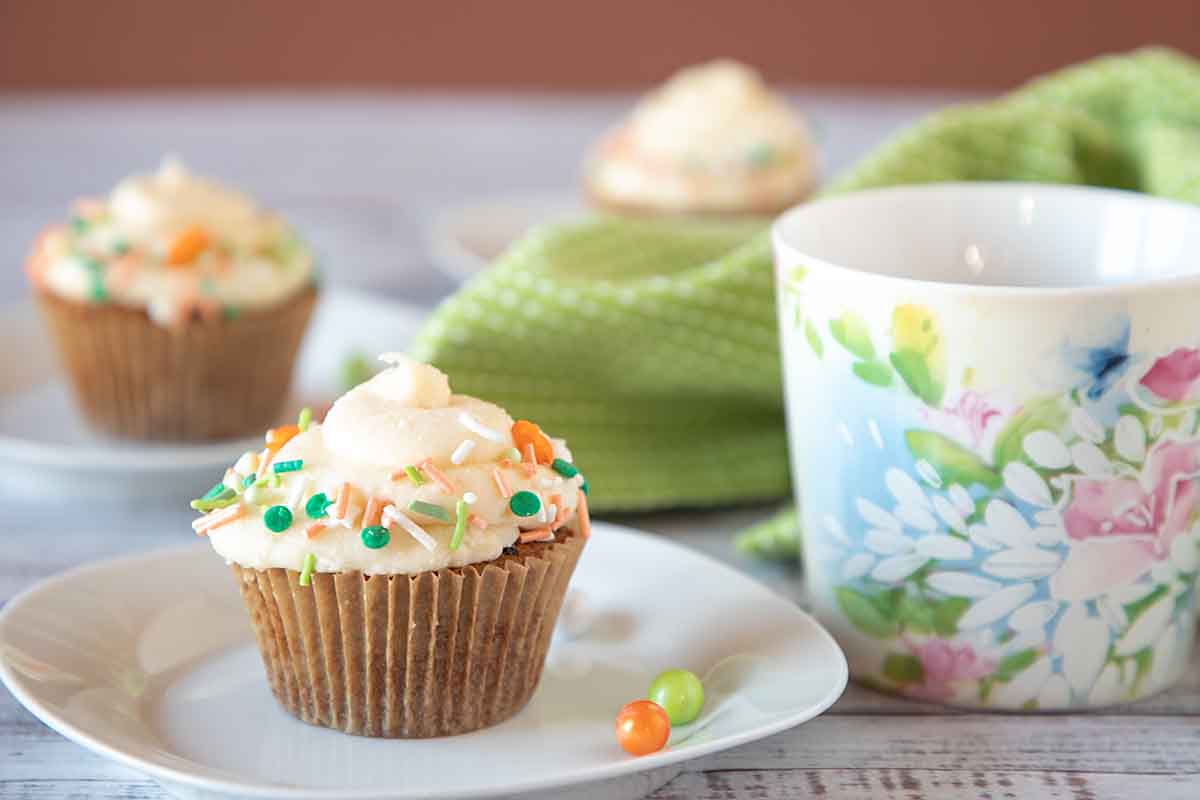 Tips & FAQs
What advantages does white whole wheat flour have?
White whole wheat flour adds extra nutrition and fiber to these. I like to think of white whole wheat flour as falling somewhere between all-purpose flour and whole wheat flour on the usability scale.
All purpose flour has the healthy germ and bran removed (major vitamins are added back in but not micronutrients and fiber), which make it light in flavor and very versatile. It is made from Hard Red Wheat just like whole wheat flour.
White Whole Wheat flour is made from Hard White Wheat which has a naturally lighter flavor but more or less the same nutrition as Hard Red Wheat. This gives is a lighter taste–even with the healthy bran and germ retained–though not as light as all-purpose. I love using it in baked goods like these carrot cake cupcakes that have enough flavor to stand up to a slightly stronger wheat flour.
If you'd like to read more on types of flour, check out Flour 101 from the City Cook!
And if you can't get white whole wheat flour, you can totally use all purpose. And you would probably also succeed with half all purpose and half whole wheat, or even all whole wheat but I haven't tested those.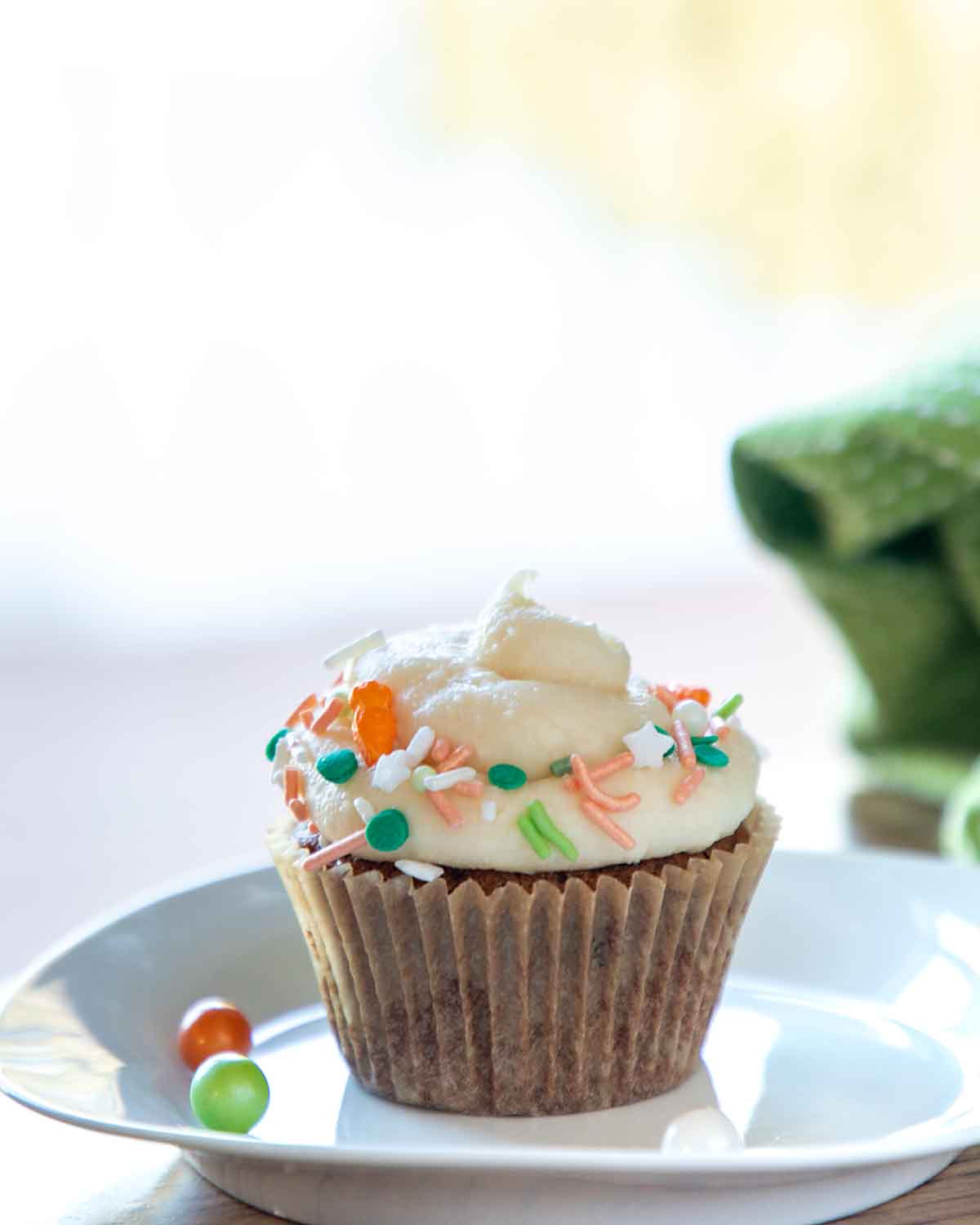 Can I substitute applesauce for the oil?
Since I grew up in the crunchy granola seventies, I extensively tested this option with a variety of cakes and muffins and for me the answer is no. This recipe uses 1/4 cup oil which is the minimum I like for 12 cupcakes or muffins. Without this they tend to border on dry (or soggy or heavy) and stale very quickly. And truly, that's just a teaspoon of oil per muffin.
In reality, with some of the substitutions in these cupcakes they could already be considered carrot cake muffins. Well, until you frost them, I guess!
What do I do if my raisins are dried out?
Dried out raisins or currants can be covered with very hot water and left to rehydrate for 5-10 minutes. Then drain them and use immediately. This perks them right up and I sometimes do it for a moister fruit anyway!
How are raisins and dried currants different?
When you see dried currants in a baking recipe, this is generally referring to Zante currants, which are small dried grapes. Due to their diminutive size, I actually prefer them to raisins in baked goods since this allows the (very similar) flavor to be distributed better throughout the product. Yes, occasionally a larger raisin can even feel a little obtrusive!
Since both are dried grapes, they can be used relatively interchangeably. The one exception would be where you needed a smaller fruit, such as in scones.
And as an aside, black currants are small seedy berries that are more often used for jam or as a nutrition supplement, rather than dried for baking.
Can this work for small batch carrot cake cupcakes?
Yes, the recipe divides nicely by two to make six cupcakes. I do that a lot while testing!
Carrot Cake Cupcakes
Brighten up everyone's day with these rich and moist Carrot Cake Cupcakes that's perfect for Spring and Easter.
Ingredients
1 cup all purpose or white whole wheat flour
1 t cinnamon
½ t baking powder
½ t baking soda
¼ t salt
2 eggs
¼ c oil
¼ c buttermilk
1 t vanilla
3/4 – 1 cup brown sugar
1 ½ cup grated carrots about 3 medium/large carrots
¼ cup walnuts or pecans (optional)
¼ cup currants, or raisins (optional)
Instructions
In a mixer bowl, combine eggs, oil, buttermilk, vanilla, and brown sugar. Use the lower amount of sugar if you like things less sweet, higher if you prefer more sweet. Beat until blended.
In a separate bowl, combine flour, cinnamon, baking powder, baking soda, and salt. Stir until well mixed.
Add flour mixture to the liquid mixture and beat on low until just blended.
Stir in grated carrots, nuts, and currants or raisins if using until combined
Place 12 cupcake liners in a muffin pan. Divide the batter between the 12 cups filling 2/3 – 3/4 full.
Bake at 350 for 15 -20 minutes, until the toothpick comes out clean. Let cool, then frost and add colorful sprinkles if desired.
Nutrition Information:
Yield:

12
Serving Size:

1
Amount Per Serving:
Calories:

178
Total Fat:

7g
Saturated Fat:

1g
Trans Fat:

0g
Unsaturated Fat:

6g
Cholesterol:

31mg
Sodium:

163mg
Carbohydrates:

27g
Fiber:

2g
Sugar:

17g
Protein:

3g
Nutrition data accuracy may vary with product selection, calculator accuracy, etc. Consult a professional for the best information.
Thursday #SpringSweetsWeek Recipes
We share recipes from #SpringSweetsWeek on Pinterest! Make sure you follow the board to see all the delicious recipes shared this week.
* * *
Welcome to #SpringSweetsWeek 2022 hosted by Heather from Hezzi-D's Books and Cooks! Flowers are starting to bloom, the weather is getting warmer, and we're celebrating with spring sweets and a fun giveaway! This year 22 food bloggers from around the country are sharing over 75 sweet recipes that are perfect for spring. So say bye bye to the snow and cold weather and get ready to enjoy amazing spring treats like cupcakes, cookies, pies, dessert boards, and even a few beverages! Our #SpringSweetsWeek sponsors are helping us give away some great prizes.
Thank you to Dixie Crystals, Melissa's Produce, Anolon, Sweets & Treats, Taylor and Colledge, and Nairn's for your generosity. We have an incredible giveaway with six amazing prizes and would love if you would take a moment to read about it and the prizes that you can win!
* * *
Prize #1: A $100 gift card to Melissa's Produce and a 3 month produce subscription.
One winner will receive a $100 gift card to buy the freshest produce around! Melissa's has everything from common apples and oranges to exotic passion fruit and rambutans. The winner will also receive a stunning selection of the most delicious produce around once a month for 3 months. At Melissa's Produce, the produce is selected at their peak perfection and packed by hand to ensure a safe arrival. A $224 value.
Prize #2: A candy making kit from Dixie Crystals
Perfect for the candy making novice or even the most advanced candy maker! Dixie Crystals is providing one winner with everything they need to make candy. The winner will receive a waterproof candy thermometer, silicone candy molds, and stainless steel double boiler. A $50 value.
Prize #3: A 5 piece Bakeware set from Anolon
Create dozens of bakeshop treats from gooey bar cookies to peanut butter and chocolate brownies to banana nut bread and more with all of the essentials in an expertly curated nonstick bakeware set. This bakeware is designed to stand up to the rigors of everyday baking with the convenience craved by creative bakers. This 5 piece baking set includes Two 9-Inch Round Cake Pans, a 9-Inch Square Cake Pan, a 14-Inch x 16-Inch Cookie Sheet, and a 11-Inch x 14-Inch Cooling Rack. A $65 value.
Prize #4: An assorted box of baking supplies from Sweets & Treats
Sweets & Treats will provide one winner with an assorted box of baking supplies including liners, sprinkles, toppers, and other fun baking supplies. Sweets & Treats has the best selection of cupcake liners, cupcake topper, paper straws, and molds.
Prize #5: A Selection of three extract pastes from Taylor and Colledge.
One winner will receive a selection of extracts to include almond, lemon, and lavender. In 1897, Taylor & Colledge won its first award for excellence in vanilla. Since then, the Taylor & Colledge commitment for unsurpassed quality has earned its reputation as one of the world's finest producers of vanilla.
Prize #6: A selection of three flavors of Gluten Free Grahams from Nairn's.
One winner will receive a box of each Nairn's Original, Chocolate Chip, Stem Ginger Oat Grahams. Nairn's has been baking oats since 1896. They use simple, natural, and wholesome ingredients in their products.
Thank you #SpringSweetsWeek Sponsors: Dixie Crystals, Anolon, Sweets & Treats, Melissa's Produce, Taylor and Colledge, and Nairn's for providing the prizes free of charge. These companies also provided the bloggers with samples and product to use for #SpringSweetsWeek recipes. All opinions are my own. The #SpringSweetsWeek giveaway is open to residents of the United States who are 18 years of age or older. All entries for the winner will be checked and verified. By entering you give the right to use your name and likeness. The number of entries received determines the odds of winning. Six (6) winners will be selected. The prize packages will be sent directly from the giveaway sponsors. The #SpringSweetsWeek Bloggers are not responsible for the fulfillment or delivery of the prize packages. Bloggers hosting this giveaway and their immediate family members in their household cannot enter or win the giveaway. No purchase necessary. Void where prohibited by law. This promotion is in no way sponsored, endorsed or administered by, or associated with Facebook, Instagram, Pinterest, Twitter or any other social channel mentioned in the #SpringSweetsWeek posts or entry.