Chicken & Veggies in Spicy Peanut Sauce
Between the seasonal beauty and the bountiful harvest, you have to love autumn. And eating local? A snap.
Now the one downside to autumn is that sometimes that bounty part can get away from you. I remember a CSA harvest party where one woman remarked, "I think I need to quit my job to cook all this food."
Of course in winter, eating local is a different matter. If you aren't ready—with both preserved food and recipes, you're likely to be in trouble. (Remember the Ant and the Grasshopper?)
That's why I like recipes like Chicken & Veggies in Spicy Peanut Sauce! Since it can be made with fresh or frozen broccoli (and carrots last almost forever) it's perfect for going local in fall, or winter–or any season!
So go crazy today and make this veggie-ful meal (in one pan even)! Then blanch and pop that extra broccoli in a freezer bag, already, to make this again in Janurary! Done. And done.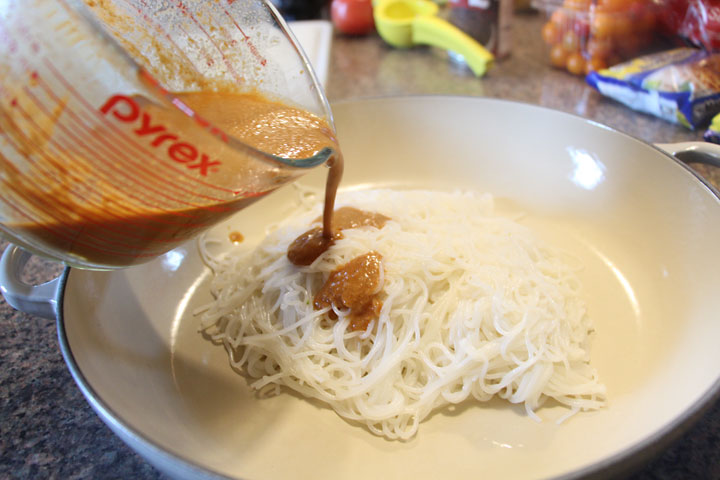 This recipe was inspired by one I saw in the blog A Southern Grace. I increased the sauce, added some carrots for extra nutrition (and extra fridge space), then made it a full meal by including rice noodles. The only tip I have is that if you have leftovers, make some extra sauce, because it had disappeared into the noodles by day two. The one time we had leftovers.
Do you have a favorite any-season local dish?
Chicken & Veggies in Spicy Peanut Sauce
2016-09-15 16:07:39
Serves 5
Chicken & Veggies in Spicy Peanut Sauce is fun & easy one dish meal. Top rice noodles with roast chicken, broccoli & carrots & spicy sauce--Mmmm!
Nutrition Facts
Amount Per Serving
* Percent Daily Values are based on a 2,000 calorie diet. Your Daily Values may be higher or lower depending on your calorie needs.
Ingredients
• 2 tablespoons brown sugar, packed
• 1/2 cup creamy peanut butter, softened in microwave
• 1 tablespoon olive oil
• 1/3 cup soy sauce
• 1 tablespoon sriracha sauce
• 2 tablespoon vinegar
• 1/2 cup warm water
• 2 tablespoons freshly squeezed lime juice
• 4 cups broccoli florets, in large pieces (14-16 oz)
• 2 cups carrots sliced on the diagonal about ¼ inch thick
• 1 onion, cut into large pieces
• 2 large boneless, skinless chicken breasts (1 to 1-1/2 pounds total), cut into strips
• 8 oz thin rice noodles
Instructions
Preheat the oven to 425 degrees F. Line a sheet pan with foil or parchment and spray it with cooking spray.
Whisk together the brown sugar, softened peanut butter, oil, soy sauce, sriracha, vinegar, water, and lime juice. Set aside 1 cup of the peanut sauce for serving.
Toss the broccoli, onion, and chicken with the remaining sauce. I did this in a separate bowl, but you can do it right on the sheet pan (if you are more coordinated than I am).
Cook for 20-25 minutes until the chicken is cooked through and the broccoli is brown and crispy.
Prepare the rice noodles according to package directions (this may mean covering with boiling water, resting, then draining, or actually boiling, depending on the noodles). Toss with the remaining sauce and top with the cooked chicken and vegetable mixture.
Notes
If you buy the very thin rice noodles that cook just by topping with boiling water, you can prepare those in your serving dish, & drain before serving to save one more dish!
I have been making this with frozen broccoli which I use still frozen. If you make it with fresh, you may want to cut it smaller or blanch before if you are particular about tenderness.
Art of Natural Living https://artofnaturalliving.com/