Chili Lime Roasted Cauliflower
Life, lately, has been intense. I find myself saying things like two steps forward, one step back… almost every day! Thank goodness for recipes like Chili Lime Roasted Cauliflower that are super easy. And of course, tasty and nutritious!
In the past week, my husband has driven my car out of state (so our college daughter has reliable transportation to interviews), returning on the overnight Greyhound back. We've gotten a flat tire, then discovered an inoperable spare (different trip). And the kitchen has flooded (still not sure why the dishwasher turned on us).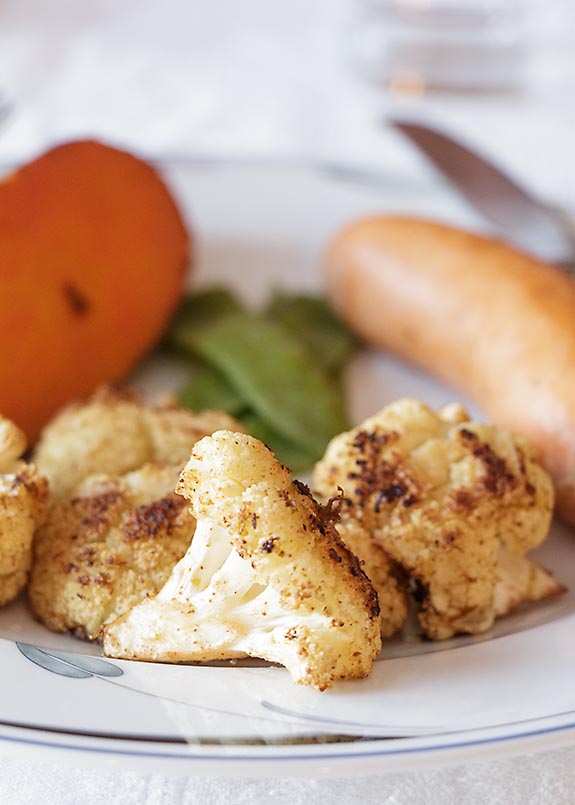 The weeks before were even more intense but that's a post for some later date. Suffice it to say, I was very happy when my sister invited us to dinner and served us her delicious Chili Lime Roasted Cauliflower.
If I have the recipe history correct, my niece originated the flavor combo (doesn't it sound like something you'd get on really good tortilla chips!!)—and used it first on roast kale. It was such a hit that when my sister got a head of cauliflower, she tried it there too. Ding, ding, ding, another winner.
Of course, they didn't measure, so I played around. If the amounts seem off, there is only me to blame! But, seriously, if you need a vegetable that packs a flavor punch and is super easy, give this a try. Take it from someone who knows.
It got me through another week… and that is no small feat.
Chili Lime Roasted Cauliflower
2017-04-09 11:24:01
Serves 4
When life gets intense, thank goodness for recipes that are easy, tasty and healthy like this Chili Lime Roasted Cauliflower!
Nutrition Facts
Amount Per Serving
* Percent Daily Values are based on a 2,000 calorie diet. Your Daily Values may be higher or lower depending on your calorie needs.
Ingredients
1 small lime (or ½ large), juice and zest
1 teaspoon chili powder
2 Tablespoons olive oil
1 head of cauliflower
½ teaspoon salt
Instructions
Zest a small lime or half of a large lime. Squeeze the lime juice into a medium mixing bowl and add the zest, chili powder and olive oil.
Divide cauliflower into florets, cutting larger pieces into bite sized chunks. Add to mixing bowl and toss to coat.
Spray a jelly roll pan (rimmed cookie sheet) with non-stick spray, then spread coated cauliflower pieces in pan. Top with salt.
Roast at 400 F, stirring the cauliflower after about 15 minutes. Continue roasting until golden and tender, about another 15 minutes.
Serve immediately.
Art of Natural Living https://artofnaturalliving.com/