It's been another fun month in the Food in Jars preserving challenge. This month's goal was Quick Pickles–and I had to ask what is a quick pickle? The answer is something (almost anything!) that you pickle with the intent of storing/marinating it in the refrigerator and finishing quickly (versus canning and storing in your cupboard for months). I decided to try Pickled Eggs.
With Easter coming, I thought it would be fun to try multicolor pickled eggs–in pink, purple and yellow. Since two of my kids were unable to get home from college, we could call these grown-up Easter Eggs and skip the egg hunt!
I started reading through internet recipes and concluded that there is a basic template for pickled eggs. Equal parts vinegar and juice or water, enhanced with flavor additives like spices or onions.
I based my coloring on prior Easter egg dying. Beets for pink, grape juice for purple, turmeric for yellow (recipes are below). I decided to do 5-6 eggs per color in a squat pint canning jar.
And the results?
So far in the FIJ challenge, I have learned that I like lots of things that I never expected. Loved marmalade, was totally excited about pepper jelly—both of which will be added to my permanent canning schedule.
And pickled eggs? Well, I wasn't quite as in love with these. I thought they were beautiful, but that was the main advantage over a plain hard-boiled egg (that plus keeping longer in your fridge…). I was planning to use the pickled eggs for Greek Deviled Eggs, but the pickling flavor was going to overwhelm the feta. Perhaps I need to invent a really zingy deviled egg to stand up!
In the end, I sliced them into a salad for a neighborhood dinner, which made for an impressive presentation that was really no work. They topped (some overly-peppery) arugula and were a good balance for the spicy kick. And there may be colorful egg salad sandwiches in our future!
Interestingly, our favorite version was, the purple wild grape. That flavor combo of grape, bay, onion, ginger and cinnamon, was delicious and I plan to use the pickling liquid as a shrub. So I guess I did get another new favorite out of this!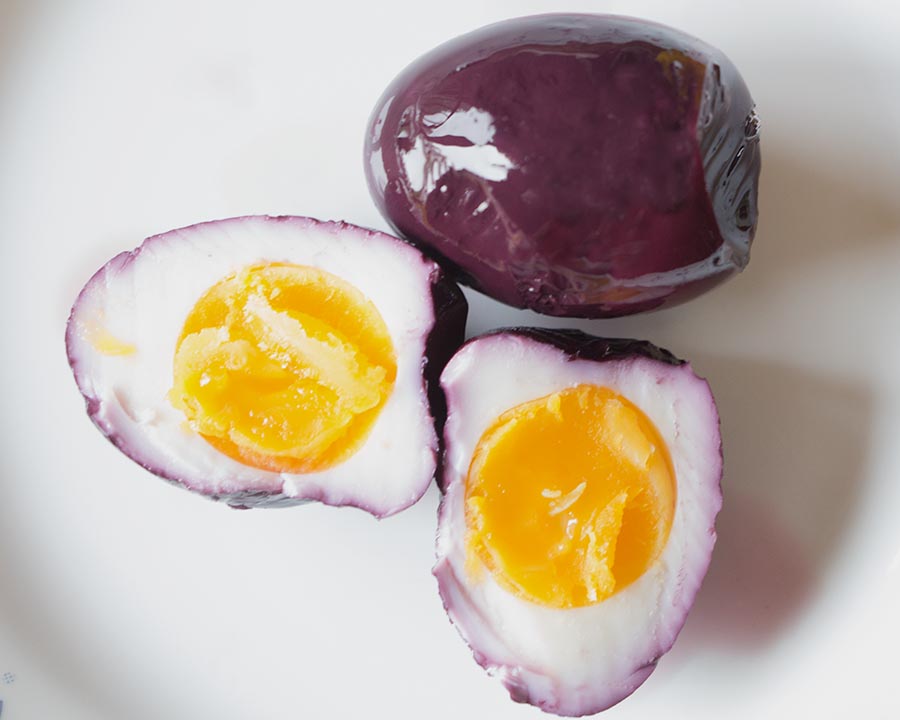 Pickled Eggs
2017-04-13 13:27:24
Serves 15
Multicolor pickled eggs are a fun twist on hard-boiled. Done in pink, purple and yellow they can dress up a salad or add a festive touch to a buffet.
Nutrition Facts
Amount Per Serving
* Percent Daily Values are based on a 2,000 calorie diet. Your Daily Values may be higher or lower depending on your calorie needs.
Ingredients
Beet Pickled Eggs
• 3/4 cup beet juice (from canned beets, or boil beet chunks in water for about a half hour)
• 3/4 cup vinegar
• 1/4 onion, sliced lengthwise
• 1 T brown sugar
• 5-6 hard cooked eggs, peeled
Golden Turmeric Eggs
• 3/4 cup vinegar
• 3/4 cup water
• ¼ teaspoon each coriander, mustard seed, cumin, black peppercorns
• ½ teaspoon ground turmeric, pickling or sea salt
• 1 slice fresh ginger
• 1/4 small yellow onion, sliced lengthwise
• 1-2 cloves garlic, peeled
• 5-6 hard cooked eggs, peeled
Purple Grape Pickled Eggs
• 3/4 cup cider vinegar
• 1/2 cup wild grape juice mixed with 1/4 cup water (see note)
• 1 cinnamon stick
• 1 bay leaf
• 1/4 onion, sliced
• 1 slice fresh ginger
• 5-6 hard cooked eggs, peeled
Instructions
Place peeled eggs in the bottom of a clean glass jar.
In a medium saucepan, add the marinade ingredients. Bring to a boil and cook about 5 minutes to blend flavors. Remove from heat and let cool a few minutes.
Pour the marinade over the eggs in the jar, covering the eggs completely. (You can include onion slivers, cinnamon stick, if you want). Securely cover the jar and store in refrigerator. The pickled eggs should be ready in 2-3 days.
Notes
I used wild grape juice for the purple. I also tried a commercial grape juice which resulted in brown eggs, not recommended.
Art of Natural Living https://artofnaturalliving.com/