Peppermint Brownie Madeleines
These Peppermint Brownie Madeleines combine dark chocolatey flavor with a unique combo of light, chewy and crunchy. Is it a cake or a cookie?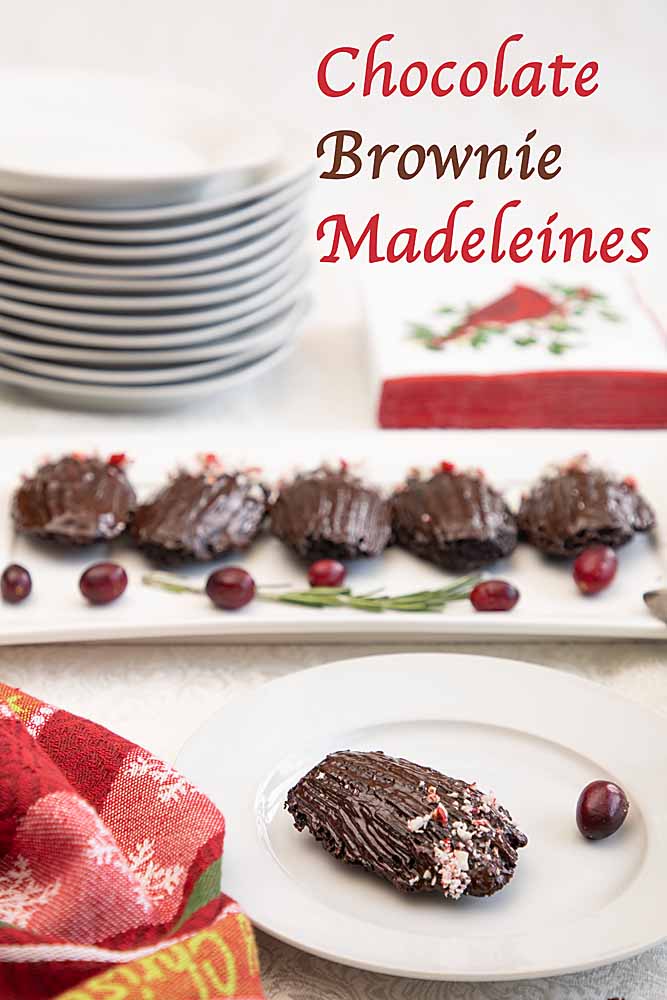 I resisted buying a madeleine pan for ages. I'm glad I did because they are such a special treat! Madeleines combine a cake-like lightness with a cookie-like size and slight crunch in a cute scallop shape. What's not to love!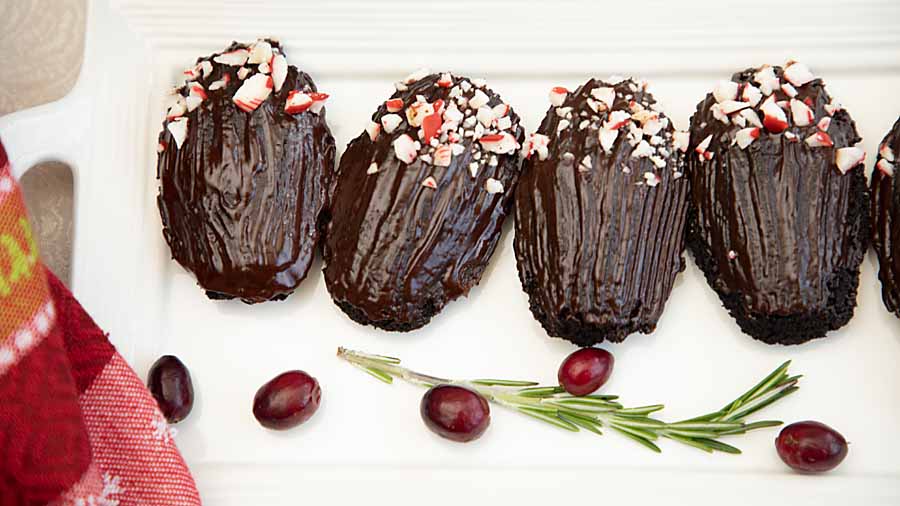 Yes, for some reason, I seem satisfied with a madeleine or two. Not that I'd ever eat a whole plate of brownies or anything… Even better these Peppermint Brownie Madeleines deliver a rich chocolate flavor very much like a brownie.
I use a 60% chocolate chip and black cocoa powder for the darkest chocolate experience. But if you prefer, you can use standard cocoa powder and semisweet (or even milk) chocolate chips. And some mint extract is a nice touch–or not–depending on your mood and the season.
The surface texture of these Peppermint Brownie Madeleines come out slightly less perfect than other flavors I have made before. But I didn't want to risk lightening the chocolate flavor. Instead, I "painted" them with a chocolate ganache.
Problem solved. Plus, more chocolate!
The ganache was perfect for doing a little decorating. I sprinkled on crushed peppermint for a holiday look, but white nonpareils or chocolate jimmies would be perfect any time of the year.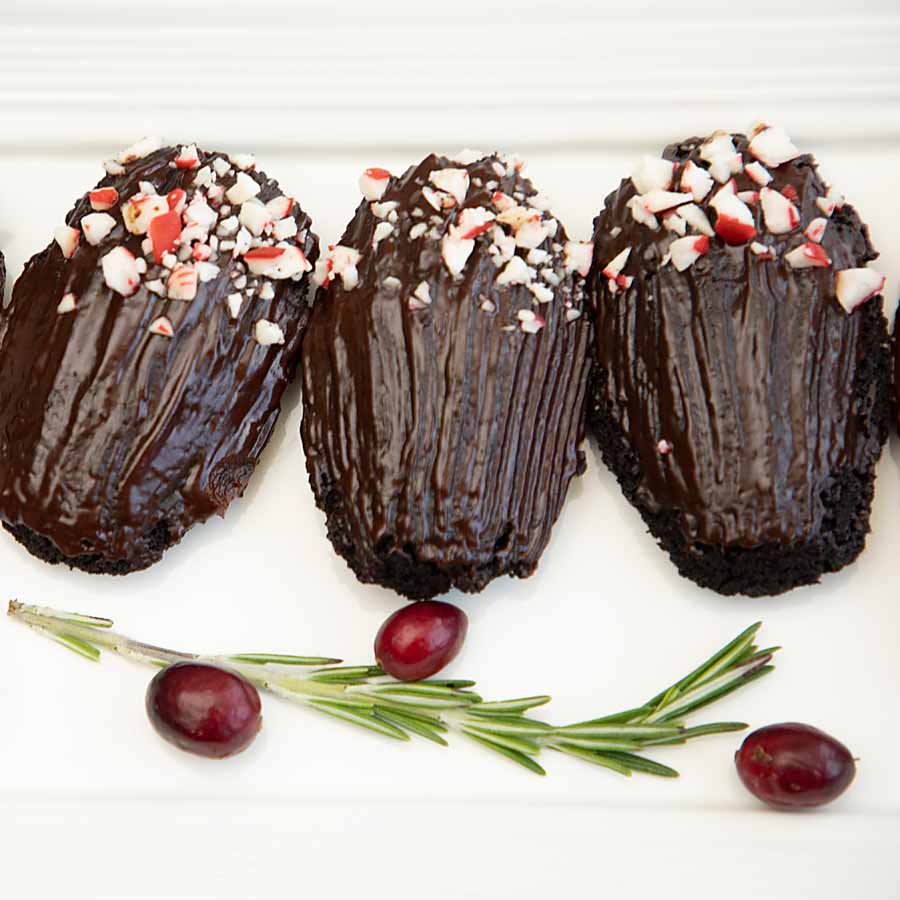 Chocolate Brownie Madeleines
2019-12-07 08:43:59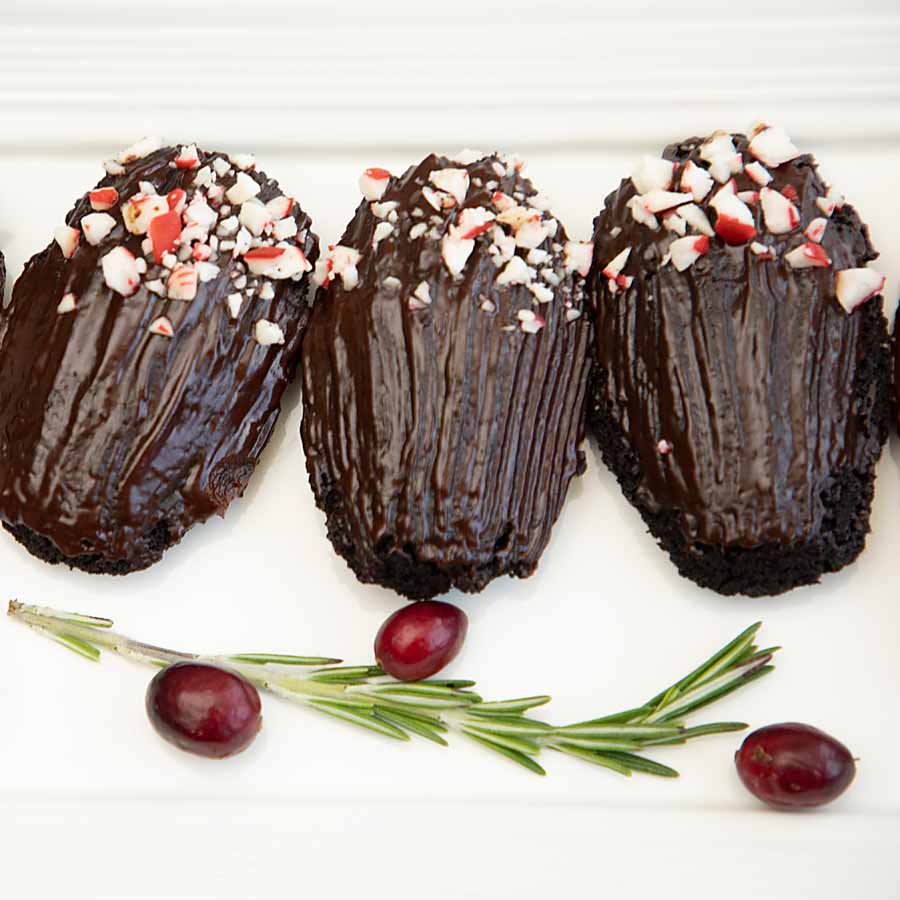 Serves 12
These Chocolate Brownie Madeleines combine dark chocolatey with a unique combo of light, chewy and crunchy. Is it a cake or a cookie? 
Nutrition Facts
Amount Per Serving
* Percent Daily Values are based on a 2,000 calorie diet. Your Daily Values may be higher or lower depending on your calorie needs.
Chocolate Brownie Madeleines
• 1 large egg
• 1/4 cup granulated sugar
• 1 teaspoon vanilla
• 1/4 teaspoon mint extract (optional)
• 1/3 cup (spooned) all-purpose flour
• ¼ cup cocoa powder (see note)
• 1/4 teaspoon baking powder
• ¼ cup semisweet chocolate chips (see note)
• ¼ cup butter (plus another 1/2 Tablespoon for the pan)
Ganache
• 2 Tablespoons cream
• 2 Tablespoons choc chips (overfill the Tablespoons a bit)
Optional garnish (see note)
Instructions
Using whisk attachment, beat the egg and sugar together on high for 8 minutes. The mixture will turn pale and thicken as it beats. After 8 minutes, beat in the extract(s) until incorporated.
In a separate bowl, whisk the flour, cocoa and baking powder together. Gently fold half of the flour mixture into egg mixture. When that is mostly combined, gently fold in the remaining flour mixture to minimize deflating.
Heat or microwave the 4 Tablespoons of butter and chocolate chips in 10-20 second bursts, stirring in between, until melted but not hot. Stir about 1/4 cup of the batter into the melted butter and mix until well combined (this will deflate). Pour the butter mixture into the remaining batter and stir carefully until combined, deflating as little as possible. Don't worry if the sides of the pan are still slightly chocolatey.
Cover the batter and chill in the refrigerator for 30-60 minutes (or freezer for about 5). Longer is not better because the butter may solidify, and the madeleines will be less fluffy.
Melt the remaining ½ Tablespoon butter. Using a pastry brush, lightly brush the pan with melted butter (even if you have a non-stick pan). This will help create a crisper, "browned butter" exterior.
Remove the batter from the refrigerator. Taking care not to deflate it, spoon a rounded Tablespoon of batter into the center of each well. There should be enough for all 12 wells and it will spread as it cooks.
Bake for 10-12 minutes at 350 F, turning the pan halfway through if your oven heats unevenly. The madeleines are done when the tops spring back after lightly pressed with your finger. Cool briefly, then invert the pan onto the counter. Transfer the warm madeleines to a wire rack to lightly cool (your madeleines will stick if placed on a plate to cool).
To prepare the ganache, microwave the cream and chocolate chips in 10-20 second bursts, stirring in between, until melted and "brushable." Brush lightly on to madeleines lengthwise (in direction of ridges) for best look. Reheat ganache briefly if it thickens too much to brush. If desired, sprinkle one end of each madeleine with peppermint candy bits, nonpareils or chocolate jimmies.
Eat the same day if possible.
Notes
Feel free to lighten or darken the chocolate in your madeleines with your selection of cocoa powder and chocolate chips. I used black cocoa powder and 60% chocolate chips, but you could use standard cocoa powder and semi-sweet or milk chocolate chips as well.
Garnish with your choice of crushed peppermint, jimmes or nonpareils
Art of Natural Living https://artofnaturalliving.com/

Check out all of the delicious brownie recipes:

Mini Peanut Butter Filled Brownie Cupcakes from Family Around the Table

Christmas Tree Brownies from A Day in the Life on the Farm

Cookie Butter Brownies from Hezzi-D's Books and Cooks

Mounds Brownies from Sweet Beginnings

Peppermint Brownie Madeleines from Art of Natural Living