Chocolate Covered Oreos are easy, tasty, pretty and impressive. Dress some up for Valentine's Day or any special occasion.
I love a cookie that feels special. And looking good is high on my list of requirements for this—as well as tasting good. Happily these Chocolate Covered Oreos hit the mark on both!
Alas for people like me–that is, people who have no decorating skills, pretty cookies can be a challenge. But fortunately, I know some good ways to cheat (shhh)!
One favorite cheat is to use sprinkles. It's pretty hard not to smile when you look at something covered with a colorful array of dots and squiggles! Even better, they come in a variety of colors so you can find a blend that's perfect for any occasion! You could even do colors for a gender reveal!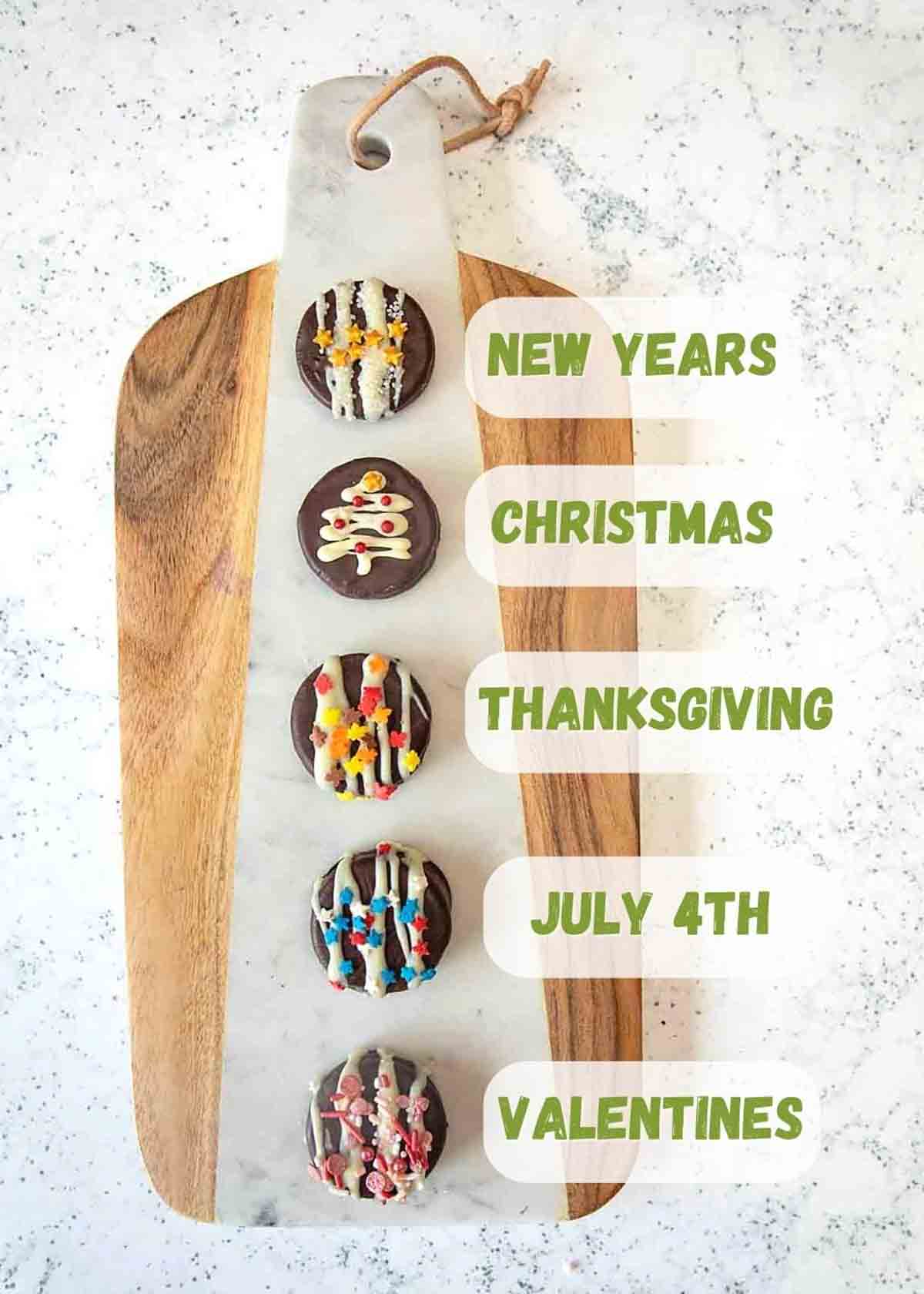 What are Chocolate Covered Oreos
Chocolate Covered Oreos (or Chocolate Dipped Oreos) are Oreo cookies that have been coated in chocolate, either by hand dipping or using a mold. And since Oreos are well-loved in the first place, adding more chocolate creates a treat that's extra special.
To hand dip, you need to melt some chocolate in a small cup or bowl, slide an Oreo in and turn with a fork until covered. Then remove the cookie, set on parchment and let dry.
To use a cookie mold, you pour in a little melted chocolate in the mold to create the bottom layer, and set the Oreo on that. Then you top with additional chocolate for the sides and top.
The advantages of molded cookies are that they require a bit less coordination, are slightly faster and they have a nice flat surface if you want to use chocolate transfer sheets to put designs on top.
On the other hand, hand-dipped oreos don't need any special equipment—and I think the handmade look is beautiful.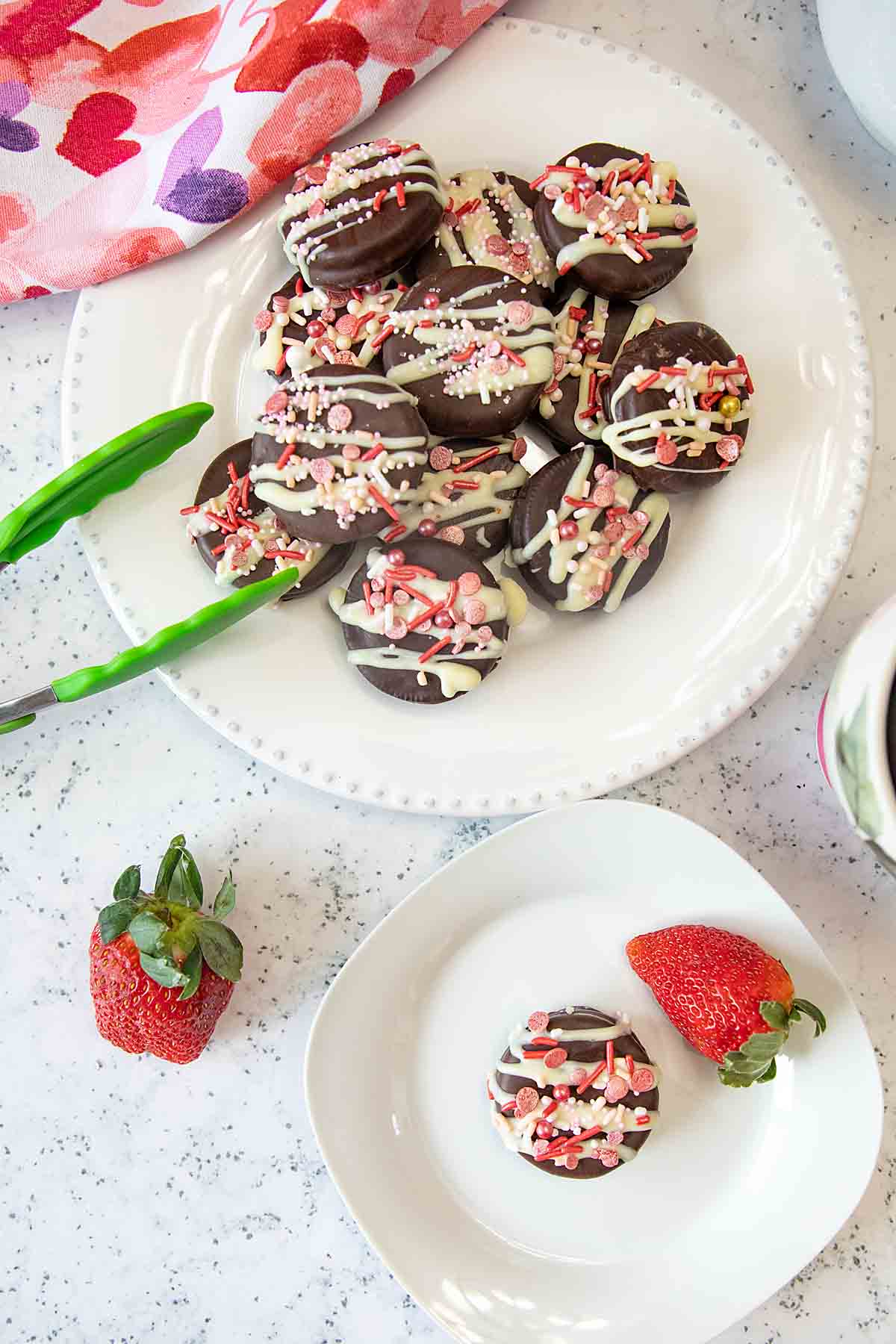 Why You'll Love This!
Tasty. Who doesn't love an Oreo cookie! Dip it in chocolate and add sprinkles to make it even better!
Suitable for Any Occasion. Just change up your sprinkle colors and these will be perfect for any occasion. You can even do school colors for graduation and team events!
Easy. I have no cookie decorating talent so I'm always on the lookout for ways to make cute treats that need virtually no skill! And with these, you don't even need to bake!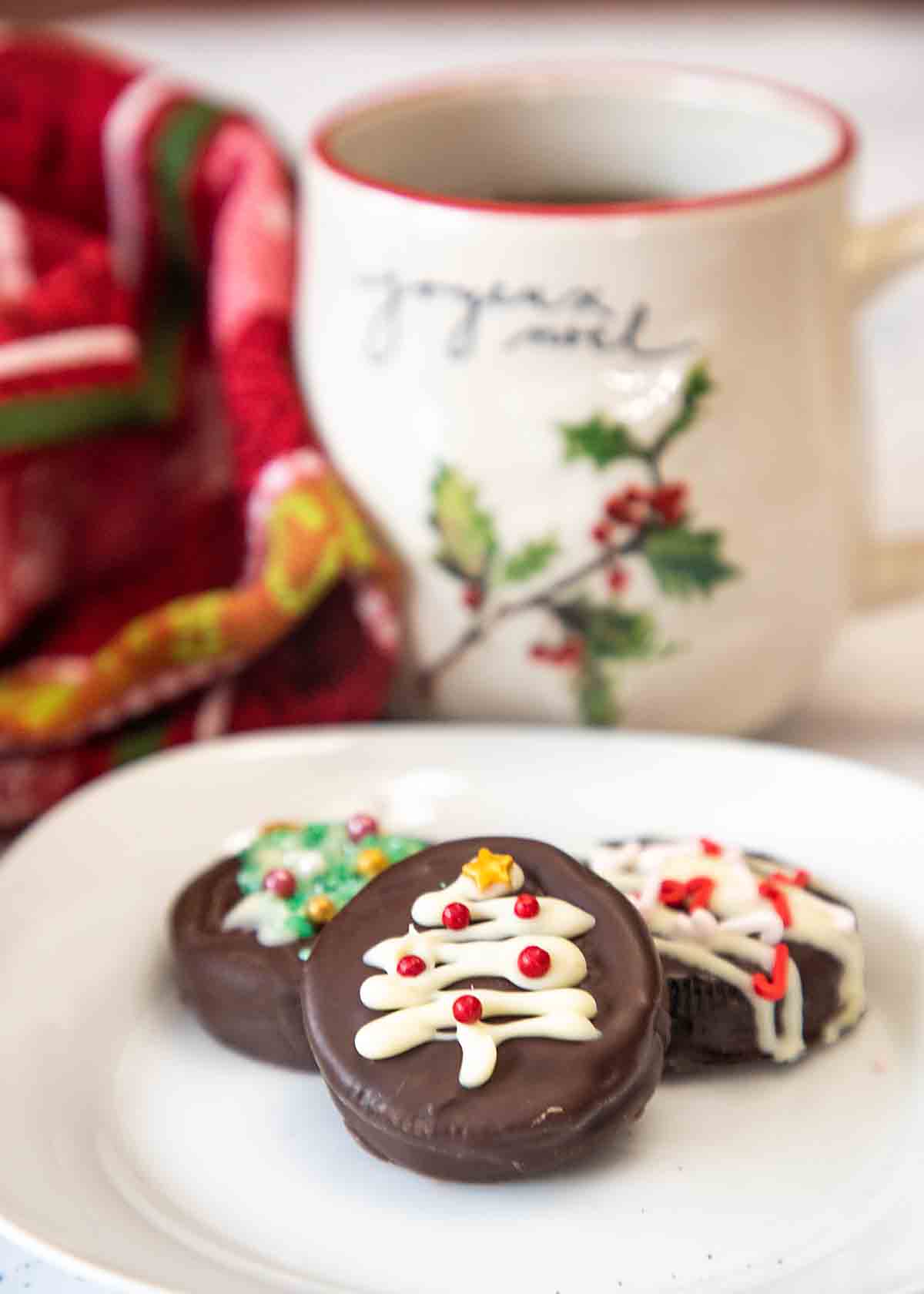 What You'll Need
Ingredient Notes
Chocolate chips. This is for the chocolate coating.
Cocoa butter. This helps thin the chocolate chips for easier dipping and enhances flavor and richness.
Oreo Cookies.
White chocolate. This is used for drizzling the cookies but is optional. You can also use white candy melts.
Sprinkles. These can be used to decorate the cookies if you'd like.
Special Tools
Parchment to set dipped cookies on
Step by Step Directions
Melt the chocolate (see below for details)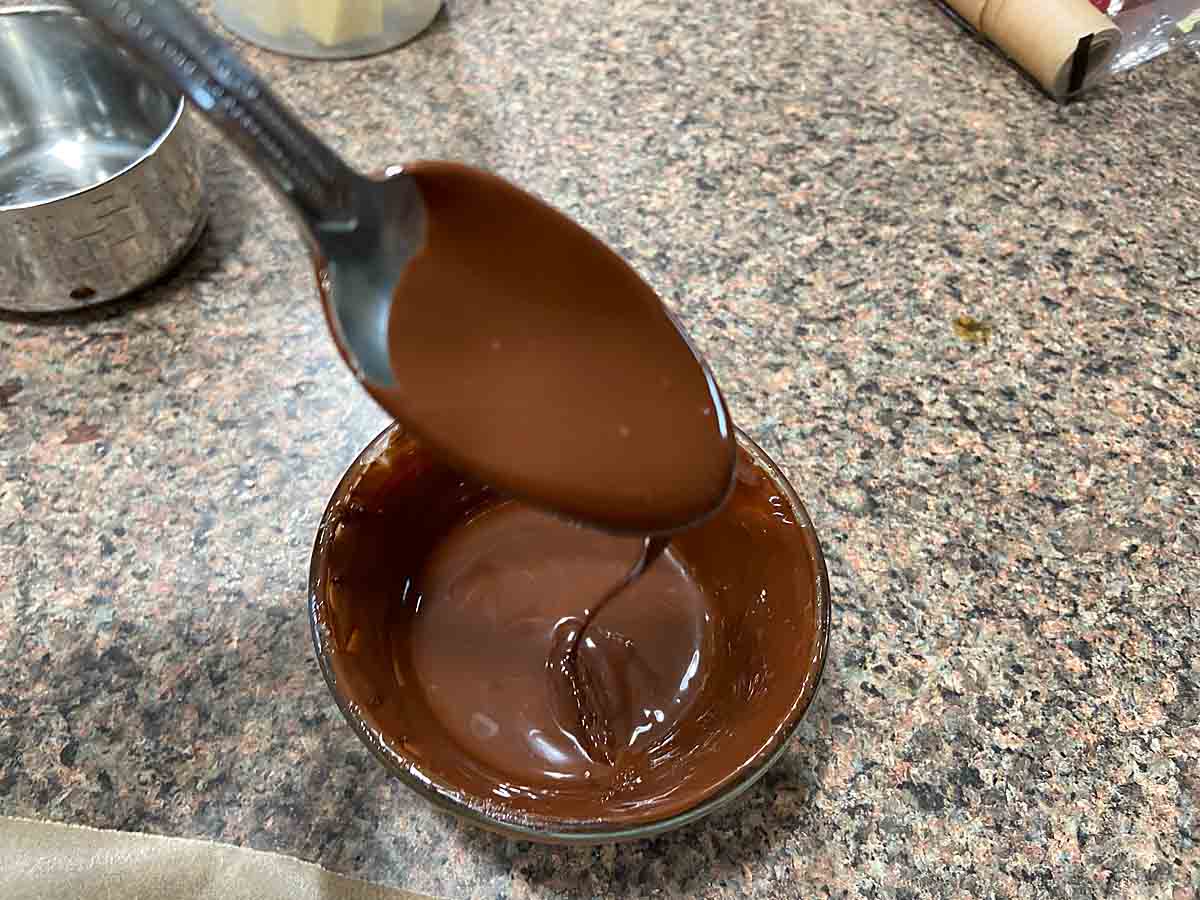 Dip the cookies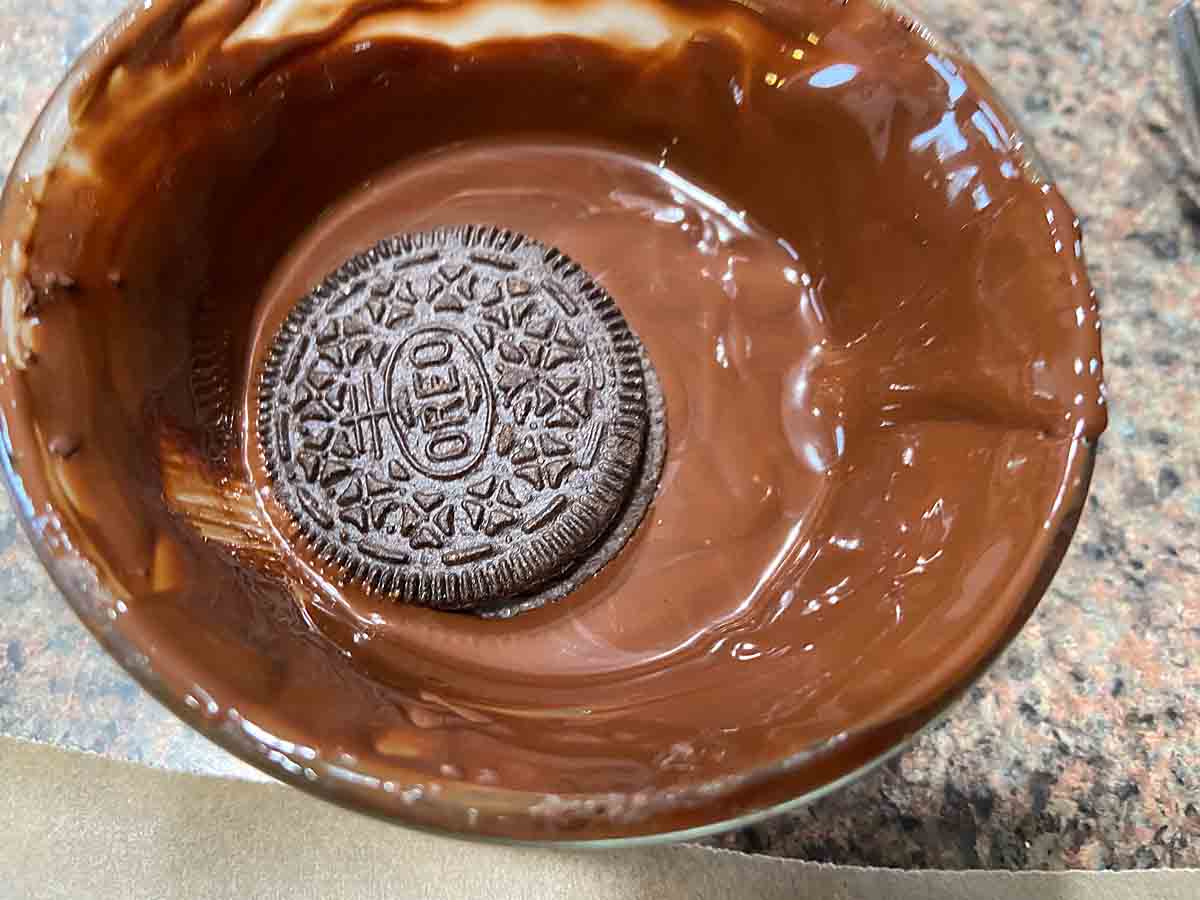 Drizzle with white chocolate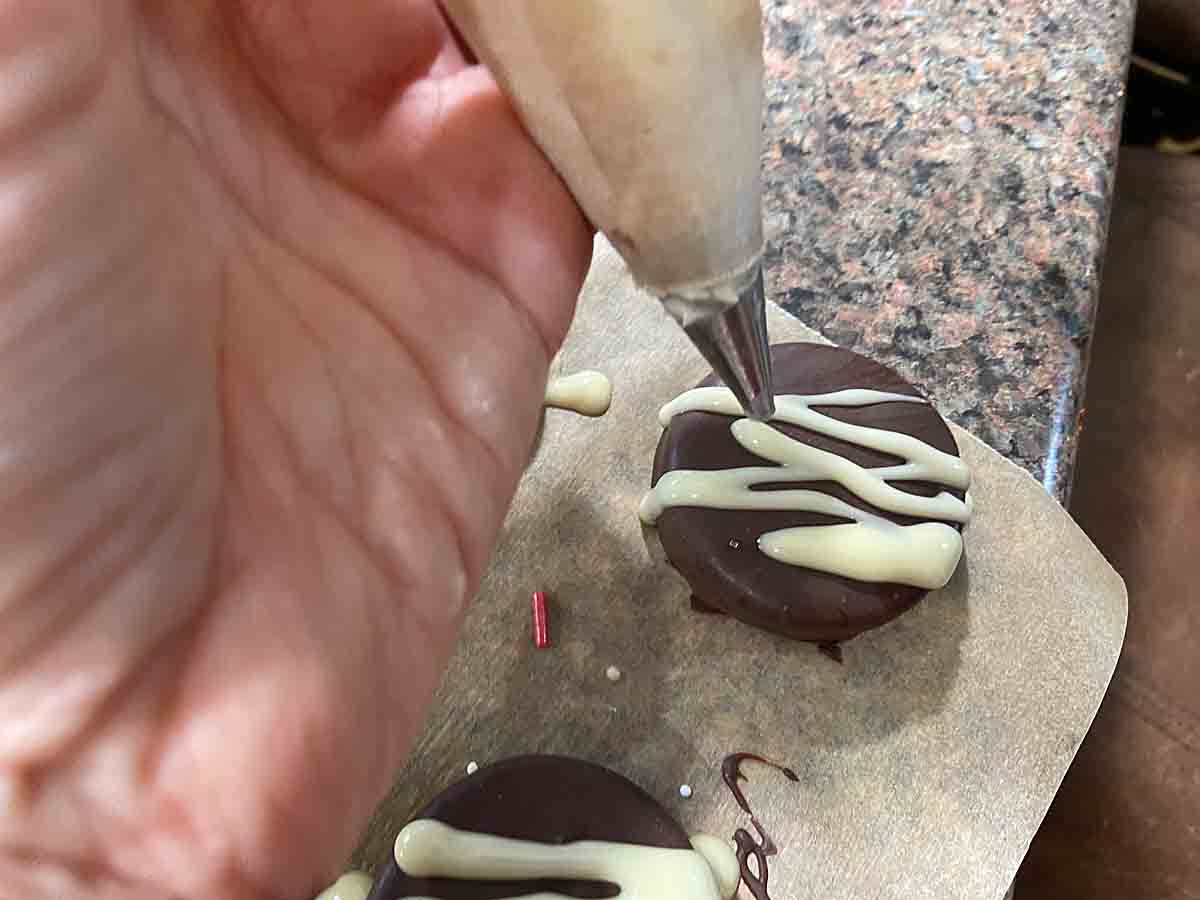 Add sprinkles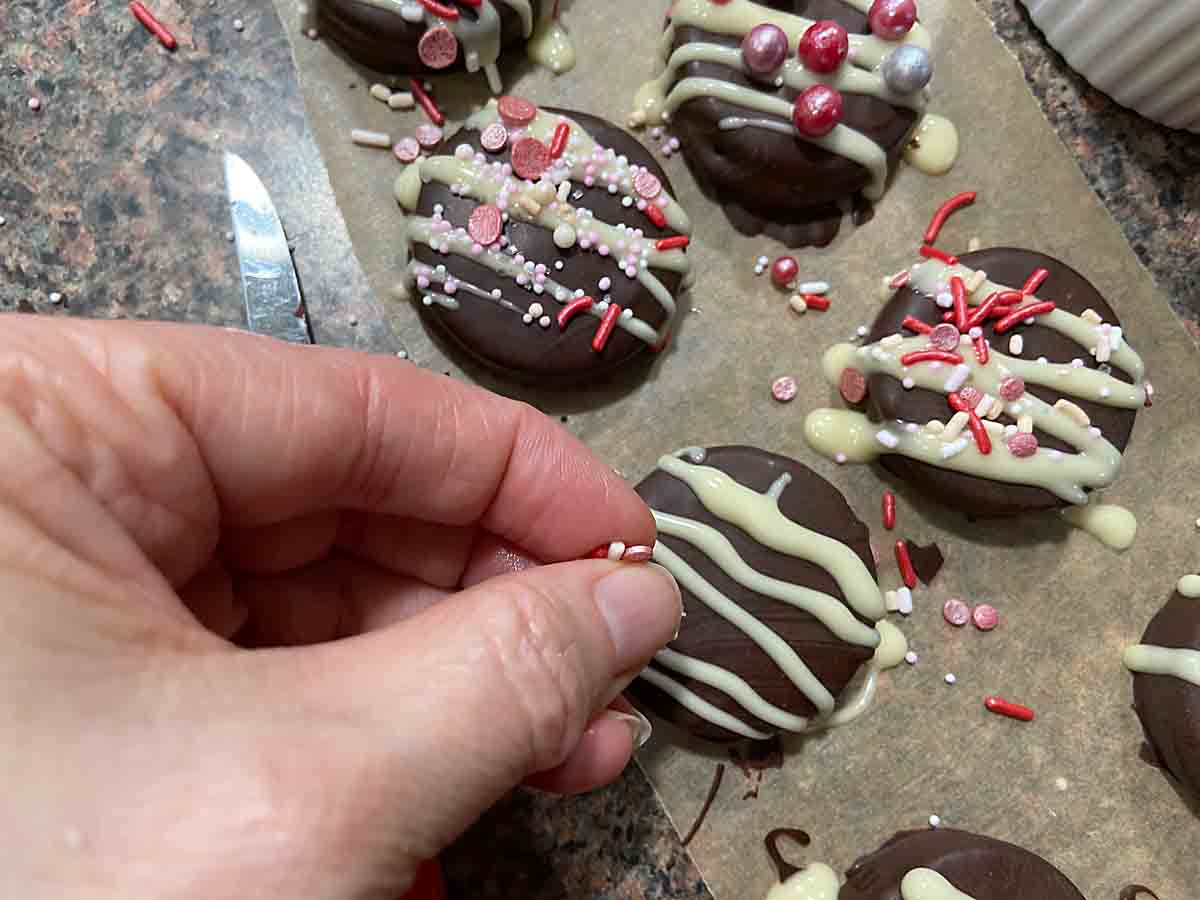 How I Melt My Chocolate
Tempered chocolate is hard, crisp, and resistant to melting at room temperature. It is the ideal for chocolate coatings, though most home cooks don't achieve this, and everyone still enjoys their food. So don't worry if you try it and it doesn't go perfectly!
Now all over the internet, you'll read about methods to temper chocolate by "melting and seeding". Unfortunately, most people don't know that, unless you are working with at least a pound, or ideally 2 pounds of chocolate, this method really doesn't work. And that's a lot of chocolate!
But there is an alternative that I've been trying lately. Instead of melting and re-tempering my chocolate, I try to keep my semi-sweet chocolate in temper by not letting it get too hot when I melt it. If you can keep the temperature under about 90 degrees (86 for milk chocolate, 84 for white), it will retain (most of) the crisp character it starts with.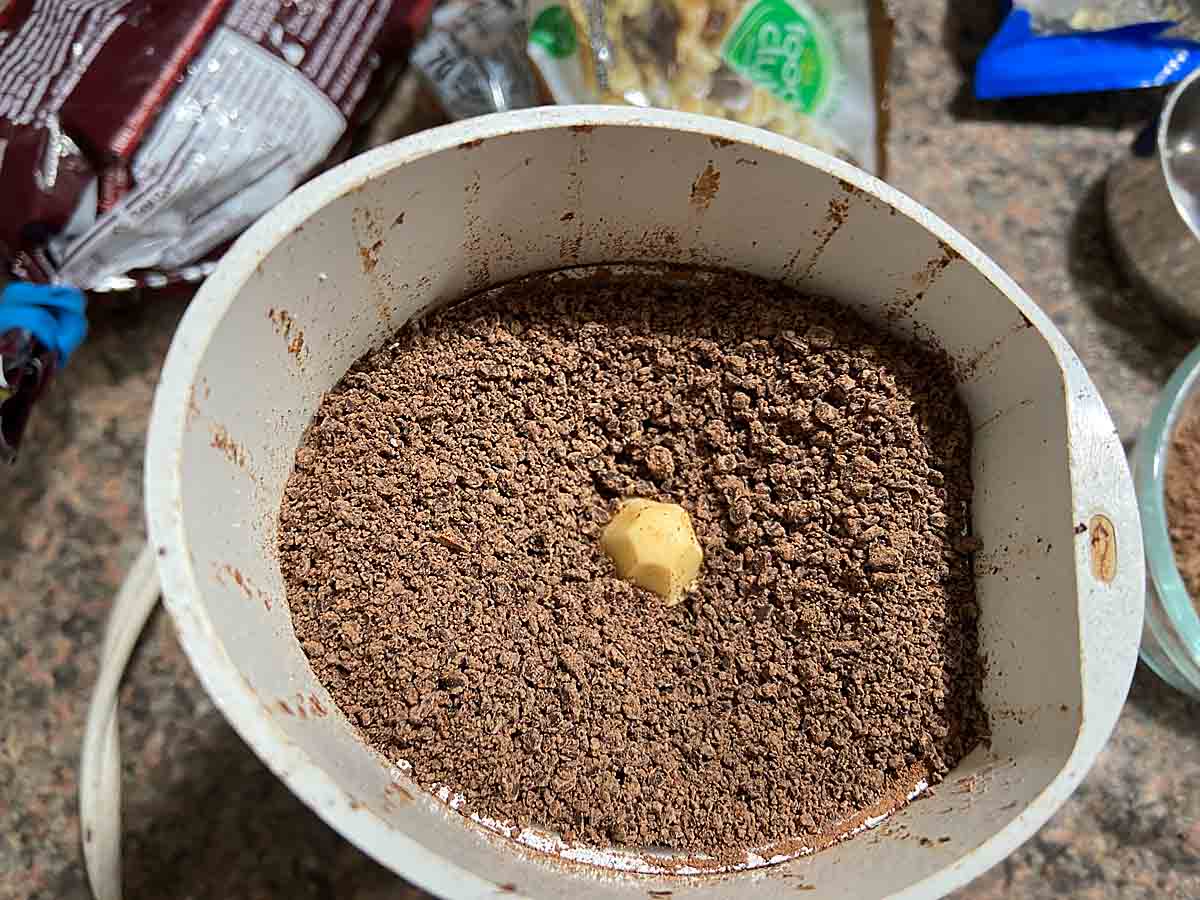 To do this, I use a coffee grinder to grind up the cocoa butter first, then the chocolate separately. In a small dish (ideally with a rounded bottom), I microwave the cocoa butter about 30 seconds, then stir vigorously, until the temperature of the bowl is back down. Then I heat for 5-6 seconds and stir again, repeating the 5-6 seconds of heating and stirring until melted.
When the cocoa butter is melted, I add the ground up chocolate and stir vigorously. I then continue the 5-6 seconds of heating, alternating with the stirring until the bowl temperature drops, until the chocolate is melted.
The process actually moves along pretty quickly and while the temper isn't perfect (I had some cocoa butter swirls and imperfect shine, my last try), it usually achieves a nice hardness.
How to Chop Chocolate Easily. One thing that makes it much easier to melt chocolate is to start with very small pieces. While there is a great knife technique for the thick blocks of chocolate, it doesn't work well with thinner chocolate or chocolate chips. For these, I had tried using both and blender and food processor on these and mostly ended up with big pieces of slightly shaved chocolate and a little powder.
This time I tried a coffee grinder and (drum roll)… it worked like a charm.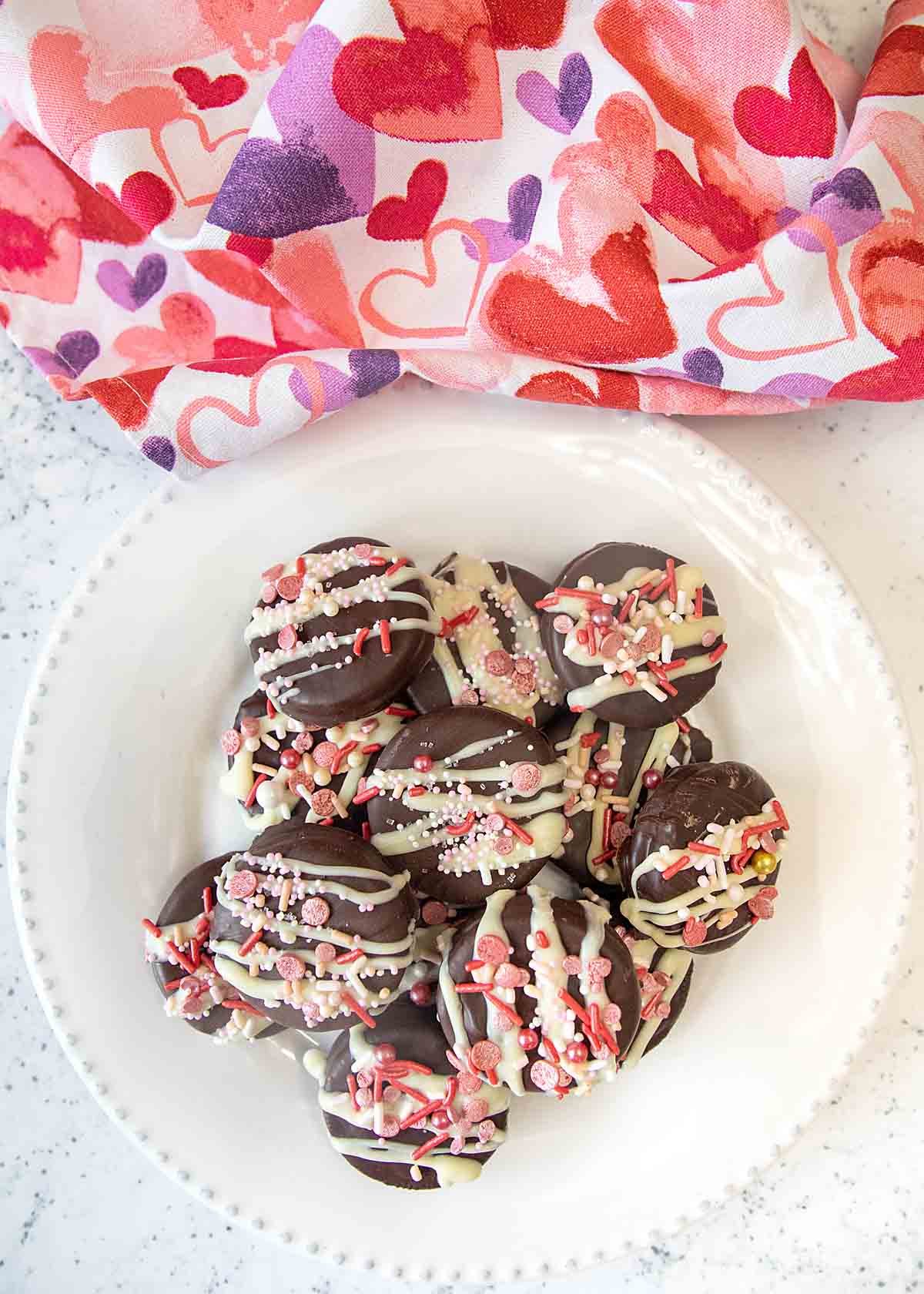 Chocolate Types for Dipping
On Using Chocolate Chips. I keep reading that chocolate chips won't work as well as chocolate blocks for melting because they have stabilizers (soy lecithin) to help the chip hold shape. I've even read that some chocolate chips aren't real chocolate Since I use them regularly, I thought I'd investigate.
After checking out the ingredient lists of a dozen or so chocolate chips (real chocolate chips, not candy melts) as well as baking chocolate, I found that everything was real chocolate and almost everything, including baking bars, has soy lecithin—Baker's unsweetened chocolate was the only exception I found, with no lecithin.
Of course, some chocolate is better than others, be it chocolate chips or bars. So do find something you like the taste of first!
On Candy Melts. Candy Melts are (generally) not real chocolate and many people feel they don't taste as good. If you're just using a little bit, they are fine, but to dip an entire Oreo, I strongly recommend using real chocolate. Now if you are going to add the white drizzles, using candy melts is fine for that.
On Paraffin in Chocolate. When my mother taught me how to make dipping chocolate, she instructed me to add a little bit of household paraffin. This made the molten chocolate thinner and easier to work with. Then when it dried, it had a hard crisp finish and a beautiful gloss. It was like perfectly tempered chocolate without the work!
Alas later, when I went more natural, I learned paraffin is a petroleum product, and out it went. I started adding cocoa butter instead which is good, but not quite as reliably perfect. Now there is a vegetable oil substitute that is supposed to work similarly to paraffin. Someday I'll try it and report back.
Of course lately, with the reports of lead and cadmium in chocolate, I've been wondering if the paraffin could be any worse. Ah, well, it's all a good call for moderation.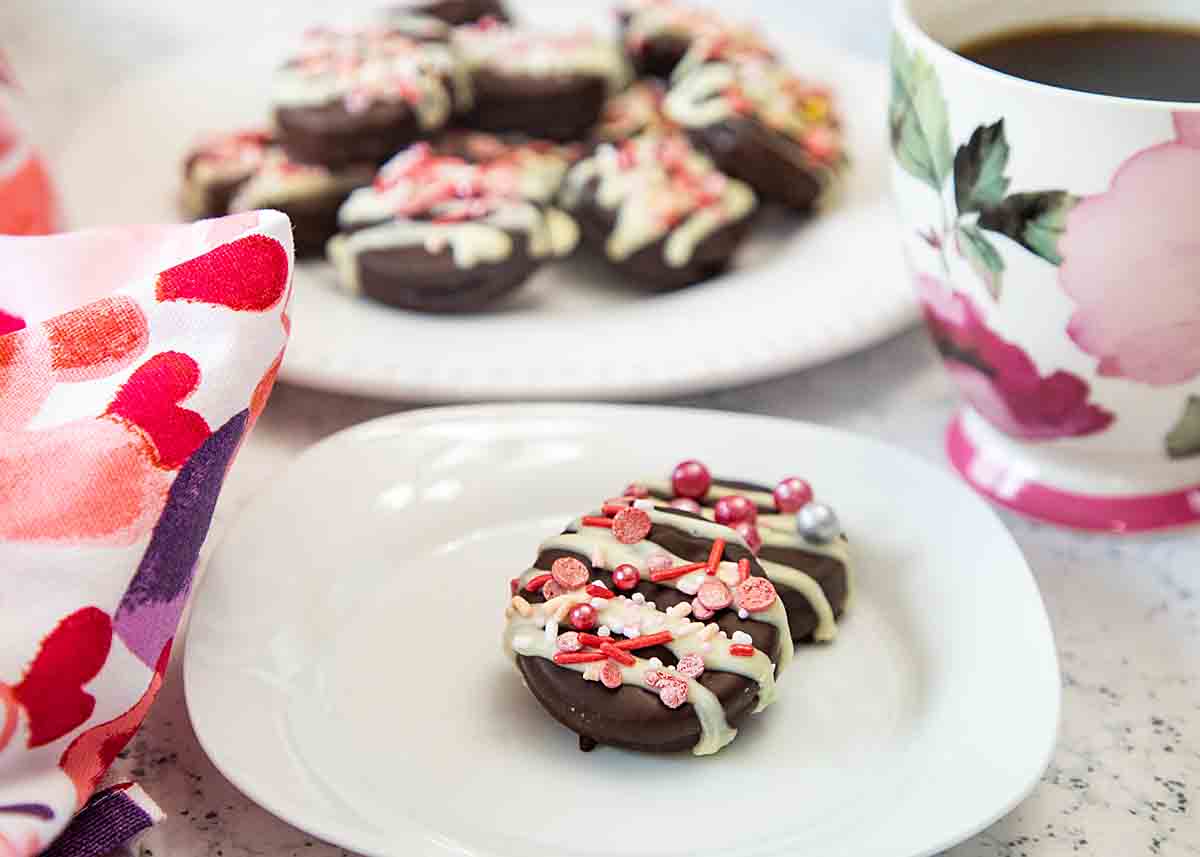 Variations and Special Diets
There are gluten free Oreos available so buy those if you'd like to produce a gluten free snack. Hmm, reminder to self to make gluten-free chocolate covered Oreos for the next book club meeting I host.
You could even dip maple leaf sandwich cookies for the fall.
Of course, you don't have to use a name brand cookie, though it should be a quality one. During the holidays, there are Peppermint Joe-Joes at Trader Joes's, which are delicious and don't have a green dyed filling–just be warned that they sell out long before Christmas.
Preparation and Leftovers
These should last a couple weeks in a sealed cookie tin at room temperature.
Tips & FAQs
Do I have to drizzle and sprinkle the cookies? No, plain chocolate coated Oreos are good too. Or you can sprinkle the cookie right after dipping so the sprinkles are right on the chocolate.
But if you are drizzling, for the best drizzled look, run the drizzles past the edge of the cookie.
As you are working, the dipping chocolate is likely to get too cool and thick to work with. Just reheat it in the microwave like you did the first time. Remember that's 5-6 seconds of power, then stir, stir, stir, repeating as needed, until just liquid.
For easiest stirring while you are melting, use a small bowl with a rounded bottom, rather than a ramekin.
If you decide to color your white chocolate for drizzling (pink would be pretty for valentine's day), be sure to use an oil-based coloring. Adding a water-based color can make the chocolate seize–that is become clumpy and unusable—and white chocolate is especially fussy.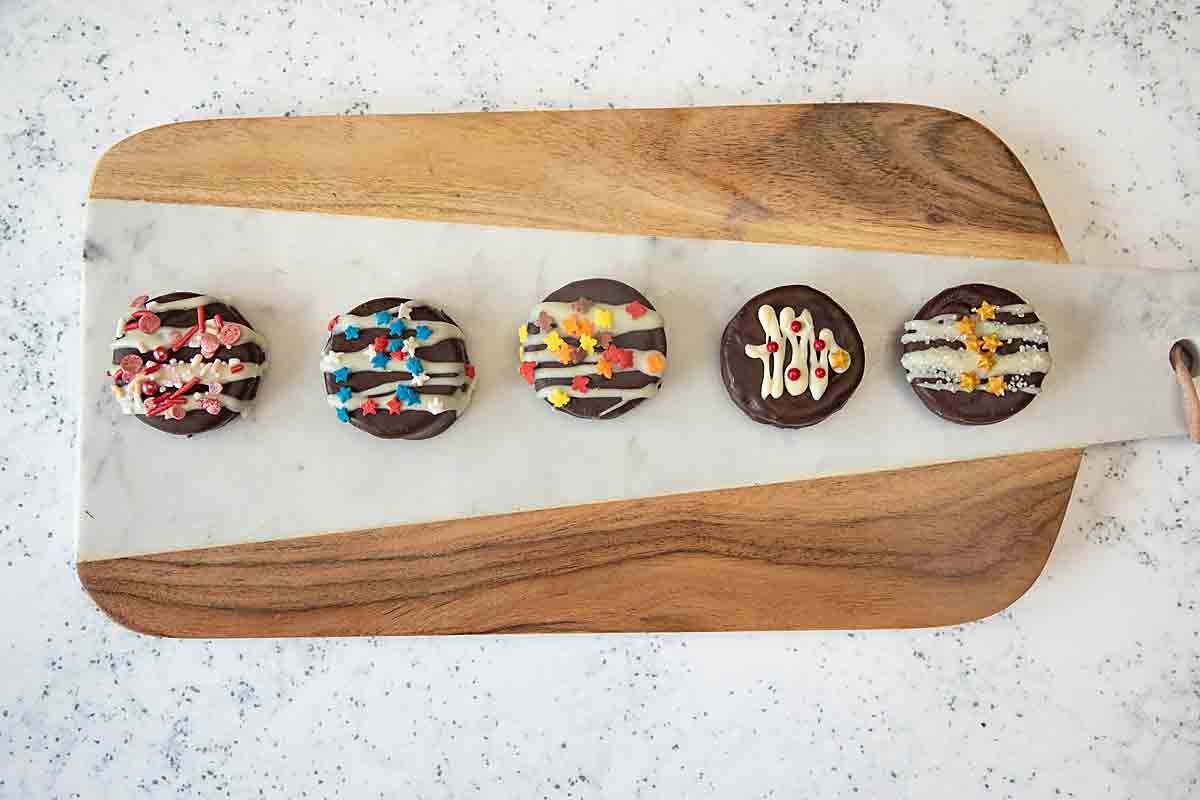 Celebrating Valentine's Day
We share Recipes From Our Dinner Table! Join our group and share your recipes, too! While you're at it, join our Pinterest board, too!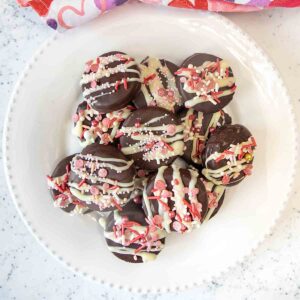 Chocolate Covered Oreos
Chocolate Covered Oreos are easy, tasty, pretty and impressive. Dress some up for Valentine's Day or any special occasion.
Ingredients
1

cup

semi-sweet chocolate chips

2

Tablespoons

chopped cocoa butter

20

oreo cookies

¼

cup

white chocolate plus ½ tablespoon cocoa butter

or white candy melts (optional)

Sprinkles in the colors of your choice

optional
Instructions
Chop the cocoa butter and chocolate chips very finely. A coffee grinder works well for this.

Place the cocoa butter in a small bowl and heat for 30 seconds in the microwave. Stir briskly until the bowl temperature drops. Heat again for 5-6 seconds, then stir again, repeating as needed until the cocoa butter is melted.

Stir the chopped chocolate chips into the melted cocoa butter. Heat for 5-6 seconds, then stir again until the temperature drops, repeating as needed until the cocoa is melted.

Set one Oreo into the melted chocolate, then turn with a fork until coated. Let the excess chocolate drip off, then set on parchment to dry. Repeat with the remaining cookies.

Optionally, when the cookies are cool and hard, melt the white chocolate using the same method as used to melt the semi-sweet. Using a spoon or a piping bag, drizzle white chocolate over the cookies. Sprinkle with sprinkles if desired.
Notes
As you are working, the dipping chocolate may get cooler and thicker. You can reheat in 5-6 second intervals, stirring in between like you melted it initially.
Nutrition
Calories:
128
kcal
Carbohydrates:
14
g
Protein:
1
g
Fat:
8
g
Saturated Fat:
4
g
Polyunsaturated Fat:
1
g
Monounsaturated Fat:
2
g
Trans Fat:
0.01
g
Cholesterol:
1
mg
Sodium:
49
mg
Potassium:
84
mg
Fiber:
1
g
Sugar:
9
g
Vitamin A:
5
IU
Vitamin C:
0.01
mg
Calcium:
11
mg
Iron:
2
mg
I am not a health professional and nutrition data is calculated programatically. Accuracy may vary with product selection, calculator accuracy, etc. Consult a professional for the best information.