Thickest Frozen Mudslide Ice Cream Drink
Creamy, frosty and a little boozy, the Frozen Mudslide is an Ice Cream Drink that is delicious all year round. Share one with your sweetie this Valentine's Day!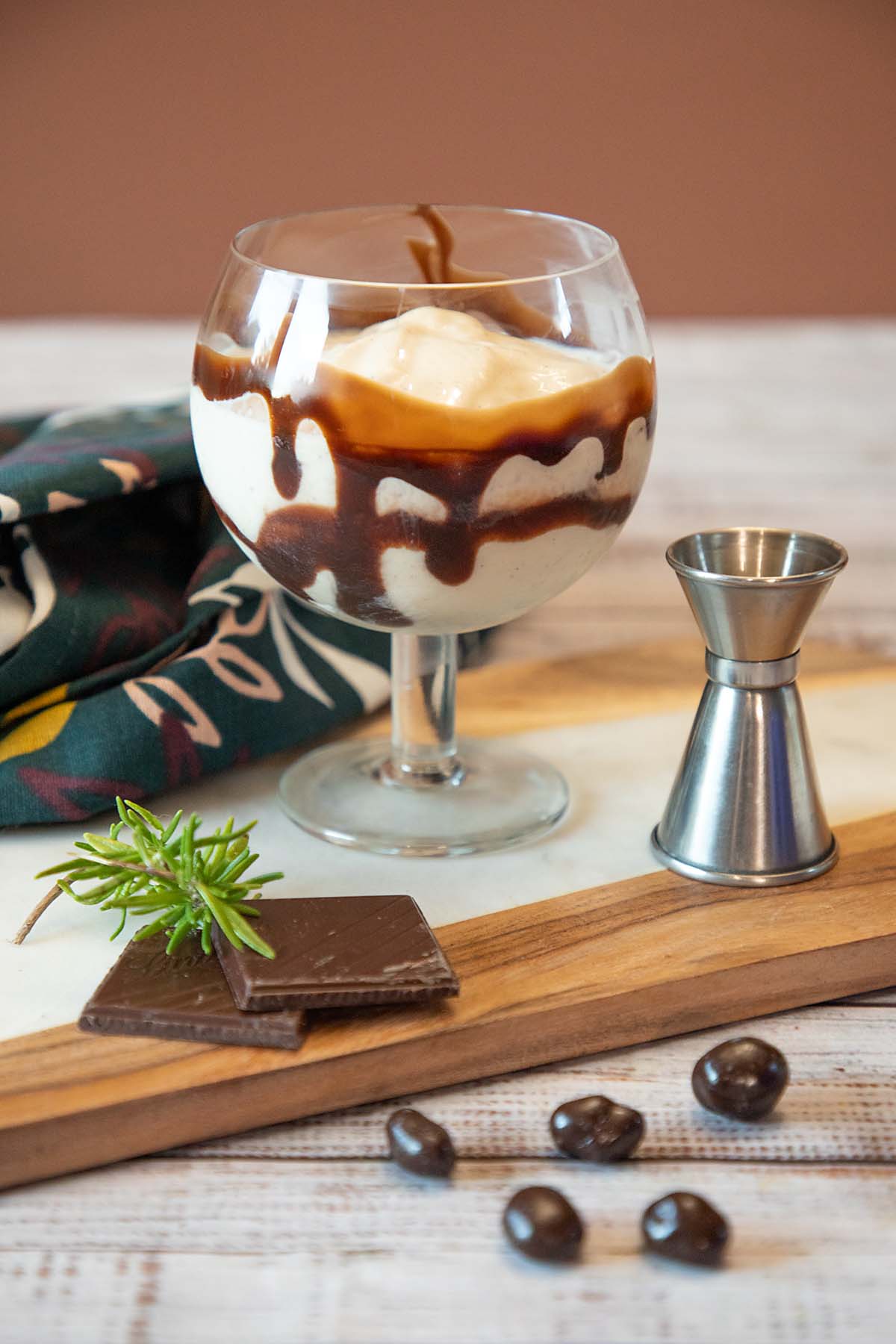 If there's anything that blogging teaches you, it's to expect the unexpected. Yes, my Old-fashioned Chocolate Malt has lots of people visiting–all winter! So do my ice cream cocktails like my minty Frozen Grasshopper and Chocolatey Brandy Alexander.
So today I'm sharing another ice cream drink, the Frozen Mudslide. Flavored with Baileys, Kahlua and vodka, it's especially tasty! And perfect for sharing with family for the holidays or other get together. Or a special someone on Valentine's day!
Now, ice cream drinks are big in Wisconsin, possibly due to the influence of Supper Clubs in a region known for dairy. And I think they're delicious all year round. Frosty for warm weather, creamy and warming for cool weather.
Who wouldn't love that in a drink!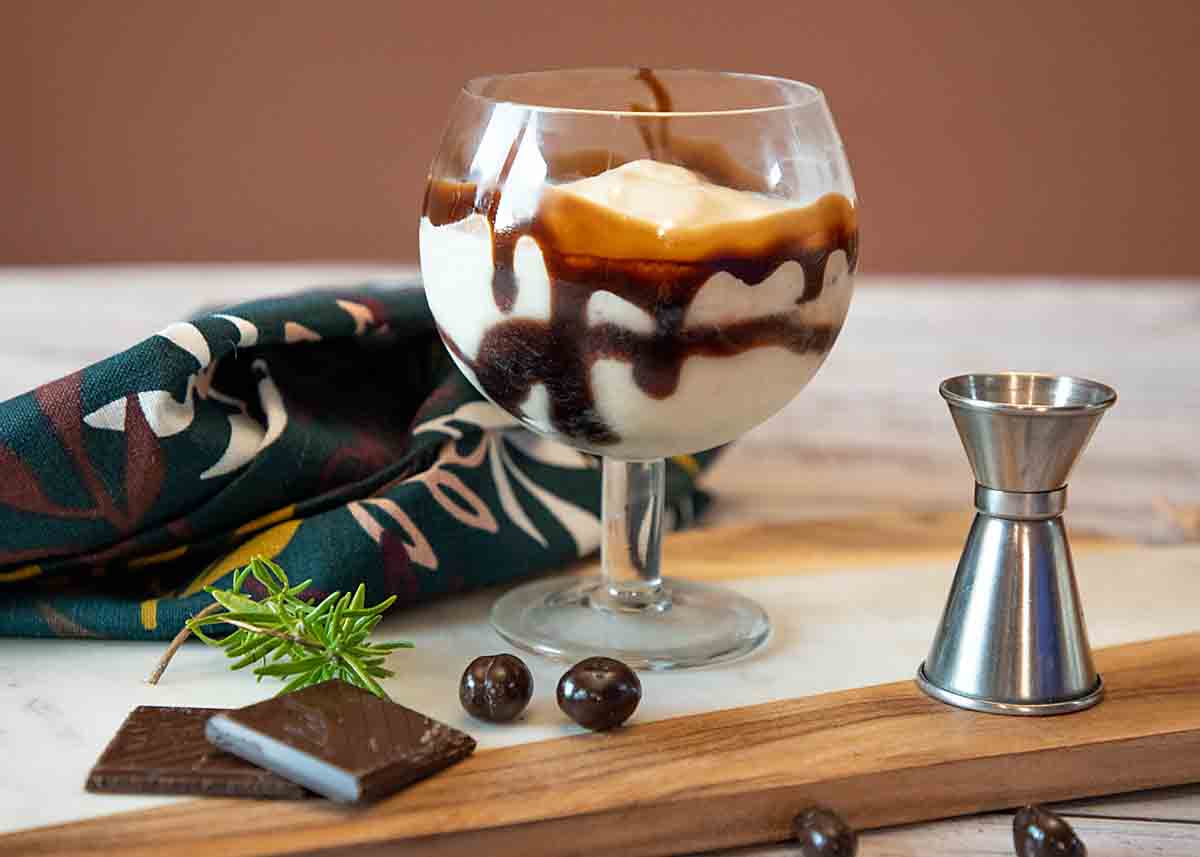 What is a Mudslide Drink?
The website, Your Dictionary (citing the American Heritage Dictionary), defines the Mudslide as "A sweet cocktail made with a whiskey-based liqueur blended with cream, a coffee liqueur, and sometimes vodka, served over ice." Sometimes the drink is called a Kahlua mudslide or a Baileys mudslide because of the liqueurs that flavor it.
Yup, not to be confused with a mudslide, the unplanned movement of wet earth. Though the traditional presentation, with squiggles of chocolate running along the inside of the glass, is somewhat reminiscent of sliding mud!
Now, as the dictionary mentioned, the basic version of the cocktail is made with cream and served over ice. But in my mind, the ice cream version is extra special. It joins a host of similar frozen cocktails where ice cream replaces the cream–like the (Frozen) Grasshopper and (Frozen) Brandy Alexander.
And the result? Frosty, sweet, and brilliantly satisfying!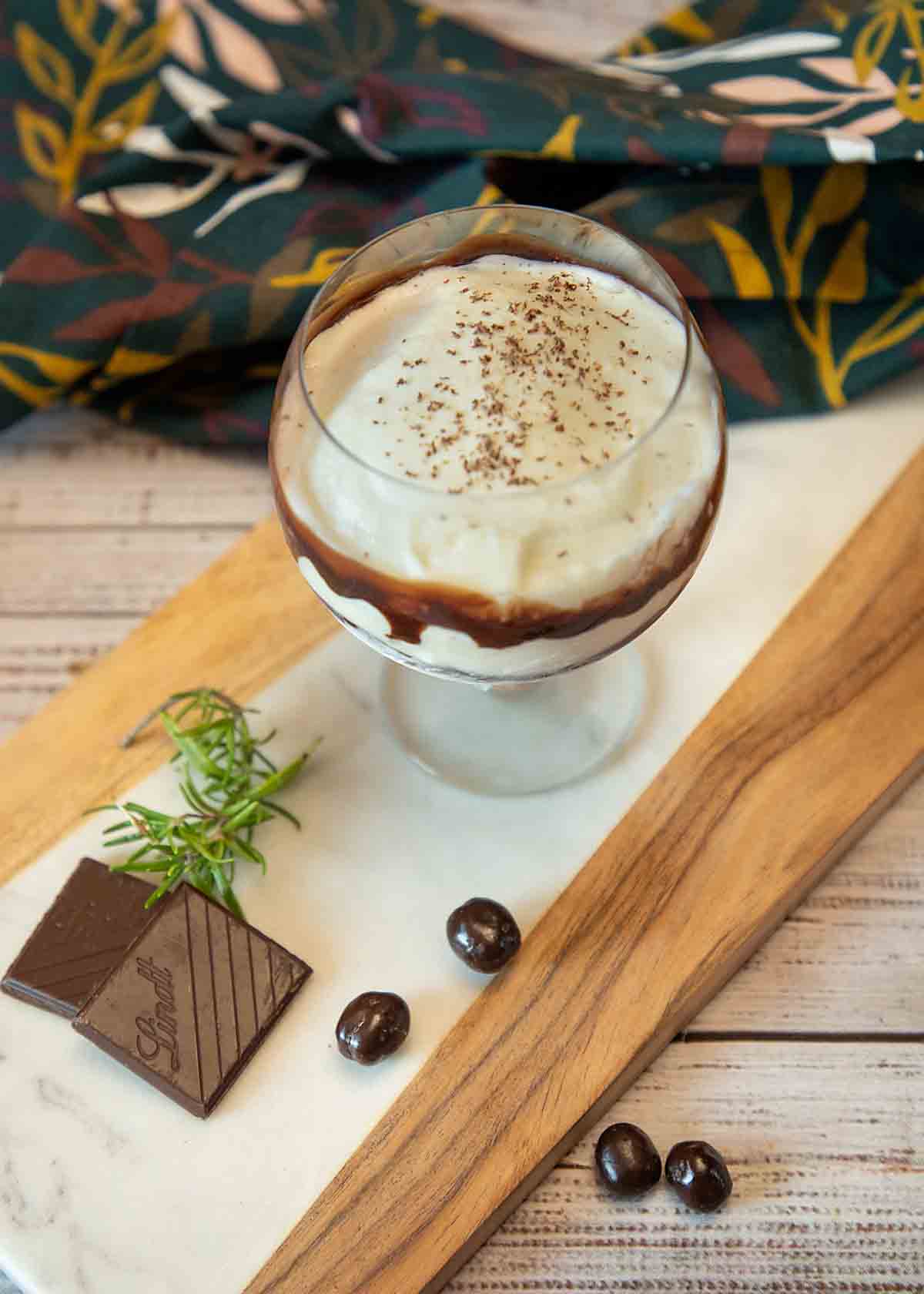 Why You'll Love This!
Flavorful. Creamy and rich, with chocolate and coffee flavors and a little boozy kick, this is a delicious cocktail or dessert.
Fun and Festive. I don't know if there's any beverage quite as fun and festive as an ice cream drink. It's even fun to look at with the cute chocolate swirls running down the sides of the glass!
Refreshing. The ice cream cools in summer, and the creamy booziness is perfect in winter. A winning cocktail anytime!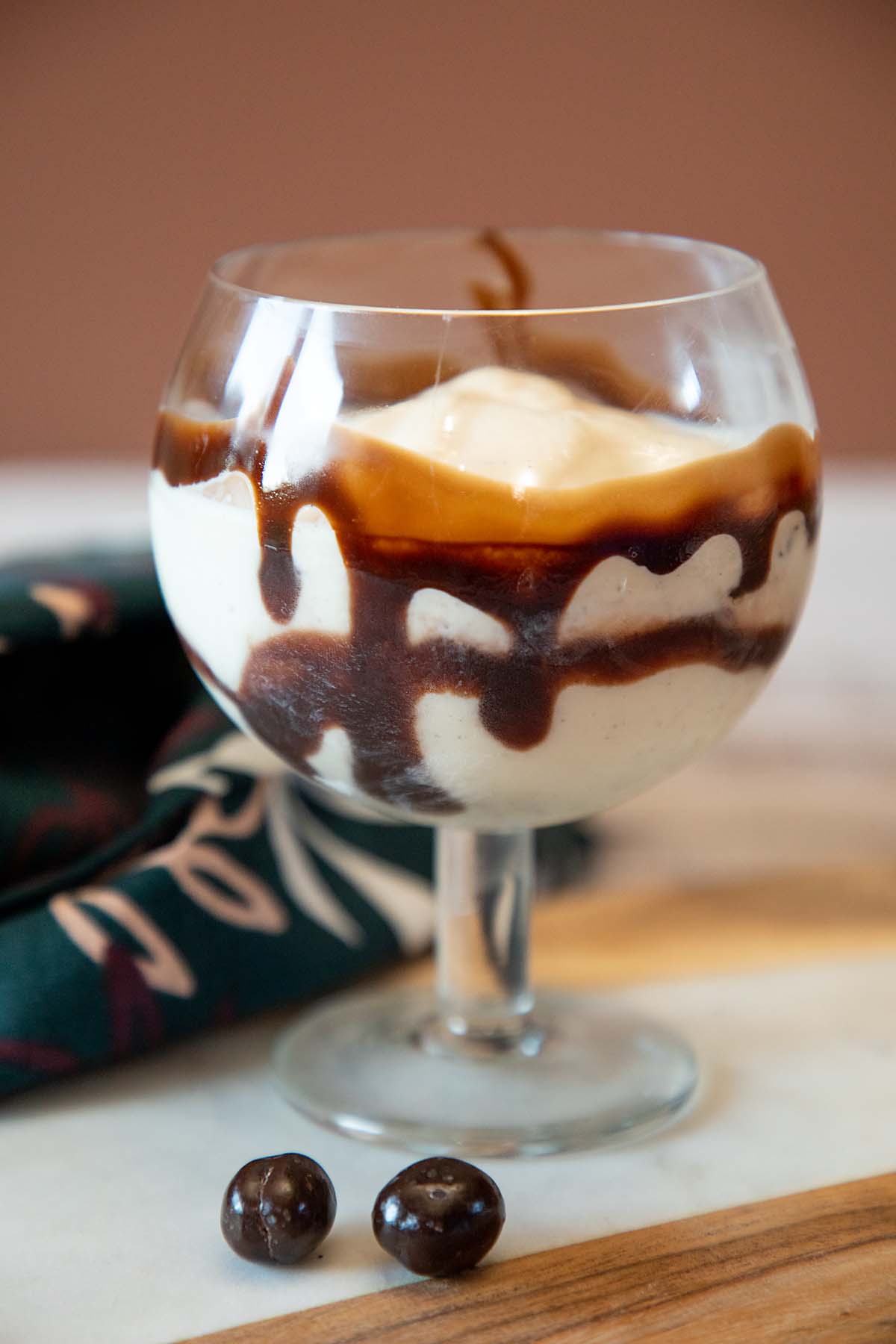 What You'll Need
Ingredient Notes
Chocolate syrup. For giving the glass it's characteristic swirls. You can use Hershey's or homemade chocolate syrup.
Bailey's, Kahlua. These liqueurs add flavor sweetness and some alcohol content. You can substitute other Irish Cream and Coffee liqueurs if you'd like.
Vodka. This increases the warm alcohol glow without making the drink too sweet.
Ice Cream. This delivers the creamy richness
Whipped cream & chocolate shavings (optional). To garnish.
Special Tools
A good blender is easiest for mixing, though some bars will actually do this by hand.
Step by Step Directions
Swirl the chocolate inside your glass by laying the glass on its side and turning it. Set it upright again. The swirls will run down, which is the right look.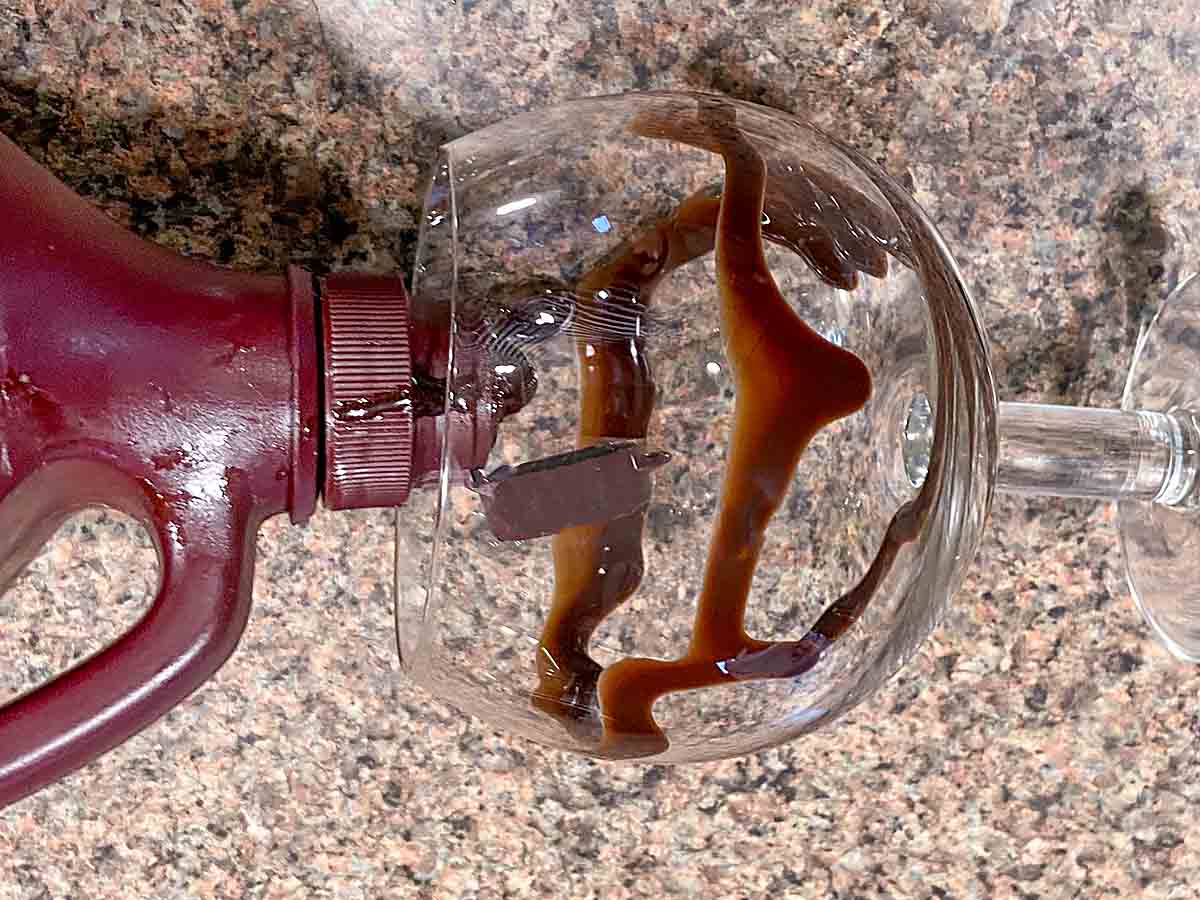 Put the ice cream and alcohol in a blender, keeping everything as cold as possible. Blend until smooth.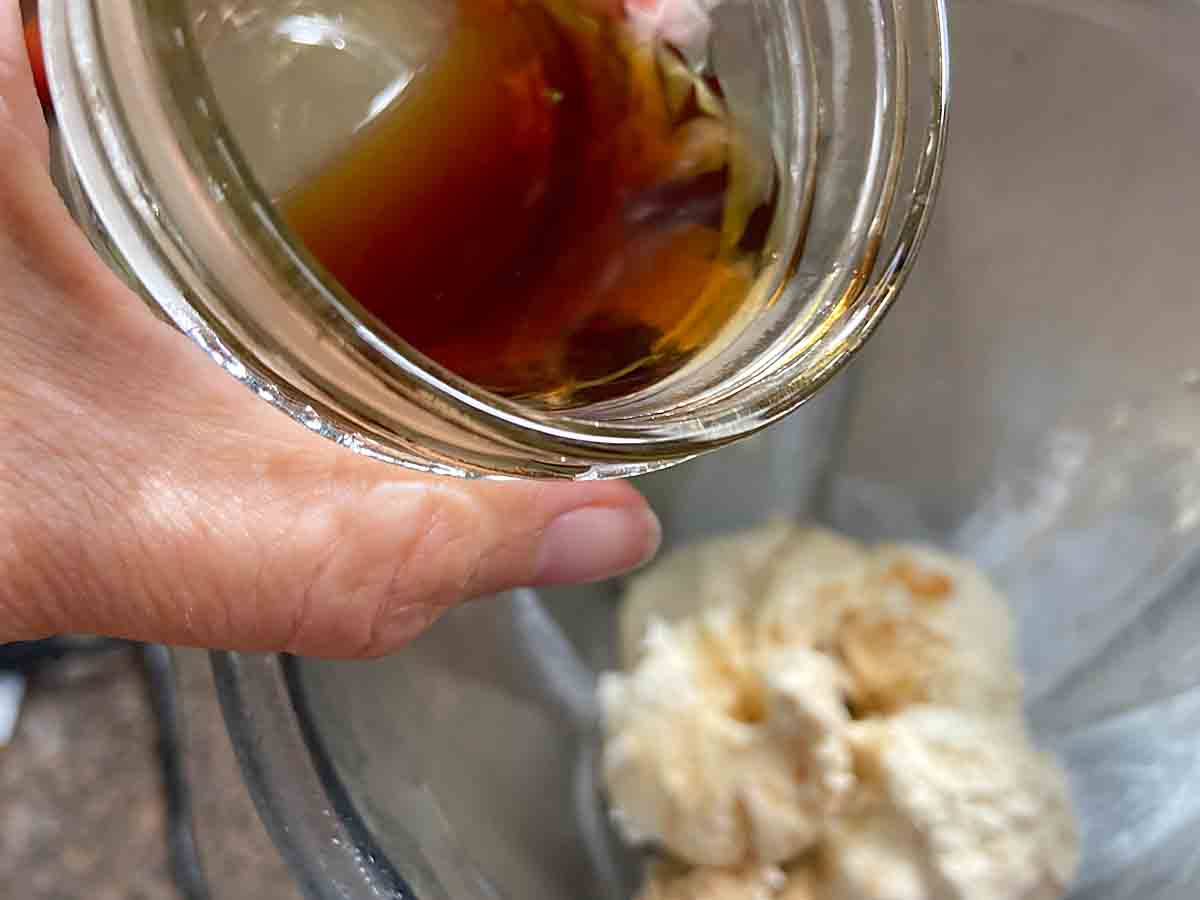 Pour into the prepared serving glass.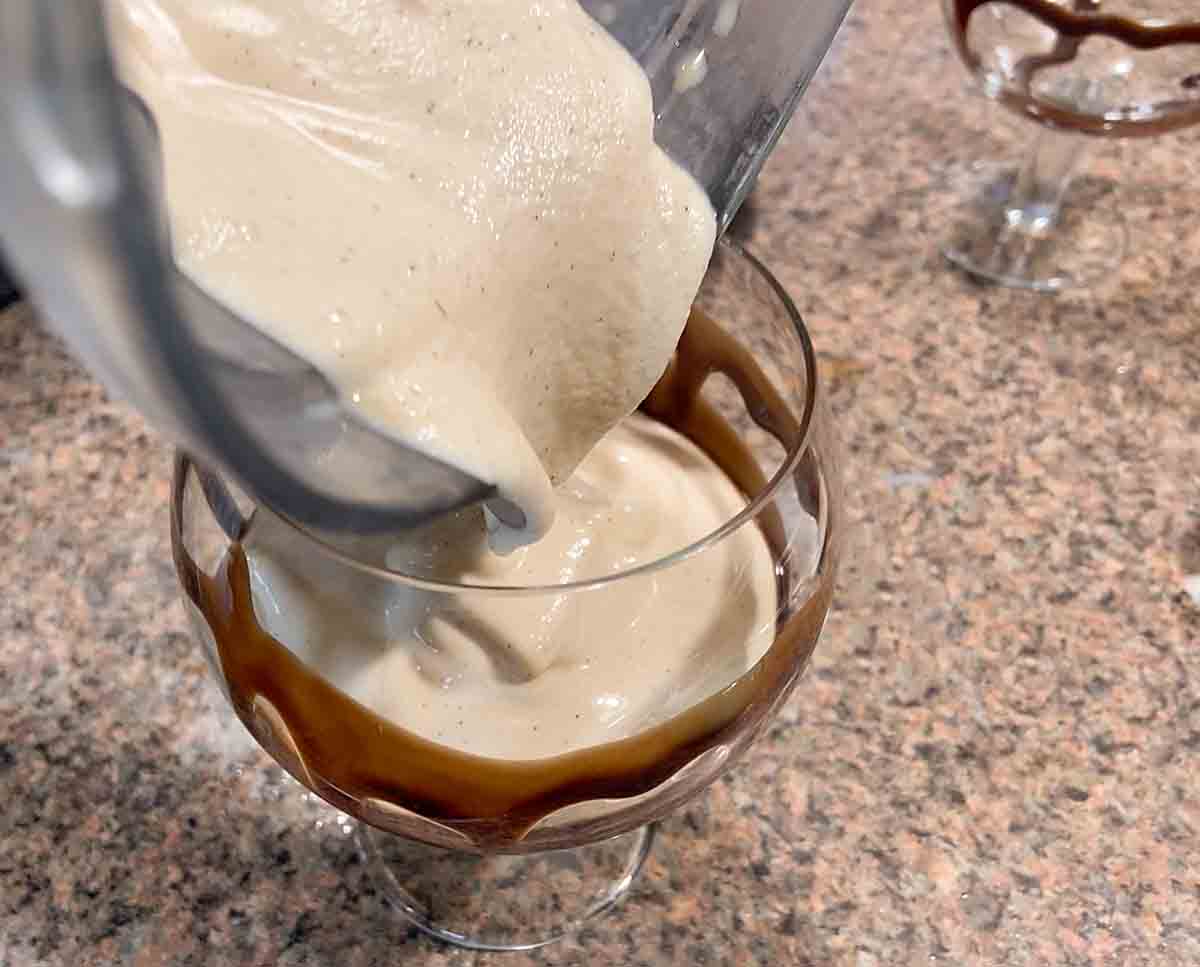 Top with whipped cream and chocolate shavings if desired.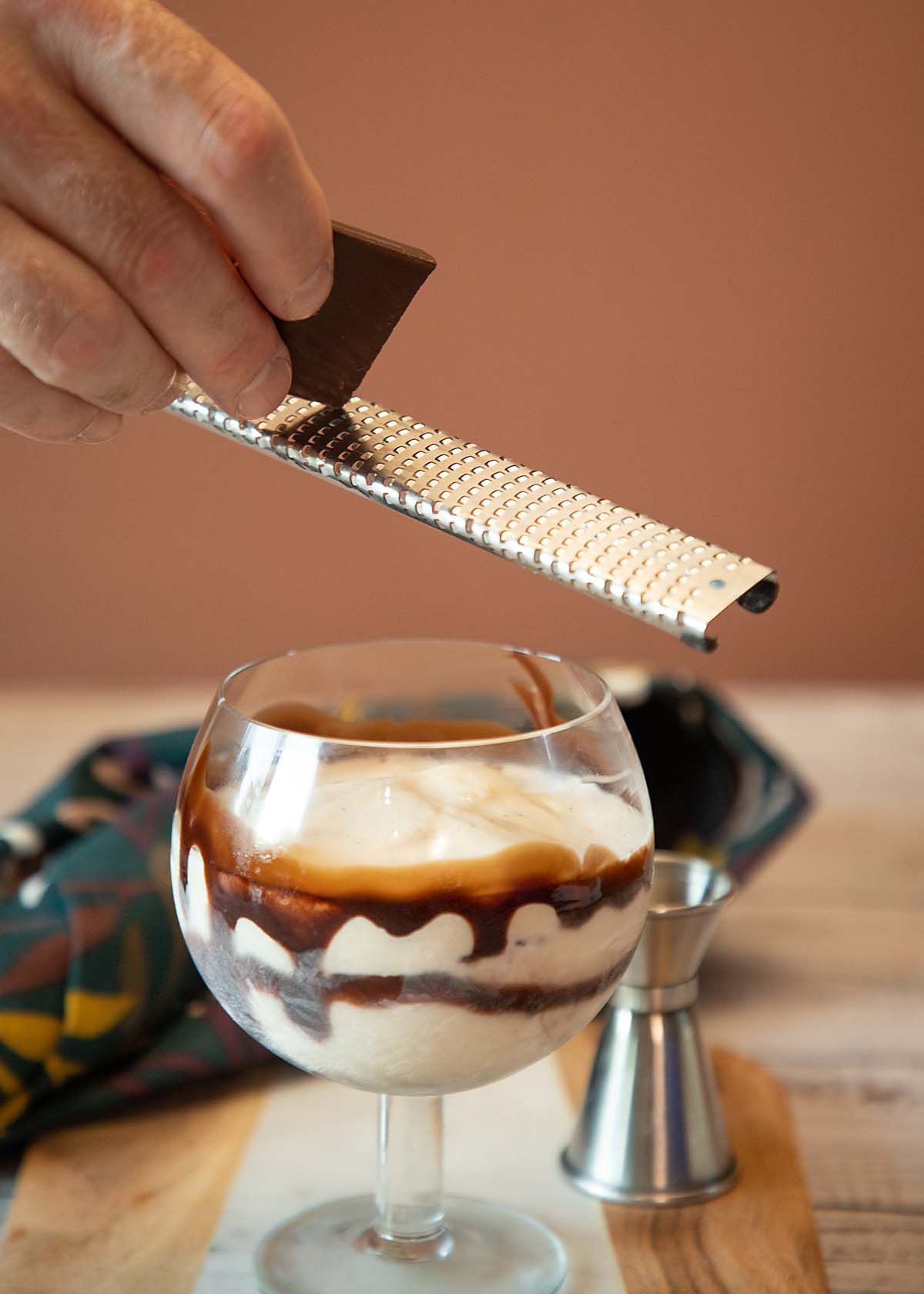 Enjoy!
How to Serve
I love an ice cream cocktail like the Frozen Mudslide as dessert after a nice dinner. It's a tasty way to cap off a fun evening–and some restaurants make them extra big to share! It's also fun for a special cocktail hour, a ladies night out or any special occasion.
This can be made as a single serving or made double or triple and served up to a group!
Presentation
Many ice cream drinks are served in martini glasses. But to really show off the chocolate swirls on the glass I like to use a brandy snifter. But really, use whatever you have. It will be a hit in any glassware.
I top most of my ice cream drinks with whipped cream to add more height and… well, I just like whipped cream! Sometimes shave a little chocolate on top using a microplane for pretty small sprinkles. I've even been known to add a couple chocolate squares or espresso beans on the side.
Then serve with a spoon and a straw. Because any drink this thick deserves both!

Variations and Special Diets
As I mentioned earlier, there's a version of the Mudslide made without ice cream. If you'd like to give that a try, omit the ice cream, add about an ounce of heavy cream, shake everything up and serve over ice. I've never tried it, but I'm pretty sure I'd like it too!
You can make this vegan and dairy free with a couple simple substitutions. First use a vegan ice cream and then use crème de cacao instead of the Baileys. Easy peasy!
Preparation and Leftovers
If you wanted, you could premake this drink, keep it in the freezer and re-blend briefly if needed. Just be sure you don't have kids who will get into it!
As far as leftovers go, I've never, ever, seen leftovers of an ice cream drink.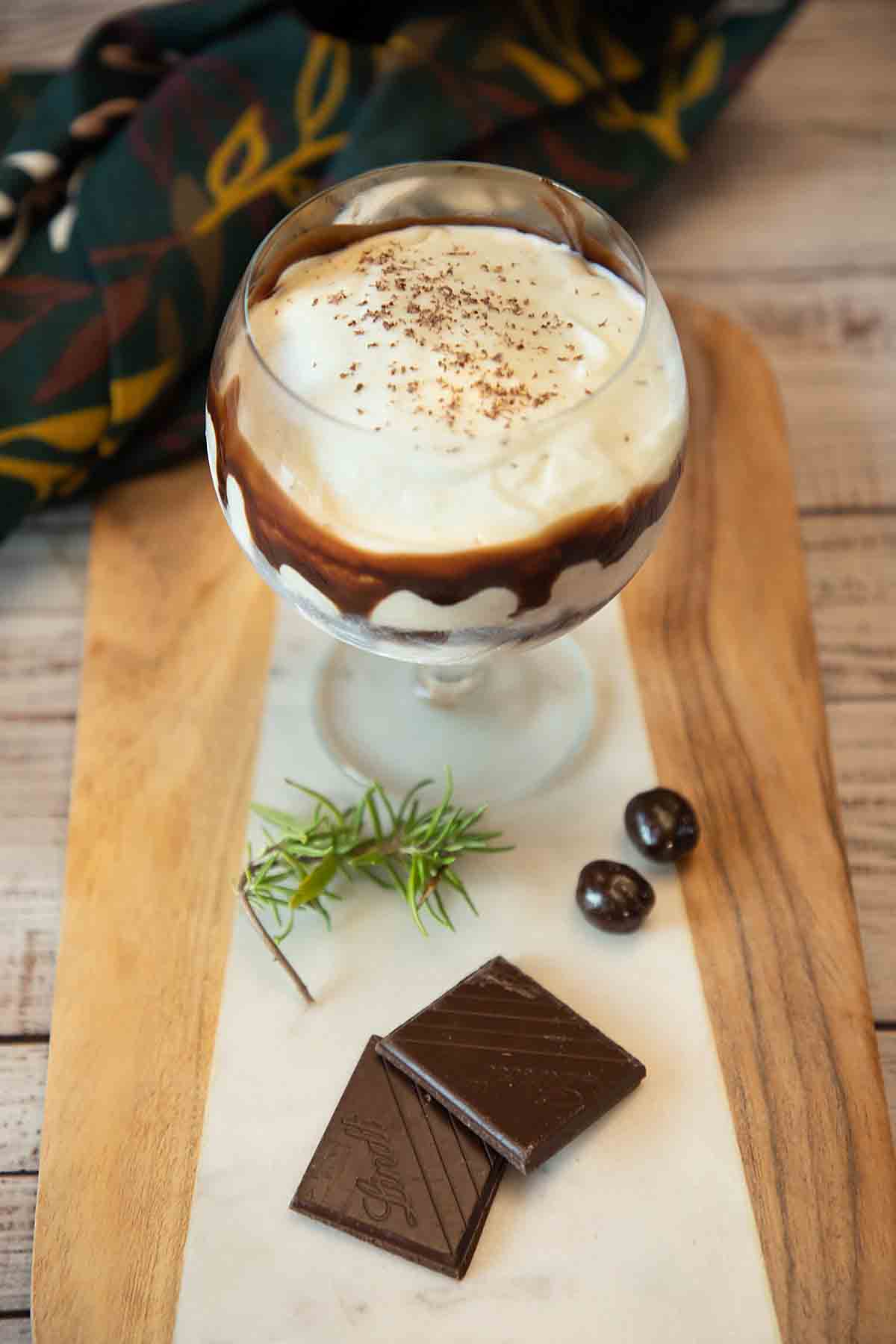 Tips & FAQs
I made my first iteration of Frozen Mudslide without any vodka, instead adding extra Kahlua and Baileys which I thought might provide more flavor. But I found the results too sweet, even for a gal with a sweet tooth, so the vodka went back in.
How Do I Make the Thickest Drink? For the thickest drink, keep the ice cream as cold as possible and don't add extra alcohol which melts ice cream. Yes, if I'm delayed, I've been known to pop the scooped ice cream into the freezer– or even the entire blender canister with the blended mudslide. There everything will stay perfect while I whip the cream, great quests, or deal with some last-minute detail.
I don't like to put my serving glasses in the freezer because they fog up and don't look as nice.
What if I don't like coffee? My coffee phobic husband is a big fan of this drink, so I recommend giving it a try even if you don't like coffee. But if you really can't get past the Kahlua, you could try using some walnut liqueur or crème de cacao instead, or simply extra Baileys (though that has slight coffee overtones too). Or perhaps you'd prefer a chocolatey Brandy Alexander ice cream drink.
Is this a summer drink? While the Frozen Mudslide is a great summer drink, personally I find it even more amazing in fall, winter, and spring. During cool weather, the richness of the ice cream and warmth of the booze feel perfect. Of course, the chocolate doesn't hurt either!
How do I get fine chocolate shavings? To get fine chocolate shavings, I like to grate a square of chocolate using a microplane. This will create fine bits of chocolate that will float on drinks or sit atop whipped cream without sinking.
If you're looking for an all natural (even organic) chocolate syrup, try my homemade chocolate syrup! Easy, delicious and no worries about corn syrup!
Frozen Mudslide
Creamy, frosty & a little boozy, the Frozen Mudslide is an Ice Cream Drink that's delicious all year round. Perfect for dessert or cocktails hour!
Ingredients
Chocolate syrup

for swirling the glass

1/2

ounce

Bailey's

1/2

ounce

Kahlua

½

ounce

vodka

2

cups

vanilla ice cream

about 4 very large scoops

Whipped cream & chocolate shavings

optional
Instructions
Swirl the chocolate inside your glass by laying the glass on its side and turning it. Set it upright again. The swirls will run down, which is the right look.

Put the ice cream and alcohol in a blender, keeping everything as cold as possible. Blend until smooth.

Pour into prepared serving glass. Top with whipped cream and chocolate shavings if desired.
Nutrition
Calories:
674
kcal
Carbohydrates:
72
g
Protein:
10
g
Fat:
31
g
Saturated Fat:
19
g
Polyunsaturated Fat:
1
g
Monounsaturated Fat:
8
g
Cholesterol:
116
mg
Sodium:
212
mg
Potassium:
526
mg
Fiber:
2
g
Sugar:
65
g
Vitamin A:
1111
IU
Vitamin C:
2
mg
Calcium:
338
mg
Iron:
0.2
mg
I am not a health professional and nutrition data is calculated programatically. Accuracy may vary with product selection, calculator accuracy, etc. Consult a professional for the best information.