This epic burger is part of a fun month-long burger fest hosted by Girl Carnivore! Super easy, but with a big taste punch, this Stuffed Pizza Burger is filled with tasty provolone and Italian seasonings, then topped with pizza sauce!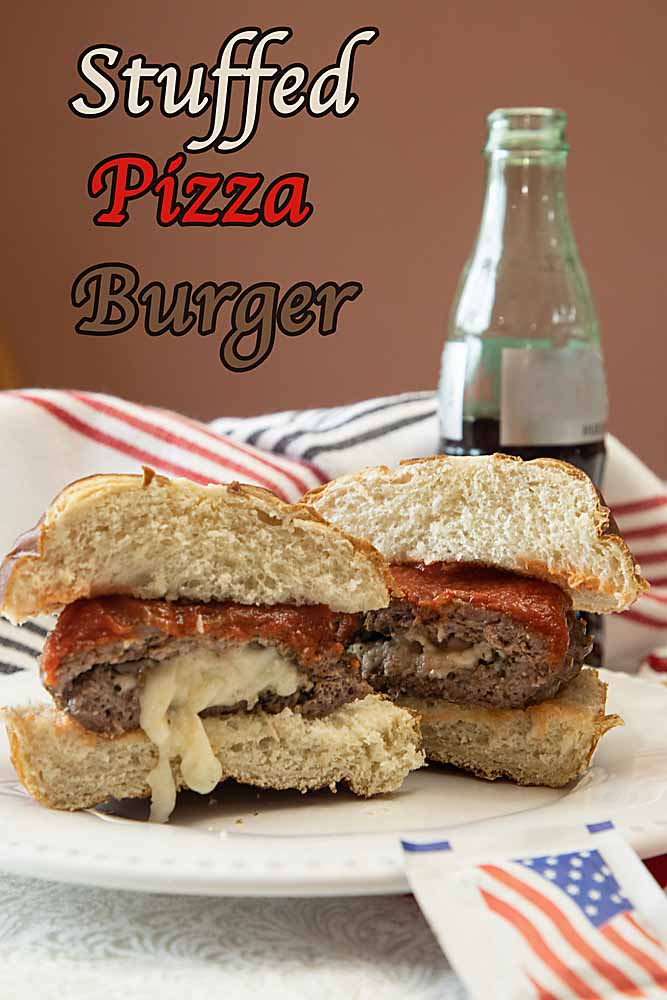 Summer (which WILL get here) is burger season—time to prepare! Today I am recreating my favorite childhood burger, the Stuffed Pizza Burger.

I had actually been planning this tasty burger for awhile and, of course, checking things out online. And most people simply topped a plain patty with pizza sauce and mozzarella. While that's all well and good, my youthful delight came from biting in and getting a gush of melty cheese. Yum!

And that wasn't all it had going for it. The meat was full of pizza spices for lots of added flavor. Even the cooking smell was to die for. We'd eat them at a resort town restaurant on rainy days. Courtesy of vacation-weary parents trying to combine kid entertainment and lunch.

Yes, I wanted the whole experience with my pizza burger recipe!

Now I admit I avoided making these for years. For one simple reason. Every time my mom made them, the cheese ran out.

So I decided to google how to keep your burgers from falling apart–and found this link. Basically, I work the meat as little as possible, and (this is key) keep the meat cold. I pop the uncooked stuffed pizza burgers into the freezer for a few minutes while the pan heats up and (drum roll) no leaks!

On another prep note, there are two ways to add the spices—mix gently into the meat, or sprinkle on top. Mixing in tastes just a smidge better and doesn't seem to cause any burger breakage, but I go back and forth on whether it's worth the extra work. So sometimes I just sprinkle the seasoning on the insides of the patties before pressing together.

I served up the final Stuffed Pizza Burgers to an excited family. Even my picky daughter thought they were good. Without the bun of course. Hmm, that makes it low carb too. So maybe she's on to something.

.
Stuffed Pizza Burger
Super easy, but with a big taste punch, this Stuffed Pizza Burger is filled with tasty provolone and Italian seasonings, then topped with pizza sauce!
Ingredients
1 lb ground beef
2 teaspoons Italian season (see note)
4 slices provolone (or equivalent in grated cheese)
½ cup prepared pizza sauce
Instructions
Divide ground beef into 4 pieces for 4 burgers. Divide each section into two and form a top and bottom patty for each burger.
Sprinkle about 1/4 teaspoon of Italian seasoning on the tops of each patty.
Place cheese in the center of 4 patties, avoiding the edges. Top these with the 4 remaining patties, herb-side in. Crimp edges to seal. Place patties in the freezer for a few minutes while pan heats.
Heat a large skillet until drops of water sizzle when sprinkled inside. Cook patties until brown on bottom, then flip and continue cooking until inside of patties reaches 165 F on an instant read thermometer, about 5 minutes per side.
Top with pizza sauce and serve on a bun or off.
Notes
Can sub ½ t each, basil, oregano, thyme, marjoram for Italian seasoning
Nutrition Information:
Yield:

4
Serving Size:

1
Amount Per Serving:
Calories:

425
Total Fat:

28g
Saturated Fat:

12g
Trans Fat:

1g
Unsaturated Fat:

12g
Cholesterol:

120mg
Sodium:

458mg
Carbohydrates:

4g
Fiber:

1g
Sugar:

1g
Protein:

39g
Nutrition data accuracy may vary with product selection, calculator accuracy, etc. Consult a professional for the best information.
Now if you're really hungry, check out the other great contributors below!
Participants:
🍔 Girl Carnivore 🍔 A Kitchen Hoor's Adventures 🍔A Day in the Life on the Farm 🍔 A Merry Recipe 🍔 An Affair from the Heart 🍔Art of Natural Living 🍔 Caroline's Cooking 🍔Chef Justin Grimm 🍔Chiles and Smoke 🍔 City Living Boston 🍔Comfortably Domestic 🍔Culinary Adventures with Camilla 🍔 Dixie Chik Cooks 🍔 Everyday Eileen 🍔 Everyday Southwest 🍔 For the Love of Food 🍔Good Cook Doris 🍔Grillax: Fire. Food. Fun. 🍔 Grilling Montana 🍔 Hezzi-D's Books and Cooks 🍔 Jolene's Recipe Journal 🍔 Karen's Kitchen Stories 🍔 Kate's Recipe Box 🍔Kudos Kitchen by Renee 🍔Life Currents 🍔 Life of a Ginger 🍔Making Miracles 🍔Man Meat BBQ 🍔 Miss in the KItchen 🍔Off the Eaten Path 🍔Our Good Life 🍔 Palatable Pastime 🍔 Pastry Chef Online 🍔 Real Life With Dad 🍔Renee Nicole's Kitchen – Everyday Gourmet 🍔 Sarah's Cucina Bella 🍔Savoring Midlife 🍔 Seduction in the Kitchen 🍔 Simple and Savory 🍔 Spoonabilities 🍔 Sumptuous Spoonfuls 🍔 Swirls of Flavor 🍔 The Redhead Baker 🍔 The Spiffy Cookie 🍔This is How I Cook 🍔 Thyme for Cocktails 🍔What's Cooking Italian Style Cuisine 🍔 Wildflour's Cottage Kitchen 🍔Wile E. BBQ 🍔 Wok & Skillet 🍔