Spiff up your football snacking or just make the most fun dinner ever with these Steak Fajita Nachos. A crowd pleaser that's ready in minutes!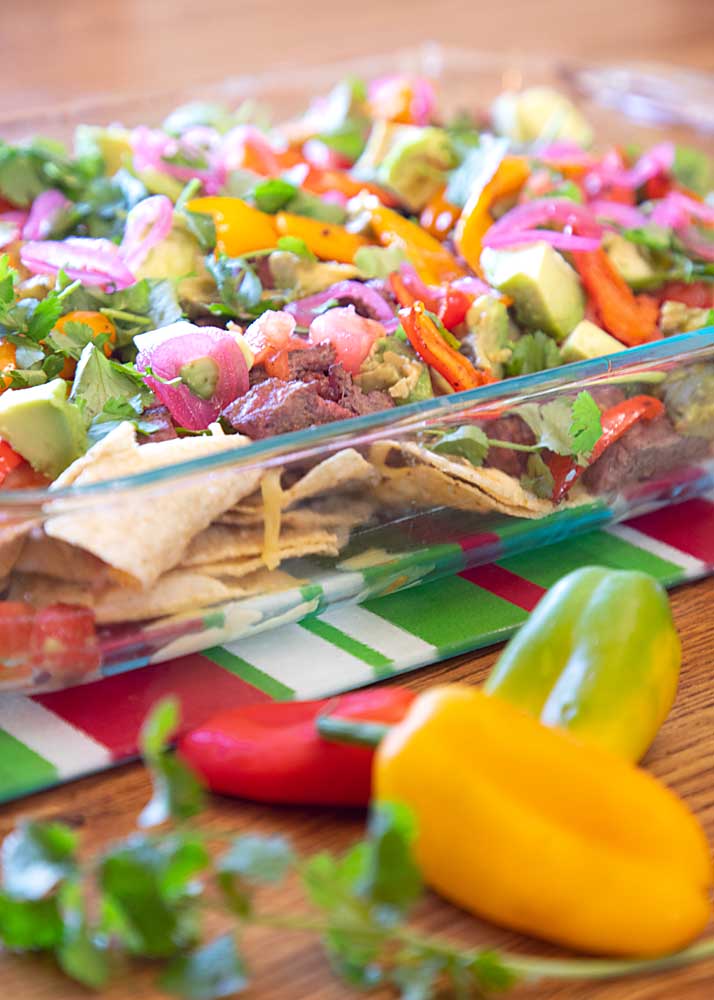 When my Sunday blogging group decided to make fancy nachos, I was worried. I've never even made plain nachos. And they wanted loaded nachos!
But I happened to have just made some new pickled red onions. And when I went looking for ideas for using them, I saw lots of recipes for steak nachos. How perfect!
I liked how flexible the concept was. There really aren't any hard and fast rules about nachos, right? I wanted to add bell peppers and Monterey Jack cheese, but instead subbed sliced mini-peppers and another mild cheese, since I had those handy.
And traditionally a dish like this would see flank steak or skirt steak. But I had a nice sirloin left from last year's quarter of grass-fed beef. (And a freezer needing to be emptied and defrosted for this year's meat.) So, in it went.
No nacho police in my house!
I skipped the marinade and instead used a sprinkle of salt, pepper and cumin before frying. Can't keep those hungry football watchers waiting.
Other than one daughter and me, my family avoids hot food, so I skipped the spicy add-ins. Consider adding some jalapeños or a spicy salsa if you want more heat.
The dish was a big hit—and was deemed my best football treat since my Italian sausage stuffed mini peppers.
The Packers won the game that day. Does this mean I need to make it whenever they play?
Steak Fajita Nachos
Yield: 8

Prep Time: 15 minutes

Cook Time: 15 minutes

Total Time: 30 minutes

Spiff up your football snacking or just make the most fun dinner ever with these Steak Fajita Nachos. A crowd pleaser that's ready in minutes!
Ingredients
2 T olive oil, divided
1 lb. Flank Steak or skirt steak or sirloin
½ teaspoon cumin
½ teaspoon salt
1 bag tortilla chips
2 cups shredded Monterey Jack or other mild, meltable cheese
1 tablespoon minced garlic
2 cups sliced peppers
4 tablespoons fresh lime juice
Cold Toppings:
1/4 cup chopped fresh cilantro (more or less to taste)
1 large tomato, diced
1 small red onion, chopped or a jar of pickles red onion
1 avocado, peeled, seeded and cubed
Optional: pickled jalapenos, spicy salsa, sour cream
Instructions
Heat 1 Tablespoon oil in a large skillet. Add steak to the hot pan and sprinkle with cumin, salt and pepper. Fry on each side until steak is about medium rare* (or just below desired doneness), knowing that it will cook about another level in the oven. Slice steak into bite-sized strips.

Place a layer of chips in a 9 x 13 pan. Top with half of the grated cheese, then add another layer of chips. Top with steak strips and remaining cheese, then place in preheated 400 F oven.

In the pan the steak cooked in, heat remaining 1 Tablespoon of oil. Add garlic and peppers and cook on medium high until limp.

When cheese is melted and chips are crisp, remove nacho pan from the oven. Top with sautéed peppers and remaining cold toppings (tomatoes, avocados, onion, cilantro)

Serve immediately, perhaps with a side of spicy salsa or jalapenos for heat lovers.
Notes
FDA would want me to warn you that underdone meat is more dangerous than well done.
Nutrition Information:
Yield: 8 Serving Size: 1
Amount Per Serving: Calories: 507Total Fat: 31gSaturated Fat: 11gTrans Fat: 0gUnsaturated Fat: 17gCholesterol: 90mgSodium: 577mgCarbohydrates: 27gFiber: 4gSugar: 3gProtein: 32g

Nutrition data accuracy may vary with product selection, calculator accuracy, etc. Consult a professional for the best information.



Loaded Nacho Recipes
We share Recipes From Our Dinner Table! Join our group and share your recipes, too! While you're at it, join our Pinterest board, too!