Chocolate Nut Clusters (Low-carb option)
Crunchy, chocolatey & healthier than the average treat, chocolate nut clusters are easy to make and adaptable to low-carb, sugar-free and gluten-free diets.
Once in a while everyone needs a little treat. But it doesn't have to be unhealthy. And you don't need to pass if you're on a special diet. These chocolate nut clusters are naturally gluten free and can be made with regular or sugar free chocolate. Perfect for low-carb or sugar-free diets.
And did I mention they're delicious?
I've always been one to enjoy a homemade candy. It's a tasty snack or dessert that can feel really special. And if you make it yourself, you know what's in it!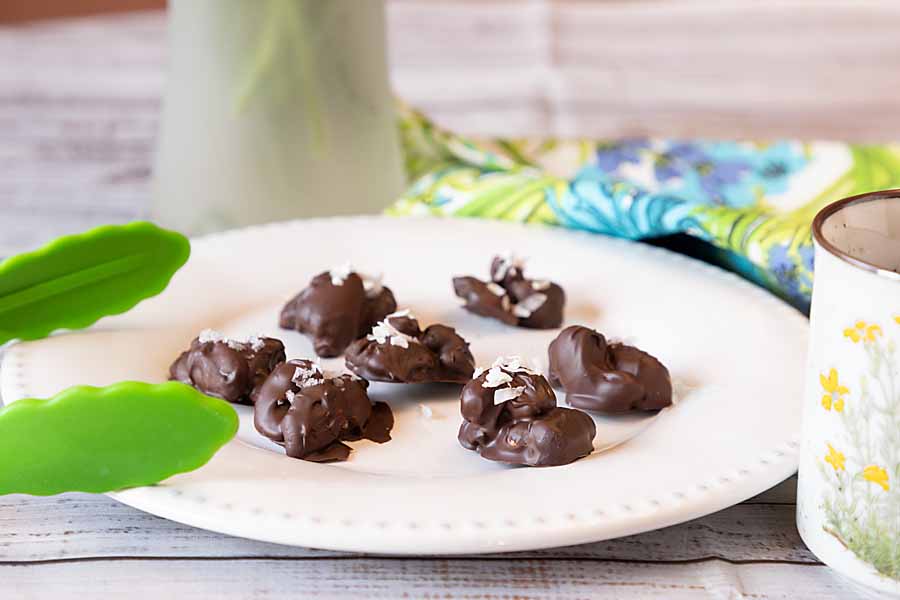 Like healthy nuts and (maybe healthy) chocolate.
Healthier Snacking
According to CNN health "Nuts are rich in heart-healthy polyunsaturated fats and monounsaturated fats, which lower LDL or "bad" cholesterol; plus, they are a good source of phytosterols, compounds that help lower blood cholesterol. They are packed with fiber, protein, vitamins and minerals, including folate, vitamin E, potassium and magnesium."
Studies of chocolate have yielded more mixed results. Per Harvard Health, "While some observational studies have linked chocolate consumption to reductions in heart disease and dementia, they don't establish a cause-and-effect relationship."
Ultimately, the key may be moderation. That's why this recipe is small, making a mere 8 pieces. Double or triple it if you are feeding a crowd.
Yes, small can be beautiful. Not that I lack willpower or anything.
Chocolate versus Candy Melts
Now there is one final suggestion I want to leave you with. And that is to use real chocolate rather than candy melts which may have hydrogenated oil (and some flavor difference).
I bring this up because some people feel that candy melts are easier to use. When it comes to temperamental white chocolate, I totally agree, and often reach for the candy melts. But regular chocolate isn't that difficult. Just avoid overheating it and don't get it wet and it should be smooth sailing.
Candy Forming
When I decided to make these, I wanted to find a way to form the pieces that wasn't too difficult. I've had my share of chocolate dribbled all over the kitchen–and a messy cleanup violates my "easy" goal!
Skinny Taste provided a simple method that worked very well. You dip a single nut in chocolate using a fork and set it on wax paper. Then dip a second and lean it on the first, followed by a third dipped nut. Easy peasy.
Now I have one more option in case you need an even easier version. You can make your nut clusters in small mini-muffin cups. Mix the nuts and chocolate then drop a spoonful into a muffin cup. Cool until solid. Not quite as cute but probably what I'd do for mass production.
Finally, these chocolate nut clusters have one other addition that makes them even more fun and flavorful. I have topped them with a sprinkle of sea salt or shredded unsweetened coconut. This is totally optional. Though I'd never turn down some extra special.
Enjoy.
Chocolate Nut Clusters
Crunchy, chocolatey & healthier than the average treat, chocolate nut clusters are easy to make and adaptable to low-carb, sugar-free and gluten-free diets.
Ingredients
½

cup

chocolate chips

regular or sugar free for low-carb (see note)

1

teaspoon

cocoa butter

or coconut oil (optional, see note)

1-2

ounces

of nuts

24 pieces

1/2

Tablespoon

flakey sea salt for sprinkling

optional

1/2

Tablespoon

unsweetened shredded coconut for sprinkling

optional
Instructions
Place oil, if using, and chocolate chips (or chopped chocolate bar) in a small microwavable bowl like a custard cup. Heat in microwave for 30 seconds, stir, then repeat in 10 second intervals of cooking/stirring until melted. Alternatively you can use a double boiler and transfer to a small dish.

Lay out a sheet of wax paper for the candy to set up on.

Using a fork, dip one nut in the melted chocolate and set on the wax paper. Dip a second nut and set it leaning against the first. Repeat with a third nut.

Top with a pinch of sea salt or shredded coconut.

Repeat with the remaining nuts to form eight nut clusters.

Allow to cool before serving.
Notes
You can substitute a chopped chocolate bar for the chocolate chips. You will need about 2 ounces.
A hard oil may make dipping easier but is optional.
I use Lily's chocolate chips if I'm eating low carb.
Nutrition
Calories:
95
kcal
Carbohydrates:
9
g
Protein:
1
g
Fat:
7
g
Saturated Fat:
3
g
Polyunsaturated Fat:
1
g
Monounsaturated Fat:
2
g
Sodium:
1
mg
Potassium:
66
mg
Fiber:
1
g
Sugar:
6
g
Vitamin A:
1
IU
Vitamin C:
0.03
mg
Calcium:
12
mg
Iron:
0.2
mg
I am not a health professional and nutrition data is calculated programatically. Accuracy may vary with product selection, calculator accuracy, etc. Consult a professional for the best information.
Easy Chocolate Recipes
We share Recipes From Our Dinner Table! Join our group and share your recipes, too! While you're at it, follow our Pinterest board, too!