Peach Clafoutis with Cranberries
Around a year ago I saw a picture of a beautiful Cherry Clafoutis (cla-foo-tee). A tart of ruby bright cherries enveloped in a smooth, custardy filling, it was an image I just couldn't shake. I was struggling, however, because organic cherries are almost impossible to find and their conventional counterparts are particularly chemical-laden.
So I decided to ad-lib. Although cherries are more traditional, I would make a Peach Clafoutis with Cranberries–all dressed up for fall.
Every year, one of my CSAs makes a trip to Michigan for organic peaches. I typically order a couple cases and the week they are delivered, I spend canning, baking, and generally indulging! As I cut up the peaches for his dish, however, I was missing the brightness of the cherries. Leftover frozen cranberries anyone?
Peach Clafoutis with Cranberries is an elegant and simple dessert and is now high on my brunch list (if life would just quiet down enough for me to host a brunch). I recommend making it a few hours before serving and letting it cool at room temperature. It was noticeably less flavorful later when I ate the leftovers from the refrigerator (though if you do have leftovers, they will need to be refrigerated).
The other tip I have is to peel the peaches, which I rarely do (trying to avoid the waste, the extra effort and the loss of nutrition). But as my daughter pointed out, this is a soft, tender dessert and the chewiness of the peach skins detracts. Yes, sometimes picky kids are right…
I delivered pieces of this to my mother and sister who both gave it a "thumbs up" (right before my sister reminded me I needed to preserve some of the peaches in brandy for her holiday dining pleasure). And to think I used to be afraid of making desserts!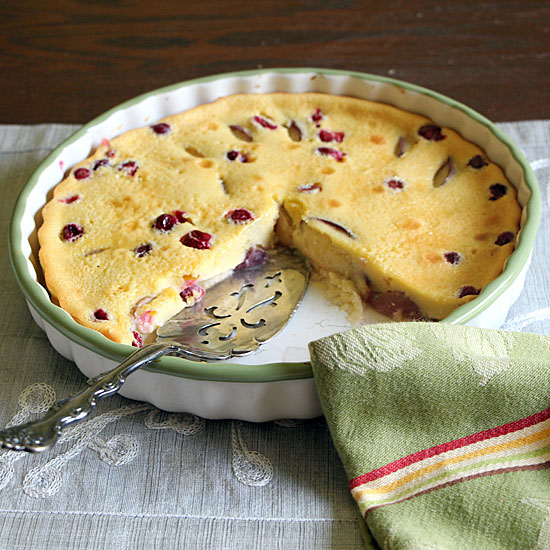 Peach Clafoutis with Cranberries
2014-09-04 22:16:30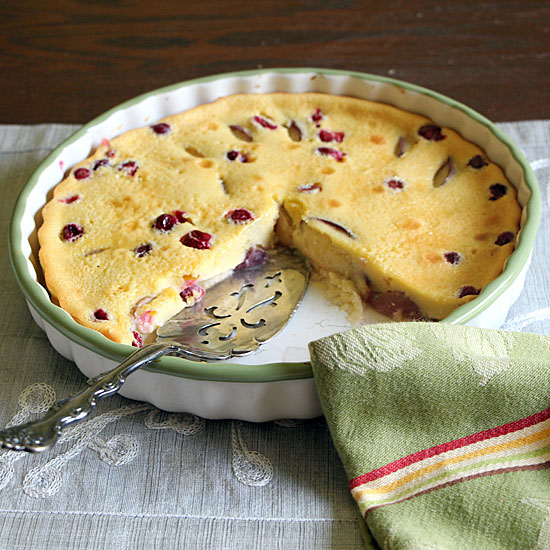 Serves 8
A simple and delicious, custard-y dessert, this Peach Clafoutis with Cranberries is all dressed up for fall.
Nutrition Facts
Amount Per Serving
* Percent Daily Values are based on a 2,000 calorie diet. Your Daily Values may be higher or lower depending on your calorie needs.
Ingredients
3 peaches, sliced
1/4 c whole (fresh or frozen) cranberries
3 large eggs
1/2 cup sugar
1 teaspoon pure vanilla extract
1/2 cup unbleached flour
1 1/4 cup half & half
Confectioners' sugar to decorate
Instructions
Preheat oven to 350°F. Spray a 9-inch deep-dish pie or a 10 inch tart pan with non-stick spray, then arrange the fruit in a single layer in the pan.
Whisk the eggs until they're foamy, then add the sugar, salt and vanilla and whisk until well blended. Add the flour and continue whisking until smooth. Gradually add the milk and cream and whisk until blended. Pour the batter over the fruit.
Bake the clafoutis for 35-45 minutes, or until puffed and lightly browned. A knife inserted into the center should come out clean. Cool until it's slightly warm, or room temperature.
Dust with confectioners' sugar and serve with whipped cream, if desired. This dessert is best the first day but leftovers can be covered and chilled.
Art of Natural Living https://artofnaturalliving.com/