Smoked Salmon Asparagus Quiche
Spring is glorious! And for a foodie, there is nothing that speaks to the season more than fresh asparagus! Delicious even plain, it is perfect in dishes like this smoked salmon asparagus quiche!
After a Memorial Day weekend "up north" –with guests and lots of (delicious) fattening food, I was ready for a meal that is simple but delicious. Quiche fits the bill–and can work well outside it's normal brunch slot as a great dinner entrée.
It can even be made without a crust if you are watching your waistline! (Yes, that's what I did for this!)
The other great thing about quiche is that it is flexible and can work with ingredients you have on hand. Out of asparagus? Make a spinach quiche.
I made my quiche in a 10 inch tart pan, which I like to use since it makes a pretty presentation. Different pan sizes will require changing the amounts of ingredients—you would need to go down by about half for a frozen shallow 9 inch pie crust. See Build Your Own Quiche for some guidelines.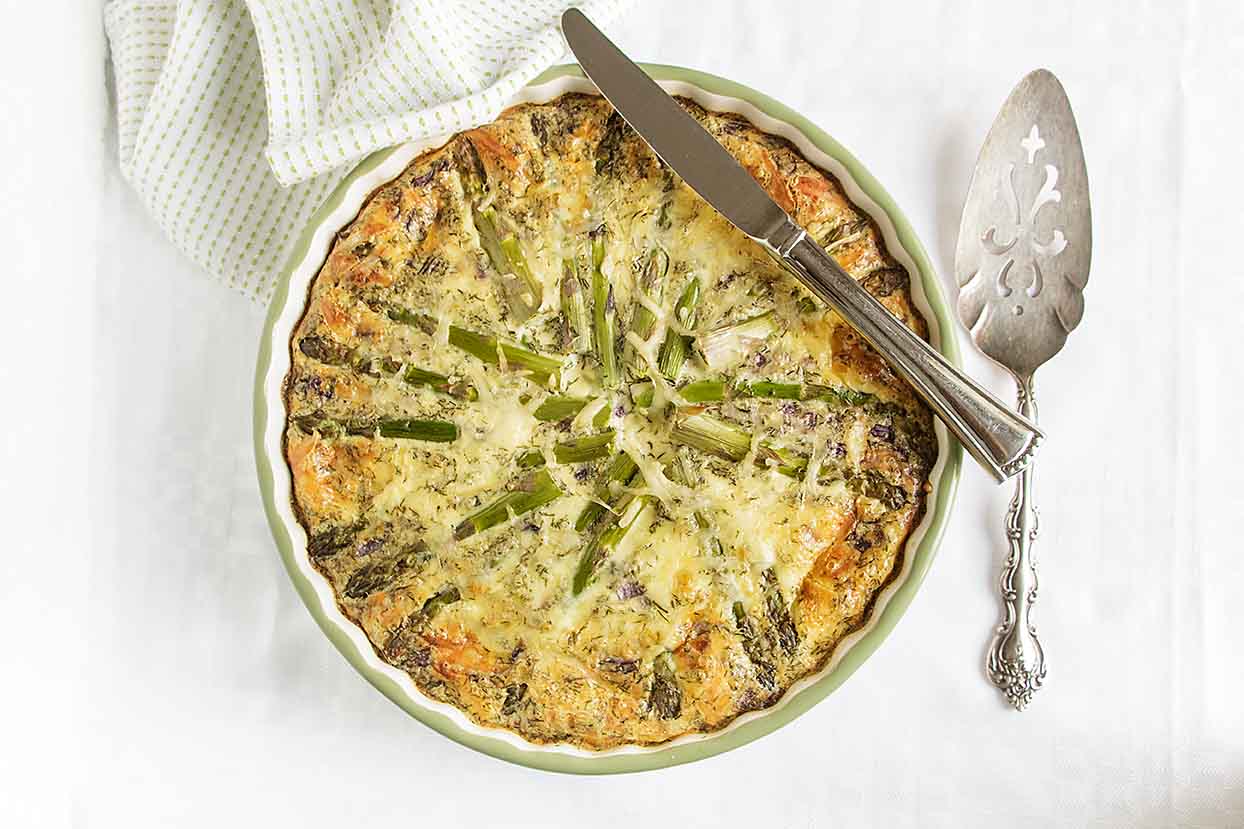 Right now, I have one daughter home from college for a summer internship. I love having her home but it's not without challenge. After eating on her own during the school year, her food tastes have changed some. It's almost like having a picky toddler again!
But when I served smoked salmon asparagus quiche and salad for dinner, it passed with flying colors. And she can take leftovers to work for lunch!
Yes, even when your kids are ­­(almost) grown, it's nice to feel like a good mom!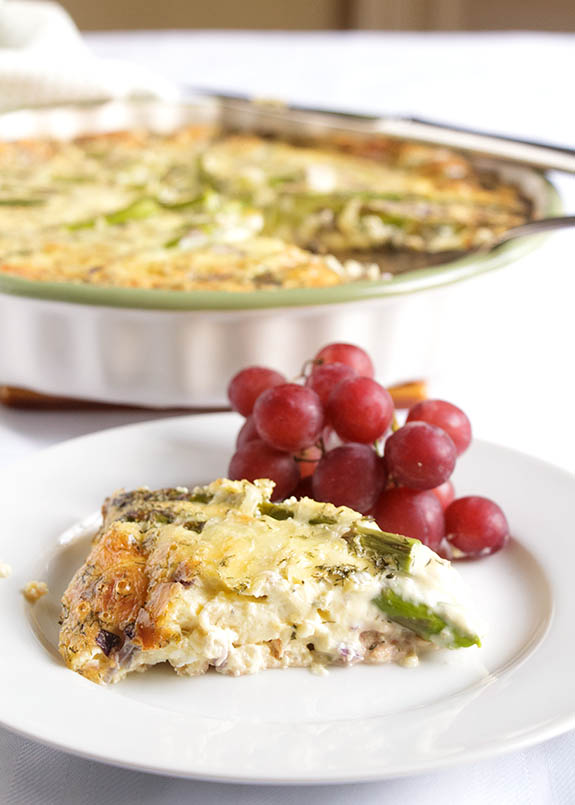 Smoked Salmon Asparagus Quiche
2017-06-01 16:27:03
Serves 9
Smoked salmon asparagus quiche makes a tasty, easy meal. Perfect for a nice spring breakfast or brunch--or with salad as a light dinner.
Nutrition Facts
Amount Per Serving
* Percent Daily Values are based on a 2,000 calorie diet. Your Daily Values may be higher or lower depending on your calorie needs.
Ingredients
6 eggs
2 cups half & half
1 Tablespoon dried dill
1/2 teaspoon salt
1/4 teaspoon ground pepper
1/2 cup finely chopped onion
8 ounces smoked salmon
8 ounces asparagus
1 cup shredded Swiss cheese, divided
(an optional pie crust may be used if desired)
Instructions
Beat together eggs, half & half, dill, salt and pepper. Set aside.
Sprinkle onion, flaked salmon and half of the cheese evenly in a 10 inch tart pan (or into a prepared pie crust if using).
Top with asparagus--arranged like wheel spokes, or just divide evenly.
Pour egg mixture over quiche filling and top with remaining cheese.
Bake at 350 F for about an hour or until knife inserted in center comes out clean. (Baking time will be less--so start checking at 30 minutes--for a smaller quiche)
Serve warm or cold.
Notes
Calorie count is without pie crust.
Art of Natural Living https://artofnaturalliving.com/