Pumpkin Ice Cream, Jeni Style
Pumpkin Ice Cream. It's one of my favorite fall treats. Usually I head to Baskin Robbins, but this year I decided to make my own.
I love the idea of controlling the ingredients in homemade ice cream. Organic cream, real pumpkin, NO carrageenan. And how many desserts have a full day's supply of vitamin A?
Good thing it's (relatively) healthy. I start eating pumpkin ice cream in September and don't quit until Thanksgiving!
My pumpkin ice cream addiction started in college. There was a Baskin Robbins on my way home from school and I'd stop every chance I could get. Disappointing exam? Homework overload? Nothing a pumpkin ice cream cone can't fix!
The recipe for this is based on the theory behind Jeni Britton Bauer's ice cream (I made her amazing dark chocolate ice cream recently) which she covers in her book Jeni's Splendid Ice Creams at Home. Besides delicious recipes for ice cream, sorbet and frozen yogurt, the book discusses how to keep homemade ice cream from getting too hard and too full of ice crystals. Just what the doctor ordered!
This version of the pumpkin ice cream has a bit of dark rum in it making it just the slightest bit softer and almost imperceptibly richer in flavor. Thank you Serious Eats for the advice on how to successfully make boozy ice cream.
If you want to skip the rum, however, I can testify that the recipe works fine with no alcohol. Though I must admit that I prefer the rum version and may even test an additional two tablespoons next try.
As soon as I run out. Probably tomorrow.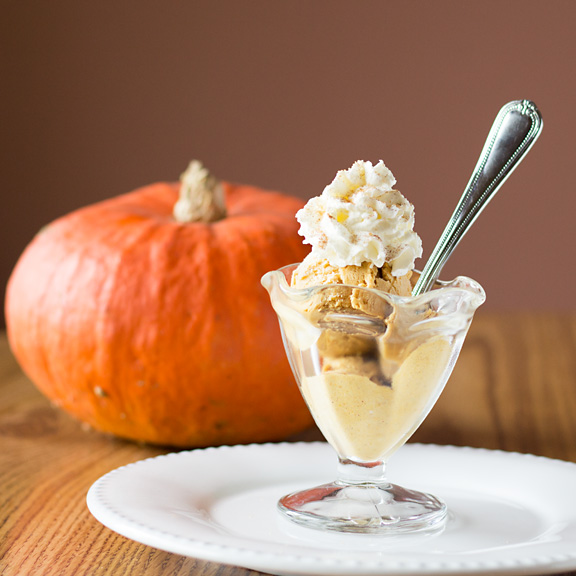 Pumpkin Ice Cream
2016-10-02 16:14:04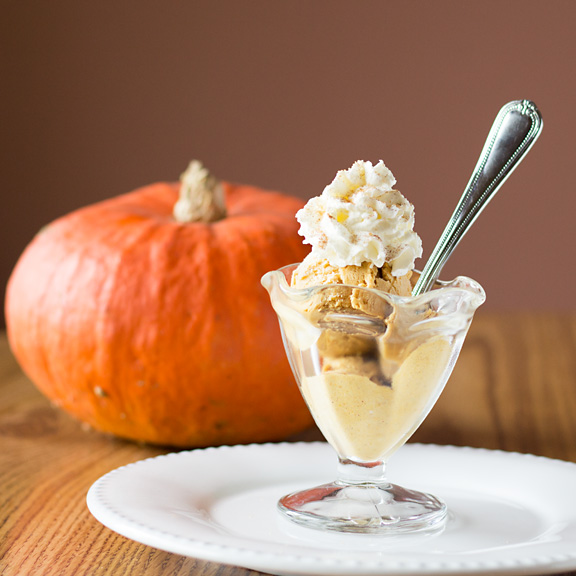 Serves 6
What's a great fall treat that is super fun and has a day's worth of vitamin A per serving? Homemade Pumpkin Ice Cream! Yum!
Nutrition Facts
Amount Per Serving
* Percent Daily Values are based on a 2,000 calorie diet. Your Daily Values may be higher or lower depending on your calorie needs.
Pumpkin Mixture
• 3/4 cup pumpkin puree
• 1/3 cup brown sugar
• 1 Tablespoon light corn syrup
• 1 teaspoon cinnamon
• 1 teaspoon ginger
• ¼ teaspoon cloves
• ¼ teaspoon nutmeg (optional)
Ice cream base
• 1 cup skim milk
• 1/8 teaspoon sea salt
• 1 ¼ cup cream
• 1/3 cup sugar
• 1 Tablespoon light corn syrup
Other
• 2 Tablespoons cornstarch dissolved in ¼ c milk
• 2 ounces cream cheese, softened and whisked until smooth
• 2 Tablespoons dark rum (optional)
Instructions
Prepare Pumpkin Mixture. Combine pumpkin, brown sugar, corn syrup & spices in a small saucepan. Cook, stirring periodically, until sugar dissolves and mixture starts to bubble, then remove from heat.
Prepare Ice Cream Base. Combine skim milk, salt, cream sugar and corn syrup in a large sauce pan. Bring to a boil and cook for 4 minutes. (Watch carefully so it doesn't boil over.)
Remove ice cream base from heat, stir in cornstarch slurry and pumpkin puree then return to heat, cooking for another minute or two until thickened.
Gradually add some of the warm mixture to the softened cream cheese, whisking until you have a smooth mixture that can be combined with the remaining base without lumping. Mix in rum if using.
Chill until cool. (I usually chill an hour or two in the freezer, stirring periodically. Cooling in a zip loc bag in ice water or in the refrigerator are also options). Freeze according to your machine's directions.
Art of Natural Living https://artofnaturalliving.com/