Cilantro Lime Rice with Snow Peas
Make comfort food fresh, with Cilantro Lime Rice with Snow Peas. Full of fluffy rice, tart lime, flavorful cilantro and spring-y snow peas.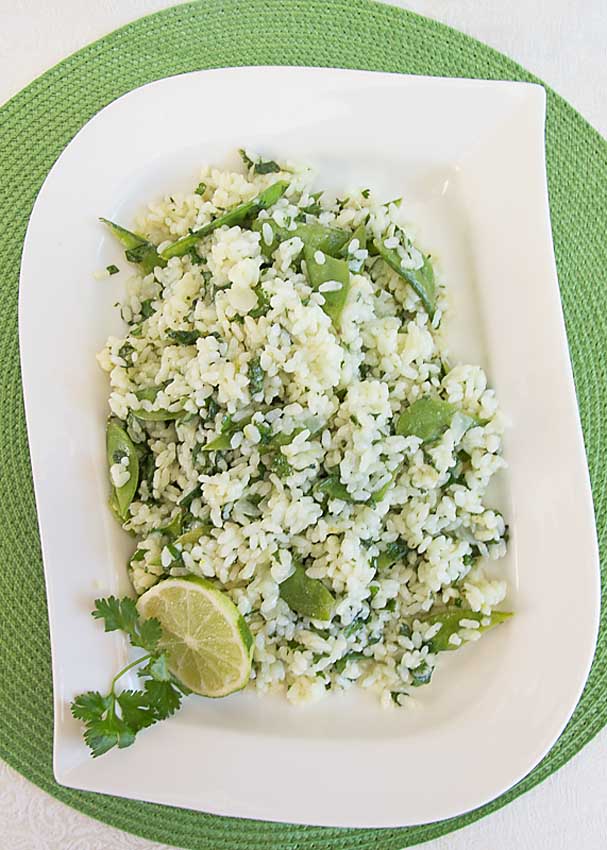 Spring is coming—hooray! Between daylight savings time, longer days, and getting our first real thaw in ages, I am almost starting to feel warm.
And it's changed my food mood completely.
Instead of craving thick hot stews, I want salads. Or fresh asparagus. Pastel-colored desserts. Cilantro Lime Rice with Snow Peas.
That rice part began last year, when I did my "year of eating locally." I decided right then and there that local rice was an amazing substitute for pasta. Tasty, satisfying and even gluten-free. With favorites like Brown Rice with Sweet Potatoes and Cranberries and Curried Rice Salad behind me, it was time for something new.
I had been seeing recipes for Cilantro Lime Rice all over the internet, but there snow peas in my refrigerator crying out to be eaten. Including them would be healthier, satisfy my add-a-veggie goal and take the dish into the realm of spring foods.
My husband and I liked the new recipe immediately. But I really knew I had a hit the next day when I searched for the leftovers and realized my daughter had polished it off before heading to school.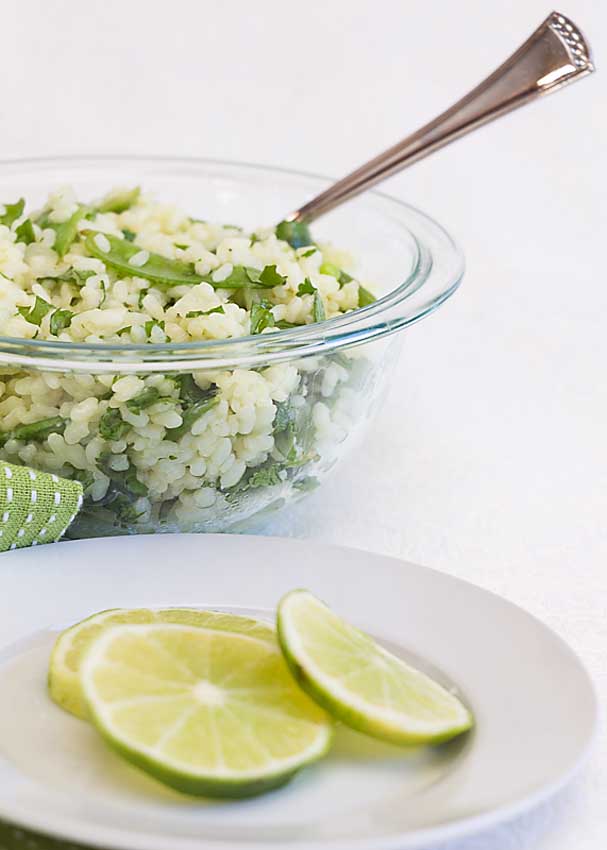 The recipe is a little on the small side which I like since I'm always on a diet, but can be easily doubled. As is, it serves four as a light side—or two as a larger side.
Or two as a big, weird breakfast.
Scroll down for the recipe–or take a look at some other great spring ideas from some of my new blogging friends.
Springtime Side Dish Recipes
We share Recipes From Our Dinner Table! Join our group and share your recipes, too! While you're at it, join our Pinterest board, too!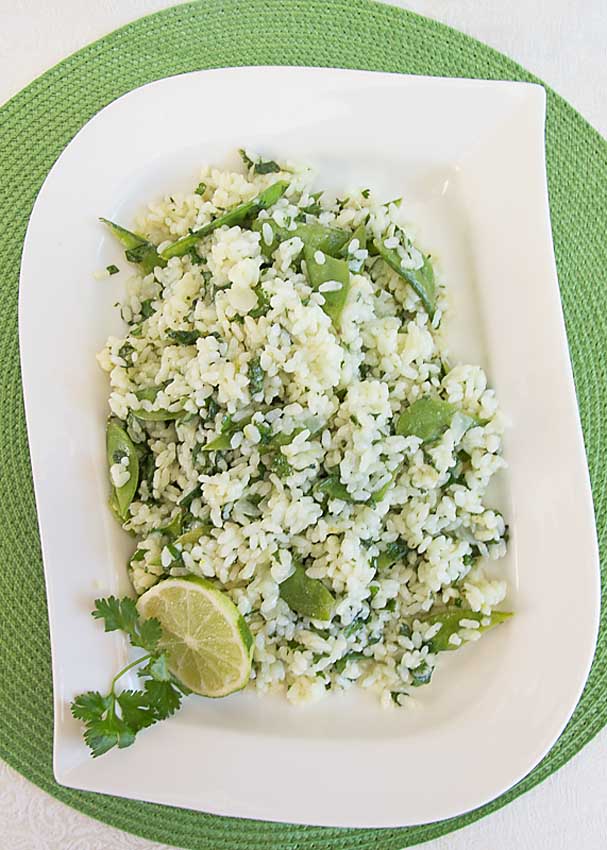 Cilantro Lime Rice with Snow Peas
2019-03-23 16:36:57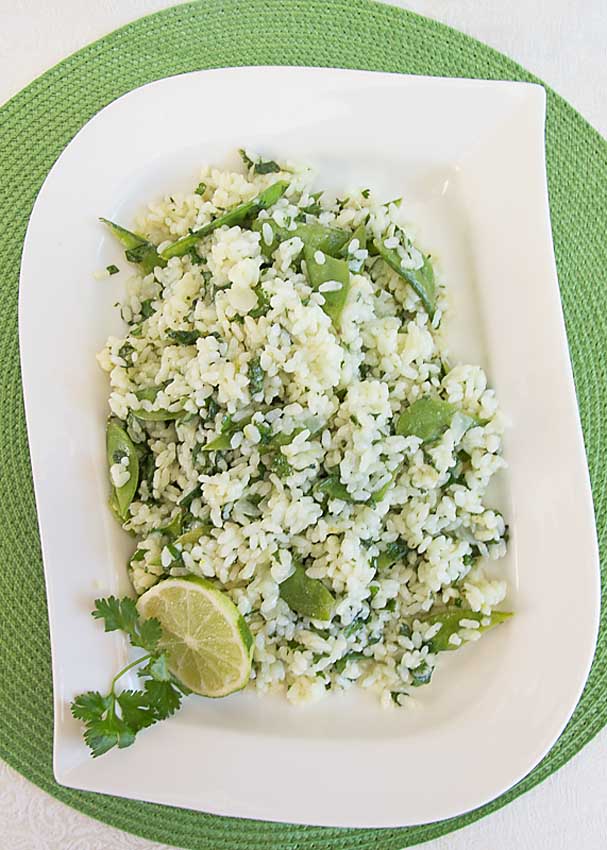 Serves 4
Make comfort food fresh with Cilantro Lime Rice with Snow Peas.  Full of fluffy rice, tart lime, flavorful cilantro and spring-y snow peas.
Nutrition Facts
Amount Per Serving
* Percent Daily Values are based on a 2,000 calorie diet. Your Daily Values may be higher or lower depending on your calorie needs.
Ingredients
Ingredients
1 Tablespoon olive oil
½ onion, finely diced
1 garlic clove, minced
1 cup white rice (or brown)
1 ¾ cup vegetable or chicken broth (adjust for your selected rice if needed)
1 cup snow peas, sliced in half on the diagonal
½ cup chopped cilantro
Dressing
1 Tablespoon olive oil
2 Tablespoons lime juice
1 teaspoon lime zest
½-1 teaspoon salt
Instructions
Heat olive oil, then sauté onion until tender. Add minced garlic and cook another minute.
Rinse rice then add to the pan with the onion mixture. Sautee a minute or two then add the broth. Cook ]until just tender (about 15 minutes for natural white rice) which will vary based on the rice you chose (see note).
Add snow pea pieces to the pot of rice then toss to combine. Cover and let the snow peas steam 5 minutes.
Combine dressing ingredients. Toss with rice, taste and adjust salt. Serve warm or chilled.
Notes
Cooking time will vary depending on the selected rice. For packaged rice, please see the instructions. Natural white rice will take about 15 minutes, natural brown rice may take 30-45.
Art of Natural Living https://artofnaturalliving.com/