Finnish Salmon Soup – Lohikeitto
With salmon, dill and root vegetables, Finnish Salmon Soup is a light, healthful soup that will carry you from winter into spring.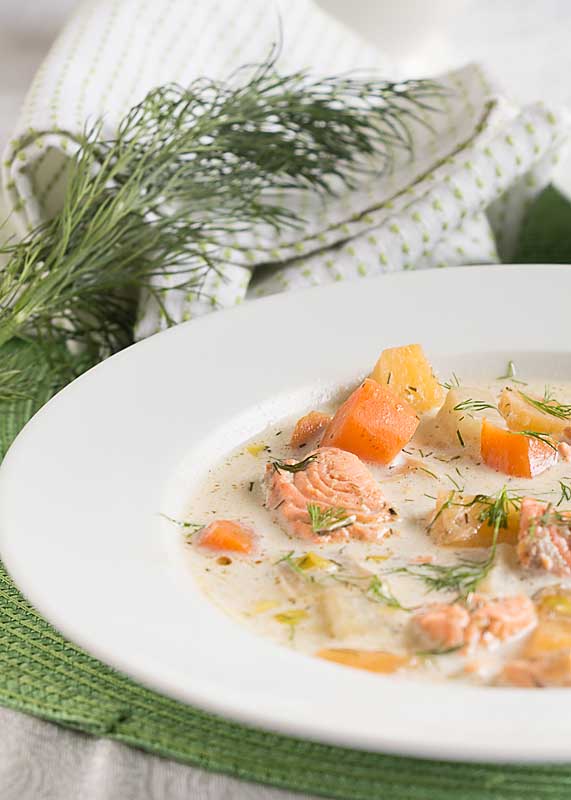 The winter was long and hard this year–thank goodness it's over! But on the positive side, it was perfect soup weather. Yes, cold nights just cry out for cozy dishes, and provide the perfect inspiration for new soups like Chili Spiced Pork Stew.
And now that spring is here… I'm still in the mood for soup! Just lighter recipes. Go figure!
So I was happy to see this recipe for Finnish Salmon Soup or Lohikeitto come across my feed from The View from Great Island. Besides using healthy salmon, which I always have on hand from my Community Supported Fishery, I knew it would help me finish off some of my stored root veggies, left from last fall.
Now whenever I make a soup recipe that might go into the freezer, I like to substitute roots like turnips, kohlrabi and rutabaga if it calls for potatoes. They amp up the health value and more importantly, freeze beautifully. Since this soup is traditional, however, I wanted to stay fairly true to that. Happily, a quick web research search confirmed that adding other root vegetables is indeed done with this soup.
Per Wikipedia, Lohikeitto is a " Finnish soup made with salmon, potatoes (other root vegetables can be added such as rutabaga, carrots, onions), cream and dill." And a search of forums provided Finnish home cook recipes with other root veggies. Of course, I also love the golden tones of the rutabaga!
Now this soup also allows you to substitute other broths for fish broth. But I wanted to share a little secret that ensures I always have "fish" broth around. I buy my shrimp raw, in the shell, because cooking from raw adds more flavor. But before I use them, I shell the shrimp and store the shells in the freezer. Later, when I have enough frozen shells to make broth, I cook up a batch from the shells and freeze it in 2-4 cup containers. Problem solved.
The flavor of Finnish Salmon Soup is mild, so if you are looking for an intense taste experience, well… this isn't it. But for a light, healthful soup that will carry you from Winter into Spring, look no further.
Finnish Salmon Soup
2019-03-28 13:03:15
Serves 5
With salmon, dill and root vegetables, Finnish Salmon Soup is a light, healthful soup that will carry you from winter into spring. 
Nutrition Facts
Amount Per Serving
* Percent Daily Values are based on a 2,000 calorie diet. Your Daily Values may be higher or lower depending on your calorie needs.
Ingredients
• 1 lb salmon filet, skinned and cut into 1-inch pieces
• 4 tablespoons butter
• 1 large leek, trimmed, cleaned and sliced
• 5 cups broth, ideally fish stock but can substitute vegetable or chicken
• 2 cups peeled, cubed potatoes, rutabagas, turnips or parsnips or a combination
• 2 cups peeled, sliced carrots
• 1 bay leaf
• 1 cup fresh dill finely chopped, divided
• 1 cup half and half or cream
• 1/4 tsp allspice
• salt and pepper to taste
Instructions
Melt the butter in a soup pot and saute the leeks until tender, 5-10 minutes
Add the broth along with the vegetables, bay leaf and half of the fresh dill. Bring to a simmer, then cook until the vegetables are just tender, about 10 minutes
Add the salmon chunks, half and half and allspice, and gently simmer on low heat until cooked through, a few minutes. Remove the bay leaf.
Add the remaining dill, and salt and pepper to taste.
Enjoy!
Art of Natural Living https://artofnaturalliving.com/