Based on the popular appetizer, Buffalo Wing Soup has loads of flavor, tender chicken and even a few vegetables. Perfect for game day or any day.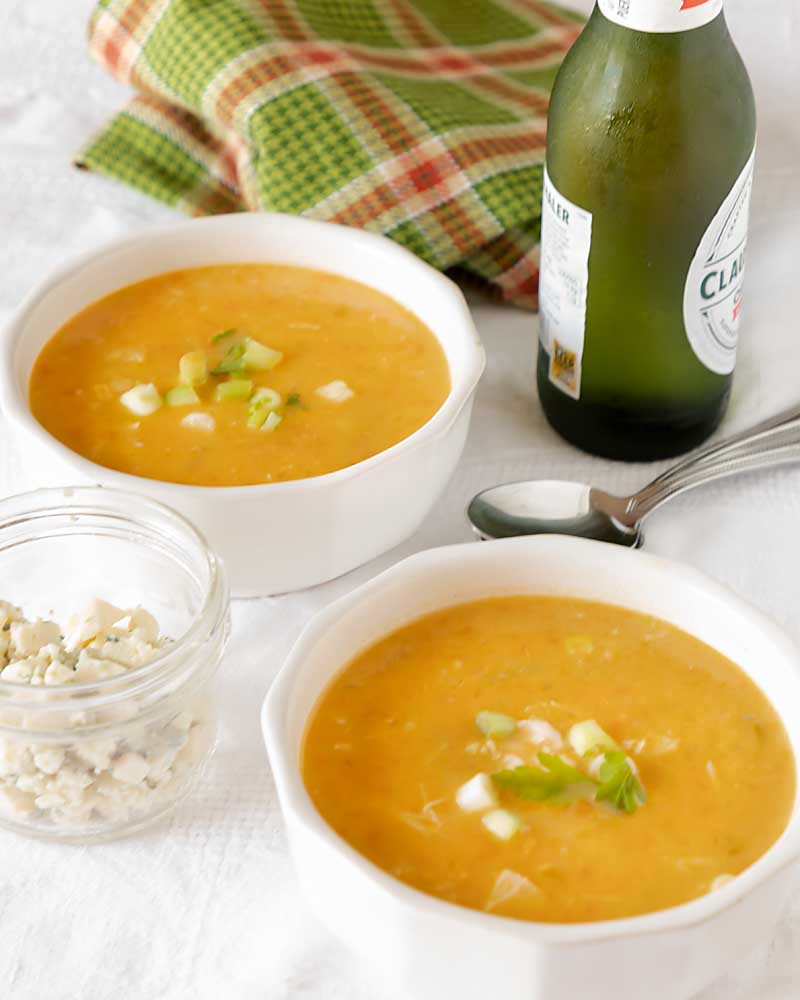 What appetizer is so good it can double as an entrée? And please both kids and adults. That's right, it's Buffalo Wings. Juicy and flavorful, it's a sure crowd pleaser.
Yes, I remember the time we decided to do an easy, inexpensive dinner and took the family to a local bar for $.50 wings. While the kids played cornhole, Dad snacked on wings, then got seconds, then some more. Before I knew it, the tab was higher than a full dinner out.
That's when I realized that wings are pretty irresistible!
Which is what I was counting on when I decided to turn the concept into Buffalo Wing Soup to serve for Game Day meals. Can't get too much of a good flavor combo!
Besides great flavor, I also wanted my soup to be as unprocessed as possible. So the only commercial product in here is the wing sauce (not counting leftover rotisserie chicken if you go that route). And it is still super easy.
I chopped all the vegetables (except the corn) in the food processor which was quick and easy. And while, technically, wings don't have vegetables in them, they are often served with dipping vegetables like carrots and celery. So being famous for my "add a veggie" recipes, I couldn't pass up the addition.
My final comment is on the wing sauce. Everyone's taste varies, as does the heat in different sauces. So I'm going to suggest that you start by adding a smaller amount of sauce and go up to taste. The version I'm sharing was mild enough so my husband would eat it, but still had enough kick for me.
Now I must confess that my spice-hating husband was hesitant to try my new Buffalo Wing Soup. Not that I've ever snuck in a hot recipe on him. But in the end, he like it so much he finished up all the leftovers before I knew it.
I guess there's more Buffalo Wing Soup in our future.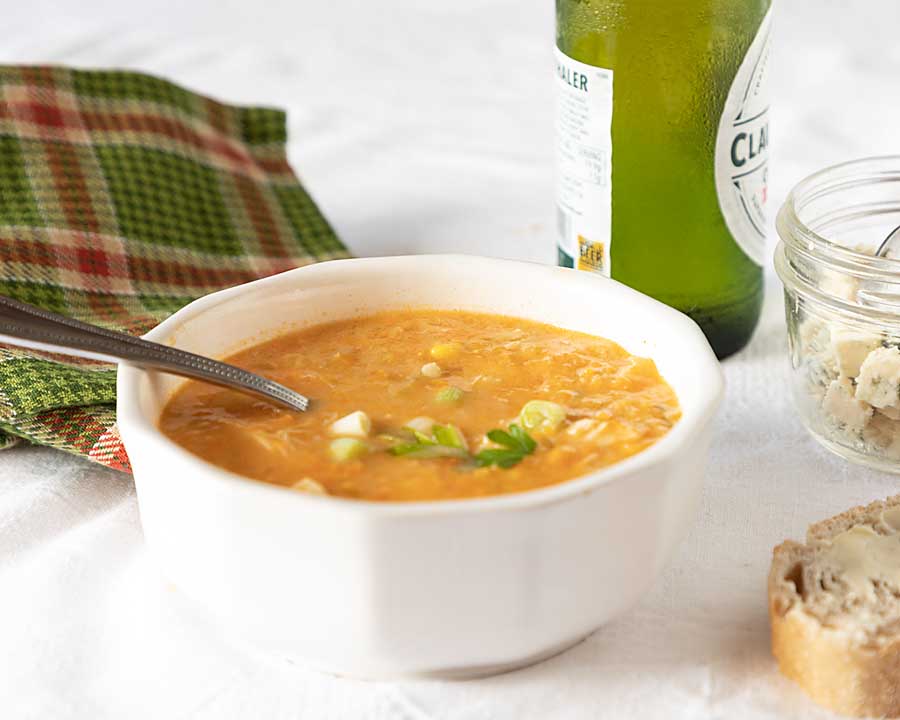 Buffalo Wing Soup
2019-09-28 20:32:59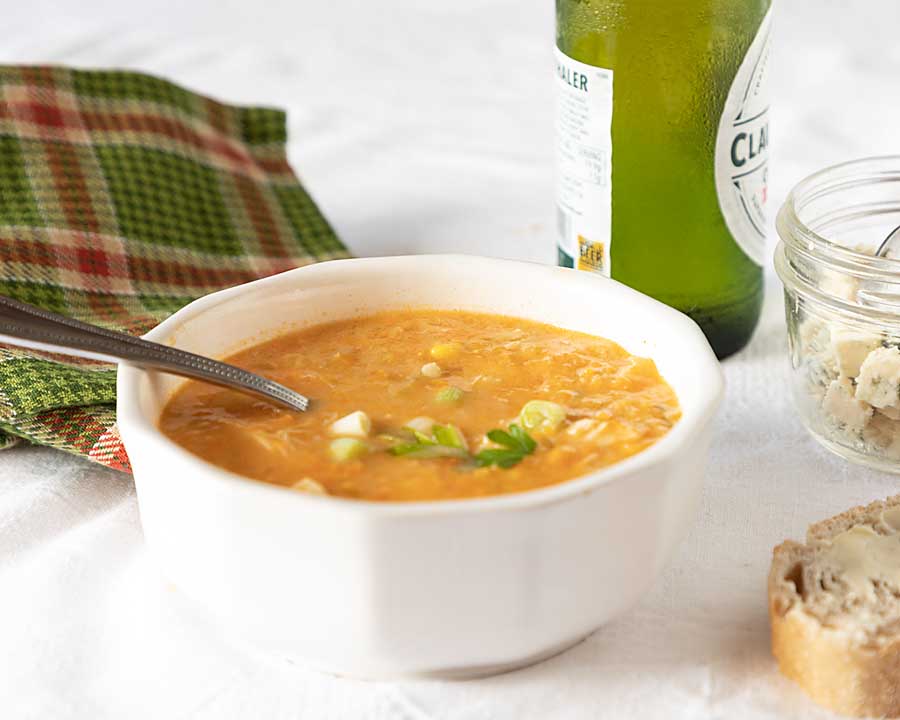 Serves 6
Based on the popular appetizer, Buffalo Wing Soup has loads of flavor, tender chicken and even a few vegetables.  Perfect for game day or any day.
Nutrition Facts
Amount Per Serving
* Percent Daily Values are based on a 2,000 calorie diet. Your Daily Values may be higher or lower depending on your calorie needs.
Ingredients
• 2 Tablespoon Butter or oil
• 1 cup finely chopped carrots (about 2 carrots)
• 1 Onion finely diced
• ½ cup finely chopped celery (1 stalk)
• 3 Garlic Cloves, minced
• 1 cup corn ( 1 ear)
• 1/2 teaspoon pepper
• 1 teaspoon salt
• 1/3 cup Flour
• 4 cups Chicken Broth
• ½ cup blue cheese crumbles
• 1/4 cup Buffalo Wing Sauce (I used Moore's medium) or to taste
• 2 -3 cups Chicken, cooked and shredded
• Garnish: 2 Tablespoons blue cheese, chopped green onions
Instructions
Melt butter in a large pot over medium heat. Add chopped carrots, onion, celery, garlic, corn, salt, and pepper. Cook until vegetables are just tender.
Add the flour and cook for 5 more minutes, stirring often.
Gradually add the chicken broth, stirring to incorporate the flour. When the broth is fully added, mix in the blue cheese and wing sauce.. Bring to a simmer and cook about 15 minutes.
Add pulled chicken and heat until chicken is warmed through
Serve warm, topped with the garnish(es) of your choice -- sour cream, blue cheese, green onions, etc
Notes
Tip: chopped all vegetables except the corn in the food processor to speed prep and create a fine dice.
Art of Natural Living https://artofnaturalliving.com/
Game Day Wing Recipes
We share Recipes From Our Dinner Table! Join our group and share your recipes, too! While you're at it, join our Pinterest board, too!