Crisp or Chewy Whole Grain Gingersnaps
Or How I Set Out to Use Up My Rye Flour and Found the Most Amazing Whole Grain Gingersnaps!
Then ate them all up before blogging. Then baked them again… decorated for Christmas.
This all started more than six months ago when I decided to try to use some of the old neglected food items in my pantry. One of these was a 25 lb bag of rye flour–that's a lot of rye flour! I went in search of recipes, never expecting to find a cookie.
Now despite the fact that they are loaded with whole grain, these cookies are seriously chewy and delicious. When I first baked them, they were disappearing so fast that I made sure to set aside a few for pictures the next day. When the next day rolled around, I was a little hungry and before I knew it I'd taken a bite. "Oh no!" I thought, then just gave up and ate the rest. You know what they say about being your own worst enemy.
Later I saw a lovely decorating idea for a (different) gingersnap and the light bulb went on. Why not combine the two! Not being a whiz with a piping bag (okay, being seriously klutzy with a piping bag), I simplified the design. In the end, think I prefer the taste of the cookies unfrosted, but they do look festive!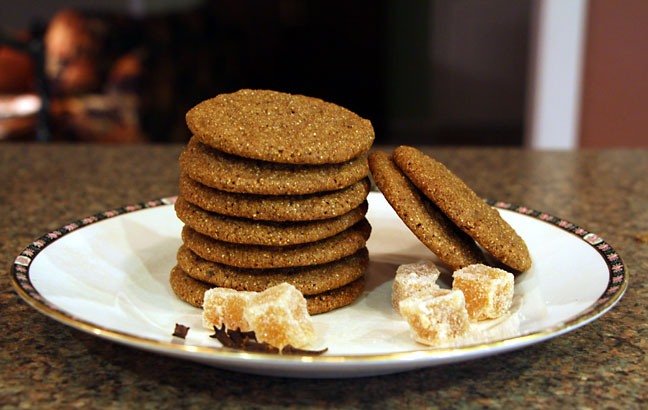 Whole Grain Gingersnaps
2013-12-19 07:55:12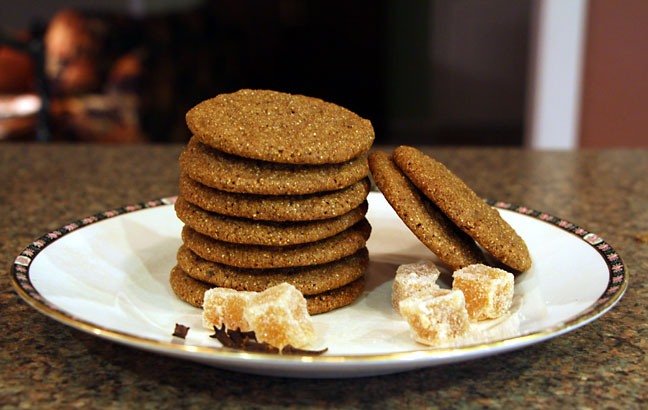 Serves 24
These whole grain gingersnaps are a chewy and delicious molasses cookie made with two whole grains and studded with candied ginger.
Nutrition Facts
Amount Per Serving
* Percent Daily Values are based on a 2,000 calorie diet. Your Daily Values may be higher or lower depending on your calorie needs.
Ingredients
• ½ cup butter
• ¾ cup packed brown sugar
• ½ tsp baking soda
• ½ tsp salt
• 1 tsp ground ginger
• 1 tsp ground cinnamon
• ¼ tsp ground allspice
• 1 large egg
• 2 Tbsp molasses
• 1 cup whole wheat flour
• ¼ cup diced crystallized ginger (optional but really try to use it)
• 2/3 cup rye flour
sugar for rolling (optional)
Instructions
Cream the butter, sugar, baking soda, salt and spices in a medium mixing bowl. Beat in the egg and molasses, scraping the bowl. The mixture will look curdled, but that's okay.
Combine 1-2 T of the wheat flour with the crystallized ginger in a mini food processor or coffee/spice mill, and process until the ginger is finely chopped. Add this mixture to the bowl, along with all the remaining flour, beating until smooth. Cover the bowl, and refrigerate the dough for 1 hour or overnight.
Preheat the oven to 350˚ F. Lightly grease 2 baking sheets or line with parchment paper.
Roll a tablespoon of dough into a ball then coat with sugar if desired. Place on prepared sheets allowing enough space for (substantial) spread. Bake the cookies, until they're an even, deep-golden brown, 14-16 minutes. At 14 minutes they will still have some significant chewiness; at 16 minutes, they'll be almost entirely crisp.
Remove the cookies from the oven and allow them to cool for 5 minutes on the pan before transferring them to a rack to finish cooling.
Notes
Calorie Count is unfrosted. For the glaze, I melted and whisked together 1 c Wilton Candy Melts, 5 T butter, 2 c powdered sugar, 1/4 c water and a dash of vanilla, then dipped the cookies in the warm glaze.
Art of Natural Living https://artofnaturalliving.com/