Extra Milk? Make Homemade Feta Cheese
Last week I made homemade feta cheese. It arose out of a pre-Thanksgiving decision to buy extra milk. With a couple kids home from college and Grandma visiting, I figured we'd go through a couple gallons more. Wrong.
We were even full up on milk jam (a caramel syrup made from milk and sugar), which is my kids' first choice when we have milk to spare.
You see, I abhor waste. When I reach into the back of my vegetable drawer and hit a fuzzy green pepper, my reaction goes beyond eeuuuww.
I feel shame. All year, it goes against the frugal in me, but during the holidays, when food pantries are reminding us that many people don't have enough to eat, the guilt is twice as bad.
According to various sources:
"Getting food from the farm to our fork eats up 10 percent of the total U.S. energy budget, uses 50 percent of U.S. land, and swallows 80 percent of all freshwater consumed in the United States. Yet, 40 percent of food in the United States today goes uneaten." National Resources Defense Council


"Food scraps are the No. 1 material sent to landfills in the U.S.—more than paper or plastic, according to the Environmental Protection Agency." Bloomberg Businessweek
'Nuf said?
So when life gives me (extra) milk, I make homemade feta cheese. Feta is great for beginning home cheesemakers because it requires only one special ingredient–rennet, which is easily ordered over the internet and lasts a long time (they say 4-6 mo but mine is years old and still works). And it doesn't require any unusual technical skills like pressing or aging.
On Milk
Now I do want to emphasize is that you don't want to be making your cheese with spoiled milk. If I heard one thing over and over at the American Cheese Society conference this summer, it was that the quality of your cheese depends on the quality of your milk. Ideally cheese would be made when your milk was freshest but I have found that the feta is fine as long as the milk is still good. So when I realize that expiration is a few days off and we have more than we'll drink, I pull out my big stock pot and start working. The other milk comment I need to make is that ultra-pasteurized milk (also called ultra-heat-treated) will not work (from all accounts that I've read). And of course be wary of the remote chance of culturing something unwanted. This has only happened to me once–and then with yogurt, years ago while making it in a thermal carafe on the heater in my dorm room. If something (anything, not just dairy!) that you are preparing tastes, smells or appears bad, err on the side of caution and toss it out.
Here is how easy it is…
You heat your milk to 86 F, then add cultured buttermilk. Let it sit for an hour while maintaining the temperature.
Add rennet and stir into milk. Cover and allow to set another hour to coagulate. Keep temperature at 86. (hence the towels, during winter).
Test that it is ready by making a "slice" in the pot. This should create a clean cut. If it doesn't, let it sit and retest in 5 minutes. When ready, cut the curds into 1/2 inch cubes and allow to rest five minutes. Turn gently for 15 minutes, keeping the curds at 86 degrees.
After stirring, pour curds into a cheesecloth lined colander, tie the curds and hang to drain for 4 – 6 hours. (Note you can save the whey to make ricotta, but my yield from a gallon of milk has never been high enough to justify the work)
Slice the cheese ball into 1/2 inch slices and place in container that will catch precipitating liquid. Sprinkle all surfaces with coarse salt and cover. Allow to drain at room temperature for 24 hours.
When you are done you can brine it if you like. I don't typically brine mine, since it is already salty from the preparation process and it disappears so quickly. I usually toss it with dried oregano, dried minced onion, olive oil, and white wine vinegar, then when the cheese is running low, I use the leftover "juices" and little bits of feta as salad dressing.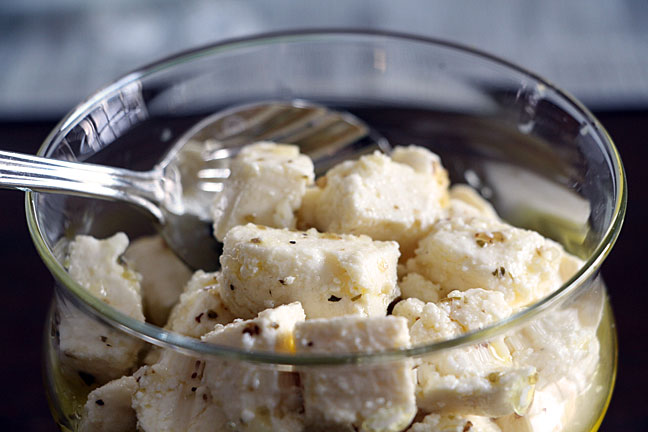 Homemade Feta Cheese
2013-12-14 10:12:25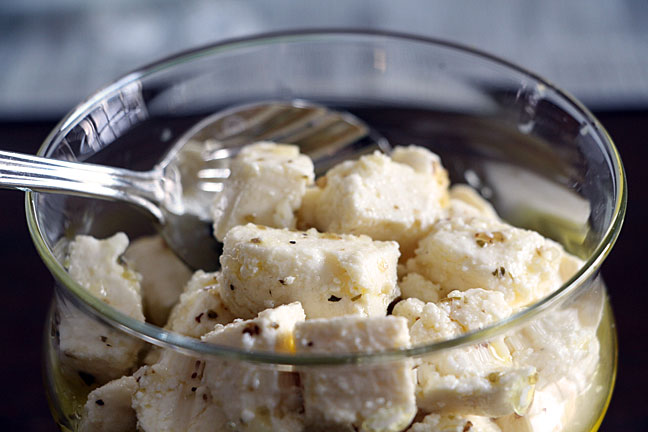 Serves 16
Nutrition Facts
Amount Per Serving
* Percent Daily Values are based on a 2,000 calorie diet. Your Daily Values may be higher or lower depending on your calorie needs.
Ingredients
1 gallon milk
1/4 c cultured buttermilk
1/4 t liquid rennet
Coarse sea salt
Instructions
Warm milk to 86 degrees F and stir in buttermilk. Let set one hour to ripen.
Add rennet and stir into milk. Cover and allow to set another hour to coagulate. Keep temperature at 86.
Cut the curds into 1/2 inch cubes and allow to rest five minutes. Turn gently for 15 minutes, keeping the curds at 86 degrees.
Pour curds into a cheesecloth lined colander, tie the curds and hang to drain for 4 – 6 hours.
Slice the cheese ball into 1/2 inch slices and place in container that will catch precipitating liquid. Sprinkle all surfaces with coarse salt and cover. Allow to drain at room temperature for 24 hours.
After 24 hours, salt the surfaces again and let it rest for two hours. Store in refrigerator. If desired, you can cover with a brine of 1/4 c salt to 1 quart of water (optional)
Art of Natural Living https://artofnaturalliving.com/