Easy Homemade Tartar Sauce
Creamy, tart and flavored with dill, with this good homemade tartar sauce, you may never have boring fish again!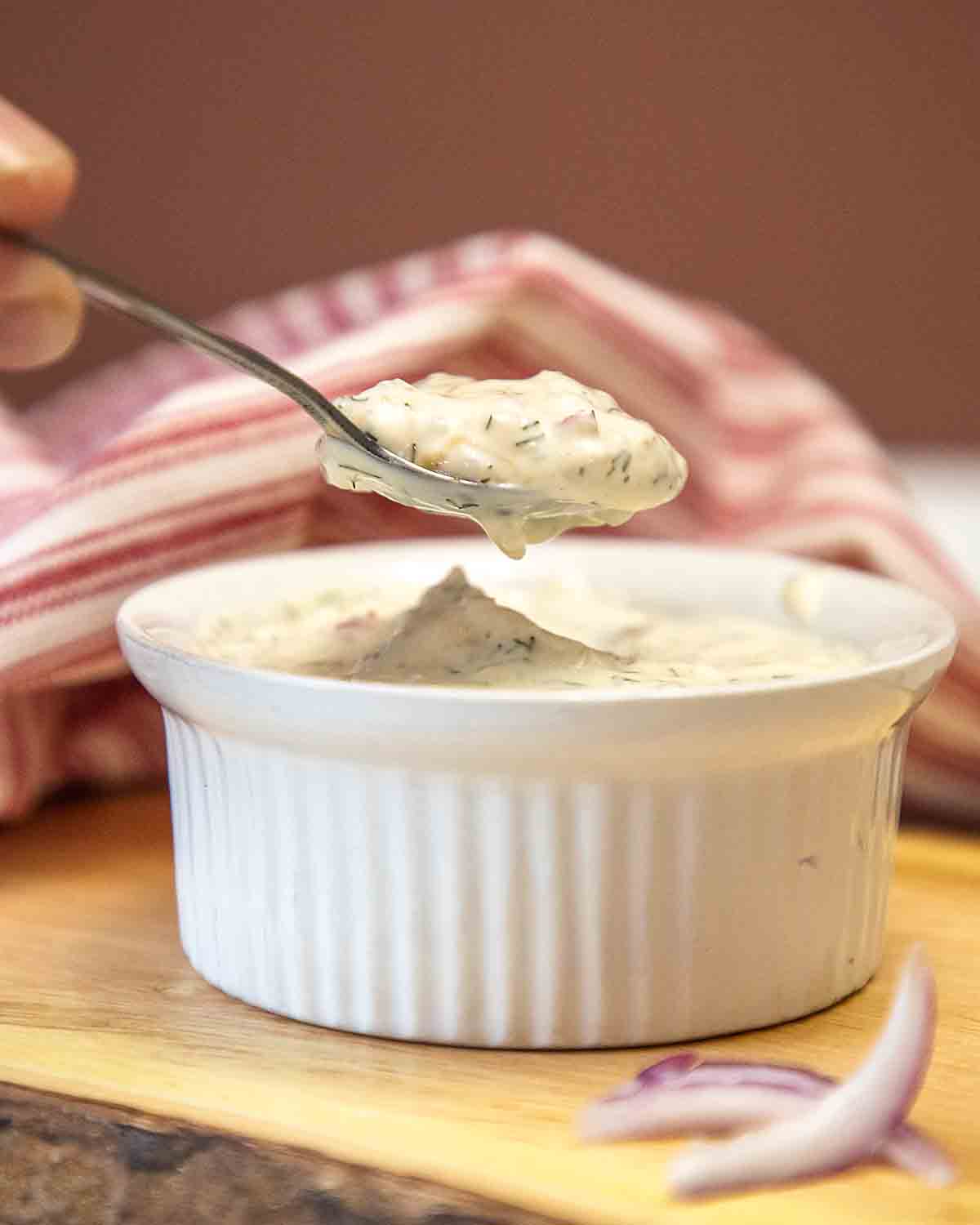 Do you agree with me that a good tartar sauce can make or break a dish? I'm always hugely disappointed if I try a new fish fry and find the tartar sauce is bad. On the other hand, a great sauce will have me grinning big–and dipping my fries as well!
Now in a restaurant, you're probably stuck if the tartar sauce is bad, But at home you can make your own. And besides tasty, this recipe is super easy, with only five ingredients!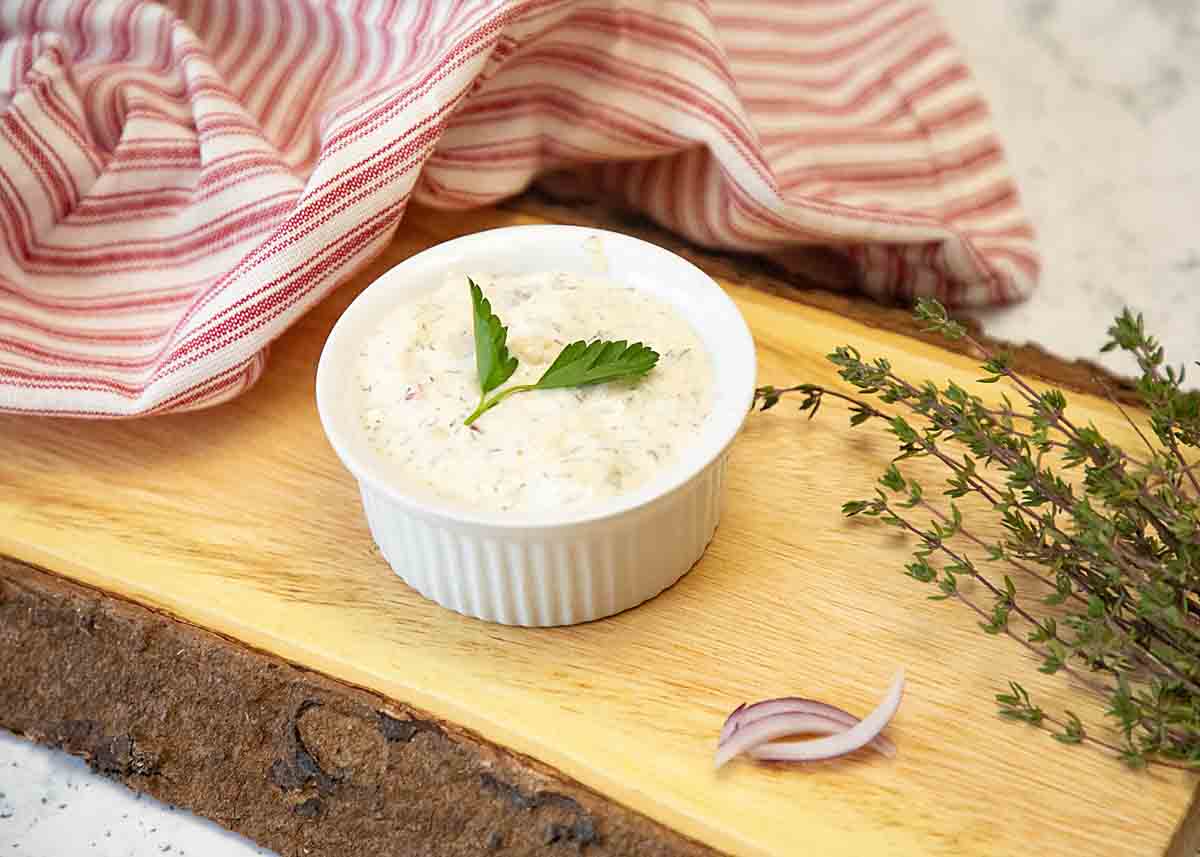 What is Tartar Sauce?
According to Wikipedia, tartar sauce is "is a condiment made of mayonnaise, chopped pickles and/or relish, capers, and herbs such as tarragon and dill." While that's the traditional tartar sauce, it can be enhanced with other (usually tart) add-ins like lemon juice or pickles.
This tasty condiment is known as tartare sauce in Britain and is often served with fish dishes from fish and chips to fish sandwiches.
Why You'll Love This!
You're going to love this simple tartar sauce because it's:
Flavorful. With lots of dill and pickle relish (or chopped pickles), this DIY Tartar Sauce has lots of flavor!
Easy. There are only five ingredients that you (mostly) just mix together. Doesn't get much easier than that!
Meal Enhancing. As I mentioned, the tartar sauce can make or break a meal. So it makes sense to have a good recipe!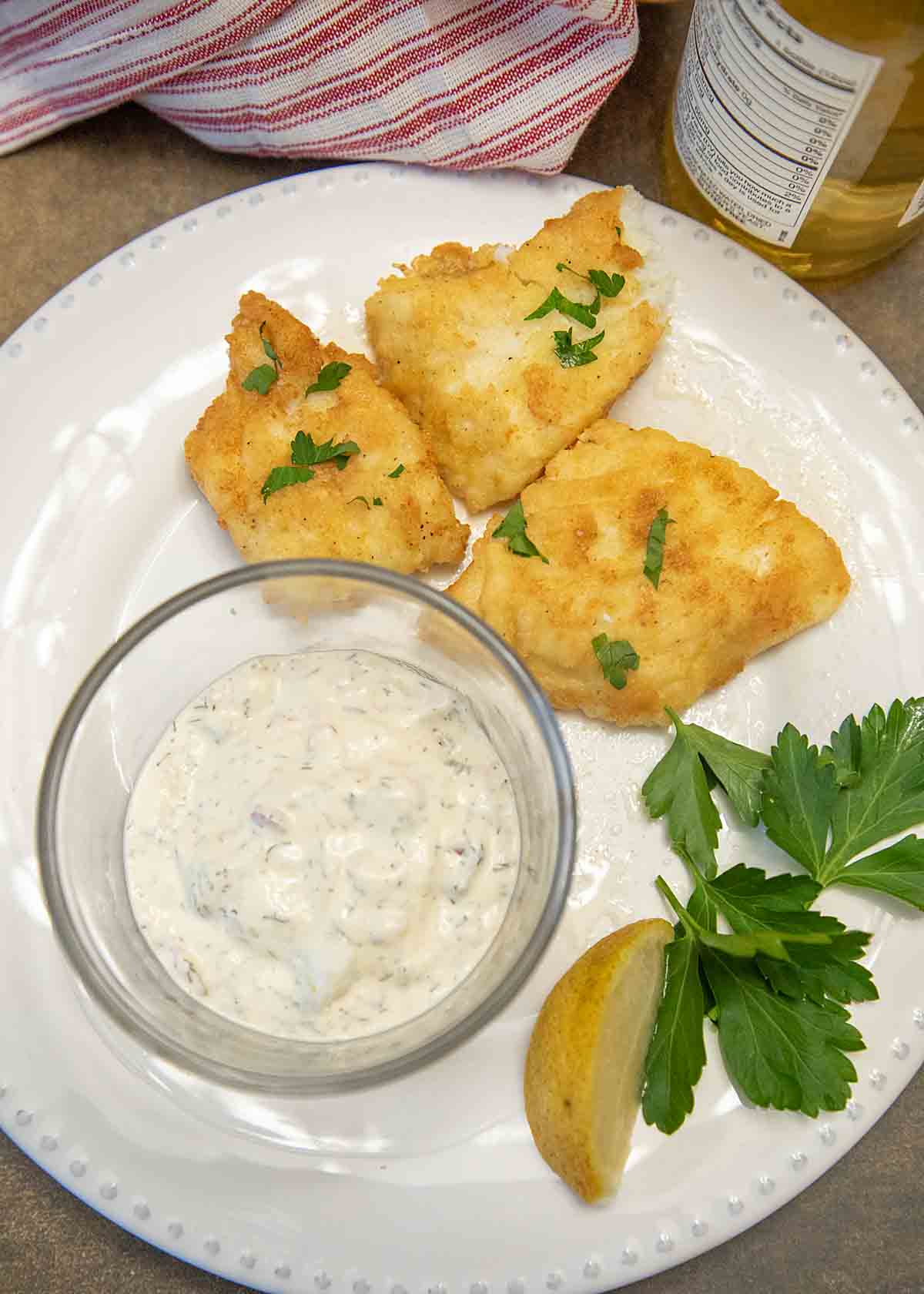 What You'll Need
Ingredient Notes
Mayonnaise. This provides the creamy base for the Tartar Sauce
Fresh Onion. This is grated to add pungent savory notes
Dill pickle relish. This gives the tartar sauce its characteristic tart flavor and a slight crunch.
Dijon mustard. This adds flavor
Dill. This enhances the dill flavor of the pickles.
Special Tools
No special tools are needed.
Step by Step Directions
Grate the onion.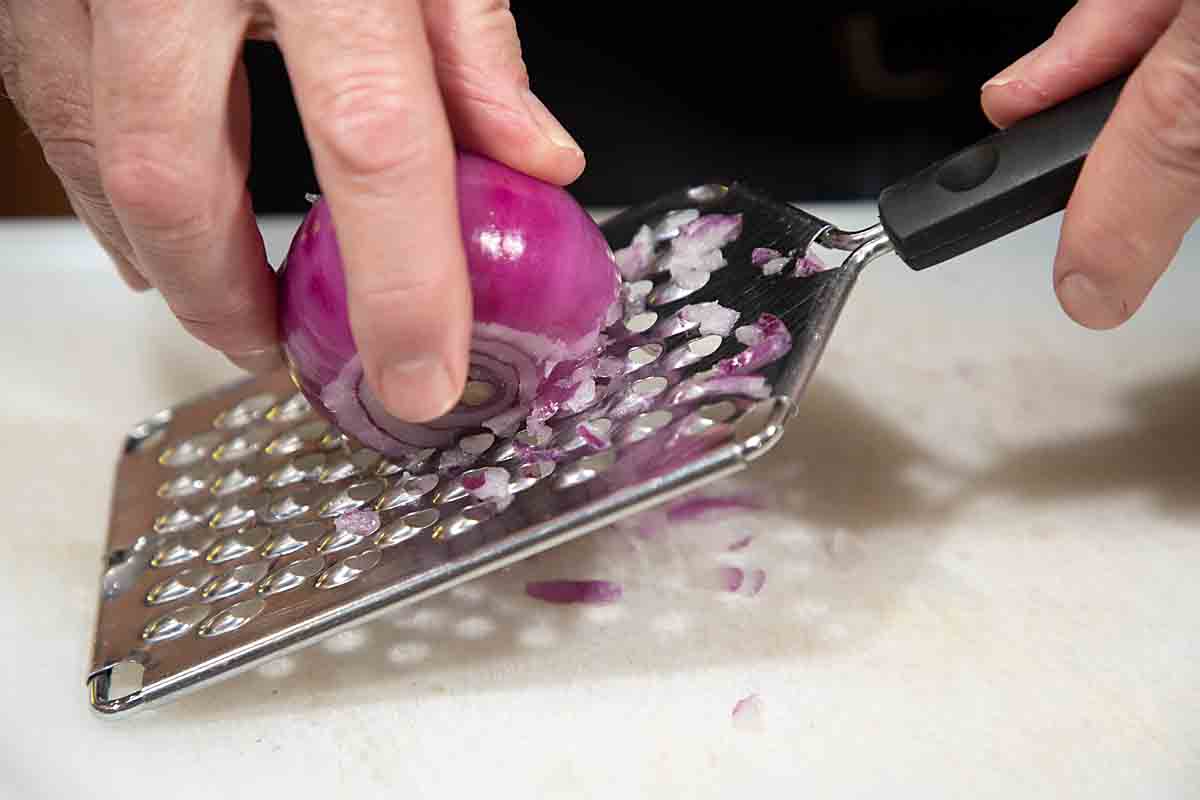 Mix ingredients together.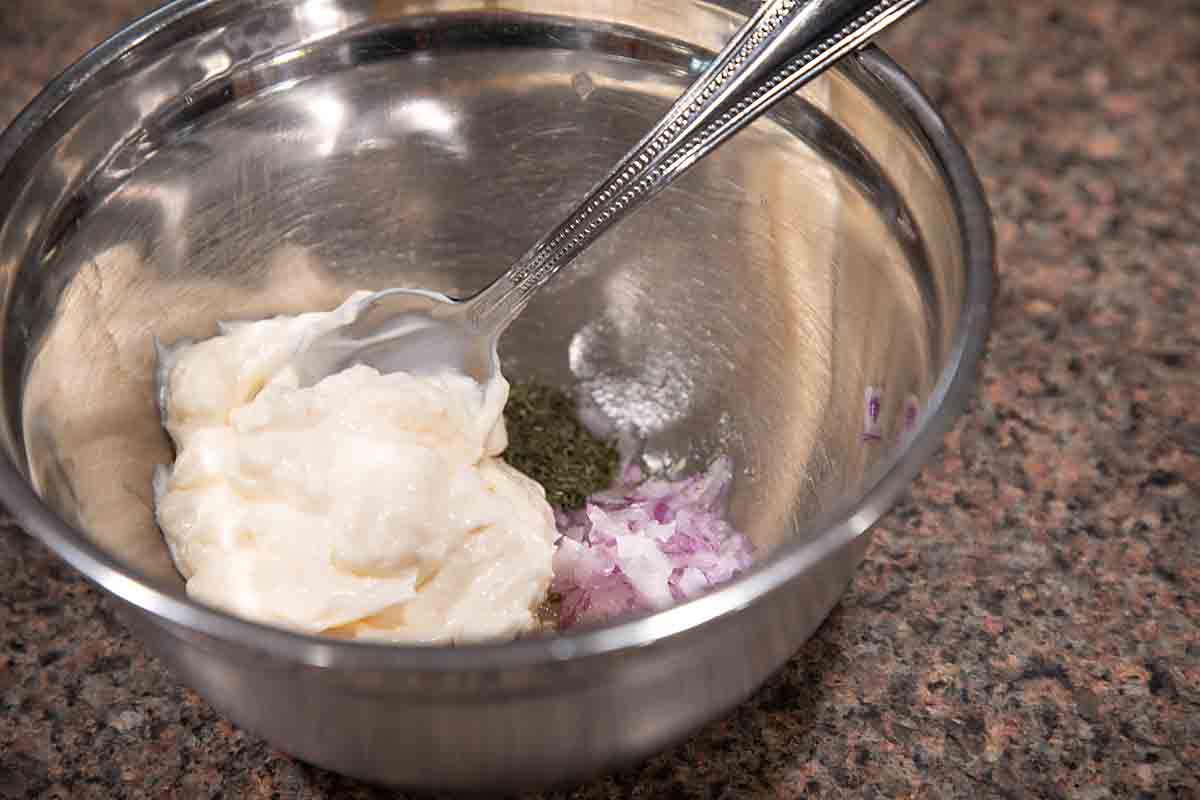 Refrigerate until needed.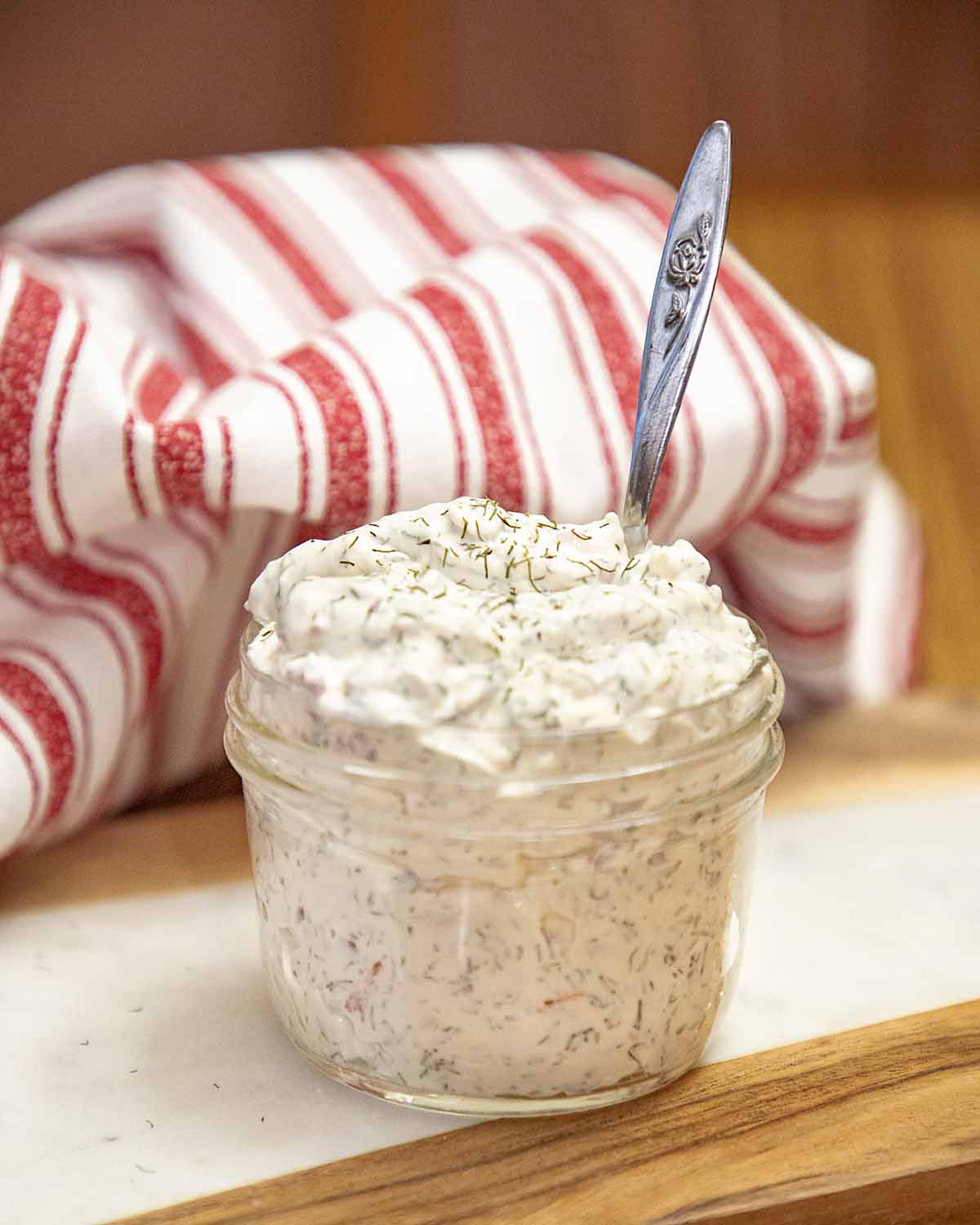 Enjoy!
How to Serve
Tartar sauce is delicious with almost any type of fish dish. Consider serving with Shrimp Burgers or fish sandwiches. And it's also perfect for any fried fish like this Homemade Pan-Fried Perch.
And while I hate to admit it, I love dipping fries in tartar sauce too!
Variations and Special Diets
If you are serving a Cajun dish, you might want to serve a remoulade, a spicy variation on tartar sauce. See New Orleans Fried Oyster Salad or Blackened Chicken for ideas on dishes that work with remoulade.
While mayonnaise usually contains egg, you can easily make a vegan tartar sauce if you start with a vegan mayonnaise.
Preparation and Leftovers
Because some of the ingredients may continue to shed liquid over time, my first choice is to make this shortly before I need it and in just the quantities I need. Fortunately it comes together in minutes, so there's no problem making it up fresh. If you do have leftovers, they should keep refrigerated for a few days. Tartar sauce does not freeze well.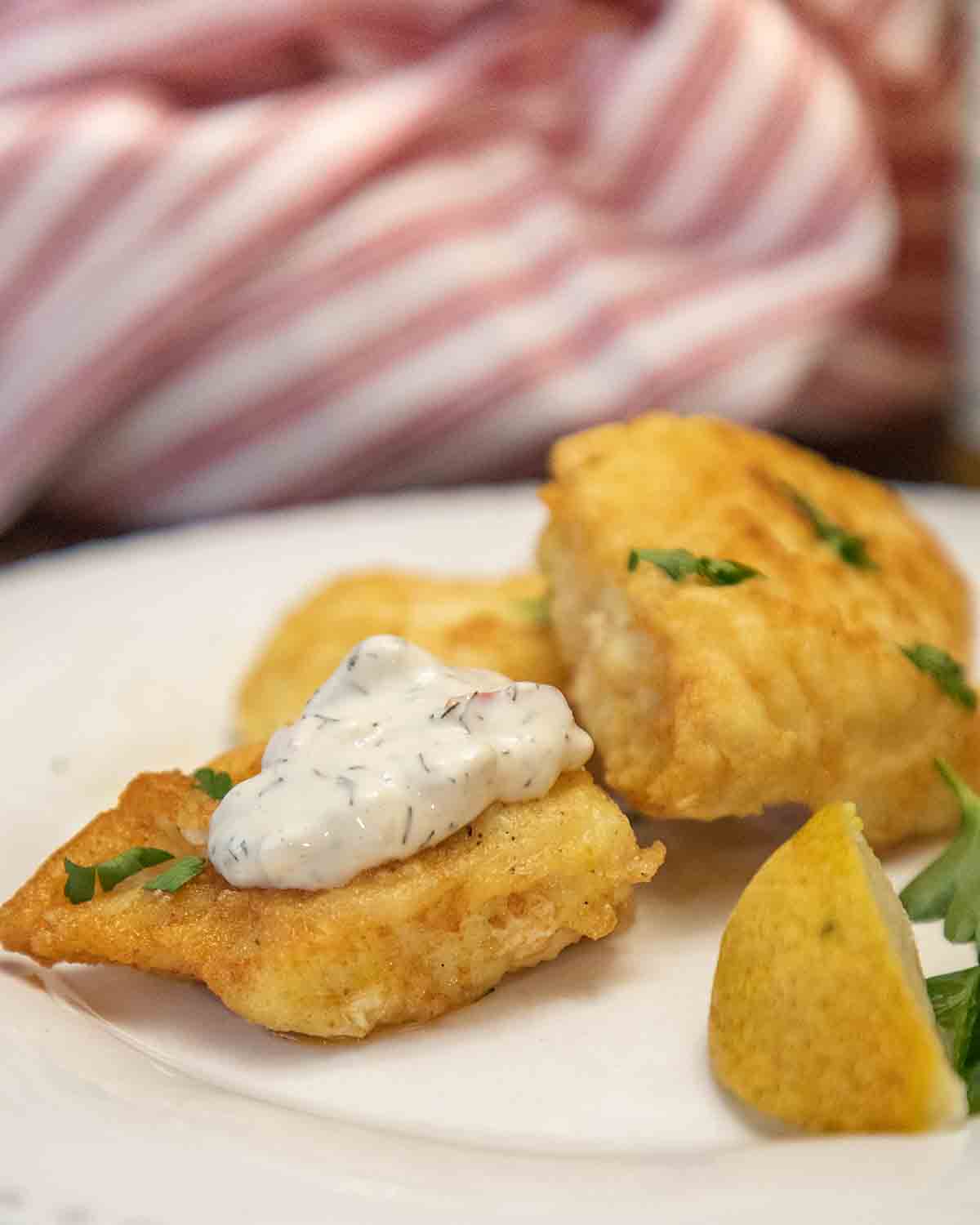 Tips & FAQs
I like to use pickle relish rather than chopped pickles, partly because it is slightly more complex, but mostly because it saves a chopping step! And who can argue about going with a quick tartar sauce!
Can I use homemade mayonnaise in this? Homemade mayonnaise can be used for tartar sauce but it's more challenging since it's usually not quite as thick. If you want to go all natural with homemade mayo, use onion powder (1-2 teaspoons) instead of the fresh grated onion and blot the chopped pickles or pickle relish dry first.
And you'll need to make the mayonnaise first, then stir in the other ingredients. If you try to make it all together, the extra moisture will interfere with the emulsification, and it doesn't thicken properly.
Let's Get Saucy
We share Recipes From Our Dinner Table! Join our group and share your recipes, too! While you're at it, join our Pinterest board, too!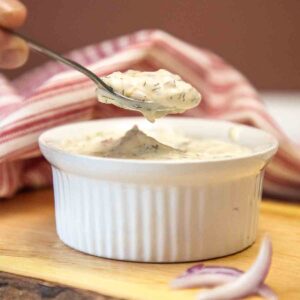 Homemade Tartar Sauce
Creamy, tart and flavored with dill, with this good homemade tartar sauce, you may never have boring fish again!
Ingredients
1

cup

mayonnaise

2

Tablespoons

grated fresh onion

2-3

Tablespoons

dill pickle relish

well drained--or chopped dill pickles

1

teaspoon

Dijon mustard

1

Tablespoon

dried dill

or 2 Tablespoons fresh dill
Instructions
Mix together all ingredients

Refrigerate until needed. Enjoy!
Nutrition
Calories:
262
kcal
Carbohydrates:
2
g
Protein:
1
g
Fat:
28
g
Saturated Fat:
4
g
Polyunsaturated Fat:
17
g
Monounsaturated Fat:
6
g
Trans Fat:
0.1
g
Cholesterol:
16
mg
Sodium:
302
mg
Potassium:
34
mg
Fiber:
0.2
g
Sugar:
0.4
g
Vitamin A:
63
IU
Vitamin C:
1
mg
Calcium:
13
mg
Iron:
0.4
mg
I am not a health professional and nutrition data is calculated programatically. Accuracy may vary with product selection, calculator accuracy, etc. Consult a professional for the best information.