Ready for some fun entertaining? Whether it's brunch, or drinks on the deck, a fruity Peach Bellini will add cheer to your event.
A Peach Bellini is a fun, fruity cocktail. Sweet and bubbly, it would be welcome at many different kinds of events from brunches to garden parties.
Made with pureed peaches and topped with Prosecco (though other sparkling wines can be substituted), it's traditionally served in a champagne glass. And because it's so fresh and fruity, you don't even need to say "It's 5 o'clock somewhere!"
I served my first Peach Bellini a few years back for a Mother's Day brunch. The traditional brunch mimosa was starting to feel tired—and I had frozen peaches left from the prior year's harvest. It was fun to greet my guests with a rosy fresh drink and start the event with cheer!
Even better, you can go non-alcoholic to accommodate kids and teetotalers too. Just top the peach mixture with 7-up or fizzy water instead!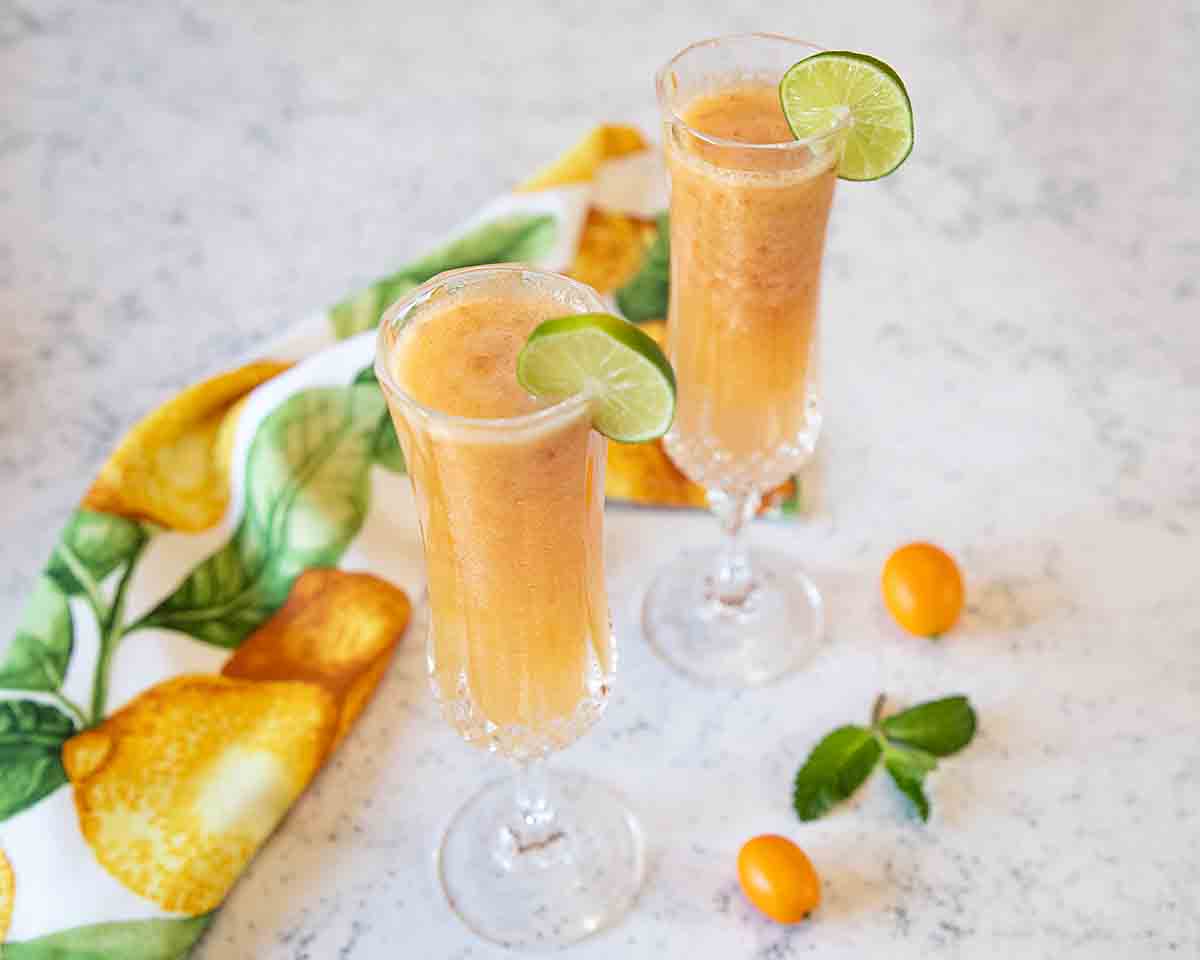 What is a Bellini?
According to the American Heritage Dictionary, a Bellini is "A cocktail made of champagne or sparkling wine, sugar, and puréed fruit, often peaches or strawberries." The name comes from painter Giovanni Bellini because the color reminded the creator of one of his paintings.
Originally a peach drink, it has been adapted to use other fruits, in particular strawberries. It joins its cousin, the mimosa, as a popular brunch drink. But it's perfect anywhere you're looking for some casual elegance!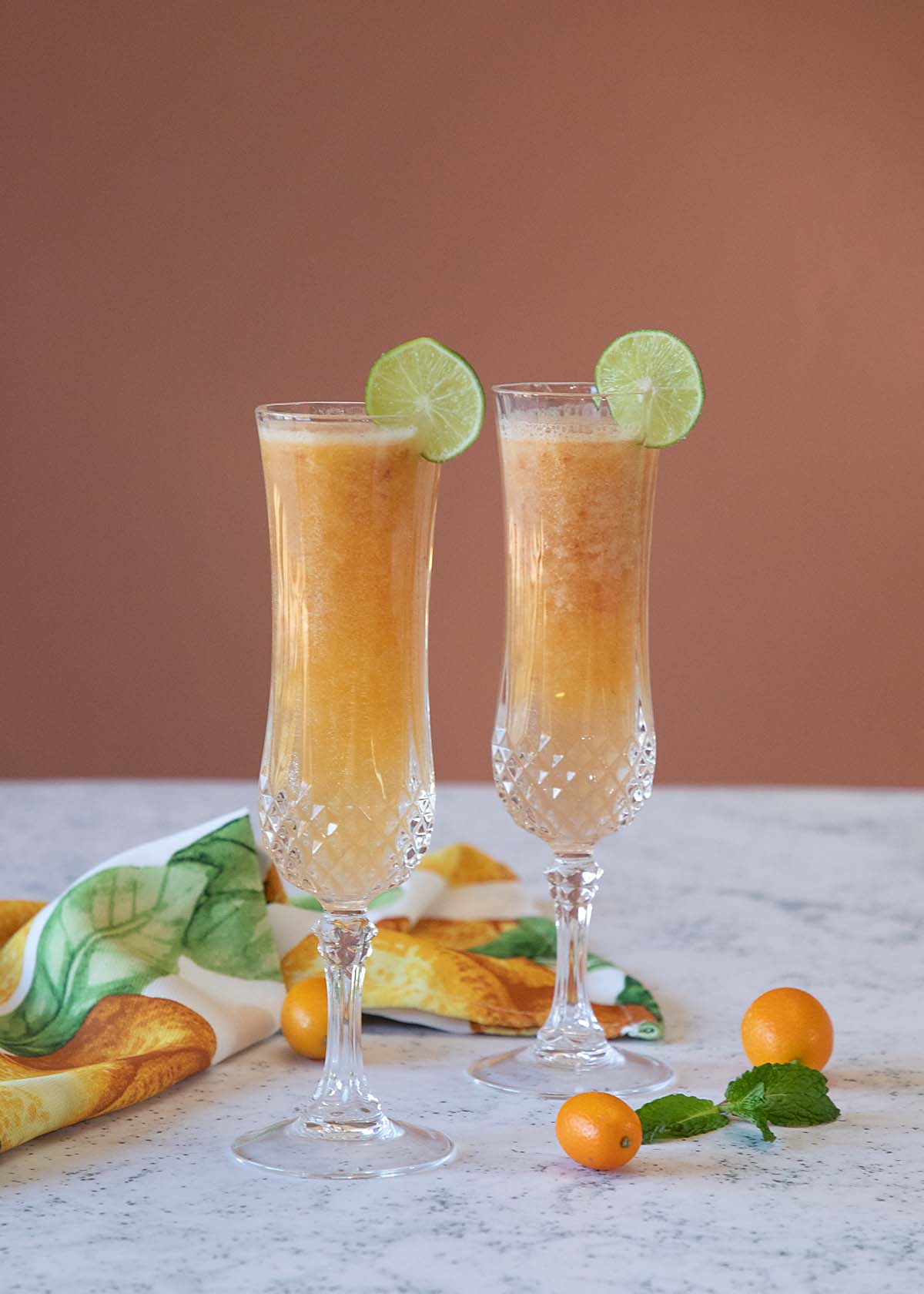 Why You'll Love This!
How can you pass up a cocktail that is:
Tasty. The sweet fruity flavor of ripe peaches makes for a special drink!
Easy. Just blend up a few ingredients, then top with Prosecco or Champagne. Easy peasy!
Fun and Cheery. Even if the bubbles don't tickle your nose, this drink is effervescent and fun!
What You'll Need
Ingredient Notes
Peaches. These provide the fruity flavor! You can use fresh or frozen, peeled or unpeeled. The peel will add a little more color but is more difficult to get perfectly pureed.
Water. Helps the peaches puree smoothly.
Sugar. This serves as a flavor enhancer and can help reduce bitterness but is optional.
Prosecco. This adds the bubbles, liquid and a little kick! You can use any type of sparkling wine, including pink champagne! To make a mocktail for kids or teetotalers, use a non-alcoholic carbonated beverage like 7-up or fizzy water.
Special Tools
A blender will make the best peach puree.
Step by Step Directions
Blend the peaches, water and sugar if using.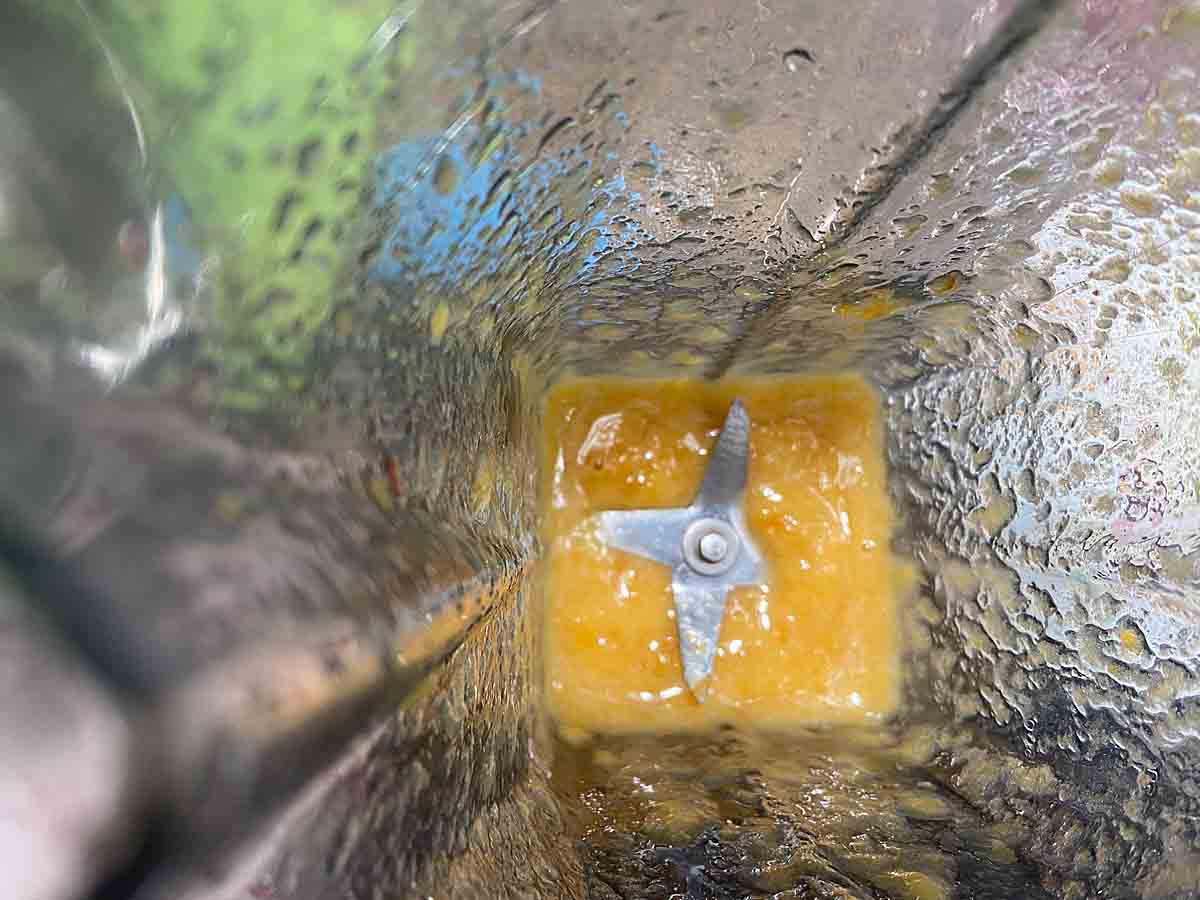 Fill a champagne glass about 1/3 full with fruit puree, then top with Prosecco or other sparkling wine!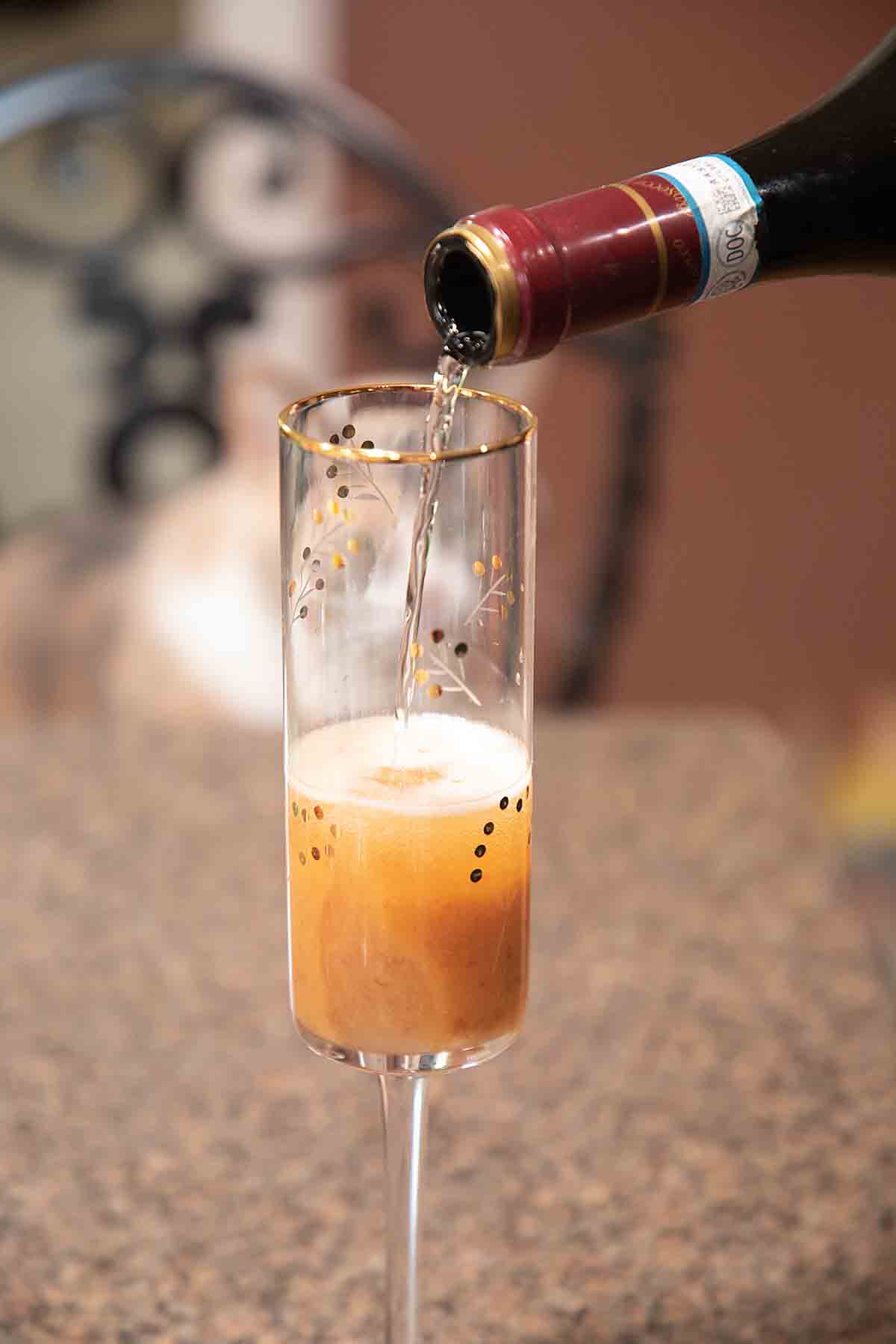 Enjoy!
How to Serve
As mentioned, this is a wonderful brunch cocktail and a great alternative to the mimosa. It's perfect anywhere that "fresh" is part of the theme.
This would include all of spring brunch season (Easter, Mother's Day, Father's Day), a baby shower (make one with fizzy water for the expectant mother!), outdoor events and special cocktail hours.
Just imagine all the fun places you could share this!
Serve in a champagne flute, or alternatively a wine glass. And consider adding a pretty garnish like a peach wedge, lime slice, or a sprig of mint.

Variations and Special Diets
If you're into prosecco cocktails but not peaches, you can always make this with strawberries—or another fruit of your choosing.
And if you're just after the bubbles, there are so many fun cocktails made with sparkling wine! Consider my Sorbet and Champagne Cocktail, where you can match the sorbet flavor to the event! Or for a richer drink for winter, how about this Downton Abbey Christmas Champagne Cocktail or the rosy Ruby Prosecco Cocktail.
And if it's peaches that you're craving, how about a tasty Peach Margarita!
Special Diets
A Peach Bellini is vegan and vegetarian as is. And for those watching carbs, you can either omit the sugar or use sweetener (I used allulose).
And as I've mentioned, It's easy to make an alcohol free Peach Bellini Mocktail. Just top your peach puree with fizzy water or a carbonated beverage like 7-up.
Tips & FAQs
Peaches usually do poorly on the Environmental Working Group's dirty dozen. So if you can get organic peaches, they may be worth the investment.
The color of the drink tends toward a light, pastel peach, especially if the skins are removed. I think it's lovely but if you want a little more intensity to the color, you can do this naturally by adding in a little bit of a redder fruit like a couple strawberries or a section of a blood orange.
I like to include a little sweetener in my Peach Bellini recipe. It can serve to reduce any bitterness that you can find in some Proseccos. And something else I recently realized is that sweeteners, in small quantities, can actually act as a flavor enhancer, similarly to salt. But feel free to reduce or eliminate this if you prefer.
Champagne glasses can vary in size. This will make about 8 drinks in standard glass, but will make less if your glasses are large.
I usually use Prosecco in my Peach Bellini as a nod to tradition. But any sparkling wine will work, even pink champagne!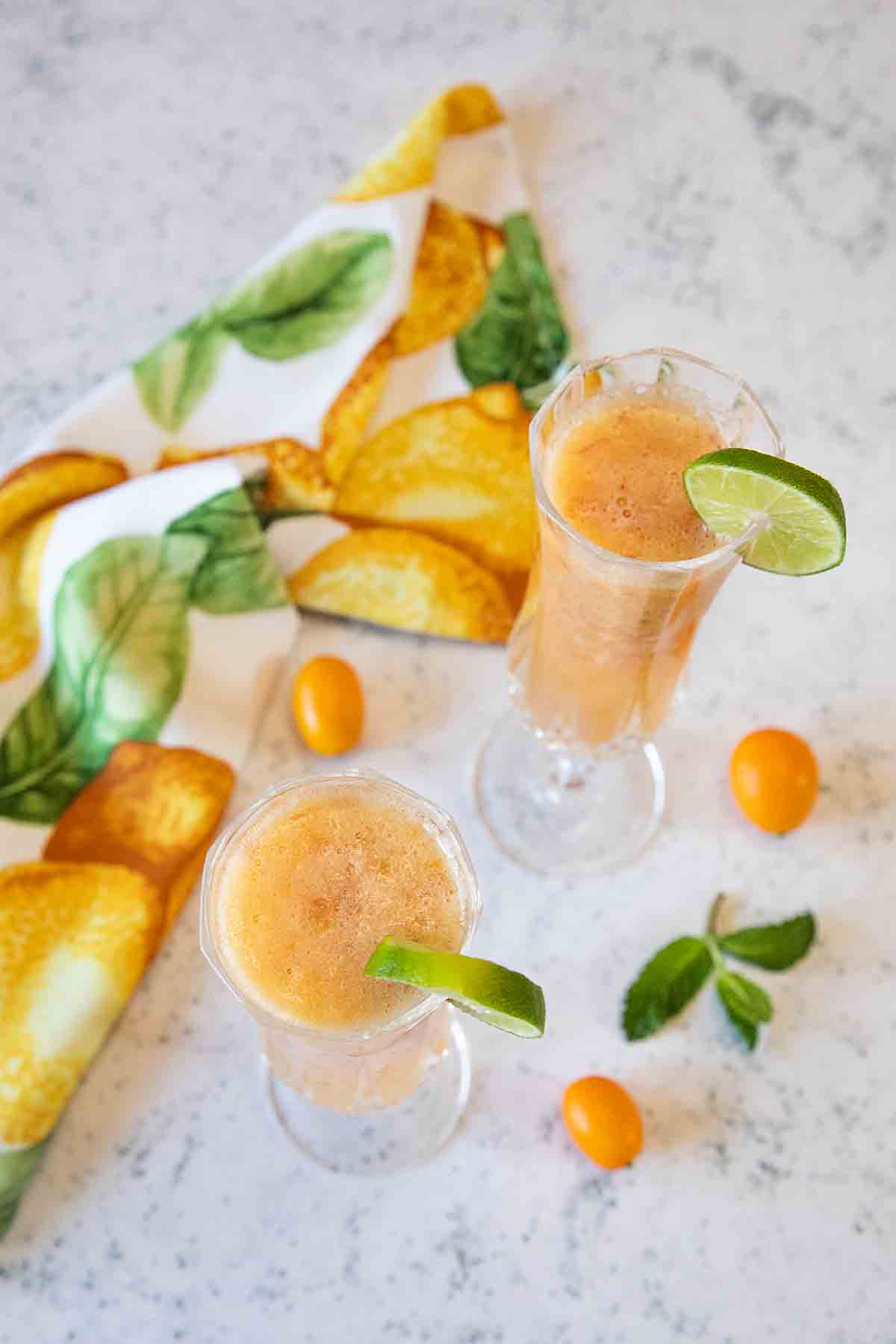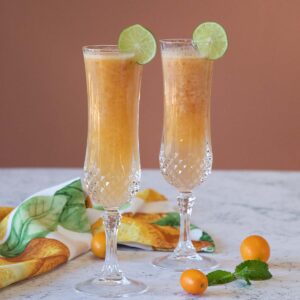 Peach Bellini
Ready for some summer entertaining? Why not take advantage of one of the great fruits of summer and make a sweet and tasty Peach Bellini?
Ingredients
4

peaches

can be fresh or frozen, peeled or not

1/4

cup

sugar

optional but recommended

1/4

cup

water

for blending

1

bottle

Prosecco

or other sparkling wine, use 7-up or fizzy water for kids
Instructions
Puree peaches, water and sugar in a blender or food processor.

Pour into a champagne glass to about 1/3 full, then top with Proscecco. Stir and serve.
Nutrition
Calories:
102
kcal
Carbohydrates:
15
g
Protein:
1
g
Fat:
0.2
g
Saturated Fat:
0.01
g
Polyunsaturated Fat:
0.1
g
Monounsaturated Fat:
0.1
g
Sodium:
17
mg
Potassium:
174
mg
Fiber:
1
g
Sugar:
14
g
Vitamin A:
245
IU
Vitamin C:
3
mg
Calcium:
12
mg
Iron:
1
mg
I am not a health professional and nutrition data is calculated programatically. Accuracy may vary with product selection, calculator accuracy, etc. Consult a professional for the best information.
Originally published Jun 12, 2016.