With tangy dressing, creamy cheese, and tart sauerkraut, you won't even miss the corned beef in this tasty Tempeh Reuben Sandwich.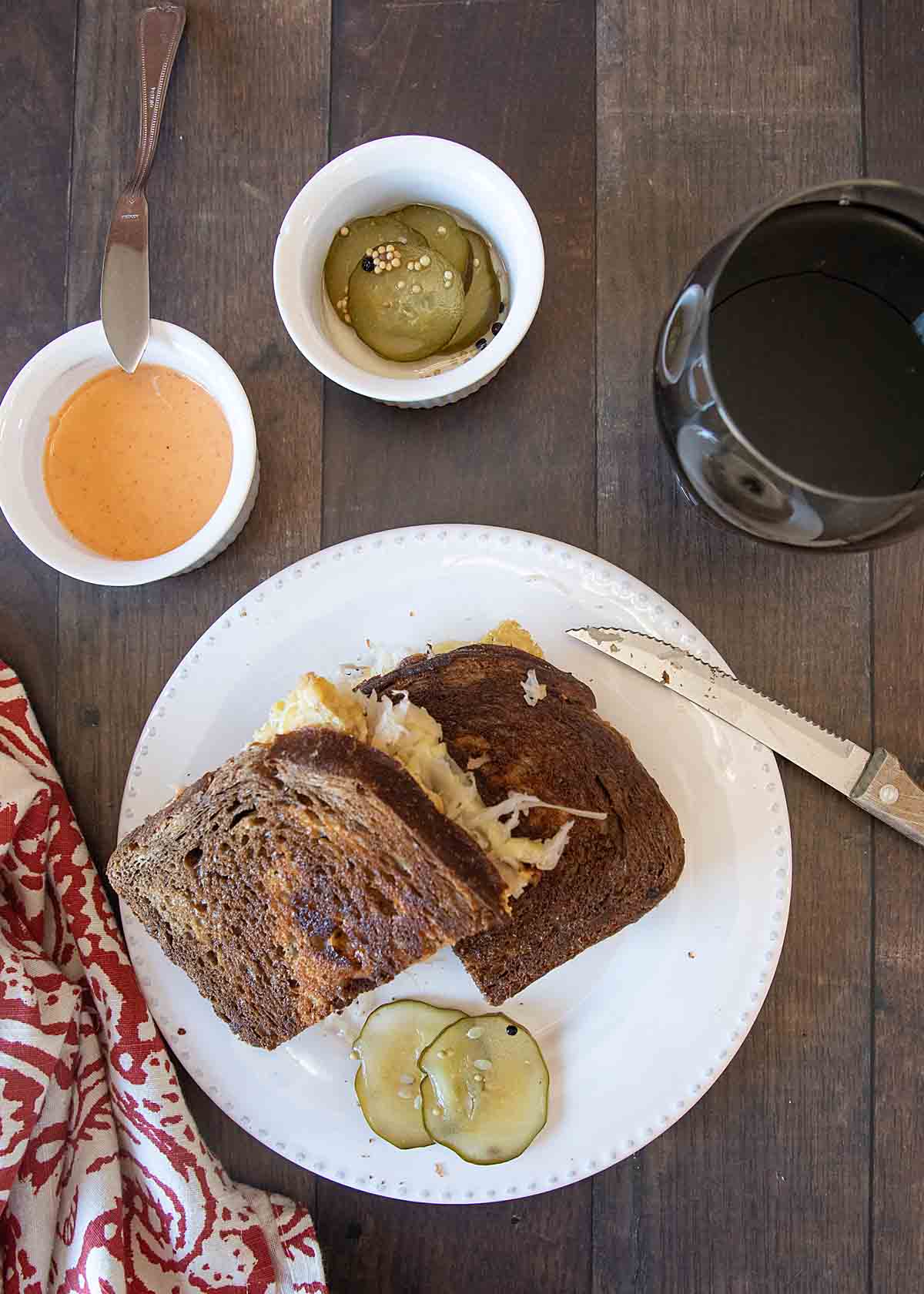 I still remember my very first Reuben. I was a college student and, in the dorms, they would sometimes serve this fun and tasty sandwich.
Back then, I was very active, with daily ballet classes. And courtesy of the dorm's all-you-can-eat policy, I could gobble down three of these hearty sandwiches–without gaining an ounce. Yes, those were the days!
Of course, a Reuben sandwich isn't exactly health food with its juicy (read, fatty) corned beef. But it sure is tasty—and you can make it a bit better for you my swapping out the corned beef for nutty soy-based tempeh. It's even vegan if you use a vegan cheese and dressing. And it still tastes amazing.
Yes, a lot of the appeal of this sandwich comes from the blending of the flavors. The crunchy rye, tangy Thousand Island dressing and more all come together–whether you have it with meat or not!
What is Tempeh?
According to Wikipedia, tempeh is "a traditional Indonesian food made from fermented soybeans. It is made by a natural culturing and controlled fermentation process that binds soybeans into a cake form."
So, like tofu, tempeh is a good protein alternative for people who don't eat meat. But unlike tofu, tempeh has a firm, almost meaty texture and a nutty flavor, that many people prefer. And since it's fermented, some people consider it even healthier than tofu.

Why You'll Love This!
A Tempeh Reuben Sandwich is:
Tasty. It is flavorful and crunchy, with creamy and tart overtones! Yum!
Healthier. If you're going to indulge, using tempeh is an easy way to reduce the fat and calories a bit without missing any of the delight.
Fun. This is a sandwich that will feel like an indulgence, however you make it!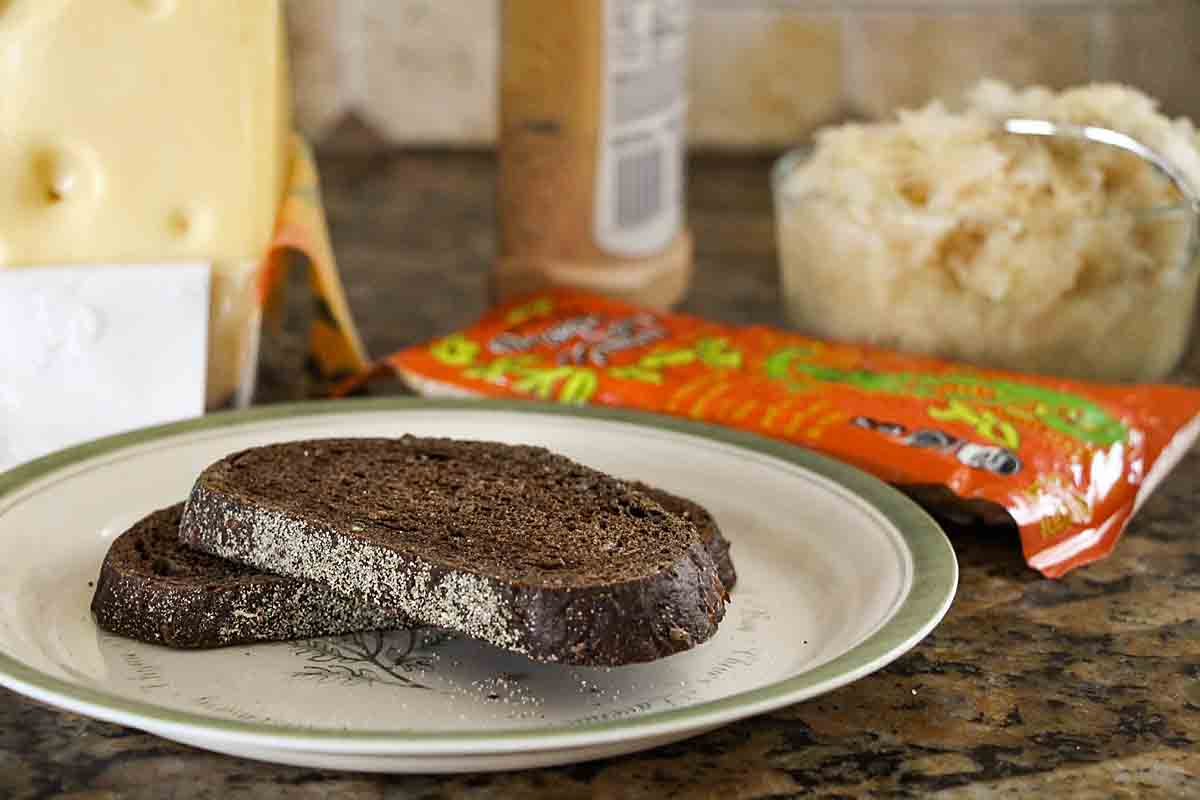 What You'll Need
Ingredient Notes
Rye bread. This holds the sandwich together and provides a characteristic flavor.
Thousand Island Dressing. This adds tangy flavor and creaminess.
Tempeh. This provides a meaty-like protein component.
Swiss Cheese. This adds flavor and nutrition.
Butter or Margarine. This facilitates the grilling and browning of the sandwich and adds flavor.
Special Tools
No special tools are needed.
Step by Step Directions
Slice the tempeh. I like to cut on an angle to make wider slices.

Layer the following on one slice of rye bread: Swiss cheese, sliced tempeh, sauerkraut.
Spread dressing on the other piece of bread and flip the dressing side onto the sandwich.
Butter the outsides of the sandwich.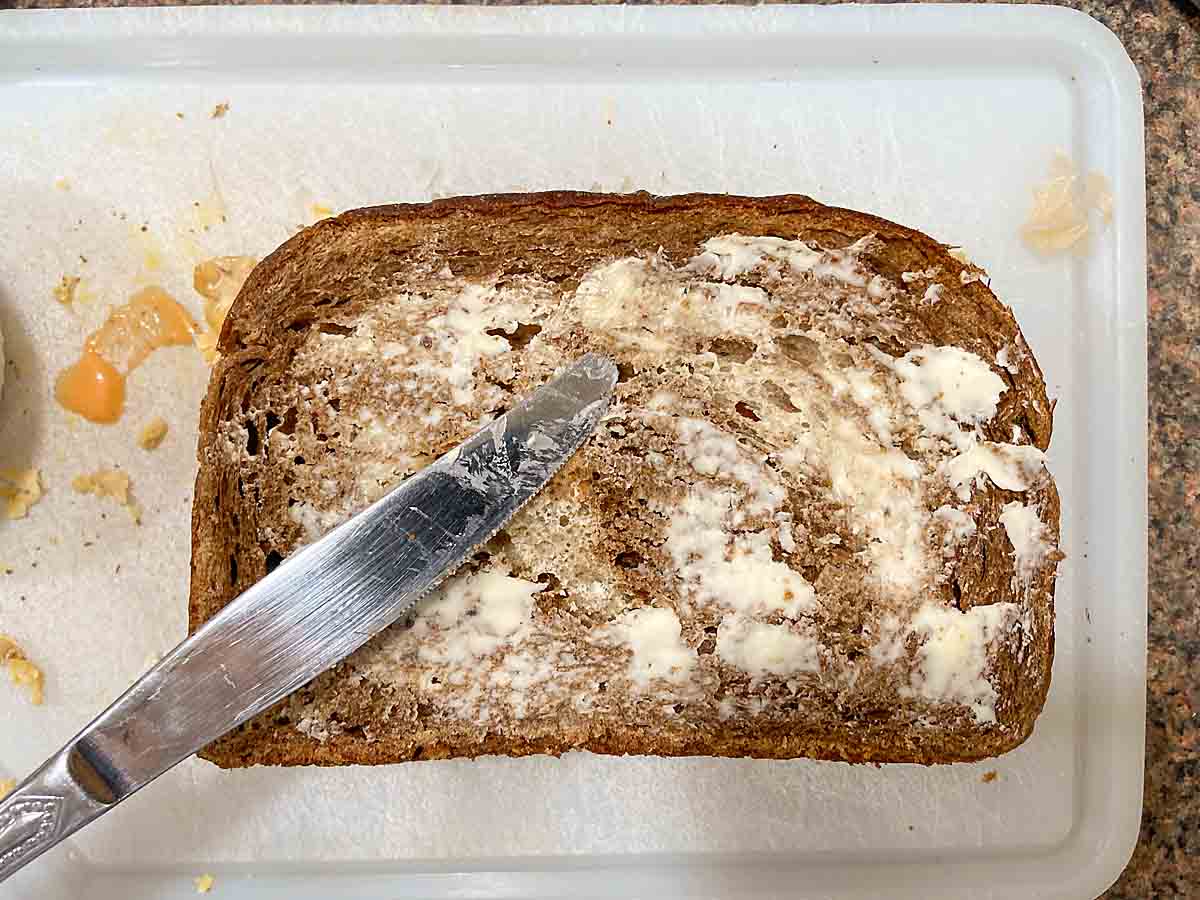 Grill in a frying pan on both sides. Cover the pan and turn down heat if it is browning too much before the cheese melts.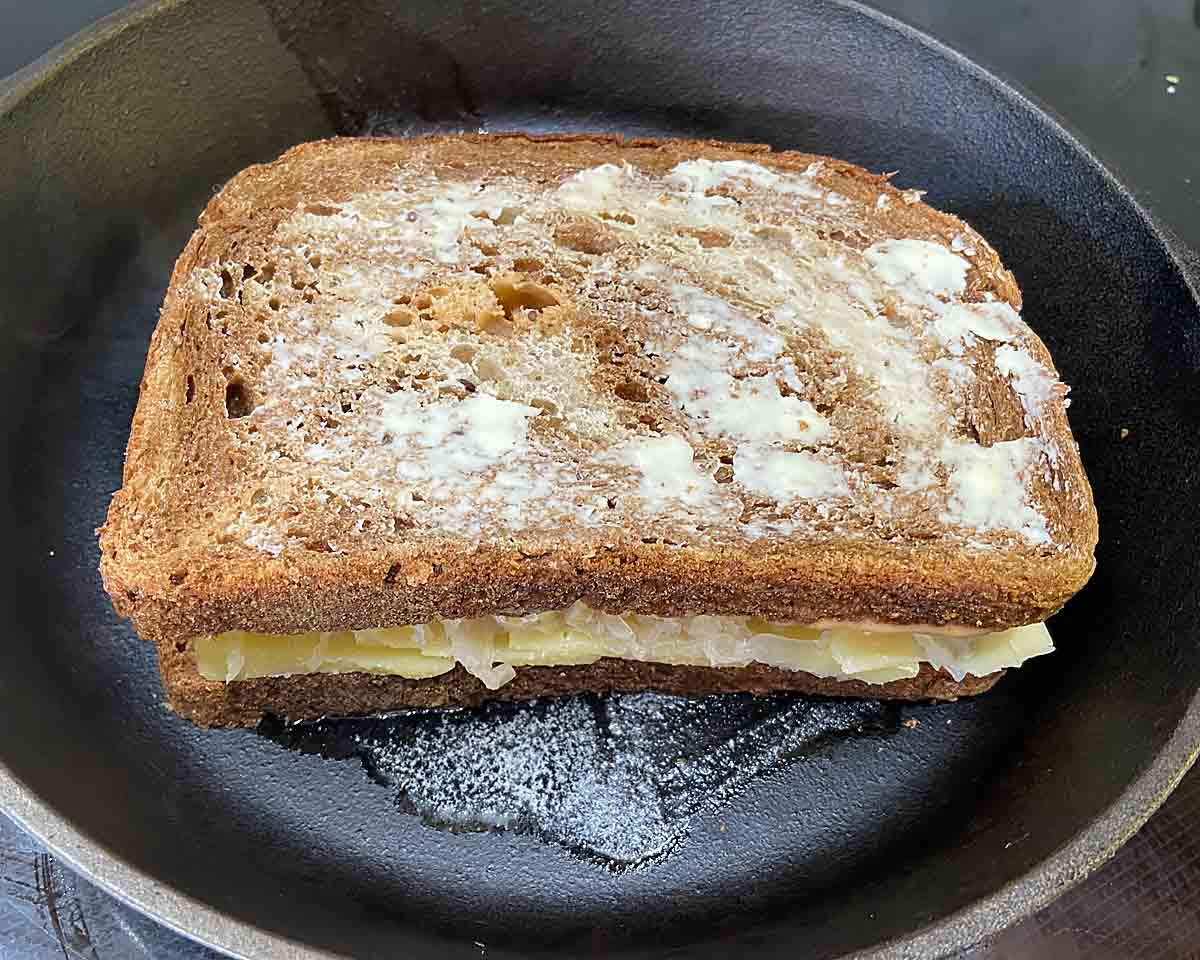 Cut sandwich in half and enjoy!
Canned versus Fresh Sauerkraut
Have you heard of fresh sauerkraut? Fresh sauerkraut is cabbage that has been fermented to turn it into sauerkraut, but which hasn't been heat canned. If you really want to take your Tempeh Reuben sandwich healthier, consider using this.
The idea behind this is as follows. The canning process is great for making food shelf stable by killing off the bad bacteria–but that heat also kills any good probiotic organisms. To get around this, some manufacturers supply their sauerkraut to the refrigerated section of the supermarket–without heat processing it first–and thereby keep the probiotics active. Homemade sauerkraut (unless it is canned) should have live probiotics too.
And there is one final consideration if you go fresh. If you want to keep the probiotics alive, you'll need to make sure you don't get your sauerkraut too hot when you grill the sandwich. What I usually do in this case, is to add the sauerkraut after the sandwich has been cooked.
Of course, if all this sounds too complicated, simply go with a good, canned sauerkraut. Canned is nutritious and tasty too!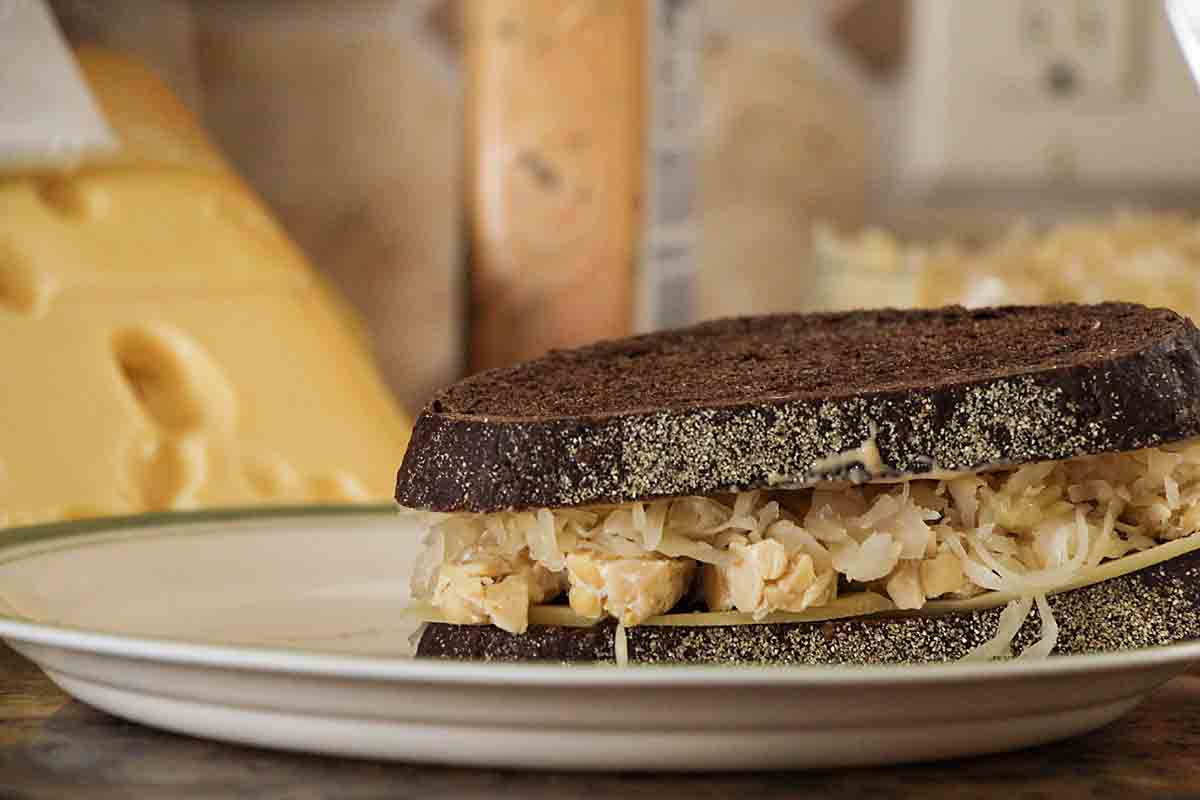 How to Serve
When I serve a sandwich, I love adding a casual vegetable side like coleslaw. Or change things up and try a carrot slaw like my Thai Carrot Slaw or Carrot Raisin Salad. I also like to add my Broccoli Waldorf Salad to a sandwich plate!
Raw vegetables with dip is another nutritious option. Or the classic pickle, with chips or fries, is always welcome.
If you're celebrating St Patrick's Day, consider serving with Guinness or another Irish beer. Or go with your favorite local beer or a non-alcoholic beverage.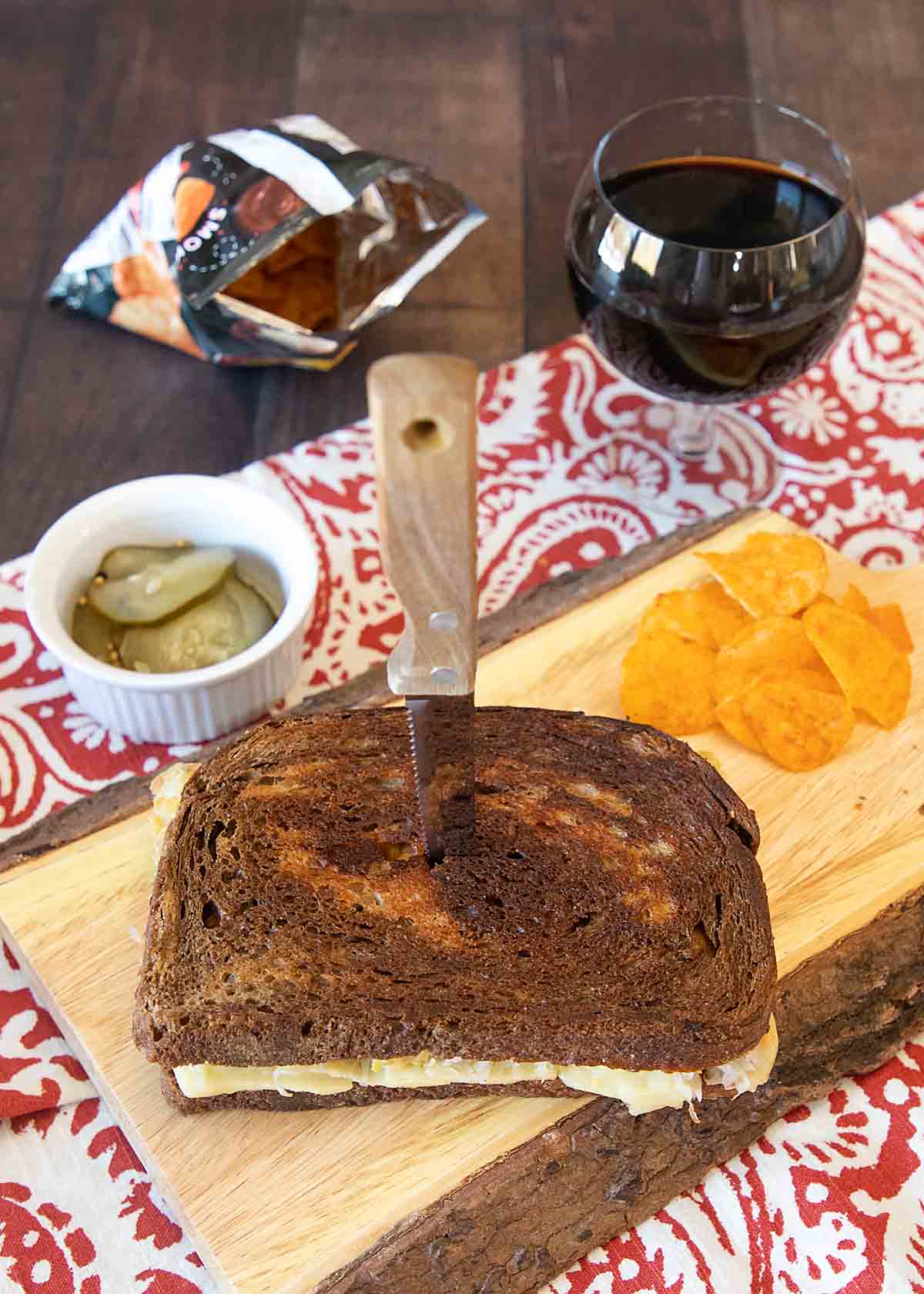 Variations and Special Diets
Of course, if you're looking for something more mainstream, you can always go with the classic Reuben Sandwich, made with corned beef. In that case, just substitute sliced corned beef for the tempeh. You could also use pastrami.
Do you want the meat but just not beef (or nitrates)? Another popular variation is called the Rachel or Rachel Reuben. For this, sliced turkey is used as the protein source.
Special Diets
A Tempeh Reuben sandwich is vegetarian, as is, but it isn't vegan. For a vegan Reuben sandwich, you'd need to use a vegan cheese and dressing and make sure you used margarine instead of butter to grill the sandwich.
And for a gluten-free Tempeh Reuben Sandwich, use your favorite gluten free bread. Tempeh is usually gluten free but double check your brand in case of additives or cross contamination. And Thousand Island dressing varies by brand, so check there as well.
Leftovers
Leftovers will keep for a few days, sealed in the refrigerator, though the bread may get soggier over time. Reheat in a frying pan to re-crisp the bread.

Tips & FAQs
How do I keep the sandwich from browning before the cheese melts? If the pan is too hot, the sandwich will get dark before the cheese melts. To solve this, I turn the pan heat down and cover it, which helps the heat get distributed through the whole sandwich. Using thinner slices of cheese can also help.
Is there vegan Thousand Island Dressing? There are some commercial vegan Thousand Island dressings or you can make your own.
What type of rye bread should I use for my Reuben Sandwich? My first choice of rye for my Reubens is usually a bakery bread since they usually seem to have more character. But I have gotten nice mass market rye right in the bread aisle. Look for something soft but firm so it will hold up to the cooking but still be easy to bite through!
You may also need to decide between, light rye, dark rye, pumpernickel and marble rye (a combination of light and dark). America's Test Kitchen decided to test different kinds of rye and concluded it was a matter of personal taste. I have dark and marble in my pictures and we enjoyed both!
One final consideration can be caraway, which is sometimes found in rye bread. I personally like caraway but some people don't. So if you are serving guests consider selecting a bread without it.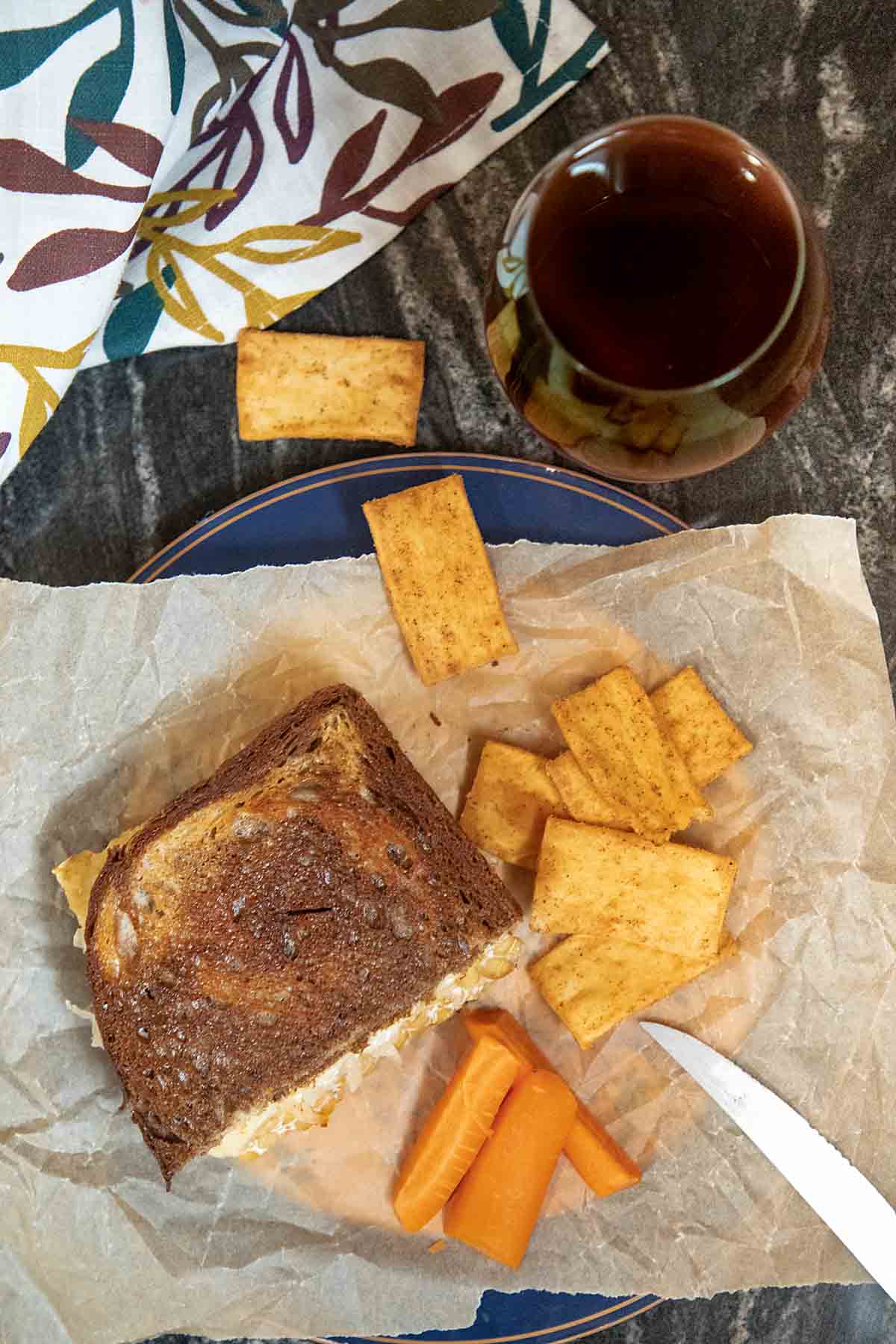 Emerald Isle Recipes
We share Recipes From Our Dinner Table! Join our group and share your recipes, too! While you're at it, join our Pinterest board, too!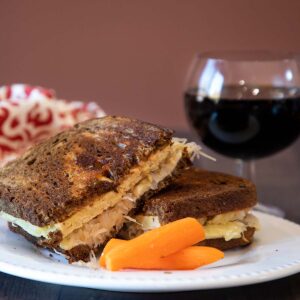 Tempeh Reuben Sandwich
With tangy dressing, creamy cheese, and tart sauerkraut, you won't even miss the corned beef in this tasty Tempeh Reuben Sandwich. 
Ingredients
2

slices

rye bread

1-2

Tablespoons

Thousand Island dressing

use vegan for vegan option

3

ounces

tempeh

sliced (1 12 ounce package will make 4 sandwiches)

1

ounce

Swiss cheese

sliced, non-dairy for vegan option

¼

cup

sauerkraut

½

tablespoon

butter or margarine
Instructions
Layer the following on one slice of rye bread: swiss cheese, sliced tempeh, sauerkraut.

Spread the 2nd slice of bread with thousand island dressing on one side and flip onto the bottom half of the sandwich. Lightly butter the outside sides of the sandwich.

Grill on first side until toasted, then flip sandwich and grill second side until toasted and the cheese is melted. Cover and turn down heat if it is browning too much before the cheese melts.

Cut in half and serve.
Nutrition
Calories:
559
kcal
Carbohydrates:
43
g
Protein:
29
g
Fat:
31
g
Saturated Fat:
12
g
Polyunsaturated Fat:
7
g
Monounsaturated Fat:
8
g
Trans Fat:
0.2
g
Cholesterol:
46
mg
Sodium:
880
mg
Potassium:
556
mg
Fiber:
5
g
Sugar:
6
g
Vitamin A:
455
IU
Vitamin C:
5
mg
Calcium:
408
mg
Iron:
5
mg
I am not a health professional and nutrition data is calculated programatically. Accuracy may vary with product selection, calculator accuracy, etc. Consult a professional for the best information.
Updated from Jul 1, 2015 post