Egg Lemon Soup with Spinach
When cold season hits, what's better than a nice home remedy? Of course, chicken soup is a classic, tasty and warming! But how about shaking things up with a traditional Greek Egg Lemon Soup (Avgolemono). Even better embellished with dill and shredded spinach!
My husband has been suffering from a bad cold for the past week. A fever of 102F. Sniffles. Even pink eye!
So after a week of hot tea and vaporizers, it was time to call out the big guns–homemade soup! Since the upcoming Easter holiday has me thinking of eggs (and I am one of three non-vegetarians on the planet who doesn't like chicken soup), Egg Lemon Soup won the toss.
Egg Lemon soup is a rich, thick, lemony soup containing rice or orzo pasta. It is a traditional Greek dish that I first tasted in a childhood blessed with ethic fine dining.
So it was fun and nostalgic to test this, experimenting with different ratios to get a soup that matched what I remembered. To simplify thickening, I bypassed the customary tempering that troubles many cooks and mixed my eggs with cool broth before adding, then heated to 165 F. (Did you know that this is scientific–see here for the reason behind 165F.)
Finally, in my best "can I add another vegetable to this" tradition, I added some julienned spinach at the end. This adds nutrition and has the side benefit of slowing the cooking when you've reached the proper temperature/thickness. And if you are looking for a main course, feel free to add diced chicken!
The soup was quick and easy–ready in about 15 minutes! Yes, I would happily share a bed tray of this!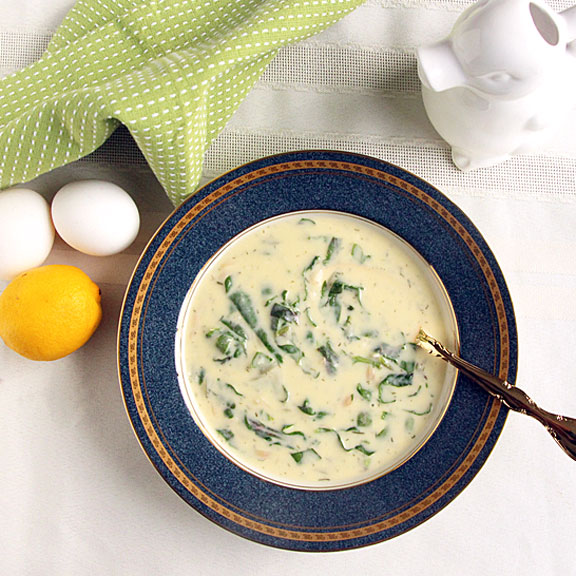 Egg Lemon Soup (Avgolemono)
2016-03-24 11:28:43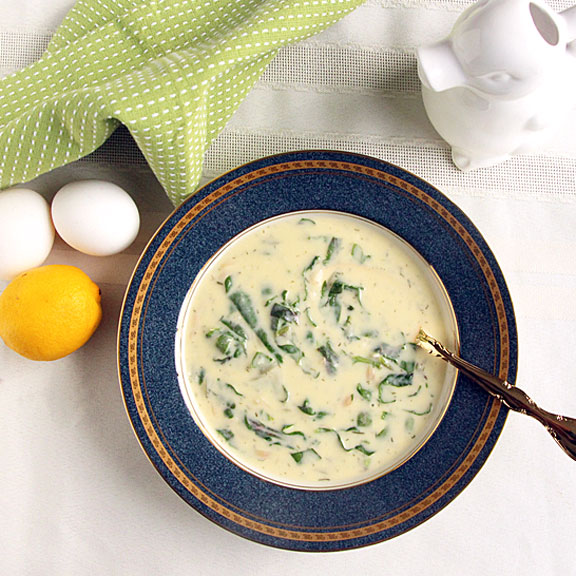 Serves 2
Looking for a nice cold remedy? Traditional Egg Lemon Soup (Avgolemono) is a quick & tasty alternative to chicken soup--even healthier with julienned spinach.
Nutrition Facts
Amount Per Serving
* Percent Daily Values are based on a 2,000 calorie diet. Your Daily Values may be higher or lower depending on your calorie needs.
Ingredients
• 2 cups chicken broth, divided (see note)
• 1/4 cup uncooked orzo (or rice or other small pasta)
• 2 large eggs
• 2 tablespoons lemon juice (about 1 small lemon)
• 1/2 teapsoon dried dill
• 1 cup loosely packed julienned spinach (see note)
• salt to taste (I used ¼ teaspoon with lightly salted homemade broth)
Instructions
Bring half of the broth (1 cup) to boil in saucepan. Add orzo (or rice) and simmer, covered, until just tender, about 8 minutes (longer for rice). Remove from heat.
Lightly beat the egg, lemon juice and remaining broth together.
Slowly pour the hot broth and orzo into the egg and broth mixture, whisking the entire time to avoid curdling. Return the mixture to the saucepan.
Place saucepan back on medium heat, and stir continuously for about 5-10 minutes until soup is thickened (should reach about 160-165 F—do not boil).
Remove from heat, stir in dill and julienned spinach, then let sit covered until spinach is just wilted, about 5 minutes. Taste and adjust salt, dill or lemon as needed.
Serve immediately.
Notes
To julienne spinach easily, you can stack about 6 leaves, roll them up and slice the rolls.
My homemade broth is extra rich/concentrated so I diluted it with water to ensure the egg and lemon flavors came through.
Art of Natural Living https://artofnaturalliving.com/