I try to eat healthy. But every so often I want something indulgent. Tasty. Sweet. Even pretty. And with beautiful autumn leaves falling all around me for inspiration, I decided to try making some fall sugar cookies.
Now the last time I tried making decorative sugar cookies was a few years ago. I made them to celebrate Easter. That year we ate a big batch of seriously ugly bunnies and duckies. And it was the last time I tried "cute."
But recently I saw a­­ technique called cookie flooding at The Gold Lining Girl, and I thought, "well, maybe."
Ummm, make that "Well, YES!" While the cookies were just a little time consuming, they required very little manual dexterity–which is really important. And they were impressive enough to give away as gifts!
To use this technique, you pipe an "edge" around the outside of the cookie, put different color blobs of icing in the middle, then swirl them out to the edge. Seriously, it is that easy.
In slow motion…
You pipe a buttercream line around the outside of each cookie using a pastry bag fitted with a small round tip (I used a #4). No pastry bag? You can use a plastic bag with the corner cut out to make a small opening.
This is the only part that is hard at all. My first couple attempts were not too good, so I scraped the frosting off (putting it back in the pastry bag) and started over. The edge is decorative but it also acts as a bit of a dam for the slightly runny frosting that will fill the center. And it doesn't need to be perfect.
After finishing the edges, you put three blobs of different colored "royal icing" in the center of a cookie. I recommend using fairly bright colors, since that looks better after swirling.
Then you use an object with a blunt point to swirl the frosting out to the edges of the cookies and make interesting swirls.
Finally you let them sit a bit so the icing can harden up some.
After a multiple year sugar cookie hiatus, this is my second batch in a couple weeks. I can hardly wait for Christmas!
I have it all below in recipe format. The sugar cookie recipe comes (more or less) from Wilton. The buttercream frosting is my usual and the royal icing came from the original except for adjusting the amount (since I ran out the first time–perhaps rolling my cookies thinner).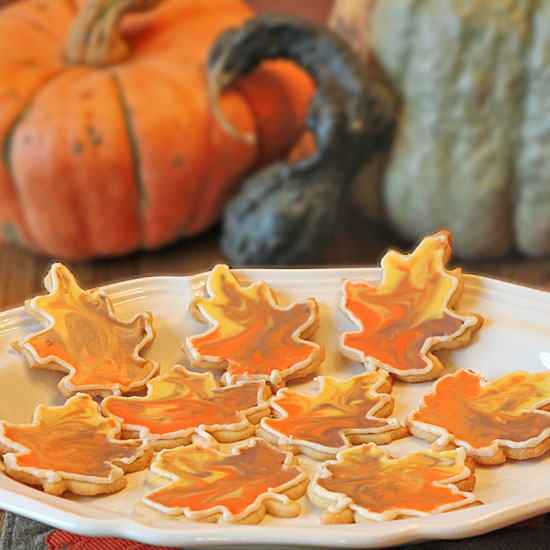 Frosted Fall Sugar Cookies
2014-11-10 15:12:21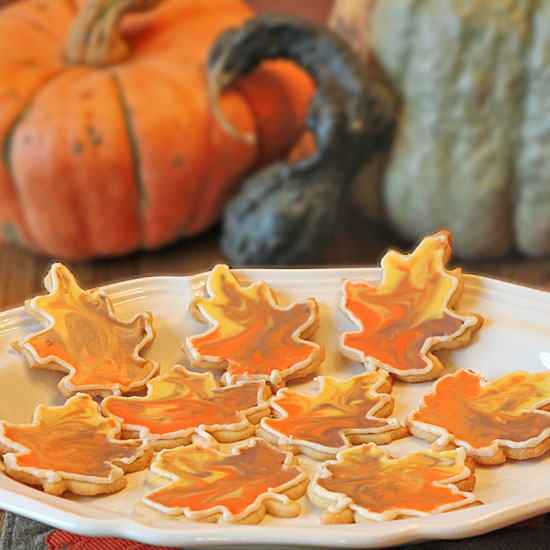 Pretty and professional looking, this technique for "cookie flooding" makes lovely fall sugar cookies doable for a novice.
Nutrition Facts
Amount Per Serving
* Percent Daily Values are based on a 2,000 calorie diet. Your Daily Values may be higher or lower depending on your calorie needs.
Cookies
1 cup (2 sticks) unsalted butter, softened
1 1/2 cups granulated sugar
1 egg
2 teaspoons pure vanilla extract
2 3/4 cups all-purpose flour
1/2 teaspoon salt
Buttercream frosting
1/2 cup butter, softened
2 cup powdered sugar
1 teaspoon water
1/2 teaspoon vanilla
Royal icing
4 Tablespoons water
4 Tablespoons corn syrup
4 1/2 cups powdered sugar
food coloring
For cookies
Preheat oven to 400°F.
In mixing bowl, cream butter with sugar until light and fluffy. Beat in egg and vanilla. Mix flour and salt; add to butter mixture 1 cup at a time, mixing after each addition.
Divide dough into 2 balls. On a floured surface, roll each ball into a circle approximately 12 in. wide and 1/8 in. thick. Dip cookie cutter in flour before each use.
Bake cookies on ungreased cookie sheet 6-7 minutes or until cookies are lightly browned. Let cool before frosting
For buttercream
Combine all ingredients in a small mixing bowl, adjusting water and powdered sugar as needed to achieve desired (thick) consistency. Mix until fluffy.
Fill a piping bag fitted with a small circle tip (e.g. #3 or #4) with buttercream frosting, and set aside. Alternatively, cut a very small hole in the corner of a plastic bag and fill (note: I haven't tried this but people say it works).
Using the buttercream frosting in the bag, pipe an outline around the border of the cookie. Allow to set up for about 10-15 minutes.
For the royal icing
In a medium bowl, combine all ingredients and whisk until smooth. Consistency should be that of a thick syrup, similar to molasses. Adjust water and corn syrup accordingly.
Separate royal icing into three smaller bowls. Mix in food coloring to make yellow, orange (red & yellow colors) and brown (red, yellow & green or blue). Adjust as desired.
When ready to flood, use extra piping bags or a small spoon to drizzle different colors of royal icing onto each cookie.
Use a narrow pointed object to drag icing to the edges, without allowing it to spill over.
Swirl until you reach a pattern you like.
Allow to dry for 2-4 hours or overnight.
Art of Natural Living https://artofnaturalliving.com/