Festive Cider Cornish Hen
With a rich creamy sauce, lightly flavored with apple, Cider Cornish hen is perfect for a small dinner party or special family dinner.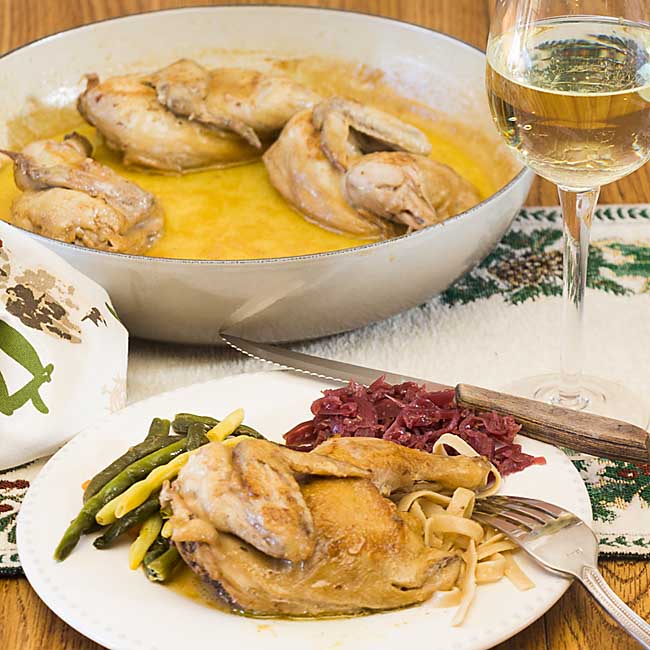 It all started with a couple pheasants that my brother gave me. Yes, it's fun to have a brother who barters for unusual things! I found a delicious recipe on the BBC website and, well, you can probably guess the new problem. I wanted to make it again and who has pheasant laying around?
So, I tried it with Cornish hen and… hooray, it was delicious!
I simplified the recipe slightly and it was done in about an hour—pretty impressive for a dish with such a complexly flavored sauce! In fact, it reminded me of a gourmet cooking class I took years ago where we learned to make a rich stock. Pre-roasting bones and aromatics was the key that time—but with the blended apple and game flavors, this sauce was perfect with much less effort. Yes!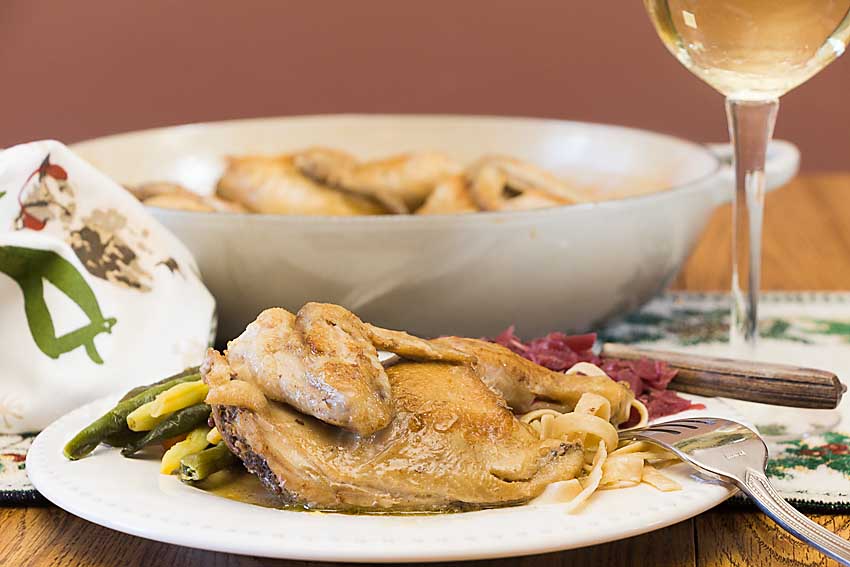 For my trial meal, I served half hens but there was plenty of sauce, and next time I will probably go with whole hens (and I have written the recipe this way). But if you are serving lots of sides, feel free to split up your birds for eight servings.
Did you know there is controversy about when and where game hens should be served? Well we had them at our wedding so I think they can be elegant! However, given the holiday feeding frenzy, I nixed this for Christmas Eve and decided to go with something easier to eat and prepare on a large scale.
But the recipe is definitely a keeper!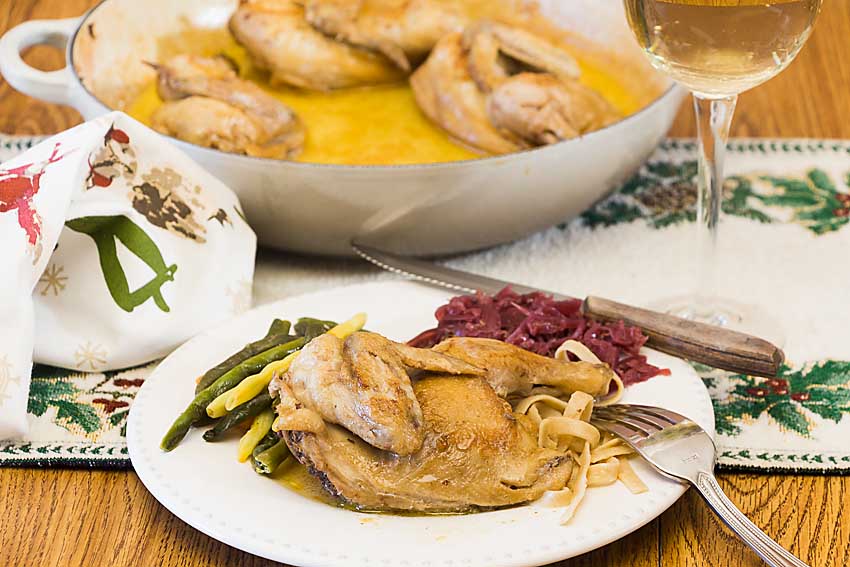 Cider Cornish Hen
2018-12-20 10:48:16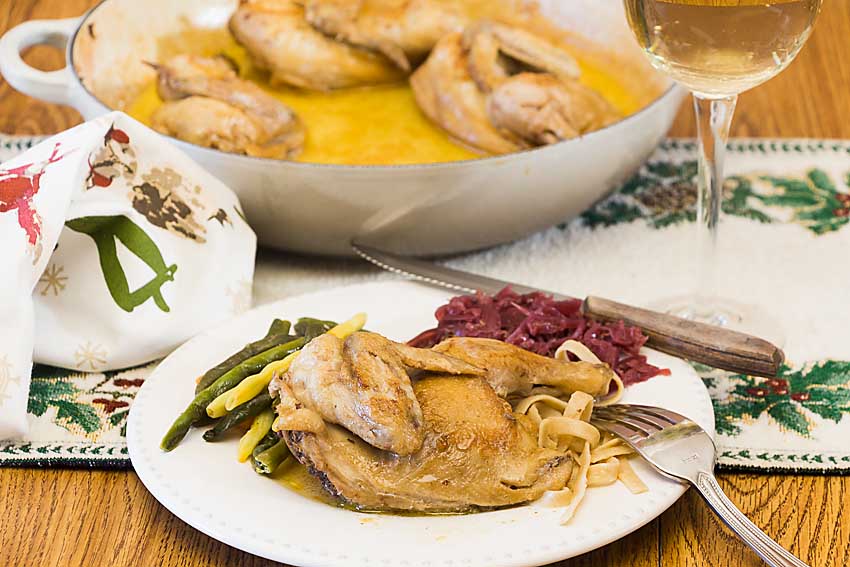 Serves 4
With a rich creamy sauce, lightly flavored with apple, Cider Cornish hen is perfect for a small dinner party or special family dinner.
Nutrition Facts
Amount Per Serving
* Percent Daily Values are based on a 2,000 calorie diet. Your Daily Values may be higher or lower depending on your calorie needs.
Ingredients
4 tablespoons butter
4 Cornish Game hens
salt and pepper
1 onion, finely chopped
3-4 ounces bacon chopped finely
1 stick celery, chopped roughly
1 carrot, chopped roughly
4 sprigs sage
2 apples, cored and cut into large chunks
2 ounces calvados
1 cup good chicken broth
2 cups dry hard cider, divided
1 cup heavy cream
Instructions
Preheat oven to 375 F
Melt the butter in a large non-stick casserole pot. Pat hens dry then season with salt and pepper. Brown until light gold on all sides. Remove from the pot and set aside.
Add the onions, bacon, celery, carrot and sage sprigs to the pot and cook over a medium heat until the onion is soft and the bacon is crispy. Carefully pour off any excess fat that has emerged (none for me).
Return the hens to the pot and add the diced apple. Pour over the calvados and set alight. Once the flames have died down add 1 cup of the cider and the chicken stock. Bring to a gentle simmer, cover and place in the oven for about 20 minutes. Make sure that temperature reaches at least 165 F.
Remove the hens from the pot and set aside keeping warm. Strain the sauce into a bowl then pour the strained sauce back into the pot and add a splash of calvados. Reduce by half. Add the cream and simmer for a further 5 minutes or until the sauce is creamy and slightly thickened.
Return the hens to the pot to warm through and become coated in the sauce.
Notes
You can use whole or half Cornish Hens for this.
Art of Natural Living https://artofnaturalliving.com/