This weekend I wanted to make something to celebrate St Patrick's Day. Since I had lamb shanks in the freezer, I decided on Guinness Lamb Shanks. That would make this year unique!
In college I spent a semester in Ireland but only ate lamb once or twice. Still I knew I loved it and when I got my first freezer (at age 28), buying an annual lamb was top on my list.
Since my college days, the health benefits of going organic and grass-fed have became better known, so now I make sure to get a naturally raised lamb–right from the farmer. This requires a pre-Thanksgiving pilgrimage about an hour north to pick up my lamb, but it is totally worth it. And as a fringe benefit it's near a nice outlet mall. Early Christmas shopping plus some great food–how good is that!
Recently, I realized I still had last year's lamb shanks in the freezer–along with those from my current lamb. That would be perfect for trying out a new recipe, and up popped Guinness Lamb Shanks.
The dish, from Jamie Oliver, has a long cooking time (wouldn't want to risk tough lamb shanks) but the prep work is quick and easy. This made it perfect for a weekend dinner. But I do have to warn you that the amazing smell of it cooking can drive you nearly mad.
I translated the recipe to US measurements and made a few substitutions. Since it is spring I am working hard to use up my stored food and grocery store visits must be avoided at all costs! Fortunately, the recipe handled the changes beautifully. I also did the cooking in a single pan and finished it in the oven instead of stove top– which made it even easier. (He also includes a mint sauce that I skipped.)
Per Jamie Oliver's suggestion, I served lamb shanks with neeps and tatties– mashed potatoes mixed with mashed rutabagas. This used up the last of both of these vegetables too. Such a good feeling!
My only regret is that it will take me two years to store up 4 local lamb shanks again. 'Cause this recipe is definitely happening again.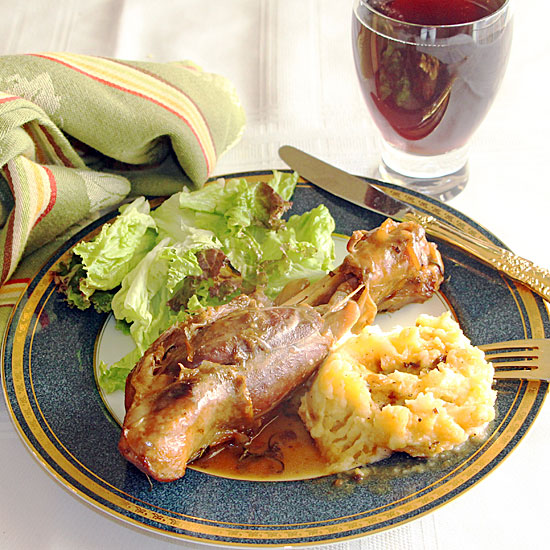 Guinness Lamb Shanks
2015-03-15 18:38:38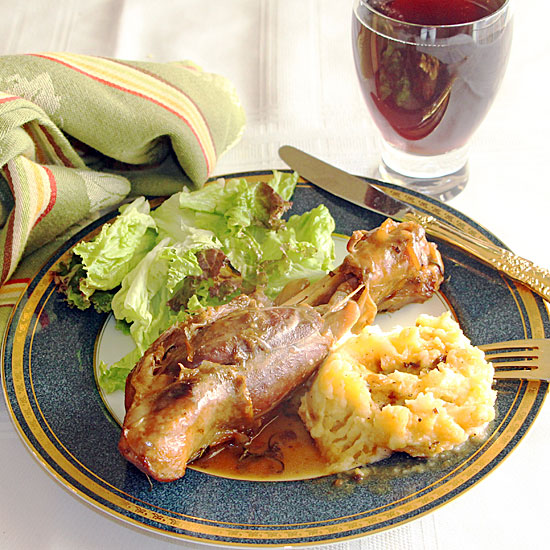 Serves 4
Guinness Lamb Shanks are a delicious way to celebrate St Patrick's Day--or to take advantage of a delicious and healthful food.
Nutrition Facts
Amount Per Serving
* Percent Daily Values are based on a 2,000 calorie diet. Your Daily Values may be higher or lower depending on your calorie needs.
Ingredients
• 3 onions, peeled and chopped
• 4 T olive oil
• sea salt
• ground pepper
• 1 cup raisins
• 3 heaped tablespoons thick marmalade (or jam or chutney)
• 1 heaped tablespoon tomato ketchup (or 1 chopped roma tomato)
• 2 tablespoons Worcestershire sauce
• 3/4 c Guinness or other dark ale (a half bottle)
• 4 lamb shanks (there is enough sauce to make 6 shanks)
• 6-8 sprigs fresh rosemary
• 1 quart organic chicken stock
Instructions
Heat 1-2 tablespoons of olive oil in a dutch oven. Brown the lamb shanks – you can cook them in batches if needed--turning every few minutes. Once they are browned, add the rosemary leaves. Move them around in the pan to get crispy, but don't let them burn. Remove the shanks, rosemary and all but about 1-2 tablespoon of fat to a plate (I had no fat in the pan).
If there isn't enough fat left from browning the lamb shanks, add 1-2 tablespoons of olive oil to the dutch oven. Add the chopped onion and stir over medium heat until the onions start to caramelize. Add the raisins, marmalade (or jam or chutney), ketchup, Worcestershire sauce, stock and beer. Stir well, then let simmer for a few minutes
Return the lamb shanks to the pan, reduce heat, cover and cook until very tender, about 2-3 hours.
When the lamb shanks are ready, carefully move them to a platter, making sure the meat stays intact, and keep warm. Remove any rosemary stems you can find, then blend sauce with a stick blender until (more or less) smooth. Continue cooking to thicken. There is enough sauce to top the lamb and have leftovers for potatoes or noodles.
Art of Natural Living https://artofnaturalliving.com/