Broiled Salmon with Fruit Salsa
Fruit salsa is a quick and delicious compliment to protein dishes like broiled salmon with fruit salsa. Comes together in a snap & adds nutrition too!
I have a long list of food resolutions–and it's not even New Year's. At the top of my list is to eat more Omega-3–especially from healthy fish. Yesterday it was Broiled Salmon with Fruit Salsa.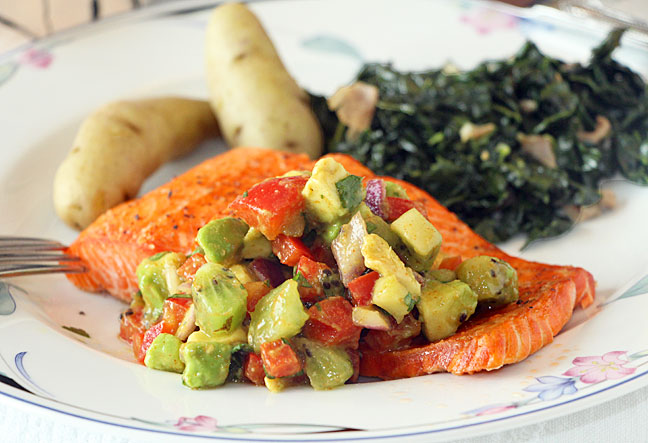 My sister was part of my inspiration. She is a serious athlete, doing triathlons and an occasional cross country ski race (i.e. the Birkebeiner)–and has recently started buying some high end fish oil. This is helping her with the aches and pains that come from her workouts.
But I'd rather do it naturally by eating more fish instead. Yes I am going to need to eat a lot more salmon to keep up with her… poor me. And I decided that I'd start by serving salmon with a fruit salsa!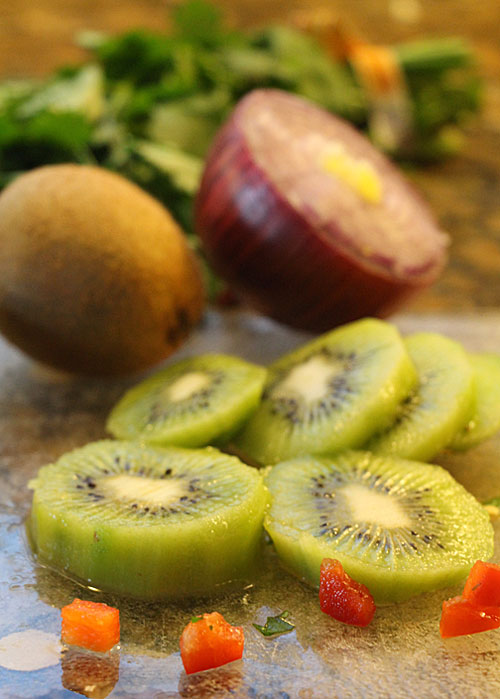 Now my youngest daughter has quite a sensitive palate, so I decided to ask for her help. If I can get her on board with a recipe, I am sure to have a winner. We chopped and mixed and adjusted quantities and in the end were delighted. The dish was flavorful, light and very satisfying. And it comes together in a snap. We even tossed it together again in the middle of busy weekend activities.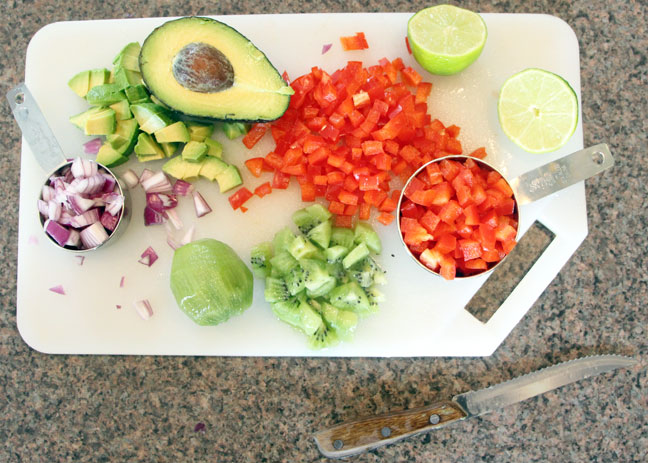 In the course of making this, I learned one thing about cooking salmon that I wanted to pass along. Most recipes call for testing to see if fish flakes to know when it is done. This is effective, but it tends to disfigure a piece of fish, since the thickest part is usually in the middle. If you have an instant read meat thermometer, this works even better. Just slide it into the thickest portion of the fish and when you get to 145 F (per the USDA), your fish is done.
Final tip–any leftover salsa is great with chips. Even when I serve to just 3 or 4, I always make the full amount of salsa.
Life is good.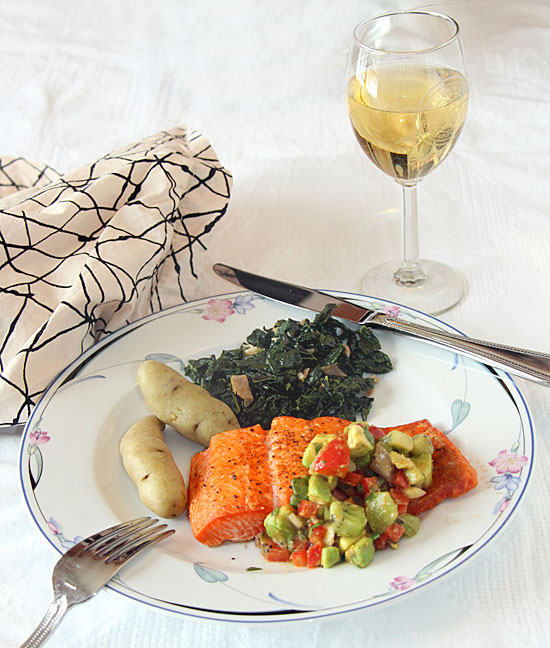 Broiled Salmon with Fruit Salsa
2015-03-08 18:37:01
Serves 6
Healthy broiled salmon with fruit salsa is a tasty and refreshing meal that comes together in a snap.
Nutrition Facts
Amount Per Serving
* Percent Daily Values are based on a 2,000 calorie diet. Your Daily Values may be higher or lower depending on your calorie needs.
Ingredients
• 2 large kiwis (or 3 small), peeled and chopped (see note)
• 1/4 c chopped red onion (about 1 small red onion)
• 1 red bell pepper, stem and seeds removed, chopped
• 1 avocado, skin and pit removed, chopped
• 1/4 c chopped cilantro ( about 1/2 a bunch)
• 1 lime
• 1/2-1 t cayenne, to taste
• Salt to taste
• 1 1/2 lbs wild caught salmon filets (6 4 ounces pieces)
olive oil to brush salmon
Instructions
Put chopped kiwis, bell pepper, avocado, red onion and cliantro in a medium bowl. Season with cayenne and salt, then top with juice from one lime. Mix, then sample and adjust seasonings to taste.
Brush salmon with a thin coat of olive oil, then sprinkle with salt and pepper.
Broil until fish flakes or reads 145F on an instant read meat thermometer.
Serve fish with salsa immediately.
Notes
At the peak of strawberry season, consider using strawberries in place of the kiwis for a tasty and healthy variation.
Art of Natural Living https://artofnaturalliving.com/