Harvest Peach Pie (Full or Mini-sized)
Dressed up with leaves and acorn cutouts, this peach pie is perfect to transition summer to fall. Made with less sugar even!
Is there anything quite like a fresh, ripe peach? It certainly is a treasure! But if you can't find a perfect fresh peach… how about making peach pie!
Not sure what it is about cooking peaches, but I know that anytime I've gotten a mealy bunch, all I do is cook them and they turn delicious. Sautee in butter and brown sugar, then pour over ice cream. Mmmm! Or make a crisp or a pie. Mmmm, again!
My local fruit stand mentioned their peaches were late this year, so I'd have to wait. An entire week or two more! But instead of pouting, I thawed the leftovers I'd frozen last year and made a pie.
I wanted to do something a little fun with it, so I made a mini, single crust pie and turned the extra crust into a pie crust cookie edging. In truth, I did it to be cute but my husband (who could care less about cute) said that was his favorite part.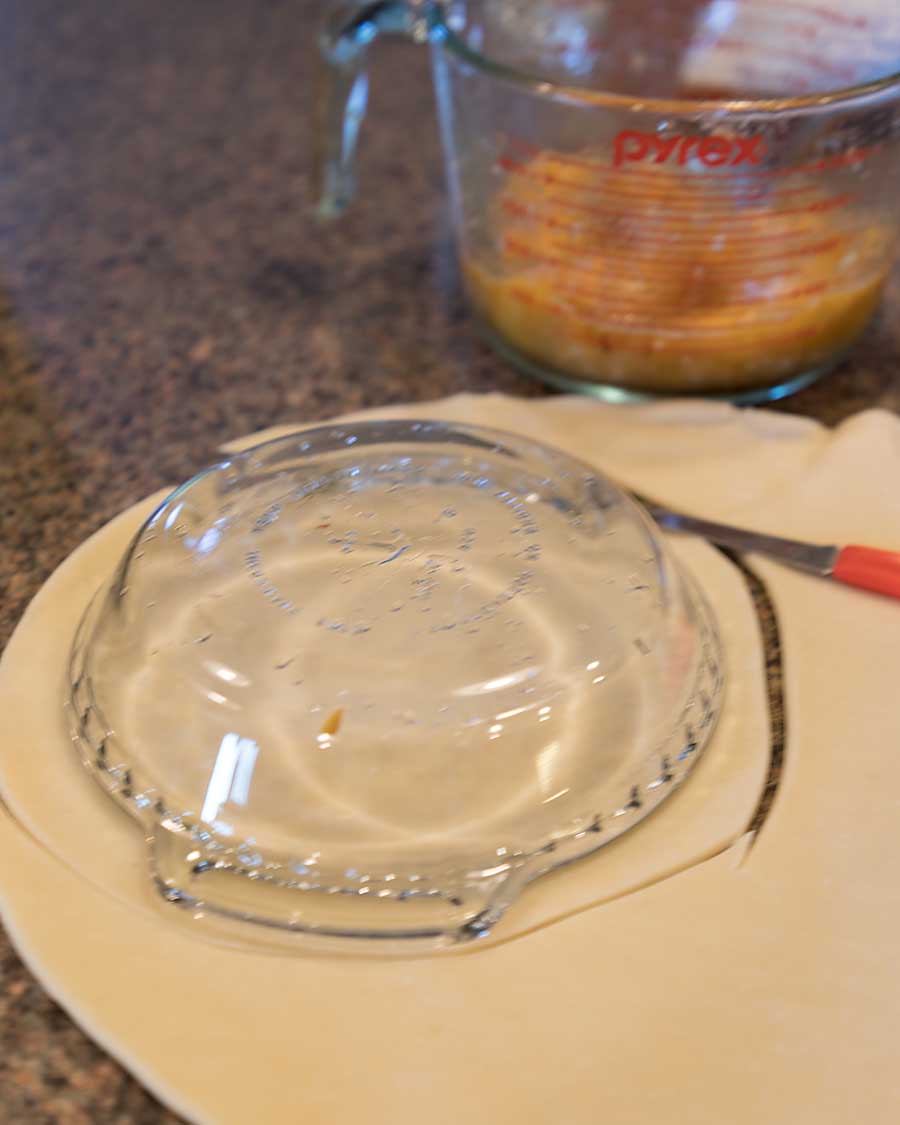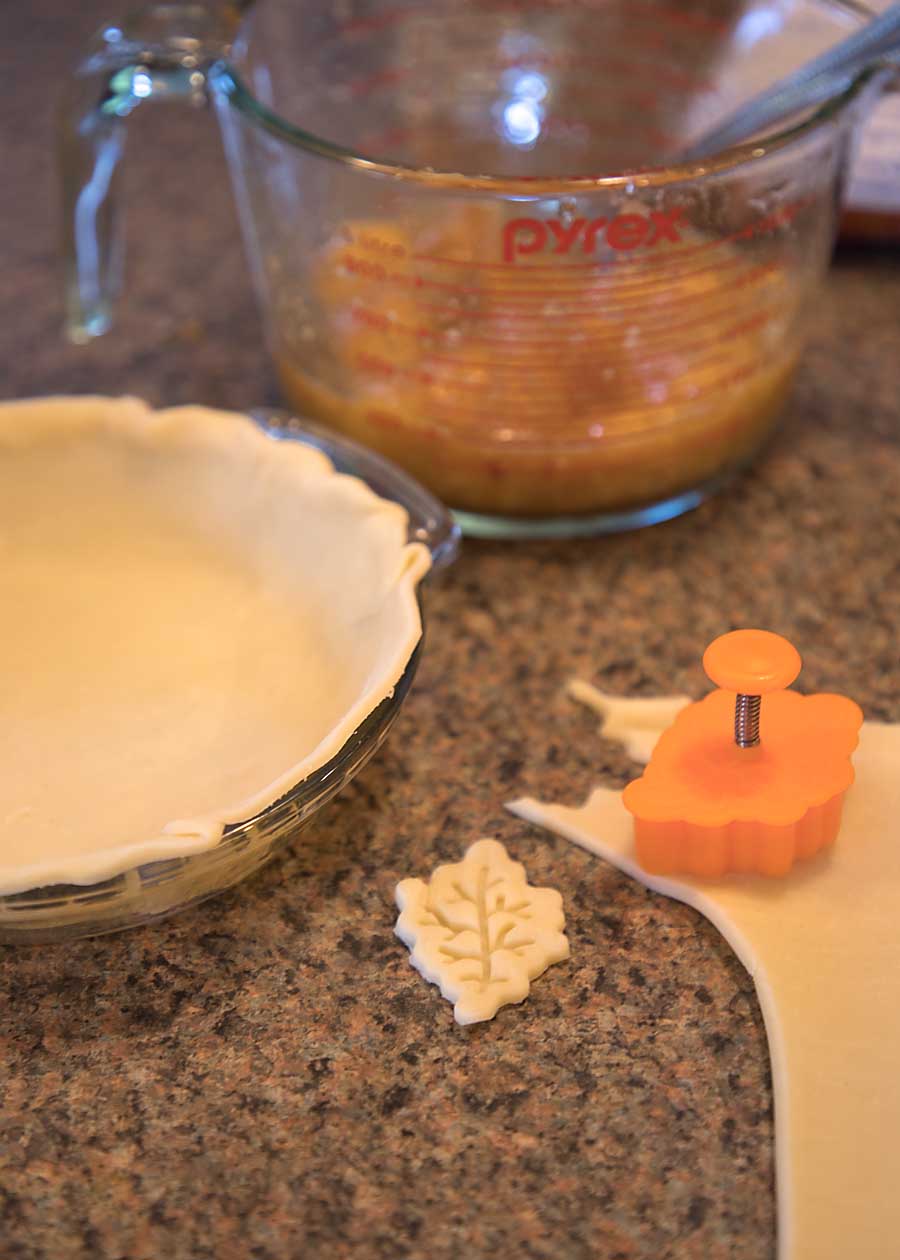 I started with a commercial pie crust round which I turned it into a mini by cutting slightly larger than the outside of a 6 inch pie dish. Then I used some leaf and acorn cookie cutters to cut up the remaining dough for the outside edging. (I sprinkled the extras with butter, cinnamon & sugar and baked separately for "pie crust cookies"!) .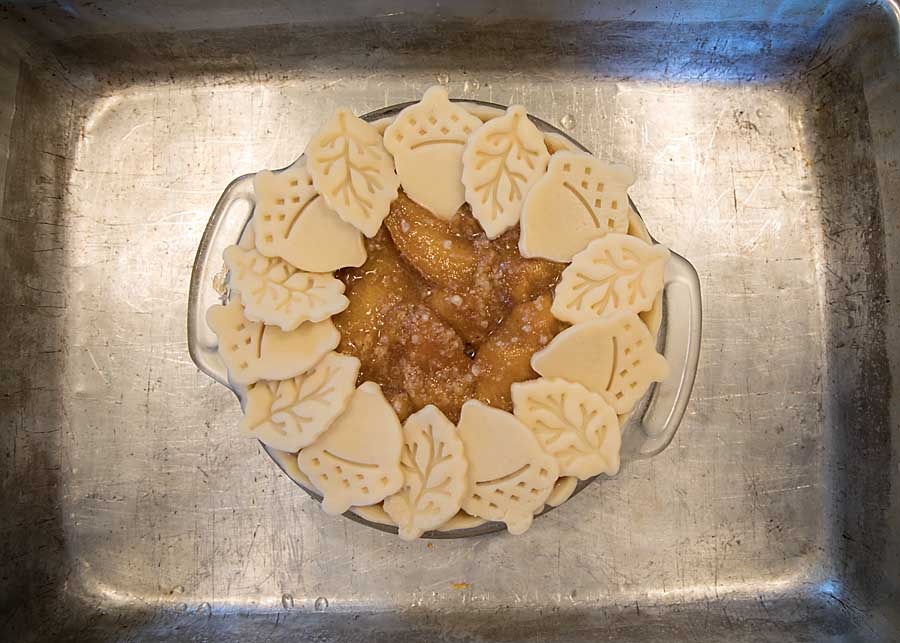 If you'd like to go full size, I'm pretty sure you can triple the filling ingredients. Go with a full crust for the bottom and cut up the second crust for the "cookie" edging.
Yup, I had to settle for peach pie. Not even a first world problem…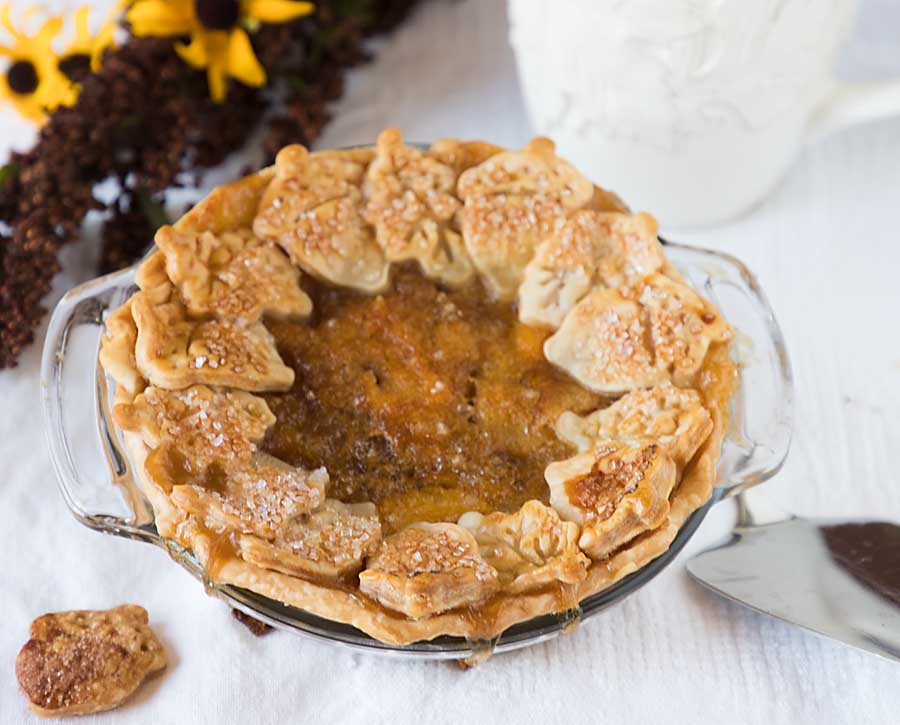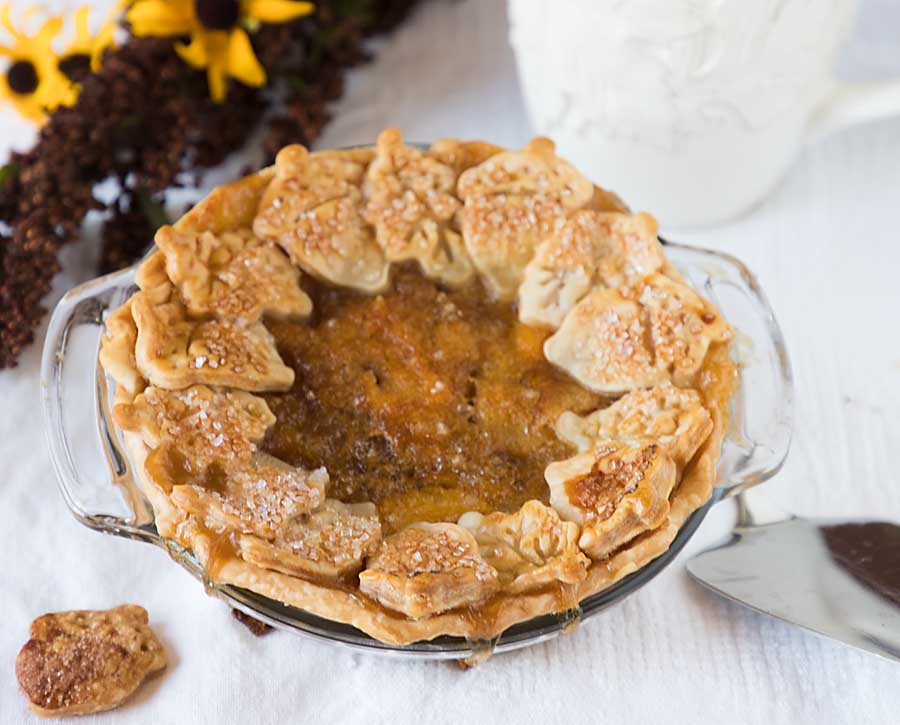 Peach Pie
2019-08-10 16:14:38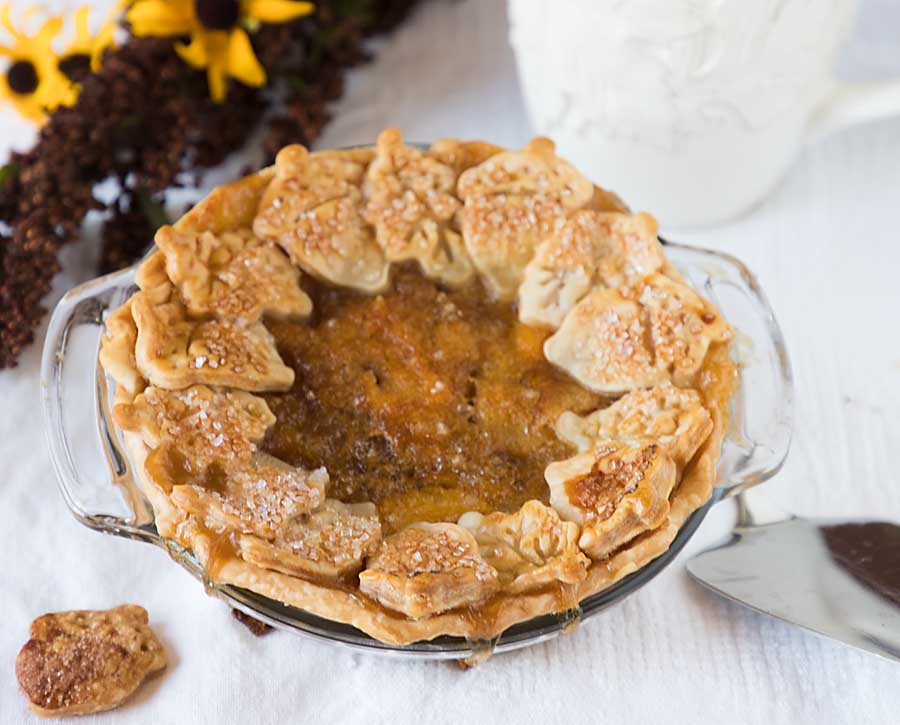 Serves 4
Dressed up with leaves and acorn cutouts, this peach pie is perfect to transition summer to fall. Made with less sugar even!
Nutrition Facts
Amount Per Serving
* Percent Daily Values are based on a 2,000 calorie diet. Your Daily Values may be higher or lower depending on your calorie needs.
Pie filling
2 cups peach slices, thawed and drained slightly to make 1 ½ cups
2 T brown sugar
1 T instant tapioca or cornstarch
1/2 teaspoon vanilla
¼ teaspoon ground cinnamon
1 Tablespoon bourbon (or brandy or rum)
Pinch salt
Crust
1 single pie crust
1/2 Tablespoon of egg wash (1 egg beaten with 1 Tablespoon water)
1 -2 teaspoons coarse sugar
Instructions
Heat oven to 400°F.
Fit pie pan with pie crust cut to size. Cut the remaining crust with cookie cutters into the shape(s) of your choice. Place crust and "cookies" into the freezer to chill.
In large bowl, mix filling ingredients. Spoon into crust. Place crust "cookies" around the outside edge of the pie, taking care keep edges inside pan edge.
Beat egg with water to create an egg wash. Brush onto crust "cookies" then sprinkle with coarse sugar.
Bake on cookie sheet about 45 minutes or until crust is golden and juice is thick and bubbly. If crust is getting too brown (mine was), set a piece of foil on top. Cool on cooling rack at least 2 hours.
Notes
This will make one 6 inch pie. Based on the fact that I cut down a standard pie to 1/3, it should work to triple the ingredients for a 9-inch pie.
Art of Natural Living https://artofnaturalliving.com/
Peach Recipes
We share Recipes From Our Dinner Table! Join our group and share your recipes, too! While you're at it, join our Pinterest board, too!