Healthy Salmon Salad Recipe
Is Omega-3 on your New Year's Resolution list? It's on mine! With potential benefits in areas like cardiovascular disease, cancer and anxiety (souce: Dr Axe), this healthy fat is no slouch. And salmon, like in this tasty Salmon Salad is a great source.
Now, mind you, my version of Salmon Salad is not a bowl of greens topped with a broiled slab of fish–that would defeat the variety goal, right? It is more like a chicken salad–chunks of fish mixed with celery in an olive oil dill dressing! Mmmm!
When I first upped my salmon consumption, I didn't think I'd ever get tired of eating it broiled. Topped with fruit salsa, or broiled with miso, it was great—the first 500 or so times. Then I was starting to get bored.
Salmon salad was the answer. I eat mine straight with a side of veggies and maybe some whole grain bread. My husband prefers it in a sandwich. The kids are divided, so I just make up a big bowl, put out some sides, and let everyone make their choice. You could also top a green salad or mix this salmon salad in to a pasta salad.
If you are new to eating salmon, I should tell you that there are differences between wild caught and farmed salmon. Per the Cleveland Clinic, wild is lower in contaminants, antibiotics and saturated (the "bad") fat. So go wild if you can!
Have you ever heard of a Community Supported Fishery (CSF)? It's similar to Community Supported Agriculture (CSA)–you join for a season and help support your food producers. But in this case the community is in Alaska, rather than in the next county. And the fish is all wild harvested and sustainable!
We joined our CSF a couple years ago and I love it. Yup, a "salmon subscription" means more fish in the freezer and more eating/recipes! If you are trying to eat more seafood (like me), stay tuned!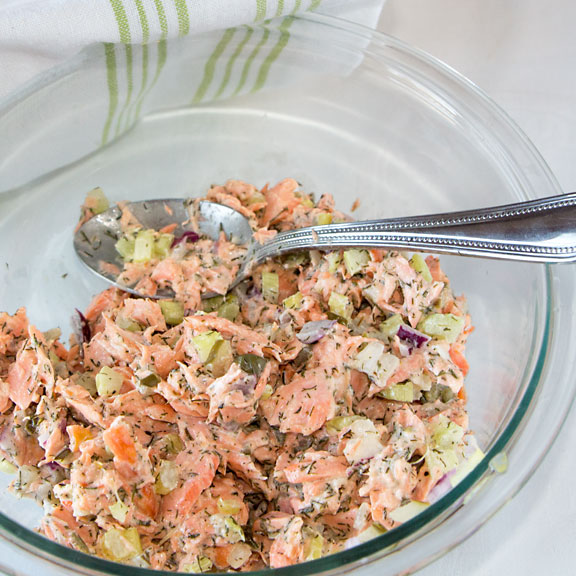 Salmon Salad
2017-01-08 11:40:17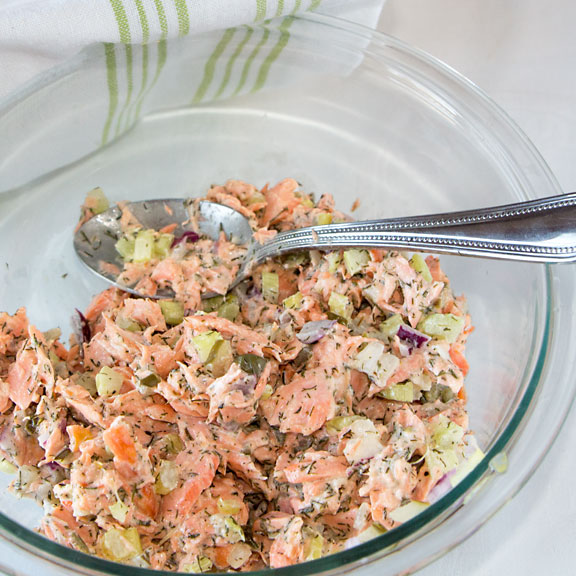 Omega-3 rich Salmon Salad in an healthy olive oil based dressing! A fresh twist on broiled salmon and tastier than chicken salad!
Nutrition Facts
Amount Per Serving
* Percent Daily Values are based on a 2,000 calorie diet. Your Daily Values may be higher or lower depending on your calorie needs.
Salad
1 lb salmon fillet
1/3 cup chopped celery
3 T chopped pickles
1T capers, drained
½ small red onion, finely diced
Dressing
4 T olive oil
juice from 1 lemon
3 Tablespoons lite mayo
1 teaspoon Dijon mustard
1 Tablespoon dill
1/2 teaspoon salt or to taste
Instructions
Broil salmon (or cook your preferred method), remove skin and any bones, then cut into bite-sized chunks. Don't worry if it flakes more than slices.
Combine chopped celery, pickles, capers and diced onion with the salmon.
Mix the dressing ingredients until well combined. Pour into the salad and stir until blended.
Art of Natural Living https://artofnaturalliving.com/
Save