Hearty White Whole Wheat Biscuits
Baking with healthy white whole wheat flour means you may not have to worry about eating a fun comfort food like white whole wheat biscuits anymore.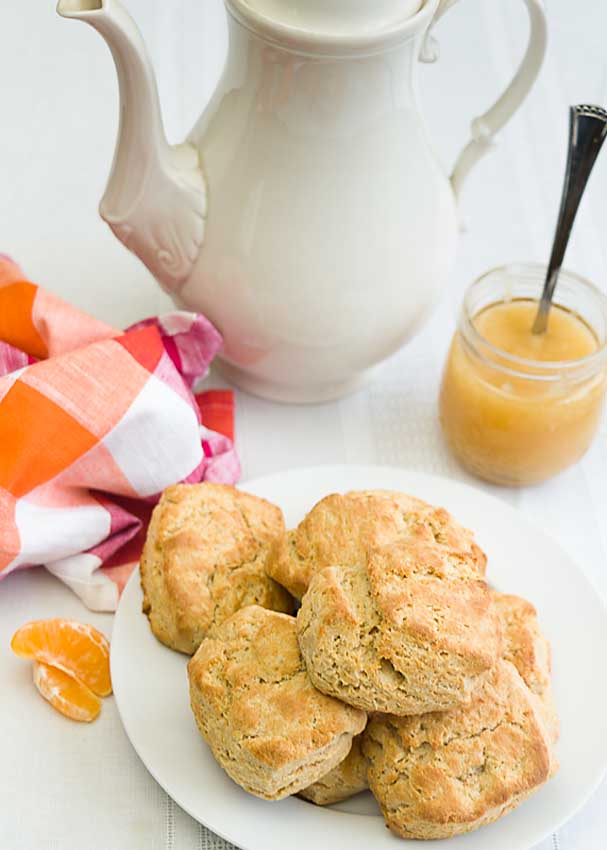 Carbs take a lot of abuse.  But, really, if you can avoid sugar and refined flour, are they really so bad (assuming no medical issues)?  Which is why I decided to try making biscuits from scratch using white whole wheat flour.  
I couldn't believe how easy it was!  
Of course no sooner did I have this done than I spotted a NEJM report about the health benefits of whole grain.  "The highest dietary fiber intake was associated with a 15% to 31% reduction in mortality, coronary heart disease (CHD), colorectal cancer, and type 2 diabetes… Higher whole grain intake provided similar benefits, while a low-glycemic-index diet did not."  
Yaasss!
Now being healthier, however, doesn't mean that the stronger flavor of whole wheat won't challenge your baking results.  But this is where white whole wheat flour comes to the rescue.  With a flavor between white and whole wheat, but with all the nutrition of whole wheat, it can really open up your options!  
I should warn you that despite the lighter flavor, white whole wheat flour still bakes up heavier than all-purpose flour–it just doesn't have the same gluten strength. So you can't sub it will-nilly.
But for a non-yeast baked good like biscuits (which is less dependent on gluten), this isn't an issue.  It's like the best of both worlds.
I've made white whole wheat biscuits a few times over the past week because they are so efficient.  They almost come together while your coffee is brewing (or your entrée is simmering)!  Mix up in a food processor, knead a couple times, cut and bake! 
I like to serve white whole wheat biscuits with butter and honey for a delicious breakfast treat.  Or top with peanut butter for a healthy snack.  Or team with soup for a light lunch. 
Can't beat turning a comfort food healthier, right?  

Hearty White Whole Wheat Biscuits
Made with healthy white whole wheat flour, you don't have to worry about eating a fun comfort food like white whole wheat biscuits anymore.
Ingredients
2 cups white whole wheat flour
¼ tsp baking soda
1 Tbsp baking powder
1 tsp salt
6 Tbsp cold butter, cubed
¾ - 1 cup buttermilk (or yogurt, or milk plus 1 T lemon juice)
Instructions
Put flour, baking powder, baking soda and salt in a food processor (see note). Blend until well combined.
Add cubed butter and pulse until butter is broken down to pieces no larger than peas. Mixture should look almost sandy.
Add ¾ cups of buttermilk (or buttermilk substitute) and pulse until mixture almost comes together. Mixture will be clumpy, but shouldn't feel dry. If it is very dry, you can add additional liquid a little at a time and re-pulse.
Dump mixture out on to floured surface and knead until it just comes together. Form into 4 x 8 rectangle, then cut into 8 biscuits (or 6 if you'd like larger biscuits).
Place on parchment lined cookie sheet and bake at 400 F until slightly golden, about 15 minutes.
Serve warm or cold.
Notes
If you don't have a food processor, you can mix by hand using a fork or pastry blender. Just be sure not to overwarm or overmix.