Homemade Vanilla Pudding Pops
Make Vanilla Pudding Pops your way and enjoy a no-bake dessert or snack that's tasty, healthy and easy to make. (This post is sponsored by Nielsen-Massey maker of fine vanillas and other flavorings.)
Lately, it's becoming clear that we're moving into fall. The days are shortening, with fields awash in goldenrod, and farm stands are setting out apples and squash.
But that doesn't mean the heat is behind us—we've been hitting the 80s even in Wisconsin. How about a nice (somewhat healthy even) no bake treat! Like vanilla pudding pops.
The Snack Dilemma
Snacks are a conundrum. You want fun foods that help you enjoy life. But you don't want something too unhealthy. Or something that heats up the house. Or that takes so long to make you miss your sunset walk.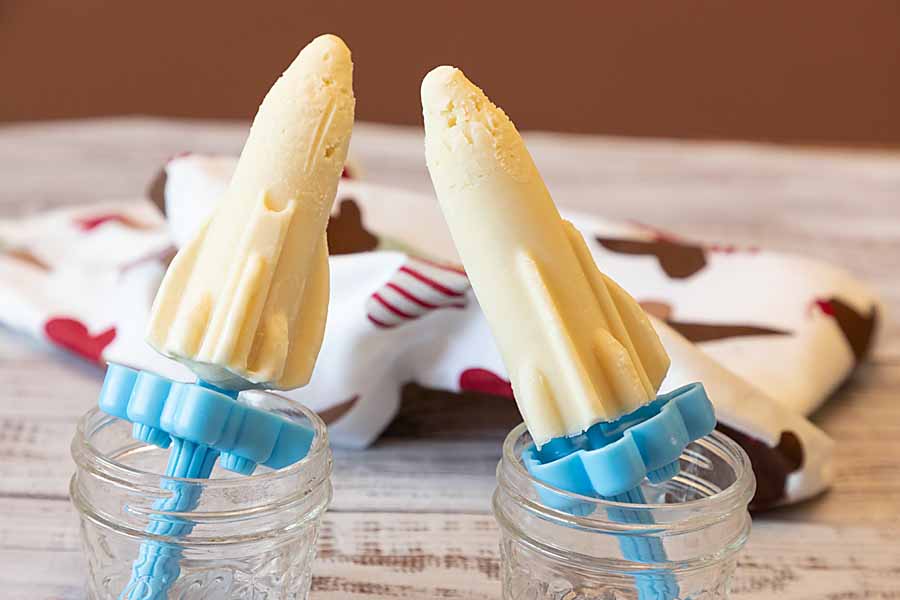 Enter vanilla pudding pops.
Are you old enough to remember when pudding pops were all the rage? Billed as healthy AND tasty AND refreshing, every mom approved. But I heard they've been discontinued.
No problem. Make your own!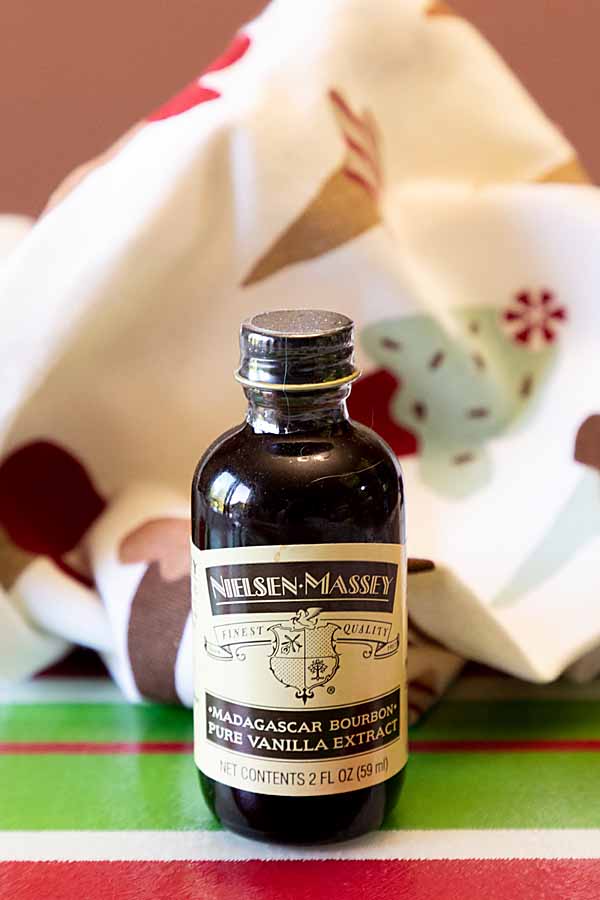 Yes I was excited when Nielsen-Massey suggested I make a no-bake nostalgic treat. I love their products, suggestions and tips which regularly liven up my baking.
Or even my non-baking 🙂
Hooray for Homemade
Of course, liking things natural, I am always happy to try making something on my own… And have you looked at the ingredients in a package of vanilla pudding mix? The list I found read, "sugar, modified cornstarch, contains less than 2% of natural and artificial flavor, salt, disodium phosphate and tetrasodium pyrophosphate (for thickening), mono- and diglycerides (prevent foaming), artificial color, yellow 5, yellow 6, bha (preservative)". 'Nuf said?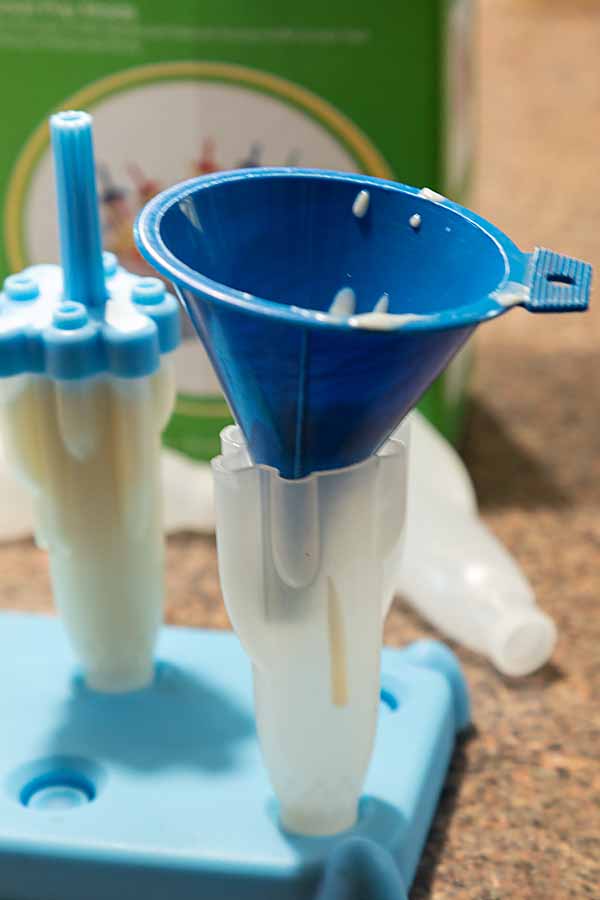 Plus Vanilla Pudding Pops are super easy to make. Just mix up a few ingredients, briefly heat on the stove top, pour into popsicle molds (mine were a $1 school rummage sale buy!) then freeze. Easy-peasy!
We loved pulling one out of the freezer for an easy snack. And the non-guilt is so refreshing. Happily, the recipe also adapts to most diets—you can swap sweeteners, dairy/non-dairy, high-fat/low-fat. Gotta love homemade!
Just one note: the recipe only made 4 pops. Perfect for people like me with no willpower, but otherwise go ahead and double or triple it (depending on the number of molds you have).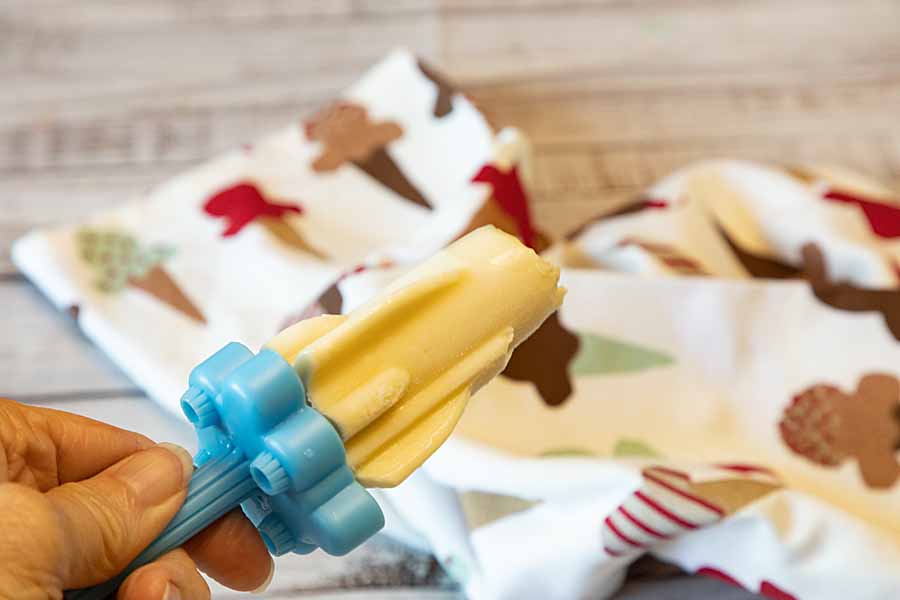 I think I'll add some (Nielsen-Massey) coffee extract next time for a fun grown-up version. And, just between us, I'm pretty sure these frozen treats will be delicious well into fall.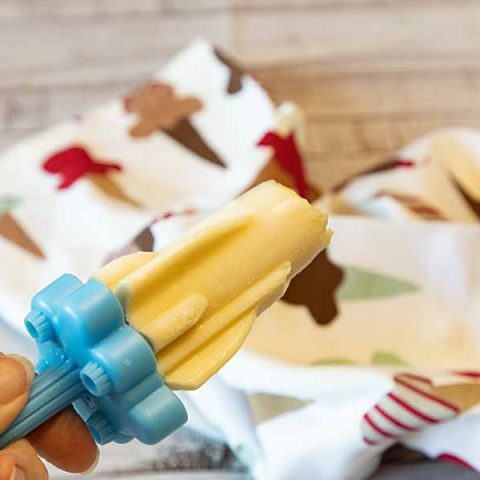 Homemade Vanilla Pudding Pops
Yield: 4

Prep Time: 5 minutes

Cook Time: 10 minutes

Additional Time: 4 hours

Total Time: 4 hours 15 minutes

Make Vanilla Pudding Pops your way and enjoy a no-bake dessert or snack that's tasty, healthy and easy to make. 
Ingredients
¼ cup sugar or sweetener
1 Tablespoon cornstarch
1 cup whole milk (see note)
1 tablespoon butter, melted (omit for low fat)
1 egg yolk
1 teaspoon tablespoon vanilla
Instructions
In a small saucepan stir together sugar and cornstarch; stir in milk, beaten egg yolk and melted butter. Cook and stir over medium heat just until first large bubble appears, then stir vigorously until thickened, about a minute.

Remove from heat, strain, then stir in vanilla. Pour mixture into molds and insert sticks. Freeze until firm, about 4 hours.

Run molds briefly under warm water to release pops.

Notes
This makes about 4 pops, depending on your molds. Double or triple for a crowd.

I used allulose sweetener and had no problem with crystallization

I used 2/3 cup reduced fat milk and 1/3 cup cream. Feel free to use the combo of dairy/non-dairy milk and/or fat/low-fat milk/cream that suits your diet, though creaminess of the final product will vary.
Nutrition Information:
Yield: 4 Serving Size: 1
Amount Per Serving: Calories: 142Total Fat: 6gSaturated Fat: 3gTrans Fat: 0gUnsaturated Fat: 2gCholesterol: 60mgSodium: 52mgCarbohydrates: 18gFiber: 0gSugar: 16gProtein: 3g

Nutrition data accuracy may vary with product selection, calculator accuracy, etc. Consult a professional for the best information.